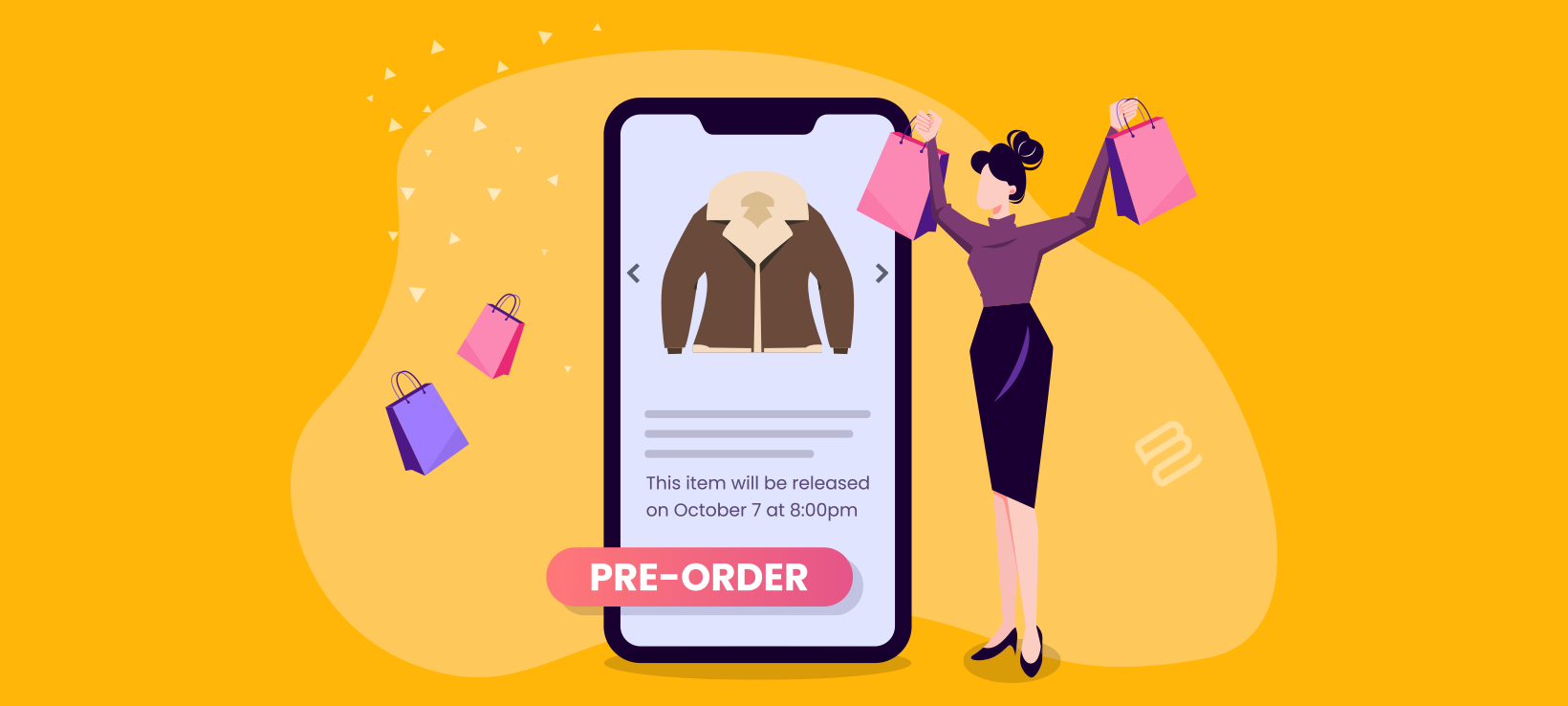 Are you looking for a way to set up WooCommerce pre order for your upcoming product launch? Keep reading to learn how (and why) setting up pre orders on your WooCommerce store will spark interest among your clients, help you validate your product idea, and streamline your inventory process.
When it comes to launching new products, the vast majority of stores get it wrong. Most businesses either don't inform customers about new items, add a waitlist plugin, or only notify them when the product is released. However, if you can get more sales by accepting orders before the launch, while clearly letting clients know when the new product will be delivered.
You can use WooCommerce pre orders to promote interest in new items. It will help you evaluate demand and collect cash before manufacturing. This way, you can decide how many items to make on your first production run and get cash upfront.
In this article, we will show you how to set up pre orders on WooCommerce and present you with the best solution to do it - WooCommerce Lead Time. This plugin allows you to easily add a pre order time to a single product page. It will keep them informed of the exact release date. As a result, customers can buy your product before it is launched.
How can your WooCommerce store benefit from WooCommerce pre order?
It doesn't matter how many views, followers, and email subscribers you have. Nothing validates a concept like having someone place a purchase for your goods in advance. Some of the most significant incentives you can have come from a consumer paying you money for your concept or product before it is fully developed.
WooCommerce pre ordering involves providing customers with the choice to pre order things that haven't yet been released. When done correctly, it can assist you in the following ways:
With actual sales, build momentum before the product's debut.
Analyze the current market demand for a certain product or service.
Engage existing consumers and assist in acquiring new ones.
If you state that you will only release a certain quantity, you will create urgency.
Streamlines the configuration and follow-up stages of the WooCommerce pre ordering>
Why should you include WooCommerce pre order option?
WooCommerce pre ordering is an effective sales tactic that helps businesses convert leads to clients, improve client relationships, and upgrade the customer experience. Presales require time and effort to implement well. But they can significantly benefit a company's sales efforts. By prioritizing communication and focusing your sales on including pre ordering, you can achieve your business objectives way faster.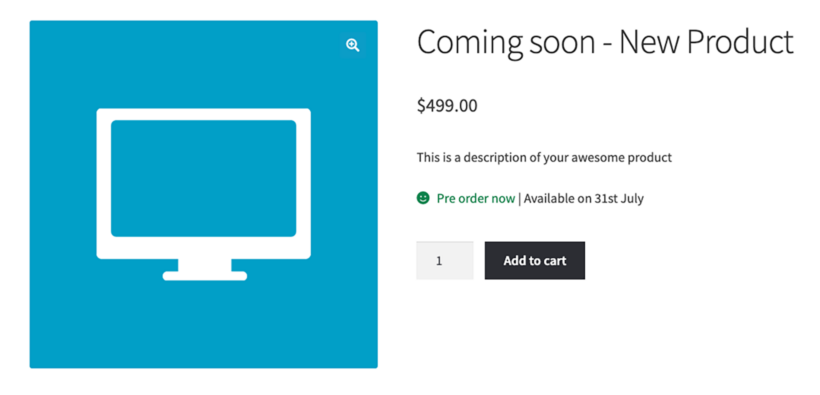 WooCommerce pre orders are also important because they help customers understand how a product or service can meet their specific business needs. Companies can guarantee clients receive the greatest and most accurate information. All thanks to improved communication at the start of the sales process. Preordering is particularly vital for businesses since it helps them to properly grasp their customers' goals and offer the greatest viable solutions for their specific needs. As a result, the sales experience is typically more tailored, with relevant solutions, streamlined procedures, and meaningful delivery.
How about physical products?
When it comes to physical products, implementing WooCommerce pre order techniques in your business can help you estimate the exact amount of products to manufacture. In this way, you won't end up with too many or too few items.  Meeting your demand perfectly will decrease your inventory and keep costs low simultaneously.
Best plugin for Woocommerce pre orders - WooCommerce Lead Time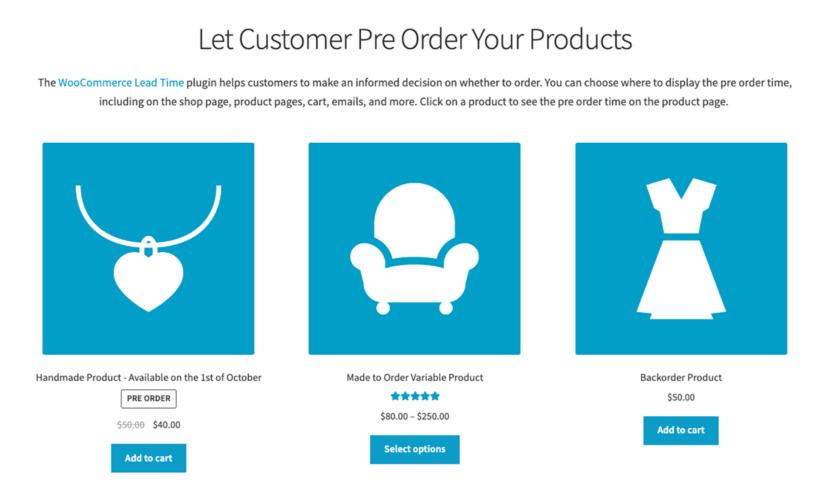 Even if you are a developer, putting up pre orders on your WooCommerce site without a specific pre orders plugin is challenging. Adding custom code to your theme and altering the default WooCommerce templates will be necessary. However, this way, there is a significant chances of mistakes in terms of setup, sales, and fulfilment of pre orders.
In the case of a standard WooCommerce setup, WooCommerce comes with the ability to indicate goods as in stock, out of stock, or on backorder. It does not, however, allow you to enter a lead time for out-of-stock or new items.
This information should ideally be shown on the single product page so that buyers can make an educated decision about pre ordering the product. Even though preordering usually means a longer wait time for the product, it also offers a bunch of benefits, such as discounts or bundles for the buyers. Ideally, you want this information to be obvious to the customer at the moment of purchase.
Currently, the default WooCommerce product classifications (in stock, out of stock, or on backorder) are not a good fit for preordering with a defined lunch date. Setting your new product as "out of stock" will make your customers leave your store empty-handed and go search for Google alternatives.
Our solution - WooCommerce Lead Time
WooCommerce Lead Time is the only WordPress plugin that displays pre order times on the product page, facilitating your WooCommerce product launches. The plugin streamlines the WooCommerce pre order process and eliminates the possibility of human mistakes in collecting payment information, maintaining pre order inventories, and fulfilling orders.
Instead of marking the product as Out of Stock until it is available, you can make it available for pre order straight away (e.g. using the backorder status) and clearly display the launch date or the number of days until the launch. WooCommerce will mark the pre-orders as 'Processing' in the WordPress admin until the product is launched. At that point you can remove the pre order wording and 'Complete' the orders.
WooCommerce Lead Time enables you to:

Show the WooCommerce stock status and lead time right on the shop and category pages. Customers may view this important information before clicking on any product.
Display a clear indication of when each item will be available to the buyer.
WooCommerce Lead Time is ideal for selling new not-available-yet-to-the-public items, as well as providing customers with accurate information before they make a purchase. The plugin is extremely light and works with any theme you already have on your online store.
It allows you to have total control over the stock state of WooCommerce and customise it depending on your launch dates. You will also get access to top-rated customer care, which will assist you at every step of the journey.
Before you set up WooCommerce pre order with WooCommerce Lead Time
Before you set up WooCommerce Lead Time on your online store, there are a few things you should think about:
When (day and time) will you begin taking online pre orders?
How long should your presale last?>
Will you offer some additional bonuses for customers who order during preordering phase?
When will the product be available for purchase and shipping?
Which payment gateways are you going to use?
Your customers will be charged upfront, so you will receive advance revenue during the pre-ordering period. We also suggest planning a bigger marketing campaign for your new item preordering to build momentum for your product launch and achieve the best results.
How to set up WooCommerce pre orders for your product
#Step 1: Get the WooCommerce Lead Time plugin
If you haven't already, install the WooCommerce Lead Time plugin. In a confirmation email, you will receive the plugin files and license key. Install and activate the plugin on your WordPress website. From the admin panel, navigate to WooCommerce → Settings → Products → Lead time.
The setup wizard will launch on activation of the plugin. It will take you through the main settings for displaying pre-order information.
Step #2: Show WooCommerce pre order status and lead times in your store
You may use the WooCommerce Lead Time plugin to display pre order status and lead times in prominent locations throughout your e-commerce business. It will display the product launch date on the cart, checkout and in the customer emails, so your customers will be very clear about when they will receive it.
However, we do suggest further highlighting your preorders by creating a special "New" or "Limited availability" category for them in your store.
Step #3: Set the WooCommerce pre order time
Depending on your launch and the number of products you want to include in your presale, you may set the processing time for WooCommerce Lead Time for the category of items, simple products, or variable products.
By going to WooCommerce → Settings → Products → Lead time  and entering the lead time in the Global lead time field, you can set the processing time globally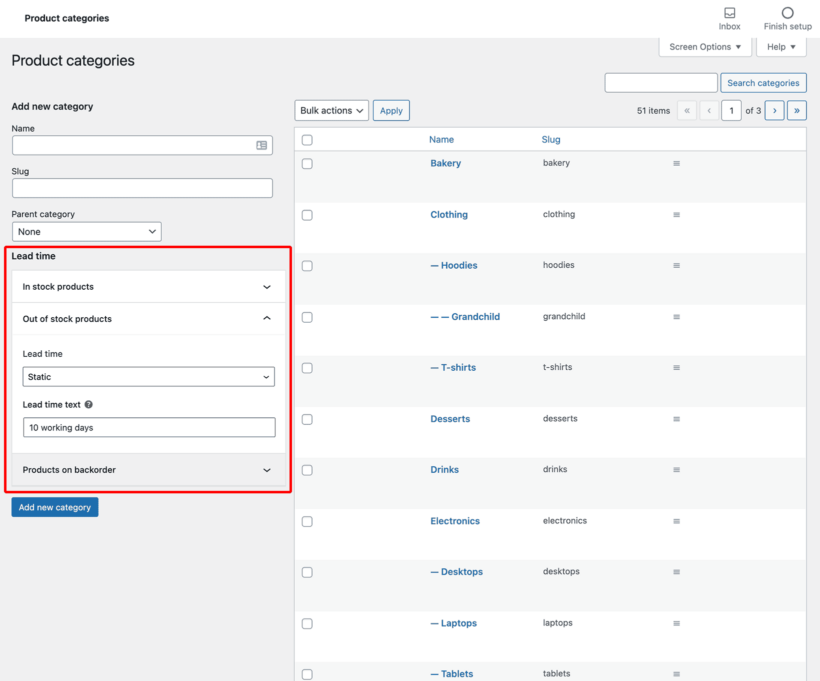 [/image_border]
To define the processing time for a certain product category, go to Products → Categories and select either Static (input static lead time text) or Dynamic (compute the processing time dynamically) from the Lead time selection.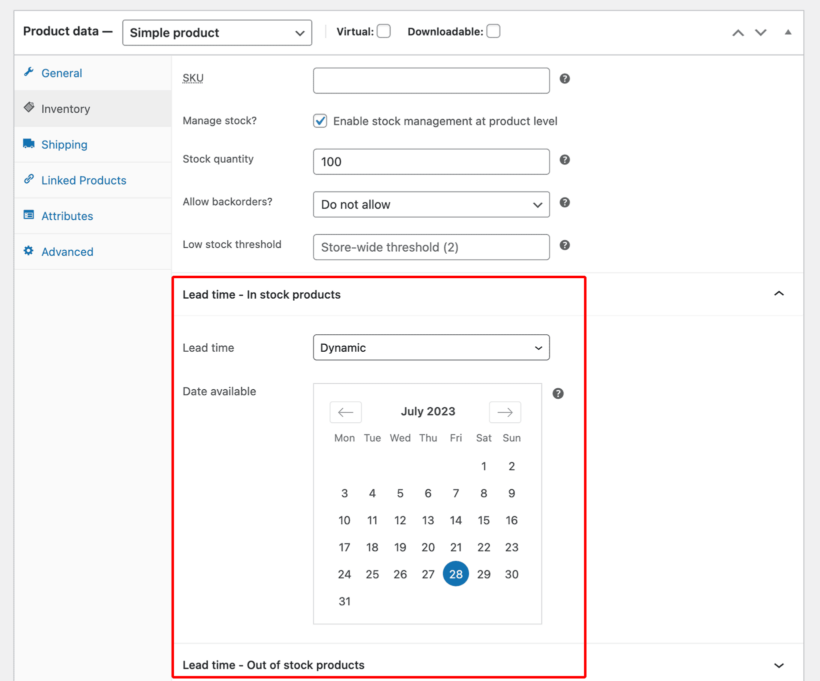 You can also adjust the processing time for specific goods with WooCommerce Lead Time (and variations). On the Edit Product page, choose the product for which you want to establish a pre order time. Scroll down to the Product information section and select the Inventory tab. You may set the product's pre order time from here. This is also applicable to variable products.

Step #4: Customize the pre order text and color
One of the most useful aspects of the WooCommerce Lead Time plugin is the ability to change the text and text color. This means you can fine-tune it to achieve the exact look and feel you desire when displaying pre order products.
For instance, you might change the custom status phrase to something like:
Preorder ends in X days
Available in X days
Waiting time:
Coming soon
Dropping in X days
To change the text color, go to the plugin's settings page (WooCommerce → Settings → Products → Lead time) and pick a new color from the Lead time text color option.
Managing pre orders in WooCommerce
WooCommerce Lead Time makes it easy to manage your WooCommerce preorders. Once a customer purchases the product, the order is saved as "Processing", and the only thing you need to do is to mark them as "Complete" when you finally launch.
You can then despatch the product once you close your pre-order period and manufacture the needed amount.
As the payments are processed straight away, you won't need to worry about any complicated multi-step payment process or delayed payments.
Using WooCommerce Lead Time with other plugins
Customers should ideally be informed of the product lead time on the product information page. You may, however, utilize the plugin to display the lead time on your main store pages. When used with other plugins such Quick View Pro, you may display lead times in a quick view lightbox. This is particularly useful if you run a presale for multiple items in your store. This way, customers can see more information about the item they want to purchase without the need to leave the store, which increases the chances of conversion.
WooCommerce Lead Time with Quick View Pro (below)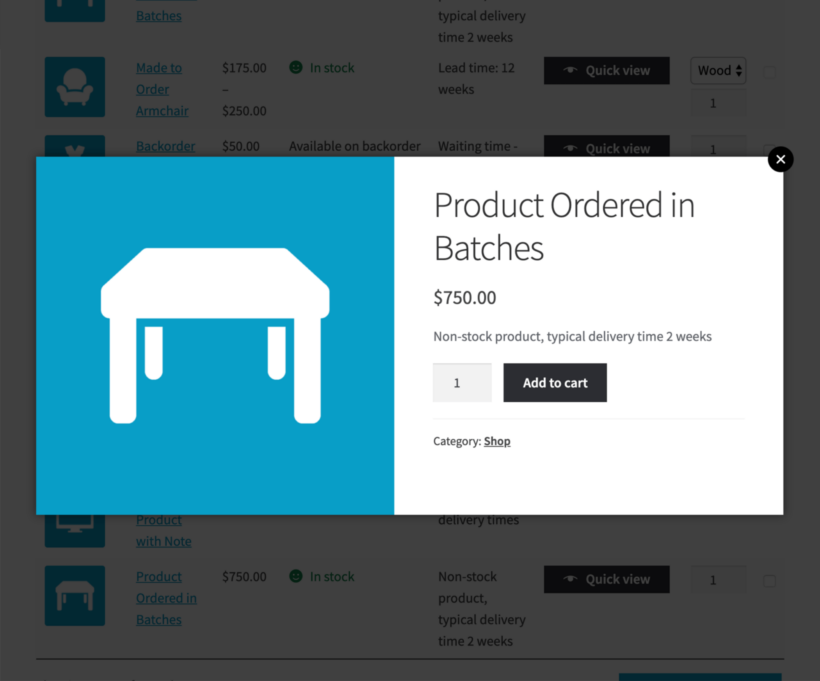 Another plugin to consider for your WooCommerce pre orders is YITH WooCommerce Waiting List. This plugin displays an 'add to waiting list' button for items that are not yet available. When consumers add themselves to the waitlist, they receive an email as soon as the product is released. Everything is automated.
This is a good option if you don't want to collect money before the release date of your new item. By using WooCommerce Lead Time and YITH WooCommerce Waiting List together, you can inform your customers about the lead time of your new product. And collect their email addresses at the same time.
Set Up WooCommerce Pre Orders for Products in Your Store Today
The WooCommerce Lead Time plugin may benefit your online store in various ways. It supports you in the marketing of your products or services by creating momentum before the product launch. It is also an excellent strategy to enhance income. Not only that, but also it helps your business with the technical and logistical management of the inventory on the back end.
A high-quality WooCommerce pre order plugin for your online shop allows you to manage the complexity of presales properly. Allowing customers to pre order things can help you generate income upfront for the manufacturing. It will also boost the likelihood of future product success.
WooCommerce Lead Time is the only WordPress plugin that displays lead times on the product page. It makes it easier to highlight the release date of your WooCommerce products. This plugin allows you to clearly communicate with customers when a product will be released. So that, they can order straight away (i.e. pre order) while knowing how long they will be waiting.
Ready to launch a WooCommerce pre ordering campaign? Get the WooCommerce Lead Time plugin right away!