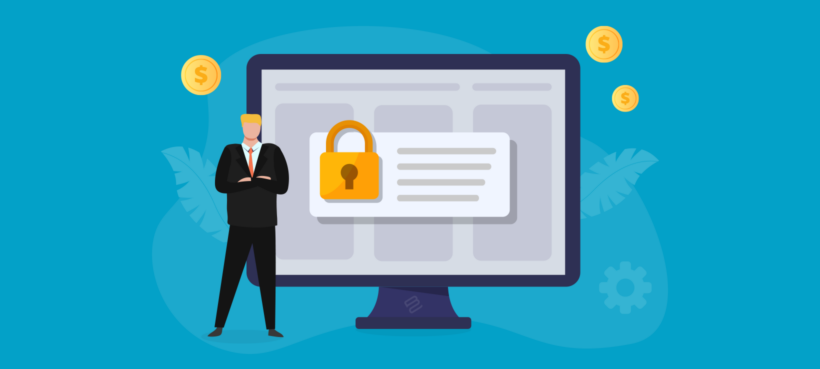 Are you looking for a way to set up a WooCommerce paywall to start charging for content? Keep reading to learn how (and why) setting up a paywall is a sure-fire solution for monetizing your content 🔥.
Subscription revenue is something that every online creator can benefit from, whether you're a blogger or a course creator. Paywalls are used to generate revenue by many large publishers, including The Wall Street Journal, The New York Times, and The Washington Post. And for a reason!
Paywalling is one of the quickest and easiest methods of monetizing a WordPress website. While online subscriptions and paywalls are not new to the publishing industry, they are becoming more widespread across the content creation industry.
In this post, we'll explain the concept of the WooCommerce paywall and discuss how you can quickly implement it on any WordPress website. You'll learn how to:
Use WooCommerce to charge for access to any type of content on your website (e.g. an exclusive members-only or subscribers area).
Charge for access to a hidden area of your eCommerce online store (e.g. a members-only purchasing club).
Use subscriptions to generate sustainable ongoing revenue from your WooCommerce paywall.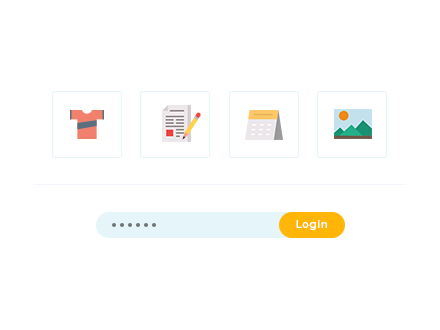 The easy way to create subscriber-only areas on any WordPress website. Install it today!
What is a WooCommerce paywall, and why set one up?
A paywall, in essence, is a mechanism to limit who can access the information on your website. Depending on the use case, the company's branding, and other factors, you may find several different names for this type of content restriction. You could find this referred to as a content locker, gated content, a WordPress paywall, a WooCommerce paywall, or another name.
As the world's leading eCommerce solution, WooCommerce is an excellent way to charge for access to your website content. That's why we're focussing on WooCommerce paywalls in this article.
To set up your paywall, you need a WordPress website plus the following plugin stack:
The free WooCommerce plugin to get the essential eCommerce functionality, such as taking payments online.
A paywall solution to prevent non-paying visitors from accessing the premium material.
Finally, you might install a subscriptions plugin to take recurring payments for ongoing access to the WooCommerce paywall.
The benefits of setting up a WooCommerce paywall
Understanding paywalls and their importance
Content paywalls offer a straightforward yet efficient approach to monetizing your blog or WordPress site. If your audience likes the content you create, they will gladly pay $5 a month (or more) to access your finest work.
1,000 subscribers to your premium material would provide you with a full-time monthly revenue. If you still doubt it, here is a quick comparison to other forms of blog monetization:
Ads often bother people and degrade their online experience.
A decent ad network requires that your blog has hundreds of thousands of visitors in order to accept it.
The process of creating, testing, and launching a product for other forms of revenue might take months.
In contrast, creating a paywall takes just a few minutes and doesn't require hiring a web developer. With a smart WooCommerce paywall plugin, you can accomplish this instantly (and we will show you how below).
A WooCommerce paywall is also a great solution if you offer a course or a membership. Contrary to online course platforms, such as Kajabi or Teachable, setting up a paywall on your course or online program will save you money. Platforms such as Kajabi or Teachable charge either a monthly fee or a fee from every student you add to the course. You can see how quickly it adds up. 
What sorts of sites need a paywall?
A WooCommerce paywall can help to monetize all sorts of websites. All that matters is that you have some sort of content that people will pay to access.
Here are some examples:
Media sites and newspapers with subscriber-only content.
Educational content, like a course or tutorial-style blog.
Private communities for your readers. This enhances community feeling, offers premium content, and improves brand image.
Purchasing clubs with products that only paying members can buy.
Paywalls vs memberships
It's worth understanding the difference between paywall and membership plugins. They are both methods which online content providers can use to monetize their offerings. However, they operate under different principles and have distinct characteristics:
Paywalls
Definition: A paywall is a feature used on websites to restrict access to content. Users must pay to gain access to specific articles, videos, etc., behind the paywall.
Types:

Hard paywalls: Users must pay to access any content.
Soft paywalls (or metered paywalls): You can access a limited number of articles for free before being required to pay.
Freemium paywalls: Some content is free, but premium content requires payment.

Access to content: Typically, access to individual pieces or groups of content, possibly time-limited or pay-per-view.
Target audience: Often used by news sites and other content-heavy platforms and apps.
Memberships
Definition: A membership site involves users subscribing to a service, often for a recurring fee. In return, they receive various benefits, including access to content, exclusive features, community engagement, etc. You might have one or multiple membership levels.
Access to content: Members usually get unlimited access to content or special benefits as part of their membership. It can include member-only forums, discounts, newsletters, and other add-on benefits.
Target audience: This model is often employed by content creators looking to cultivate an engaged community around their work, or services like streaming platforms that offer various content for a monthly fee. Memberships focus on building long-term relationships with customers beyond simply giving access to restricted content.
In general, paywalls are generally used to monetize individual pieces of content or groups of content. Memberships, on the other hand, focus on building a community and offering ongoing value to subscribers beyond access to content. WordPress paywall plugins therefore offer slightly different functionality from membership plugins. For example, these plugins might include MemberPress, WooCommerce Memberships, Restrict Content Pro or Paid Memberships Pro.
You can run both models on the same platform, for example offering paywall access as part of a membership plan.
In this article, we will focus specifically on setting up a WooCommerce paywall for access to restricted content. However, you can extend the information in the tutorial to add wider membership functionality.
Will a WooCommerce paywall have a negative impact on my SEO?
Lots of people worry that having a paywall will damage their SEO. After all, search engines can't crawl restricted content.
Luckily, the assumption that a paywall will drastically reduce visitors and revenue is false. A paywall may give you a stronger feeling of community and higher-quality traffic, which can actually help your SEO. This may seem counter-intuitive, so here's how it works:
Because your new users have paid to be there, they will really value your work.
Because your existing users are paying to stay, they will be more loyal to your brand and site.
You now have two groups of users who value your content so much that they are willing to pay for it. This increases the value of any hits you receive behind the paywall, and it can be seen in your comment sections, social media engagement and promotion, and much more.
Remember, you won't be putting all your content behind a paywall. You can still have plenty of search engine friendly content which everyone can read. This shows people the value you're offering, convincing them to sign up for the premium-only content.
Recommended plugins for your WooCommerce paywall
As you can see, there are many benefits to creating a WooCommerce paywall. Moreover, making a paywall is easy. You can do it without having to deal with complicated content restriction plugins, merchant accounts, building payment gateway integrations, or managing 1,000's of member accounts.
Now it's time to learn how to set one up. To do this, you need the following stack of plugins:
The free WooCommerce plugin - this adds the basic eCommerce functionality to your site.
Password Protected Categories - this restricts access to your website content, hiding it behind the paywall.
YITH WooCommerce Subscriptions (optional) - this lets people make regular recurring payments to access the premium content. (Skip this step if you only require one-time payments.)
Tip: If you want to include pages within the paywall (rather than posts or a custom post type), then you'll also need to install a free plugin to categorize WordPress pages. I recommend the free Add Category to Pages plugin.
How the paywall works
People pay for premium access to your content and receive a login for your website. When they login, the unlock the paywall and can see links to the premium area in your website navigation menu. They can then navigate freely within the paywall.
You can use Password Protected Categories to hide any type of WordPress category or taxonomy. Only specific users, roles, or people with the password can get through the paywall.
Tutorial: Setting up a paywall on your WooCommerce site
Here, I'll show you how to set up a paywall on your WordPress pages easily in 3 simple steps. It's completely customizable so you can adapt it to your business.
First I'll provide a quick summary of all the steps, and then tell you how to implement them step-by-step.
How do I create a paywall in WooCommerce?
Install the free WooCommerce plugin and set up your payment methods.
Create the content that you plan to hide behind the paywall, then use the Password Protected Categories plugin to restrict access to certain user roles.
Create a 'Paywall' product and set the price.
Keep reading for full details on each of these 3 steps.
Step 1: Install WooCommerce
Log into the WordPress admin for your site, and go to Plugins → Add New.
Search for 'WooCommerce' and install it. Don't confuse it with other plugins with a similar name. The main WooCommerce plugin is easy to spot as it has millions of installs!
Once installed, disable 'Guest Checkout' under WooCommerce

→

Settings

→

Accounts & Privacy. This way, WooCommerce will create an account for each person when they subscribe.
Step 2: Set up the WooCommerce paywall plugin
Before you start putting content behind the paywall, it's worth thinking about what sort of content you'll be using. The options are:
Normal WordPress pages. This is a good option, but you'll need to use the free Add Category to Pages plugin to categorize your pages. 
WordPress posts. Do this if you're creating a paywall for blog or news posts. However, if you also have a public blog then I'd recommend using a custom post type instead.
A custom post type. If you want a dedicated area for the paywall-restricted content in the WordPress admin, then create a custom post type. You can easily do this with our free Easy Post Types and Fields plugin. For example, you might create a post type called 'Members Content'.
Once you've added some content and structured it into one or more categories, then you can start hiding it behind the paywall. To do this:
Purchase and install Password Protected Categories.
Go to edit one of the categories that will go inside the WooCommerce paywall. For example, if you're putting blog posts behind a paywall then go to Posts → Categories.
Find the visibility section, select 'Protected' and then select the user role(s) that will have access to the paywall.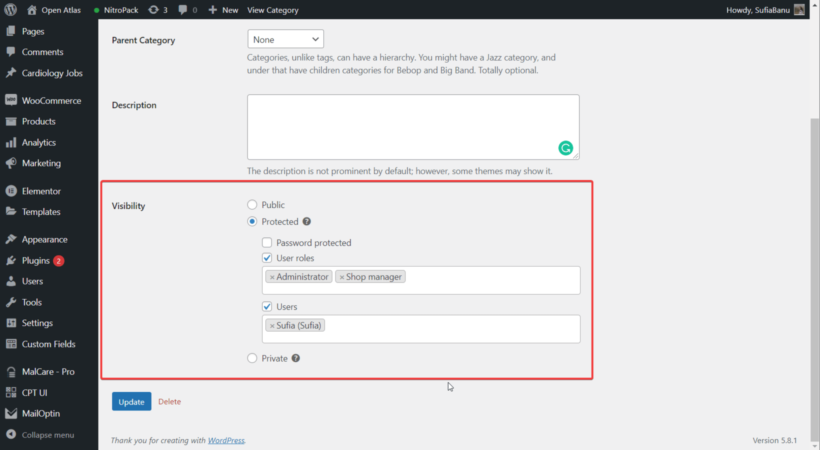 Which user roles need access to the paywall?
If you're only planning to use WooCommerce to sell access to the paywall, then you can just use the built-in 'customer' role. People will automatically be added to this role when they make a purchase, so that way they will get instant access to the restricted content.
However, that won't work if you're selling other types of products too. In this case, then you should use the free User Role Editor plugin to create a dedicated role for users with paywall access. Select this custom role for all the categories that will be hidden inside the paywall.
(Tip: I also recommend selecting 'Administrator' too, so that you have access to the payroll for testing purposes.)
Step 3: Create a paywall product
Finally, you need to create a product which people will purchase in order to access the premium content.
Go to Products → Add New, and add information such as the product description and price. For example, the name of this product might be "Premium Access".
Now go to Appearance → Menus and add the product you just created to your website navigation menu. People will go to this page in order to pay to access the paywall.
If required, then install YITH WooCommerce Subscriptions

and use it to set up a Subscription plan product for the premium content. Or if you just want to charge once for access to the paywall area, then create a standard WooCommerce product instead.
Once you have done this, then customers will immediately have access to the paywall area as soon as they buy your paywall product from its product pages. If you created a dedicated user role for paywall access in Step 2 above, then to make this work then you must use the Automatic User Roles Switcher plugin to change people's roles when they purchase the paywall product.
Bonus steps
The steps described above cover all the essentials to setting up your WooCommerce paywall. To make it even more professional and user-friendly, consider adding these extra features too.
Create a login form
WordPress itself provides a basic login form, but it's not very professional and doesn't match your website. If your WordPress theme/template provides a nice front-end login form, then I recommend using that. Add a prominent 'Login' link to your header or menu.
Alternatively, you can use the free Theme My Login plugin to create a professional-looking login page.
Add your paywall categories to the menu
Navigate to Appearance →  Menus and add links to the paywall-restricted categories to the menu. These links will only appear to logged-in paying customers.
Edit the 'Welcome' email to customers
In the previous steps, I showed you how to disable guest checkout in WooCommerce. This means that when someone pays for premium access, a user account will automatically be created for them. WooCommerce will send their login details by email.
You can edit this email in WooCommerce → Settings → Emails → New Account Email.
Create a WooCommerce paywall today!
As you can see, setting up a WooCommerce paywall is an easy and quick solution to start monetizing your WordPress site. Setting up a paywall or membership subscription is the ideal choice if you want to make money from your blog but don't want to spam your readers with ads and affiliate links.
.There are more benefits than drawbacks to locking away and charging for some of your content. While you could lose some visits and non-paying users, you will also gain more devoted customers and perhaps even build a strongly engaged community. Whether you offer online courses, membership or simply want to lock away your blog content, the best paywall plugin for WordPress is Password Protected Categories.
Try out the Password Protected Categories plugin today. Use it with the other plugins mentioned in this tutorial to take payment for accessing the paywall (either one-off or as a monthly subscription), and give paying customers access to the premium content.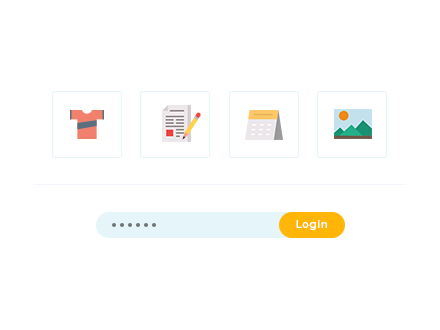 The easy way to create paywall-restricted on any WordPress website. Install it today!