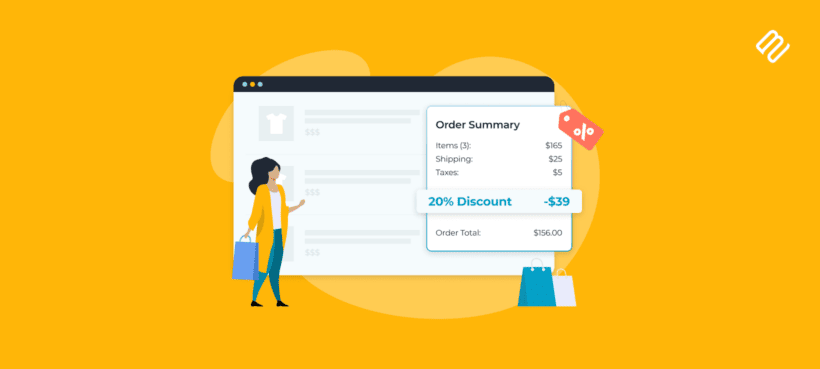 Want to use order total discounts to increase your online store's average order value and overall revenue? In this detailed tutorial, I'll show you how to add a WooCommerce discount on total order value. The best part? It takes less than 10 minutes to set up!
Online shoppers love discounts. Research shows that receiving discounts releases oxytocin, a hormone that makes shoppers happier and reduces the likelihood of them abandoning their carts.
This is great news for Woo store owners 😀. You can use the power of discounts to boost your store's sales and revenue - and that's what this post is about.
Here, we'll cover:
The essentials of WooCommerce order total discounts, including what they mean and their benefits.
Ways to use discount offers based on the total order value to boost sales.
How to set up a discount on total order rule using the WooCommerce Discount Manager plugin.
Lots more.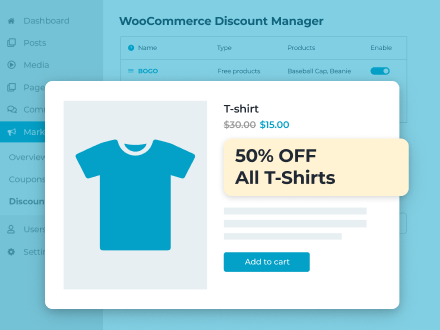 Grow your sales with the best all-in-one discount plugin. Love it or your money back!
What are WooCommerce order total discounts?
In WooCommerce, an order total discount (also known as a subtotal or cart discount) is a marketing strategy that offers shoppers price reductions based on their order value.
Implementing order total discount rules sets specific thresholds on the total value of items customers must add to their shopping carts to qualify for the discount - essentially rewarding them for making larger purchases. When a customer's cart total meets or exceeds one of the thresholds you've defined, the discount is applied. It can be in the form of:
Amount-based discounts: You can offer a fixed amount discount on the total order value. For example, if the total amount of items in a customer's cart is $100, you can provide a $10 discount, reducing the total to $90.
Percentage discounts: Instead of a fixed amount, you can offer a percentage-based reduction on the order total - for instance, a 15% discount on orders over $200. If a customer's cart total reaches $250, the discount would be $37.50, making the new total $212.50.
A quick note
Order total discounts are not the same as bulk quantity/volume-based discounts.
Order total discounts are applied based on the total cost of all cart items. For example, customers who shop for at least $150 are eligible for a $15 discount on the cart subtotal. In contrast, volume discounts are based on the product quantity, i.e., number of items added to the cart. For example, customers who buy at least 150 units of a product are eligible for a $15 discount.
With both types of discounts, the goal is the same: to encourage shoppers to spend more. However, the discount type of discount differs.
Benefits of using order total discounts
"Discounts are a powerful psychological tool which can significantly increase your average order value. Total order discounts are perfect for this, providing a incentive for customers to spend more." Katie Keith - CEO, Barn2 Plugins
Order total discounts are a compelling incentive to influence how customers shop on your site. They can lead to:
Better product discovery
When customers realize that adding a few more items to their cart unlocks valuable discounts, it naturally prompts them to browse your store further. This allows shoppers to discover more products and add them to their carts.
Higher average order value (AOV)
Offering order total discounts can incentivize shoppers to buy more items or more expensive products to qualify for the deal. For example, if you offer a 10% discount on orders over $100, a customer with a $85 cart might be encouraged to add more items to reach that $100 threshold.
Lower cart abandonment rates
Cart abandonment is a serious issue for most eCommerce stores. Order total discounts are applied at the checkout page, making them doubly powerful in reducing cart abandonment rates - especially when paired with other cart-saving measures like SMS messages.
Enhanced customer engagement
According to the peak-end rule, people judge experiences based on how they feel at their peaks and ends. Because the discount on the total order amount is applied toward the end of the shopping journey, it can lead customers to remember their purchases as positive experiences.
Increased customer loyalty
WooCommerce lets you assign specific user roles to customers. Giving discounts to returning customers is a great way to reward their loyalty and encourage repeat purchases. Over time, this boosts customer satisfaction in your store.
When to provide WooCommerce order total discounts
Order discounts tend to work best when you build them into campaigns. Here are some ideas on how to offer WooCommerce cart discounts in your store.
Seasonal promotions: Festive seasons and holidays like Christmas, New Year's, Black Friday, etc., are typically the busiest periods for most eCommerce stores.
New product launches: Discounts can generate excitement and drive early sales for new products.
Clearance sales: When you have excess inventory or want to get rid of older stock to make room for newer ones, giving order total discounts can help you clear out older items that might otherwise remain unsold.
Customer loyalty programs: If you have a loyalty program, you can bake in order total discounts to encourage new customers to join and reward existing ones.
How to add a WooCommerce discount on total order rule to your store
Adding order total rules isn't a built-in WooCommerce feature. As a result, we'll set it up using WooCommerce Discount Manager, the best discount WooCommerce plugin.
This advanced plugin that lets you create pricing rules to apply order total discounts to eligible purchases. It lets you:
Select products that qualify for the order total discounts: all products, specific products, bundles, or categories.
Apply discounts to purchases based on cart total, specific user roles, total number of items, and more.
Offer percentage-based or amount-based discounts.
Display notifications on the cart page to inform customers about available discounts and encourage customers to use them.
WooCommerce Discount Manager is an all-in-one discounts plugin. This means that you can use it to add a wide range of dynamic pricing offers, including bulk discounts, buy one get half price, buy one get one (BOGO), free gifts with purchases, and more.
My favorite WooCommerce Discount Manager feature is its advanced logic. If you've set up multiple discounts on your store, the plugin prevents customers from using more than one at a time. It automatically prioritizes the best one for your store and your customers - so you don't lose money from each purchase.
Setup instructions
Follow these steps to add discount on total order rule pricing rules using WooCommerce Discount Manager:
1. Install the plugin and activate it
Download the plugin's files onto a folder on your computer.
Log onto your WordPress admin dashboard. Then, navigate to Plugins → Add New.
Now, select 'Upload Plugin', followed by the plugin file you downloaded earlier.
Click on Install Now → Activate.
Finally, enter your license key into the setup wizard to activate the plugin.
2. Create a WooCommerce discount on total order rule
Navigate to Marketing → Discounts within your WordPress dashboard.
Select 'Add New' to create a new rule.
Next, type in a name for the discount. (This name is only for admin-view; customers won't see it.)
Select the 'Based on Total Spend' discount type from the modal window.
The "Which products?" option allows you to decide which products the discounts should apply to. You can use the total order discount on all products in your store catalog, selected product categories, or specific products. For example, you might want to offer $10 off all t-shirts once they spend a total of $50 or more from the t-shirt category. Alternatively, you might offer 10% off products in the entire store when you spend $50.
Next, enter the minimum cart value in the "Spend required to qualify for discount" section. This is the minimum amount customers must spend to qualify for the total order value discount.
3. Customize the WooCommerce discount on total order rule
Now, select whether you want to offer a percentage or fixed-amount discount in the "Discount amount" section. Also, enter the discount value - whether a percentage amount or monetary value.
The "Applies to" option lets you apply the discount only for customers with specific users or user roles. Select the appropriate option or leave it blank to apply the discount to all users.
Availability: If this offer is time-limited (for instance, a Black Friday deal), schedule the sale start and end dates.
The "Content" section is where you add messages to be displayed on the front end (specifically, on the WooCommerce product page) to notify customers about the discount. If your theme lets you use information boxes or other eye-catching styles, you can add them to highlight the message. Also, you can use emojis like 💰 to make the notice more prominent.
The "Cart notice" section lets you add a text-only notice that appears at the top of the WooCommerce cart page for customers who have qualified for the order total discount. Similar to the message for the "Content" section, feel free to use text to promote the deal. For example, you might say, "Congratulations! You have qualified for a 20% discount on your entire cart!"
That's it! Now, save the discount and head to your site's front end to see it in action.
Note: Customers don't have to apply a discount coupon code. The plugin will apply it automatically for customers who qualify for the deal.
Tips to boost sales with WooCommerce order total discounts
Adding a discount on total order pricing rule to your WooCommerce store is only part of the equation. These psychology hacks will help you make sure that your discount campaigns are a success.
Set discount thresholds strategically
Dig into your store's data to find out the average order value. Then, set the discount thresholds just above it. For instance, if your average order value is $40, set the discount threshold at $50. This encourages customers to add more items to their shopping carts to reach the threshold to qualify for the discount and can significantly boost your overall sales.
Use scarcity and urgency principles
The fear of missing out (FOMO) can motivate shoppers to act quickly to avoid missing out on a great deal. Implementing a time limit on offers helps you create a sense of urgency. Create scarcity by restricting the number of people who can qualify for the order total discount.
Use compelling copy
People tend to avoid losses more than they seek gains. Craft your discount messaging in a way that emphasizes what customers might lose if they don't take advantage of the offer. For example, "Don't miss out on 20% savings" can be more compelling than simply stating "Save 20%".
Set psychological price points
Pricing products just below a round number, like $9.99 instead of $10.00, can create a perception of a better deal. Shoppers often round down to the nearest whole number, making them feel like they're saving more than they are.
Make it easy for customers to calculate discounts
Seasoned eCommerce businesses know that customers hate friction in the purchasing process. Use round numbers and standard percentages like 10%, 20%, and 50% for discounts. Make the mental math easy for your customers, Even if you include a price calculator on the screen.
Discount products selectively
Every item has a perceived value, aka what customers believe it to be worth. Overly discounting your premium or flagship products can unintentionally devalue them in the eyes of your customers. It can lead them to question the product's quality or wonder why it's being discounted so significantly - which may hurt sales. Instead, reserve larger discounts for lower-value items or for clearing out older inventory.
Case study: Ensuring order total discounts boost revenue
To see how powerful order total discounts are, consider this case study by Invesp, a leading CRO agency.
Background
Invesp's client is a prominent e-commerce marketplace in South Asia specializing in female apparel and accessories. They attract around 4 million monthly visitors, primarily from social media and paid traffic.
Problem description
Despite offering various incentives like discounts, cashback programs, and free shipping on most products, most shoppers remained unaware of these benefits. Here's what Invesp found:
Even though 95% of purchases were eligible for free shipping, users' attention wasn't effectively directed to the offer because of where it was placed in the sales funnel and on web pages.
The discounts were placed beside the product price on mobile product pages. However, customers couldn't see them properly because of the difference in font size between the regular price, discounted price, free shipping information, and other discounts offered.
The cart page, a crucial stage in the purchasing process, failed to mention several incentives promoted on the product page, including free shipping and price discounts, which confused customers.
Additionally, the language used on the cart page didn't match that used on the product page. The product page mentioned "cashback", while the cart page stated "credits".
Hypothesis
The premise was simple: eliminating unnecessary clutter and highlighting the available incentives will lead to an increase in conversion.
Getting rid of unnecessary elements declutters the page, while calling attention to discounts and free shipping incentives makes sure that customers don't miss them.
Goals
For the product page
To increase the number of products shoppers add to their carts.
To increase the number of purchases.
For the cart page
To increase the number of shoppers who proceed to the checkout page.
To boost the macro conversion.
The results
Invesp A/B tested both the product and cart pages to remove clutter and increase the visibility of the discounts. Their test led to a massive increase in conversions by 13.98% on the single product page and 17.75% on the cart page.
The takeaway
Besides offering discounts, it's equally important to effectively promote them to customers. After all, if customers don't know the deal exists, they won't use it. WooCommerce Discount Manager lets you easily use text, pop-up boxes, and custom messages to increase the likelihood that shoppers see the deals - and actually use them.
It's time to add discount on total order rules to WooCommerce!
While WooCommerce is an excellent eCommerce platform, it doesn't provide an option to offer order total discounts.
Thankfully, you can use WooCommerce Discount Manager to add this capability to your online store. The plugin lets you:
Set up pricing rules for order total discounts.
Define which products are eligible for the sale - Include or exclude specific products and product categories from being offered as part of the discount.
Display custom notices on the product page to promote deals to shoppers while they're browsing.
Show custom notices on the cart page to reassure customers that they qualify for the discount.
Bonus: In addition to order total discounts, you can use it to offer a wide variety of deals like volume discounts, buy one get one free, etc.
Start offering order total discounts with WooCommerce Discount Manager today!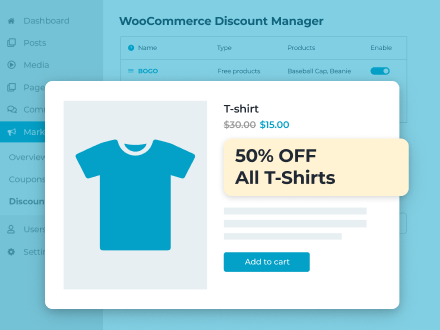 Grow your sales with the best all-in-one discount plugin. Love it or your money back!