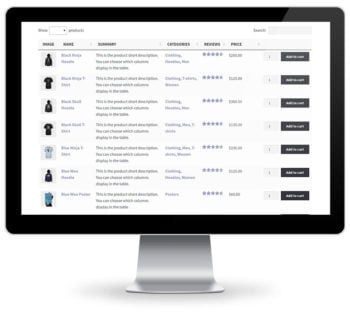 Hello! Yesterday, we introduced you to our bestselling plugin: WooCommerce Product Table.
This plugin helps increase the conversion rate of your WooCommerce store.
Today, we want to share more insight into overcoming the barriers affecting your conversion rate.
We'll show you how more than 3,500 e-commerce shop owners, just like you, have boosted their sales with WooCommerce Product Table.
Sell more products
John runs a WooCommerce store, and was struggling to increase the average order value of purchases. He added WooCommerce Product Table to his site, and has increased the average number of items per order by three times. Here's what he has to say:
"Before I installed I was lucky to get orders with three items, now I AVERAGE ten products per order. Support is also really good too. I highly recommend this plugin." - John
WooCommerce Product Table helps you sell more products by letting you display as many products as you like in one easy to navigate table. This lets customers quickly sort to find the products they want – and helps you sell more, just as John did.
Increase conversions
Joe also runs a WooCommerce store, and was struggling to ensure his clients could sort through his products in order to find what they want. WooCommerce Product Table helps Joe's clients quickly find what they're after, increasing his conversion rate. Here's what Joe has to say:
"I love how the products load fast to make it a smooth operation for my clients to find the products to add to their order. The display of the columns and the ability to filter the product categories is a great help." – Joe
You can enjoy the same boost to your conversion rate by adding WooCommerce Product Table to your site. Plus, it even works seamlessly on tablet and mobile :)
Outstanding customer support
If you need help, we're here for you: we understand you'll occasionally need help, and we're on hand to promptly and efficiently get your issues fixed.
You shouldn't just take our word for it. Here's one of many gracious testimonials our current customers have left for us:
"Barn2 not only make fantastic plugins that just work very easily but the customer service is second to none. We will be using them for many future projects. There's nothing better than a dependable product, well there is it's dependable customer service — and they have that too." - Rob
We hope you'll join our list of very happy customers, and be like Rob :)
More reviews and example websites
You can read dozens more reviews just like these on the WooCommerce Product Table reviews page. Read the full list of reviews, or search for reviews about your exact use case.
We've also published a plugin showcase, where you can see real-life examples of other WooCommerce stores who have improved their conversion rates.
Can we boost your conversion rate, and make your customers happier?
Now that you've heard how other WooCommerce store owners have benefited from our plugin, are you ready to join them?
WooCommerce Product Table comes with regular updates and personal support for 1 year. We think you're going to love how quick and easy it is to setup and customize.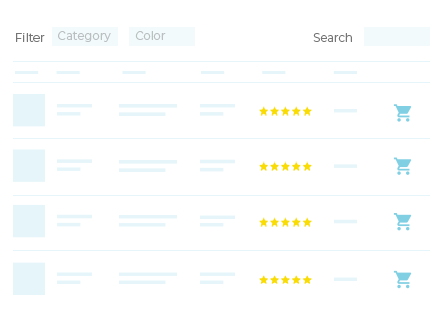 The easy way to grow your WooCommerce store's conversion rates.