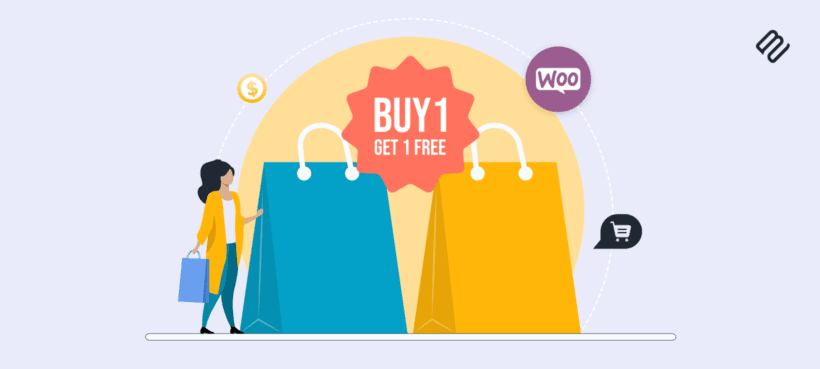 Do you want to run a buy one get one free (BOGO) deal on your WooCommerce store? The BOGO offer is one of the most effective marketing strategies for increasing sales and encouraging customers to spend more. However, WooCommerce does not support the creation of such a discount by default. In this article, we'll show you how to easily create one using a plugin.
Buy one get one free offers have always been popular with shoppers as they allow them to save money on their purchases by getting products at half price. As a store owner, BOGO offers not only increase your sales but also build customer loyalty. However, setting up this type of discount can be challenging if you're using WooCommerce. The good news is that you can easily create it in just a few steps using a discount or coupon plugin.
In this tutorial, we'll explore how to create a BOGO deal in WooCommerce using the YITH WooCommerce Dynamic Pricing and Discounts plugin. We'll walk you through the steps to configure the discount rule and show you how to apply it to your products. Let's get started!
What is Buy One Get One free (or BOGO)?
A Buy One Get One free (BOGO) promotion is a marketing strategy that offers customers a free product if they purchase a specific product at its regular price. This discount type is often used to encourage customers to buy more products and increase sales. It is also helpful when you want to clear out the old stock, recover abandoned carts, or attract new customers.
Advantages of Buy One Get One free promotion
Let's look at some of the advantages of the buy one get one pricing deals:
Increased sales volume: The main advantage of BOGO discount is that it often leads to an immediate increase in sales. By offering two products for the price of one, you provide value to customers, which can encourage them to purchase.
Clearing inventory: BOGO promotions can be an effective way to clear out excess inventory. If certain items aren't selling as well as expected, a BOGO offer can help move these products faster.
Customer acquisition: It can also attract new customers who are looking for products at a discounted price. This allows you to expand your customer base and potentially increase long-term sales.
Customer satisfaction: BOGO deals can boost customer satisfaction as customers feel they're getting a good deal. This can enhance your brand's reputation and increase customer loyalty.
When used effectively, BOGO offers can have a considerable impact on customer behavior and sales. But they also have some disadvantages and let's look at them.
Disadvantages of Buy One Get One free promotion
Can reduce profit margins: Offering an extra product at no additional cost can lower your profit margins. The cost incurred in buying, storing, and shipping the bonus product may make this promotion more expensive than expected.
Customers may hesitate to buy at the original price

: Excessive BOGO offers might create a wrong impression of product value, leading to customers waiting for a BOGO deal before making purchases.
As a result, you should always think carefully about the profitability and implications of buy one get one free deals. Use them strategically in a way that maximizes the benefits while avoiding the disadvantages.
Now that we know the pros and cons of using a buy one get one offer, let's look at how to create them.
How to create a Buy One Get One free (BOGO) offer in WooCommerce
As WooCommerce doesn't let you create a buy one get one offer by default, we'll need to use a third-party WordPress plugin.
The YITH WooCommerce Dynamic Pricing and Discounts plugin is a comprehensive solution that enables businesses to apply a wide range of pricing and discount rules, including BOGO deals. It also supports bulk discounts, percentage discounts, and other widely used promotional deals like 2 for 1, 3 for 2. On top of that, it also lets you schedule offers in advance, such as Black Friday and Cyber Monday.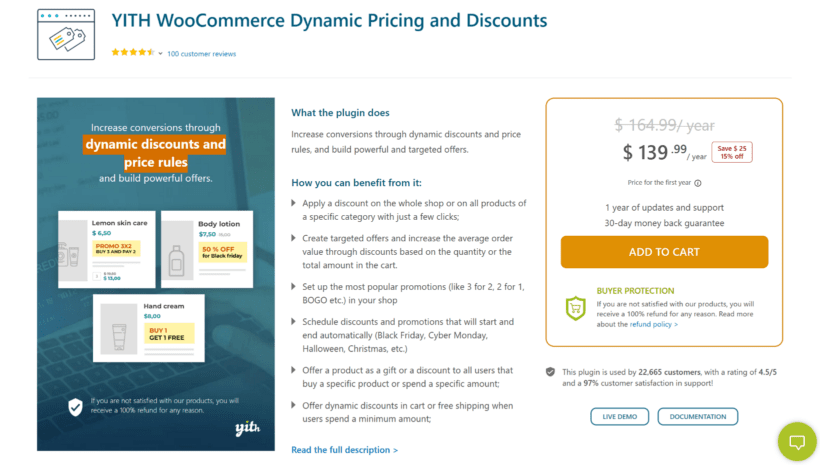 It's the best WooCommerce plugin that offers a centralized platform for managing all your pricing offers and discounts. In this article, we will learn how to install and configure it to create the BOGO offer on your eCommerce store.
1. Install the YITH WooCommerce Dynamic Pricing and Discounts plugin
YITH WooCommerce Dynamic Pricing and Discounts is a premium plugin available to purchase from the YITH website.
After purchasing the plugin and downloading its zip file, log in to your WordPress dashboard and navigate to the Plugins page. There, click on the Add New button and Upload Plugin. Then, simply drag and drop the ZIP file and click on Install Now.

Now that the installation is complete, you need to activate the license key for the plugin to function properly. To do so, navigate to YITH → License Activation and type in the email address associated with the order and the license key. Once done, click on the Activate button to validate your information and activate the license.

2. Enable coupons in WooCommerce
For the plugin to work correctly, enabling coupon code in the WooCommerce settings is crucial. To enable it, head over to WooCommerce → Settings → General and check the checkbox next to Enable coupons.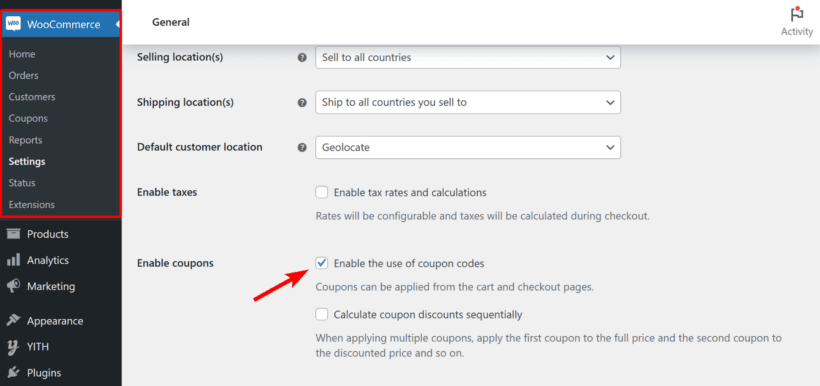 3. Create a new BOGO pricing rule
To create a buy one get one offer, go to YITH → Dynamic Pricing and Discounts → Dynamic rules and click the Create rule button.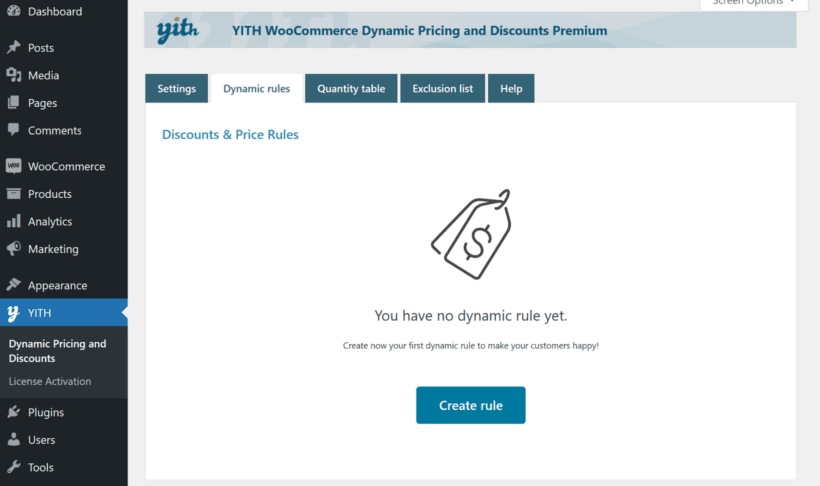 A popup will appear that provides you with pre-configured templates as well as the option to create pricing rules from scratch. To create a BOGO offer, select the Buy 1 Get 1 option, and the plugin will automatically create that rule.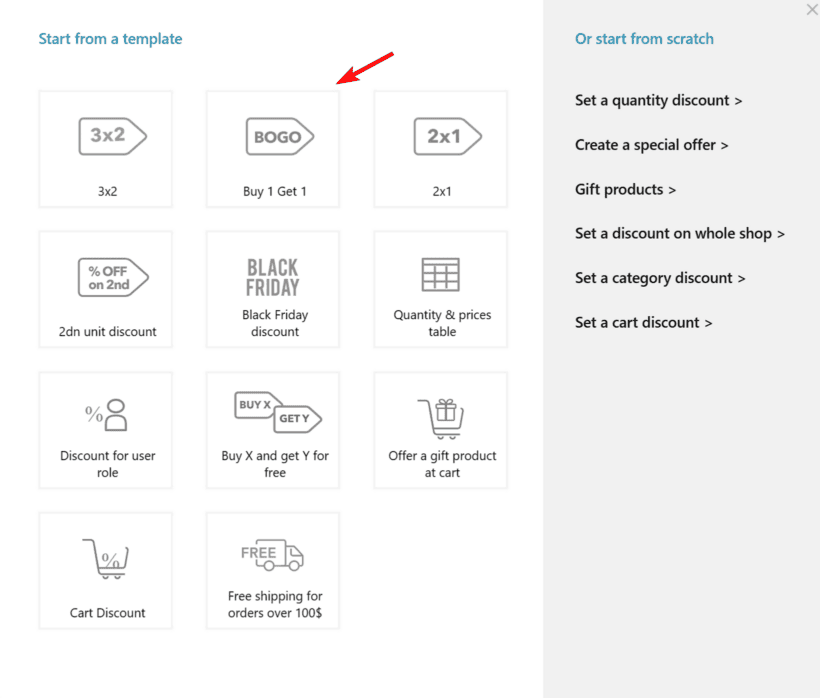 Change the rule name and its priority. The highest priority is 1 and will override all other discount rules.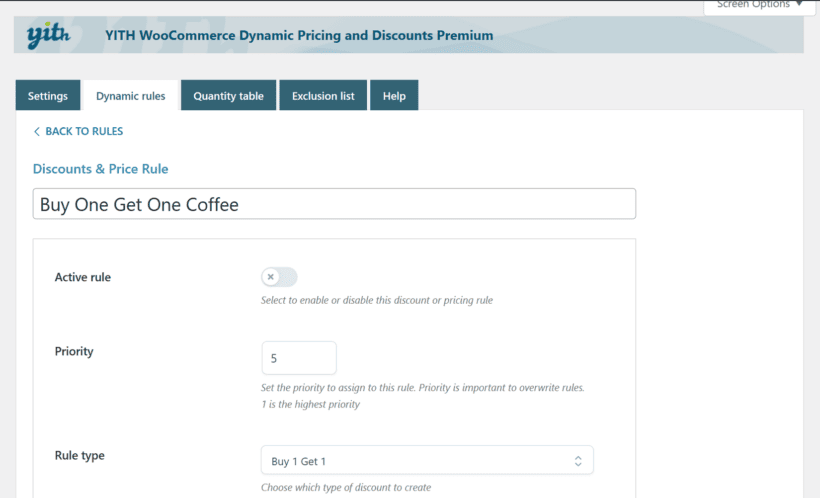 The next option is the rule type, which is automatically selected as we used the BOGO template. Following that, you can choose which WooCommerce products, categories, or tags the rule should apply to.
If you choose to apply it to specific product categories or tags, the plugin also lets you set an exclusion list from taking advantage of this discount.
Similarly, you can also include or exclude the discount rule for specific users or user roles. Scrolling further, you can also schedule the discount to start and end at a specific date and time or control it manually.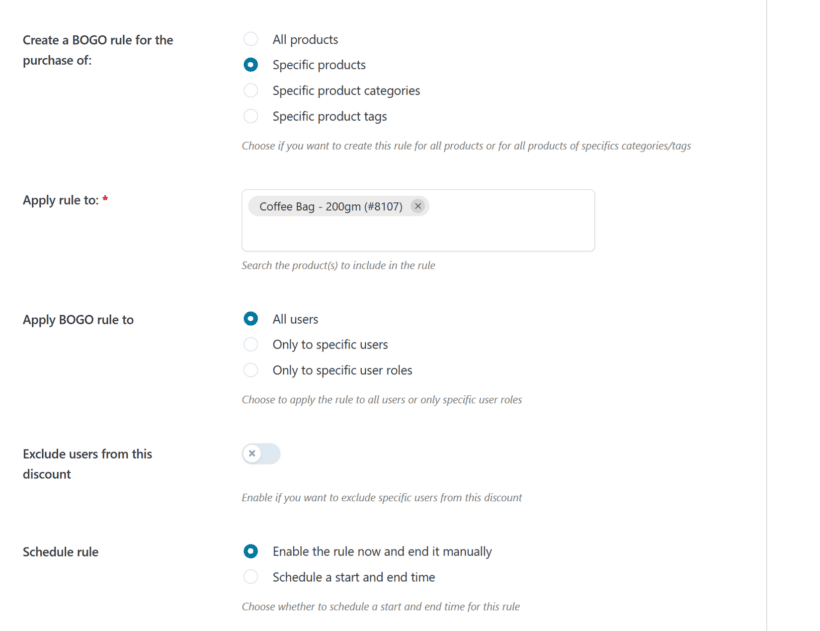 Next, the plugin gives you toggles to enable or disable the rule for on-sale products and when a coupon has already been applied. You can also enable the toggle to disable other low-priority rules when this rule is active.

Finally, enter a custom text that you want to display on the product page where the BOGO coupon is in effect. This message serves as a call to action for visitors to take advantage of the offer.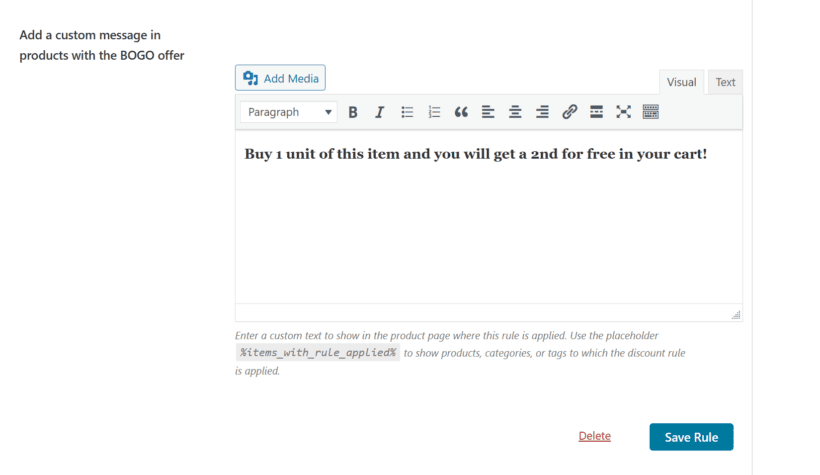 After that, scroll up to activate the rule, and click the Save Rule button to publish the BOGO deal on your WooCommerce online store.
4. Test the Buy One Get One free deal
Testing any offer before announcing it to customers is essential to identify any potential issues.
To test the offer, visit the product page on the frontend and try to mimic a customer's shopping experience. Add the product to your cart and visit the cart page. If the offer is working properly, you should see two products added to your cart with the second one being free.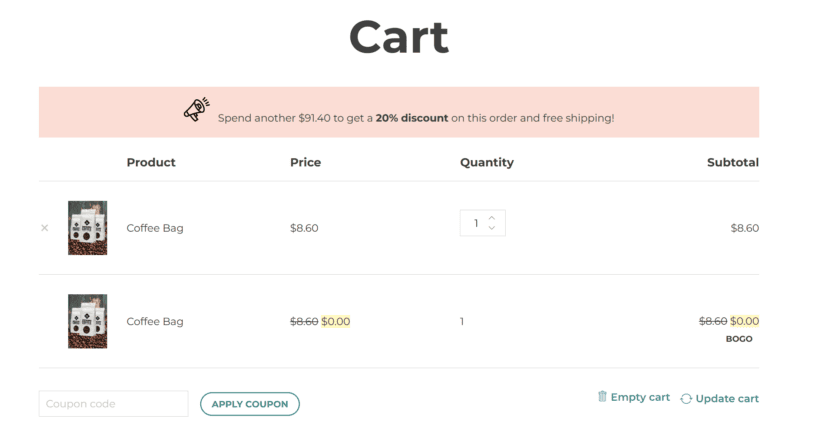 The YITH WooCommerce Dynamic Pricing and Discounts eliminates the need for customers to manually add coupon. They can add the product to their cart, and the BOGO smart coupon is automatically applied.
You can then proceed to the checkout page and place a test order to check if everything is working correctly. If everything works as expected, you can proceed to announce the offer to your customers.
Now that we know how to create a buy one get one offer, let's take a look at some product selection tips to ensure that you don't lose money by running this promotion.
Tips for choosing the right products for the Buy One Get One (BOGO) offer
Choosing the right products for the BOGO offer can be a decisive factor in the success of your promotion. Here are a few tips to help you choose the right ones:
Products with the highest profit margins: Select products that have high-profit margins to cover any losses or costs incurred during the BOGO offer.
Slow-moving products: Use BOGO deals to promote slow-moving products that are occupying storage space, thereby freeing up space for more desirable products.
New products: Use BOGO offers to introduce new products to customers who may be interested in purchasing new products with similar value as their favorite/most bought product.
How to promote your WooCommerce Buy One Get One free offer
Promoting the WooCommerce BOGO offer can be an effective way to increase sales and attract new customers. Here are a few mediums for effectively getting your offer in front of your target audience:
Email marketing: This is a highly effective channel for promoting your BOGO free offer. Create an enticing email campaign that highlights the benefits of the offer, the products involved, and the limited time period the offer will be active. Make sure to use an engaging subject line and a powerful call-to-action button to motivate subscribers to make a purchase. You can use a tool like Mailchimp for this purpose which works great for eCommerce websites.
Social media promotion: Utilize your business's social media platforms (Facebook, Instagram, Twitter, LinkedIn, etc.) to create buzz around your BOGO offer. Create engaging posts with compelling visuals showcasing the products involved in the offer.
Website banners and popups: Highlight the BOGO offer to your website visitors with attractive banners and popups. You can do this with a plugin like Popup Maker. Make sure you show the popup at the right time in order to draw attention and encourage immediate action.
Blog posts: If your website has a blog, write a post about the BOGO offer. This can help you rank for SEO, bringing more traffic to your website. Include details about the offer, the value it provides to the customers, and how they can avail it.
Paid advertising: Consider investing in paid online advertising through Google AdWords or social media ads. These can help reach a larger and targeted audience who might be interested in your BOGO offer.
Effective communication tips to promote your BOGO offer
Now that you've learned how to promote your WooCommerce buy one get one free offer, it's important to effectively communicate it so that customers understand and take advantage of it. Here are some tips to help you communicate your offer effectively:
Clarity: Ensure your promotion details are clear and concise. Customers should know exactly what the offer is, which products it applies to, and the end date.
Value proposition: Highlight the value the customer will get from your BOGO offer. Explain how they're getting two products for the price of a single product.
Urgency: Create a sense of urgency by making the BOGO offer time-bound. This can encourage customers to act quickly to avail of the deal.
Visibility: Make sure your promotional message is visible across all your platforms. This includes your website, email campaigns, social media, and even in-store (if applicable).
Consistency: Maintain consistency in your promotional messages across all channels. This can help avoid confusion and ensure your offer is understood and availed of properly.
That's all! I hope the above tips help you effectively plan your buy one get one free offer to reach potential customers.
Create your Buy One Get One (BOGO) offer today
As WooCommerce doesn't let you set up a Buy One Get One (BOGO) offer by default, you've to rely on a third-party plugin. The YITH WooCommerce Dynamic Pricing and Discounts plugin provides a straightforward process to create it. You can easily set up the offer, filter it to specific products, categories, or tags, and schedule it to run automatically at a desired time.
BOGO offers can positively impact sales, customer engagement, and brand loyalty. It can encourage customers to purchase more, leading to a boost in revenue and setting your brand apart from competitors.
Apart from this, you can also explore other promotional strategies, including offering percentage discounts, bulk discounts, and free shipping. The YITH plugin is a comprehensive solution that lets you easily manage all your pricing and discount rules, including the ones we mentioned. Get the YITH WooCommerce Dynamic Pricing and Discounts plugin today and create amazing discount rules with ease.