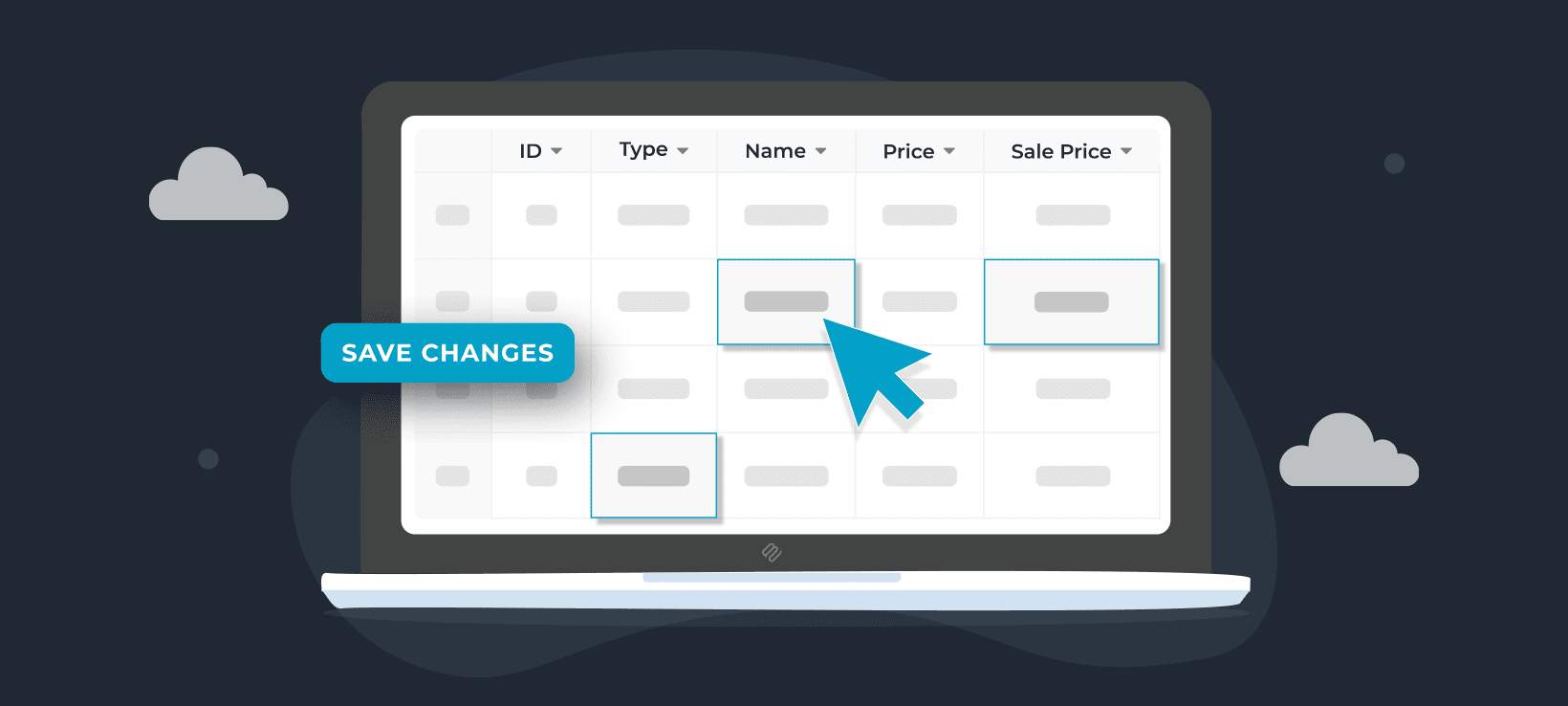 Are you tired of manually editing products and variations in your WooCommerce store? Bulk editing can be a lifesaver. Let's explore how to do it using the two best WooCommerce bulk editor plugins.
In the world of eCommerce, managing an online store can be a daunting task, especially when it comes to managing products and variations. This is where bulk editing comes into the picture.
A WooCommerce advanced bulk editing plugin offers many benefits to store owners, such as:
Saves time and effort by allowing you to edit multiple products or variations simultaneously.
Increases accuracy by reducing the errors that can occur when editing each product or variation individually.
Makes it easier to manage and update prices, stock levels, meta fields, and other product details for stores with a high volume of inventory.
Streamlines seasonal changes and the implementation of promotional offers across multiple products.
In this article, we'll take a look at two of the best bulk editing tools, Setary and WooCommerce Bulk Variations. We'll also discuss which tool to use in different bulk editing situations and how to use them to improve your online store's efficiency.
Let's get started with learning how to bulk edit products in WooCommerce!
What is Setary?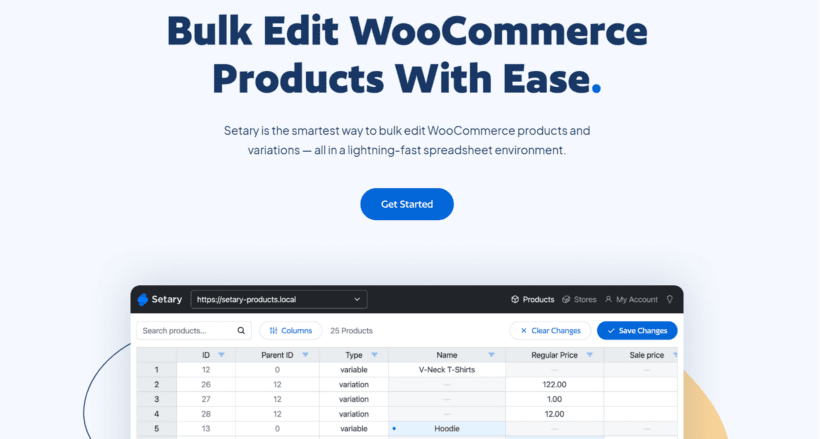 Setary is a powerful tool designed to save you countless hours by making bulk editing of products fast, efficient, and easy. Unlike other solutions, Setary is a hosted platform, meaning you make changes in a spreadsheet-like environment outside of WordPress. It has a user-friendly interface and requires no prior experience to operate.
It connects your WooCommerce store via an API, so you don't have to import or export your product data in a CSV file. Edit your products and variations in Setary, click save changes and your products will be updated automatically.
What's unique about it is that its functionality allows you to bulk update multiple products and variations at once.
Now that we've discussed Setary, let's move on to another tool called WooCommerce Bulk Variations and see what it has to offer.
What is WooCommerce Bulk Variations?
Before we look take a look at the WooCommerce Bulk Variations plugin, let's first try to understand what product variations are.
Product variations in WooCommerce are different versions of a single product. They allow customers to choose the specific variation of a product that best fits their needs. For example, you can have the same style of t-shirt available in different variations, such as size, color, or material.
Editing such variable products can be a tedious task. But, thanks to a plugin like WooCommerce Bulk Variations, you can easily manage multiple variations of a single product in bulk.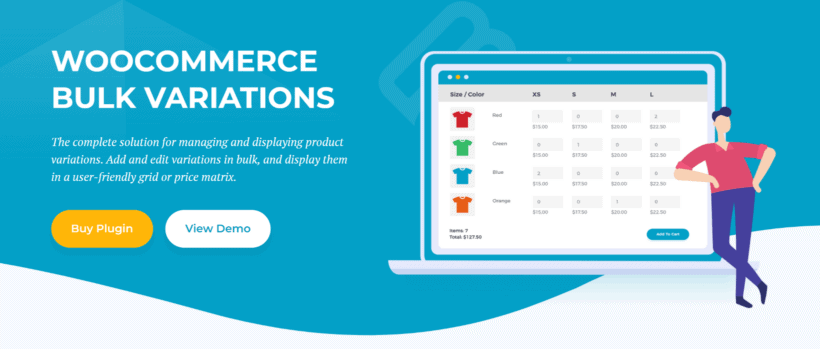 Unlike Setary, WooCommerce Bulk Variations is a plugin, which means you can make bulk changes from within your WordPress dashboard.
For example, let's say you have a t-shirt product with variations such as size and color. You can use WooCommerce Bulk Variations to:
Select all the variations with the 'Small' attribute and set the same regular price to them all in bulk.
Select all the variations with a 'Blue' attribute and bulk-apply a variation image of a blue t-shirt to them all.
By default, WooCommerce only lets you change the price of one variation at a time, or all of them, and not based on more fine-grained data like product attributes.
Now that we have a better understanding of the capabilities of both Setary and WooCommerce Bulk Variations, let's explore how you can leverage these tools to make bulk edits to various product types in WooCommerce.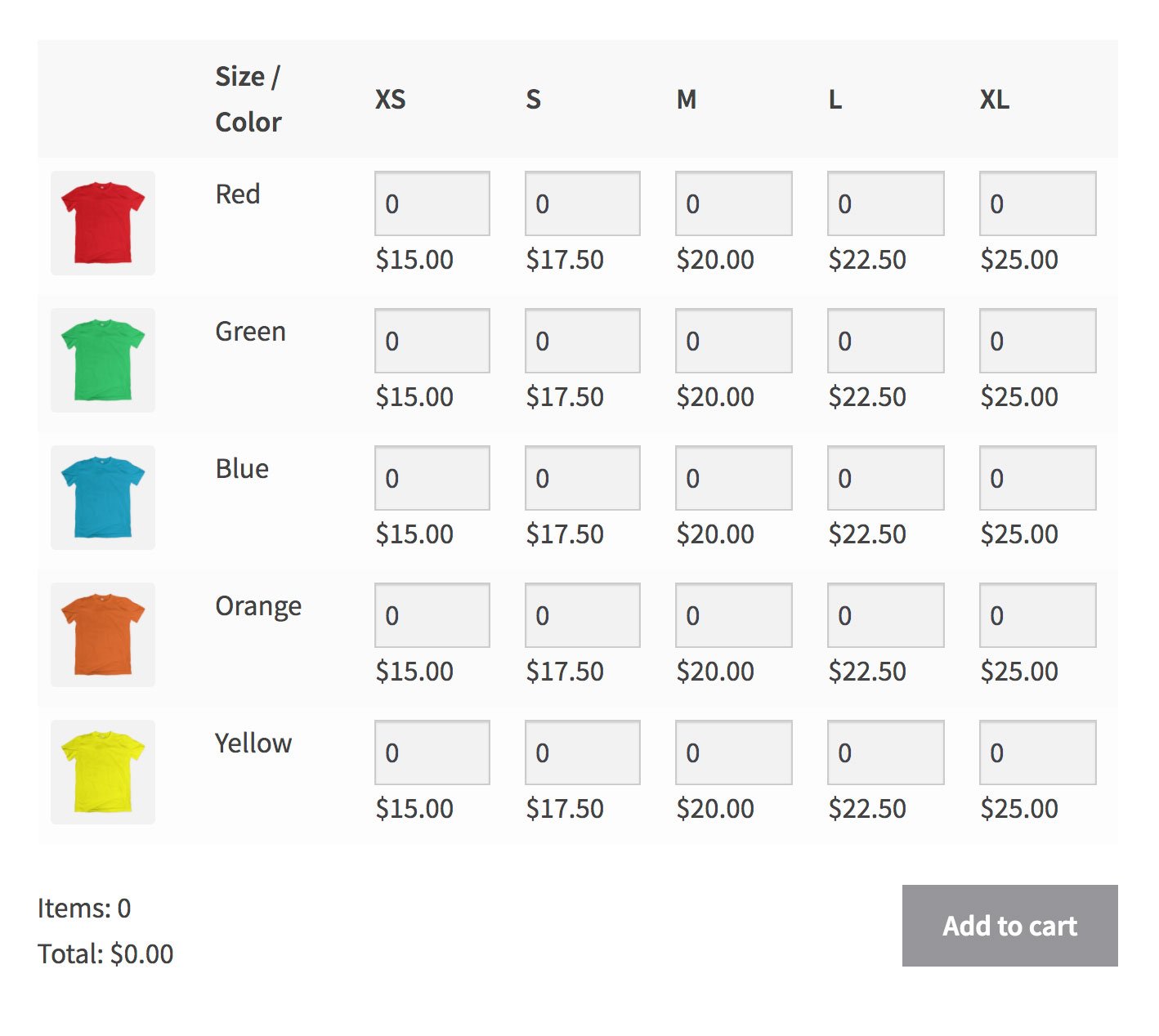 Sell more products with a user-friendly bulk variations grid or price matrix.
How to install and set up Setary
To start using Setary to bulk edit WooCommerce products and variations, you'll need to connect it to your WooCommerce store via an API key.
The first step is to visit the Setary website and select a plan that fits your needs. You can choose between a single-site license or a 5-site license, and if you have more than 5 sites, you can contact the sales team for custom pricing.
After you've purchased a plan, follow the steps below to set it up on your website.
From your Setary account, download the Setary Helper plugin and head over to your WordPress dashboard.
Navigate to Plugins → Add New, upload the zip file and then install and activate the plugin.
Go back to the Setary website, click Stores from the main navigation, and then click the Add Store button.

Enter the URL of your store into the Store URL field and then click the Add button.

As soon as you click the button, you'll be redirected to your website and prompted to accept the connection. Click Approve.

You will now be redirected back to the app where you can click the Manage products or Products button to access the excel like view of all of your products.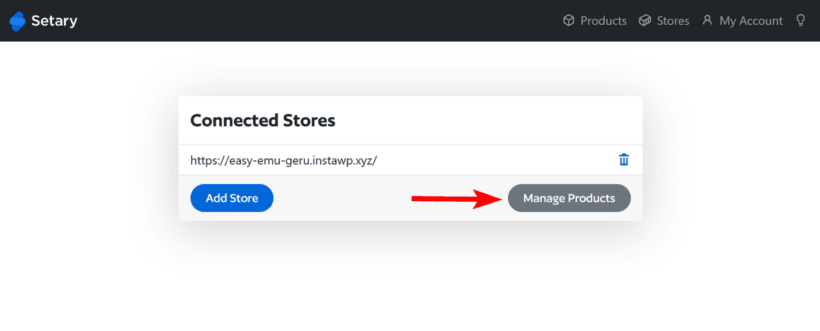 Now that your WooCommerce store is connected to the Setary app, let's look at how to use it to bulk edit multiple WooCommerce products at once.
How to bulk edit products and prices in WooCommerce
Let's say you want to filter all products with the 'Small' attribute and bulk-assign the same product price to all.
Setary displays all kinds of product data in different columns. You can use the filter options to hide the extra columns and display relevant data only. This enables you to have precise control over your product catalog.
To hide extra columns, click the Columns button at the top bar and deselect checkboxes from the dropdown.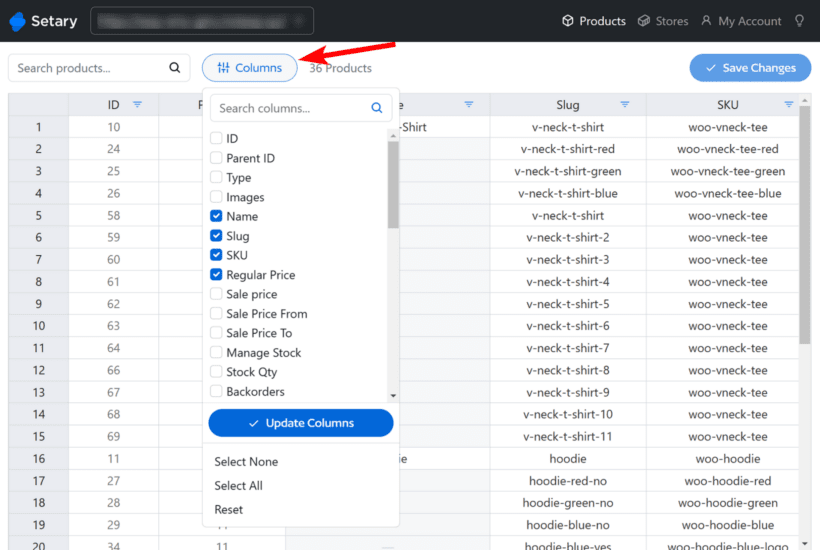 Now, to filter the products, you've two options. You can either:
Use the top search box to filter products by keyword or phrase. This will search for products that contain the keyword or phrase in any of their data fields.

Click the filter icon in the header cell of a column to open the filter menu and select the desired filter.
After filtering your data, you can use inline editing to modify the values of individual cells by double-clicking on them. Setary offers the flexibility to modify cells using both text and numerical data. Additionally, you can also upload product images directly from the spreadsheet view, further simplifying the bulk editing process.
What can I bulk edit with Setary?
You can modify different product fields, ranging from basic data like Product Title, Regular Price, and Sale Price to more advanced inventory fields such as Stock Quantity and Stock Status. This makes it easy to manage stock and your store inventory from a single screen. For example, you can quickly select any number of items and mark them as In Stock, Out of Stock or On Backorder, or add the exact stock level.
In our example, let's edit the regular price of all colored t-shirts that have a small size.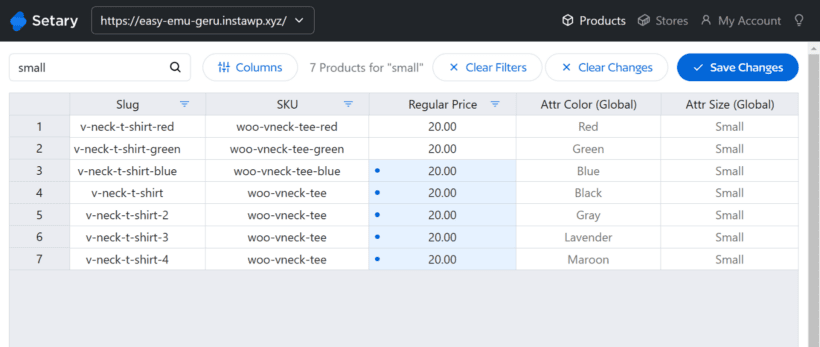 When you modify a cell, Setary highlights it with a blue dot, making it easy to see all the modifications you've made during your current editing session.
Once you're satisfied with the changes, just click Save Changes at the top, and Setary will update the prices on your website. It's that simple!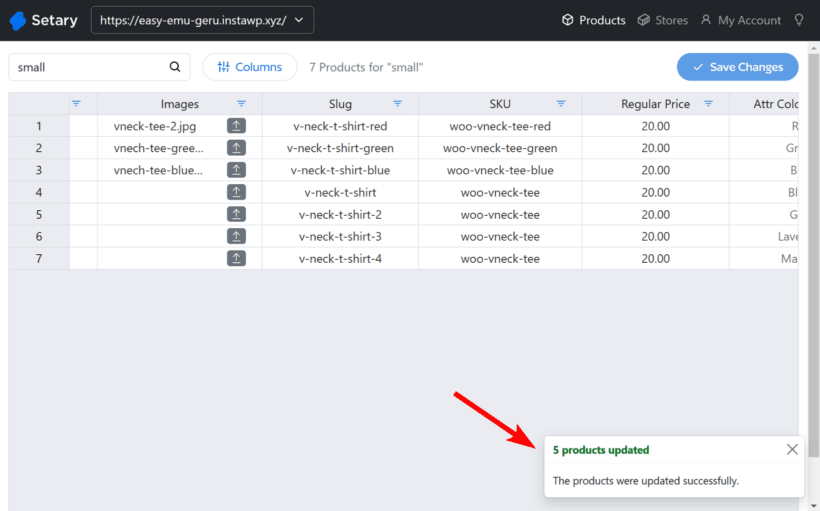 How to bulk edit product categories in WooCommerce
Categories in WooCommerce help organize products, making it easier for customers to browse and purchase what they need.
When you have a large number of items, managing categories of individual products can take a lot of time and effort. With Setary, you can quickly bulk edit your WooCommerce product categories. Let's look at how to do this.
Start by filtering the products whose category you want to change or update. You can filter columns such as the Type and SKU to narrow the list of products.
Next, scroll horizontally to the Categories column and start typing the category names. If a category does not exist, Setary will create it for you. So, make sure to spell check before you hit Enter.
If you want to add multiple or nested categories, there are 2 rules to take note of:
Categories are separated by the "pipe" character: |
Nested categories are separated by the "chevron" character: >
For example, if you want to assign the t-shirt category under clothing, it would look like this: Clothing | Clothing > Tshirts.

Once you've assigned categories to all the products, hit Save Changes at the top to reflect the same on your website.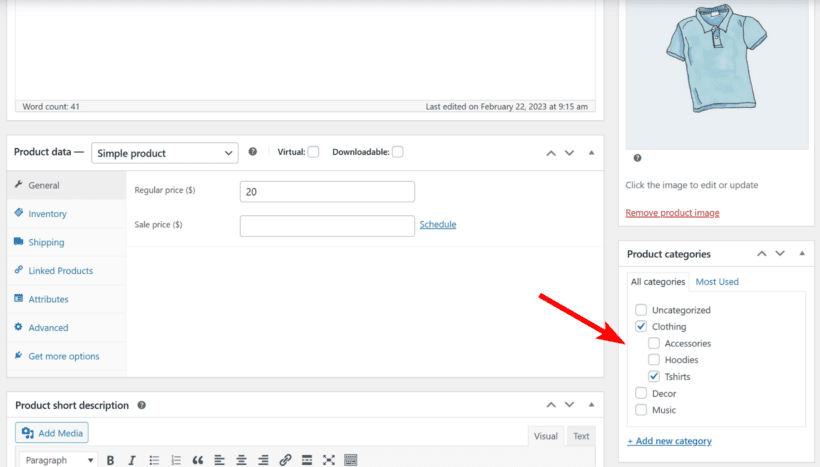 Can I bulk edit product descriptions in WooCommerce?
Bulk editing product descriptions is a commonly requested feature for WooCommerce. While Setary can be used for bulk editing product categories, pricing, and other things, it currently does not support bulk editing of product descriptions. However, according to their website, this feature is on the roadmap and expected to release soon.
How to WooCommerce bulk edit product variations for a specific product
If you need to make changes to multiple variations of a specific product in your store, WooCommerce Bulk Variations provides a convenient way to bulk edit them all at once from within the WordPress dashboard.
If you are familiar with WordPress and prefer to make changes from the dashboard, this is a good option.
To bulk edit product variations for a specific product, you need to follow these steps:
Purchase the WooCommerce Bulk Variations plugin and install it on your website. The plugin has a setup wizard which will walk you through each step of the setup process.

Once you have installed the plugin, go to the Edit page of the variable product for which you want to make changes and scroll down to the 'Product data' section.

Switch to the Variations tab and you'll see a grey Filters bar above the list of variations. Use this to select which variations you want to edit.

You can use the main Filters bar to select product attributes from the dropdown or use Advanced to select specific values such as prices, stock status, and inventory. You can also add multiple advanced filters to your variations view by clicking Add a new filtering value.

After you've filtered the variations you want to bulk edit, select the field you want to modify from the 'Add variation' dropdown and click Go.

You'll get a browser prompt to enter a value. Enter the value and click OK. This will then automatically apply the price to all the product variations you had filtered.
That's it! Isn't it easy to bulk edit variations with the WooCommerce Bulk Variations plugin?
Conclusion
Mastering bulk editing in WooCommerce can save you time and streamline your workflow. With the help of WooCommerce bulk edit plugins like Setary and WooCommerce Bulk Variations, you can easily modify your product catalog with a few clicks.
Want to bulk edit multiple products at once? Setary

is hosted solution that works in a spreadsheet-like view, making it easy to make changes to multiple products and variations.

Want to bulk-edit variations for a specific product from the WordPress Dashboard? WooCommerce Bulk Variations

is a great plugin for this. It lets you modify or add attribute values to multiple variable products at once, upload the same image to multiple variations in one click, and optionally display variations on the product page in an easy-to-navigate grid layout. Additionally, it comes with a 30-day money back guarantee, so you can try it out risk-free.
Overall, the benefits of bulk editing in WooCommerce cannot be overstated. It can save you time and effort by letting you change multiple products or variations at once. It can also improve accuracy and efficiency by reducing the errors that may occur when updating product information.
We hope this tutorial has helped you understand the benefits of bulk editing in WooCommerce and how to use it effectively. Happy selling! 😊