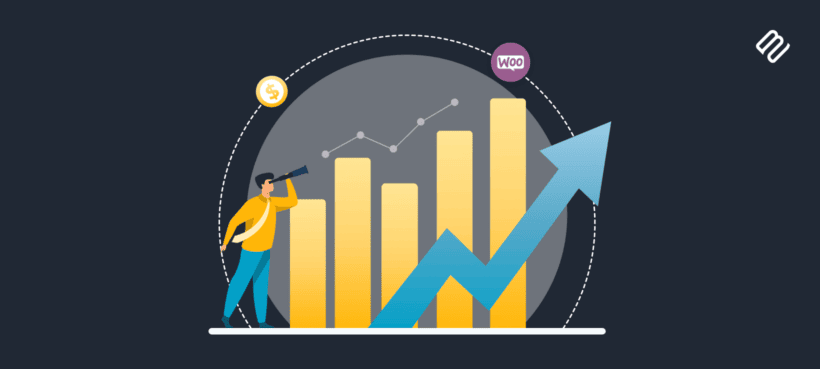 Is your store built on WooCommerce? Boost sales and conversions with these tools and strategies. The best thing about these techniques is that don't take a lot of time to implement.
WooCommerce is easily the best eCommerce platform for building an online shopping website. Although setting up your store on WooCommerce is a breeze, getting people to buy from you isn't so easy.
Luckily, with the right strategies and tools, you can transform your site into a robust WooCommerce store that consistently brings in sales and revenue.
I'll cover two key topics in this detailed guide:
Specific strategies and actionable techniques to boost sales and conversions in your WooCommerce store.
Powerful plugins that will handle most of the heavy lifting for you - so you can implement these strategies right away.
Although there are countless strategies and tactics that you can use, I've listed only the top ones that have been proven to work for all types of online stores. So whether you sell physical items, virtual products, or run a dropshipping store, it's time to increase your sales and conversions.
Ready to dive in? Let's get started!
9 strategies to boost sales and conversions in WooCommerce
Here are the top 9 sales and marketing strategies you can use to make the most of your WooCommerce store. Obviously, every store is different, so consider these concepts as starting points and tailor them to work for your business.
To help you get started right away, for each of the strategies I share, I'll also recommend handy plugins to help you quickly implement them in your store.
Strategies to boost sales and conversions in WooCommerce:
Make it easier for customers to find products
Customers can't buy products if they can't find them. If it's difficult for customers to navigate your store and find the products they want, they will quickly get frustrated and give up.
This strategy is about improving how WooCommerce displays products on your store's archive pages, such as the 'shop' and 'category' pages.
Here are two fundamental limitations of the default WooCommerce install that could be impacting your store's sales and conversion rates:
It shows a limited number of products at a time: WooCommerce uses a grid layout on its 'shop' and 'category' pages. By default, it displays 16 products spread across 4 rows and 4 columns. Of course, you can increase the number of products shown, but customers can only see a few products at a time because they're in a grid layout. If your store has a large number of products, it can be difficult for customers to find the exact items they want, and they will quickly leave your site.
It shows too little information about each product: A study by Google found that 85% of shoppers say that product information and pictures determine which brand or retailer they buy from. However, WooCommerce can only display a limited amount of product information on the 'shop' and 'category' pages. This limitation forces customers to click through and open up each product page to find the information they need every time — another cause of a frustrating experience.
How can you fix these limitations in your store? Use professional-level product filtering to help customers find products more quickly and easily (and therefore boost sales in WooCommerce).
Here are two handy plugins that can help you with this: WooCommerce Product Filters and WooCommerce Product Table.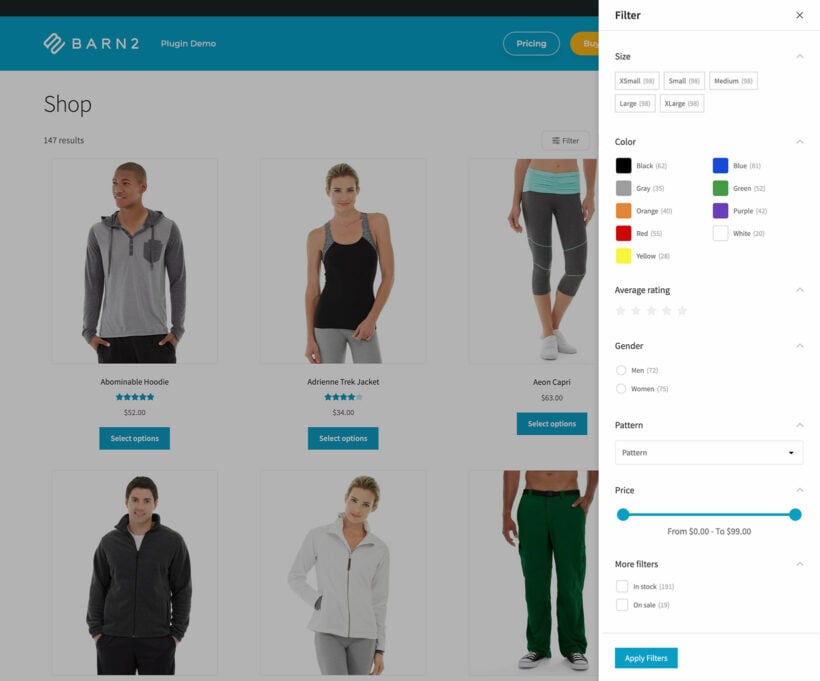 WooCommerce Product Filters does precisely what the name implies: It adds advanced product filters to your site. With this plugin, customers can filter through your product catalog based on:
Category
Color swatches
Image pickers
Color
Attributes
Checkboxes
Price
Size
Taxonomies
Stock
On sale
Rating
Tag/label clouds
Lots more
The plugin automatically adds filters to your WooCommerce store pages. And you can also use a shortcode or widget to add filters anywhere else on your site.
WooCommerce Product Filters allows customers to filter products using multiple options at once. For example, customers can filter with category, color, price, and size at the same time. If the customer de-selects a filter, the plugin's advanced logic instantly updates the options shown to them — this prevents frustration and provides a better user experience overall.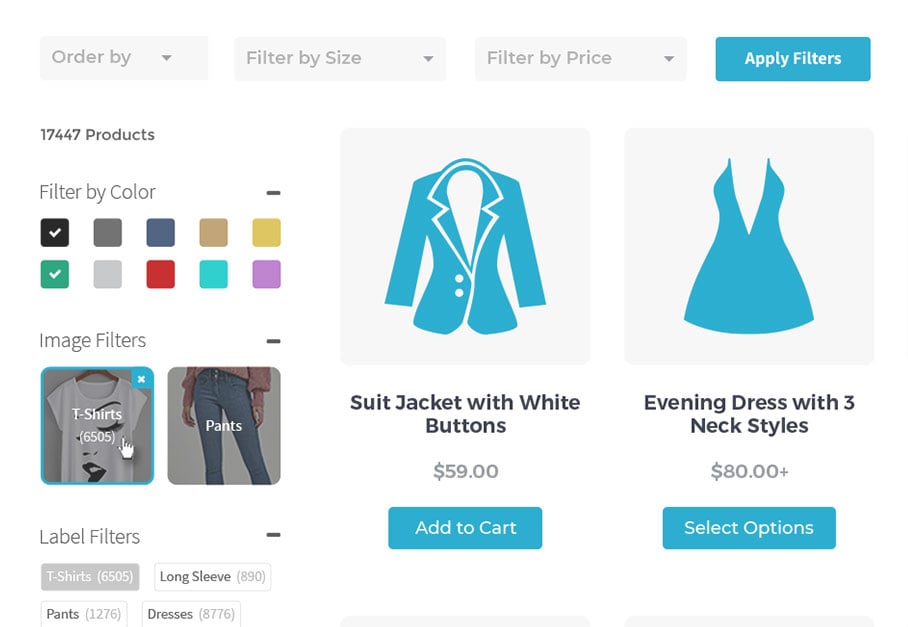 Grow your sales by helping customers to find exactly what they need - quickly and easily.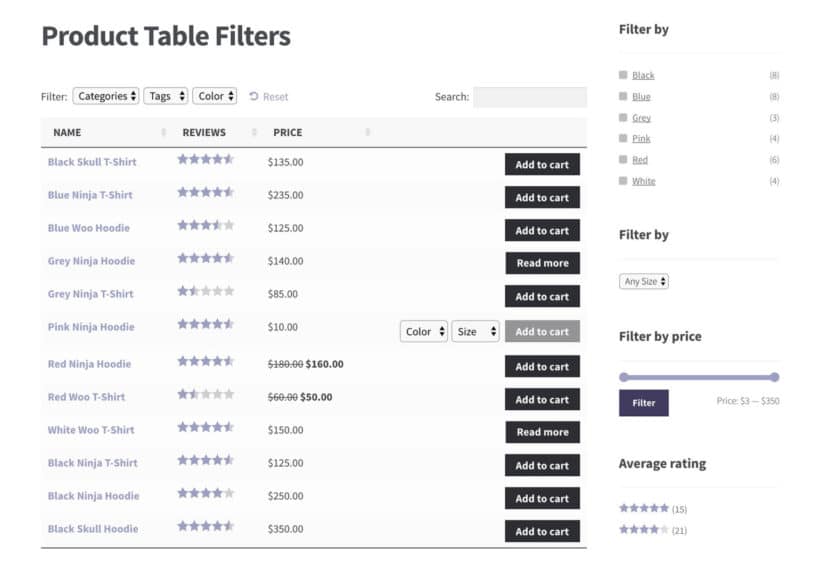 WooCommerce Product Table is an advanced plugin that lets you display products in searchable, sortable order forms that you can add anywhere on your site.
With this plugin, you can showcase products and their variations, product images, as well as all relevant product information that your customers want to see, such as product descriptions, custom fields, attributes, taxonomies, SKUs, videos, customer reviews to add a bit of social proof, etc. The plugin also has widgets that let customers easily search and sort through the products and add them to their carts.
Here's the plugin in action on a demo WooCommerce store that sells apparel. Note: You can use the plugin's styling options to customize how the product table looks on the front end of your website.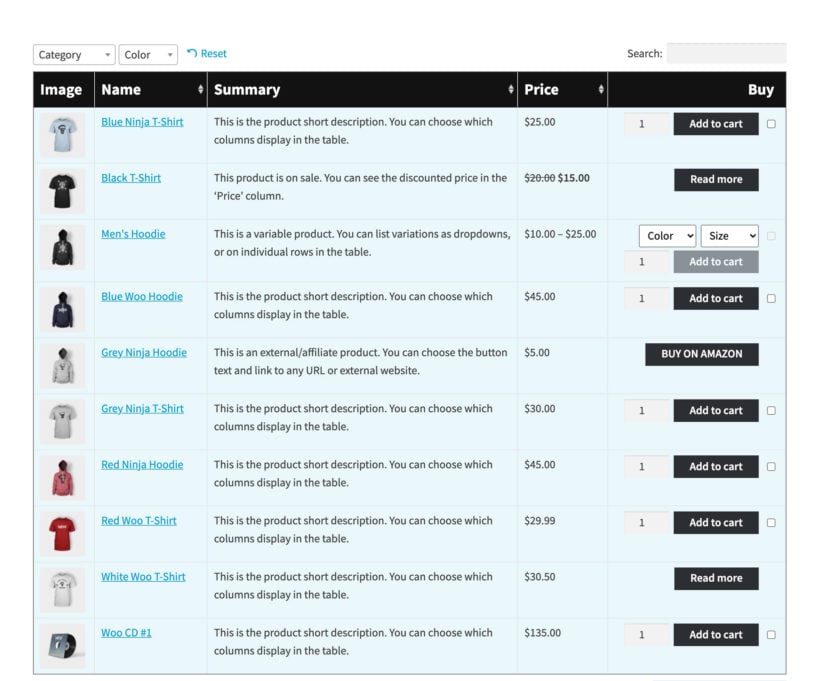 Many store owners that use WooCommerce Product Table like to replace their entire shop and archive pages with tables to list hundreds or even thousands of products. This provides a better user experience than the regular WooCommerce install.
Use upsell and cross-sell techniques
Upsells and cross-sells are powerful techniques that can significantly increase your store's average order value (AOV) and conversion rate.
Upsells: Recommending products that are more expensive than the ones shoppers are currently browsing.
Cross-sells: Recommending products that complement what shoppers have already added to their carts.
The core idea with upsells and cross-sells is to recommend products related to the ones shoppers are already interested in.
Perhaps no company does upsells and cross-sells better than McDonald's (the popular fast-food chain). When they ask if you want to 'upgrade' your meal from 'regular' to 'large-size'? That's a classic example of an upsell. And offering fries with a beverage to create a 'meal' - cross-selling in action.
But how can you apply these concepts to boost sales in your WooCommerce store? Here are two examples of eCommerce stores and how they can use upsells and cross-sells to sell more:
A store that sells phone cases: They can upsell customers from a $20 regular iPhone phone case to a $35 one with drop protection. For cross-sells, they can recommend accessories like a wireless charger or Bluetooth headphones to create relevant product bundles.
A store that sells apparel: When a customer adds a $35 pair of running shoes to their cart, recommending a $55 version in a different design can get them to 'upgrade' their order. They can cross-sell customers by offering several types of matching socks.
Limitations of the default WooCommerce upsell and cross-sell settings
By default, WooCommerce has basic upsell and cross-sell features (you'll find these in the Linked Products tab within the Product Data section in the Product Editor). However, they have several limitations:
It isn't very effective: It doesn't display the products for upsells and cross-sells in a prominent position on the product page; instead, it shows them all the way at the bottom. This means, many times, customers won't even notice the recommended products and therefore don't buy 😞.
Setting up upsell and cross-sell products can be time-consuming: You have to manually add, and update cross-sell and up-sell products for each SKU. This can be a painful and time-consuming task if you have a lot of products in your store.
So what's the solution? Use the WooCommerce Product Options plugin to strategically showcase upsell and cross-sell products and boost sales and conversions in your WooCommerce store.
The plugin's 'Products' option feature allows you to display relevant related products as upsells and cross-sells above the default 'Add to Cart' button that's on the single product page. Each upsell and cross-sell product has its own 'Add to Cart' button to nudge customers to buy them.
Here's a screenshot of how it looks on the product page of a demo WooCommerce store that sells electronics.
In this example, customers browsing this mobile phone's product page will be presented with the option to add accessories like earbuds, a charging kit, and memory cards to their carts.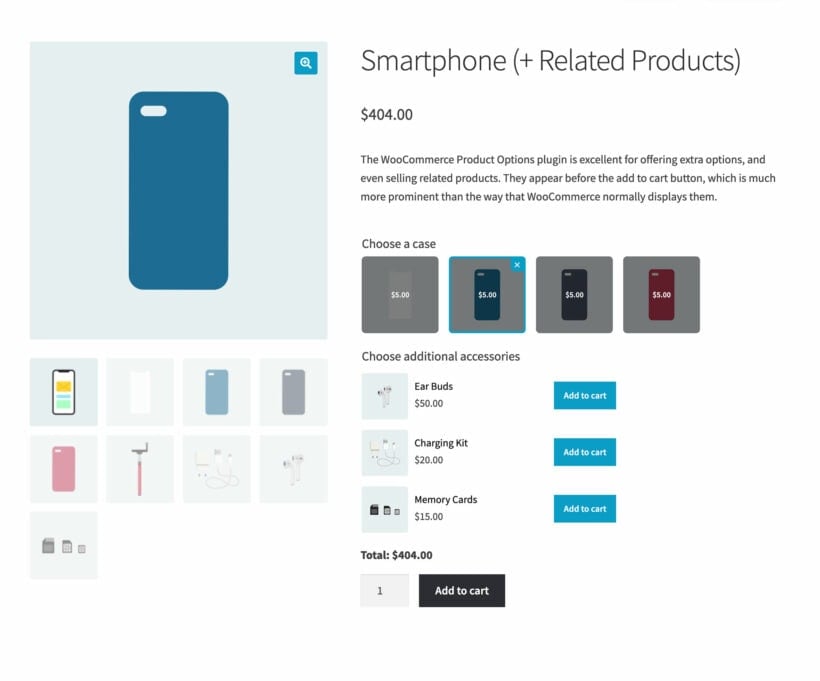 With WooCommerce Product Options, you have complete control over which related products are shown as upsells and cross-sells on the product page. You can add products in 2 ways:
Manually: You can hand-select products to be displayed as upsells and cross-sells for each product.
Automatically: Using its built-in 'dynamic selection' setting, you can make use of the plugin's automation features to select products to be upsold and cross-sold based on their WooCommerce product category. The 'dynamic selection' setting lets you preview its selections to ensure you're happy with them. This saves you plenty of time while boosting your store's sales and conversion rates.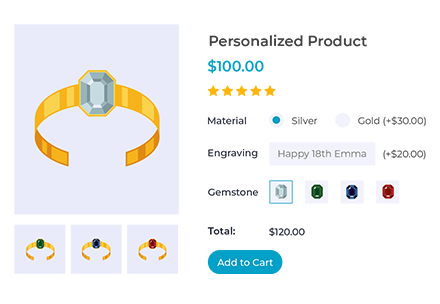 Add extra options and flexible add-ons to your WooCommerce products in seconds.
Optimize the shopping experience
The default WooCommerce shopping experience can be pretty confusing. And we all know that confused customers don't buy.
One of the easiest ways to boost sales and revenue in your WooCommerce store is by optimizing the experience to make it more pleasant for customers to shop from your store. Here are the top tips on how to streamline the shopping experience:
Optimize your shop page for easy product selection.
Add quick view options to your archive pages.
Improve variable product display.
Let's look at each of these tips in detail.
Optimize your shop page for easy product selection
With the default WooCommerce setup, while on the 'shop' and 'category' pages:
Customers can't choose a product quantity for on the shop page: There is no quantity picker field for customers to change the number of products they want to add to their cart.
Customers can't add variable products to their carts: This is because WooCommerce displays a 'View options' button instead of the default 'Add to cart' button.
These limitations force shoppers to visit separate pages for every product they are interested in, which can slow down the shopping experience and, ultimately, frustrate customers.
WooCommerce Express Shop Page fixes these issues by letting customers select their desired quantity and variations from the 'shop' and 'category' pages. Customers won't need to go to individual product pages for each item and can check out quicker.
This plugin is a game-changer for stores that sell products with many variations or products that are usually bought in multiple quantities. Plus, it integrates nicely with any WooCommerce theme and seamlessly inherits your theme's design. This ensures that it perfectly matches your store's look and feel.
Pro tip: Pair Express Shop Page with WooCommerce Product Options to display other types of product options and add-ons from your shop pages.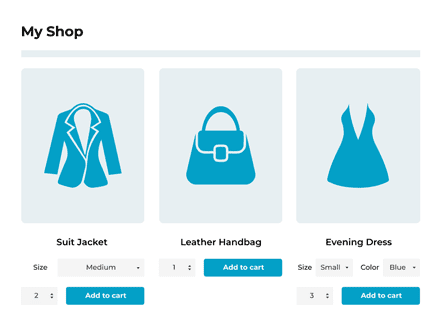 Speed up the shop page with variations and quantity fields.
Add quick view options to your shop pages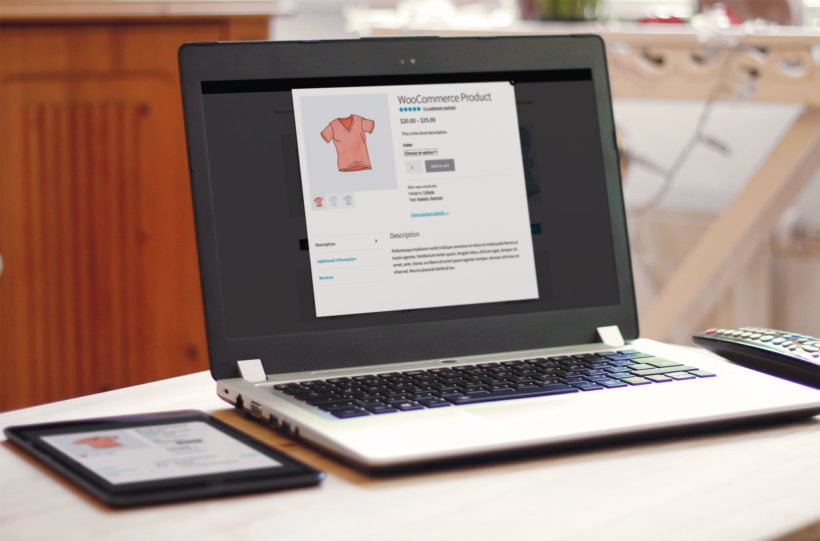 According to Baymard, a top web UX research institute, shoppers appreciate having a 'quick view' option on the 'shop' and 'category' pages of stores that sell visually-driven products. There are a couple of reasons for this:
Shoppers are concerned that when they return to the 'shop' or 'category page after viewing individual product pages, they won't be brought back to the same point in search results or product lists.
Shoppers want to complete the buying process as quickly as possible. Even if an eCommerce site loads super fast, opening up individual product pages takes time, so most shoppers avoid that.
While there is no built-in option in WooCommerce to add a product lightbox feature, you can add it to your store using the WooCommerce Quick View Pro plugin.
WooCommerce Quick View Pro is the number one product lightbox plugin for WooCommerce stores. It lets your customers easily view information about your products from your archive pages (such as the 'shop' and 'category' pages) without having to click through to individual product pages.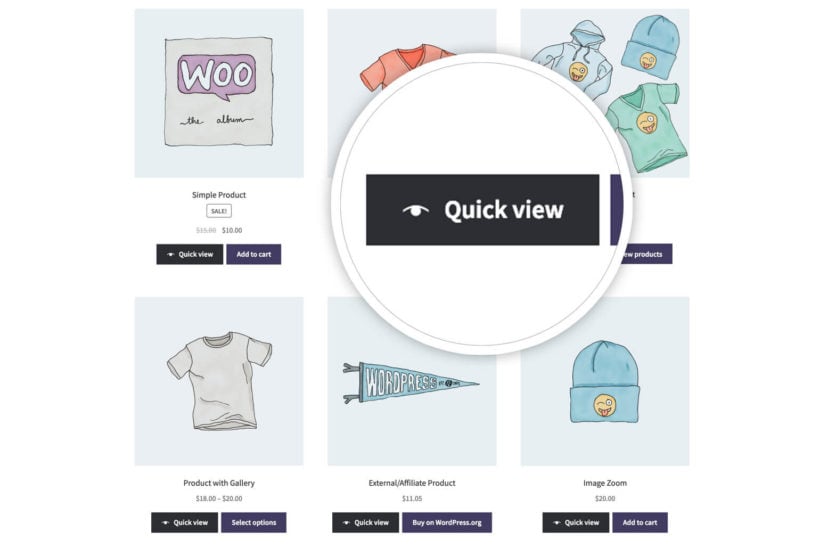 You get full control over what product data to display in the quick view product lightbox. For example, you can use it to show customer reviews and other important information that influences sales and conversion rates.
Improve variable products display
How products are presented in your store matters — and can influence whether or not customers buy from your store.
By default, WooCommerce displays variable products using a dropdown, which is fine if you have just a handful of product variations.
However, the default dropdown isn't ideal if your store sells several variable products with multiple variations and attributes (Common examples are stores that sell clothing, wholesale/B2B, large volumes, etc.). Many customers would have a hard time finding their desired variations, and it doesn't make for a user-friendly shopping experience.
Luckily, WooCommerce Bulk Variations lets you showcase relevant product data, such as attributes, variation descriptions, prices, options, and stock information, in a table format on your store's product pages. You can use its shortcodes to replace the default variation dropdowns or add the variations grid anywhere on your site.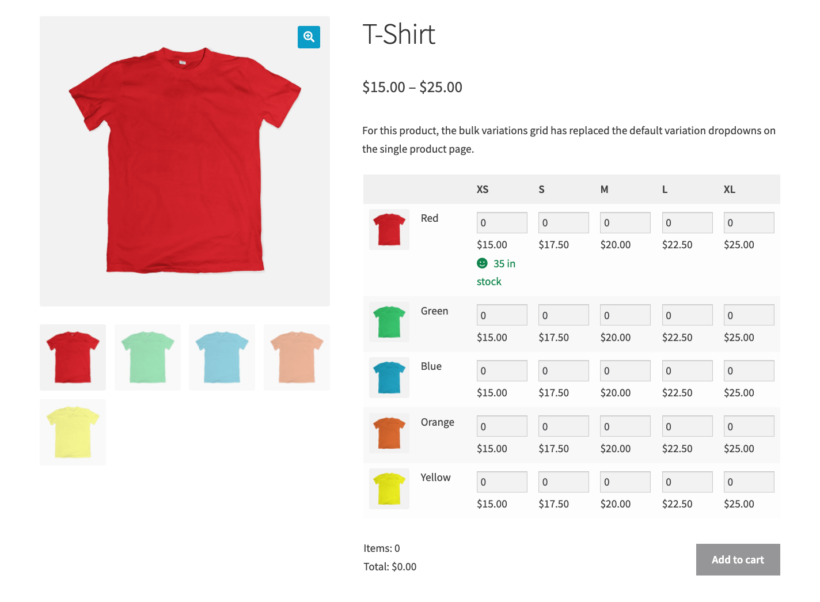 This plugin makes it easy to show customers all the relevant product information needed before the purchase. Also, it simplifies the ordering process. Customers can easily add multiple product variations to their carts and update the desired quantity for each variation.
WooCommerce Bulk Variations lets you showcase product variations in two layouts:
You can list variations and a quantity field in a shoppable order form.
You can list variations in price-only mode using a price matrix format.
An added benefit of using WooCommerce Bulk Variations is that it lets you bulk-edit and update product variations on the back end of your website — significantly reducing the time spent managing variations.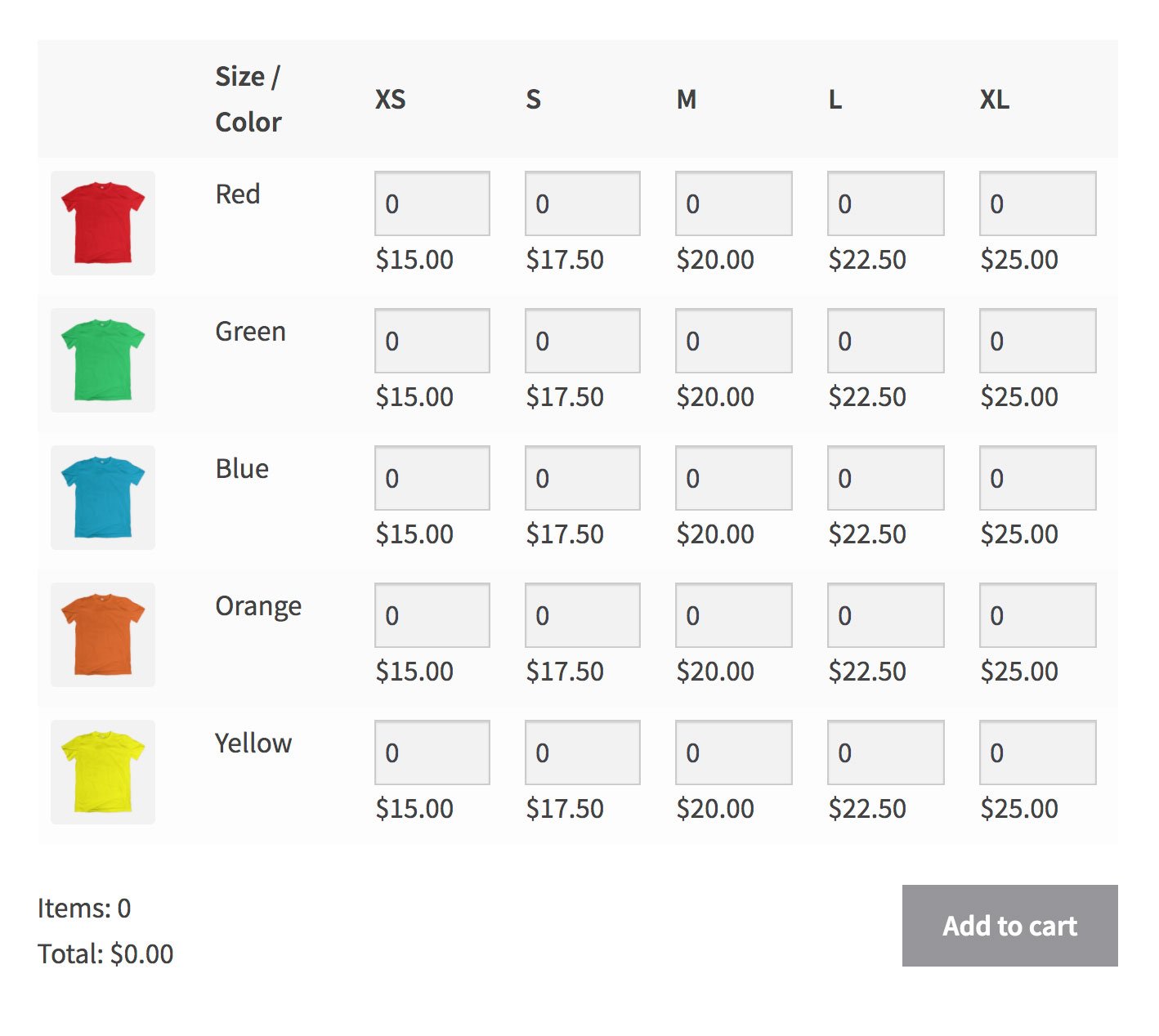 Sell more products with a user-friendly bulk variations grid or price matrix.
Level up your call to actions (CTAs)
A call to action (CTA) is a prompt that clearly tells shoppers to take a specific action on your website.
Why are CTAs important? When shoppers land on any page of your website, there are several actions that they can perform. For instance, they may choose to spend time browsing through your product catalog, check out your blog, or simply exit the site.
If shoppers aren't clear about what to do, they may leave your store without buying. CTAs are powerful because they nudge your audience to deliberately take a specific action.
The default WooCommerce call to action button text is 'Add-to-cart', and the ability to change this isn't embedded within WooCommerce. This CTA may not be ideal for some websites, which may hurt your conversion rate.
Enter WooCommerce Custom Add to Cart Button. This free plugin lets you change the CTA text on your site's default 'Add to Cart' button, add a suitable icon, and adjust its color scheme. You can use it to amend the add-to-cart text, remove it, add the cart icon, and change the color of the CTA button.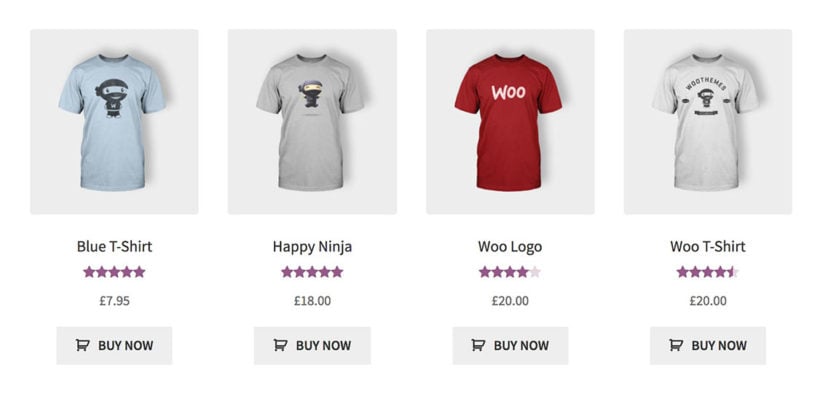 Some examples of how various types of WooCommerce stores can use this plugin:
Stores that sell products with custom prices can change it to 'Add to quote' or 'Request Quote'.
Hotels may prefer 'Book room'.
E-learning websites can use 'Enrol now' or 'Take course'.
Whatever CTA your store uses, make sure it clearly spells out the specific action you want customers to take.
Optimize the cart and checkout process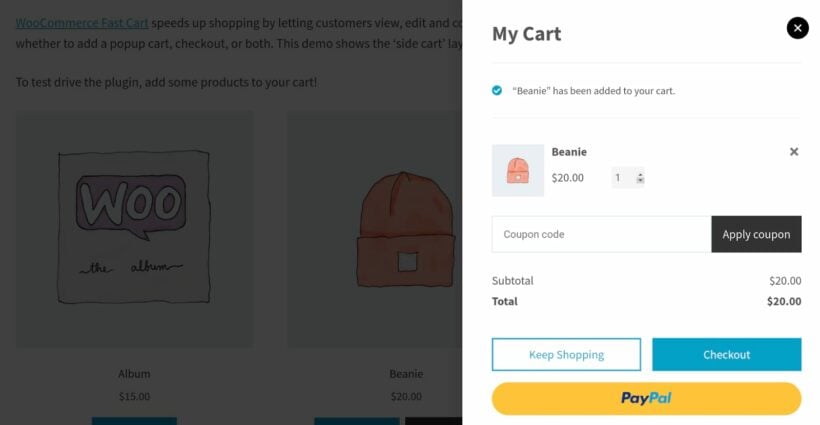 The checkout process starts when a customer adds products to their shopping basket and proceeds to pay. As a store owner, you know firsthand that many customers who add items to their carts don't complete their purchase, better known as cart abandonment.
The key to getting more customers to complete their purchases — and therefore increasing your WooCommerce store's sales and revenue — is to reduce the number of abandoned carts. But how do you do this? By optimizing the cart and checkout process.
The default WooCommerce shopping experience can be pretty clunky. It goes like this: shoppers add items to their carts → review the cart → fill in their details in the checkout form → place their order. That's a minimum of 4 pages! 😒
To optimize your store's cart and checkout process, you'll need WooCommerce Fast Cart.
WooCommerce Fast Cart is an easy-to-use plugin that replaces the default WooCommerce cart page and checkout page with an instant, one-page cart and checkout form. This makes the order checkout process seamless and pain-free for customers.
Here are some of the top reasons store owners use WooCommerce Fast Cart:
To minimize the number of steps in the checkout process: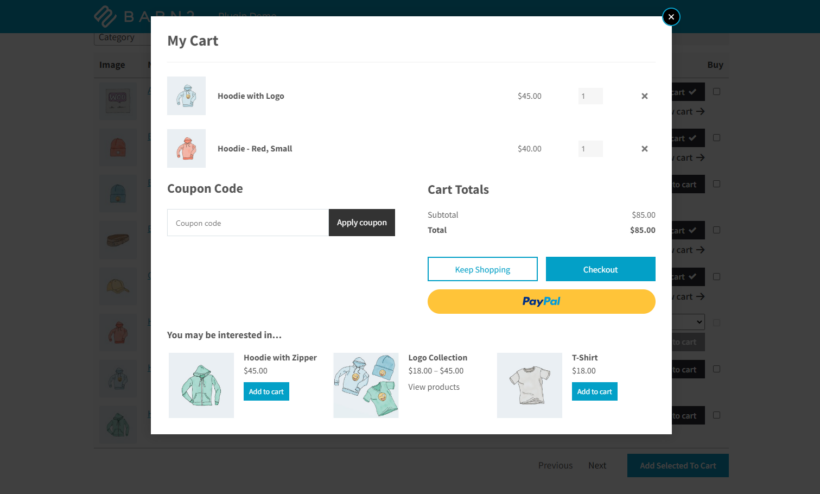 A recent study by the Baymard Institute found that 17% of shoppers abandon their carts because of long, complicated checkout processes. WooCommerce Fast Cart makes checking out from your store a breeze. When a customer adds a product to their shopping cart, the plugin opens up a pop-up checkout page on the same page they're on. It works on every page in your store — from the 'shop' and 'category' pages to individual product pages. This allows customers to get through the checkout quickly and successfully place their orders.
Offering guest checkout:
Not every customer wants to create an account on your site. The same Baymard study found that 24% of shoppers who abandoned their carts did so because they were forced to create an account. Allowing a guest checkout option solves this issue for customers who aren't keen on creating an account on your store.
Providing multiple payment options:
There's a variety of payment options for shoppers to choose from. Some customers prefer debit and credit cards, while others may be more comfortable with mobile payment providers like Amazon Pay, Stripe and PayPal. The WooCommerce Fast Cart plugin works by using the same payment gateways and plugins you've set up to accept payments in your store. The added benefit is that it offers these payment options on the one-page checkout form, which speeds up the process.
Pro tip: You can pair WooCommerce Express Shop Page with WooCommerce Fast Cart to create a speedy one-click checkout directly from your shop page. This powerful plugin combination further streamlines the ordering experience and helps to boost sales and conversions in your WooCommerce store.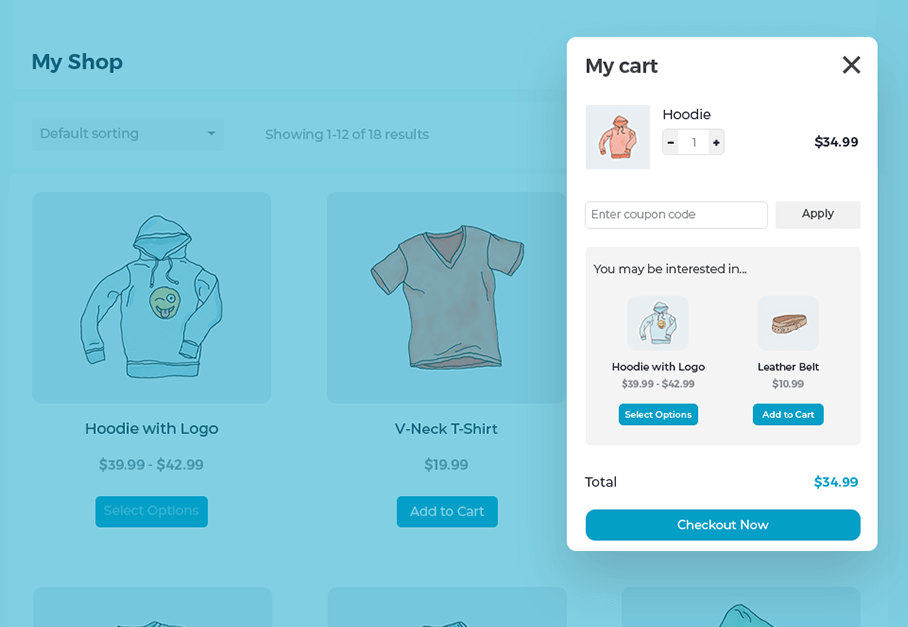 Increase your conversions and average order value with a beautiful popup cart and checkout.
Show upsells on the checkout
We've already looked at how you can use plugins like WooCommerce Product Options to encourage customers to buy more on the product page. You can reinforce this message by continuing to recommend products on the checkout page, too.
The Iconic Sales Booster plugin is perfect for this. It has lots of features designed to increase your average order value, including an "order bump" feature on the checkout: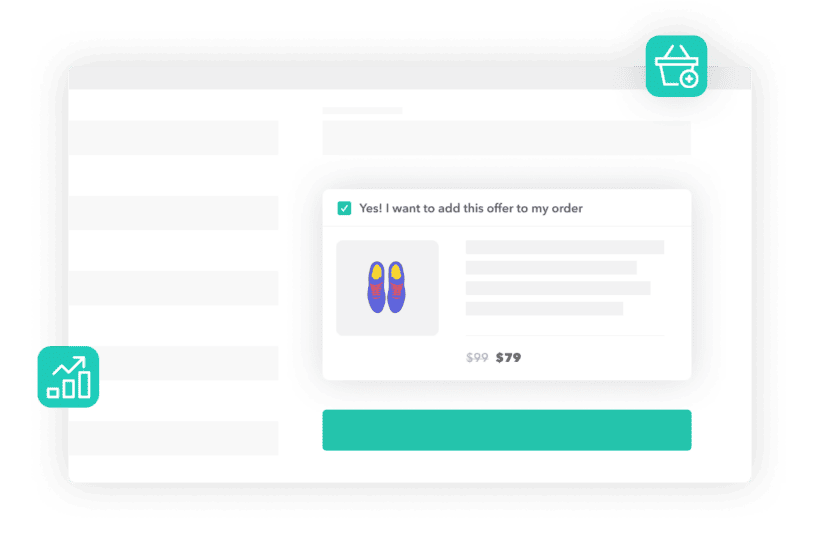 Leverage flash sales
Who doesn't love a good sale? Customers love getting good deals, and when done right, flash sales can significantly increase your WooCommerce store's revenue.
Sitewide Sales is an all-in-one plugin that lets you run profitable, targeted sales on your WooCommerce website.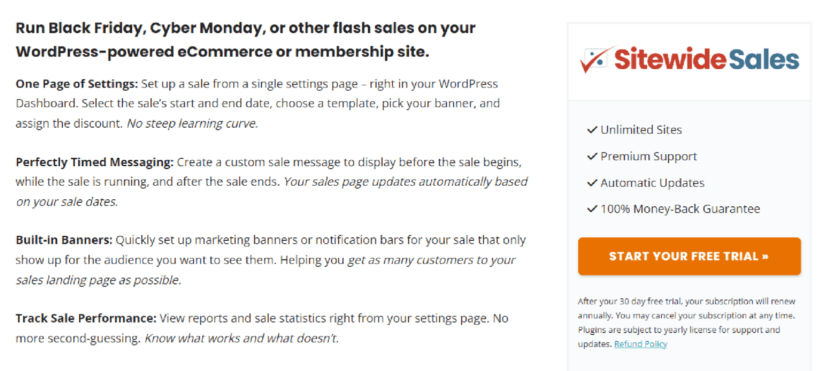 With this plugin, you can:
Set up target landing pages to be displayed before, during, and after the sale campaign. This helps to highlight the products on sale and creates excitement around the deals you're offering.
Add discount rules to control how discount coupons and codes are applied in your store: sitewide, after customers view the landing page, or manually by each customer.
Use banners and notification bars to alert shoppers about the flash sale.
View conversion reports with an analysis of your store's revenue during sales and non-sale periods to get a clear picture of how the flash sale performs.
Of course, it makes sense to design sales campaigns in a way that doesn't eat into your profits. Here are some ways to strategically use discounts to boost sales in your WooCommerce store using Sitewide Sales:
Give single-use coupons to new customers to drive customer acquisition.
Use single-use coupons to reward recurring customers for their loyalty.
Run a time-based sale such as Black Friday, Cyber Monday, Christmas, etc.
Offer a dollar amount off on a specific product category.
Offer digital and physical gift cards
Gift cards are an untapped marketing tool that yields both short-term and long-term benefits. What makes gift cards so powerful is that you can use them to boost sales and conversions in WooCommerce. They also help drive customer loyalty.
YITH WooCommerce Gift Cards is a powerful plugin that handles the hard work of creating, selling, and managing gift cards in your store.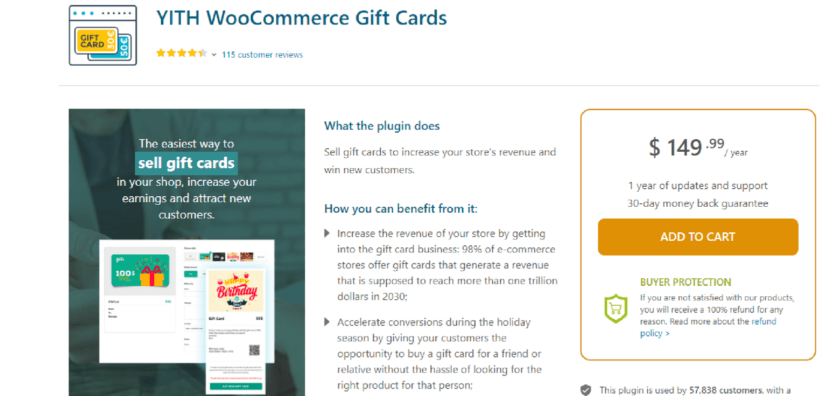 The plugin:
Creates unlimited physical and virtual gift cards (also called e-gift certificates or digital gift cards). Physical gift cards are printed and shipped to the customers, whereas virtual gift cards are sent to the recipients' email addresses.
Customizes the gift cards with your store logo to make them look more professional.
Verifies each gift card's original amount and current available balance during redemption.
Updates the gift card balance with your store's backend without creating a new order.
Run abandoned cart email campaigns
Cart abandonment is a serious problem for most eCommerce stores. Studies show that as much as 70% of customers who add products to their carts don't complete their purchases.
This happens for several reasons: unclear pricing, a complicated checkout process, or simply getting distracted and forgetting about their order.
Email marketing has always been a reliable channel to connect with customers. Regardless of why customers abandon their carts, cart abandonment email campaigns work wonders to encourage customers to return and complete their purchases, which helps to boost sales in WooCommerce.
WooCommerce Abandoned Cart is a powerful email marketing plugin that recovers those lost sales by reminding customers who added an item to their carts but didn't buy. My favorite feature of this WooCommerce boost sales plugin is that it remembers the customers' last action and lets them resume shopping right where they left off.

In addition, this plugin has dynamic pricing functions. You can also use it to offer discounts and dynamic offers to give shoppers on this segment of your email list a reason to buy now rather than later. In addition, it comes with customizable templates that you can easily use as a baseline for your campaigns.
Next steps to further boost sales and conversions in WooCommerce
Even after applying these techniques, there are two important things you need to do to ensure that your store's revenue continues to grow:
Tracking and analysis: Consistently tracking and analyzing the important key performance indicators (KPIs) tells you what's working and what isn't. For instance, if you find that a particular type of upsell or cross-sell isn't selling well, you can replace it with a product that's likely to perform better. And once you identify the strategies that work best for your store, feel free to double down and do more of those.
Stay up-to-date on eCommerce trends: This is vital as it keeps your business fresh and competitive. Things change quickly in the eCommerce world. There are always new strategies to improve customer experience, drive sales, and enhance conversions. Here are some quick ways for you to stay in the loop about the latest trends:
Regularly read eCommerce blogs (like this one!).
Attend webinars and virtual events.
Attend physical events.
Engage in online forums and communities.
Experiment with new tools and features.
Ready to increase WooCommerce sales?
If you're looking to build a thriving WooCommerce store, leveraging just one of the strategies mentioned above isn't enough on its own. You'll have to combine as many strategies and tools as you can.
Here are some of our favorite WooCommerce sales-boosting tools:
Of course, you don't have to implement every single strategy at the same time. Start by applying the ones that will have the most significant impact on your store's revenue. Then, continue on until you've used the rest of the strategies.
You can get the plugins I've mentioned using an individual plugin license. Alternatively, you can get the All Access Pass, which includes all of Barn2's WooCommerce plugins at an 80+% discount (and a 30-day money-back guarantee). The All Access Pass makes it easier to implement multiple strategies at once, so you can start to see increased sales and revenue quicker.
As always, continue to experiment with different strategies and tweak them based on how they perform, as well as customer feedback.