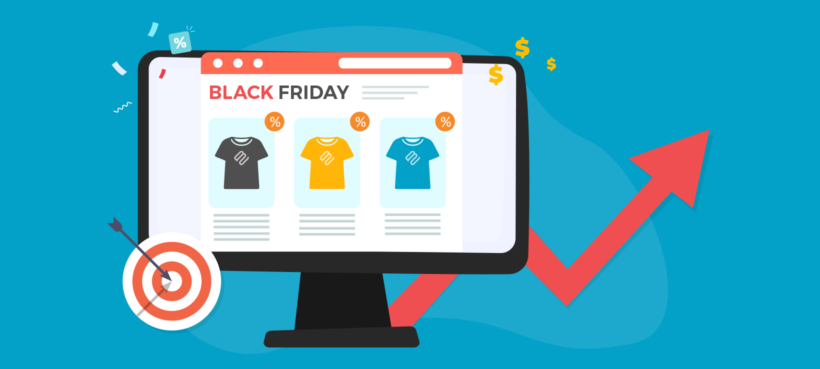 Black Friday sales are almost upon us. With the right planning and implementation, Black Friday can make a huge contribution to the overall sales figures of any WooCommerce store. In this tutorial, you will learn how to run a successful WooCommerce Black Friday sale.
Black Friday is easily the busiest shopping day of the year. For business owners like us, it's nothing short of a gold rush. 
Having spent over a decade in this business, we have organized plenty of Black Friday/Cyber Monday sales. And every time, we have had excellent results. Take last year's sale, for instance: Our total monthly revenue (for November 2020) was 20% higher than our next biggest selling month! In simpler terms, we doubled our sales revenue in the Black Friday month. 
This article is a culmination of our experience in running Black Friday and Cyber Monday sales. We'll show you how to launch a successful Black Friday campaign for your WooCommerce store. 
Note: Although we wrote this Black Friday guide for e-commerce stores that use WooCommerce, it's equally helpful for any other online business.
In this article, you will learn:
Let's get started…
1. How to plan a Black Friday sale
Many of you reading this guide are planning your first WooCommerce Black Friday/Cyber Monday sale. To some of you, this guide may seem daunting on the first read but there is no need to worry. You don't have to plan meticulously and you don't have to carry out all that we mention here. Take stock of your resources, commit to 2 or 3 strategies, implement them, view results, and keep learning each year.  
Now, at the planning stage, there are 3 major components to consider. Those are: 
What types of discounts to offer
When to start the sale
How long to run the sale
Below we discuss each component in detail…
i. What types of discounts should you offer?
This is the most important question in any WooCommerce Black Friday sales campaign. And it's hard to know where to begin. 
Our recommendation: start by looking at what competitors are offering or offered last year.
You'd learn more from old competitors than the new ones. They are carrying out campaigns that worked for them several times in the past. 'Borrow' their marketing techniques and you are bound to find some success on your first WooCommerce Black Friday sale. 
But if marketing is not your strong point then it'll be tough to read competitor strategies. You'd find yourself stuck with basic questions like...
Why offer these discounts?

Why offer discounts on only specific products? 
...among other things.
Hence, we offer a peek into how we set our offerings at Barn2 Plugins. 
Over the years, we have set various discounts on a number of our WordPress and WooCommerce products. We found that customers gravitate toward a 30-50% reduction in price. This may seem like a race to the bottom but trust us, lowering prices will not incur losses in the way you think - especially if you sell digital products like us. 
Take last year's sale for instance. We offered a 30% discount but the average order value only went down from $115 to $101. That's because customers bought multiple products and opted for expensive upgrades during the sale. 
Next, to increase the average order value, we implemented clever pricing strategies.
WooCommerce Black Friday Pricing Strategies
Additional discounts were offered on multiple purchases or bundles. We combined 2 or more popular products to offer a once-in-a-lifetime deal. 

Early bird discounts were offered to anyone who bought at the beginning of Black Friday week. The first 10 buyers qualify for a special discount, say 60% OFF, and the next 10 qualify for 50% OFF. 

Extra discounts were offered to existing customers for making upgrades and new purchases. We sent promo codes to existing customers as a reward for their trust and set a time limit to build urgency.

Higher commissions were offered to affiliate marketers promoting our plugins. We made special discount coupons and shared them with the affiliates who spent time and effort promoting our plugins during the Black Friday week.
By implementing these Black Friday pricing strategies, we saw a huge spike in our revenue.
ii. When to start the sale
Although some WooCommerce businesses run the Black Friday sale for an entire month, most start on the Monday of Black Friday week. The sale runs until the next Monday which is Cyber Monday. 
In our experience, running the sale on Black Friday week is a better option because that's when customers start searching for offers and discounts.
Last year, we began the sale on Monday and collected 50% of the total sales revenue in the first 4 days of the Black Friday week. That's before Black Friday even started! 
iii. How long to run a Black Friday sale
As we mentioned in the previous section, you can run your WooCommerce Black Friday sale for a week or a month. We prefer running it for a week and ending the sale at 23:59 on Cyber Monday. 
Set a timer and make an announcement on social media profiles and newsletters. This can skyrocket the sales figures in the final few hours. 
Some businesses like to continue selling after Cyber Monday. However, in our experience, the sale quickly dwindles following Cyber Monday. You need to build urgency to convince people to buy before it's too late. Extending the sale beyond Cyber Monday undermines this message. 
2. Tools to prepare WooCommerce for a Black Friday sale
The Black Friday sales week is going to be crazy. You will see a sudden spike in traffic and you will be surprised to find plenty of people abandoning the Shop page without making a purchase. 
During the sales week, customers shop frantically on different marketplaces. They are very prone to changing their minds, so it's hard to retain customer attention. But fortunately, there are steps you can take to ensure visitors stay on your site and purchase your products. 
Tool #1: Make it easier to find and select products
One of the simplest and most effective hacks is to make the Shop page look appealing and easy to use, like the one below:
A well-designed WooCommerce Shop page like this certainly beats bland and unexciting pages. And in case you're wondering, the products are listed using our bestselling plugin - WooCommerce Product Table. 
As you can see, the table layout makes it easy to see more products at once and to find what you're looking for. By allowing customers to choose quantities and variations for multiple products from the same page, you can significantly improve your average order value. Customers can quickly select multiple products and add them to the cart, which is perfect during the frenzy of Black Friday shopping. 
Setting up WooCommerce Product Table
To create a similar table follow the steps below:
1. Install and activate the WooCommerce Product Table plugin. Then go to WooCommerce > Settings > Products > Product Table and insert the license key. 
2. Scroll down and under Where to display product tables, select Shop page, and Product categories. This enables the searchable table view on the main pages in your shop.
3. Scroll down further to Columns. This is where you decide what goes into the table. Take a look at our setting:
You can choose to show other columns on your table. Here's a help doc that'll help you do just that. If you prefer learning visually, then check out the detailed video below:
Once you have set the columns, you'll notice that the WordPress plugin displays all your products together on the table. What if you want to list only your best-selling products on your homepage or a custom Black Friday page? Fortunately, you can do that too.
To list only specific products, here's what needs to be done.
Open the page where you want to list the products and insert the following shortcode:
[product_table include="369,258,147"]
Replace the numbers with your own product IDs. You can find them by going to Products > All Products. The IDs are right below the names of the products. Hover the cursor to make them visible.
So now you have an awesome table that encourages visitors to fill up their carts. But it's not time to celebrate just yet. Experience tells us that customers need a bit more help to make their purchases. 
Tool #2: Add product quick view
WooCommerce Quick View Pro helps speed up the process of purchase by adding a Quick View box. By clicking on the box, visitors can view information about a product and then add them to the cart without having to visit a separate page.
It enables customers to make quick buying decisions. And here's how it looks:
Installing and setting up the plugin is fairly easy. If you need a helping hand, check out this video and these help docs. 
You can add quick view buttons to your default store layout, or use it with WooCommerce Product Table to get the benefits of both plugins. 
Tool #3: Enable on-page cart and checkout
As we said earlier, customers tend to abandon carts very often during Black Friday sales. To prevent this from happening you can let customers complete their purchase directly on the shop and product pages. 
WooCommerce Fast Cart will help you do just that by creating a neat popup cart and checkout. This makes the process of reviewing the cart, paying, and placing the order much quicker. 
Fast Cart also helps increase the average order value by displaying related products on the pop-up cart. Customers can quickly add extra products to their order and then complete the purchase. 
Here's how it works:
Pro Tip: Consider adding the PayPal Express Checkout Payment Gateway to add a quick PayPal Checkout button to the popup cart.  
To further speed up the checkout process, we recommend enabling the Direct Checkout option in the WooCommerce Fast Cart plugin. This allows customers to skip the cart completely. They add a product to their cart and the checkout immediately opens, prompting them to complete their order without delay.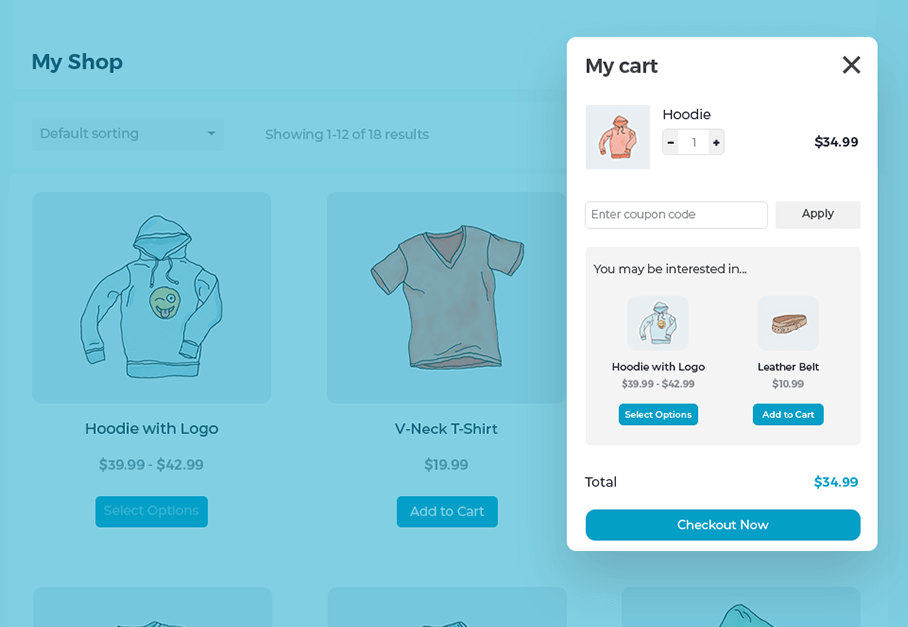 Increase your conversions and average order value with a beautiful popup cart and checkout.
Tool #4: Recover abandoned carts
Inevitably, some customers will still abandon their carts because they're not yet ready to buy. That's why it's important to send abandoned cart emails to customers reminding them to complete their orders. 
We recommend using ReCapture, a WooCommerce abandoned cart recovery system. Use it to remind customers to finish purchasing their order. 
In last year's Black Friday sale, we saw some excellent results from our abandoned cart emails:
And as a result, we recovered 13.8% of all the abandoned carts!
Tool #5: Display tools
So far we have covered how to display the products and fast-track the buying process. In this section, we will recommend some plugins to make sure that the discounts and promotions are displayed prominently on your website. 
Popup Maker

enables you to hook the visitors by offering discounts they can't refuse. 

MySickyMenu

allows you to display a banner with discounts on top of the website.

NotificationX

offers social proof that helps generate FOMO (fear-of-missing-out) and drive sales. 
You can also use these tools to notify the end of the sale on Cyber Monday generating more FOMO and more sales.
Tool #6: Pricing Tools
The YITH WooCommerce Dynamic Pricing and Discounts help set price rules and build targeted offers. With just a few clicks, you can apply a discount on all the products or on products belonging to specific categories. This is just one of the many features the plugin offers like scheduling discounts and promotions, setting popular promotion methods in your shop, etc. 
Tool #7: Email marketing tools
Your WooCommerce Black Friday sale is an excellent opportunity to attract new customers. However, it's also a great time to leverage your existing customers for higher revenue collection. Happy customers trust your brand, so there is a good chance they will prefer you over other businesses. 
We recommend preparing:
A series of emails for existing customers.

Another series of emails for general subscribers to convert them into customers. 
There are numerous email marketing services to choose from. We prefer MailChimp and Active Campaign. Setting up the email campaigns would differ from service to service. You should be able to find help documentation and support articles that'll point you in the right direction.
We suggest placing the newsletter signup form prominently on your website before the sales week so that visitors can receive an email when the sale starts. 
Pro Tip: In addition to all these, write a regular blog post (example here and here) announcing the sale and post it on social media.
- An example of one of our Black Friday tweets. 
Also, consider using social ads and Google Ads to offer further discounts and drive traffic to your WooCommerce store. 
That's it, folks. With that, we come to the end of marketing strategies for WooCommerce Black Friday. 
It's worth mentioning that if you have the time and resources then these strategies can be utilized for other events as well like Halloween Sales, Easter Sales, Christmas Sales, Back to School Sales, Veterans Day Sales, etc.
3. Steps to take post-Black Friday sales 
Two tasks remain to be done. The first one involves analyzing the impact of the sale and recording your observations so that you can use it to plan a better and more successful Black Friday deal for next year.
The second task is regarding all the plugins you installed on your website for the sale. What to do with them? We recommend deactivating all plugins (like the discount plugin) that aren't relevant for the rest of the year. Only keep the ones that continue increasing your sales and revenue outside of the sales period like the WooCommerce Product Table, WooCommerce Quick View Pro, and WooCommerce Fast Cart. These plugins will help increase your sales throughout the year - not just during Black Friday! 
Essential plugins for a successful WooCommerce Black Friday sale
To run a successful WooCommerce Black Friday sale, you need a combination of the following plugins:
Armed with these tools and our advice, go ahead and start planning the best WooCommerce Black Friday sale ever. You can do it - good luck!