Have you ever built a WooCommerce store? If yes, then pat yourself on the back! With a 22% market share among the top 1 million e-commerce websites, WooCommerce is the clear frontrunner.  Nearly 3 million sites use the WooCommerce Plugin and its add-ons. So if you own a WooCommerce store, you've definitely made a wise choice.
Now, what would you do if your WooCommerce site was down for 3 hours? Just think about the time, dedication, and hard work that went into creating and maintaining it. Not to mention the loss of potential customers and revenue!
And what if data was permanently lost? You would lose order information, transactional details, and so much more!
It is therefore absolutely imperative to have security measures in place. Moreover, the threat of vulnerabilities like hacks, malware, and human error will always be at large. It is always best to employ a concrete backup process - one that specifically suits a WooCommerce store.
How important are backups to a WooCommerce site?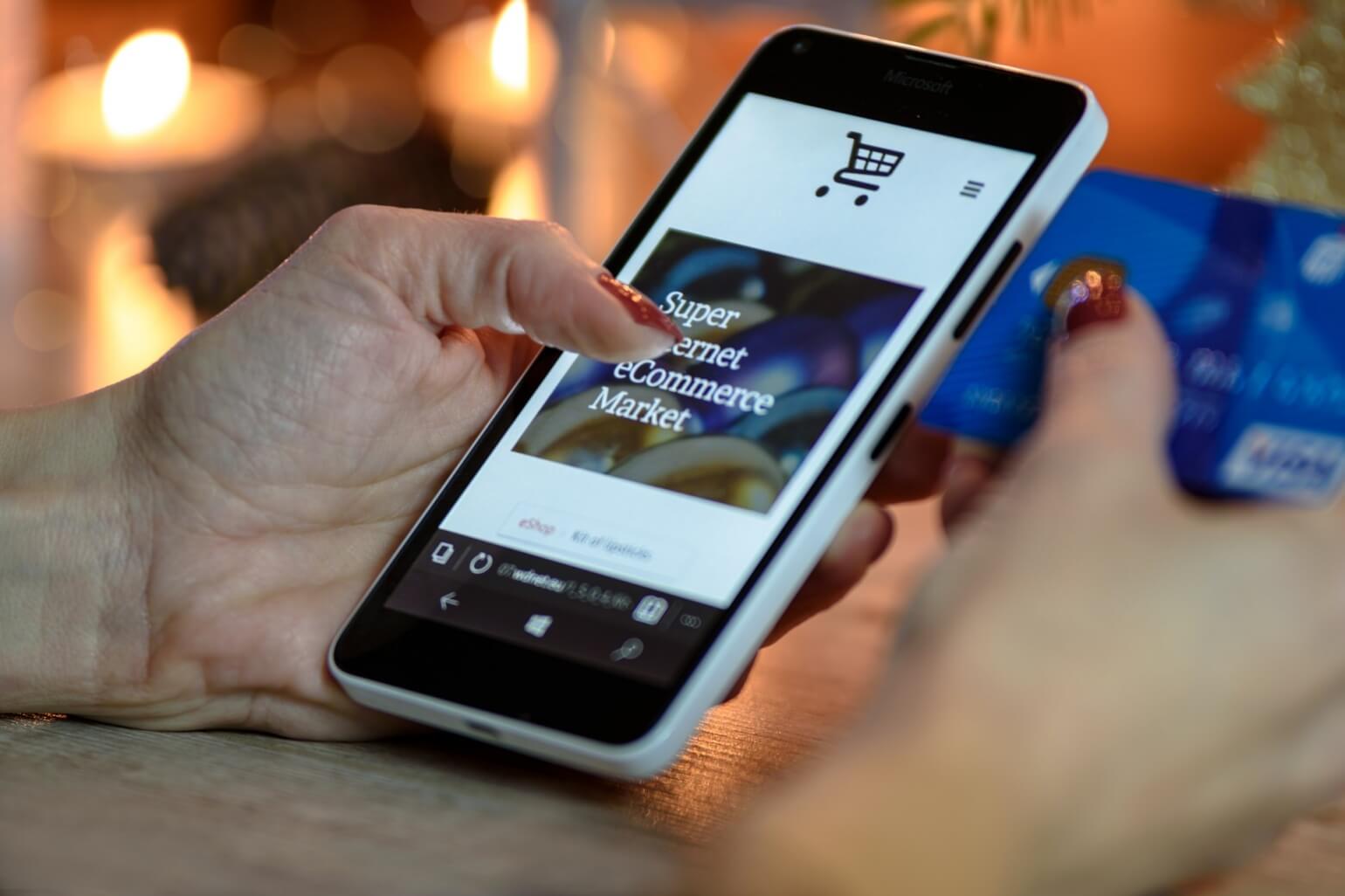 Having a regular WooCommerce backup process ensures that you have access to the latest data from your site in the event of a website crash or data breach. If such an issue occurs, the backed up data can be quickly restored, making sure that your downtime is short and does not impact your business adversely.
Normally, a daily backup is sufficient for regular websites. But that is not adequate for a WooCommerce website. If your store crashes and your last backup was taken 12 hours ago, then you stand to lose any new orders, sign up information, posts, comments, etc. that occurred during that time.
WooCommerce websites need real-time backups that trigger a backup every time a change occurs on your site. This way, no matter what happens to your store, no matter when your store goes down, you have all your data stored safely and therefore lose nothing.
Now that you are aware of the importance of taking real-time backups for WooCommerce stores, let's take a look at the best way to do just that. Primarily you can:
Use the backup service of your web host
Take manual backups
Automated backups using WordPress backup plugins
Let's evaluate each of these backup methods in detail and decide which is the best.
Web host backups
Every web host provider offers a backup solution for the websites that they are hosting.
You can check with your web host provider if this is a free or chargeable service. For cheaper hosts, you need to upgrade to a higher plan to access backups of your site. Managed WordPress hosts such as Kinsta offer access to backups and one-click restores as standard.
You can configure your site's backup settings from your web host account. Depending on the hosting provider, this may be a complex or a user-friendly process.
Remember to check whether the hosting provides real-time backups. As we discussed earlier, regular backups are not ideal for WooCommerce stores.
Manual backups
If you don't want to depend on your web host provider and would rather take the backups yourself, these are the typical steps to follow:
Connect to your WordPress web server using an FTP tool and download all your WordPress website files.
Create a backup of all your downloaded website files on a destination folder.
Create a backup of all your database files either from the database management panel of your WordPress account or by using the phpMyAdmin tool.
To perform manual backups, you need to either have the necessary technical knowledge yourself or seek professional assistance from a WordPress backup expert (which really defeats the purpose of taking manual backups).
Besides, taking manual backups is a very long and time-consuming process. On top of that, if you are managing multiple WooCommerce websites with large volumes of data, manual backups may not be a practical solution. After all, it can take quite some time to create just one backup. As a result, taking real-time backups manually is out of the question.
The best WordPress and WooCommerce backup plugins will help you take real-time backups without you having to lift a finger.
The best WordPress and WooCommerce backup plugins
WordPress backup plugins offer an easy and efficient way of taking a backup of your WooCommerce store. Available at very reasonable subscription prices, backup plugins are easy to install (just like any other WordPress plugins) and do not require any extensive technical know-how to execute the backup process. Choosing the right WooCommerce backup plugin, however, can be a challenge.
To save you the effort, we've compared 3 of the best WordPress backup plugins for your WooCommerce store.
1. BlogVault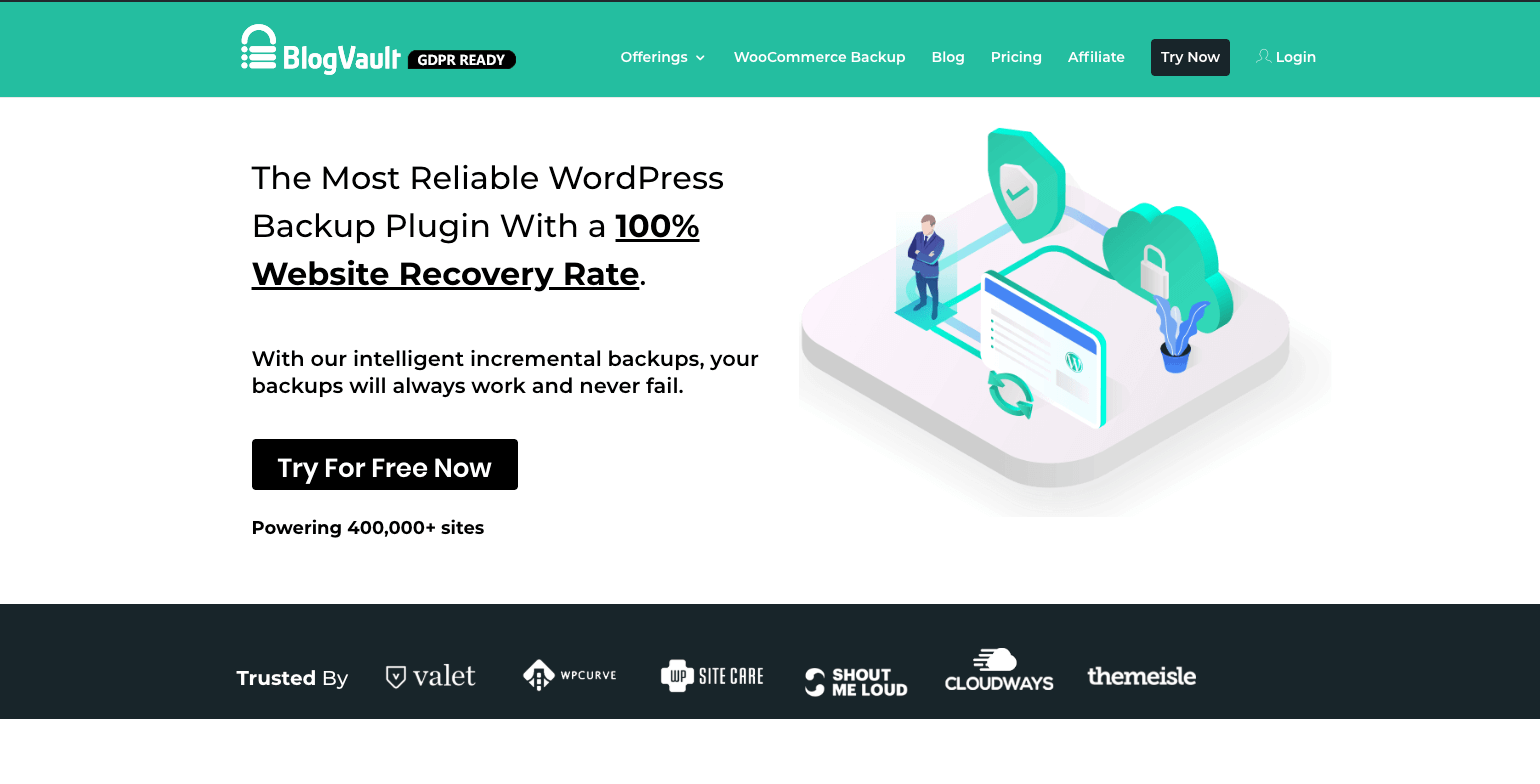 Powering over 400,000 WordPress websites around the globe, BlogVault is a reliable WordPress backup plugin. With a success rate of over 99.8% for automatic website recovery, BlogVault is trusted by thousands of single-site owners, developers, and agencies. The backup plugin offers the convenience of scheduled and on-demand backups along with the real-time backup feature.
Listed below are the WooCommerce-specific features of the BlogVault tool:
Takes a comprehensive backup of WordPress database and files including web pages, installed plugins/themes, user comments, published posts, website settings, and user details.
Uses an incremental backup method that is used to sync only the new changes on your website with the existing backup data.
Takes real-time backups where BlogVault stores even the minutest changes made on your WooCommerce store any time of the day.
Puts zero load on your website as BlogVault stores backups on its own dedicated servers, ensuring your site's performance is not hampered.
Comes with an independent dashboard so that if you can't access your WordPress admin, you can restore the site from BlogVault dashboard.
Pricing: Basic paid plan starting from $7.40 per month
2. BackupBuddy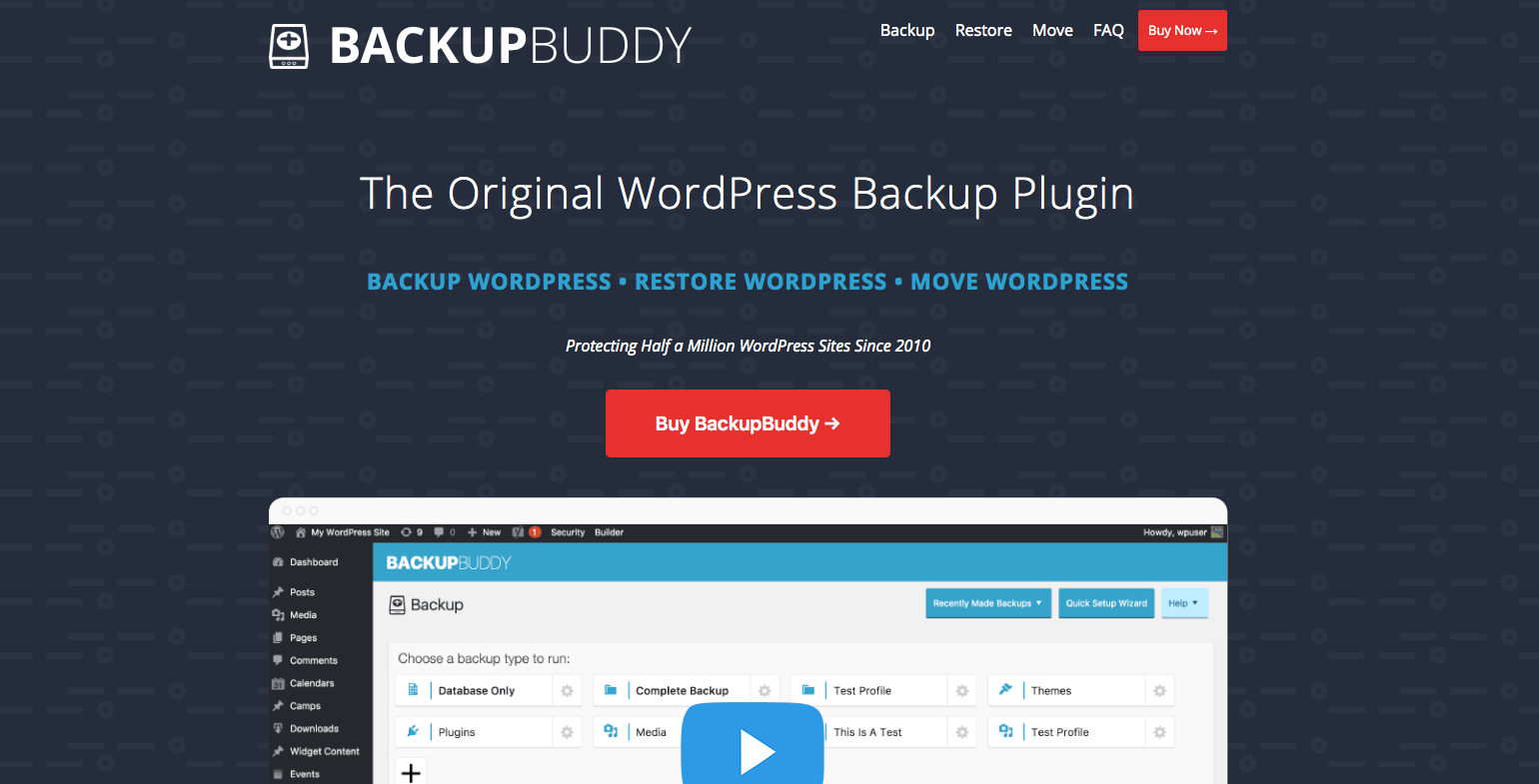 Available since 2010, BackupBuddy from iThemes is popular for being the first backup plugin for WordPress websites. Used by over half a million WordPress websites across the globe, BackupBuddy has simplified the entire website backup process with its centralized BackupBuddy dashboard.
Listed below are the WooCommerce-specific features of the BackupBuddy backup tool:
Offers both scheduled and real-time website backups.
Complete backup of all WooCommerce website files, including web pages, posts, user comments, dashboard widgets, images, plugins/themes, and much more.
Stash Live feature that periodically takes a snapshot of your website.
Availability of a safe and secure off-site backup storage facility.
Suitable for backups of multiple WordPress websites.
Pricing: One-year subscription plans priced at $52 (for one site) and $129 (for unlimited websites)
3. VaultPress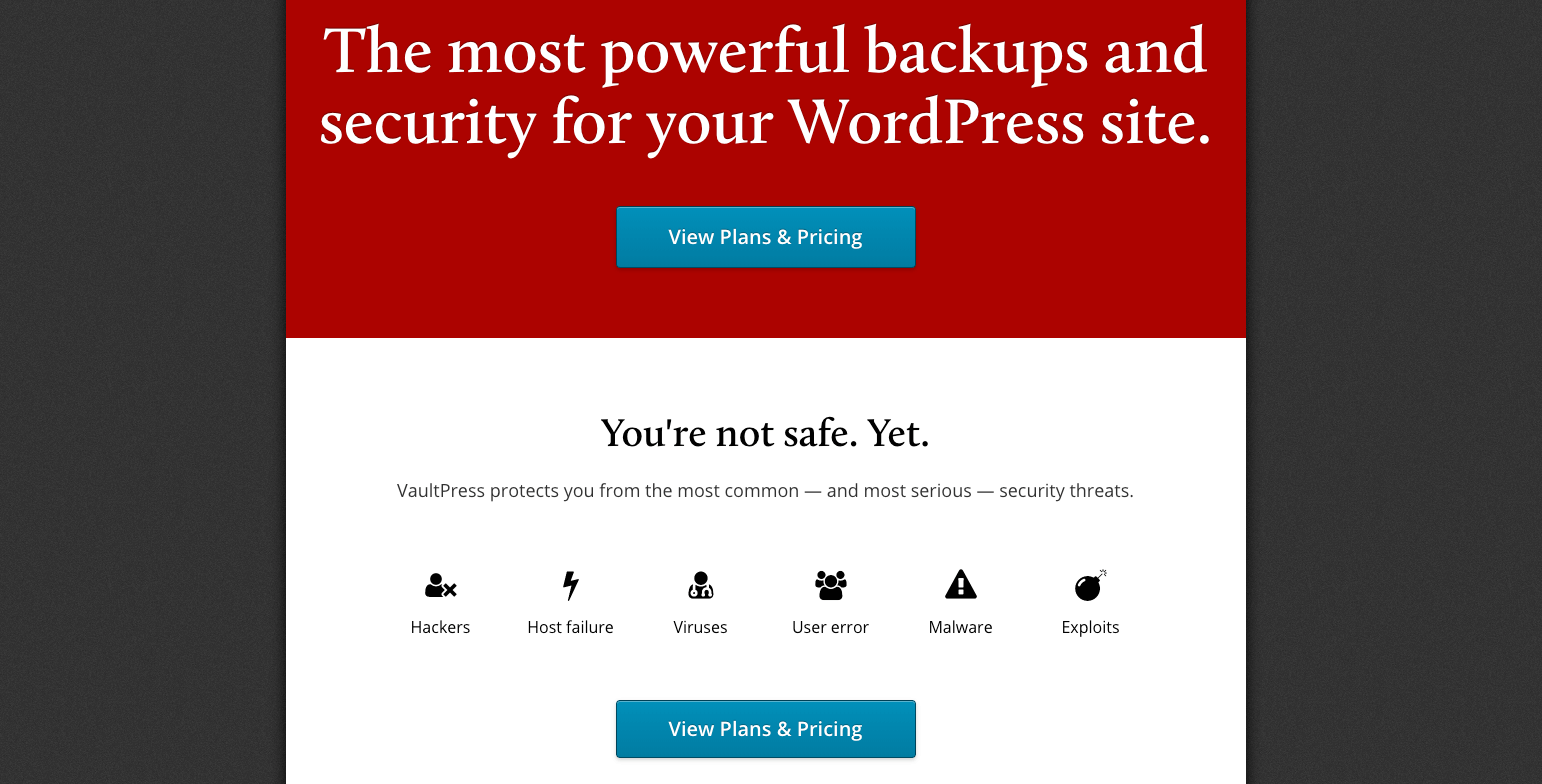 VaultPress is a WordPress backup and malware scanning tool that has been designed and built by Automattic. This backup tool is bundled as part of the popular JetPack plugin, so you will need to install JetPack first to use VaultPress. In addition to website backups, VaultPress has a security scanner tool that can be used to detect any malware or malicious activities on your website.
Listed below are the WooCommerce-specific features of VaultPress:
A centralized and independent VaultPress dashboard that lets you perform backups and malware scanning efficiently.
A calendar view on the VaultPress dashboard that lets you see real-time activities on your WordPress website.
Offers real-time syncing of your website data.
Complete website protection from a variety of security threats, including hackers, web host failure, online viruses, and user error.
Complete backup of all website data, including the posts, user comments, media files, and dashboard settings.
Pricing: Premium plans priced at $3.50 per month.
In conclusion
As a WooCommerce store owner, you can choose to perform your website backups manually or through the use of backup plugins.
Manual backups require a lot of technical expertise and can be very time-consuming. On the other hand, WordPress backup plugins are easy to use and offer result much faster.
Irrespective of the backup process you use, taking real-time backups of your e-commerce website is crucial to ensure zero loss of data and, of course, and your complete peace of mind.