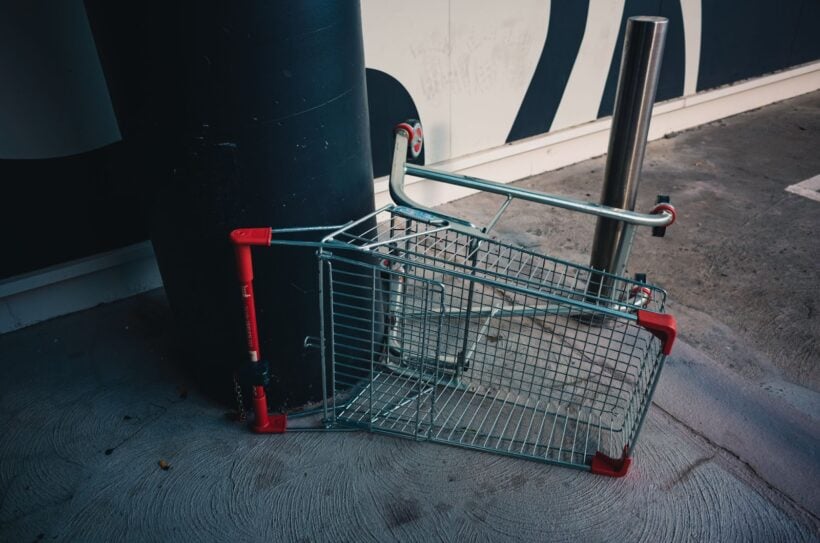 The high shopping cart abandonment rate on WooCommerce is a severe problem for eCommerce shops that focus on wholesale business.
In order to prevent customers from forgetting about their unfinished purchases, timely abandoned cart recovery emails are essential. However, many business owners do little to help the situation, despite the fact that it costs them significant monthly sales.
Retaining buyers for a longer time and recovering lost business require a well-thought-out strategy to re-engage them and get them to finish the purchase.
In this article, we'll discuss how you may streamline abandoned cart recovery for your wholesale WooCommerce store and offer some suggestions for improving the sales funnel. We will also quickly go through an overview of creating a wholesale eCommerce store in case you do not already have it set up.
But before we dive in, let's go through some of the benefits of recovering wholesale abandoned carts.
What are abandoned carts and why should you recover them?
The term "cart abandonment" refers to the action of an online buyer adding a product to their shopping cart but then never completing the process to purchase the product. This is a major problem for many eCommerce stores, especially wholesalers, and is unfortunately rather prevalent.
Surveys have shown that the percentage of shopping carts that are abandoned is above sixty percent. In addition, wholesale purchases are typically larger than retail ones. This means that even a single transaction can significantly impact your overall revenue.
Customers are more likely to abandon when faced with a complicated website interface or complex checkout. But there are multiple other reasons why people abandon their carts. Among them are the following:
Invisible or hidden charges
Extremely long shipping timeframes.
Increased taxes or shipping costs
There are no available discounts or coupon codes to use.
A difficult procedure for checking out.
The requirement to register for an account.
Limited methods of payment are available.
Customers shop around for deals and cheaper rates.
To successfully reduce cart abandonment, you need to remember that customers don't just toss random products into their shopping carts. When a customer adds a product to their shopping cart, it's because they're considering making a purchase of that product.
People who have abandoned carts are extremely interested in making a purchase. Unfortunately, they were unable to finish the procedure because of an unknown problem.
It will save you a significant amount of money in the long run if you can convert this particular group of interested customers rather than continue to bring in new customers who aren't quite ready to buy from your website. You can easily target customers who have almost completed the purchase process using an abandoned cart recovery plugin.
Converting your existing WooCommerce store into a wholesale business
Before we start with the step-by-step process of reducing cart abandonment, let's take a quick look at how to convert your existing WooCommerce store into a profitable wholesale store.
Adding wholesale to your public WooCommerce store is a breeze with the Barn2 Wholesale Pro Plugin. You'll have a separate section of your store that only wholesale customers can access, complete with wholesaler registrations, user roles, B2B discounts, and simplified order forms.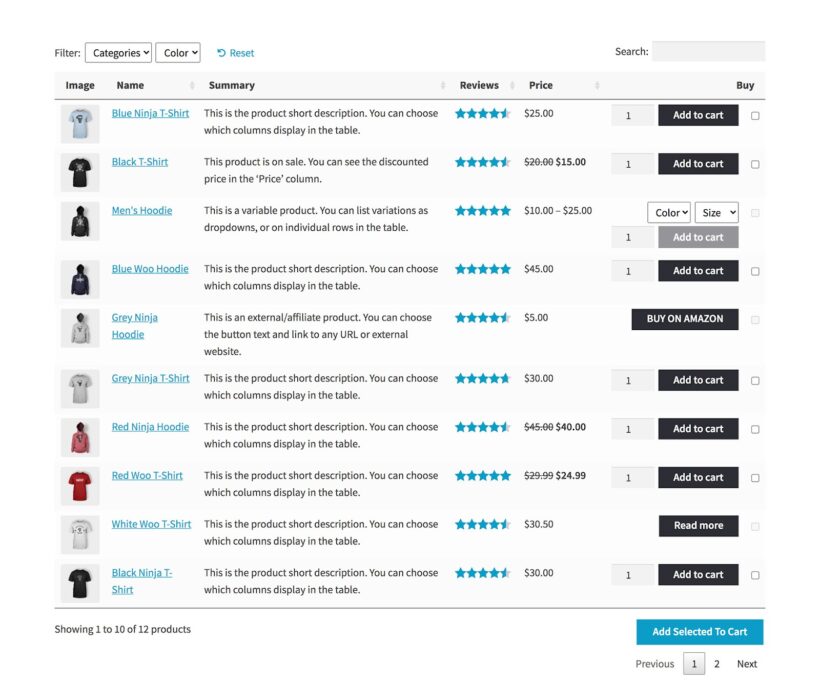 Allowing wholesale customers to register, deciding whether new accounts should be held for moderation or immediate access should be allowed, adding wholesale users manually, or immediately converting existing customer accounts are all options that are made available to you. It contains all the tools you'll need to turn your retail business into a wholesale one.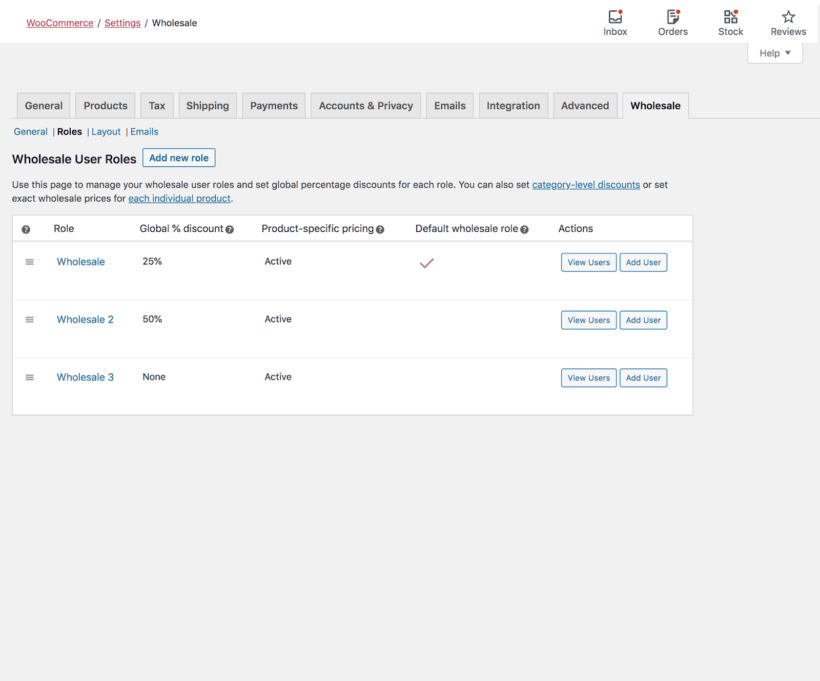 Once you have added wholesale functionality to your WooCommerce store, you can easily begin the process of reducing cart abandonment for both retail and wholesale customers using the strategy that we will discuss in the next step.
If you want help setting up WooCommerce capability on your WooCommerce store, you can check this detailed guide. The article will help you set up a wholesale store on your eCommerce store with the WooCommerce Wholesale Pro plugin.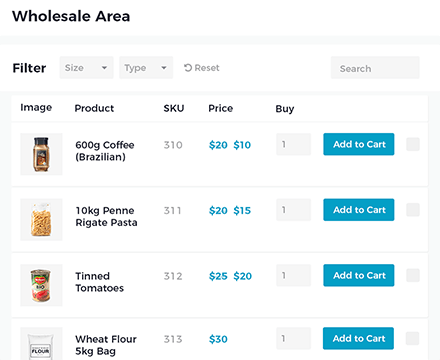 Install WooCommerce Wholesale Pro today and get a complete wholesale store - the easy way!
Recovering abandoned cart for your wholesale WooCommerce store
No matter how much you try to prevent it, wholesale WooCommerce cart abandonment is inevitable, especially on a wholesale shopping platform. So here are a few ways in which you can try to recover abandoned carts.
Method 1: Create a sequence of follow-up emails to reduce cart abandonment
There is a wide variety of factors that can influence a customer's decision to leave products in their shopping cart unpurchased.
Even if they intended to buy your product, something might have gotten in the way, such as an unexpected expense or a more pressing need. For this reason, a polite email reminder may be the final push some customers need to make a purchase.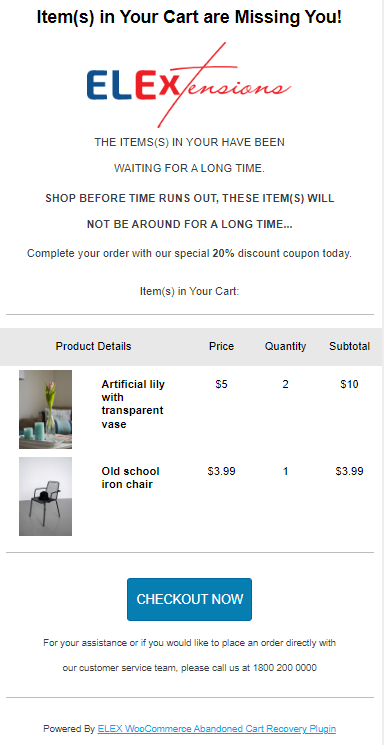 With this method, when a customer adds products to their shopping cart, goes through the checkout process, and then exits the site without completing their purchase, they receive an abandoned cart email in their inbox.
Emails sent to customers whose shopping carts have been abandoned offer a very high return on investment because of the high click-through rates, and they are very easy to construct and deliver. This is probably the most effective way to recover abandoned carts.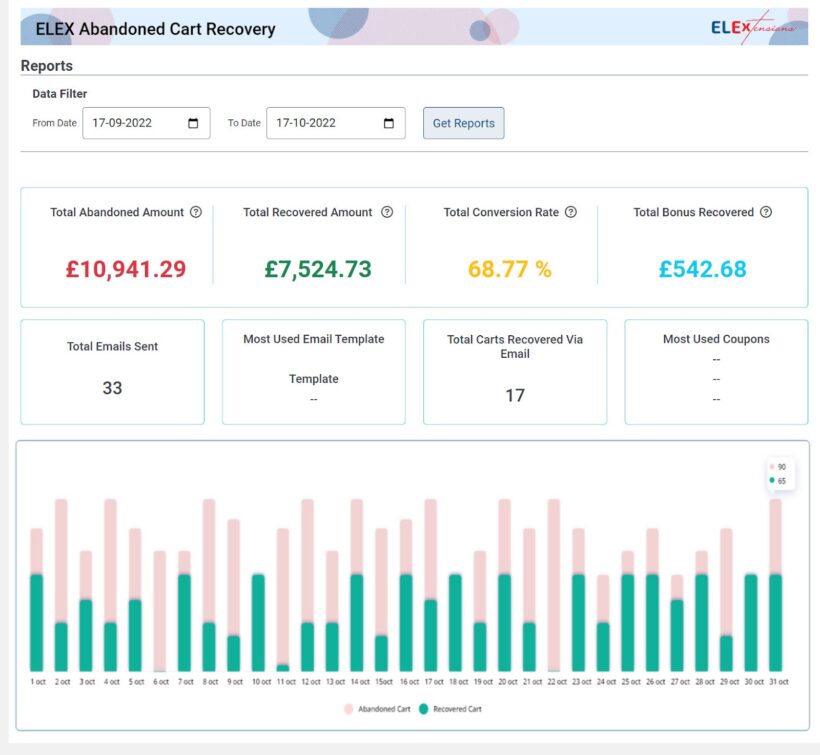 You can easily set up abandoned cart emails using the ELEX WooCommerce Abandoned Cart Recovery with Dynamic Coupons plugin.
It enables you to:
Define email rules and triggers to deliver automatic abandoned cart emails.
Set a timer for when the cart is abandoned, and remove any existing abandoned cart details.
Allow unregistered guest visitors to recover their abandoned carts.
Add custom email templates for the abandoned cart.
Review full email logs and reports on abandoned & recovered cart totals.
Apart from that, it also enables you to set up smart discount coupons and integrate them with abandoned cart emails, which brings us to the next method.
Method 2. Dynamic coupons
Sometimes it's tough to convince people to actually make the purchase. They say that the first purchase is the hardest to capture, and coupons assist customers to get over that obstacle.
An abandoned cart coupon makes a lot of sense when you consider discounts as a means of attracting new customers; after all, this is your last shot to win over a customer who might otherwise never return.
Most businesses have discovered that including a discount code in an email sent to people who have abandoned their carts during the checkout process results in a higher conversion rate.
When given a chance, almost everyone will take advantage of a coupon. This is why we recommend the strategic use of smart discount coupons.
Our suggestion is to send three emails within 24 hours, covering the following:
Send your initial email with the intention of assisting rather than selling within an hour of cart abandonment. This will rule out the possibility that the buyer just forgot about the item in their cart.
Sending your second email in an attempt to create a fear of missing out 6 hours later. You can achieve this by offering a flash sale or just letting them know that the item they want is in high demand and may not be available for much longer.
If you haven't heard back from them after two days, it's time to send that third email with the discount coupon. This email should contain a dynamic coupon that will serve both as a lure and as a last option in an attempt to recover the lost business.
Integrating coupons for cart recovery
The ELEX WooCommerce Abandoned Cart Recovery with Dynamic Coupons plugin has the option to integrate WooCommerce Coupons. You can also dynamically generate smart coupons and attach them to the abandoned cart email templates, all from within the plugin's settings.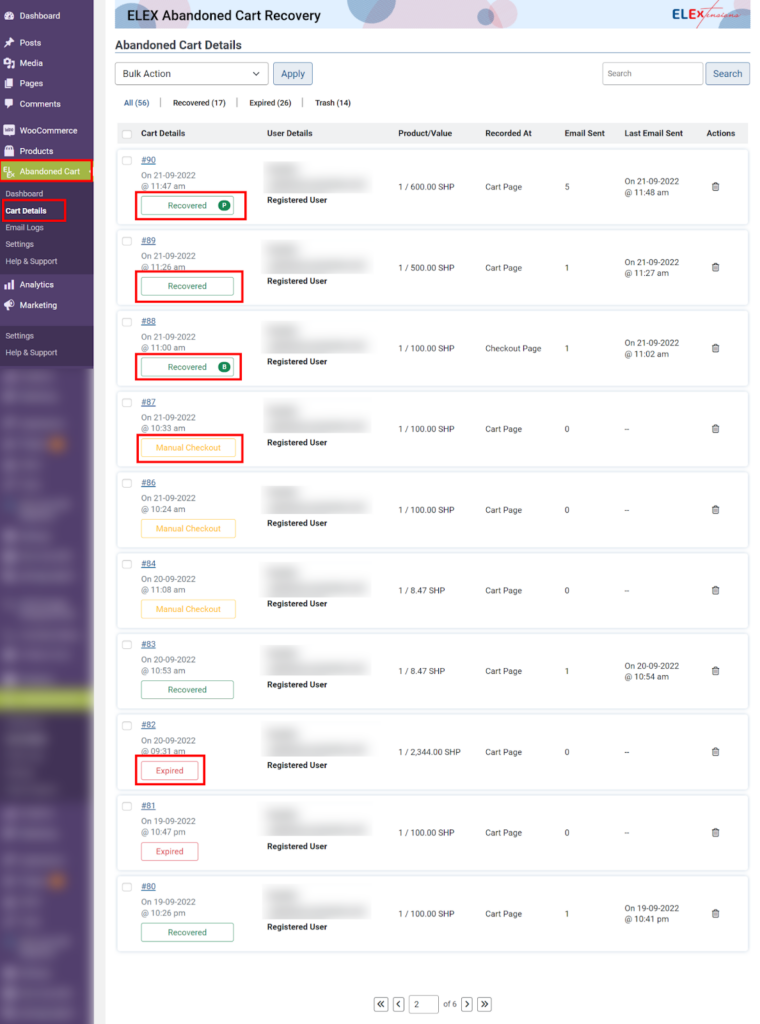 When the customer clicks on the checkout link in the abandoned cart email, this will lead to the same checkout page. Here the plugin will add the discount coupon automatically.
To learn how to download and configure the plugin, you can go through the product documentation.
Wrapping up
Abandoned shopping carts are a major contributor to lost sales for wholesale WooCommerce stores. There is no foolproof way to prevent this from happening, but there are methods for reducing its occurrence.
You can increase your store's conversion rates, and lower the rate at which customers abandon their shopping carts if you provide them with reminder emails, offers, and discounts.
To recover abandoned emails, you can use the ELEX WooCommerce Abandoned Cart Recovery with Dynamic Coupons plugin. The plugin comes with multiple features to help you recover sales and boost conversions.
You can view an in-depth report on abandoned carts as well as recovered cart amounts.
Set up advanced email rules to fully automate the cart recovery process.
You can allow unregistered visitors to recover their abandoned carts.
Add custom email templates for the abandoned cart.
Add smart coupons to nudge visitors to complete their checkout process.
In addition to the cart recovery plugin, you can use the WooCommerce Wholesale Pro plugin to allow customers to place bulk wholesale orders.
You can add bulk wholesale pricing and discount rules easily using the interface.
You can use WooCommerce Wholesale Pro with the WooCommerce Product Table plugin to create quick order forms.
By creating multiple unlimited user roles, you can allow multiple potential bulk buyers to place orders easily.
By creating a private shopping area, you can run your bulk WooCommerce store alongside a public store. This way you can cater to both customer groups seamlessly.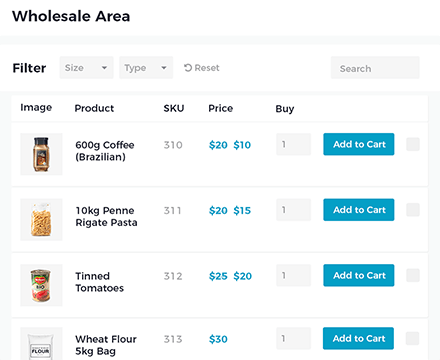 Install WooCommerce Wholesale Pro today and get a complete wholesale store - the easy way!
By the end of this article, we hope you will have a better idea of how to recover those abandoned sales. If you have any questions regarding abandoned cart recovery for wholesale stores, please let us know in the comments section below.