'WooCommerce downloads have opened up a whole new world for online stores, enabling them to sell not only physical products but also digital products like music, images, e-books, and software.
Ecommerce stores allow you to reach out and deliver products to customers the instant they make payment, whereas selling physical products often means losing a significant share of your sales – paying shipping, manufacturing, and distribution costs. This is where selling virtual products using WooCommerce is significantly more profitable for merchants.
Since WooCommerce provides shipping options, not everyone knows that the plugin is just as good for selling virtual (or digital) products.
In this tutorial, we'll cover everything you need to know about virtual products in WooCommerce. We'll also explain how you can start selling them through your online site as a store owner using WooCommerce Product Table. It will look something like this:
Importance of digital downloads in ecommerce
Digital downloads have become increasingly popular in ecommerce platforms, and WooCommerce downloads offer many advantages for online businesses. Here are some of the key reasons why digital downloads are important in ecommerce:
Increased accessibility: Digital downloads allow customers to access products instantly, without waiting for shipping or delivery. This convenience can improve customer satisfaction and boost sales.
Lower costs: Unlike physical products, digital products don't require inventory management or shipping, which can significantly reduce costs for online businesses. This can also lead to higher profit margins.
Greater scalability: With digital products, there are no limits on the number of products that can be sold, as there are no physical constraints like storage space or shipping logistics.
Global reach: WooCommerce downloads enable businesses to reach a wider audience, as digital products can be sold to customers anywhere in the world, without the need for international shipping.
Enhanced customer experience: Digital downloads offer a seamless and efficient purchasing experience for customers, allowing them to quickly and easily access their products.
What are WooCommerce virtual products?
With WooCommerce virtual products, you don't have to worry about maintaining your inventory or running out of stock with digital products, as they mainly comprise files stored on your web server. This means you're selling the same files time and again.
Moreover, virtual products in WooCommerce don't require customization of any kind. In contrast, physical products often require you to change their color, size, or any other attribute.
Types of virtual products
If you're new to the virtual product space, you might be wondering what sort of virtual products you can sell using WooCommerce. Here's a quick list of some of the most common types of virtual products online stores sell:
E-books (guides, how-to's, and recipes)
Video (such as online courses or training programs)
Software (such as web apps, game mods, plugins, presets, and tools)
Music and audio files (such as songs, sound clips, podcasts, and audiobooks)
Graphics (such as icon packs, font packs, PSDs, and themes and templates)
Photography
Documents (such as printables, guides, reports, white papers, templates, and checklists)
Memberships (if you have a membership WordPress site, you can sell memberships)
The great thing about WooCommerce downloadable products is that they are sustainable and can easily be replicated.
How to create digital and virtual products
Before you begin creating the product, it's a good idea to take a step back and gauge product demand. This way, you'll know if there's a market for the digital or virtual product you're looking to create.
You can do this by searching for the product keyword and related search queries in Google Trends.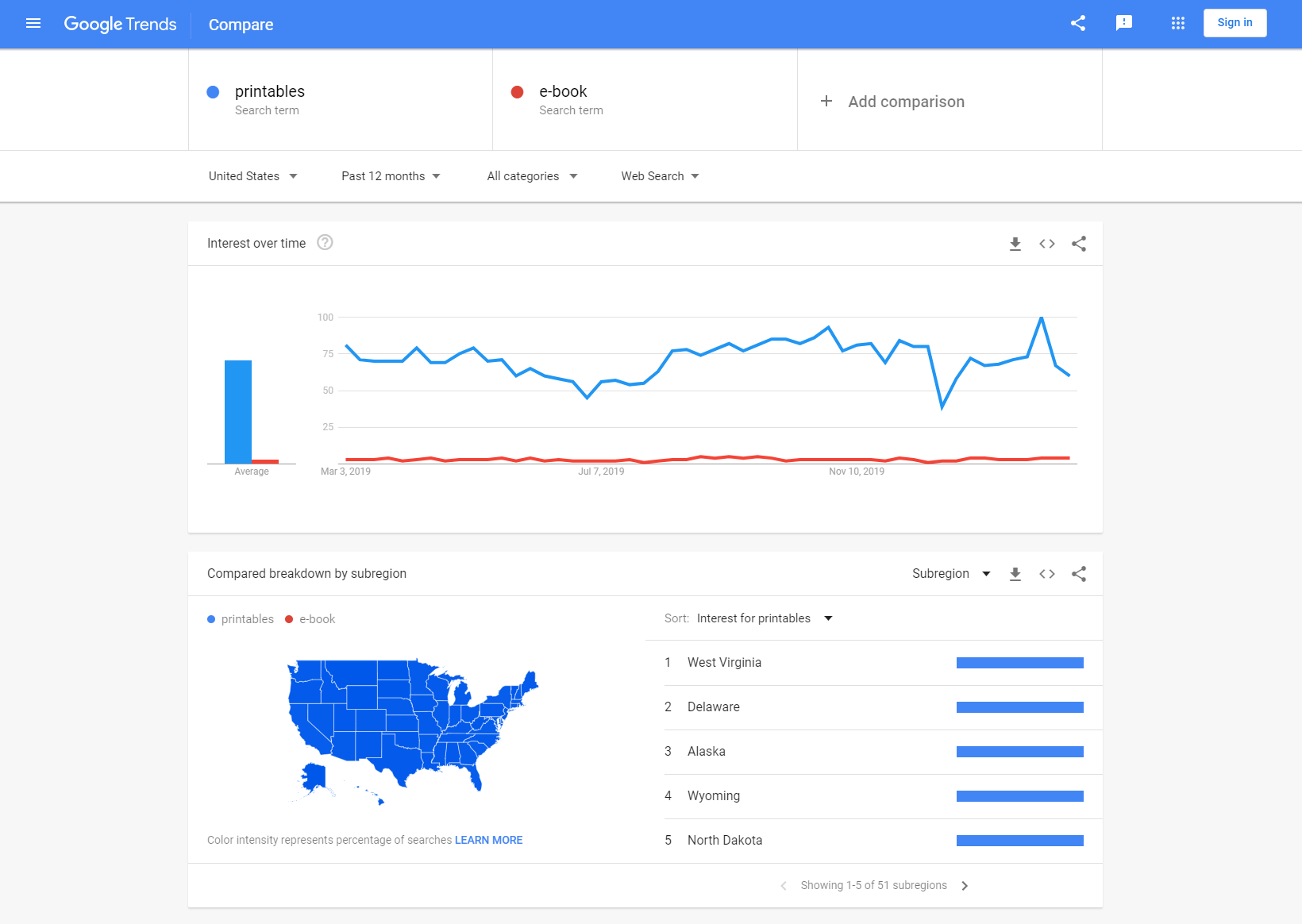 If you have multiple ideas for virtual products, you can compare them to see which one has a higher demand.
Once you've decided on a virtual product to sell, the next step is to see what's already out there. In other words, you want to check the market saturation to get an idea of the competition. Run a few Google searches to see who else is selling similar virtual products. This will help you get a better idea of the sort of quality people expect and the keywords they're using to search for these products.
Finally, you can begin creating your virtual downloadable product. For this, you will need to make sure you're using the right tool. This depends on the product you're looking to create. For example, if you wanted to create printables, you could use a free tool like Canva. And if you wanted to create sound clips, you might consider using Audacity.
Step-by-step guide on setting up WooCommerce pages to sell digital products
Here's what you need to do to start selling virtual products using WooCommerce.
Step 1: WooCommerce plugin installation and settings configuration
In order to sell virtual products via WooCommerce, you'll first have to install and activate the WooCommerce plugin.
Once the plugin has been activated, create the WooCommerce pages. Next, configure the plugin settings for digital products that you want to sell from your WordPress website. To do this, log into your WordPress admin panel and navigate to WooCommerce → Settings. From there, you'll be able to see an option Configure WooCommerce Settings for Digital Products - click on it and update the following settings:
 General settings tab – Limit the downloadable items purchase quantity to 1
 Inventory settings tab – Disable stock management
 Shipping settings tab – Disable shipping
Payment Gateways settings tab – Disable the payment options: Direct Bank Transfer and Cheque Payment. Enable the PayPal payment option and enter your PayPal email address
Emails settings tab – Configure your order notification settings and customize your chosen WooCommerce email templates
Step 2: Product categories creation
When setting up your online store with WooCommerce, it's important to have a clear and organized structure in place for your products. One way to achieve this is by setting up product categories before adding products. By creating categories, you can group related products together, making it easier for customers to navigate and find what they're looking for.
To set up product categories in WooCommerce, go to Products → Categories in the WordPress admin. From there, you can add new categories, edit existing ones, and assign products to specific categories.
When creating categories, it's important to keep your target audience in mind and think about how they would search for and navigate your products. You may want to consider creating broad categories that encompass a range of products, as well as more specific subcategories for niche or specialized products.
In addition to improving the user experience for your customers, setting up product categories can also make it easier to manage your inventory and track sales data. With a clear and organized structure in place, you can more effectively analyze which categories and products are performing well and adjust your marketing and sales strategies accordingly. So before adding products to your WooCommerce store, take the time to set up product categories and create a strong foundation for your online store.
Step 3: Addition of virtual products in WooCommerce
In the third step, you will need to add your digital products (that you need to make available for download). To do this, go to Products → Add Product (as shown in the screenshot below).
Clicking on the Add Product option will redirect you to the product creation form. Fill in the below fields:
Title
Long product description
Short description
Select the product category
Set a featured image
Insert additional thumbnail images (if necessary)
Price
In order to make your digital products downloadable, scroll down to the Product data section and do the following:
From the Product data metabox, choose the Simple Product option from the drop-down. Check both the Virtual and Downloadable check-boxes, as shown in the below screenshot: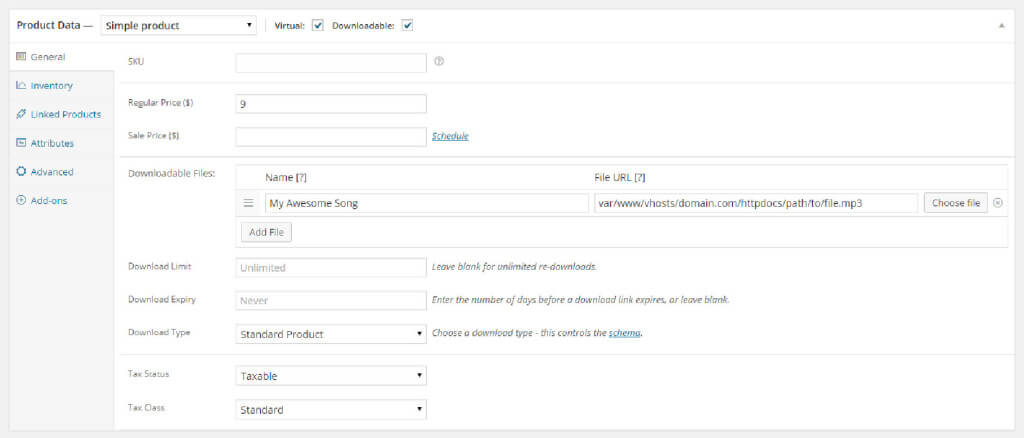 Next, assign a value to the Regular Price field. From the Downloadable Files path, click on the Upload a File option and copy the Link URL. Click on the Save Changes button, then paste the URL of the digital product you've just uploaded into the File Path field.
If required, you can choose to set a download expiry date for the product download link. This will stop the products from getting downloaded after the link expires.
Understanding the order process
So, now that you have carried out the most crucial steps of setting up your WooCommerce pages selling your digital products, you might be interested to know how a digital product order is processed. Let's take a look at the order process:
When a customer makes a payment via PayPal, any one of the following things can happen:
If all the items (or products) in the order are downloadable and virtual, then the order will complete
Or else, the order will continue processing till the time you change it
After completion of the order, or when the Grant access to downloadable products after the payment option is enabled, the user who has purchased the products will:
Be given permission to download the purchased products
Receive the download links for the purchased products on the order received page
Receive email notification that contains the download links
Be able to see the download links, once they are logged into their My Account page.
Get more sales with WooCommerce Product Tables
Your store can be reasonably successful if you set it up with the built-in layouts that come with WooCommerce and your theme. For greater success, it's worth doing some work to optimize your WooCommerce conversion rate.
The WooCommerce Product Table plugin gives you lots of flexibility about how to display your products. It lists products in a table and you can choose from dozens of options about how to present the table and what data to include. This can help to increase your sales and make your store more successful.
Case study: digital event tickets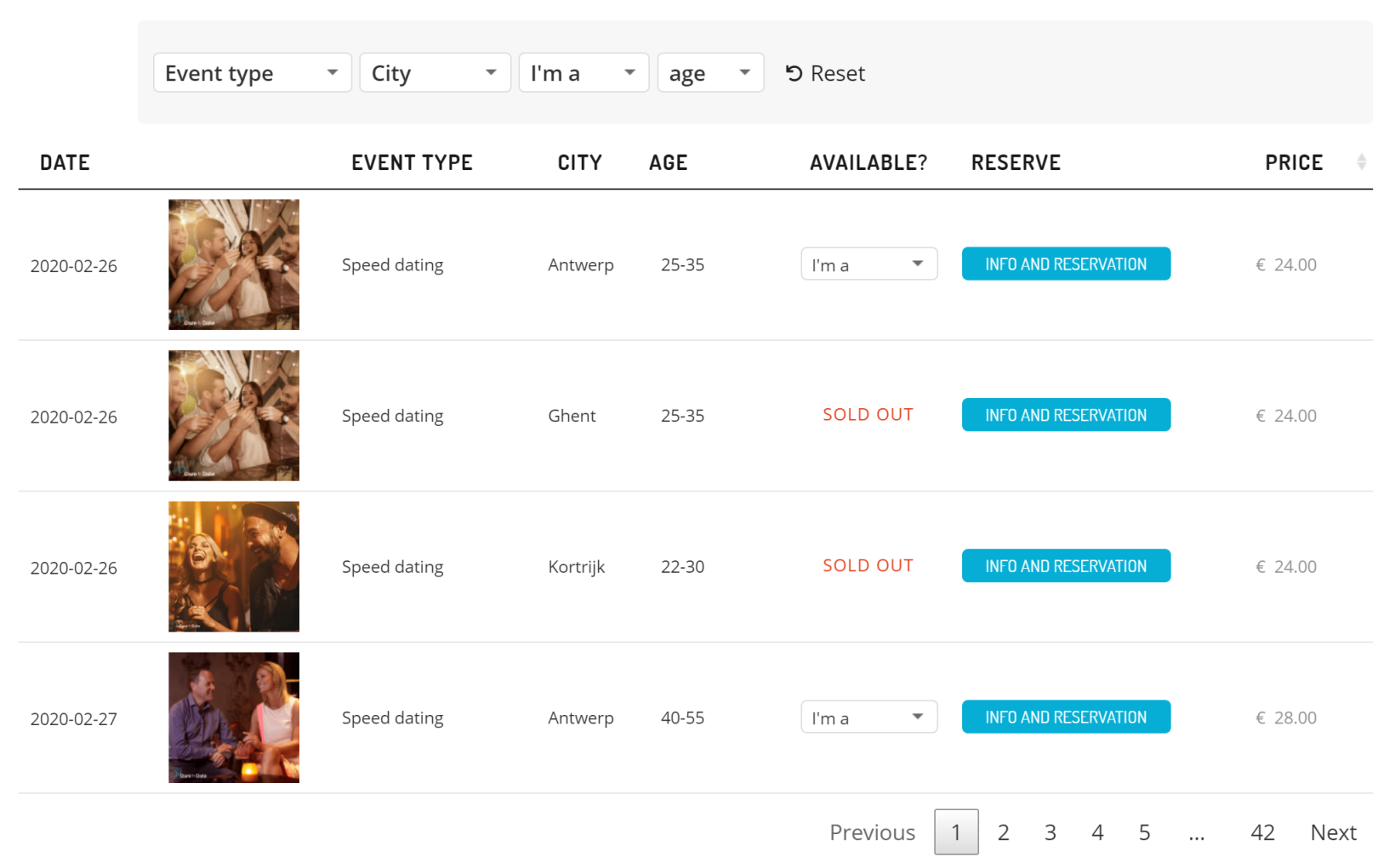 Dare to Date uses WooCommerce Product Table to list upcoming events in a neat and organized front-end table layout. Event-goers can search for events based on the type of event, location, gender, and age.
How to list virtual products using WooCommerce Product Table
The key benefit of listing virtual products using WooCommerce Product Table is that it makes it easier for customers to find what they're looking for.
Generally speaking, virtual products aren't image-centric. What this means is that they don't require the large images that physical products do. For this reason, the default WooCommerce store layout isn't ideal for selling WooCommerce downloadable products.
If you're selling lots of virtual products, showcasing them in a product table layout is the best option. Using the WooCommerce Product Table plugin, you can choose which columns to show in the front-end table layout.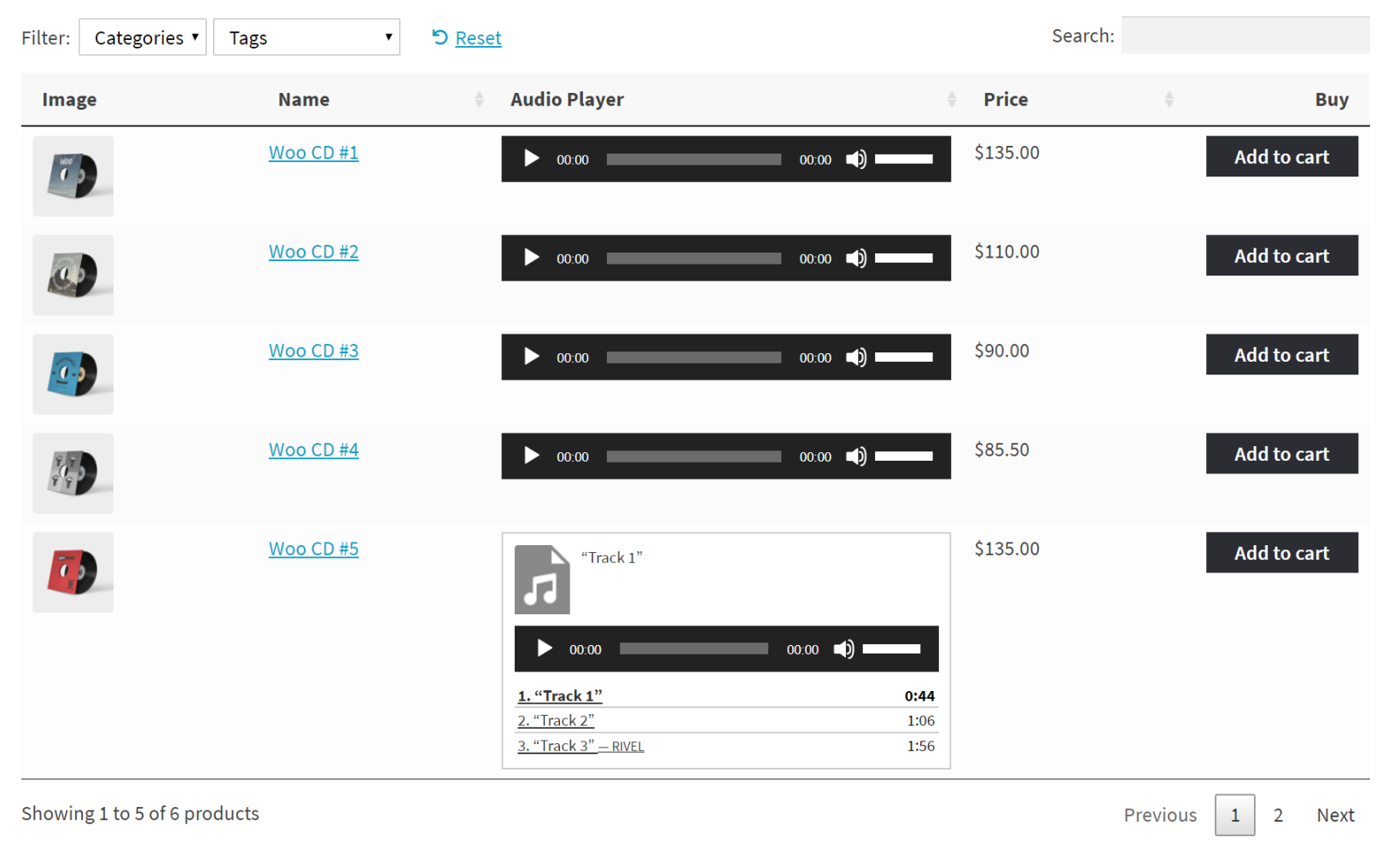 For example, if you sell audio tracks, you might include columns for product image, SKU, product name, sale price, download limit, and add to cart button (or checkbox). To boost sales, you could even include an embedded audio player column which gives customers a quick preview of the audio track.
WooCommerce Product Table lets you embed video and audio content directly in the table layout. You can also choose to add a search bar and filter options to make it easier for customers to find what they're looking for.
Use WooCommerce Quick View Pro to provide additional product details
You can use WooCommerce Product Table with the WooCommerce Quick View Pro plugin to provide even more information about each virtual product. This is especially useful if you're selling WooCommerce downloadable variable products with variations.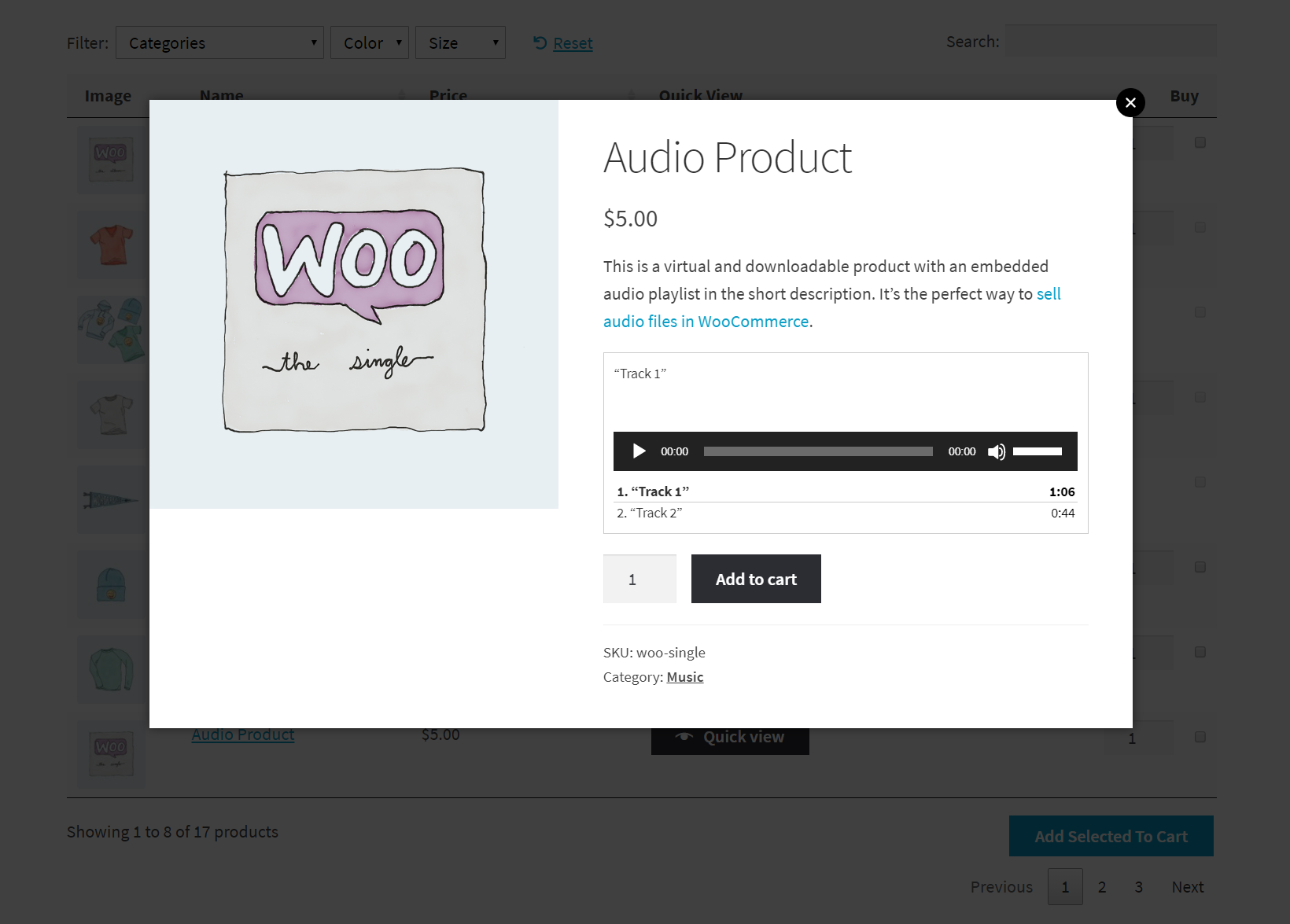 Customers can simply click the quick view button in the product table to view additional product details in a lightbox. They can also set purchase options and add the types of products to the cart directly from the quick-view lightbox. The key benefit of using WooCommerce Quick View Pro is that customers don't have to navigate to a single product page.
How to make digital products private with WooCommerce Protected Categories
Depending on the types of virtual products you're selling, you might need a way to make them private.
For example, you might need to sell private WooCommerce downloadable products that are unique to individual customers or clients. This could be an album from a photoshoot you did for a client's birthday party or wedding.
Or you might want to make certain virtual products in WooCommerce only available to registered members. For instance, you might want to sell guides, reports, or printables to members only through your membership site's merch store.
The easiest way to make digital products private is by using the WooCommerce Protected Categories plugin.
How to send digital or virtual products to the client
One of the most important aspects of selling virtual products in WooCommerce is getting downloadable goods over to the customer. Of course, customers can always download them directly from your site after checkout page. However, if you need a way to send virtual products to your clients you can:
Use the downloadable product type to automatically send a file or file url to the customer's email after they complete their purchase. This way, they can download the files directly from their inbox.
Alternatively, you can use the Follow-Ups plugin to send an email containing information that explains the next steps. For example, this might contain event tickets, image file downloads, or details of how to access to WooCommerce downloadable products.
Customizing the digital download experience for customers
Offering paid or free digital downloads can be a great way to attract new customers and build brand awareness. However, to truly stand out and provide a great user experience, it's important to customize the digital download experience for your customers. Here are some tips on how to do this:
Personalize the download page: Instead of a generic download page, create a customized shop page for your customers that features your branding and provides additional information about your products and services. This can help build trust with your customers and encourage them to explore your website further.
Add social sharing buttons: Encourage customers to share your paid or free digital downloads with their friends and followers by adding social sharing buttons to the download page. This can help increase your reach and attract new customers to your website.
Collect customer data: While offering free digital downloads can be a great way to attract new customers, it's also important to collect data from those who download your products. This can include their name, email address, and other relevant information that can help you personalize your marketing efforts and improve the customer experience.
Follow up with customers: After a customer downloads a paid or free product from your website, consider following up with them to thank them for their interest and provide additional information about your products and services. This can help build a relationship with your customers and encourage them to make a purchase in the future.
Offer additional free resources: To further engage your customers and provide value, consider offering additional free resources such as e-books, tutorials, or templates. This can help position your brand as an authority in your industry and attract more customers to your website.
Promoting digital downloads on your WooCommerce store
To maximize the impact of your pair or free downloads, it's important to promote them effectively. Here are some tips for promoting digital downloads on your WooCommerce store:
Highlight your downloads on your homepage: Make sure your downloads are prominently displayed on your homepage so that visitors can easily find them. You can use eye-catching graphics and headlines to draw attention to your downloads and encourage visitors to explore your website further.
Use targeted email marketing: If you have a mailing list of subscribers, consider sending out a targeted email promoting your paid and free downloads. You can also segment your list based on interests or previous purchases to ensure that your message is relevant to each recipient.
Leverage social media: Social media can be a powerful tool for promoting your downloads. Consider creating eye-catching graphics or videos that showcase your paid and free downloads and share them on your social media channels. You can also use hashtags and targeted ads to reach new audiences.
Collaborate with influencers: Partnering with influencers in your industry can be a great way to reach new audiences and promote your downloads. Consider reaching out to influencers who have a following that aligns with your target audience and offering them a free download in exchange for promotion.
Offer exclusive free downloads: To incentivize customers to sign up for your mailing list or follow you on social media, consider offering exclusive free downloads that are only available to subscribers or followers.
Bonus: selling digital subscription products with WooCommerce Subscriptions
One of the most popular types of virtual products is memberships and subscriptions. Selling subscription products is a great way to generate recurring revenue.
You can use WooCommerce with the official YITH WooCommerce Subscriptions add-on to sell digital subscription products through your online store. This helps you set up an ongoing payment plan for your products or services.
Check out the complete instructions for selling subscription products using WooCommerce.
Start selling virtual products using WooCommerce
Apart from setting up any standard website or blog, there are so many things that you can do with WordPress.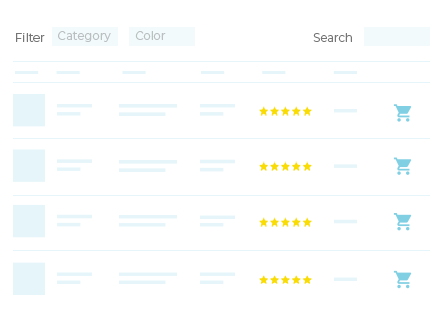 The easiest and most flexible way to sell virtual products in WooCommerce.
In this post, we have discussed how you can easily sell digital products through your WordPress e-commerce website, thanks to the WooCommerce plugin and WooCommerce Product Table. Hopefully reading this will help you learn about the basics of how you can sell digital products by setting up WooCommerce pages.