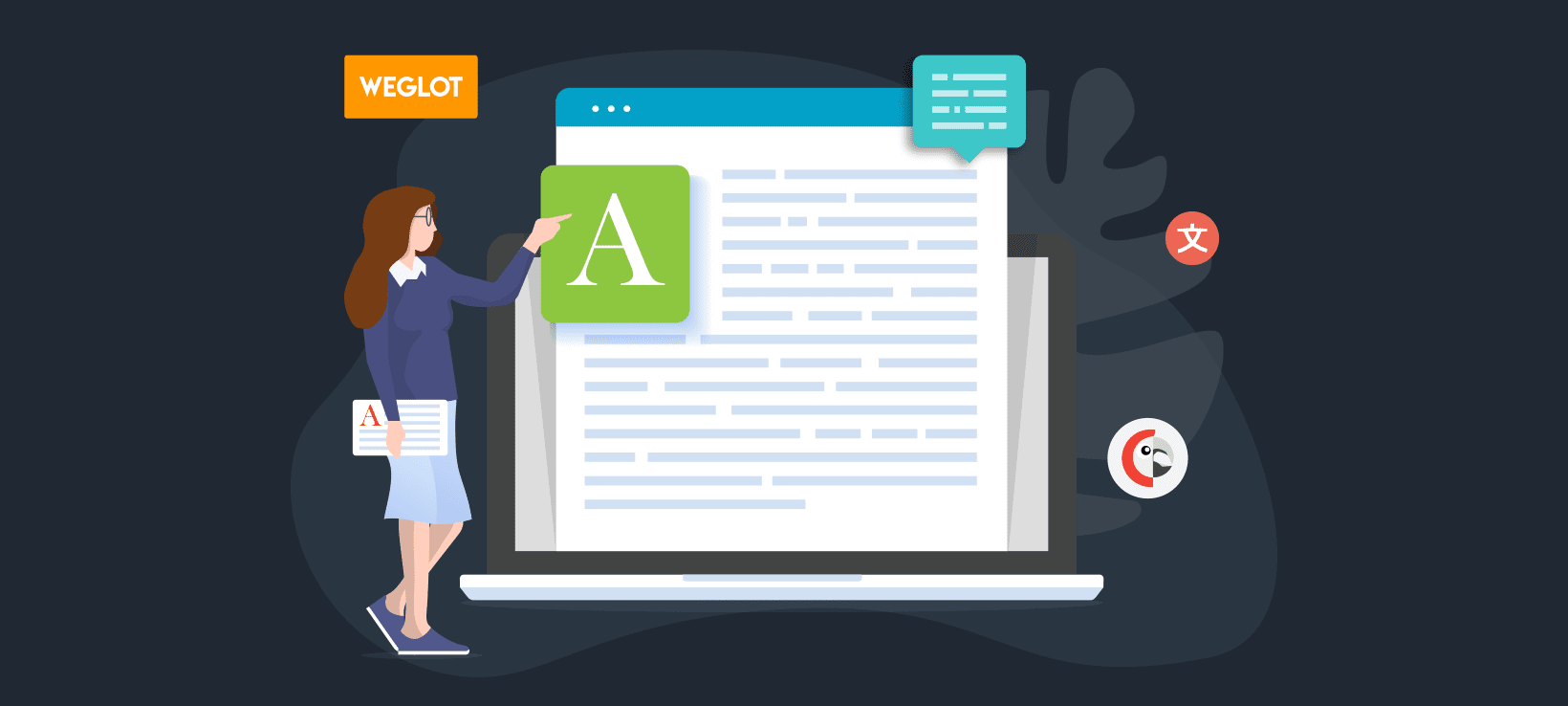 In today's fast-growing globalized world, having a multilingual website is more important than ever. By connecting with different audiences around the globe, you can significantly expand your business's reach, increase engagement and boost overall conversions.
One highly effective way of connecting with global audiences through your business or website is by making your website multilingual. It may sound like a lot of work, but with the right WordPress plugin, you can translate your website in no time.
In this article, we'll give you an overview of the various translator plugins for WordPress and will also help you pick the one that fits your needs.
So, without any further ado, let's dive in!
TL;DR We evaluated the best translator plugins in the market and after considering every feature, we found Weglot to be the best translator plugin for WordPress. It is packed with all the necessary features and is super easy to use. Even if it is your first time using any translation plugin, you'll find it super easy to configure. And since it works on an efficient translation automation model, you do not need to translate everything manually; Weglot will take care of it for you. If you want to try the best plugin for free, you can register here.
What to look for in the best translator plugin for WordPress
Picking a suitable translator plugin for your website can be intimidating at first. To simplify it, here is a list of features and aspects you must consider while choosing the perfect solution for your WordPress site.
Here are all the crucial factors you must consider while choosing the right translator plugin:
👓 Ease of use
Usability is an important factor to consider when choosing a translator plugin for WordPress. Apart from being easy to install and set up, it also needs to have a user-friendly interface so even a beginner user can customize the translations. This will allow experienced and novice users to save time and get more work done quickly with minimum effort, regardless of their language skills.
🚀 Speed and performance
The plugin you choose to go with will have some impact on your website's speed. Since speed and performance can significantly impact user experience and conversions, choosing a translator plugin for WordPress that does not negatively affect your website's speed and performance is essential.
An ideal translation plugin should ensure efficient and accurate translations without slowing down your website or increasing page load speed. Some advanced plugins offer server-level translations. This is particularly good for speed as the heavy lifting is done on the server end and not on the application level.
🔣 Quick and efficient translation process
An ideal translation plugin should offer a streamlined translation process allowing you to translate your website's content swiftly and efficiently.
Automatic translations can make the translation process a breeze. In this case, your website's content is translated automatically to various languages without the need for you to do any manual translations. A good and easy-to-use interface can greatly help with this. A WordPress multilingual plugin with a translation management tool will make it easier for you to make any manual tweaks to the article.
💻 Clear and intuitive interface
While this point sits close to the first point, it definitely needs a separate mention. A plugin can be packed with features, but if it has a complex interface, it can make operations and customization a challenge.
The ideal plugin should have an easy-to-use interface that offers straightforward navigation, making it easy to find and use your desired features. A clear interface will allow you to focus on creating high-quality translations rather than wasting time searching for different settings and options.
📂 Minimal setup and configuration
Another important aspect to consider is the initial setup and configuration process. An ideal translator plugin for WordPress should have an easy setup process that even a novice user can complete. It should also offer automatic translations to reduce redundant workload, meaning it translates your website's content automatically without any manual intervention. Almost every add-on in the list comes with one click installation or a setup wizard.
📈 Ability to handle large amounts of content
If you have a website with a ton of content, the plugin's ability to make quick and batch translations will play a very important role. Ideally, the plugin should be backed by a robust translation engine that can handle large volumes of content without affecting your website's speed and performance.
Moreover, the plugin should be able to translate all types of content, including posts, pages, and even custom post types. Even if you have a relatively small website, it's important that you factor in future growth and get a plugin that is built to handle a large volume of content in the future.
🤝🏻 Compatibility with other plugins
It is very likely that you already have multiple plugins installed on your website, so you need to consider plugin compatibility as well. Many popular plugins, such as WooCommerce and Elementor, are widely used and will also generate and display dynamic content on your website. With seamless compatibility with these plugins, you do not have to worry about translating the content being displayed by third-party plugins.
Almost every translator plugin mentioned in this list is compatible with most of the popular WordPress plugins.
🔌 Avoidance of conflicts and issues
Some translation plugins work on the server level, but for the ones operating on the application layer, it is important for them to be compatible with other services and plugins. It's best to choose a plugin tested with other WordPress plugins and built on a stable and reliable codebase. This will ensure that the plugin is reliable and free of conflicts. Most plugins publish a list of compatible plugins that you can check before installing and setting up the plugin on your website.
💬 Language support
If you operate in multiple countries or if your website is being accessed by people from different countries, you need to consider the number of languages the plugin supports. Most plugins will have a list of supported languages on their website that you can check. To make this evaluation more accurate, you can check your website's analytics to see where all traffic comes from. You can compare those countries with the languages each translation plugin supports.
👩🏻‍💻 Support and documentation
There may be instances where you require help or assistance with the plugin, and this is where reliable customer support and documentation can help. Before you select the plugin, you can check if the plugin has comprehensive documentation and covers important guides like installation, user manuals, FAQs, and troubleshooting tutorials. In addition, good customer support can be handy for scenarios where you'd rather have an expert help you with the issue. Ensuring these two aspects can save you time, money, and frustration in the long run.
💰 Pricing and scalability
While considering every other factor is important, it's irrelevant if the pricing does not fit your budget. Many translator plugins for WordPress offer free and premium versions, so you'll need to compare the features and price points to help you finalize your ideal translation plugin. While comparing the pricing and plans, also factor in the scalability of your website. Some plugins require a change of plan with an increase in content and translation bandwidth, so consider future growth aspects as well.
Evaluating these factors can help you a lot in choosing the perfect plugin for your website. To help you with your hunt, we have already factored in these parameters and added all the necessary details to the list of plugins below. All the plugins mentioned in the list come with all the necessary features and customization options with the best possible price and plans.
Now that we understand the filtering factors let's jump into the list of plugins and learn more about them in more detail.
WordPress translation plugins compared and reviewed
Here is a list of the best translator plugins for WordPress websites.
While every plugin in the list has all the necessary features, each plugin comes with its own unique feature set that sets it apart from other plugins.
Let's dive into it!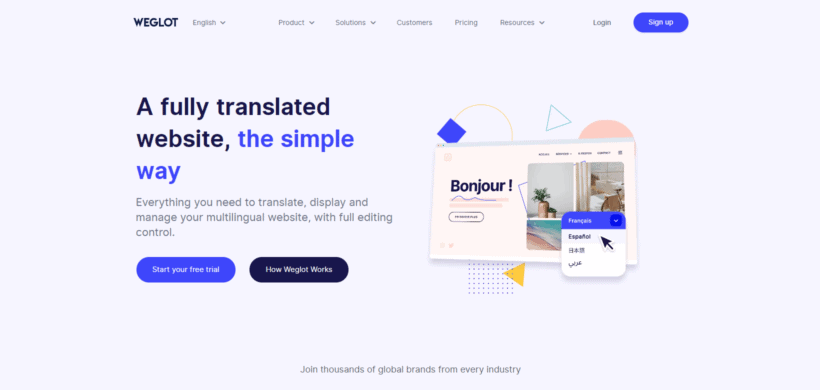 Weglot is a popular all-in-one translator plugin for WordPress with an intuitive user interface and multiple useful features. The plugin offers an automatic translation service and manual translation options with support for more than 100 languages including English, Spanish and many more.
The plugin comes with a powerful automatic translation engine that takes care of nearly every translation task using its neural machine translation providers. And once set up, the plugin will keep the content and translations updated for existing and new content.
Another reason why Weglot has proved to be the best WordPress translation plugin is its translation quality and performance. Although you do get the option to make manual changes, you likely will not need it. The plugin will automatically translate your website content to any language of your choice. Alternatively, you can arrange a professional translation service to either check or create the translations for you.
Weglot features:
Weglot supports more than 100 languages. This means when you set up Weglot, your website's content will be ready to translate into more than 100 languages with just a click.
The entire setup and configuration process is codeless. Even if you want to translate some strings, you don't need to worry about touching a line of code or HTML. From installation to automation, the plugin does not require coding and can be done even by a novice user.
Apart from translating strings individually on the backend, you can perform manual human translation with its intuitive visual translation editing tool. This way, you can see what your translations would look like while making the changes in the visual editor.
The translations are optimized for SEO and follow all multilingual SEO best practices set out by Google.
Its powerful translation interface lets you perform almost every action from a single window. Be it reviewing translations, SEO metadata, or managing media file translations, you can take care of it easily from your Weglot dashboard. You get a real-time live preview of translations as you enter them.
The plugin is backed by in-depth documentation and reliable customer support. You can find the answer to your questions in their knowledge base or reach out to their support team.
One area where Weglot can grow is the number of integrations. With plugins like WPML, you can find tested integration with most of the popular plugins out there. Notably, Weglot has multiple third-party plugin integrations, but considering the size of the WordPress ecosystem, the plugin can be improved greatly just by building more seamless integrations.
Weglot pricing
Weglot comes with multiple-tier pricing options. The plans start from $15 per month and go up to $699 per month. With each plan, you get access to features such as glossary rules and multilingual SEO.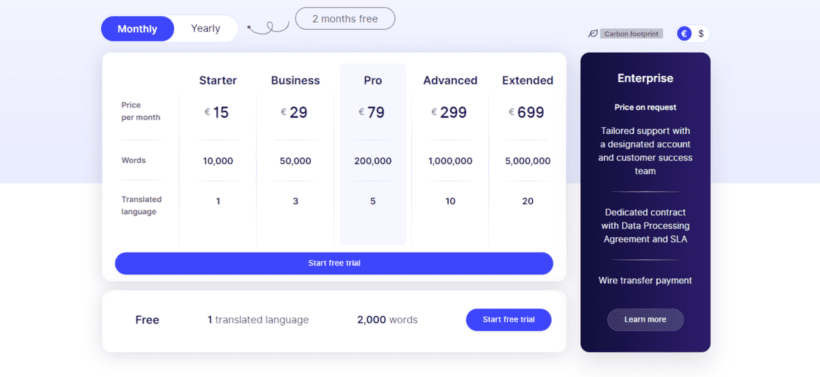 The main differentiator between these plans is the total number of words being translated and the number of translated languages available. If you want to start with the free version, you can do that too. With the free plan, you get to translate upto 200 words on your website into a single language.
If you want to give Weglot a try, you can register here.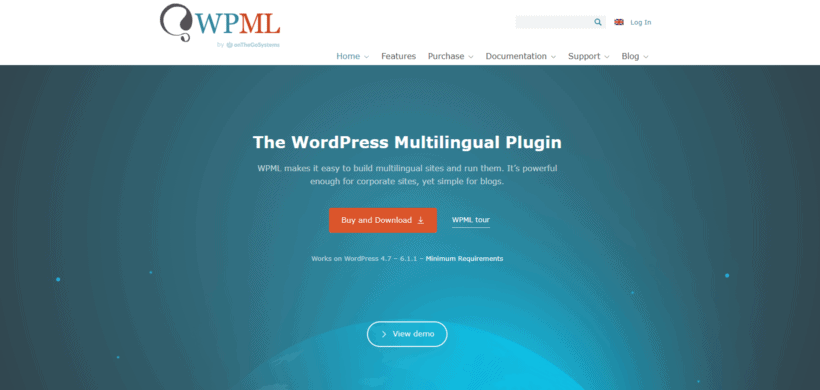 WordPress Multilingual, or WPML, is another popular translator plugin for WordPress websites. It comes with all the necessary and advanced features that any translation plugin should have, such as automatic translations, workflow control tools, multilingual SEO, fast and efficient translations, multi-currency support, and reliable code.
WPML comes with 65 languages, and with the option to add custom strings, you can also add your own language variants. If you are asking yourself, "What are the most used plugins for translations and multilingual content management on WordPress?" With more than 1.5 million websites using it, WPML will undoubtedly top that list.
Pros of WPML
Since WPML is highly optimized and designed for speed, you will barely see a difference in perceived speed on your website.
Since the plugin has been around for so long, you get access to solid documentation that covers almost every topic you will ever need.
WPML is compatible with all popular WordPress themes and plugins as it follows all WordPress coding standards.
You also get access to an expert support team that can easily help you with any issues you might face with your website's translations.
The plugin can translate custom post types, tags, and taxonomies.
WPML is backed by a large and strong community. You can find help and inspiration from this active community, access their collective knowledge and apply it on your website.
Cons of WPML
Since the plugin has loads of features, navigation and making changes can be difficult for first-time users.
If you are unfamiliar with installing and setting up plugins, setting up WPML can be challenging. You can still set it up on your website, but it is time-consuming and has a slight learning curve.
WPML pricing
WPML starts at $39 and goes up to $199 per year. This also makes WPML a really good affordable option for WordPress websites. You get limited features with the Multilingual Blog website plan ($39), such as standard translation controls and support for one website. If you opt for the Multilingual CMS or the MultilingualAgency plan, you get access to all the features, such as automatic translations, page builder end e-commerce support, translation management, etc.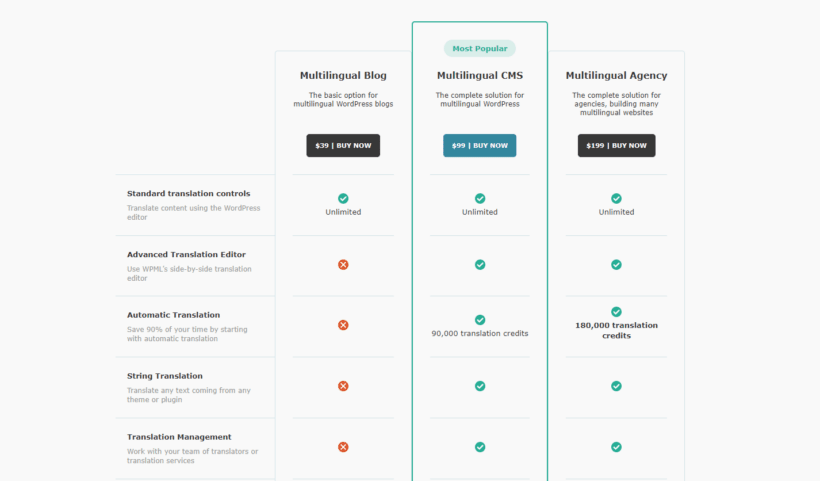 If you want to try WPML, you can get it here. You also get a 30 days money-back guarantee that will allow you to test and play with the plugin live on your website.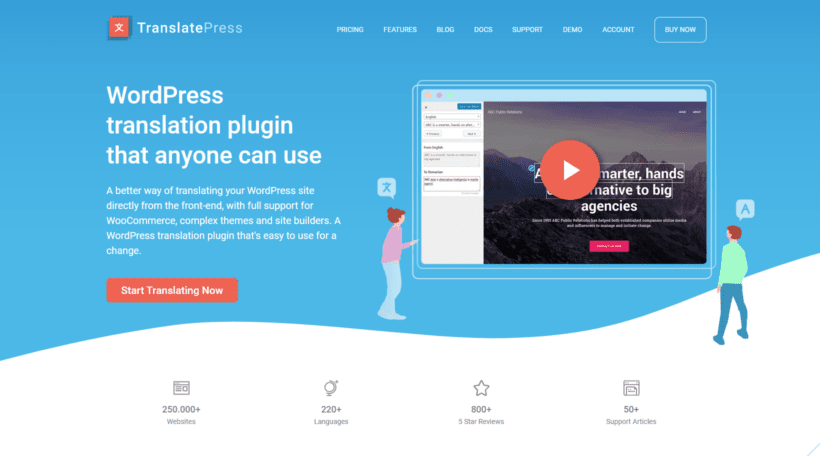 TranslatePress is a powerful translator plugin for WordPress that allows you to translate your website content into different languages easily. The plugin is particularly known for its user-friendliness and ease of usage. It also has a free version available on WordPress.org and a premium version with many more features.
You can automatically translate your website's content to other languages in one go, unlike WPML, where you can only use machine translation on a piece-by-piece basis.
How automatic translation works with TranslatePress?
TranslatePress lets you translate sitewide content automatically in one go. For this, you can enable automatic translation from the settings page, and these settings will be applied sitewide. You also get further controls to limit the machine translations to stay within your daily budget's character limit. With the paid version, you also have the option to use DeepL API for translation.
Features of TranslatePress
TranslatePress's unified visual editor makes it easy to manage your site's translations in one go. This way, you don't need to review every website string individually.
It comes with a feature-rich free version that you can use to see how TranslatePress translates your website content.
The plugin also supports multilingual SEO, allowing you to translate your pages' metadata and ensure your website is optimized for search engines in all languages.
The plugin is also fully compatible with popular plugins such as Yoast, Elementor, and Beaver builder.
If your website has custom post types and custom taxonomies, you can easily use TranslatePress to translate its content to all languages.
Furthermore, it has advanced features, such as translation priority and translation fallbacks, to help you easily manage translations.
Pricing and plans of TranslatePress
When it comes to pricing, you get multiple options that you can choose from depending on your requirements and budgets.
The first plan is the Free plan. This allows website owners to translate their website into one additional language. This is ideal for users who wish to test the plugin's capabilities and require their websites to be translated into one language. It's worth mentioning that you don't get some premium features, such as dynamic strings, SEO translations, or automatic translations.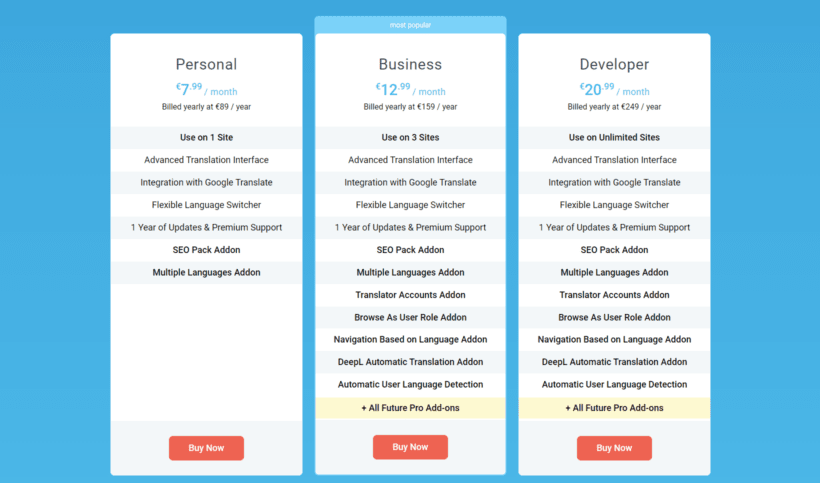 The paid plans start at €89/ year. For this price, you can translate one website's content with some basic features such as SEO translations and an option to translate into multiple languages. The Business plan costs €159/ year. In addition to everything in the personal plan, you get additional features such as DeepL automatic transitions and automatic user language detection for upto three websites. The Developer plan costs €249/ year, lets you translate unlimited websites, and comes with all the features that TranslatePress offers.
If you want to give TranslatePres Pro a try, you can get it here. If you'd rather check the free version first, you can download it here.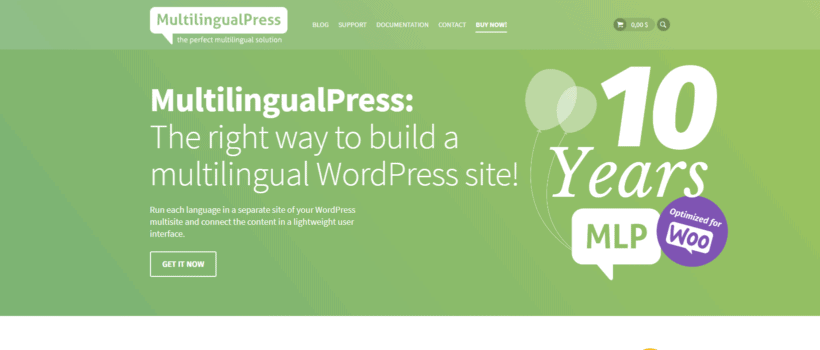 MultilingualPress is another feature-rich translator plugin for WordPress that lets you translate your website content into other languages. The plugin is designed with speed and performance at its core. The plugin only loads one language per site and creates a sub-domain or subdirectory for each language variant. This makes it easier for your users to find content and helps make websites search engine friendly even for translated versions.
With this plugin, you also get support for WordPress multisite to help users easily manage translations for multiple websites.
Pros of MultilingualPress
With MultilingualPress, you get automatic translations, multisite compatibility, and integration with professional translations.
The plugin is designed with SEO at its core, so you get faster load speed and translated content that ranks well on search engines.
MultilingualPress is compatible with most WordPress plugins and also works with the Gutenberg editor.
The plugin is backed by in-depth documentation and the expert Inspyde support team.
The interface and settings make the plugin super easy to use. Even if you are a beginner, you can start with it quickly.
Cons of MultilingualPress
The free version is no longer actively supported and hasn't been updated for four years, so you must use the Pro version. The pro version has consistently been maintained.
The plugin lacks some features, such as integrations with technologies such as DeepL and Google Translate. You need to use WP Auto Translate to get this capability.
MultilingualPress allows translations into just 18 languages. This is quite low compared to other solutions in the market.
MultilingualPress pricing
Since we only recommend using the pro version, you can choose from three pricing plans: Standard, Pro, and Agency. The Standard plan costs $99/yr and allows translations into three languages and licenses for a single website.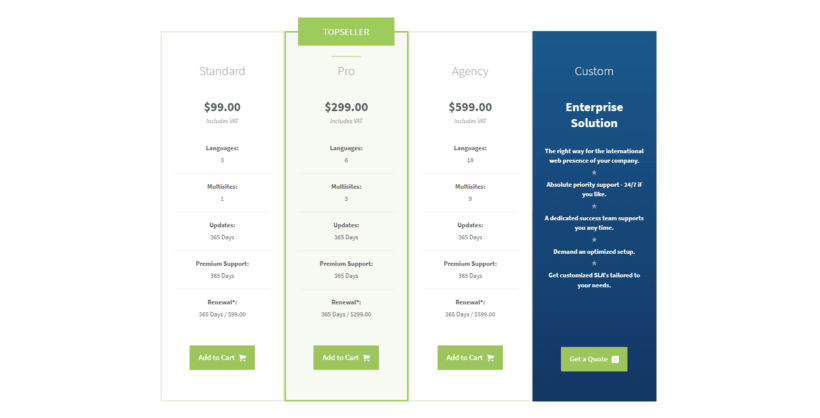 The Pro and Agency version costs $299 and $599, respectively. The only differentiator is the number of languages and multisite access. With the Pro plan, you get six languages and three websites access, and with the Agency plan, you get access to 18 languages and access to nine websites.
If you want to give MultilingualPress a try, you can get it here: Get MultilingualPress Pro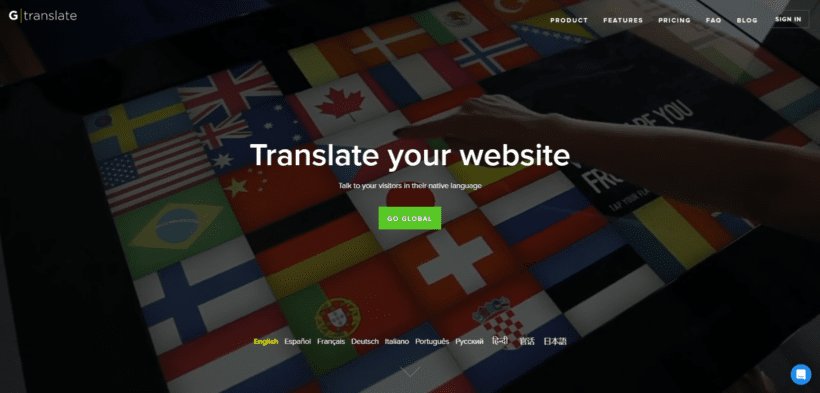 GTranslate is another popular translator plugin for WordPress, with more than 500k active installs. The plugin uses Google Translate's automated translation service to make sites multilingual. If you particularly want to work with the Google website translator API to translate your website content, this plugin is a good choice.
Features of GTranslate:
GTranslate has an automatic translation option that lets you translate entire website content in one go using the Google translate API.
You get support for more than 100 languages that you can further customize to match your website's content and design.
If you wish to make any tweaks to the translated content, you can use the translation editor to improve the accuracy of translations.
GTranslate automatically adds hreflang tags and follows all basic SEO practices to make the website more SEO friendly.
Furthermore, GTranslate is 100% responsive and works perfectly on all devices, such as mobile phones and tablets.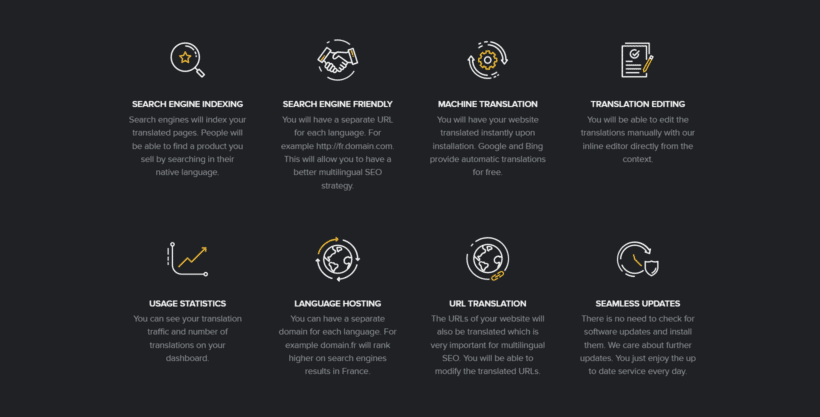 GTranslate pricing: Is GTranslate free?
GTranslate comes with a free version and multiple pro versions. With the free version, you get the option to translate into all languages, and there is no limit to how many words or strings you can translate. You don't get access to features like search engine indexing, URL translations, and language hosting.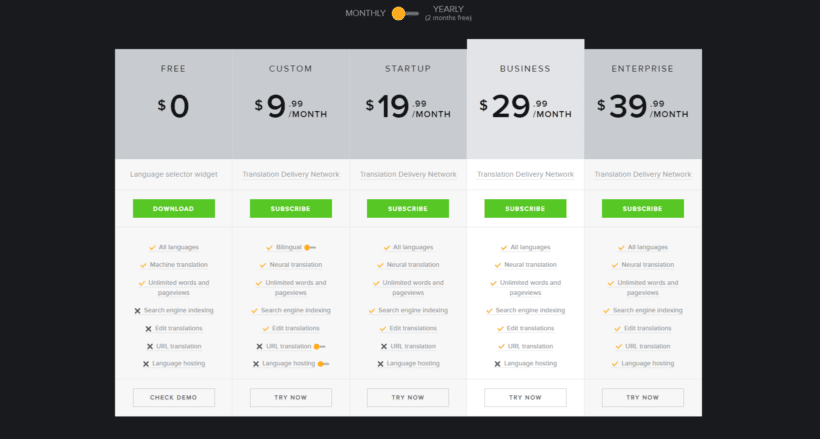 The premium plans start at $9.99 monthly and go up to $39.99 monthly. With each plan, you get additional features such as the option to edit translations, URL translation, language hosting, and much more. If you plan to pay yearly, you get 2 months free.
Want to give GTranslate a try? Get GTranslate now!

Loco Translate is another very popular translator plugin for WordPress that more than one million users use. This translation plugin is a bit different as it allows you to translate themes and plugins too. It also comes with an automatic translation tool backed by its built-in API.
If you are a developer or like to take a bit technical route to translate the content on your website, Loco Translate would be the perfect tool for you. It can extract strings and render templates with DeepL, Microsoft, Google, and Lecto AI integration.
Features of Loco translate:
Loco Translate comes with a user-friendly interface that lets users translate text strings within WordPress.
The plugin lets you do codeless translations, and you don't need to make any changes to the code or the website's source code.
You can upload and create language files directly in your theme or plugin.
You also get support for PO files and features such as comments, references, and plural forms.
Is Loco Translate the right choice?
While the plugin is widely used and comes with many notable features, there are a few things that you need to know. The plugin does not come with an automated translation feature. You need to use the translation editor to translate your website content. Compared to other plugins, you might find a few features missing in Loco Translate, such as a predefined list of translate languages, a front-end language switcher, SEO translation tools, etc.
Loco Translate plans and pricing: Is Loco Translate free?
Loco Translate comes with a very intuitive free plan with some limited features. The free version itself has more than 1 million active installs as it gives the option to allow unlimited collaborative translations and 2000 automatic translations.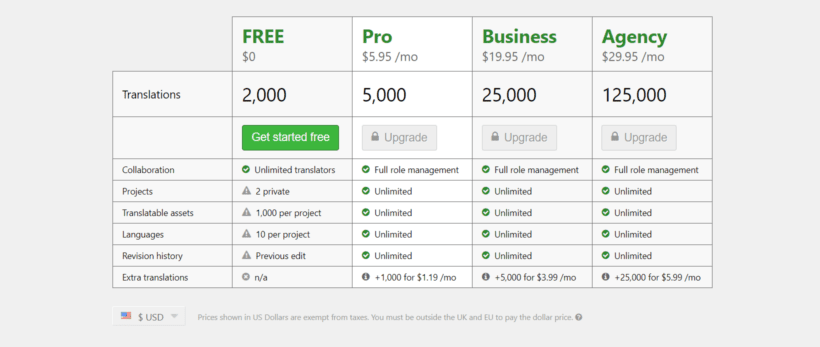 The paid plan starts at $5.95 per month and allows 5000 translations with access to all features Loco translate has to offer. The business plan costs $19.95 per month and allows 25,000 translations. If you want to translate more content, you can go with the Agency plan, which costs $29.95, and you get 125,000 translations with this plan.
Want to give Loco Translate a test run? Get Loco Translate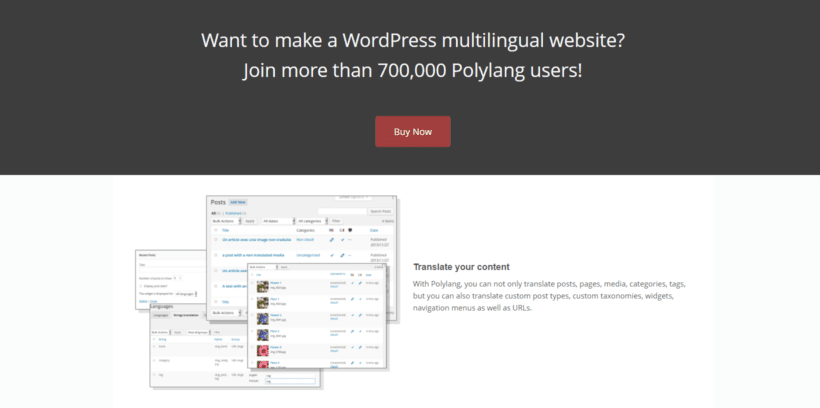 Polylang is another feature-packed WordPress translation plugin powering more than 700k websites. It comes with a navigation menu widget that lets your website users switch between languages, and it has the ability to bifurcate versions of your website into subdomains for each language. This is ideal for making websites faster and SEO-friendly.
Polylang features
Polylang comes with more than 90 predefined languages that you can automatically translate your content.
You can easily translate posts, pages, media, categories, custom post types, taxonomies, and all other content on your site.
For performance and search engine optimization, you can bifurcate translated content into different subdomains and subcategories.
You get a customizable language switcher as a widget to allow your customers to change the language from the navigation menu.
What is the difference between the WPML plugin and the Polylang plugin?
Polylang and WPML are both translation solutions for WordPress, but both have a few distinct qualities that set them apart. WPML is a paid-only solution, whereas Polylang comes with a free version too that you can use to translate your smaller website projects. WPML comes with its own translation management solution, whereas Polylang relies on the WordPress built-in system to manage translations. Choosing between the two options depends on your website size, requirements, and budget.
Polylang pricing
Polylang has a free version that you can get from the WordPress repository. It offers all basic features, such as translated pages, posts, taxonomies, and custom post types. WPML API compatibility, and subdirectories and sub-menu options.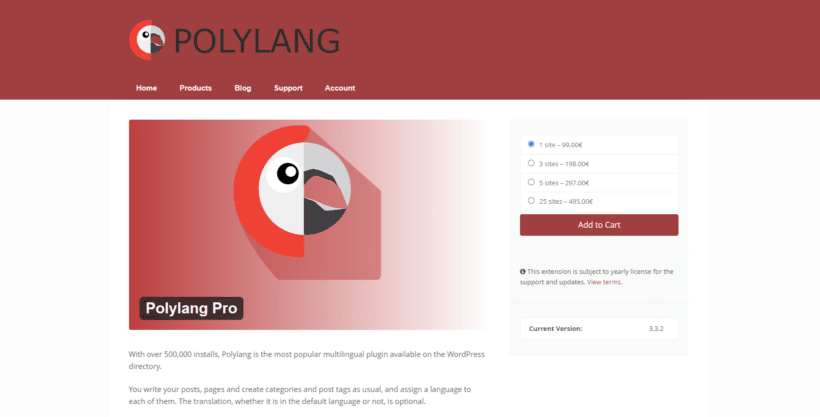 If you want more features such as REST API support, Block Editor support, and the option to enable and disable languages, you can get the Pro version starting at €99/ year for a single site license. And if you want the same features for more websites, you can do so by choosing the respective plan that goes up to 25 sites for €495/ year.
If you'd like to try the Polylang Pro version, you can get it here.
How to create your translations
As mentioned above, creating multi-language website content with the best WordPress translation plugin is super easy. Let's see how it's done.
For this tutorial, I'll be using the Weglot translation plugin. If you want to try out the free version, you can download it here.
To use the plugin, you first need to install it on your website. For this, go to your site's WordPress dashboard → Plugins → Add New. Now search for Weglot, install it, and activate it once the installation is complete.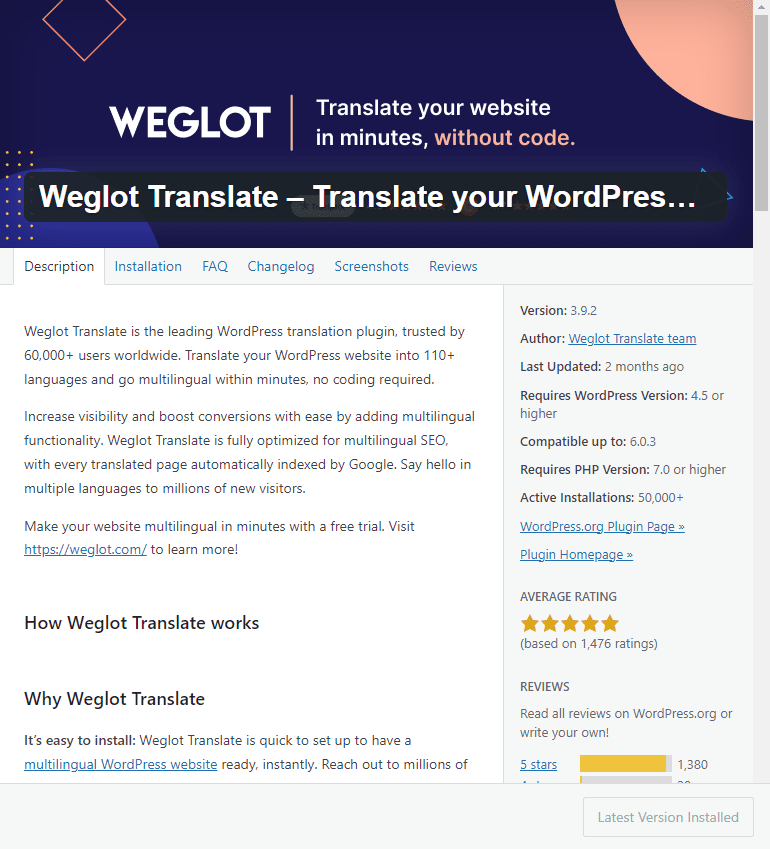 Now you need to open your Weglot account. If you do not have one, you can create it here.
Once you have your account set up and verified, you'll get an API key. Copy it. We'll use it to activate translations on our website.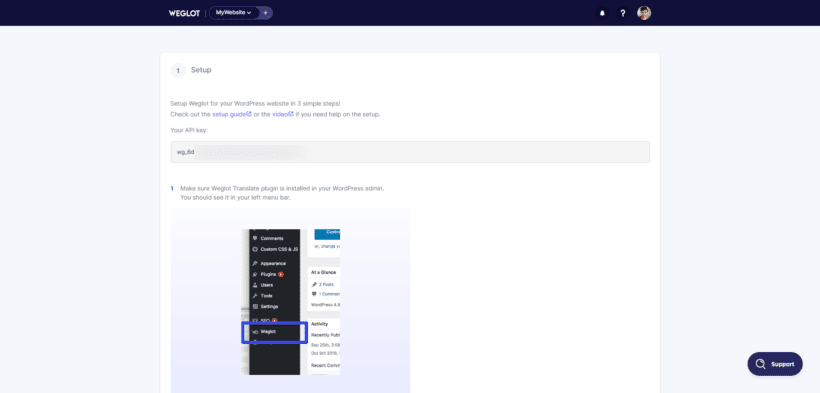 Go back to your Admin dashboard → Weglot and paste the API keys in the field. Choose your original language and destination language. Click on the Save Changes button.
You can make other changes, such as new language button positioning, translation exclusions, redirection, and flag settings, from the same settings page.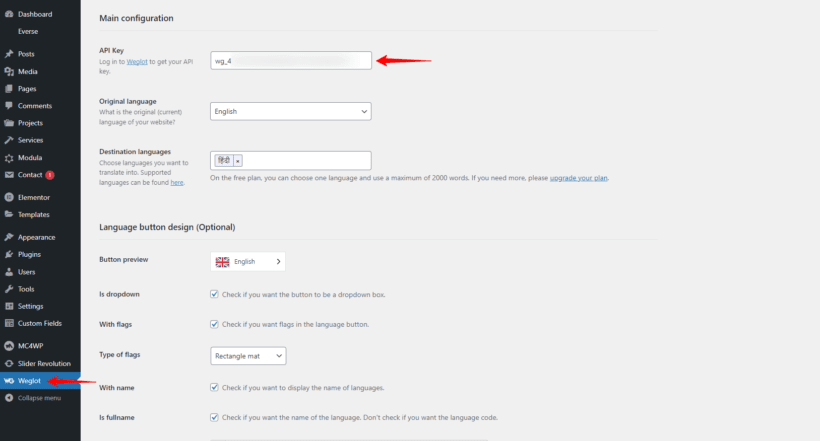 Once you have saved the changes, you can go to your live website to see your website's translation in action.
What is the best translator plugin for WordPress?
Having a multilingual WordPress site has become increasingly crucial in today's globalized world. It increases user engagement, opens up new markets, and improves search engine visibility.
Using a good translation plugin to create a multilingual website can make the process a lot simpler and more efficient. Even if you are new to web design, with the best translation plugins, you can make your website multilingual-ready in no time.
In this article, we compared all the prominent translation plugins and their features. After comparing all the features, we found Weglot to be the best option. Weglot makes translation a breeze, and with its user-friendly interface, you can easily make automatic and machine translations without affecting your website's performance.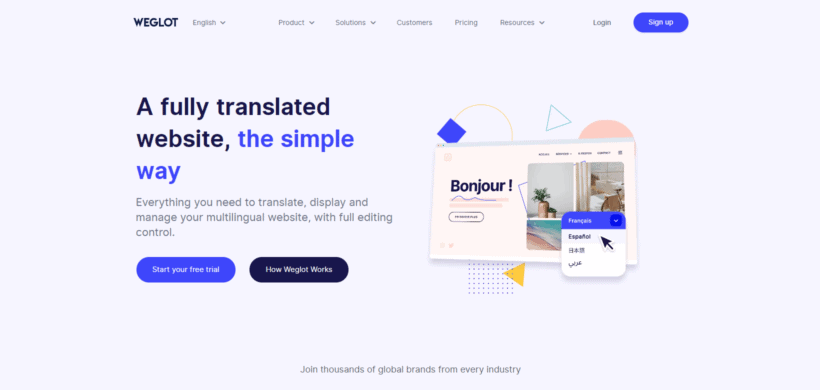 Notable features of Weglot:
With automatic content detection and translation, Weglot will take care of your website's content translation without the need for you to collate anything manually.
Weglot comes with a language switcher widget that you can place anywhere on the website to allow visitors to choose their preferred language.
Weglot allows multiple team members to collaborate on translations with role-based access control and translation tracking features.
You also get access to a reliable and experienced customer support team and detailed documentation.
With the customizable language selector, you can customize the language selector to match your website's design and branding.
For SEO purposes, Weglot ensures every piece of translated content is SEO-ready and URLs are optimized.
Further, if you require human language translation, you can order it to get a professional to translate your website's content.
Are you ready to start translating your website's content to any language with a feature-rich and reliable plugin? Get WeGlot now!
Which translation plugin you found to be the most useful for your website? Tell us in the comment section below!