Are you getting the most out of the Barn2 WooCommerce product addons plugin? Implement these top tips on your site today.
Our WooCommerce product addons plugin - WooCommerce Product Options - is hugely flexible and has a lot of options. You can use it to create a wide range of product options. Either keep things simple, or use the advanced settings to add conditional logic, minimum and maximum quantities, and more.
As such a flexible product addons plugin, there are many different ways to set it up. This article will guide you through the main features of the plugin, with top tips on how to get the best out of it.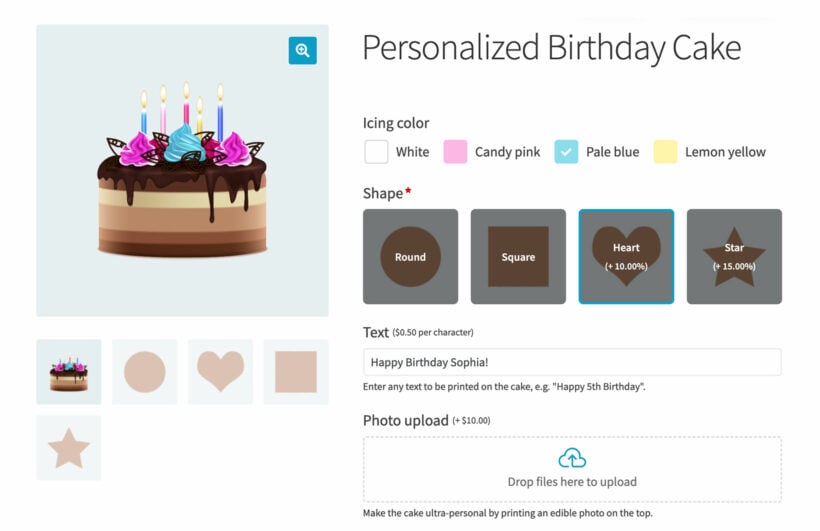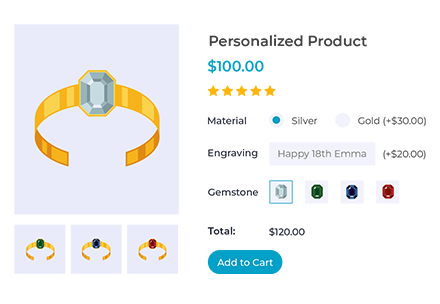 The flexible way to create and display product addons in your WooCommerce store
What types of product option should you choose?
The WooCommerce Product Options plugin comes with a wide range of addon field types. For example, you can add checkboxes, dropdown lists, radio buttons, file uploads, text fields, clickable text or images (with or without text), and color swatches. Which one you choose for each type of WooCommerce extra product option can make a big difference to your customers' experience. And just as importantly, it can influence how likely customers are to select the extra addon fields.
Here's a summary of the available addon field types. For each one, I've provided tips on how to choose which type of addon field to use for different situations.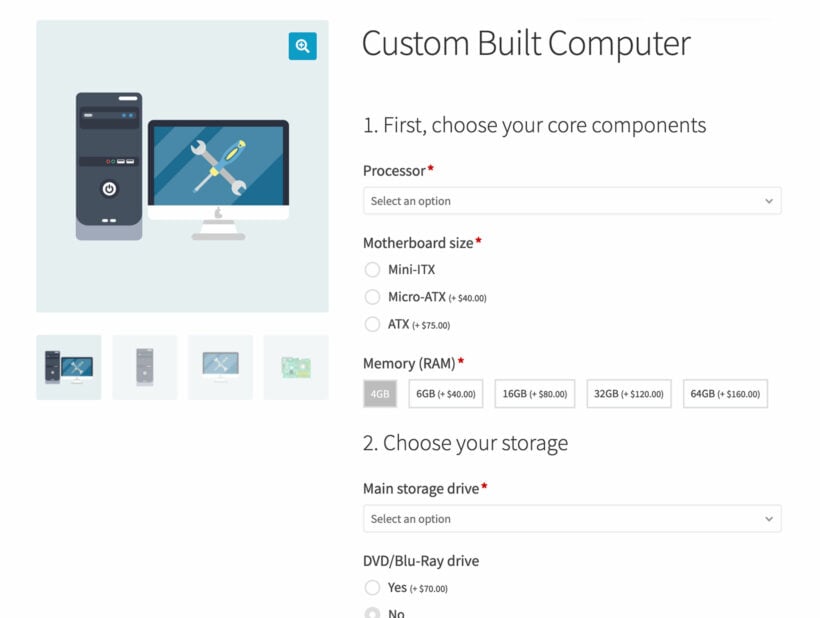 A product with addon fields displayed as dropdowns, radio buttons and text labels
Checkbox addons
What it looks like: A list of tick boxes.
Selection method: Multiple choice.
Recommended for: Non-visual types of product data where customers need to select more than one option at a time. Example: burger or pizza toppings.
Radio button product addons
What it looks like: A list of options, each with a circle that customers can click on.
Selection method: Single choice.
Recommended for: Options where customers must make an either-or choice to select one option at a time. Example: Yes/No options.
Dropdown select addon fields
What it looks like: A dropdown list, which customers click to open the list of options.
Selection method: Single choice.
Recommended for: Options with lots of choices that would otherwise take up too much space on the page. Only use dropdowns where the customer only needs to choose one option at a time. Example: List of dates.
Text and paragraph input addons
What it looks like: A big or small text field for the customer to type into.
Recommended for: Collecting free-form information from customers. Examples: Special dietary needs, customer comments, or personalization information such as a name or gift message.
Image buttons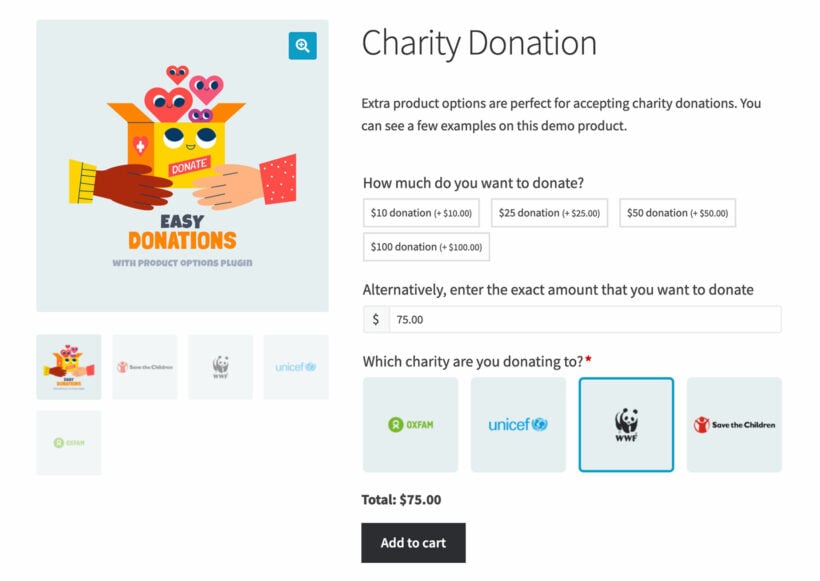 A product with addons displayed as text labels, customer-defined price, and image buttons
What it looks like: A grid of images, each representing a choice which the customer can select. You can choose whether to show the image on its own, or to add a dark overlay with the option name over the image.
Selection method: Single or multiple choice.
Recommended for: Visual types of product data where customers will appreciate being able to click on an image of what they are looking for, instead of having to read through a list of text options. Example: Upsells or free gifts.
Color swatches
What it looks like: A grid of coloured squares, each representing a color choice. You can display the colors on their own, or with the name of each color alongside.
Selection method: Single or multiple choice.
Recommended for: Letting customers choose a color.
Text labels
What it looks like: A cluster of small boxes, each containing the name of the option - similar to a tag cloud.
Selection method: Single or multiple choice.
Recommended for: Types of product data which don't have images, but where customers will benefit from a more visual way to display the options. Example: Size options (e.g. Small, Medium and Large).
Customer-defined price
What it looks like: A number field where the customer can enter a price which will be added to the cost of the product.
Recommended for: Situations where the customer needs to be able to choose their own price, such as charity donations or tips/gratuities.
After reading through these descriptions of each type of product addon field, think about which ones are best for your site.
Don't just display add-ons on the product page!
Did you know that it's possible to display product options away outside of individual product pages? Here are 2 easy ways to do it.
Method 1: In a product table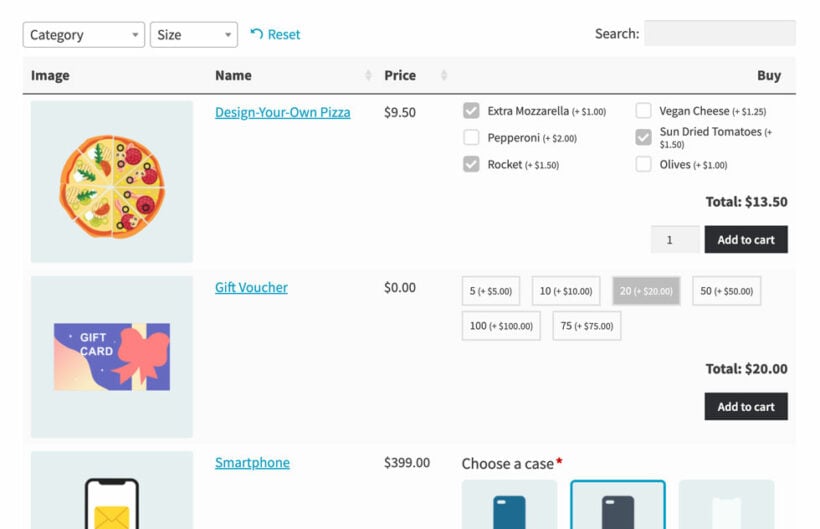 Our WooCommerce Product Table plugin lists products in a structured table view. It's a great way to enable one-page shopping in your store.
The product addon fields appear in the 'Buy' column of the table, along with other essential purchasing options such as the quantity picker and add to cart button. Customers can select addons and add multiple products to the cart without even leaving the page!
Method 2: In a quick view lightbox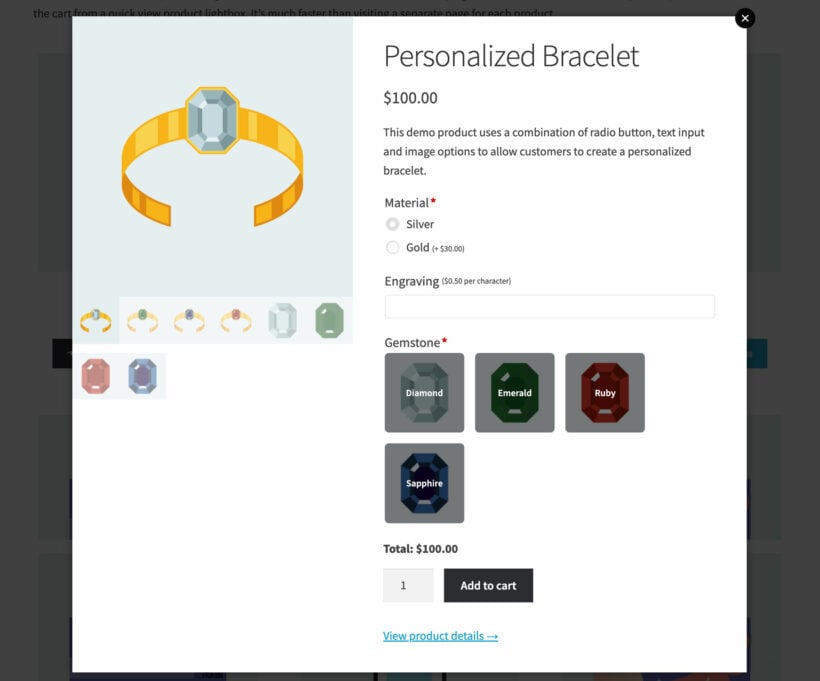 Alternatively (or in addition to WooCommerce Product Table), you can let customers choose options from within a quick view lightbox.
The WooCommerce Quick View Pro plugin adds quick view buttons to your shop pages. Customers click these to launch the lightbox, from which they can learn more, select options and add to the cart. Again, there's no need to visit a separate page for each product!
Use WooCommerce product addons creatively
There are many different ways to use product options. This goes far beyond the reason why you searched for a WooCommerce product addons plugin in the first place.
Next, I'm going to share 10 opportunities for getting even more out of WooCommerce Product Options. Implement as many of these as possible for maximum benefit. 
1. Upsell related items before the add to cart button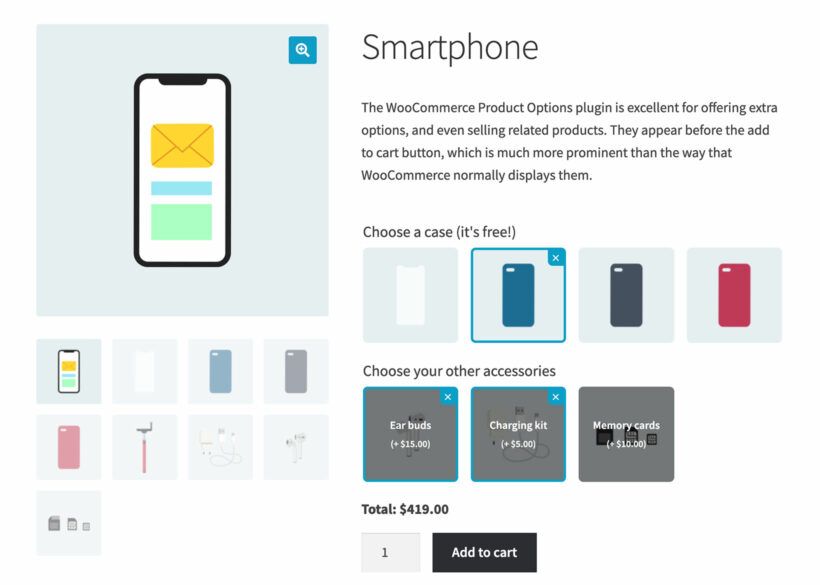 WooCommerce lets you display related products at the bottom of product pages, but they're easy to miss. Instead, use 'Image buttons' options to allow customers to select related items. These appear above the add to cart button, so customers are more likely to choose them.
2. Add gift wrapping options to WooCommerce
Do you sell the sort of products that can be bought as a gift? Add a 'Gift wrap' checkbox and conditionally display paid gift wrapping addons when customers click on it. (See it in action on this demo product.)
3. Prevent customers from needing to contact you
Do your customers ever contact you with extra information or requests, after placing their order? It's better to add text fields to your products so that they can provide this information before ordering. This saves time for both you and them.
4. Sell installation and setup
If you offer extra services to help customers to get set up, then WooCommerce product addons are an excellent way to offer and charge for them.
5. Offer extended warranties
Do you sell electronic products? Upsell enhanced guarantees to increase the average order value.
6. Add a rush charge to WooCommerce
Add a 'Rush charge' tick box addon with an extra cost attached. Customers can pay extra to receive the product more quickly.
7. Sell personalization options
Are any of your WooCommerce products suitable for personalization? Allow customers to select addons to personalize them and charge for the extra.
8. Collect donations and tips
If you sell something that is beneficial to society or the environment, then you can add a 'Customer-Defined Price' option. This lets customers add an optional donation to a product.
Similarly, add a 'Tip' addon field so that they can thank you for your service.
9. Offer upgrade options
Use product addons to add optional upgrades for customers to choose from, for an additional cost.
10. Offer downgrade options
Conversely, you can use product addons to allow customers to downgrade the product for a cheaper version. This is worth doing if your basic cost is too high for some people. Create an addon option to select a cheaper alternative. Then, use the 'Percentage decrease' price to reduce the product cost.
Use any or all of these tips to get your money's worth out of the plugin, and make more money from your store at the same time. Using WooCommerce product addons creatively is a fantastic way to improve the average order value from each customer.
How are you structuring your product options?
Did you know that the WooCommerce Product Options plugin lets you add static content between the product options?
If your products just have a few options, then there's probably no need to divide them into sections. However, dividing them into logical sections can be beneficial for products with lots of addon fields.
For example, this custom built computer has lots of WooCommerce product addons. Structuring them into sections takes the customer on a logical journey through the process of choosing the options: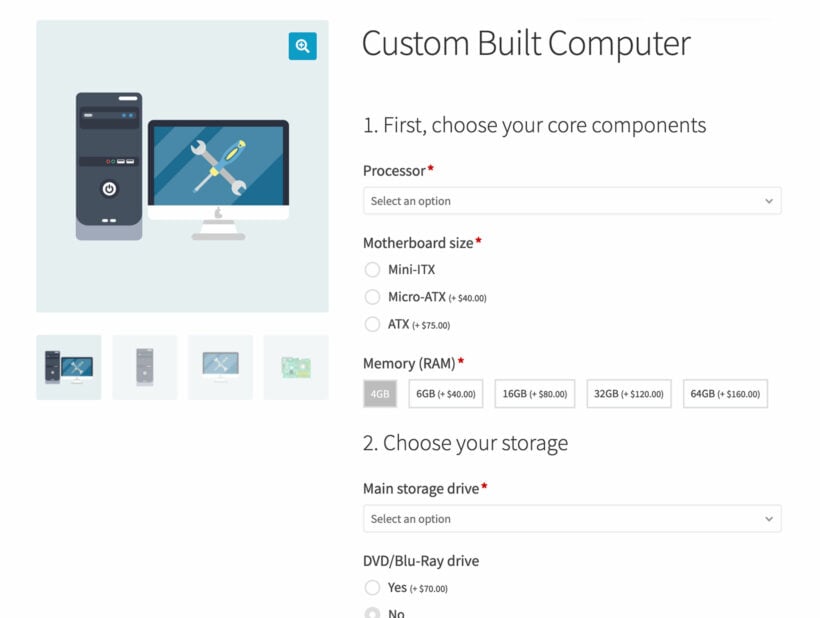 Barn2's product addons plugin comes with a 'Visual Editor' and an 'HTML' option. Use these to add static content above and/or between your product options, creating a logical structure. Your customers will thank you for it, especially if you're creating custom product designers!
De-clutter your product pages with conditional logic
We've noticed that when people use our WooCommerce Product Options plugin, they generally make the addons visible all the time. But that's not necessarily the best way!
Addon fields should only be visible all the time if the majority of your customers will be using them. If they're more like optional extras then it's sometimes better to hide them using conditional logic.
For example, imagine that you're selling a product where gift wrapping is available as an optional extra. You might have various choices such as the ribbon and wrapping paper color, plus a custom gift message. There are two ways to approach this:
You could display all the addons on the product page all the time. That will add a lot of clutter and take up valuable space when the majority of customers may not even want gift wrapping!
Alternatively, you could add a 'Gift wrap' checkbox and use the conditional logic in WooCommerce Product Options to hide the other addon options until this is ticked.
Similarly, selling services such as print-on-demand in WooCommerce is better when you show and hide options depending on the customer's selections.
As you can see, using conditional logic wisely can keep your product pages clean and tidy. This keeps your customers' attention on the most important product information, making them less likely to get confused. As a result, they're more likely to buy - while having the extra addon fields available for the people who need them.
Are you using the right pricing options for your product options?
WooCommerce Product Options lets you add a range of different pricing settings to your product addons.
It's important to make sure you're using the right type of pricing for each addon in your store. For example, a lot of people use 'Flat fee' when 'Quantity-based fee' would be more appropriate. This can lose you money if the customer orders larger quantities!
Read through the below and make sure you haven't made any similar mistakes:
No cost - Customers can choose this without changing the total product cost.
Flat fee - A fixed amount is added to the total product cost, which doesn't change based on the quantity ordered. E.g. if the flat fee is $2 and the customer orders 3 then the product price will increase by $2.
Quantity-based fee - This adds a fixed amount to the total product price, multiplied by the quantity ordered. E.g. if the fee is $2 and the customer orders 3 then the product price will increase by $6.
Percentage increase - This increases the price by a % amount. E.g. if the % increase is 20% and the product is $10 then the new price will be $12. (It will be $24 if the customer orders a quantity of 2.)
Percentage decrease - This decreases the product cost by the specified % value.
Character count - This only appears on Text Input and Paragraph fields, and allows you to charge a fixed amount for every letter entered. E.g. if the character count is $0.50 and the customer enters "Happy Birthday" then the cost of the product will increase by $6.50 (i.e. 13 letters x $0.05).
Take a look at your product addons and think about whether you're using the most appropriate pricing. It can make a big difference!
Do you control how many product options people can choose?
By default, when you create addons using the WooCommerce Product Options plugin, customers can select as many choices as they like. Next, I'll share some little-known tips on how to use required fields and minimum/maximum quantity options more effectively. These give you more control when you add custom fields to WooCommerce variations and products.
Required product addon fields
You may not think of the 'Required' option as being related to min/max quantities, but it is! Making a product addon required is the equivalent as setting the minimum quantity to 1. The only real difference is that setting an addon as required adds a * next to the option name.
Use max quantities to make certain WooCommerce product addons behave like radio buttons
The Image Button, Color Swatch and Text Label option types are interesting because they behave like either checkboxes or radio buttons depending on the maximum quantity!
If you set a maximum quantity of 1 then it's impossible for customers to select more than one at a time. This makes things clearer for them if it's an either/or choice.
Notify customers of quantity rules
Our WooCommerce product addons plugin doesn't automatically tell customers about min/max quantities unless they try to add an incorrect quantity to the cart. To guide them in the right direction, you can add this information to the option description. That way, it appears underneath the list of addon field choices.
Don't forget per-character quantity rules
Are you using text or paragraph product addon fields? If so, then you can set a min and max quantity to control how much the customer types into the box. This is useful if you're selling personalized products such as engravings where only a certain number of characters will fit.
It's also a handy way to make sure customers provide the right information - for example, if you're adding a 'Special instructions' field then you can force customers to enter at least a certain number of characters.
These are quite subtle features in WooCommerce Product Options, but help you to create a more professional result for your customers.
Setup instructions
As well as coming with full written documentation, the product addons plugin has a video tutorial where you can watch us set it up:
Where to get the plugin
WooCommerce Product Options is available now, and just takes a few minutes to install. Get it today, and implement these tips to make the most of your WooCommerce product addons: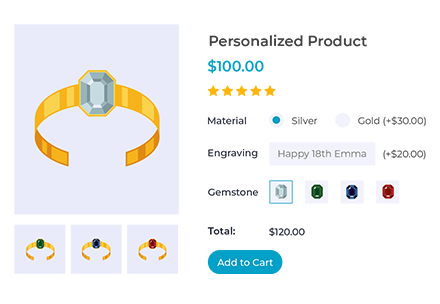 Add flexible product addons and extra fields to your WooCommerce products in seconds.
As you can see, best WooCommerce product options plugin on the market. Get it today!