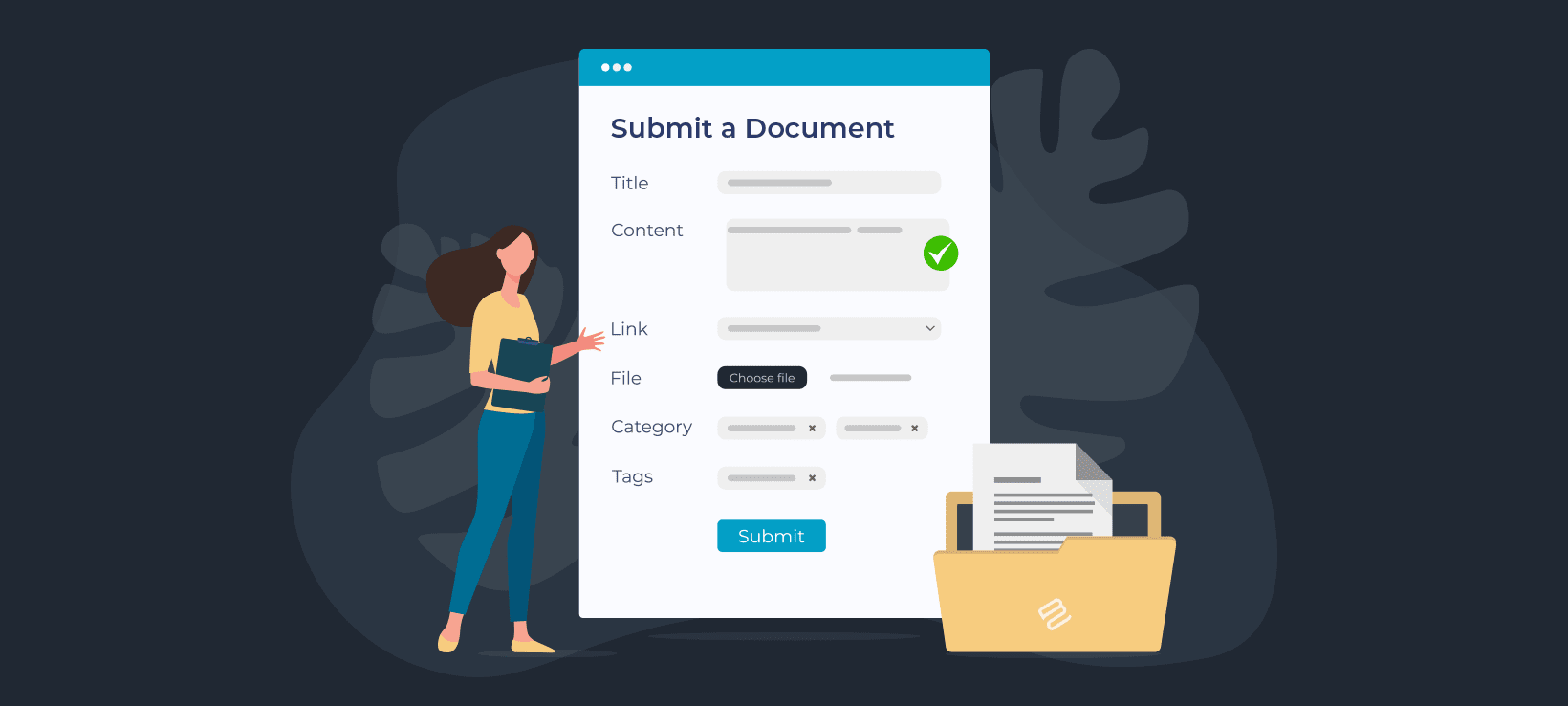 Discover the new front-end form in Document Library Pro and streamline your document submission process. Submit documents easily and efficiently, customize form fields, and hold new documents for moderation.
Document Library Pro is a powerful WordPress plugin that allows you to easily create and manage a document library on your website. It provides a variety of options for organizing, categorizing and displaying your documents. This makes it perfect for a wide range of use cases, such as creating a resource database, sharing research papers, or displaying legal documents.
We are thrilled to announce that we have just added a new feature to the plugin: the front-end 'Submit Document' form. It allows you to add a form to the front-end of your website which allows users to upload and submit documents to be displayed in your library.
Why do my users need to submit documents?
Why is this new feature so important? Well, there are a number of benefits to adding a front end document submission form:
Allow team members and colleagues to add documents. A front end submit document form is easy for anyone to use, without having to log into the WordPress admin. This can save you a lot of time if you're the one who would normally have to manually upload new documents. Now your team members can do it too!
Easy submission of documents by your website visitors. This can be especially helpful if you're looking to accept job applications, resumes, or other types of user-generated content and display them in a searchable format (publicly or for internal use only). Now your website visitors can upload any type of resource or link to your website.
Additionally, it provides a more professional and streamlined process for adding documents.
How it works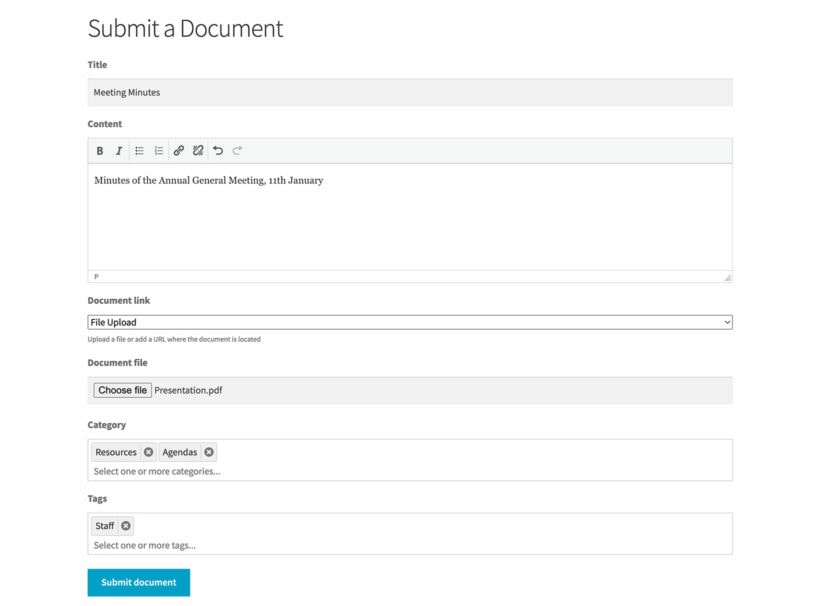 Until now, you could only add documents to your document library via the WordPress admin. Document Library Pro provided options for adding documents manually, or by importing them in bulk. However, there was no way for people without admin access to add documents or resources to the library.
The new document submission form works like this:
Users visit a 'Submit document' page on your website and fill in all the information. This includes the document title, description, and any other fields you've chosen to include. They also either upload a document or paste in a link (if they're adding a resource which is stored elsewhere on the web).
Depending on your settings, the document is either:

Displayed in your document library immediately, or;
Held for moderation, which means that you receive an email notifying you that you need to approve the document first.
Once the document is added to the library, it appears alongside all your other documents and resources. Your document library might be visible to everyone, or it might be private.
So, that's how the new feature works and why it's a good addition to a WordPress document library. Now I'll tell you how to set it up.
How to add a submission form to your document library
Setting up the front-end form feature is straightforward, and you have some flexibility in how you choose to use it.
First, make sure the Document Library Pro plugin is installed on your WordPress site.
Go to Documents → Settings in the WordPress admin. Scroll to almost the bottom of the page, and choose your settings for the front end document submission form. You can set it up so that new documents are added to the library automatically. Alternatively, you can hold new documents for moderation by an administrator so that you receive an email prompting you to approve and review the document before it's published.


Next, create the page which people will use to submit documents, and add the shortcode [dlp_submission_form].
You can have more control over who can submit documents and ensure that only the right people have access to the form. Either leave the page public, mark it as 'private' so that only administrators and editors can see it, or password protect it. Alternatively, you can restrict it to specific user roles only using a membership plugin like Advanced Access Manager. For example, this is useful if your employees who will submit documents have a specific user role on your site.
Now users can easily submit their documents directly from the front end of your website!
Finally, visit the page to see the document submission form in action. And once you've submitted a test document, visit the page where the new documents will be displayed. You can easily find this by going to the 'Pages' list in the WordPress admin and finding the 'Document Library' page. (Tip: Document Library Pro also comes with a shortcode which you can use to list different documents in different parts of your site.)
Complete tutorial: How to build a WordPress document library.
How to customize form fields
The front end 'Submit document' form contains all the fields which are used to store information about your documents. For example, this typically includes the title, description, a brief excerpt, longer description, author, categories and tags.
You can customize the form fields to collect different information about each document. To do this, go to Documents → General in the WordPress admin and enable/disable the document fields. This hides them from the 'Add document' pages in both the front and back end.
Add front end submission to your document libraries today!
As you can see, the new front-end form feature in Document Library Pro provides an added level of convenience and functionality for users. All in all, it makes the process of adding documents to your library more easy and efficient.
Front end document submission is helpful in various scenarios, from displaying resumes to adding new research papers. It's perfect for anyone who want to make it easier for users to submit any type of resource to your website.
If you're already using Document Library Pro, upgrade to the latest version from the WordPress admin. Otherwise, get the plugin now and discover its full potential for creating fantastic document libraries - complete with front end document submission.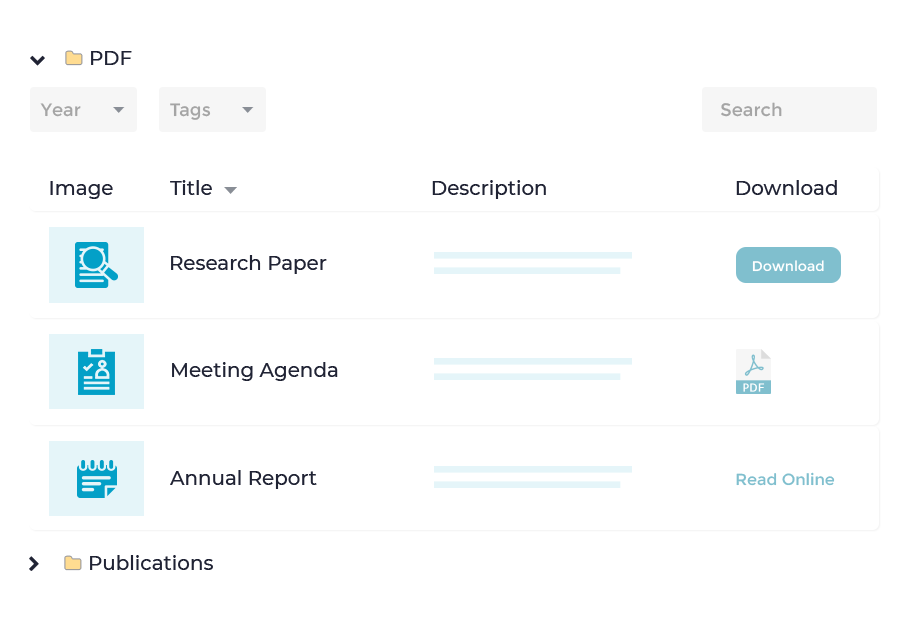 Install Document Library Pro today and start adding and sharing documents - the easy way!