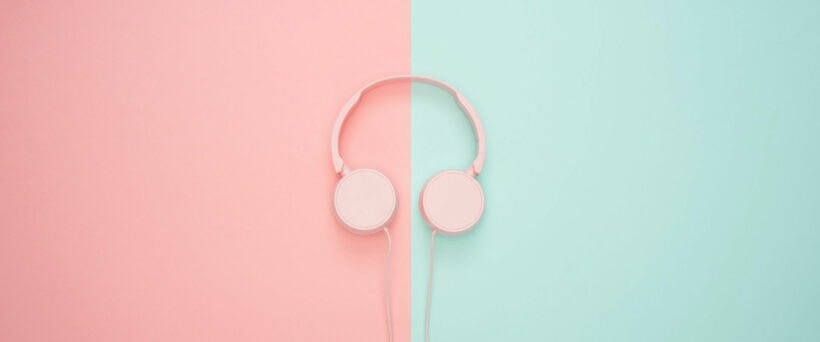 Does your e-commerce store just sell one product? Learn how to give it the attention it deserves with a single product WordPress theme.
When you read about the giants in the e-commerce space, you often come across the same group of multi-brand stores or multiproduct brands. Amazon and Walmart are in the first group. Apple and Ikea are in the second. The biggest names in the field often have a broad offering, but that doesn't mean you can't launch into e-commerce stardom with a single product.
Crocks, Moleskine, and Spanx are only some of the brands that have done amazingly well for themselves based on the success of a single product. They've branched out and introduced variety because brands that want to survive need to evolve, but they still show that a single-product strategy is worth the risk. You need a good product and a way to stack the odds in your favor.
Presenting your product with a purpose-built website is an absolute must. The combination of WordPress and WooCommerce will likely serve you well, but only if you take the extra step and make the website your own. That's where WordPress themes come to aid, and we're here to help you choose the perfect one.
Why choose a single product theme?
One of the best things about WordPress is the diverse and lively ecosystem of third-party products that are grown around it over the years. Whatever you want to build using WordPress, whether a feature for your website, a functionality, or a look, there's a plugin, theme, and tutorial that can help you.
Single-product themes, or multipurpose themes with single-product demos, are created to give you a good starting point for creating your single-product website. And a good starting point is what you want - you're not looking for a solution ready to use out of the box. Instead, you want to be able to customize the theme to match the product flawlessly, as if the success of your business depended on it. It probably did.
A good single product theme can help you by at least ruling out some of the choices you don't need, like the WooCommerce shop page or the product category pages. It might offer you some layouts that you're happy with, leaving you to adjust the color scheme and add your content. The better the match, the more resources you'll save.
Think about the content and the layout
The main star of your single product website is, of course, the product. But the way to establish and showcase it is by including content on the website. And while you'll be using the obligatory images and text, it might be helpful to be more specific with the type of content you need to have on your single-product website.
The textual content on your website can fill out many roles. For example, you can use it for tag lines, to list features, testimonials, and even a short FAQ section. Of course, you don't have to include all those types of content on your website. But if you plan to, you should look for a theme with layouts and elements that make adding that content easy.
When you decide on everything you want to include, you can start thinking about the how. The rule of thumb for single-product websites is to keep the number of pages minimal and to ensure that everything there doesn't subtract from the primary goal of selling that product.
A minimalist design might be an option. If it doesn't go well with the product, remember that whatever you do, the content and the way it's arranged cannot drown out the product – they should support it. When selling a single product, category pages or general store homepages aren't worth your attention, either – you don't need them.
Must-have theme features
As with any other site, you'll probably want to ensure your single-product website ranks well on search engines, performs well in speed and stability, and provides a great user experience. Your choice of theme will matter here, too.
Some of the features, functionalities, and traits you should look for in the theme include:
Demonstrably good speed and performance, ideally supported by several test scores.
Compatible with your page editor of choice, such as Elementor or Gutenberg.
Responsive and cross-browser compatible.SEO-optimized and compatible with SEO plugins of
your choice.
A solid selection of pre-made demos, pages, and layouts, with a design you like.
Fully documented, supported, and actively updated.
This list isn't definitive, of course. You can easily add your website's navigation needs to it, for example, or integration with a specific tool. The key takeaway is that even though you're building a single-product website and looking for a fitting theme, it's still a website, and you're still looking for a theme.
All websites need to load quickly and display well on mobile devices. Make sure your focus on single-product features doesn't make you forget these general features.
A single-product WordPress theme in action
Let's say you choose the Qi Theme as your single-product WordPress theme. It's a multipurpose WordPress theme compatible with Elementor, with a vast library of demos that include some single-product website solutions.
The theme lets you browse the demo library from your website's backend. You can filter them by categories or colors, and a search bar enables you to use keywords to find the theme you need. In our case, "product showcase" is a good keyword choice.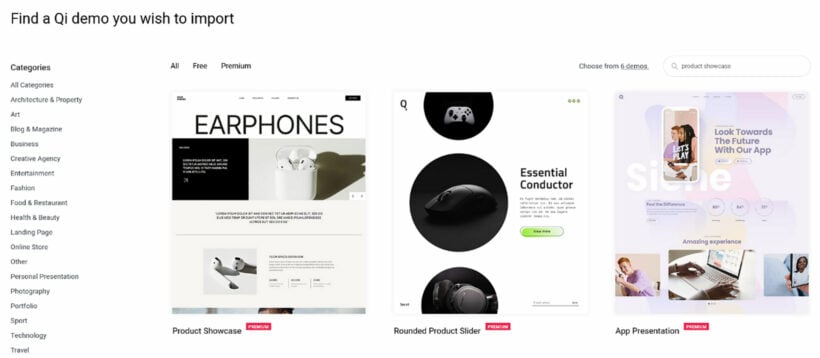 After reviewing the demo, you can easily import it with a single button click. You can even choose to separately import the contents, widgets, and options from the demo or all three.
Once you import the demo, it's just a matter of jumping over to Elementor and fine-tuning all the pages to match your product and branding.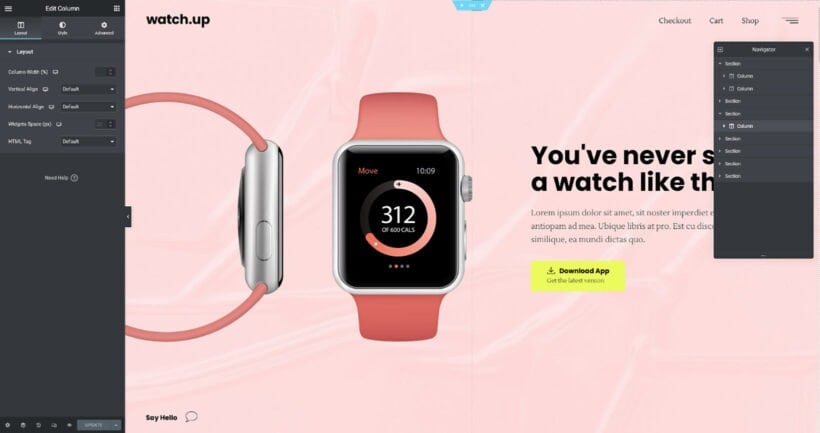 If, at any time, you need some help, you can find the links to the knowledge base, documentation, as well as video tutorials right there in your website's back end.
While the Qi Theme will let you easily choose and arrange sections you want your single-product website to have, the WooCommerce Product Options plugin will allow you to liven up your offer. So you can have a single-product website and still present your customers with color, materials, or other customization options.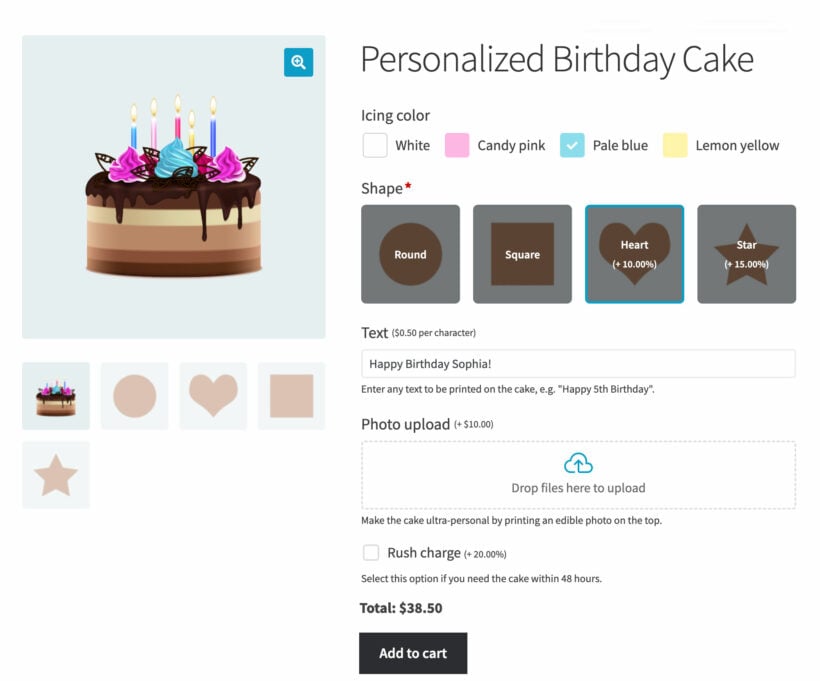 Let's sum it up!
Single-product companies have some of the most inspiring stories in business. It goes with the territory – single-product businesses are risky ventures, and it takes belief, resilience, and persistence to make them a success story.
If you're planning to take your single-product store on the web, don't worry – you'll have allies to help you. A good single-product WordPress theme such as Qi Theme can, at the very least, inspire you to build a beautiful website for your product. At best, it can do some of that job for you. And with the right plugin or two, you can add some variety to your product and make it even more appealing.