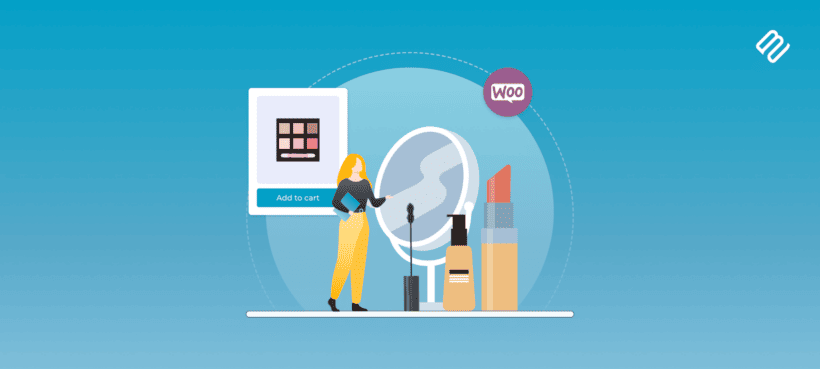 Want to sell beauty products online full-time or as a side hustle? Learn everything you need to know, from choosing your niche to creating your website, marketing your business online, and more.
Businesses that sell beauty and personal care products are expected to generate $579.20 billion (with a B) US dollars in revenue in 2023. That's a lot of money! 😲
If you're interested in grabbing a piece of the pie, I have good news! In this comprehensive guide, I'll show you everything you need to know to sell beauty products online, including:
Business Essentials: Strategies to build a solid and sustainable beauty business.
Actionable tips and techniques to market your business effectively and sell beauty products online.
The exact tools you need to create your beauty products store and start selling online today.
Are you ready? Let's start with a deep dive into the beauty products industry.
Understanding the beauty products industry
Before we look at how to sell beauty products online, let's consider whether it's worth doing so.
Earlier, I mentioned that companies in the beauty/cosmetics business are expected to rake in $579.20 billion US dollars in revenue in 2023. Now, you may be wondering how much of that revenue will be generated online? The answer is a lot.
According to the same Statista report, 17.7% of that revenue will be made online. That translates to $102.6 billion US dollars! Plus, the industry is expected to grow at 3.5% each year.
Bottom line: The beauty product industry is booming; there's probably never been a better time to start selling beauty products online. At the same time, it's also a huge market with a lot of competition. This means you must use the right approach to run and market your business.
Benefits of selling beauty products online
Selling beauty products online can be pretty lucrative. Here are its top benefits:
A wider customer reach: Selling beauty products via your own website allows you to reach a global audience. And unlike a physical store, your website operates 24/7. So you can reach customers anywhere, anytime.
Customer preferences: Online shopping is all about convenience. Customers can browse your store, check out reviews, and buy from the comfort of their homes. Selling online allows you to attract customers who prefer the ease of online shopping.
Lower costs: Running an online store is generally less expensive than physical locations. You can save on rent, utilities, staffing, and all the other expenses that come with running a brick-and-mortar shop.
Robust data collection: Selling beauty products online makes collecting customer data much more effortless. You can easily analyze their preferences, buying habits, demographics, etc., and use it to tailor your product and create targeted marketing campaigns.
Robust marketing channels and partners: Around 66% of people (approx. 5.5 billion) use the internet daily. Creating your beauty product website allows you to meet customers where they are — online. Plus, you can market your products on social media sites like Instagram, Pinterest, TikTok, etc., and reach new audiences.
Challenges of selling beauty products online
Even though it can be rewarding, selling beauty products online comes with its share of problems. Here are the top three challenges new entrepreneurs face and actionable strategies to conquer them:
Challenge 1: Cautious customers
Customers who shop online are wary about the authenticity of beauty items. After all, no one wants to buy counterfeit or low-quality products. This means convincing customers that you're trustworthy can be difficult in the early days of your business.
Even where customers are convinced that the beauty products you're selling are authentic, they may be reluctant to buy online. That's because people buying beauty products need to make sure the products are the right color, work with their skin type, and so on.
Strategy to solve this challenge
Although gaining customers' trust can be challenging, it's definitely doable. To start, invest in a professional-looking website that reflects that your business is legit. In addition, you can build trust through genuine reviews, excellent customer service, and cultivating an active community on social media.
To reassure customers that a beauty product is suitable for them, you can sell or give away samples online.
Challenge 2: Plenty of competition
The beauty market is crowded and highly competitive. There are many sellers and brands that offer similar products and are vying for customers' attention, so standing out can be tricky.
Strategy to solve this challenge
You'll need a solid marketing game plan to stand out from competitors. An excellent way to do this is to choose a niche. You can do this by specializing in a particular type of beauty product or catering to a specific audience.
Additionally, implementing a robust digital marketing strategy, including SEO, email, social media, and paid ads, can help beat your competition and reach and engage your target customers.
Challenge 3: Brand restrictions
Brands are super selective about who can resell their products. For instance, some brands have specific requirements for online sellers, such as a minimum order quantity or a physical store presence. Meeting these requirements can be tough if you're just starting out in the beauty business.
Strategy to solve this challenge
First, accept that building relationships with brands requires strategic work and a ton of patience. Start by working with companies that are more accessible to new sellers. As your store gains credibility and a proven track record of successful sales, reach out to bigger companies.
You can also attend beauty industry events, conferences, or trade shows to network with distributors and brand representatives and establish personal connections.
Steps to sell beauty products online
Here's the short version of the steps to sell beauty products online:
Create your website.
Set up business essentials: Market research, brand creation, packaging, labeling, and business processes.
Implement marketing strategies.
Create your website
There are two parts to this:
Choosing the right platform for your site.
Creating a beautiful, professional-looking website.
Choosing the right platform: WooCommerce vs. Shopify
The platform you choose can influence your store's success. It shapes many aspects of your business — your site's user experience, how you manage your inventory, your marketing, the overall cost of running your business, etc.
While there are several eCommerce platforms available, we'll focus on the two most popular for selling beauty products online. These are WooCommerce and Shopify.
WooCommerce vs Shopify: An overview.
If you're new to eCommerce platforms, here's a quick primer:
WooCommerce: WooCommerce is a powerful, open-source e-commerce plugin designed for WordPress websites. It has a 39% market share, making it the most popular eCommerce platform in the world.
Shopify: Shopify is the 4th most popular eCommerce platform in the world. It is a fully hosted solution that comes with web hosting.
Note: Whichever platform you choose, you can migrate your site to a different one in the future. However, it's easier to start with the right one from the beginning to avoid the hassle of moving to another platform later on.
Here's a detailed WooCommerce vs. Shopify breakdown
WooCommerce
Shopify
Feature list

Winner: It's a tie!

All the core features to create a thriving eCommerce business.
All the core features to create a thriving eCommerce business.
Extensions

Winner: WooCommerce

There are over 60,000 free/fremium plugins in the official plugin directory plus lots of paid plugins that can add extra features to your website.
Shopify's app store includes around 8,000 apps to add more features to your site.
Cost

Winner: WooCommerce

WooCommerce itself is free. You'll need to invest in hosting, domain registration, and any premium themes or plugins you choose to use. Costs can vary widely, however it's usually pretty affordable.
Shopify offers various pricing plans, including a monthly subscription fee that covers hosting. Its cheapest plan is $29 per month for the basic functionality to set up an eCommerce store (that's at least $348 yearly!).
This doesn't include the cost of app subscriptions and transaction fees which can quickly add up.
Scalability

Winner: WooCommerce

Its platform is highly scalable, and is suitable for small businesses to large enterprises. Offers complete control over server resources and can handle complex setups.
Scalable and user-friendly. It can accommodate businesses of all sizes, but some limitations may arise in highly specialized or extremely high-traffic scenarios.
SEO-friendliness

Winner: WooCommerce

It provides excellent SEO capabilities, especially when paired with SEO plugins like Yoast SEO. Full control over SEO settings.
Its SEO techniques are a bit limited compared to WooCommerce and other platforms. This could affect the amount of organic traffic your site gets from search engines.
Beginner-friendliness

Winner: Shopify

WooCommerce is known for its ease of use. You don't need advanced technical skills to set up and manage your online store. However, there is a learning curve if you're not familiar with WordPress and eCommerce concepts.
Shopify is easy to use, even for total newbies. It offers an intuitive interface that simplifies store setup and management.
Customer Support

Winner: Shopify

WooCommerce itself doesn't offer direct support, but there's a large online community for help. Support varies depending on hosting and theme/plugin providers.
They provide excellent customer support, including 24/7 live chat and email assistance.
Marketing Integrations

Winner: WooCommerce

Integrates with various marketing tools and platforms through plugins and extensions. Allows for extensive customization of marketing strategies.
Offers marketing integrations and built-in tools for email marketing, social media, and more.

Final scores

2.5/8
5.5/8
My recommendation
Both WooCommerce and Shopify have their strengths and drawbacks.
WooCommerce is cheaper and highly customizable, making it a great choice if you have specific needs or prefer complete control. However, it has a bit of a learning curve. On the other hand, Shopify is known for its beginner-friendliness and excellent customer support. But it can get costly very quickly.
WooCommerce is the better choice for most people. There are thousands of beginner-friendly tutorials to help you get over the learning curve. And once you get the hang of the platform, you'll find that it's pretty easy to use.
Creating a beautiful, professional-looking website
Once you've selected your eCommerce platform, it's time to build your eCommerce website. For this, you'll need the WooCommerce Product Table plugin.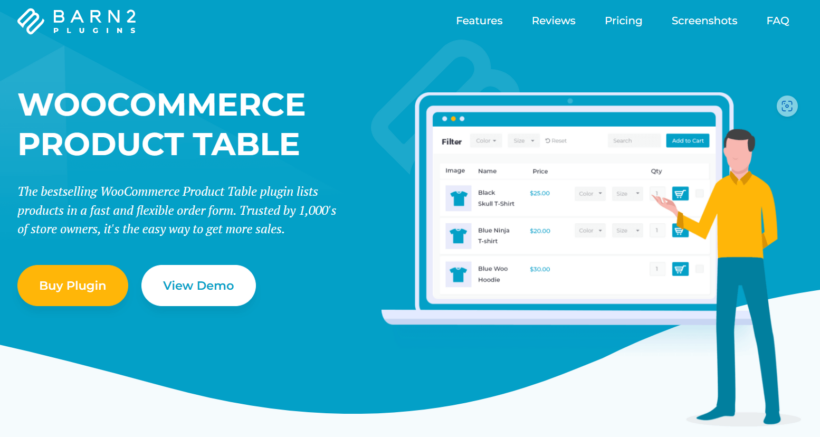 WooCommerce Product Table is an easy-to-use plugin that lists products in a beautiful, functional, and professional-looking order form.
For context, here's an example of how it looks on the front end of a website that sells beauty products: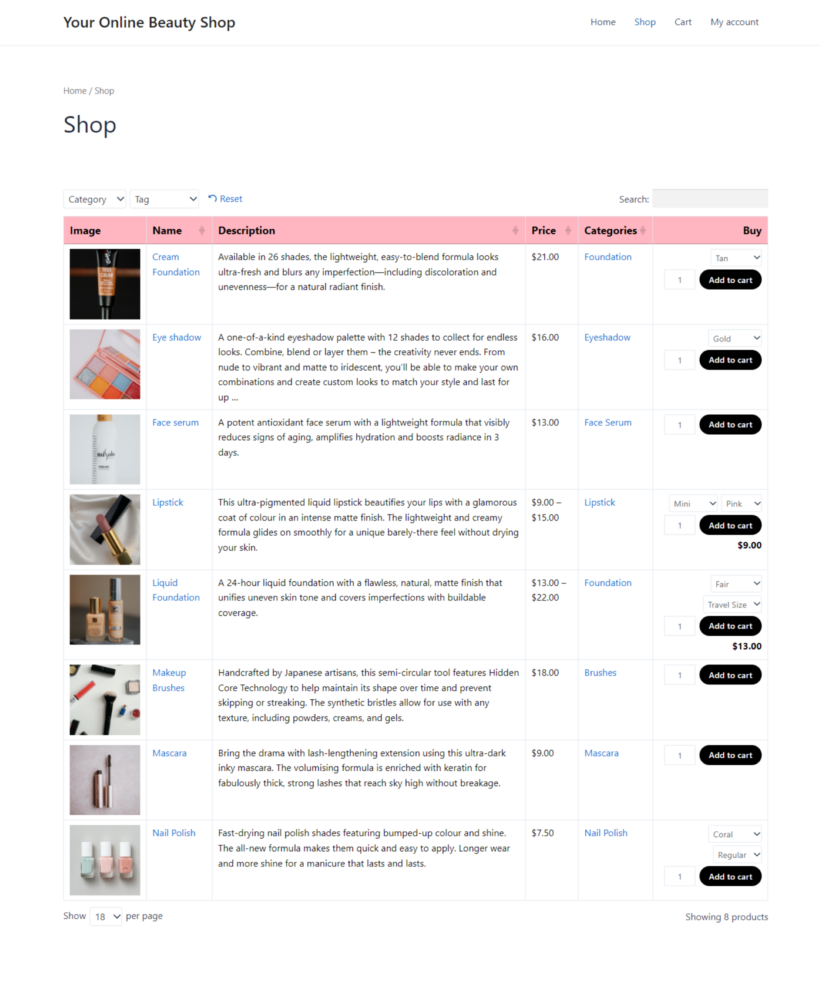 WooCommerce Product Table is used on thousands of sites and comes with tons of customization options so you can tweak it however you like.
Top benefits of using WooCommerce Product Table
There are five big benefits of creating your site with the WooCommerce Product Table plugin:
Fast one-page ordering
Customers can order multiple beauty products and variations with just a few clicks. For example, if a customer wants to buy a lipstick, mascara, and skincare cream, they can easily add all these items to their cart from the same page. This gives customers a better shopping experience because it saves them from having to open up the individual product page for each item.
Advanced search and sorting options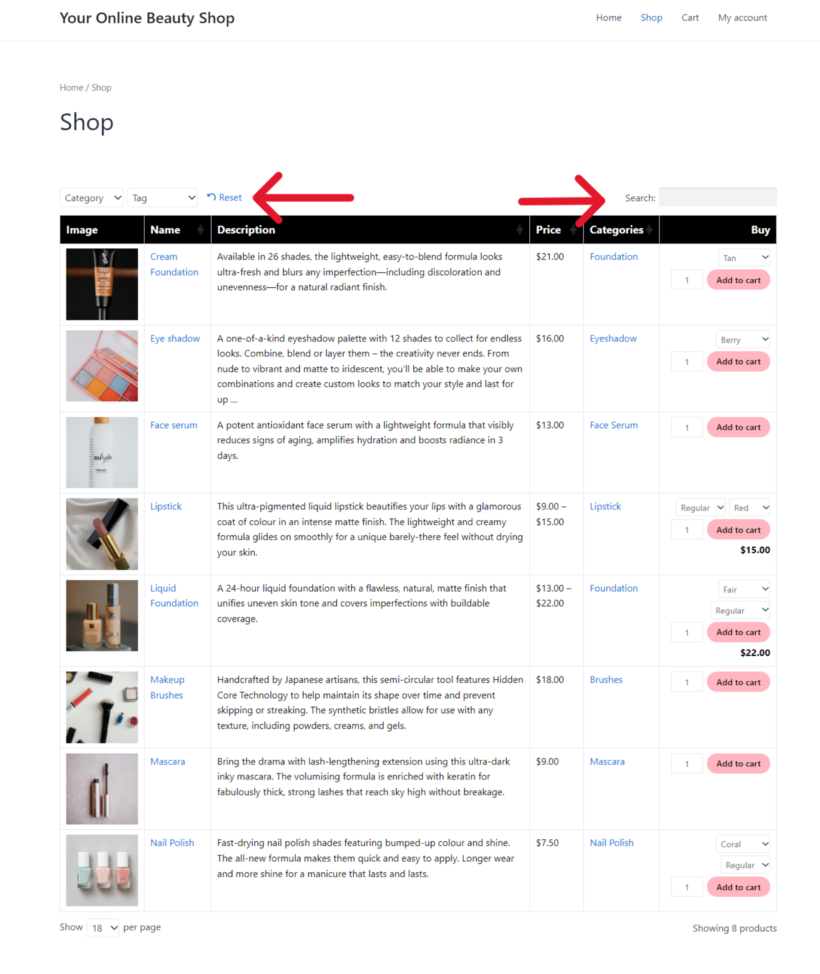 Shoppers can quickly find the beauty products they're looking for using instant search and sort options. For instance, imagine that you sell 50 different types of eye shadow. Customers can search for a specific shade by typing in the name of the brand or product. Alternatively, they can sort by product category, subcategories, price, etc., to quickly find their preferred eye shadow.
Show relevant product details
The plugin lets you customize the information that's presented to customers in the product table to showcase images, videos, prices, attributes, and even custom fields. You can show product videos, unboxing videos, customer reviews, etc., to share detailed information about each product and easily convert customers on the fence.
Choose the products to show in the product table
You have complete control over which beauty products are displayed in the table. For instance, if you want to showcase only skincare products like moisturizers, makeup products like eyeshadow palettes and blushes, or items from a specific brand, you can do so easily.
Create unlimited tables and list unlimited products
There's no limit to the number of product tables you can add to your store, so feel free to create as many as you want.
Also, you can list as many products in each table as you'd like — whether that's a few dozen or even thousands of products. The plugin comes with AJAX lazy load, which helps make sure your site loads fast.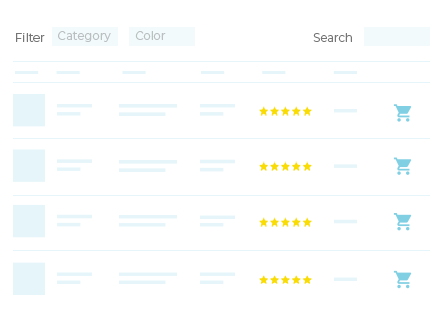 The easiest and most flexible way to list beauty products and create quick order forms.
Add extra product options to your store
Once you've set up WooCommerce Product Table on your online store, it's time to think about how to make the shopping experience as smooth as possible.
Beauty stores typically sell products with a lot of variations. For example:
Lipstick with different colors.
Foundation and concealer with various shades.
Face serum in regular and mini sizes.
By default, WooCommerce lets you present additional product options to customers using basic dropdowns like these: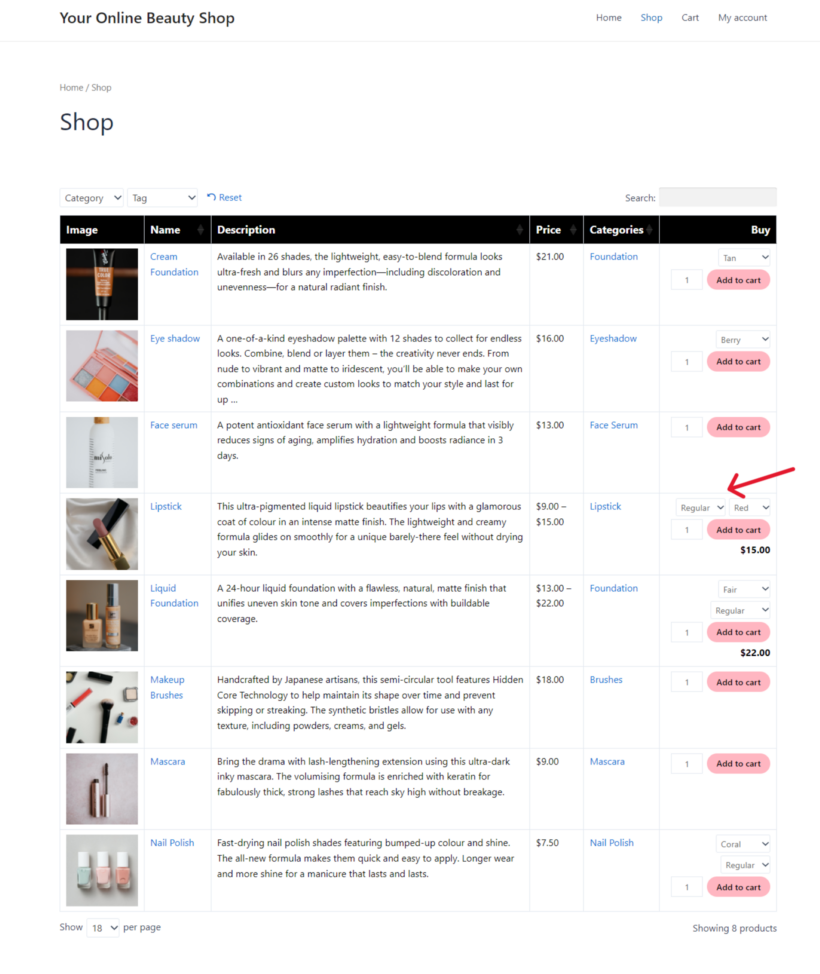 While the dropdowns are fine for some options, they're just not ideal for others. So, how can you present product options in a more user-friendly way to customers?
Using the WooCommerce Product Options plugin.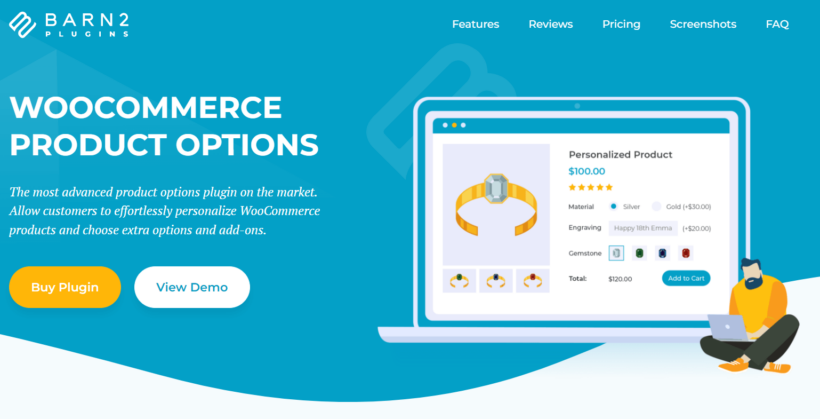 WooCommerce Product Options is a flexible plugin that lets you use a variety of add-on fields to present additional options to customers. You can use it to create product options with:
Checkboxes
Color swatches
Text fields
Much more
WooCommerce Product Options works really well with WooCommerce Product Table. Here's how both plugins transform the 'shop' page: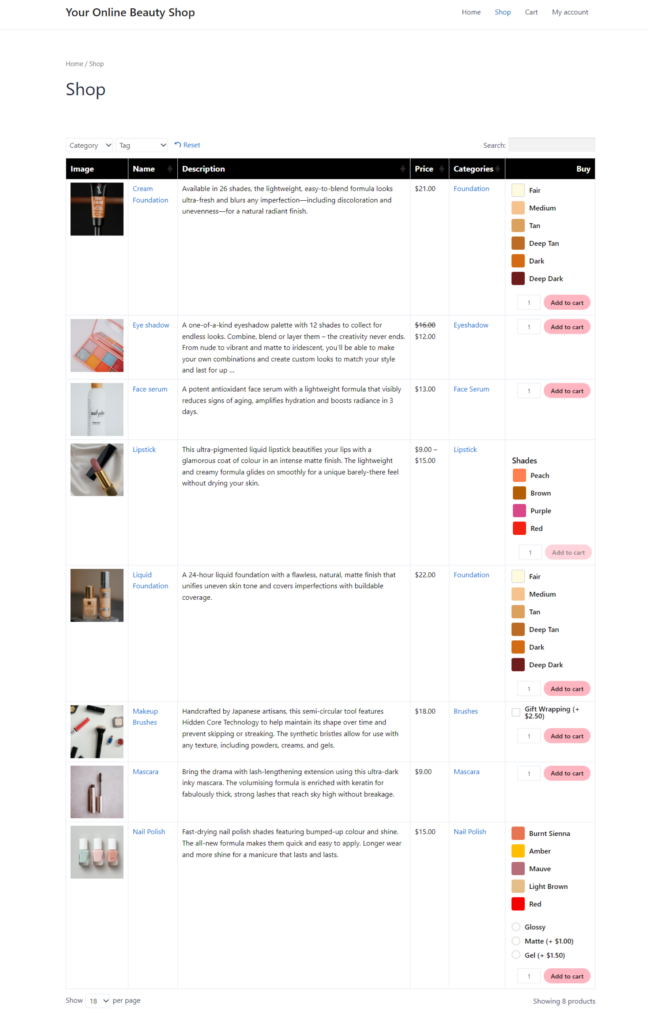 That's not all. WooCommerce Product Options also upgrades the default single product page, i.e., the individual page shoppers see when they click on a product. Here's the single product page without WooCommerce Product Options: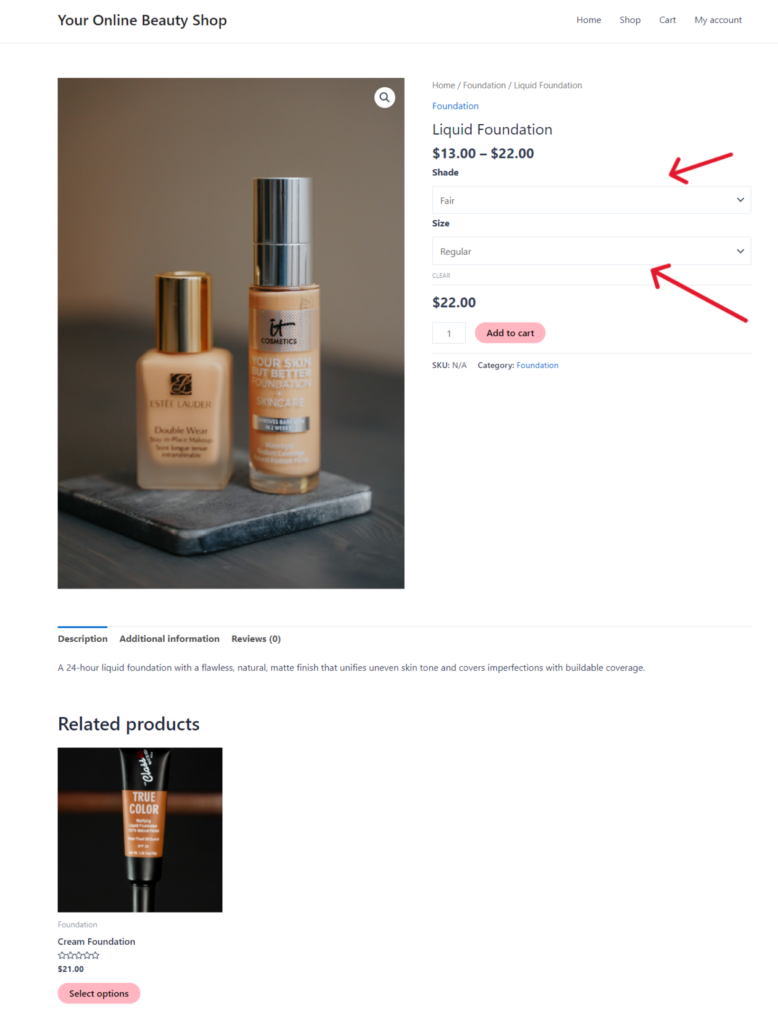 And here's the product page with the extra options that WooCommerce Product Options adds. See how the shopping experience is now more intuitive?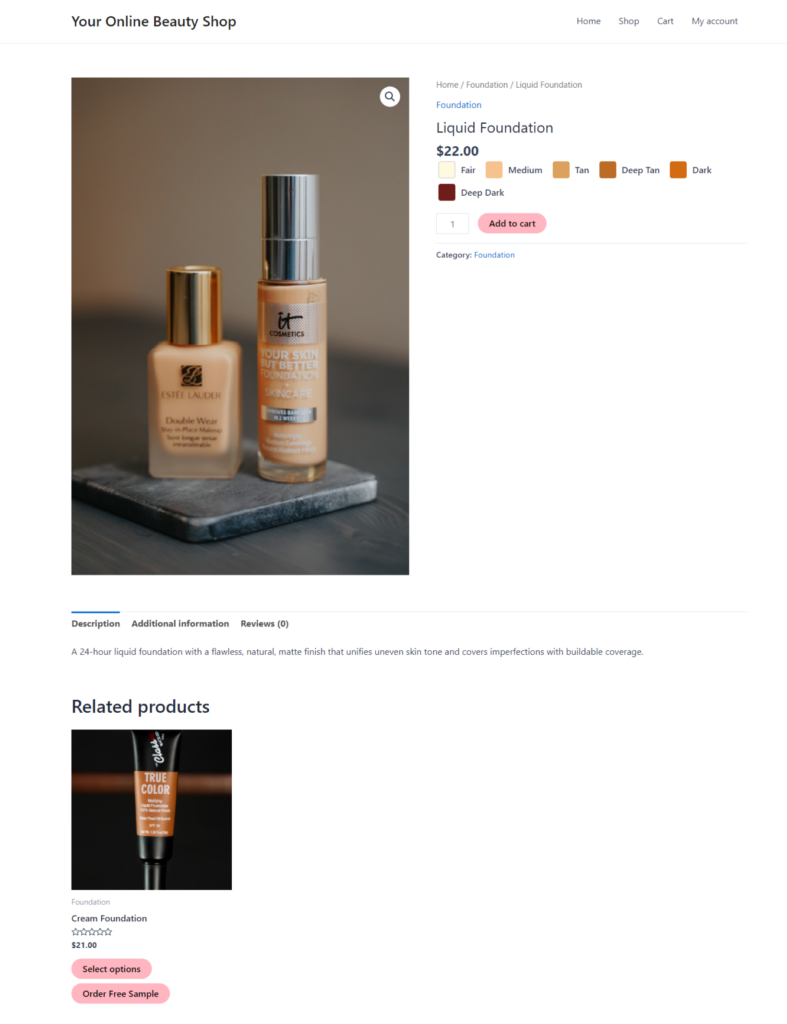 Top benefits of using WooCommerce Product Options
16+ field types
You can add extra fields like image and color swatches, text, checkboxes, radio buttons, number, dropdowns, date/time, text fields, customer-defined pricing, price formula, and more. Here are some examples of ways to use the extra fields on your website:
Color and image swatches: For instance, to showcase various shades of foundation, lipstick, eyeshadow, gift wrap options, etc.
Checkboxes: For example, to add multiple add-ons to products like gift wrapping, extra brush sets, or special packaging options.
Radio buttons: E.g., to offer different nail polish finishes like matte, satin, or glossy.
Conditional logic
This simply means to show or hide fields based on the other options customers select. Instead of presenting all the options to every customer, even if they don't need it, this helps keep the product page neat, prevents clutter, and provides a better shopping experience.
For instance, if you offer various styles types of gift wrap. Using conditional logic, you can hide the wrapping paper options until the customer chooses the gift box option. This way, the product page remains clean. Like this: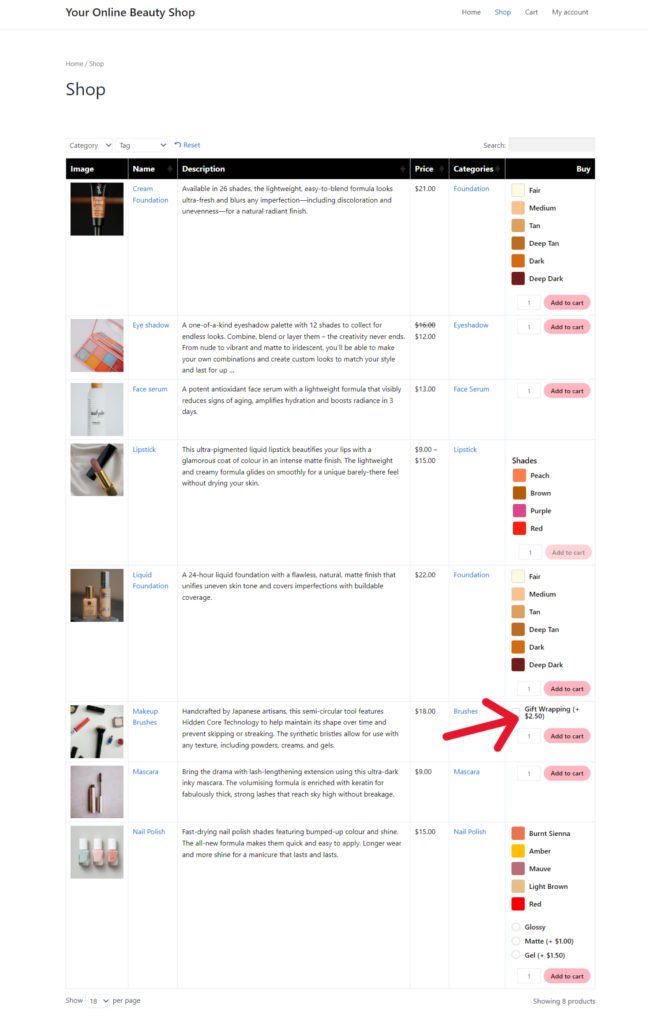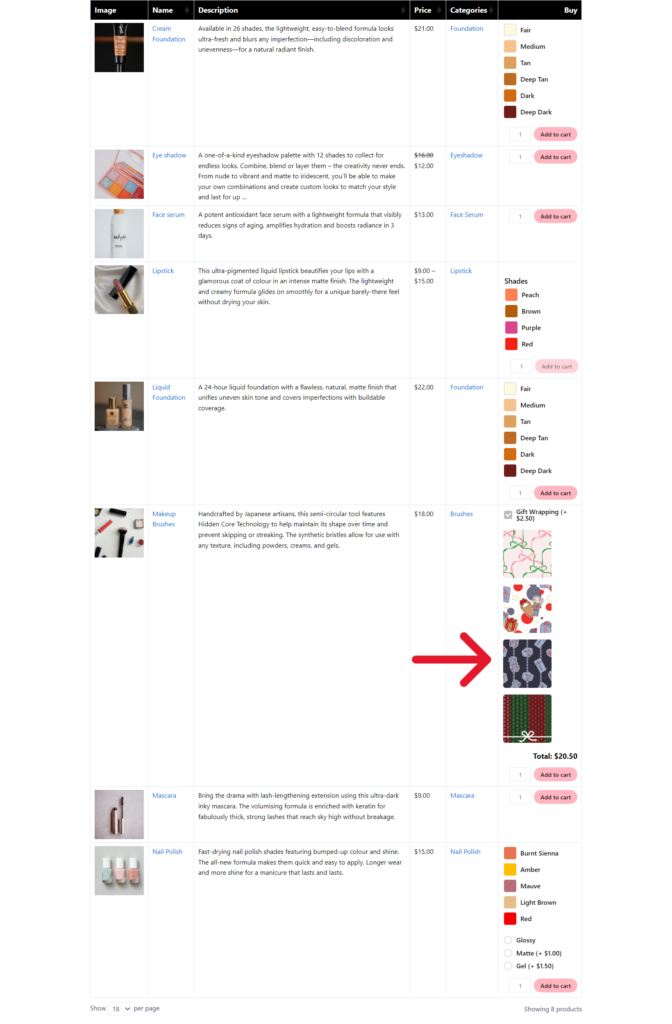 Minimum and maximum quantity rules
These rules limit customers to only selecting a minimum or maximum quantity of a particular product option. For example, you can set a maximum quantity rule to prevent customers from buying more than seven eyeshadow palettes.
Extra fees
The plugin allows you to charge additional fees for the product options. For example, you can charge $10 for red nail polish and $12 for pink ones.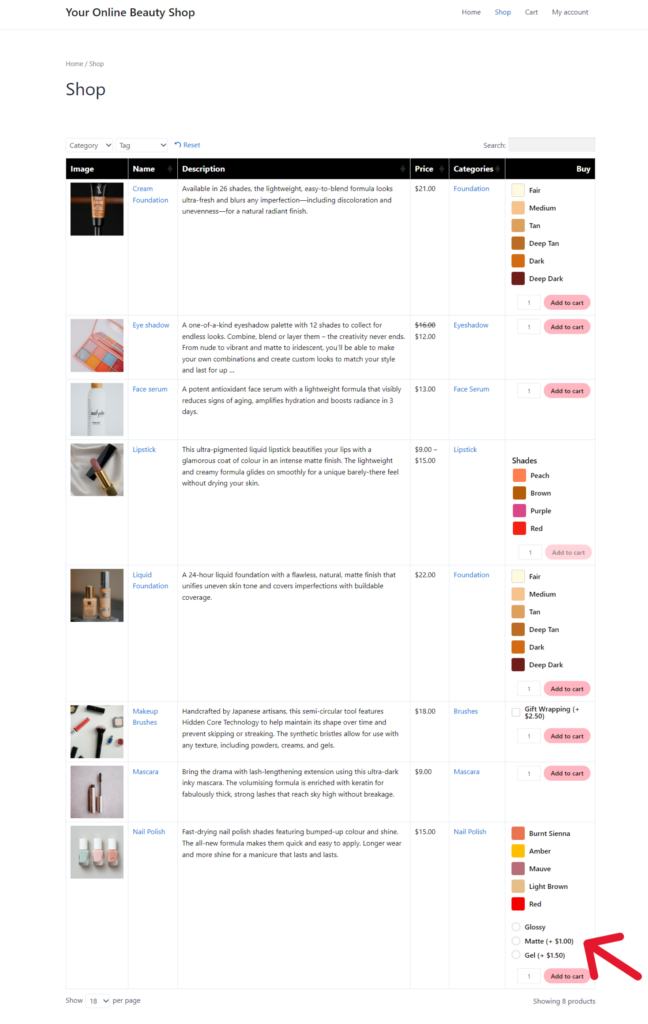 Overall, the key benefit of the WooCommerce Product Options plugin is that it makes the shopping experience easier and more intuitive for customers. This leads to more sales and greater customer satisfaction in your store.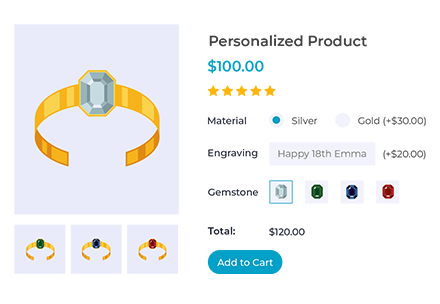 Add extra options and flexible add-ons to your WooCommerce products in seconds.
Offer product samples to boost sales
Another popular option for many beauty store owners is offering customers free and paid product samples. Essentially, this lets them get smaller products before buying the full sizes. Customers like to try out beauty or cosmetic products for many reasons, including:
To make sure that they are happy with the product quality.
Check out how it looks on them in real life.
Compare multiple options, e.g., various lipstick shades, before choosing their preferred ones.
On the surface, offering samples may not seem like a big deal. However, it's a powerful marketing tactic that's been proven to boost sales.
To offer samples to customers, you'll need the WooCommerce Product Sample plugin: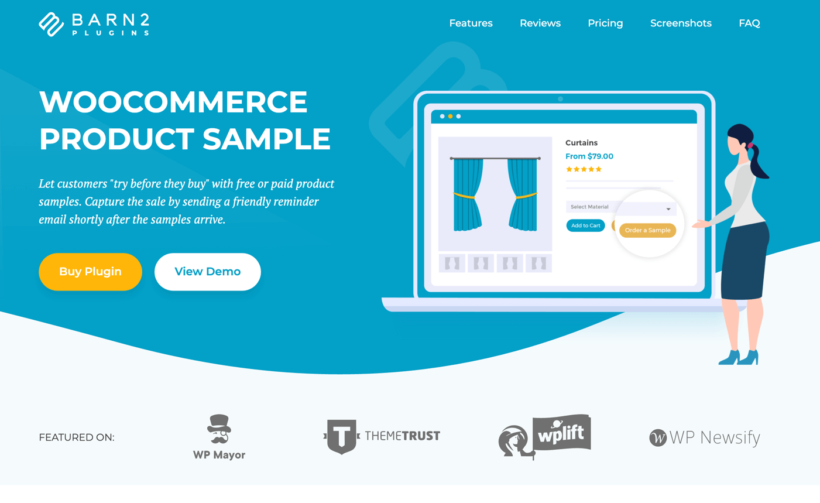 WooCommerce Product Sample lets you add a seamless and efficient product sample engine to your eCommerce store. It includes:
Everything you need to offer free or paid samples.
Emails with links to remind customers to buy the full size of the products.
Control how many beauty samples each customer can order.
WooCommerce Product Sample works well for both wholesale and retail beauty stores. It also integrates well with the WooCommerce Product Table plugin: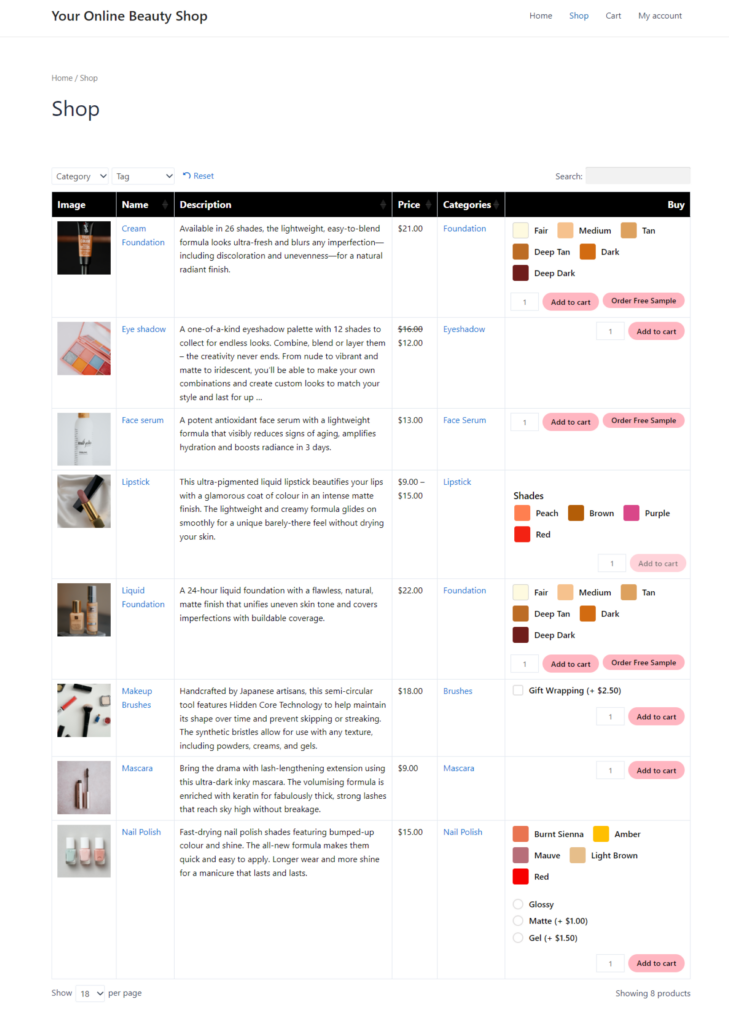 Here's how WooCommerce Product Sample upgrades the individual product page with an 'Order Sample' button: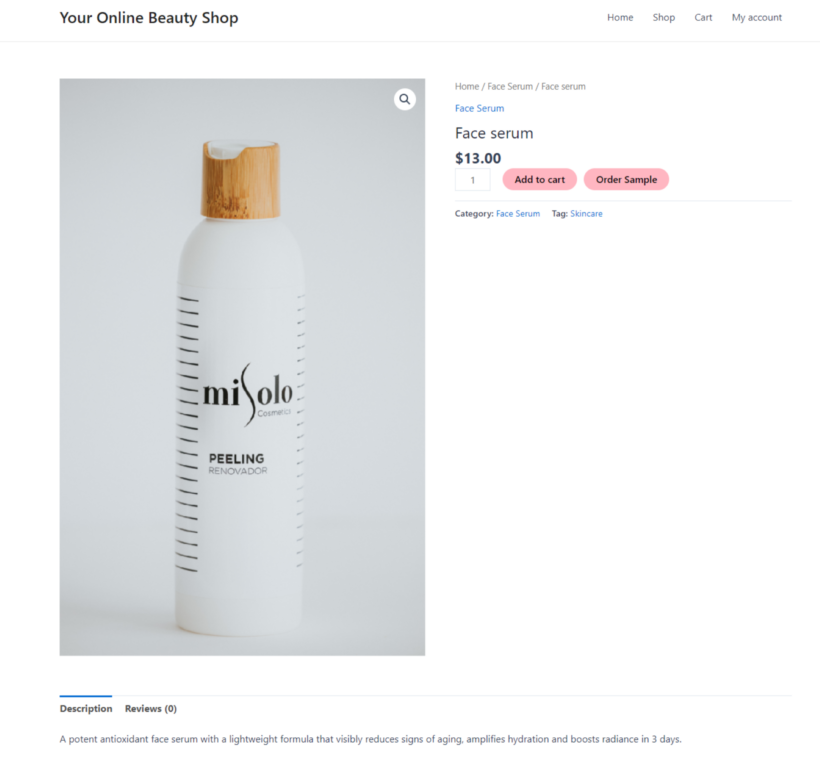 Top benefits of WooCommerce Product Sample
Free or paid samples: You can offer samples for free or charge customers for them.
Lots of control: It lets you add custom prices, add to cart button text, manage stock, and update shipping and tax settings.
Maximum quantity: This prevents customers from adding more than a specific product quantity to their carts.
Email follow-up system: Create and send tailored email reminders to nudge customers to buy the full size of the products.
Samples work because they give customers the chance to try out mini versions of your product before committing to the full size. And, with WooCommerce Product Sample's email nurture features, you can easily convert customers to buy the regular/full product sizes and increase your store's sales.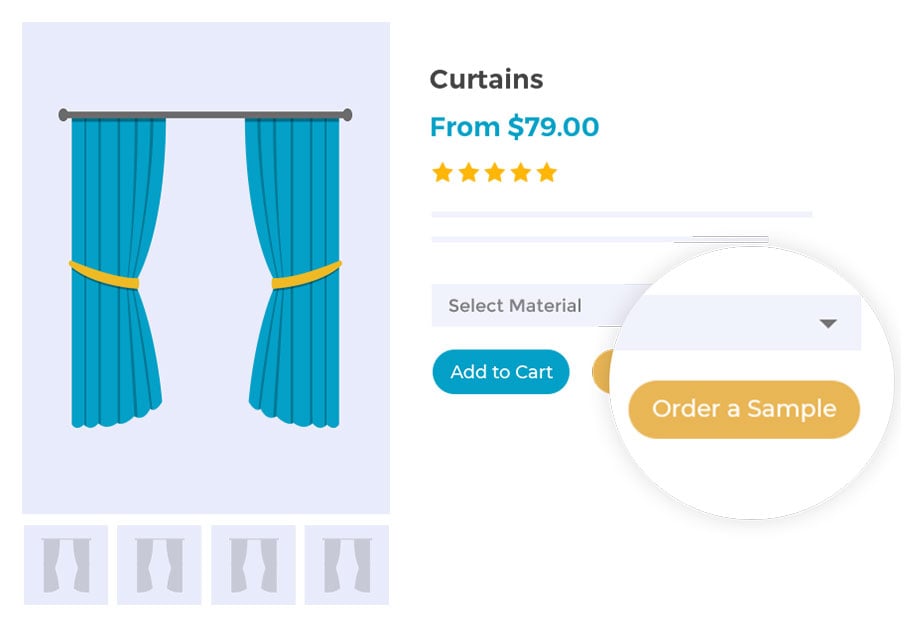 Let customers try before they buy with free or paid product samples, complete with follow-up emails.
Business essentials: Market research, branding, and packaging
Conducting market research
Market research helps you narrow down your target audience and pinpoint people who are more likely to buy your products. You can glean details like their age range, gender, interests, beliefs, where they live, and so on. This helps you create products and tailor your marketing strategies to appeal to them.
But if you've never done this before, where do you even begin to find out details about your customers?
Here are a few ideas to help you get started with market research
Google Search (and other search engines): Start by searching for beauty-related keywords and phrases relevant to your products. Look at the top results, websites, and forums that appear. This can give you ideas about what people are searching for and talking about in the beauty niche.
Online forums and communities: Hop onto Facebook and search for 'beauty', 'makeup', or even related terms like 'glam'. You'll find plenty of pages that you can join. Then, you can observe discussions and pay attention to frequently asked questions (FAQs), common problems, and trends.
Customer reviews: Read product reviews on popular eCommerce platforms like Amazon, eBay, Sephora or even on competitor websites. Analyze what customers like and don't like about the top-selling beauty products. This will give you insights into customers' preferences and pain points.
Online survey tools: You can create surveys using platforms like Google Forms or SurveyMonkey and share them on your social media profiles and relevant beauty forums or groups (like Facebook pages) you're part of. If you don't have access to a sizable audience of beauty enthusiasts, use market research platforms like PickFu or Poll The People.
Google Trends: Google Trends is an underrated and valuable market research tool that can help you identify trending beauty topics and keywords. Simply enter cosmetic products or trends, and it shows you the popularity of search terms over time, helping you understand what's currently in demand.
Choosing a niche
A niche is a specific corner of your industry that you can occupy and become the go-to expert in. Choosing an area of expertise means you won't try to appeal to everyone. The result is that you'll face less competition, and it'll be easier to gain customers' trust and convert them. These tips will help you choose a niche:
Passion and knowledge
Essentially, this means what you're interested in and have some form of experience. For instance, if you're a nail technician, you might focus on selling nail polish and other nail care products, as you're already exposed to that.
Market trends
Keep an eye on trends in the beauty industry. Are there emerging trends or products that align with your interests and expertise? It could be organic skincare, vegan makeup, sustainable haircare, or anything else.
Market gaps
Look for underserved areas in the market. Research what's missing or not well-addressed by existing brands. This could be specific skincare concerns, uncommon makeup shades, or unique fragrance blends.
Finally, combine the audience data from the market research you conducted earlier to choose a niche that focuses on solving specific customer needs, preferences, and pain points.
Creating a solid brand identity
People are more likely to buy from brands they feel an emotional connection with. Your beauty brand should evoke trust and credibility in potential customers.
Here's what to focus on while creating your brand:
Identity: Craft a concise and compelling brand vision, mission, and message that articulates what your business stands for and why customers should buy from you.
Name: Select a brand name that's memorable, relevant to your products, and easy to spell and pronounce.
Elements: Opt for a color palette and fonts that match your brand's personality and use them consistently across your business.
Use a consistent look and feel on your website, social media profiles, packaging, marketing materials, etc.
Packaging requirements
A lot can happen, from when you ship items to customers to when they receive them. For instance,
Products may bump against each other during shipping.
Temperature fluctuations can affect product quality.
Products that aren't properly sealed may leak or get contaminated.
Rough handling by shipping companies can cause products to be broken or spill out of the packaging.
Sturdy packaging materials are the best way to prevent your products from becoming damaged. Opt for outer boxes and containers specifically designed to protect fragile items. Wrapping products in bubble wrap, foam, or packing peanuts helps to cushion them.
You'll also want to seal products securely using shrink wrap or tape so they don't leak or get contaminated.
Labeling requirements
There are rules that you have to follow when selling beauty products online. For instance, regulatory agencies, like the FDA in the United States, have specific rules about what information must be on product labels.
But it's not just about following the rules; it's also about ensuring the safety of your customers. Labels should mention ingredients, usage instructions, potential allergens, expiration date, and safety warnings — basically, all the essential details about what's inside the products.
(As a side benefit, transparently labeling products builds trust with shoppers, which makes them more likely to buy from you and recommend your store to others).
Effective marketing strategies for your online beauty store
These nine strategies will help you market your products online:
Start with a solid business foundation
This is more general business advice than a marketing strategy. However, it's worth mentioning because the other strategies will likely be harder to implement if you don't get your business basics right. This includes: picking the right products to sell, creating efficient order fulfillment processes, and creating a beautiful, user-friendly website.
Create lots of (high quality!) SEO content
Search engine optimized (SEO) content is content written to rank high on search engines like Google, Bing, etc. Filling your website with valuable SEO-friendly content helps customers discover your brand when they search online.
Multichannel marketing
There are a lot of channels to market your products online — email, social media, paid search, etc. These channels work together to create a cohesive brand and drive your store's revenue. For instance, you can use social media to build a community, paid search to reach new visitors, and email marketing to retain existing customers.
Promotions
When done right, offering discounts can actually increase your store's revenue and profits. The key is to use them strategically. For instance, you could promote specific products or collections or set up limited-time offers to create a sense of urgency and encourage purchases.
Build an online community
Earlier, I showed you how to conduct market research online using social media platforms. But you don't have to stop there. Create a dedicated social media profile and build a following. Actively interacting with your audience online builds a community around your brand, fosters loyalty, and encourages word-of-mouth marketing.
Networking at events
Personal connections are invaluable. Beauty industry events and conferences like CosmoProf are excellent ways to meet manufacturers, brand representatives, influencers, and experts in the beauty space. Building 1:1 connections can lead to collaborations, partnerships, or other opportunities down the line.
Create a personable brand
People support brands they feel emotionally connected to. A way to create an emotional attachment to your brand is to add a human touch. For instance, you can share your founding story, share behind-the-scenes in your life as a business owner, upcoming product launches, or create podcasts on topics your customers can easily relate to.
Partner with influencers/creators
Influencer marketing works. As many as 50% of Millennials trust influencers' product recommendations, and 33% of Gen Z-ers have bought a product recommended by an influencer within the last three months. The key to influencer marketing success is collaborating with people who have a genuine following and whose audience matches your ideal target customers.
Offer personalized shopping experiences
Studies show that 75% of shoppers are more likely to purchase from brands that offer personalized online experiences. You can build a fun product recommendation quiz (similar to those popular BuzzFeed quizzes). Shoppers can answer questions about what they're looking for, and your site will display relevant recommendations based on their answers.
Start selling beauty products online today!
The beauty industry is flourishing and will continue to grow. There's no better time to start selling beauty products online.
If you've read this far, you know everything you need to build a sustainable business.
To recap, the key steps are:
Set up your business foundation based on market research, a standout brand, and proper packaging and labeling.
Use marketing strategies and channels like email, social media, paid search, etc., to reach and convert your target customers.
Create a functional and beautiful website with WooCommerce, listing your beauty products using the WooCommerce Product Table plugin. You can also add product options using WooCommerce Product Options, and sell free or paid make-up samples using WooCommerce Product Sample.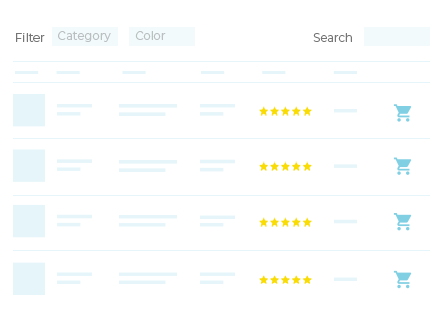 The easiest and most flexible way to list products and create quick order forms.
Ready to start selling beauty products online? Get start today!