We have just released version 2.5 of Posts Table Pro. It contains dozens of improvements, including some exciting new features which will help people to find what they're looking for more easily. Keep reading to learn all about them.
Standalone search box

Lots of you have asked for a way to add a Posts Table Pro search box to other parts of your site, instead of just above the table. For example, if you've used Posts Table Pro to build a member directory then you might want to add a 'Search Members' box to the homepage or to your website sidebar.
The new standalone search box comes with a widget and shortcode which you can use to insert a search box anywhere on your site.
Supercharge the search box with SearchWP
The Posts Table Pro search finds results that match the user's search term exactly. You can now use it with the SearchWP plugin to customize the search logic in more advanced ways.
For example, you can control what data is searchable, set priorities, and store analytics data about how people are searching the posts table. Learn more.
Add filter widgets with FacetWP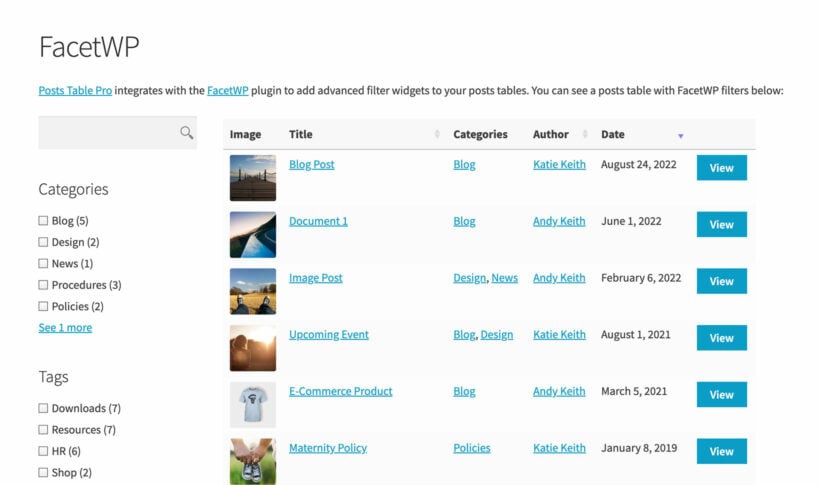 As you probably know, Posts Table Pro comes with filter dropdowns which appear above the table. If you prefer, you can now use it with the FacetWP plugin to add advanced filter widgets instead - either above or alongside the table. Learn more.
Where to get the new features
Existing Posts Table Pro users can view the full changelog and then update to version 2.5 in the WordPress Dashboard.
If you're not using Posts Table Pro yet, then get it today:
What's next for Posts Table Pro?
As if the new search box wasn't enough, we're still hard at work making Posts Table Pro even better!
Behind the scenes, we're hard at work building a table builder which will make it much easier for you to create tables. We'll let you know when it's released!