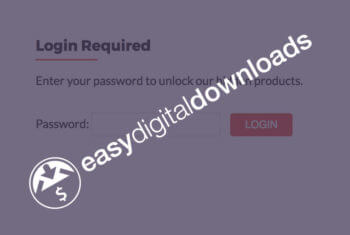 With over 60,000 active users, Easy Digital Downloads is the third most popular WordPress e-commerce plugin. It has all the features that most e-commerce websites need to sell digital downloads online. However, it not obvious how to password protect parts of your downloads store or make it private.
This is the ultimate guide on how to do just that. I'll show you how to protect parts of your Easy Digital Downloads store or even your whole shop. There are written instructions and video tutorials to help you set it up.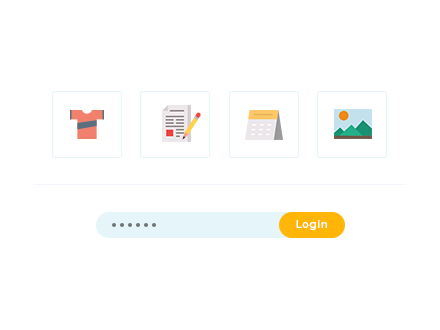 The easy way to hide or protect Easy Digital Downloads products & categories.
Why would I want to make Easy Digital Downloads private?
Most e-commerce stores selling digital products are available to the public so that anyone can buy the downloadable files. However, many stores need to be partly or completely private and hidden from public view. This might seem strange, as the whole purpose of an e-commerce website is to make as many sales as possible! But there are many reasons why an Easy Digital Downloads store might need password protected categories.
For example:
Public Easy Digital Downloads store with password-protected members area Lots of e-commerce websites have public and private areas. Perhaps you have a public store selling downloads that are available to anyone, and a private area for wholesale or trade users.
Client-specific products If you sell downloadable products which are unique to each customer then you could create a hidden password protected category for each client. This might be useful for a photographer selling digital prints of their images online after a photoshoot.
Members-only Easy Digital Downloads store You might want to create a completely hidden downloads store which is only available to your members.
Temporarily hide downloads from public view There are lots of occasions when you want to temporarily hide products from public view. For example, on the Barn2 EDD site, we use a password protected category to pre-launch certain products to specific people, before launching them to the wider public. We simply give the password to each pre-approved customer and then can buy the download before it's officially launched.
I have a website selling digital music downloads for primary education. I needed a private category for this which can only be accessed by users who have paid to download the educational material (song videos and worksheets). I am delighted to have been able to achieve this aim using this simple and effective plug-in. Simple as it may be, I am completely new to WP and support to help me achieve my goal was vital. I am delighted to say that help was at hand, quickly and was most professional. I highly recommend this plug-in to you.
Case study - How Lemony Fizz restrict downloads to their subscribers
Lemony Fizz is a craft company providing paper crafts, planners and printables. They use Easy Digital Downloads with the Free Downloads extension to provide free project downloads to their subscribers. The Password Protected Categories plugin restricts the downloads so that only registered subscribers can download them.
It works like this:
People visit the Lemony Fizz printables library which lists all the downloads.
If they are a subscriber then they can click on any download and enter a password to unlock it. Once they have done this, the entire library is unlocked for them.
Non-subscribers can sign up using the form at the top of the page, which integrates with their mailing list software. After confirming their subscription via email, they receive a welcome letter containing the password to the downloads library.
Note: Lemony Fizz has chosen to list their protected downloads in public parts of their site, but require a password to access the single download page. If you prefer, then you can hide the protected downloads from public view so they are invisible until you unlock the protected area. 
As you can see, there are lots of reasons to password protect Easy Digital Downloads. Next, I'll talk you through 3 ways to make downloadable products private. I'm assuming that you already have an Easy Digital Downloads site with downloadable products and categories set up.
3 ways to protect Easy Digital Downloads
Here's a summary of the 3 methods described in this article. You can jump straight to the type of password protection best suited to your website:
---
How to password protect categories in Easy Digital Downloads
Password protecting Easy Digital Downloads categories is a more user-friendly solution. Adding password protection to specific categories locks down the category page and all its downloads with a single password. (Or multiple passwords, if you'd rather have a unique password for each customer.) Once the customer has entered a correct password, they will have access to that category, its sub-categories and all the downloads within it.
You can achieve this with the Password Protected Categories WordPress plugin. This is a simple plugin that lets you password protect Easy Digital Downloads categories in just a few minutes.
1. Set up the Password Protected Categories plugin
Install and activate the Password Protected Categories plugin.
Go to Settings → Protected Categories in the WordPress admin and enter your license key. (Get this from the confirmation page or email after you buy the plugin.)
Select a page for customers to log into the protected categories.
Choose what text will appear on the 'Submit' button on the password login page.
Add a custom message which will appear above the password entry form on the login page.
Decide whether to tick the 'Show password protected categories and posts to visitors' box. If you leave the box unticked then your protected categories and their downloads will appear on the main Downloads page. They can also appear in your navigation menus, widgets and search results if you're using these. Ticking this box hides the protected categories from your public-facing website.
Choose how many days will pass before a customer has to re-enter the password. For example, if you choose '3' days then when a customer logs into a password protected category, they won't have to re-enter the password again for 3 days. The aim is to get the right balance between user experience and security.
Click 'Save Changes'.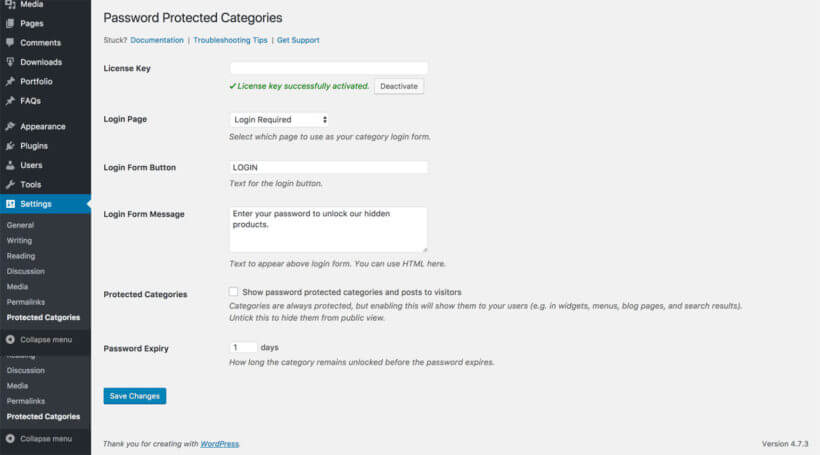 2. Create your password-protected EDD categories
Once you've installed and activated the plugin, go to Downloads > Categories in the WordPress admin.
Go to create a new category or edit an existing one.
You'll see a new 'Visibility' option that wasn't there before. Choose 'Password Protected' and enter a password for your category. If you want multiple passwords, click the + icon to add more.
Click 'Add New Download Category' or 'Update' (depending on whether you're adding or editing a category).
If you want to add sub-categories, add these now. Choose your password-protected category as the 'Parent' and leave these set to 'Public'. They will automatically be protected with the same password as the parent category.
Repeat steps 1-6 to create any other password-protected categories for your Easy Digital Downloads store.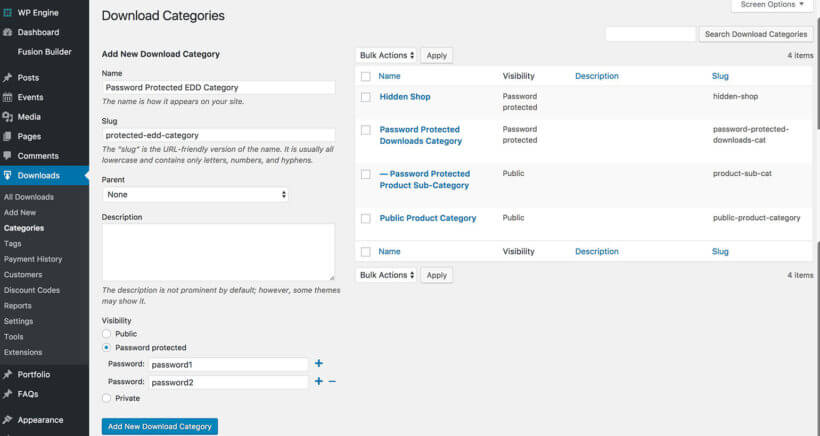 3. Add downloads to your protected categories
Next, go to the Downloads page in the WP admin, where you'll see a list of all your downloadable products. If you don't have any yet, add them now.
Tick the relevant boxes to put some of your downloads within your password-protected categories. You can either do this on the Add/Edit Download screen or use Quick Edit on the main Downloads page.
Click 'Update'.

4. Link to your password-protected categories (optional)
If you want, you can add links to your protected categories in the usual way. For example, you might want to link to your login page from the menu. This is completely optional and you can choose how to incorporate your protected categories into the overall structure of your website.
And that's it! You've password-protected your Easy Digital Downloads categories and protected the downloadable products within them! For more information, please see the plugin knowledge base.
Get Password Protected Categories
---
User and role protected categories in Easy Digital Downloads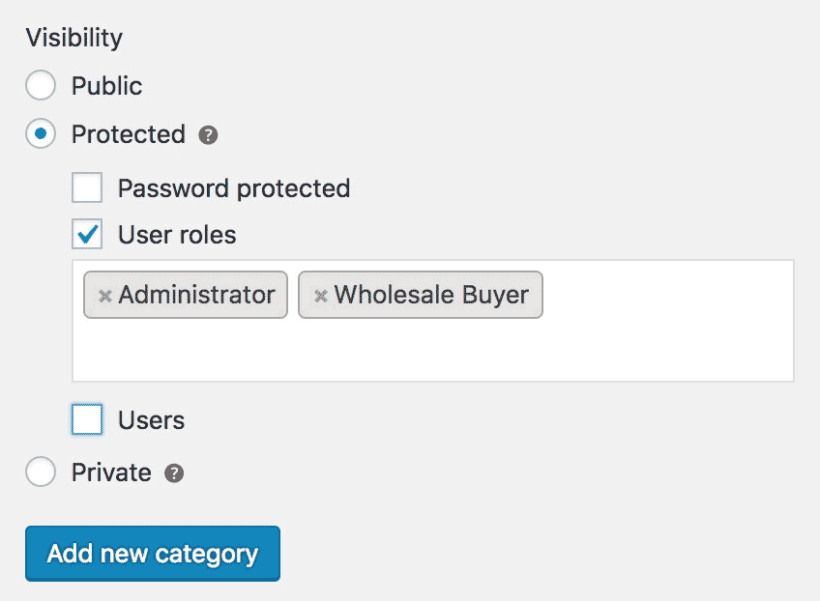 The Password Protected Categories WordPress plugin also includes options to restrict Easy Digital Downloads categories to specific users or user roles.
You probably noticed this when I showed you how to password protect categories in the previous section.
Private categories are different from password-protected categories because they only appear for logged in users with the right permissions. In contrast, password-protected categories are separate from WordPress users - anyone can enter the password, regardless of whether they have a user account on your website.
User and role protected Easy Digital Downloads categories are completely invisible and hidden from public view. They automatically appear to logged in customers depending on their role.
How to create user role and role restricted categories
Follow the steps in the previous section on creating password-protected categories in Easy Digital Downloads. The only difference is that instead of choosing 'Password Protected' when you add or edit a download category, select 'User' or 'Role'.
Easy!
---
Password protect an entire Easy Digital Downloads store
So far, we've covered the options to protect specific categories in Easy Digital Downloads. Finally, I'll tell you how to use these techniques to create a completely private or hidden Easy Digital Downloads store.
You can make your whole WP downloads store private using password-protected or role protected categories. The trick is to create one password-protected category and structure your entire e-commerce store within this category.
The simplest option is to put all your downloadable products within the hidden EDD category. Or if you like, you can use sub-categories to divide up your EDD store. If you choose your password-protected category as the 'parent', all the sub-categories and their downloads will automatically be protected with the same password. (Don't password protect your sub-categories - leave them set to 'Public' as this will happen automatically.)
Once you've done this, anyone who clicks on a link to your main store category or any of its downloads or sub-categories will be prompted for the password or login details. The rest of your WordPress website will remain public as usual.
Linking to your hidden Easy Digital Downloads shop
Once you've password protected Easy Digital Downloads, you need to decide how people will access it.
You can either keep it completely hidden and give the link to authorised customers, along with the password. Or if you prefer, you can add a link to your Easy Digital Downloads customer login page. You can call this 'Store Login' or similar and can add the link to your website header, footer, navigation menu or wherever you like.
---
How can I password protect other WordPress e-commerce plugins?
The techniques described in this article will work for Easy Digital Downloads or any other WordPress e-commerce plugin. The Password Protected Categories plugin is compatible with any plugin that uses categories.
There's also a dedicated WooCommerce version of the plugin - WooCommerce Protected Categories. This works in a very similar way to Password Protected Categories but is specifically designed for WooCommerce.
Want a better layout for your EDD product lists?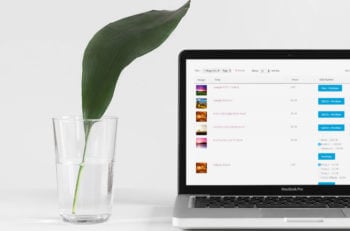 If you like Password Protected Categories then you'll love our plugin to list your Easy Digital Downloads inventory in a product table.
Posts Table Pro takes your downloads and creates an instant table or one-page order form, complete with AJAX search form and quick filtering.
Check out our full tutorial - 'Easy Digital Downloads Table Plugin – List Products in a Table Layout'
Meet European VAT laws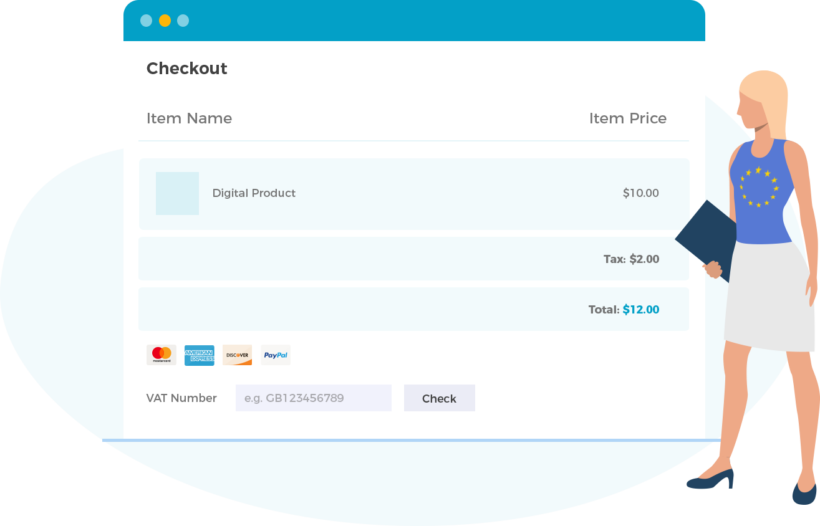 If you sell any sort of digital products to people in the EU, then you're legally required to charge them the tax rate for their local country. You have to do this even if your EDD store isn't based in the EU!
The Easy Digital Downloads EU VAT plugin makes this easy. It automatically charges the correct VAT to each customer and provides everything you need for your EU VAT returns.
How do you protect your Easy Digital Downloads store?
Now it's your turn. Do you have hidden areas within an Easy Digital Downloads store, and what do you use them for? Do you use Password Protected Categories or are there other solutions you'd recommend? Please leave your comments below.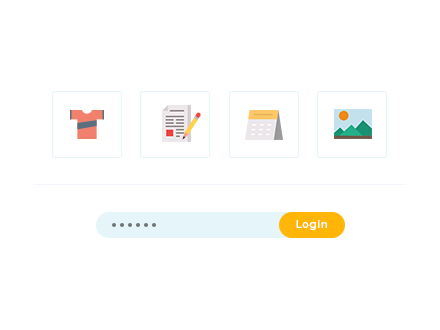 The easy way to hide or protect Easy Digital Downloads products & categories.