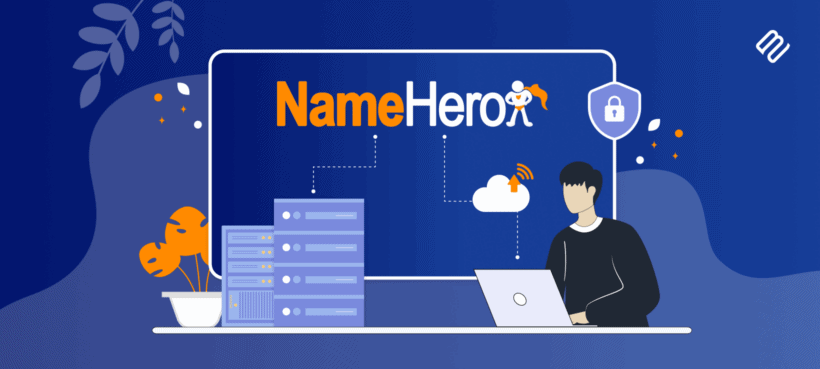 Are you currently weighing up which WooCommerce hosting provider to commit to? Here's an unbiased look at why we think you should consider NameHero…
Choosing the right WooCommerce host for your online store can be both time consuming and confusing. Even if you've been using WooCommerce for quite a while, changing hosts confidently still involves a lot of research.
And you'd be right to tread carefully. Hosting a WooCommerce store places more demand on the host resources than a standard WordPress website by comparison. To maintain peak WooCommerce store performance consistently for your customers you need to make sure that your hosting partner is up to it.
Selecting the best-suited host for your WooCommerce store has a real business impact. Getting this right first time around makes a big difference.
This week I've been testing out NameHero's WooCommerce hosting. In particular, I wanted to know whether it's a good option if you're either:
Getting started and need to launch a new store affordably, or;
Growing your existing small to medium-sized store, or;
A developer needing reasonably priced managed hosting.
Keep reading to see how I got on.
What is WooCommerce hosting?
Let's start with the basics.
Running a WooCommerce store, even a simple one, gets busy on so many levels. It can save a lot of stress and time to host your site on a platform which is managed by a team that really knows how to make it easy, and understands the needs of WooCommerce store owners.
That's where specialist WooCommerce hosting comes in.
Why is WooCommerce hosting important?
This can be summed up in three simple words:
Performance - Everyone knows that customers will abandon your eCommerce store if it doesn't load fast. It also needs to be able to meet spikes in demand, for example during busy sale periods like Black Friday.
Security - WooCommerce sites store customer data, so advanced security is essential.
Support - Your WooCommerce store is where you make money, so you need access to rapid support in case of any problems.
With quality WooCommerce hosting, your store is at its best continually in serving your customers. This leads to minimal downtime, daily data backups and streamlined set-up.
Plus, customers have peace of mind with how their financial credentials and personally identifiable information is processed online regards privacy.
And last, but not least, there is always someone on standby to respond quickly to your support request and fully able to solve or advise on problems.
So, let's get to the big question: Is NameHero the right choice for WooCommerce hosting?
About NameHero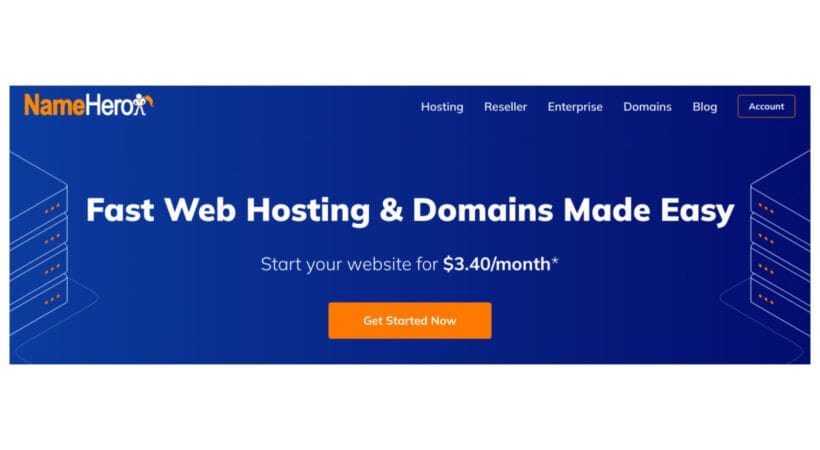 NameHero is a popular Woocommerce host (with 40,000+ customers). At first glance, everything looks great.
It scores consistently high review ratings - averaging over 4.5 stars - across top platforms like TrustPilot.
The website is modern and professional, which I always find reassuring. A good website is often a clue to the quality of the service.
The next point to note about NameHero is their pedigree. The leadership team all started out as internet entrepreneurs. It's fair to say, they've spent their time in the trenches. Because of this, they know the reality of the battles that store owners have when setting up shop (along with the risks of an under-performing host).
Naturally, NameHero's learning resource materials, are largely start-up related. They focus on helping customers to get their online income up to scratch quickly and profitably. This means there are plenty of resources to give you the information you need.
Overview of NameHero's WooCommerce hosting package
NameHero offer 4 WooCommerce hosting packages based on type of user:
Starter WooCommerce: Suitable for 1 beginner store and up to 10,000 monthly visitors.
Plus WooCommerce: Can host a maximum of 7 small to medium-sized stores and up to 25,000 monthly visitors.
Turbo WooCommerce: Unlimited stores, up to 50,000 monthly visitors with faster web servers + more secure.
Business WooCommerce: For enterprise-level eCommerce stores, up to 100,000 monthly visitors + spam filter.
Once you've chosen a WooCommerce Hosting plan, you'll receive your new site's hosting credentials by email within 10 minutes.
This is what the dashboard looks like when you log in for the first time: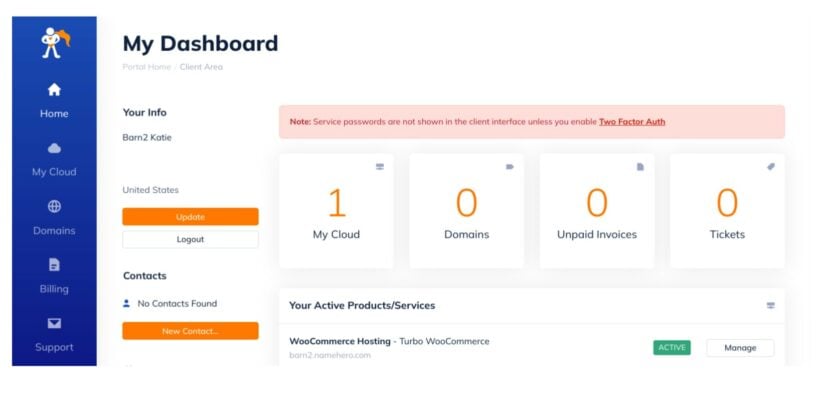 From here, you're only a couple of clicks away to accessing your new WooCommerce store. Of course you can also migrate existing sites to NameHero.
Features and benefits of NameHero's WooCommerce hosting
Which ever WooCommerce hosting pricing plan you choose from NameHero, they all come with these important features:
Unlimited NVMe Storage
FREE Email
FREE WooCommerce Install
FREE & Auto SSL
FREE LiteSpeed Caching
FREE Store Migrator
FREE Daily Backups
Auto Updates
30-Day Money-Back
This combination of features means that NameHero provides up-to-date, best-in-class, fast and secure WooCommerce hosting and technical support.
All of this comes complete with easy onboarding for either new or existing WooCommerce store owners, allowing for peace of mind on data backup, plus guaranteeing your money back within 30-days of purchase (for any reason) if you're not happy.
Altogether, we'd say that this scope of services is well-rounded and ticks all the boxes of a quality WooCommerce host.
However, where you really see your WooCommerce hosting investment pay you back, is in their response when things go wrong. If you don't believe me then you can read their thousands of TrustPilot reviews, almost all of which give glowing reports of their support.
Performance and reliability
To test this out, I decided to test the baseline web performance of a NameHero hosted WooCommerce store straight out of the box.
I performed the test on a dummy WooCommerce site (using the default WordPress Twenty-Twenty Three theme).
I loaded the store with 25 sample products complete with image files and product descriptions to simulate a beginner store: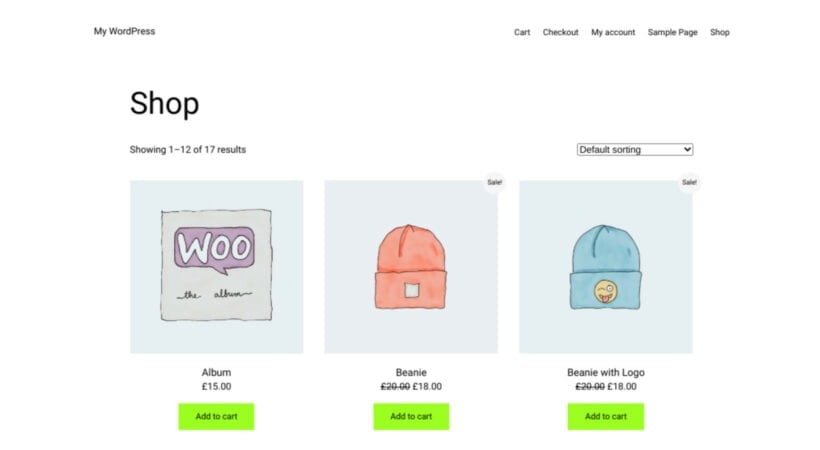 Here are the results:
Pingdom
The last thing any online store owner wants to do is keep their buyers waiting. So, having your WooCommerce store hosting tuned for optimal speed is essential to online sales.
Plus, site speed is known to have significant bearing on SEO too.
I performed a website speed test (during my dummy site experiment) using Pingdom.
The results: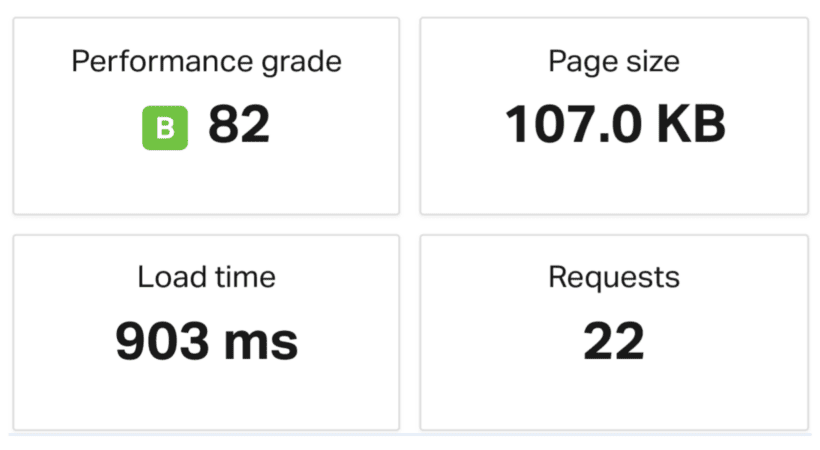 An overall performance score of 82/100 or grade B. Also a loading time of a shade just under 1 second.
Pretty good. However, there's still room for improvement.
It's worth mentioning here for transparency that my dummy site was run on the NameHero Turbo package (for unlimited sites and up to 50,000 visits per month). My install was 'vanilla', without performance enhancing tweaks such as image compression or HTTP requests reduction.
Most competitive stores online will have such optimizations implemented in order to shave off even more load time. In this case, it would be quite possible to bring the load time down considerably to perhaps a slimmer fraction of a second.
Bitcatcha
For a different viewpoint on NameHero's WooCommerce hosting performance, I also used Bitcatcha. This is a trusted, free online server speed checker and alternative to Pingdom: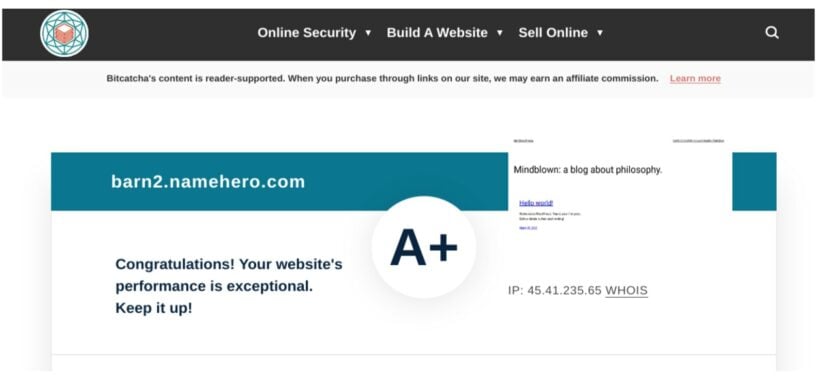 Using Bitcatcha, NameHero's WooCommerce hosting scored an overall performance rating of A+. And this time time around its server speed was clocked at just a fraction of a second.
Plus, its data delivery metrics proved very efficient and without bottlenecks.
Next, I wanted to take a look at what NameHero server speeds look like in different countries. Here's what Bitchatcha told me: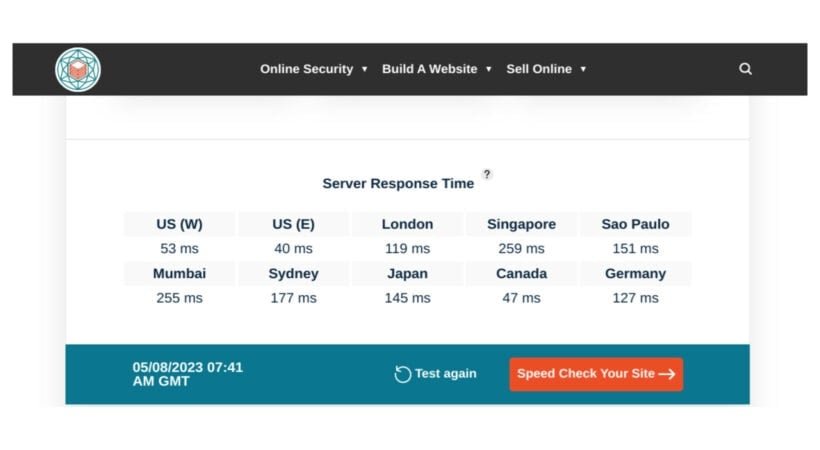 As it was hosted in the US, one could expect the fastest server response times to be recorded in the Americas. European destinations figured midway in the results and eastern destinations although trailing after Europe, and store loading time was clocked at within about 1/3 of a second.
So, by comparison, NameHero did considerably better according to Bitchtcha's measurements for speed. But regardless, by both Pingdom and Bitcatcha - the NameHero servers demonstrated 'excellent' to 'exceptional' performance.
UpTrends
Last of all, I wanted to prove NameHero's uptime reliability. In other words, how reliable their servers are in keeping hosted sites and WooCommerce stores online (without dropping connection) across worldwide geographic locations.
Here's a snapshot of the results from UpTrends (the website monitoring app):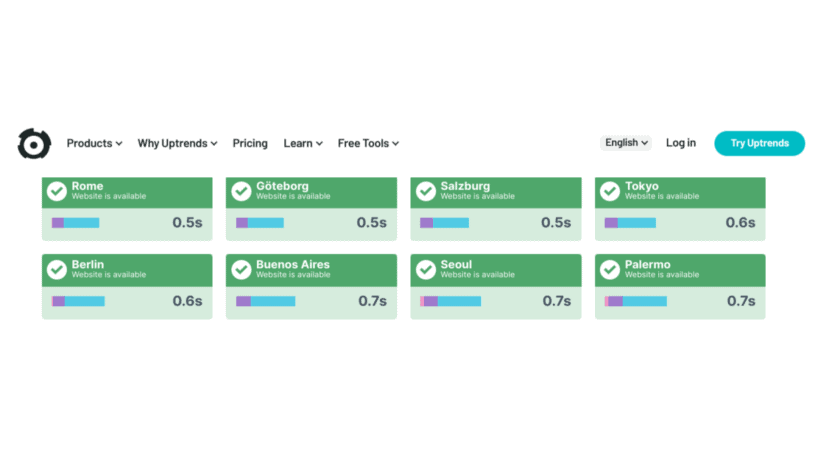 The results above show a snapshot during one of the 4 tests we performed on the NameHero hosted WooCommerce store - examining uptime by running the UpTrends app.
Overall, NameHero showed consistent uptime in 41/42 world locations simultaneously - successfully loading the store in under a second in locations including New York, London, Rome, Tokyo, New Delhi & Beijing.
UpTrends therefore proves that NameHero delivers consistent WooCommerce hosting reliability throughout a variety of worldwide territories.
NameHero Support and Customer experience
NameHero's support coverage is 24/7/365 and they offer both ticket and live chat support.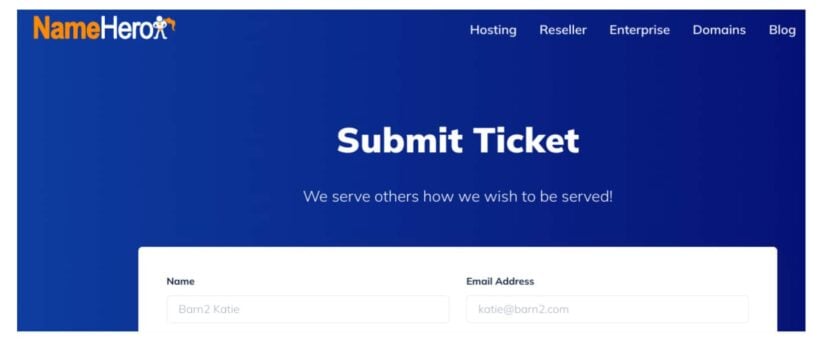 Prestigious awards like 'HostAdvice.com's Great Uptime Award' bear testimony to NameHero's customer successes.
This is vitally important because when things go wrong with your WooCommerce site, you need instant expert support from your hosting company. When this occurs, you might experience anything from a slight downturn in performance, to show-stopping road-blocks.
At such times, every penny spent in hosting fees suddenly seems totally insignificant when their technical team lays hands on the controls and get your site bouncing back online.
So, finding a WooCommerce host with genuine expert credentials in their first line support team and unbroken service coverage is vital to your store's success. I can confidently say that NameHero has this covered.
Pricing and value for money of NameHero's WooCommerce hosting
NameHero has some very affordable package prices, which currently are:
$8.95 per month for 1 store
$12.95 per month for 7 stores
$19.95 per month for unlimited sites (+ upto 50,000)
$29.95 per month for unlimited sites (+ upto 100,000)
All in, a very affordable range of packages and pricing for any WooCommerce store owner.
Let's think about whether this represents value for money and will give you a good return on investment. Analysing cost/benefit, we see with an average eCommerce sales conversion rate of 2.13% (according to SmartInsights) that if your store attracted 50,000 visitors in a month (the traffic limit for the $19.95 package) then you should see roughly 1,000 sales. If the average order value was $122.79, then gross sales revenue earned would be $12,000, making hosting fees just 0.17% of store revenue.
In this example, the investment in NameHero's WooCommerce web hosting would be negligible to the average small to medium sized WooCommerce store owner (in comparison to sales).
Who should consider using NameHero's WooCommerce hosting?
In my opinion, NameHero is a great all-rounder for WooCommerce hosting. They offer good value for either beginner store owners, or established store owners looking for to migrate to a host with easy set-up and hands-on, experienced support.
That said, stores with exceptionally high traffic would take NameHero's WooCommerce hosting beyond its optimal performance limits. For stores with more than 100,000 visits per month, I would recommend other more suitably equipped, specialist WooCommerce hosting providers.
Pros and cons of NameHero's WooCommerce hosting
PROS
Low pricing
Unlimited stores with certain packages
Auto store set-up on registration
Solid all-round web performance
24/7/365 support (15 min response time)
Great start-up advice and grow resources
CONS
Would benefit from some extra speed optimization add-ons and tweaks
Inflexible for WooCommerce stores with more than 100,000 visits per month
So, is NameHero's WooCommerce hosting worth it?
That concludes our review of NameHero's WooCommerce hosting. If you're still in doubt if their service is suitable for your project, here's how I'd wrap it up:
NameHero is an ideal WooCommerce hosting solution for beginner store owners. Automatic store set-up, 24/7/365 support gives a helping hand when it matters the most to early stage store owners.
The efforts of NameHero to get you profitably on your way are great encouragement to those of use starting out, allowing you to learn the ropes and make your novice steps, with mistakes, relatively cheaply.
It's therefore a great platform for launching your online business in its more speculative commercial phases, especially when you're still funding it out of your own pocket.
The lower barrier for fees and multiple store capabilities are offered to encourage experimentation and learning, yet with decent entry level commercial performance.
For these reasons, I'd strongly recommend NameHero as an ideal WooCommerce hosting company for your new online store project - especially if this is your first attempt using WooCommerce.
With NameHero, you'll get set up within minutes and they've got just the right team to help you make a success of your store, at a cost that most can afford.
Ready to get started with NameHero WooCommerce hosting? Click this link to choose your NameHero hosting plan today.