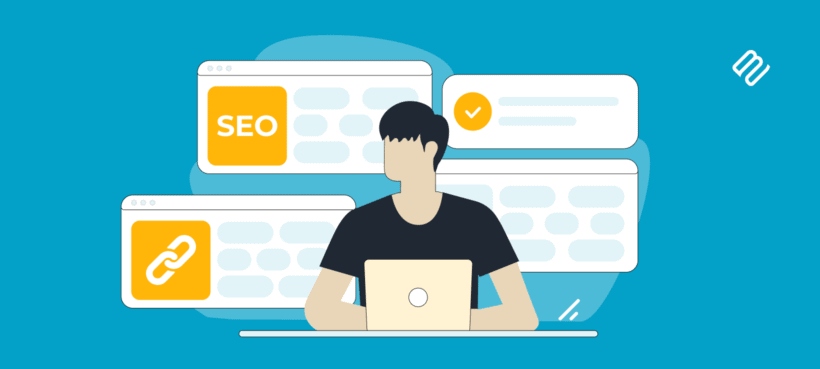 In this article, let's look at Link Whisper - a WordPress plugin that will help you automate your internal link-building and boost your SEO in a few easy steps. Is it up to the hype?
Do you struggle to add internal links when writing a blog post? Is it challenging to determine the most relevant links to include for the maximum SEO benefits? Then what if we introduce you to a tool that claims to automate and resolve all your internal linking issues in real-time?
Say hello to Link Whisper, an internal linking tool (powered by AI) for your WordPress website. It suggests relevant internal links within your WordPress Editor as you create a blog post or page. It doesn't matter if the size of your website is small, large, or even huge as Link Whisper will suggest all the relevant internal links for your article.
So keep reading to find out if Link Whisper has the potential to become your go-to internal linking plugin.
But first things first...
Why do internal links matter?
As you probably know, if you want to create a user-friendly and search-friendly website then you must take care of a lot of things. Internal linking is one of the many aspects of SEO that can boost your website's rankings on search engines. And it not only boosts your website's SEO but also improves the user experience. Because it helps users find relevant content on your website faster and in an efficient way.
Again, it also makes indexing and crawling much more efficient as more and more pages are interlinked. Plus, it makes deeper pages visible to users which were not otherwise reachable.
Now let's look at how you can use Link Whisper to easily create well-optimized and deeply linked web pages on your website to significantly improve your search engine rankings.
What is Link Whisper and how it works?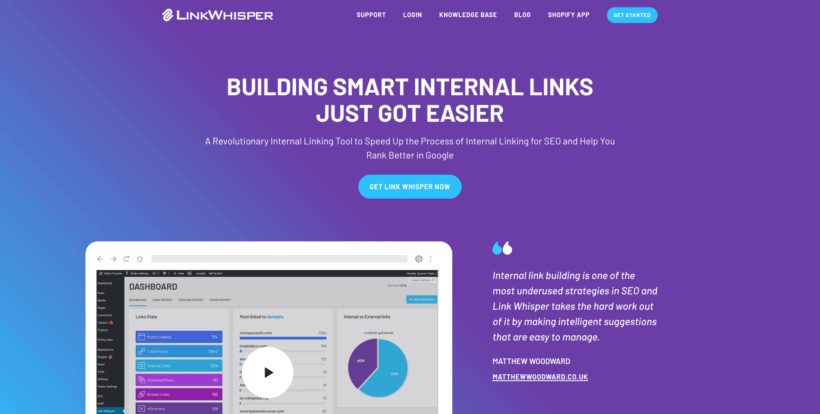 Link Whisper is a WordPress plugin that instantly gives you contextual internal link suggestions when you write a blog post. It helps your users find deep and relevant pages on your website and enables search engines to crawl and index your website much more effectively. Needless to say, an improved link structure on your website also means higher rankings on search engines as well.
Are you wondering how Link Whisper works? Well, Link Whisper is powered by artificial intelligence, and it instantly starts suggesting relevant internal links on your website when you write your article — right within the WordPress Editor.
Link Whisper will suggest internal links on your website based on the relevance of the existing content. And the number of suggested links depends upon how many articles you have on your website. All you need to do is, copy the link suggestion and paste it at the location where it's suggested.
And that's it. Your internal linking is complete. Effortlessly and flawlessly!
Link Whisper features
Before we go further, let us discuss some of Link Whisper's key features that you should know about.
Automatic internal link suggestions
Link Whisper, at its core, is a smart internal linking tool that automatically suggests internal links on your website as you write an article. The number of link suggestions depends upon the size of your website and the relevance of your existing article — all within the WordPress Editor.
And that's not all. As you write more, Link Whisper finds new internal link opportunities in real-time. All you need to do is check the box and hit save. Internal linking is done — smart and quick.
No more orphan content
If you have a large website with a ton of pages, you will probably have hundreds of thousands of pages that are not interlinked with each other. Such pages are called "orphan" content. With Link Whisper, you can easily see which pages have fewer or no internal links pointing to them.
Auto-linking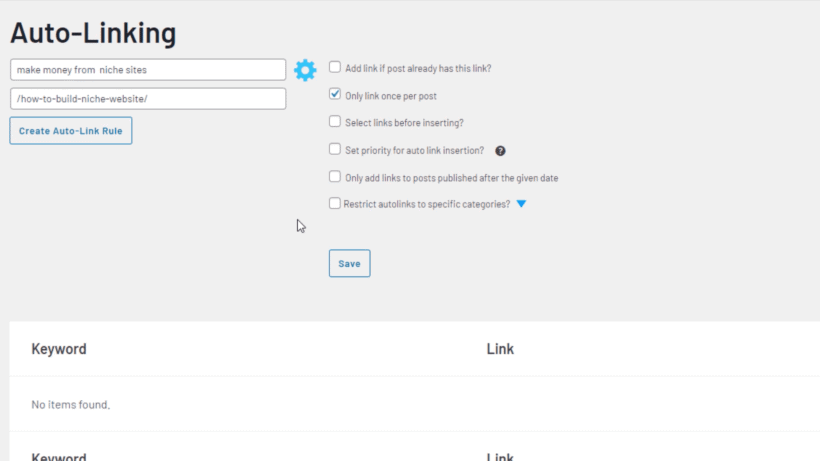 Want to build internal links even faster? Link Whisper's "Auto-Linking" feature lets you enter keywords and their target URLs so that it will automatically build links from all past and future mentions of those keywords (something that most news portals do).
Target keywords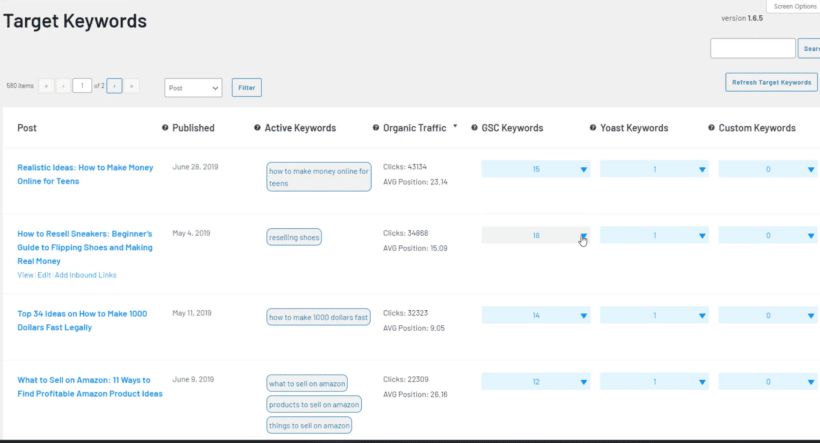 You can enter the keywords you are trying to rank on search engines in Link Whisper, and it will automatically suggest the most relevant links. And if you are already using popular WordPress SEO plugins like Yoast SEO and Rank Math, you know it lets you set target SEO keywords for individual posts and pages. Now, when you use Link Whisper, it will automatically fetch those keywords so that you don't have to do the extra work.
Google Search Console integration
Link Whisper has an optional setting that lets you connect the plugin to your Google Search Console. It enables you to quickly check organic traffic, average rank position, and keywords that are bringing in traffic. And you can use that data to adjust the targeted keywords and internal linking for SEO.
Connect your other websites
If you own multiple websites that use Link Whisper, you can connect them and get link suggestions from all your websites. And it's an incredible way to get the most out of your traffic.
Comprehensive reporting and analysis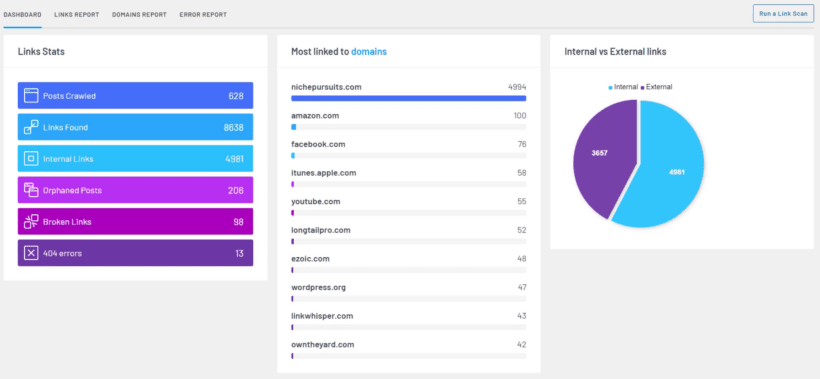 Link Whisper gives you a detailed report of your website's link profile. The Dashboard provides an overview of the number of posts crawled, the total number of links found, the total number of internal links found, orphaned posts (posts without any inbound internal links), broken links (posts that have links to error pages), 404 errors (posts that have links to pages that doesn't exist).
Easy integration with WordPress
Just install and activate the Link Whisper WordPress plugin and link suggestions will then happen automatically. It's also worth mentioning that Link Whisper is compatible with almost all popular WordPress editors and themes. It includes but is not limited to Classic Editor, Gutenberg, Elementor, Beaver Builder, Thrive, Architect, and WooCommerce.
How to use Link Whisper
Now let us see how to set up Link Whisper on your website.
Step 1: Purchase & download Link Whisper
You can download Link Whisper immediately after purchasing the plugin, either from the Order Confirmation page or from the Activation Email sent to you when you buy the plugin. Of course, you can download the plugin anytime by logging into your Link Whisper account as well.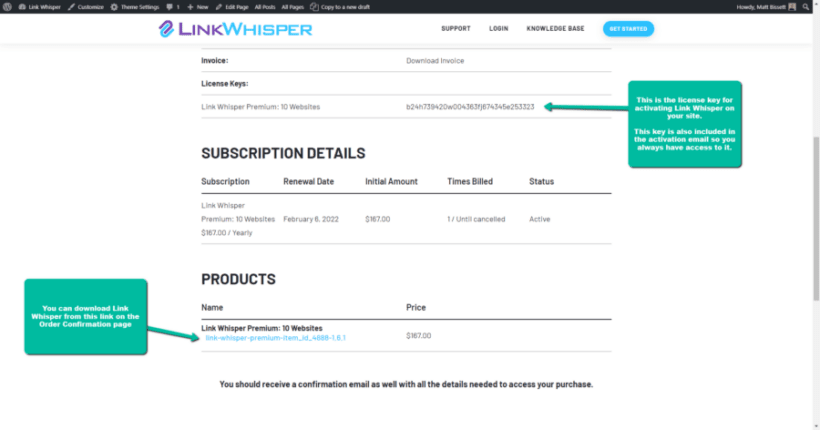 Just ensure that you copy the License Key (from the Order Confirmation page or Activation Email) when you download the plugin, as you need it to activate the plugin on your website.
Step 2: Install & activate Link Whisper
Once you have downloaded Link Whisper on your computer, you should upload it to your WordPress website and activate it.
Go to your WordPress Dashboard → Plugins → Add New and click the "Upload Plugin" button. You will see the plugin uploading form.
Just drag and drop the Link Whisper zip file you have downloaded from the official website. Alternatively, you can click the "Choose File" button to use the file browsing window and manually select the zip file on your computer.
Once done, click the "Install Now" button, and when the installation is complete, click the "Activate Plugin" button.
After activating the plugin, go to the Link Whisper menu on the left sidebar, and it will take you to the Link Whisper licensing page. You can enter the "License Key" you received when you purchased the plugin and activate your license.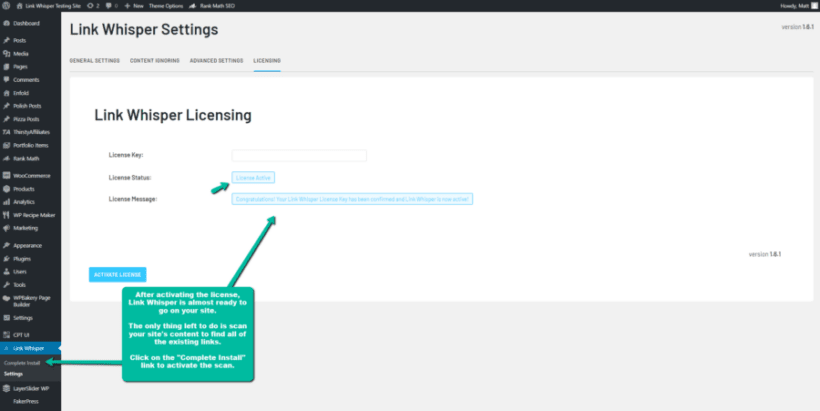 Now that you have activated the Link Whisper license, click the "Complete Install" button to run the "Link Scan".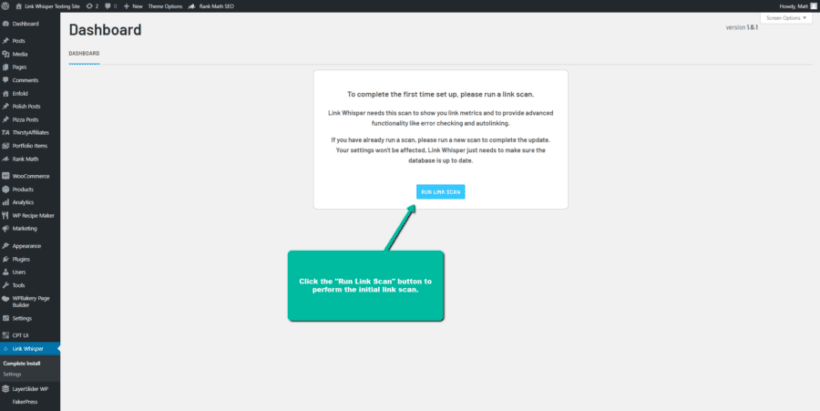 Link Scan essentially scans your website's content for links and it's pretty quick (unless your website is huge).
When the Link Scan is completed, you will have access to the full dashboard and all the Link Whisper features.
Step 3: Add internal links
When you want to add internal links to a blog post, just scroll down for Link Whisper suggestions. You will see the suggested anchor texts on the left and its suggested internal link on the right side.
Click the checkbox on the left and click the "Insert Links into Post" button to add the suggested link to your blog post. You can always change the suggested link before updating by using the "Edit Sentence" button.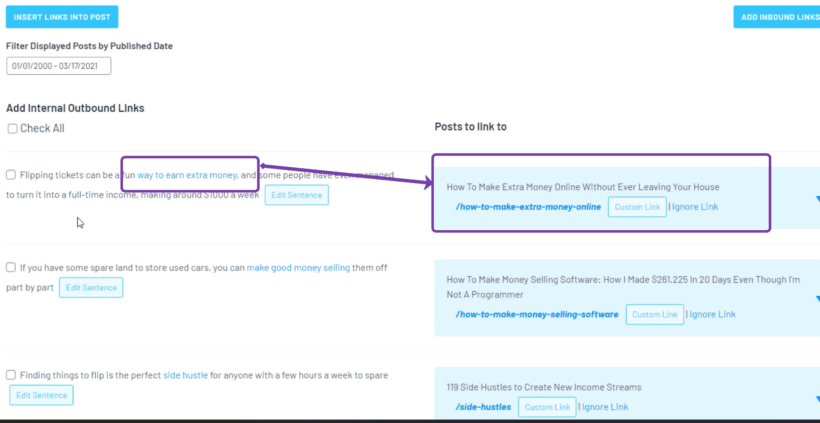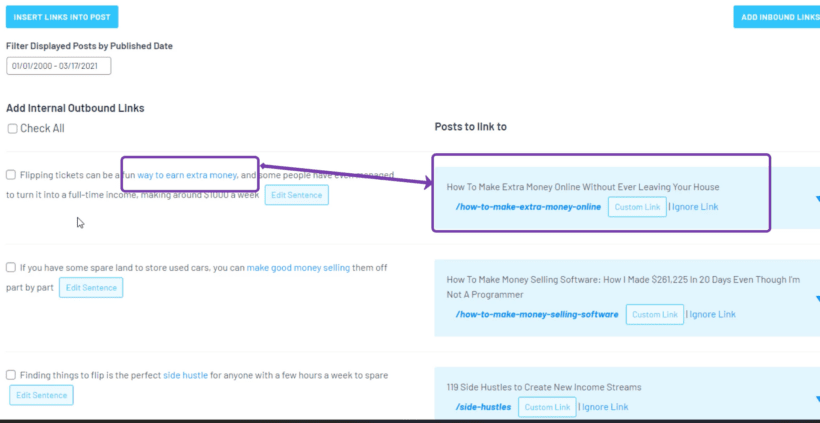 It's less likely that you will want to accept all the suggested links by Link Whisper. Just in case you want to, then check all the boxes and click the "Insert Links into Post" button.
Step 4: Audit internal links report
Link Whisper gives you in-depth link reporting and analysis so that you can get all the link data you need to improve the link structure and further optimize your website.
The link stats dashboard provides details of your website's internal and external links, broken links, orphaned posts (articles with few or no internal links), 404 links, and more to strengthen your website's link structure.
It not only gives you an overview of your entire website but also shows you how many outbound internal links and external links are there for each article.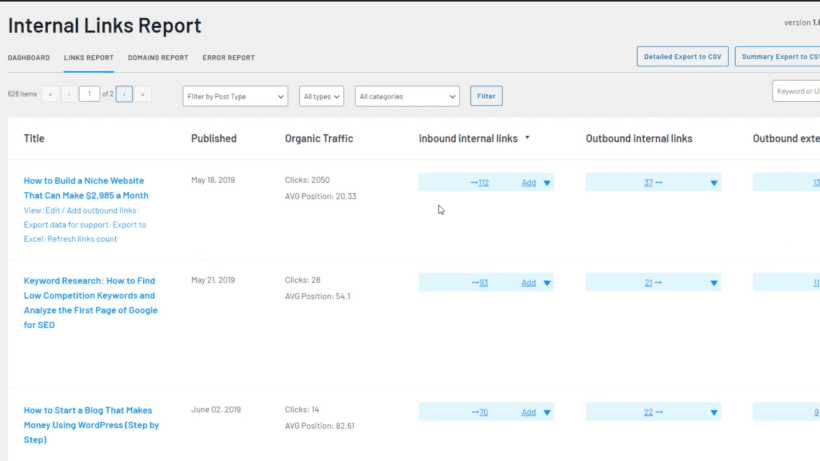 So, you can easily see the number of inbound and outbound internal links of each blog post without opening the blog posts individually.
Want to find and fix broken links? No problem! Just go to "Error Report" and it will show all the broken links on your blog posts. You can easily fix it without evening opening the blog post - which is a big time-saver!
Internal linking best SEO practices
Here are some of the best SEO practices you can follow when you use Link Whisper:
Use keyword-rich anchor texts for all your internal links.
Link to all the important pages on your website, which can increase the rankings on those pages on search engines.
Avoid using the same anchor texts for two different pages, as it confuses search engines.
Try to place some internal links on top of your page so that it reduces the bounce rate.
Make sure that your internal links are all do-follow.
Add internal links to some of your old but relevant pages as well.
Don't add too many links on the page, as the number of links on any given page should ideally be 100 or less (including internal + external links).
Link Whisper pricing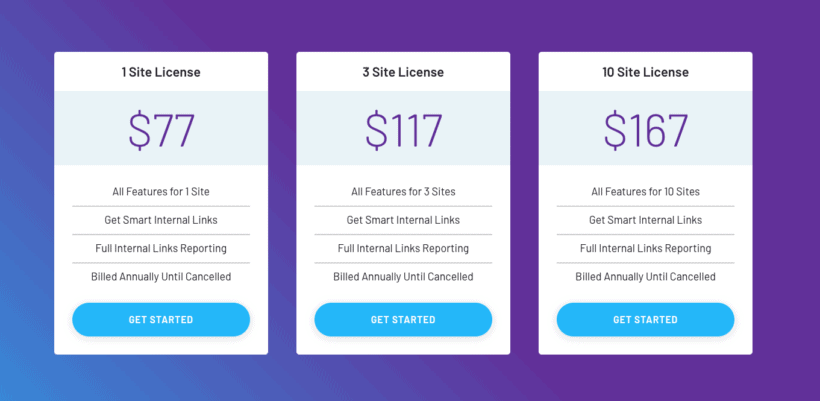 The Link Whisper pricing plan is pretty straightforward. They offer four pricing plans, and all the plans offer the same features. So, what's the difference? Well, the number of licenses.
Link Whisper costs $77/year for 1 License, $117/year for three Licenses, $167/year for ten Licenses, and $347/year for fifty Licenses. It means that you will have to buy five licenses if you want to install Link Whisper on five different websites.
Since they don't have a five License plan, you need to purchase ten Site Licenses for $167/year as buying five licenses will individually cost you over $300/year.
Link Whisper: pros & cons
As with all plugins, Link Whisper too has certain advantages and disadvantages. Knowing these will help you to make an informed decision about using Link Whisper on your WordPress website and putting in the effort to understand how it works.
Link Whisper advantages
It's quite easy to set up the plugin.
It will save a lot of time as you neither have to manually search your website for relevant links nor remember any old blog posts to link to.
It boosts your website's SEO as well as user experience.
It reduces the bounce rate of your website as users explore more pages from your website.
It doesn't impact the page speed of your website, as the internal links are generated using simple HTML codes and not JavaScript.
It won't suggest links for headings (h1-h6).
If the current page is already linking to another page, it won't suggest it again.
It lets you easily find "orphan" content on your website that has very few or no internal links pointing to them.
You can also find and fix broken links on your website with Link Whisper.
Even if you uninstall or deactivate the plugin, the internal links generated by the plugin will stay intact.
It not only works on English language websites but also supports Spanish, French, Portuguese, German, Dutch, Polish, Russian, and more. Go here for the complete list.
The link reports are generated on a per-post and global basis.
There is a free version available on the official WordPress plugin directory.
There is a global checkbox option to open all links in a new tab or to open only external links in a new tab (a huge time saver indeed).
It's compatible with official WordPress Editors (Classic & Gutenberg) as well as all the popular WordPress Page Builders like Elementor, Divi, Beaver Builder, WPBakery Builder, Thrive Builder, Themify Builder, and more. Go here for the full list.
If you think that Link Whisper is not for you, then there's a 30-day money-back guarantee.
Link Whisper disadvantages
It's expensive at $77/year for one license. Especially, when you have multiple websites, and you want to take advantage of this plugin on all your websites. It would have been better if it were a one-time purchase or if they supported unlimited websites with one license.
It suggests A LOT of irrelevant links as well — especially when your website has thousands of articles.
It works primarily on WordPress-powered websites. But yes, they have recently launched a Shopify version as well.
If you want to delete the links generated by this plugin, then you will have to do it manually as there's no undo/roll-back button.
Link Whisper: free vs. premium
While the free version displays the inbound and outbound links for each post, the premium version also lets you delete any links that you don't want with a single click.
The premium version has a dashboard that shows detailed link stats, but the free version shows limited stats only.
The free version lets you manually add outbound internal links, but the premium version lets you add inbound as well as outbound internal links automatically (with one click).
The free version uses the Link Whisper algorithm to suggest links, but the premium version can suggest links based on the data from Google Search Console, Yoast/Rank Math, and Custom Keywords.
There is no automatic linking and URL editing option in the free version.
The free version doesn't check for broken links.
Is Link Whisper worth it?
It is no secret that internal links are important if you want to leverage your website's content and make your content search-friendly. It is also true that interlinking your content gives you a better-optimized website than your competitors. So, using a plugin like Link Whisper can save you a lot of time that would otherwise go into scanning your content and finding relevant pages to link.
In fact, Link Whisper is an absolute time-saver WordPress plugin that suggests contextual internal links in real time. It enhances the user experience and boosts your website's ranking on search engines by improving the link structure. Not just that. Link Whisper is also an excellent tool for improving the link structure of your website. Having said that, the plugin isn't cheap. At $77 per year for one website, many users may not find it affordable.
However, if you have the budget, you can easily try its free version on the official WordPress plugin directory which you can try before you buy. Moreover, since there is a 30-day money-back guarantee, you can always ask for a refund if the premium version is not working for you.
Overall, Link Whisper is worth a shot if you want to bring your A-game where internal linking is concerned. The ease of using the plugin and its workability, irrespective of the size of the website is a huge plus.
So don't wait. Try out Link Whisper today, and do share your experience with us in the comments section below.
Happy interlinking!