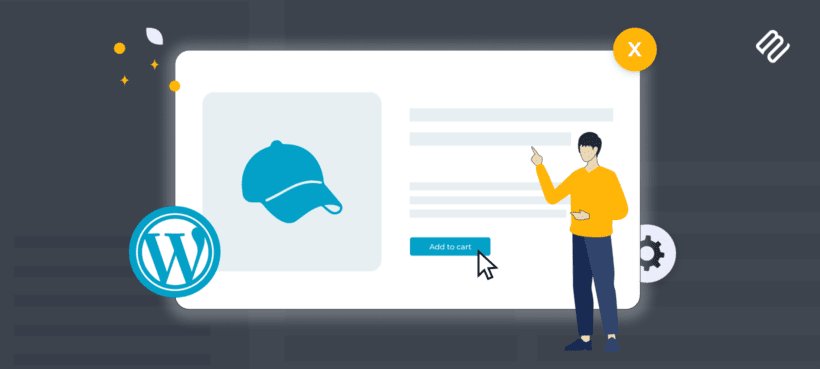 Lightboxes are an engaging feature that can significantly boost your website's interactivity. Here's our expert pick for the most effective premium and free lightbox plugins.
A lightbox is a powerful tool that overlays images, text, videos, or forms over the current page to capture user attention and provide an immersive viewing experience. The best lightbox plugins can take your WordPress site to the next level, providing extra information without taking users away from the current page.
This article will dive into some of the best lightbox plugins for WordPress in 2023. We'll provide you with a curated list of options to help make your website more engaging and interactive. There are several categories of lightbox plugins, so we'll share the best of each type. That way, you can easily choose the best WordPress lightbox plugin to meet your specific requirements.
If you're in a rush, here's a quick summary of the best lightbox plugin in each category:
Let's illuminate your way to a better user experience! 🔦
What is a lightbox?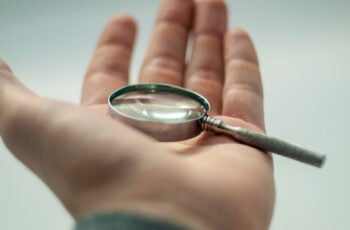 A lightbox is a website page element that enlarges, highlights, and centers valuable content over the main page body.
Now, inside the lightbox might be a text, a product, an image, video, or text that appears as an 'overlay'. Whether used for converting site visitors into valuable subscribers, or bringing visual media to life with irresistible 'close-ups', lightboxes are known for getting results.
('Lightbox overlay' means the content within the lightbox is sitting in-front of the main web page content, which is dimmed down in the background. Often the opacity can be either turned up or turned down for maximum effect.)
The benefits
As the 'magnifying glass' of the web designer's toolset, the lightbox can bring a significant increase in visitor engagement. (All thanks to the hugely effective medium of visual impact.)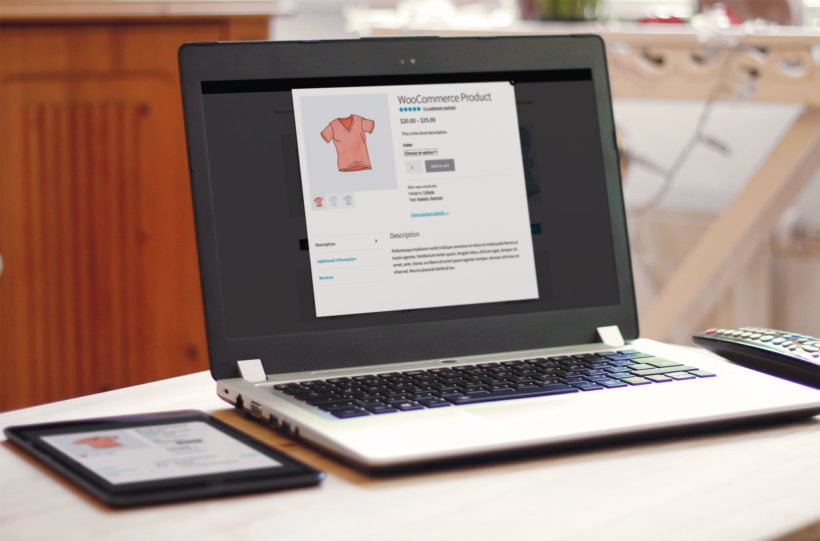 The WooCommerce Quick View Pro plugin creates quick-buy product lightboxes
This presentation technique allows you to direct the attention of a web user, getting them to consider the most important aspects of your content - without distraction.
Moreover, the lightbox 'overlay' remains in place until the user completes a specific action. For example: they might fill out a web form, click a 'buy now' button, shuffle through image slides, or even just to click the 'X' button to close the lightbox.
Just imagine an 🎨 artist or 📸 photographer using a lightbox plugin in a portfolio site. Or an eCommerce store using product lightboxes to provide a quicker way to choose options and add products to their cart.
Types of WordPress lightboxes
You may already have come across various practical ways that WordPress lightbox plugins are used. For instance, this might include:
Image galleries
Video galleries
eCommerce product lightboxes
Login/register prompts
Web forms
Newsletter signup
Promotional offers
Slideshow presentations
eCommerce upselling
But the possibilities don't end here.
A lightbox has universal relevance because in its basic form it's simply a mode of content delivery. (Only limited by your imagination.)
What ideas do you have for using a lightbox within your WordPress web project? 🤔
What is the best WordPress lightbox plugin?
With 616 results for 'lightbox' in the WordPress plugin repository, choosing the best lightbox plugin can be a major time drain. So, to help you land the right solution quickly, we've put together this recommended list of the best lightbox plugins for WordPress.
#1 lightbox plugin for product display: WooCommerce Quick View Pro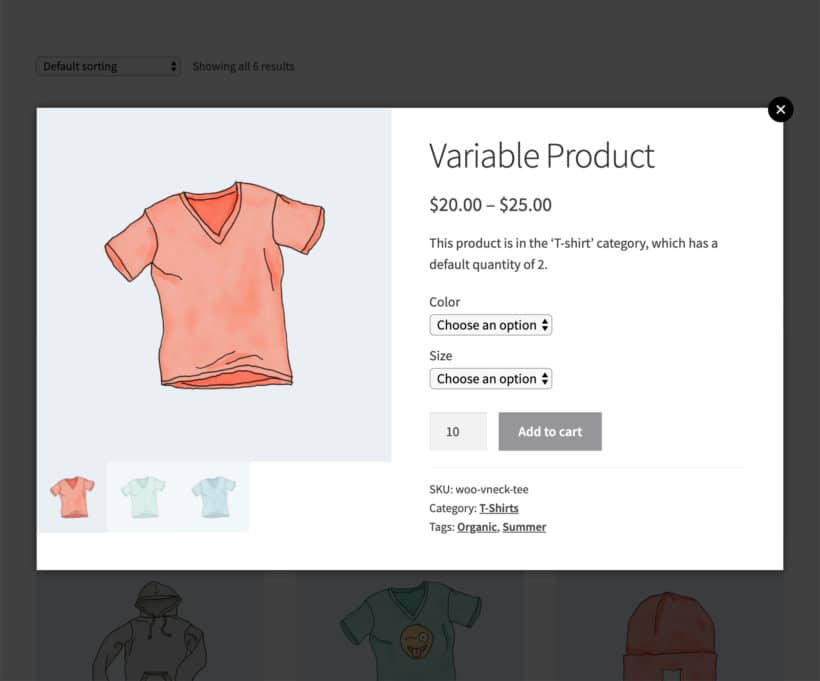 WooCommerce Quick View Pro helps your store customers order faster. It does this by offering a one-click, instant close-up of each product alongside its buying options - without customers having to leave the main shop page.
In other words, with this plugin, customers no longer need to be redirected to a separate product page to get a more detailed view of products and add to their cart 🛒.
For example:
👎 Imagine how inconvenient it would be if products sold at your local grocery store were kept in separate rooms...
Firstly, you'd collect your eggs from one room, then visit another room for bacon...
...taking forever to finish a shopping errand, not to mention very frustrating.
👍 Now, compare that with how physical stores actually do it:
Products are arranged 'open-plan' in aisles within one shop floor.
Aisles are neatly organised according to category of product i.e. …the bakery aisle for baked goods, the breakfast aisle for cereals etc.
You continuously browse whilst filling up your basket (or cart) and head over to the cashier whenever you're ready to pay.
That's much quicker, easier to navigate and a better shopping experience - don't you think?
This is exactly what WooCommerce Quick View Pro will do for your online store.
The WooCommerce Quick View Pro plugin makes the process of 'browsing whilst buying online' truly seamless for any customer visiting your WooCommerce store, or affiliate marketing blog.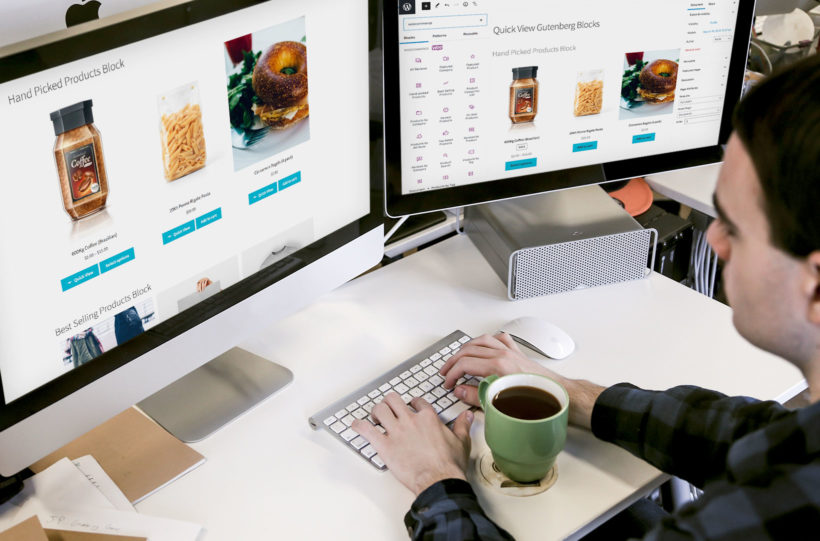 And with browsing and buying no longer disjointed, WooCommerce Quick View Pro literally causes creases and knots in your online retail process to vanish.
Smooth sailing all the way.
How a product lightbox plugin works
Here's how it gets results:
By adding product 'preview' lightboxes within your product listings pages, WooCommerce Quick View Pro gives your customers:
High definition product close-ups.
Full choice of product options and variations.
Plus, it allows products to be placed directly into the cart.
Related tutorial: WooCommerce quick view plugins: How to add product quick view at your store.
The bottom-line result?
The plugin speeds up the online buying process…
...makes buying intuitive, convenient and time-saving…
And neither rushes nor spoils the customer experience.
Want proof?
Here are some reviews from other store owners using the WooCommerce Quick View Pro plugin ⭐⭐⭐⭐⭐:
"There are lots of other "quick view" plugins on the market but they just do not solve the problem that should be solved with "quick view" very well → that is to hasten the buying process!"
"Since installing QuickView Pro we have seen [a] significant increase in sales due to the ease of the shop. This plugin enables customers to get to the checkout faster than with [the] standard WooCommerce shop. "
Want to know a little more about this WordPress lightbox plugin?
Here's just a handful of the features that make WooCommerce Quick View Pro an outstanding lightbox plugin choice for increasing your WooCommerce sales:
Fully customizable product lightbox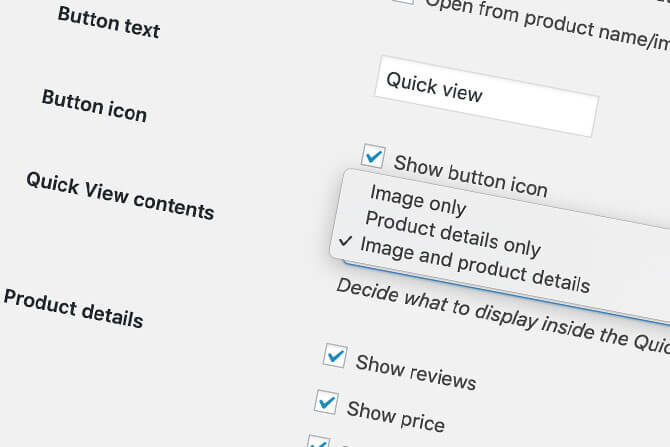 When you install the Quick View Pro lightbox plugin on your WordPress site, you get lots of flexibility in now to set it up:
Fully customizable: The plugin allows full customization of the quick view button, lightbox, and contents. This means that you can choose what product information to include in the lightbox.
3 layout options: Either use this WordPress lightbox plugin as a gallery plugin for images only, display product information only, or combine images and data complete with purchase options.
Compatible with all product types: It works seamlessly with simple, variable, grouped, and external products.
Supports additional product data: The plugin displays full product information including short description, full description, add to cart button, and metadata.
Mobile-friendly design: The plugin is fully responsive and designed to look great on all devices.
Compatible with all WordPress themes: Works seamlessly with different WordPress and WooCommerce themes.
Support for product variations and quantities: Customers can select their product variations and choose quantity directly in the quick view lightbox.
High speed performance: The plugin is designed to load quickly to provide a smooth user experience.
Easy navigation: Users can easily navigate to the next and previous products directly from the quick view lightbox.
Multilingual and RTL support: The plugin supports multiple languages and right-to-left text.
Regular updates and support: The plugin is regularly updated with new features and improvements, and backed by strong customer support.
Bonus tip - create a product order form with quick view lightboxes
Did you know...? If you blend Quick View Pro + the WooCommerce Product Table plugin together, you get a highly-converting one-page order form that sits inside WooCommerce and is fully searchable. This is great for clothing stores, wholesalers, restaurants, arts and crafts, plus more...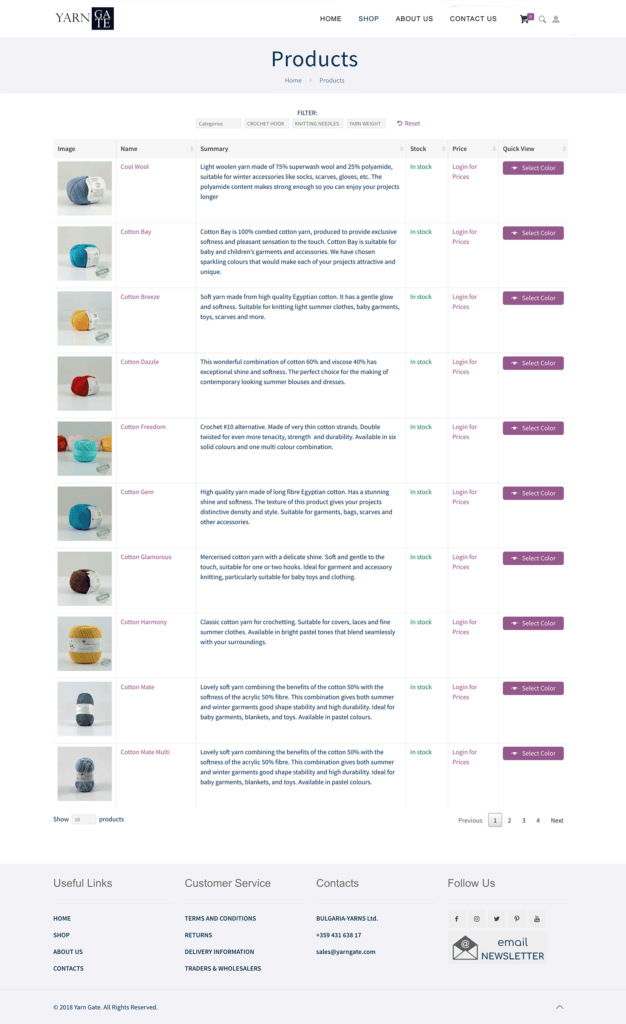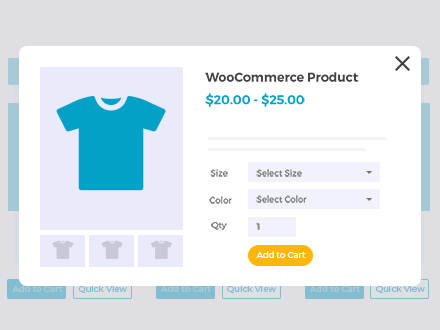 The quick and easy way for customers to explore and buy your products.
Best general lightbox plugin: Popup Maker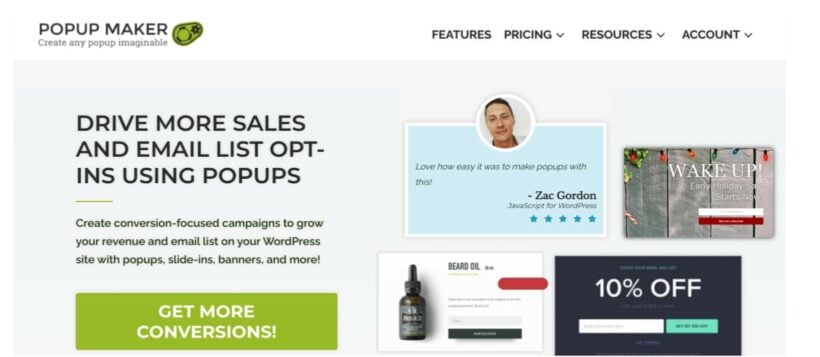 If you want to highlight on-page visual media, or boost sign-up conversions, then Popup Maker is a popular choice.
This is an is an incredibly versatile plugin that expands the possibilities of user engagement on your WordPress site. Not just a simple popup creator, it also functions excellently as a lightbox plugin. It can beautifully overlay images, videos, or embed forms on the current page, keeping users on the page while letting them interact with the lightboxes. This makes it a popular choice among site owners and developers.
There are lots of ways to use Popup Maker as a lightbox plugin:
Popup Maker integrates with most WordPress form plugins and newsletter and lead generation plugins. This makes it a great choice for increasing your newsletter signups. The built-in advanced logic makes it easy to choose when to display the lightbox.
You can display literally any type of information in a simple lightbox, ranging from sale notices to school closures or weather warnings.
For photographers or graphic designers showcasing their portfolio, it can serve as an effective tool for image lightboxes. These lightboxes allow users to click on a thumbnail and view the larger version of a media file without navigating away from the page.
By comparison to other lightbox plugins like WP Featherlight jQuery, Popup Maker offers greater control and precision over every aspect of your lightboxes.
Popup Maker features
Popup Maker comes packed with versatility, while also being very easy for beginners to use. We recommend going through each setting carefully to set up your lead capture lightboxes to maximum effect.
The WYSIWYG editor makes it easy to add content to each lightbox. Popup Maker also plays well with popular page builders like Beaver Builder. This is a good way to upgrade the limited lightbox features that come with page builder plugins - just paste the page builder shortcodes into the Popup Maker lightbox.
Responsive design
Popup Maker lightboxes launch a splendid display on any type of device. Plus, you can specifically target visitors viewing your site via smartphones and tablets with mobile-responsive popups.
Also, because Popup Maker popups also display iframes, it makes placing a Google Map in a lightbox as easy as copy and paste.
And you needn't worry about accessibility. Popup Maker popups are also compatible with screen readers, giving your lightbox embedded content maximum reach.
Target and track users
Beyond just making lightboxes, Popup Maker plugin includes configurable triggers controlling 'when' you want the lightbox to open. That's important because timing the lightbox animation speed can be critical for optimizing your sign-up conversion rate.
In addition, Popup Maker provides analytics. This lets you review the performance of your lightbox campaigns, run A/B testing, and further optimize them where necessary.
Popup Maker - Pricing and Packages
To get started, install the free version of the Popup Maker lightbox plugin from wordpress.org. The free WordPress lightbox plugin comes fully loaded with features.
For more advanced features like conversion-boosting launch triggers, including exit-intent lightboxes, you'll need a premium plan. All licenses include unlimited pop-ups, unlimited themes, and event-based triggers, with a 30-day money-back guarantee for all purchases.
Best photo gallery/image lightbox plugin: Modula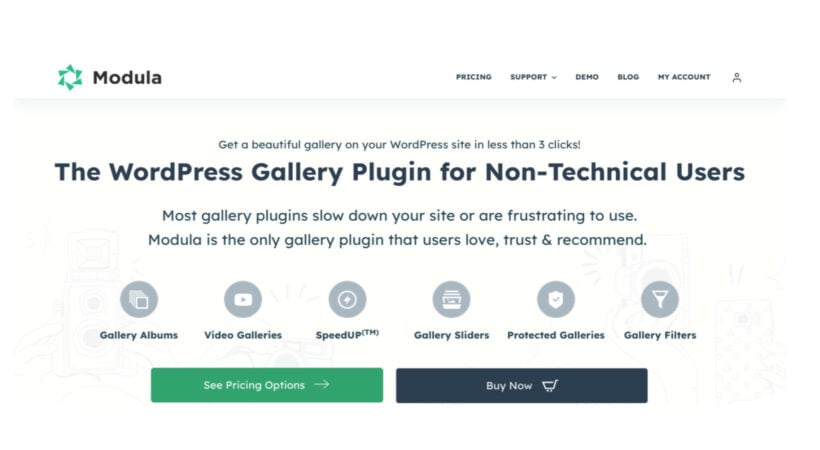 Modula is a WordPress image lightbox plugin that helps 'non-technical' users produce exquisite image galleries with little effort.
Modula stands out as one of the best image lightbox plugins for several reasons. It provides a comprehensive solution specifically tailored for image galleries. This makes it a go-to option for photographers, artists, designers, and any WordPress users who frequently work with visual content. It's a long-standing lightbox gallery plugin favorite within the WordPress community.
A significant reason for Modula's popularity is its ease of use combined with its customization options. It general has a more modern approach than some older image lightbox plugins like NextGen Gallery and Foobox. You don't need any coding knowledge to create stunning, professional-looking image galleries. Its drag-and-drop builder lets you resize images and adjust the gallery layout effortlessly. This gives you the creative freedom to display images just the way you want.
The lightbox functionality in Modula is top-notch, providing an immersive viewing experience. When a user clicks on an image in a Modula gallery, it smoothly enlarges within a lightbox overlay without taking the user away from the current page. The easy fancybox is also mobile-responsive, ensuring that your images look fantastic across all devices.
Modula also supports video lightboxes, so you can include videos alongside images in your galleries to add an extra level of dynamism to your site.
Features
Modula is one of the best WordPress gallery plugins, and user-friendly too. Here are some of the features which make this lightbox plugin essential for a visual creative website:
Layouts that give you control over how you present your work
With Modula, you can finally say 'goodbye' to generic looking gallery templates.
Modula comes with an almost limitless array of built-in presets and lightbox styles.
These options push back the boundaries for producing diverse and attractive layouts, complete with preview thumbnails.
Preset layouts
Masonry layouts are just the beginning. It also has a custom grid setting, allowing you to freely drag-and-drop plus resize images with ease.
Now, you can 'no-code' your way to a tailor-made media presentation.
Finally, even more intuitive is Modula's 'automatic layout' feature. This is a great time saver which produces 'wildcard' gallery layouts, which are perfect for saving time, or randomizing format on every page load. Simply set the height dimension and press play.
Social sharing
With social sharing buttons, viewers can easily share your images and videos directly from the lightbox.
Responsive lightbox galleries
Modula image galleries work like a dream on all modern devices - 100% compatible across the board, so you'll always deliver a consistent user experience.
There are also custom responsiveness settings. These are presented as slider controls for choosing the number of images to show on smaller tablet and mobile screens, independently. This provides a greater level of exactness of what your audience members actually see.
With Modula, you can be confident that website visitors will always have the best viewing experience no matter what device they use.
Create high-resolution image lightboxes without slowing down your site
Modula stands apart from the competition by having almost zero-impact on your site speed.
And if you have any experience with image gallery plugins, you'll undoubtedly agree that one of the drawbacks is that you often compromise page load speed.
But not so with Modula.
Modula bucks the slo-mo image gallery trend with SpeedUP™. It's a proprietary technology that uses a Content Delivery Network (CDN) to deliver images at fast speeds without any compromise in image fidelity.
Easy front end display within your WordPress site
Getting a Modula lightbox gallery to display on your website has been made really simple.
A huge benefit is that the plugin is fully compatible with various drag-and-drop builders using only shortcodes. Consequently, this helps you drop galleries directly into content via the editor with a simple copy and paste.
The Modula lightbox plugin also has a gallery widget for Elementor and a Gutenberg editor block, making it easy to add galleries to either right or left sidebars.
Pricing
To get this plugin, you can choose either a free plugin version (Modula Lite) or premium Modula Pro version. Modula Pro includes outstanding exclusive features like watermarks, zoom, and full-screen views.
Single and multi-site pricing options are available from $39 and up.
Best WordPress video lightbox plugin: Popup Maker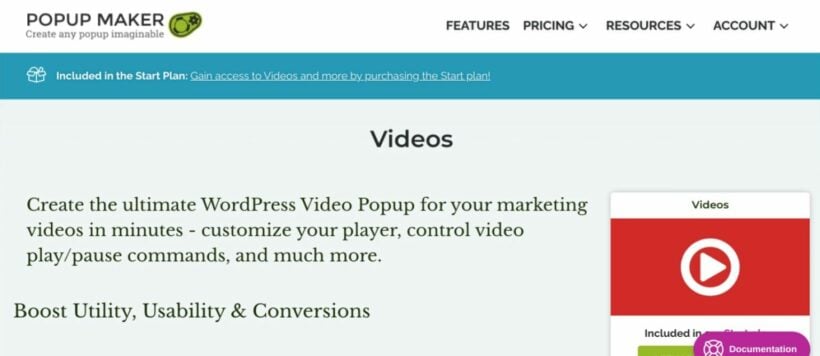 If you thought that the Popup Maker plugin was just for static images and text, you'll be pleasantly surprised by its premium video module.
It's now possible to hold the attention of your website visitors with a video lightbox that showcases your most compelling video content.
A proven conversion rate optimizing technique.
Popup Maker WordPress video lightbox features
Here's a summary of the main features available with Popup Maker WP video lightbox:
A fully controllable lightbox video player
The video player comes fully-loaded with features like video content on-demand, with no need for pre-loading.
Also, integrated cookies help users conveniently bookmark their viewing progress. By this, users can resume video playback from the last frame before being paused.
100% customizable lightbox
Popup Maker has a combined toolset complete with triggers that instantaneously launch a fully responsive video player.
Simply select and tweak the video lightbox effect triggers that work best for you.
Also, lightbox video setup is really simple. Just paste the video URL into the Popup Maker content editor.
For added flair, you can use the Popup Themes Editor to add various custom touches to your video presentation. These include adding a background image or styled border template, for example.
Works across the leading video formats
Pop Maker's video lightbox is also fully compatible with the most popular video formats including, HTML5 video.
Piggybacking on the Media Elements JS Framework, Popup Maker's video extension is quick and and capably handles MP4, MP3, FLV. You can also add content streamed with (HLS, M(PEG)-DASH, RTMP).
As a result, the plugin is great for brand presentation, explainer videos, animations, LIVE footage and more.
Have any YouTube, Twitch, Facebook, DailyMotion and Vimeo videos? These are easily embedded - no code needed.
Pricing
To get this plugin, sign up to the Popup Maker 'Start' plan, priced at $87 per year. They also offer the video player as a standalone module for just $35 for a single site license.
Best newsletter signup popup for WordPress: MailOptin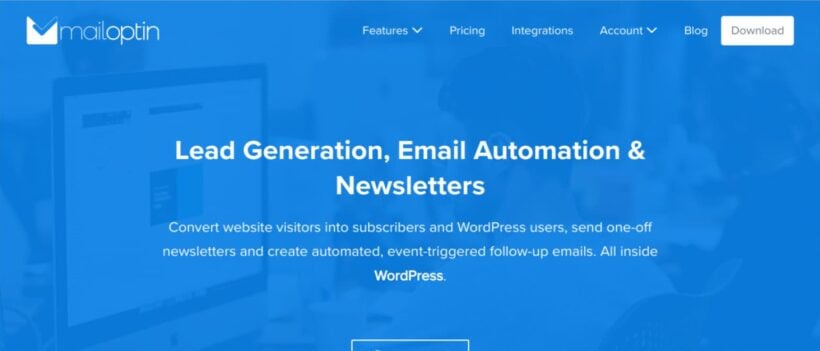 MailOptin is a massively popular and widely endorsed WordPress plugin featuring lightboxes aimed at lead gen, audience nurture and customer conversion.
When installed within your WordPress website, MailOptin launches engaging lightboxes that boost the conversion of website visitors encouraging them to become newsletter subscribers
MailOptin lightbox features
MailOptin is a top choice practical newsletter signup lightbox. It comes complete with all the features you need to convert email list signups on any WordPress website:
Convert web traffic with targeted lightboxes, slide-ins, and notifications
With MailOptin, there are so many ways to insert your key marketing messages before the eyes of your web visitors.
Of course, lightboxes are effective at achieving this. But what about the times when a project calls for something slightly different?
Thankfully, MailOptin comes jam-packed with masses of lightbox alternatives including: slide-in prompts, notification bar, sidebar widgets, and inline opt-ins.
Simple WordPress Customizer setup that's fast and easy
Conveniently, MailOptin custom controls can be found right inside the core WordPress Customizer settings. This makes them easy to reach for and configure. Right where most WP users will expect them to be located.
For example, changing a headline, writing a description, adding fields or effects, and other features are made simple and easily executed.
Create
turn-ke
y
email marketing campaigns with the web builder
The Pro and Agency tiers of this newsletter sign-up lightbox plugin also double as an HTML email builder. For a more streamlined marketing workflow, you can choose to send newsletters without even leaving WordPress.
And yes, the feature list includes segmentation rules which can trigger automated broadcasting for hands-free subscriber engagement.
Cost-effective lightbox plugin that works with leading email marketing providers
MailOptin is also developer-friendly. There are a huge range of meaningful integration possibilities to choose from.
This makes it easy to combine benefits with your other marketing software like ConvertKit, MailChimp, MailPoet, and Campaign Monitor.
Pricing
You can buy the MailOptin newsletter lightbox plugin for $99 for a one-year, single-site license. (There is no free version available.)
Best form lightbox plugin: Popup Maker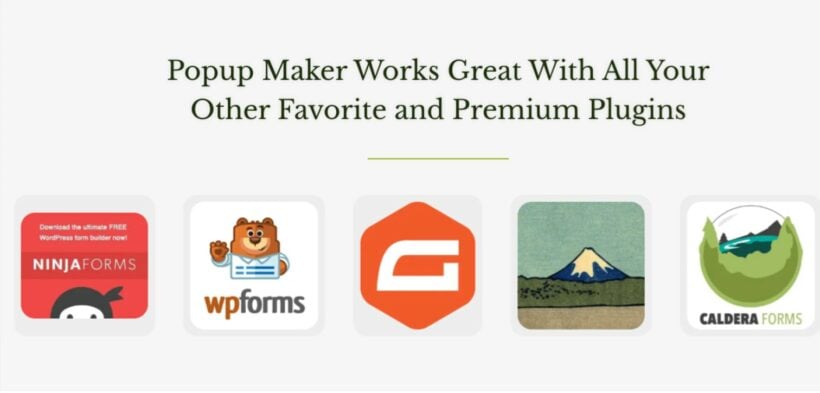 We've already seen that Popup Maker is perfect for creating general lightboxes and also video lightboxes. It also tops the list in another category: displaying a WordPress form within a lightbox.
Popup Maker shines when it comes to displaying forms within a lightbox. It integrates with some of the best WordPress form plugins including:
Essentially, you can place any form - whether it's a contact form, subscription form, or survey - within a popup lightbox. This ensures that users stay on the current page while interacting with the form, minimizing distractions and potential loss of engagement.
Example use cases
For example, suppose you're running an online store. In that case, you might want to create a lightbox popup featuring a discount code form. When a user visits your site, the popup can appear offering a discount code in exchange for an email address. The form is displayed in the lightbox, allowing the user to input their email without navigating away from the current page, effectively keeping their attention on your site.
Another use case could be for businesses offering services, where Popup Maker can be used to display a contact form in a lightbox. Instead of directing users to a separate contact page, the form appears over the current page, making it easy for potential customers to reach out without interrupting their browsing.
Popup Maker's versatility, combined with its ease of use, makes it an excellent tool for displaying forms within lightboxes, regardless of your website's specific needs or goals.
Pricing
Get Popup Maker's contact form lightbox by buying a premium license. This costs from $87 with annual support and updates.
Final thoughts
As we have seen, lightbox plugins are a proven method used by web developers, designers and site owners to successfully engage audiences.
For instance, using popup forms and media galleries to convert leads and showcase talent.
By selecting the right type of plugin for your project, you can benefit from the best combination of features for your project.
And with that, here's that list of best WordPress lightbox plugins for each category:
Did you find this advice useful? Are you still unsure about which lightbox plugin will suit you best? Either way, leave a comment below now.