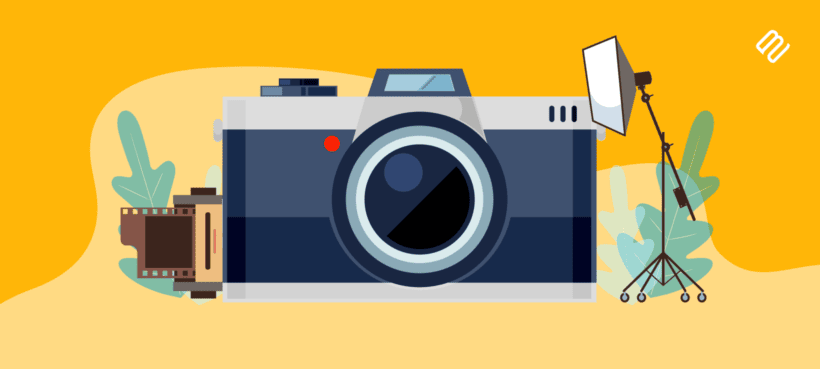 I've researched and tested dozens of themes. In this post, I'll share the best paid and free WordPress photography themes, how to pick the right one for your photography site, and helpful plugins to help you sell your photos online.
Trying to find the perfect photography theme to bring your WordPress site to life?
As a photographer — whether you are a hobbyist, rookie, freelancer, or seasoned professional — creating a website to display your photos is a no-brainer. For one, it is a solid way to showcase your skills and establish a strong online presence. Also, it helps advertise your services so potential clients can easily find you.
Because photography is extremely visual, you must choose a theme that complements your artistic style and effectively presents your work. If you are building your site with WordPress, you'll be glad to know that there are plenty of stunning themes specifically created for photographers. These themes will handle most of the heavy lifting for you, letting you focus on what you do best — capturing breathtaking images.
However, because there are so many options to sort through, finding the absolute perfect theme for you can be time-consuming, so I put together this detailed guide.
To begin, I'll walk you through the essential features every top-quality photography WordPress theme should have — this will give you an idea of what to consider before choosing a theme. Then, I'll round up the five best and most highly-rated paid and free photography WordPress themes.
Finally, as an added bonus, I'll show you how to use plugins like WooCommerce, WooCommerce Product Table, and WooCommerce Protected Categories to sell photos and other photography-related products more effectively.
Here's a quick overview of the major sections in this guide:
Ready? Let's begin with the basics.
BbWhat is a WordPress photography theme?
In WordPress, themes are templates made up of a collection of files that work together to define a website's design, layout, and features. Themes control your website's overall structure and visual appearance, including its colors, typography, and other design elements. 
A photography theme is a pre-designed template that showcases photographers' work effectively on a website built with WordPress. 
What sets photography themes apart from other types of themes is that their designs are eye-catching in order to make a bold impression on visitors. That's why they typically include full-screen hero images, clean and minimalist designs, grid layouts, gallery options, and other design elements. All these features combined help create an immersive experience that captures the attention of your site visitors. 
WordPress photography themes can be grouped into two main categories:
Dedicated themes for photography: 

These are paid and free WordPress photography themes that were specifically created for one use case. This means that most of their features are tailored to the needs of photographers. For instance, they may include gallery layouts, portfolio template pages, and image-centric designs. Because dedicated themes were built for just one purpose, they offer a fairly streamlined setup process.

Page builders and multipurpose themes with built-in photography templates:

Page builders and multipurpose themes are capable of creating and designing various types of websites, including photography sites. They typically come with templates and built-in demo content suitable for a variety of industries and niches. All you have to do is download the multipurpose theme or page builder, browse through the templates, and select your preferred one. Page builders and multipurpose themes are popular because they offer multiple theme options in one. This gives you greater flexibility to design your website and include multiple customization options. 
What makes a good WordPress photography theme? 
The definition of a "good theme" is a subjective one. So before diving headfirst into the complete list of paid and free WordPress photography themes, let's take a step back to discuss what all top-tier photography themes should have and why I selected the top five theme finalists.
Overall, each theme on this list meets the following criteria:
Looks good.

Aesthetics matter when you are showcasing photography professionally. After all, your website is a reflection of your brand. The way your photos are presented could impact viewers' perception of your talent and skills. 

Showcases your work effectively.

 In addition to being immaculately designed, each theme on the list includes multiple features to help you shine the spotlight on your photos.

Is easy to customize. 

Most photographers don't have robust web design and development skills. So it made sense to only include themes that are suitable for WordPress beginners. You don't need coding skills to configure these themes. Plus,

 you can design them with a drag and drop page builder and editor.
Once I had the criteria spelled out, I whittled down the list of themes with the features relevant to photographers. Let's take a look at the top features all good photography themes should have:
Responsive design
First and foremost, all good themes (even non-photography-specific ones) should be responsive. Basically, this means that they should automatically adapt and display content correctly on various screen sizes and devices, such as desktops, tablets, and smartphones. This guarantees that your photos — and entire website — are easily accessible and look visually appealing to users, no matter the device they're using.
Customizable layouts
Every photographer's style is unique, and their websites should reflect that. The best photography themes come with an extensive range of grid styles, masonry grid styles, galleries, image sizes, fonts, and color schemes, plus tons of other customization options that you can reorder to showcase photos in a way that aligns with your artistic vision.
Search engine optimization (SEO)
A website is no good if clients can't find you online. There's much more to creating an SEO optimized site than picking a theme. However, your paid or free photography theme should be coded with SEO best practices in mind. At the least, good themes provide the following:
Options for adding meta tags.

Optimizing image alt tags.

Generating clean, search-engine-friendly URLs.
The right themes also play nice with popular SEO plugins. These features help your site rank higher in search engine results and rake in more organic traffic. 
Social media integration
In addition to SEO, social media is another excellent platform to cultivate a tight-knit audience of raving fans and promote your work. Your theme should allow you to add social sharing buttons, embed your social media feed, and seamlessly connect your website with your social profiles.
Slideshows and galleries with filtering and sorting options
The best photography themes always provide prominent and visually appealing options to showcase your photos on the homepage and in separate galleries. You need features like full-screen image sliders, masonry grids, lightbox overlays, and thumbnail navigation. Also, the ability to create a portfolio website with galleries as well as filtering and sorting options is crucial. This ensures that visitors can better navigate your site and explore photos based on different categories helps showcase your work effectively.
Page loading speed
Generally speaking, images tend to load much more slowly than text and other types of content. This is because the file sizes are usually heavier. Each theme on the list includes optimized image loading, minified css code, efficient caching mechanisms, and other vital features that boost site speed and performance. 
Regular theme updates and support
The best themes are frequently updated to be compatible with the latest version of WordPress. And it's important for theme developers to deploy security patches and bug fixes frequently. Most importantly, you never know when you may need help. That's why it is also essential for the theme to have detailed and up-to-date documentation or a knowledge base, plus access to customer support to help you resolve issues quickly.
Compatibility with essential plugins
The exact WordPress plugins used may vary from website to website. However, there's a good chance you'll need to use some plugins to add or enhance certain features on your site. For example, you might want to incorporate a photo gallery plugin to showcase your images in different styles, an SEO plugin to optimize your website for search engines, or even add a photography blog. In addition, many photographers typically use image optimization plugins, e-commerce solutions, contact form plugins, and social media integration plugins. I only included themes that are compatible with most of the popular plugins. This makes sure that you have the flexibility to customize your website based on your preferences.
Our recommendation: Use a photography template from a top-selling theme or page builder
Earlier, we looked at the two types of photography themes: 
Dedicated themes. AKA traditional themes that were created specifically for one use case, e.g., photography. 
Page builders and multipurpose themes that come with various website templates. These themes are capable of creating more than one type of website, including photography sites. 
If this is your first time choosing a theme for your website, you might be tempted to choose a dedicated photography theme. However, dedicated themes are usually not ideal for most people. The best way to obtain top-tier paid and free WordPress photography themes is to use page builders and multipurpose themes with built-in templates.
Key reasons why page builders and multipurpose themes are better than dedicated themes
Versatility

It can be tedious to move from one theme to another if you decide to rebrand your site in the future. This is because replacing a theme comes with entirely new customization options. If you opt for a dedicated theme, you are forever stuck with that specific layout and design. In comparison, page builders and multipurpose themes include a broad selection of photography templates and layouts, so you can experiment with different styles and change your site's design whenever you want.

Ease of use

WordPress is already easy to use for non-techy people, and templates and page builders take things to another level of ease. Photography templates provide solid foundational layouts and designs that you can build upon, making it easy to get up and running quickly. At the same time, page builders offer intuitive visual builders that allow you to easily modify your website's layout, colors, fonts, and other design elements.

Value for money

 Themes are an investment. Out of the box, multipurpose themes and page builders are packed with more features than dedicated themes, so you'll get the most bang for your buck. Even if you don't need all the features that templates and page builders offer right now, you might need them later, allowing you to quickly adapt and expand your website as your photography business evolves.
Overall, templates and page builders empower photographers to create visually stunning and feature-rich websites that effectively showcase their work. At the same time, they offer the flexibility to adapt and grow a strong online presence.
The 5 best WordPress photography themes
Now, it's time to answer the question you've been waiting for, "What are the best themes for photographers?"
In this section, I'll share the top paid and free WordPress multipurpose themes and page builders you can use to create your site. I'll also share links to the best photography layouts for each to help you get started quickly.
Here's an overview of the top photography themes for WordPress:
One quick note: To keep this list short and sweet, I've highlighted only the templates for each theme that can be used for most types of photography websites. Feel free to browse through other templates that each theme or page builder offers and pick the one that suits your preferences best.
Read on to learn more about each theme and template, along with its top features.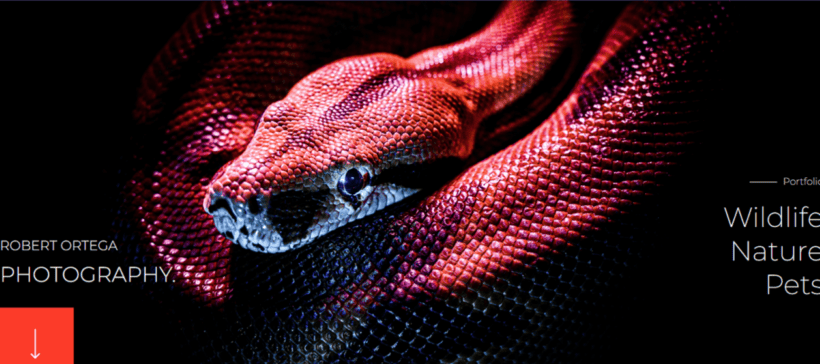 More than 9 million live websites use Elementor, making it one of the most popular visual page builder plugins. You can use Elementor with any theme to effortlessly create aesthetic and highly-functional websites without touching a single line of code. 
Elementor's photography site kit is a collection of bold photography templates that serve as a starting point for your photography portfolio. It has an infinite scrolling effect that lets your site visitors transition smoothly through the various featured images. The photography template kit comes with six pages by default: 
A portfolio page for you to showcase multiple pieces of your work.

An about page where you can give viewers some background information about yourself.

A 'Journal' that adds a blog layout to your site — perfect for photo bloggers.

A single project page that lets you shine a light on your best piece of work.

A page to list your contact details together with a responsive form for visitors. This makes it easy for potential clients to get in touch with you.

A page showing when your site is temporarily down, also known as a 404 error page.
Although you can use the Elementor page builder plugin with almost any theme, they also offer a free theme called Hello Elementor. Hello Elementor is a feather-light "starter" theme that offers a blank canvas to create the website of your dreams. 
Use Elementor + their photography template kit + Hello Elementor theme for an intuitive interface and a rich set of elements and custom widgets that allows you to design every aspect of your photography website. 
Elementor Pricing
The Hello Elementor theme is 100% free. The photography template kit is a premium kit included as part of one of Elementor's paid plans. Elementor offers three plans that give you access to the page builder and all their pro widgets and templates:
Basic

– You can use this plan on one website.

Business

– You can use this plan on three websites.

Grow

– You can use this plan on one thousand websites.
Final Thoughts
The Hello Elementor theme is one of the best free wordpress photography themes. It is super lightweight and fast. In fact, it took home the crown in our in-depth guide reviewing the fastest website themes. Each page on the photography template kit comes with professionally designed sections that you can easily edit to match your style and branding.
And thanks to Elementor's page and theme builder, you can customize every aspect of your site, including the header and footer sections. Plus, there are custom widgets for all kinds of things like galleries, image carousels, portfolios, price lists, social icons, and much more.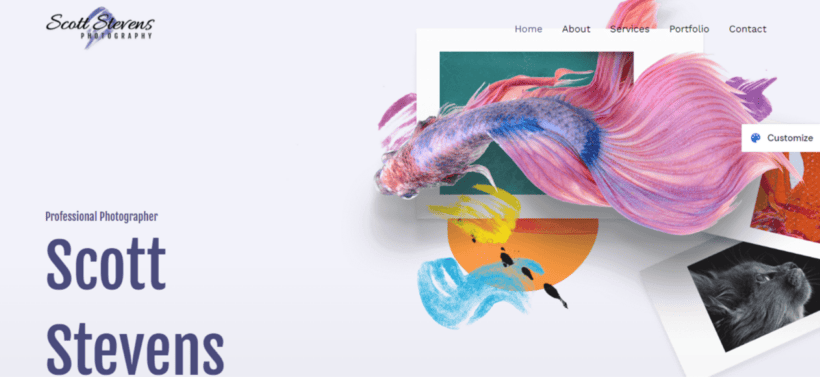 Astra is one of the most popular WordPress themes of all time. It achieved the rare feat of being the first non-default theme to reach the 1 million active installs milestone on WordPress.org, so it's safe to say that it is a solid choice. 
Astra has 240+ built-in free and premium website templates to help you get your site online quickly. The best photography template I found was a premium one aptly named "Photographer", explicitly designed for photography sites. However, if you are on a tight budget and are looking for a completely free portfolio theme that you can use, the "Artist Multipurpose" template would also work well.
The 'Photographer' template uses a compelling layout which you can easily customize for basically any photography niche. Fashion photography, wedding photography, travel photography — you name it. What I especially like about this template is that the homepage includes parallax effects with various design elements that move at varying speeds. This helps to create an illusion of depth and immersion. Also, the home page is designed to let you display all the essential information without feeling cluttered. You can list your bio, an overview of your primary services, some featured content, your portfolio, and even a link to your booking form so clients can easily hire you.
Astra's Pricing
Astra is a freemium theme. The free version of the theme offers essential customization options for your website. In addition to the free version, Astra's premium versions have three different paid plans:
Astra Pro

– This plan enhances the free Astra theme by letting you use its advanced theme customizer.

Essential Bundle

– This comes with the Astra Pro add-on, 180+ premium starter templates, the WP Portfolio plugin, and your choice of Elementor or Beaver Builder page builder add-on plugin.

Growth Bundle

– This plan includes everything in the Essential Bundle, plus readymade websites and additional plugins to create and design the sites.
The essential bundle is probably the best choice for photographers because it includes the premium "Photography" starter templates I mentioned earlier. But if you are looking to trim costs, you can still create a good photography site using the free version of Astra together with their "Artist Multipurpose" template.
Final Thoughts
Astra, along with the built-in templates, offers photographers a versatile and visually stunning theme to showcase their work. Its flexibility, performance, and intuitive customization options make it a compelling choice for all kinds of photographers. Astra is a solid choice whether you are a professional photographer or a photography enthusiast looking to establish an online presence.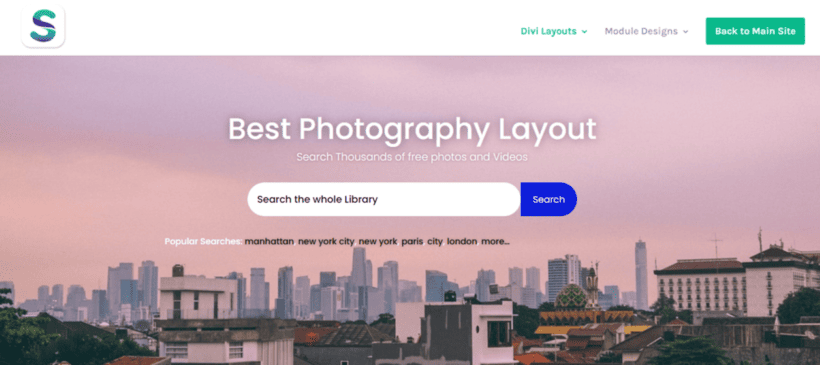 Divi is a versatile all-purpose theme and a powerful visual page builder rolled into one, making it the perfect theme to create any photography website.
The Divi builder is a powerful and intuitive complete page and theme builder. You can use the visual builder to customize every inch of your site, including the header and footer sections. With 200+ elements, you can easily add responsive sliders, galleries, forms, and other functions to your site with a few clicks.
Divi comes bundled with a wide selection of beautiful, pre-designed site layouts that cater specifically to the needs of photographers. Some of these layouts were created by Elegant Themes, the company behind Divi, and are included in the Elegant Themes membership (I've covered this in-depth in the pricing section). Other layouts were created by third-party developers and can be yours for a minimal fee. Either way, as a photographer, there's an abundance of attractive page layout options that you can choose from.
Here's a compilation of the top eleven photography template layout packs that play nicely with Divi. My personal favorite from the list is the 'Photoshary' (the third option on the list). Its homepage opens to a modern, minimal design with a full-width background header image, a search bar and no sidebar. Scrolling immediately down the page, you'll find a collection of the latest and most popular photos. Near the end of the page, you'll find two banners that you can customize and add a simple call to action to link to your site's 'Contact' page — or however else you like.
Divi Pricing
Divi is a premium theme comes bundled together with several Elegant Themes products. You'll need to buy an Elegant Themes membership that lets you use:
Divi - The powerful multipurpose theme and visual builder.
The "Extra" magazine theme - Perfect for magazine-style sites and its own built-in visual builder.
Bloom - A popular lead generation and email opt-in WordPress plugin.
Monarch - One of the best social media sharing WordPress plugins on the market.
There's no limit to the number of websites that you can use the products on. The membership costs $89/year or $249 for a lifetime subscription, making it a value-for-money purchase.
Final Thoughts
You can't go wrong with Divi.
According to BuiltWith.com, Divi is one of the most widely used premium WordPress themes in the entire world. It includes 2,000+ layouts with several layouts for photography sites, leaving you spoiled for choice. The Divi visual builder includes more than 200 elements like sliders, testimonials, toggles, etc., that let you easily create your own design from scratch if you don't want to use a pre-designed layout pack. Also, you can add easily add fun animations and effects such as hovers, shadows, boxes to make your site more interactive.
SKT Full Page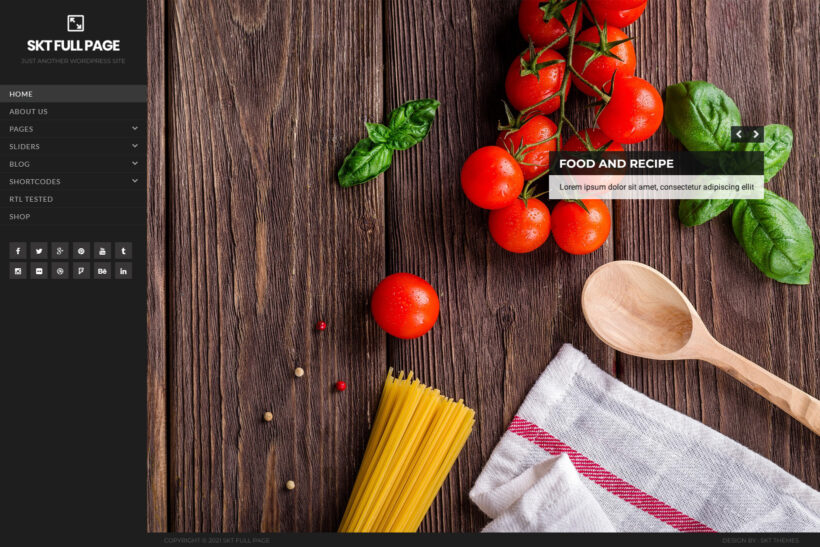 SKT Full Page is a free WordPress themes that is ideal for photography as it offers a full wide page view. This is excellent for displaying images in high resolution without any distractions.
The theme's inner pages have a transparent background of the image, giving a nice pictoral view at all times.
The left sidebar menu makes it easy for users to navigate around the website and view the pages and photographs intuitively.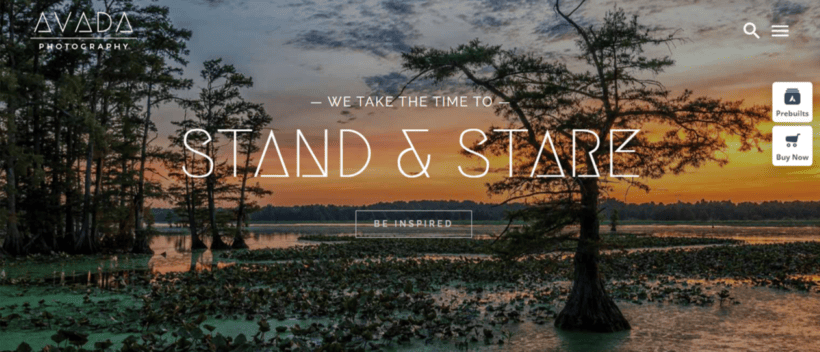 Avada is a popular multipurpose theme known for its extensive features, flexibility, and user-friendly interface. Like other multipurpose themes, it comes with editable website and page templates and its very own visual page builder called the Fusion Builder Visual Editor. But what makes Avada's built-in templates an excellent choice for photographers?
Avada offers a rich collection of pre-designed page layouts that are crafted to highlight your photos effectively. The top two templates that best suit photography websites are 'Photography' and 'Fashion'. The Photography template is an elegant, dark design that sets the scene with a contrasting black-and-white background while offering pops of color through the images. The home page of this template includes lots of white space to draw viewers' attention to your photos. Plus, there are customizable grid layouts that let you group similar types of photos and showcase your work so it looks its best.
The 'Fashion' template includes a slider feature and call-to-action buttons near the top of the home page, where you can direct viewers to your top photos. Further down the page, you can display grouped collections of your photos, as well as add a contact button to encourage potential clients to book your services.
Avada Pricing
Avada is a 100% paid theme. But although it's not a free WordPress theme, it is still pretty affordable because they offer a lifetime license for one low fee. You also get lifetime theme updates and six months of access to their award-winning customer support team.
Final Thoughts
Avada is one of the best WordPress themes. It is a powerful and versatile WordPress theme that empowers photographers to create stunning yet functional websites. Its responsive design, choice of nearly one hundred pre-designed layout templates to pick from, and the extensive customization options available with the Fusion Builder Visual Editor make it an excellent choice for photographers of all levels.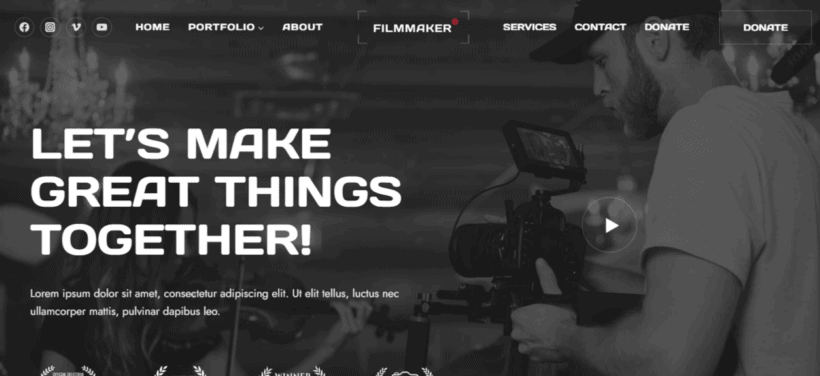 Kadence is another multipurpose theme that is widely popular amongst photographers, and it's easy to see why. It comes with 100+ beautiful starter templates that offer the foundation layouts for you to create your website quickly and easily. What I especially liked about Kadence is how versatile its templates are and the fact that you can use many of them for image-focused sites. 
If you filter through the templates and select "Photography", you'll find six unique theme options to select from — all geared toward various kinds of photography sites. My favorite is the "Filmmaker" template. It boasts a primarily black-and-white design, bright modern typography, and an eclectic mix of content types. You can easily embed videos and photos on the home page to highlight your best photos, add a short bio to introduce yourself to viewers, add your contact, and link to a form to make it easy for potential clients to hire you.
Kadence Pricing
Kadence is a freemium theme. It has three plans:
The 'forever free' plan lets you create a basic website.

The Essential Bundle, which includes the pro version of the Kadence theme, Blocks, Starter templates, and custom fonts.

The Full Bundle, which has all the features in the Essential Bundle plan, as well as additional e-Commerce specific add-ons and plugins.
Final Thoughts
Kadence is a powerful and highly responsive WordPress theme. It comes with a broad range of stunning starter templates that offer photographers a powerful platform to showcase their work with style and finesse. In addition to its starter templates, Kadence also includes its block editor that you can use to add forms, client testimonials, and other custom elements to your WordPress website. And with its lightweight code and optimized structure, the Kadence theme ensures fast loading times, contributing to an exceptional user experience for visitors to your photography website.
Bonus: Extra tools for selling photos online
Once you've chosen a preferred theme, it's worth considering whether to sell your photos and other products or services on your website. For example, you may want to integrate an online store to sell physical prints of your photos, albums or photo books, frames, tripods, merch, and even digital products like desktop wallpapers, social media templates, and Lightroom presets.
Thankfully, with the right plugins, selling on your WordPress site is easier than ever. Here's what you need:

The first plugin is called WooCommerce. WooCommerce is a powerful plugin that adds general e-Commerce features and capabilities to your WordPress site. It is used on more than 6 million websites worldwide, making it one of the biggest eCommerce platforms in the world. 
Using the WooCommerce plugin, you can sell physical prints and digital photos on your site. WooCommerce lets you add products, accept online payments, and deliver physical or virtual products to customers. But it's not great at displaying images because its built-in layouts are more designed for selling other types of products, such as clothes and other non-image-focused items.
To sell photos more effectively, use WooCommerce with one or both of the following plugins. 
How to list products in a quick one-page photo order form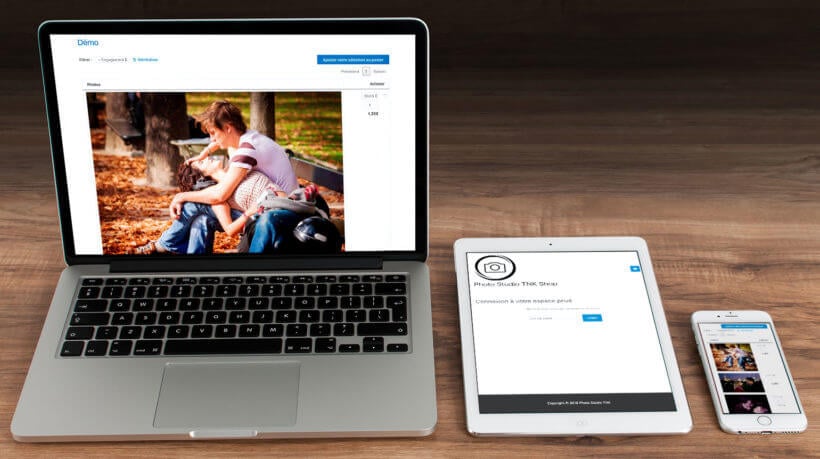 The default WooCommerce layout is in a grid format, and it shows customers 3 or 4 products in each row. Each product you sell, e.g., photos, frames, albums, etc., will have a large-sized featured image, title, brief description, price, and an add-to-cart button. 
Customers must click on a product, navigate to the individual product page, then add the product to the cart from the individual product page. They must do this for every product they want to buy, meaning that if a shopper interested in 20 photos, they have to go through this process 20 times. Clearly, this is not a good experience for customers. 
It's much better to sell photos using quick one-page photo order forms with add-to-cart buttons on your website. You can easily do this with the WooCommerce Product Table plugin.
WooCommerce Product Table is perfect for photographers who have many photos to sell on their websites. It upgrades the default WooCommerce layout and improves the shopping process on your website. This makes it easy for customers to place their orders and enhances customers' experience on your site.
Adding photos to a one-page order form with the WooCommerce Product Table plugin simplifies the ordering process. Instead of forcing customers to go to different pages every time they want to add a photo or product that they like to the cart, it makes it easy for customers to view multiple images on one page and add them to the cart with a few clicks. 
The product table is highly responsive, so shoppers can view the products on their laptops, phones, and mobile devices and easily add products to their carts. You can even add filters to the table to help customers browse through the content easily.
How to create a private area for each client to buy their photos
Not all photos are for public consumption. For instance, if you offer services for:
Event photography:

 Where clients book you for a specific event, such as weddings, conferences, birthday parties, etc. 

Family photography:

Similar concept to event photography, except that it involves taking photos for families. Many clients would like their family portraits to be kept confidential.

School photography:

 Schools and other educational institutions typically hire photographers for picture day.
There are plenty of other examples, but the main idea remains the same — keeping clients' photos private. And that's where the WooCommerce Protected Categories plugin comes in.
WooCommerce Protected Categories is an easy-to-use plugin that lets you create private photo shops for each client. It is helpful in situations where your clients would like their photos to be kept confidential, but you still want to sell them to those clients easily.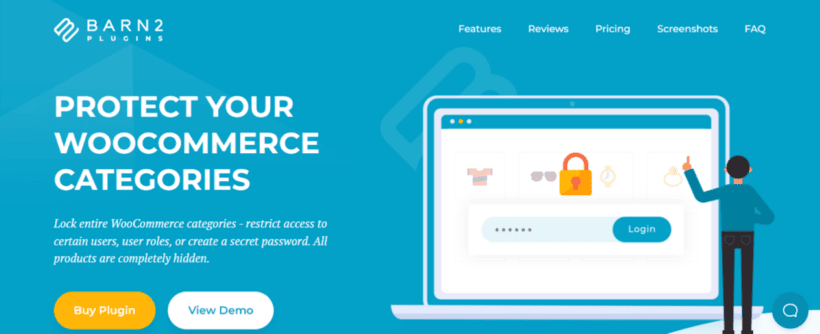 Continuing with any of the examples above, you can upload multiple photos to your website after the photo session and ask your clients to visit your site and pay to download the photos they want.
With WooCommerce Protected Categories, you can create secure areas on your website and unique passwords for each client. Essentially, this will be an individual hidden page for each client, containing their photos that they can only access with their passwords.
Here's a complete tutorial to guide with installing and customizing these plugins: WooCommerce for photographers: Complete guide to WooCommerce photography plugins, client-specific categories & more. 
Conclusion: Which is the best paid or free WordPress photography theme?
The hallmark of good photography themes is that they are specifically crafted to enhance the visual impact of your images, and every theme and page builder plugin I've mentioned can help you do that. 
My personal favorite theme from the list is the freemium Astra. It comes with tons of stylish starter templates for photography sites as well as its own powerful page builder plugin. Of course, it is always a good idea to preview each theme and its respective templates. This will help you get a feel of how they would look on your website before installing your preferred option. 
After choosing your theme, you may want to sell photos and other related products on your website. You can use WooCommerce to add general eCommerce features to your site. The WooCommerce Product Table plugin will help you create a quick one-page order form that makes shopping a breeze for customers. And WooCommerce Protected Categories lets you keep clients' photos private while allowing clients to buy them from your site.
That's all for today. Do you have any recommendations of additional paid and free WordPress photography themes? Drop a comment and let me know!