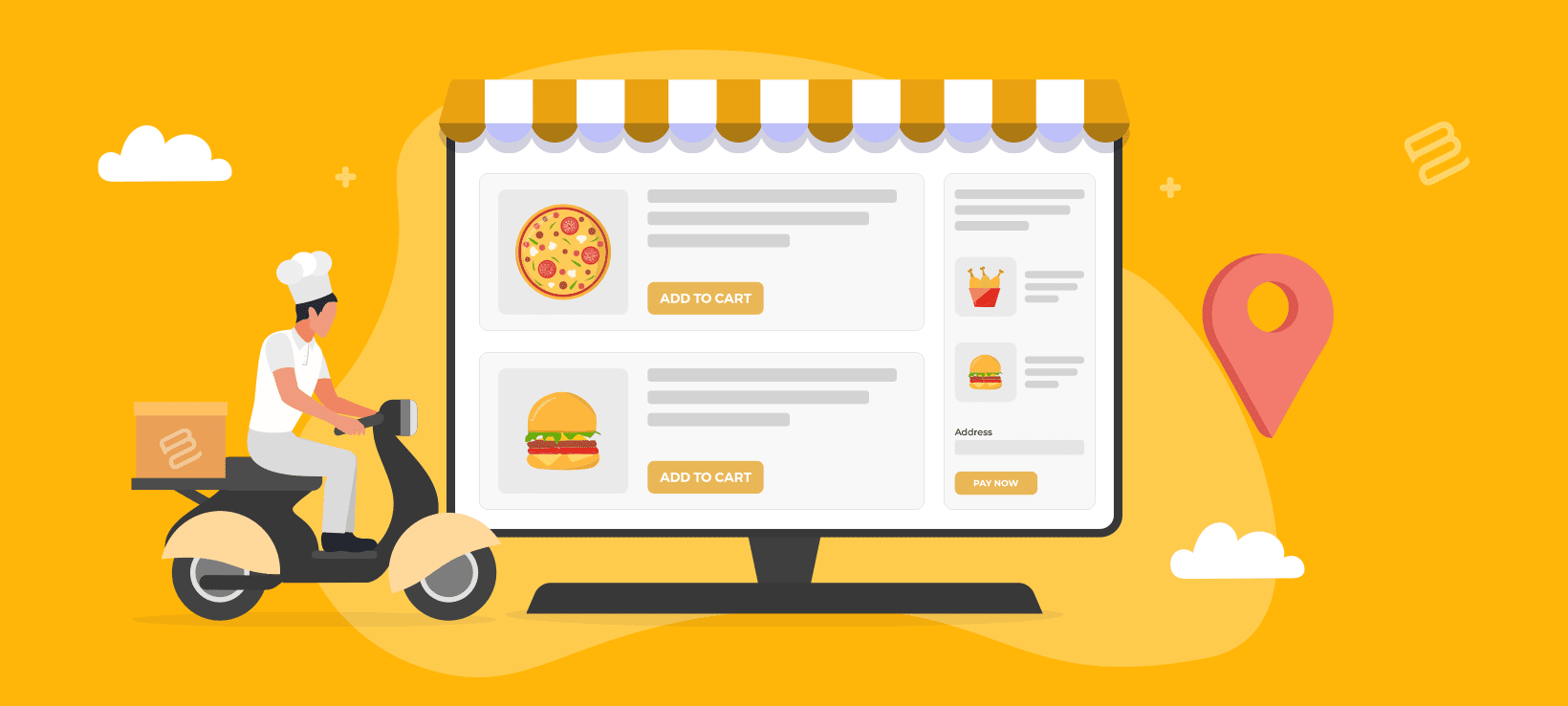 Food delivery plugins have revolutionized the way people order food from restaurants. WordPress users can now choose from a variety of plugins for a seamless order process for both customers and businesses. Here are 8 of the best WordPress food delivery add-ons to consider in 2023.
The trend of food delivery has been on the rise and is showing no signs of slowing down. With the pandemic accelerating the shift towards online ordering, having a seamless ordering process for customers has become more important than ever. This is where WordPress food delivery plugins come in.
Whether you're a small local cafe or a big restaurant chain, these food delivery plugins provide an easy way for your customers to place delivery orders.
In this article, we explore the 8 best WordPress food delivery plugins of 2023. Each with its unique features and capabilities to help you find the right one for your business. But first, let's define what a food delivery plugin is.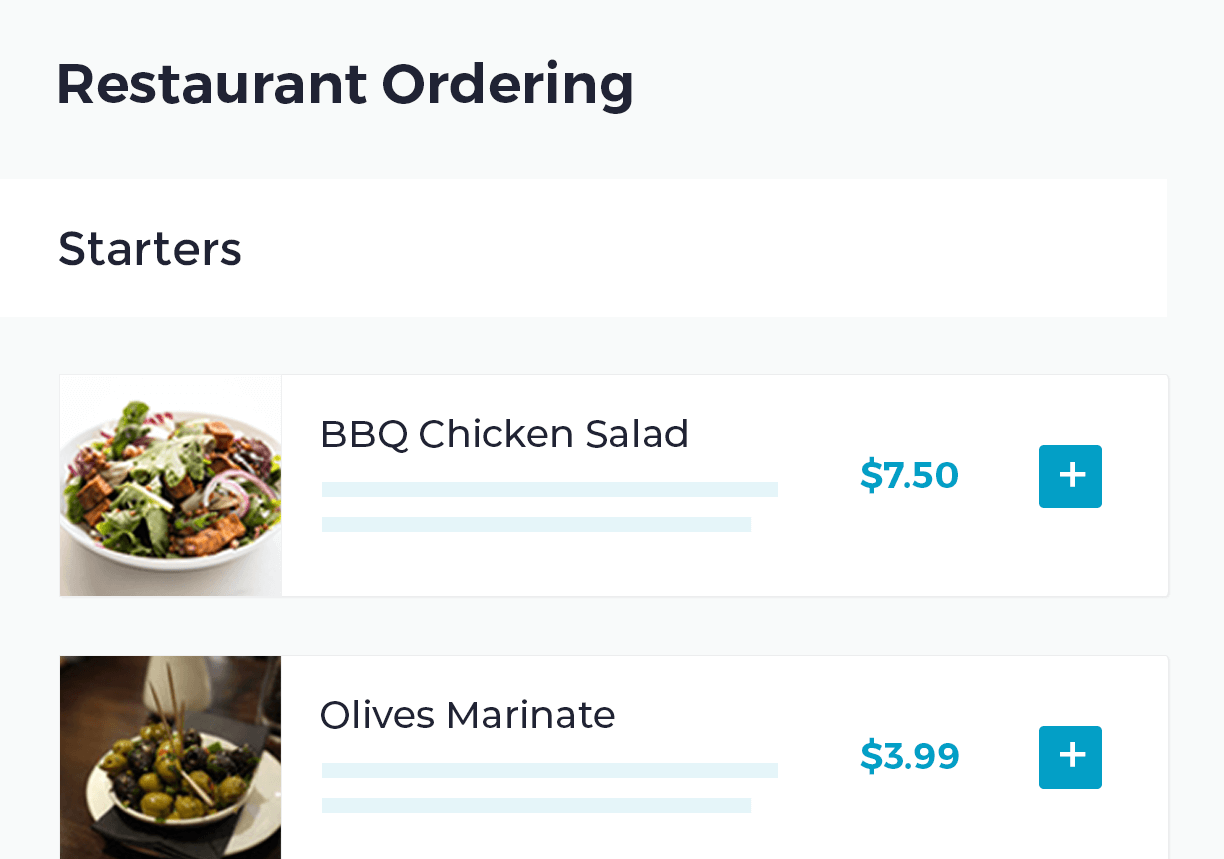 Add food ordering to your own website in minutes - with no commissions to pay!
What is a food delivery plugin?
Before we start, let's look at what a WordPress food delivery plugin actually is. Afterwards, I'll reveal the best plugins for your needs.
A food delivery plugin is a software tool designed to provide an online ordering system for food delivery. It allows food businesses to integrate an online ordering system. You can do this to your WordPress website, without the need for complex coding or technical skills.
With this delivery WordPress plugin, your customers can browse menu items and select their desired food and drinks. Additionally, they can also customize their orders, arrange delivery, and make payments online.
This makes online food ordering and delivery easier for customers and less work for your business.
There are some different use cases for food delivery plugins. Some of which are:
Restaurants - integrates with your restaurant's online menu for a food delivery system and select delivery or pickup options
Food gifts -  sell gift boxes and baskets through the plugin integration
Grocery Stores -  customers can shop for groceries via the plugin on the ecommerce store
Meal delivery services - customers can order ingredients and recipes for home-cooked meals
What are the benefits?
Food delivery plugins offer a lot of benefits for businesses. Some of which are:
Increased convenience for customersFood delivery add-ons provide an easy and convenient way for your customers to order food. They can order food from the comfort of their home without having to physically visit the location.
Improved efficiency for businessesTime spent handling manual orders is cut off and your business can reduce errors in order fulfillment.
Expanded reachOnline ordering helps restaurants reach more customers and boost sales and recognition.
Enhanced customer experienceOrder tracking and updates lead to happier customers and more loyalty.
Increased salesOnce a customer has an easier shopping experience, they will be happier to shop more.
Improved data insightsFood delivery plugins come with analytical tools that provide data insights on customer behavior

. These insights can guide your menu and marketing strategies.
Looking for restaurant reservations or table reservations? Check out the best WooCommerce booking plugins. 
Best WordPress food delivery plugins
We've handpicked the 8 best food delivery plugins to make food orders seamless on your WordPress and WooCommerce sites.
Unlike other roundups that list similar plugins on this topic, we are taking on a different approach! We will be listing 8 food delivery plugins that work in completely different ways. This will help you mix and match till you create the perfect combination based on your individual needs.
Each of these WordPress and WooCommerce restaurant delivery plugins works with any WordPress theme. They provide modern and user-friendly ways to publish your food menu online. You can use them with page builders like Gutenberg and Elementor, and translation plugins like WPML. There's a plugin whether you want to build a restaurant website with fast food or takeaway delivery, enable mobile ordering, and more. You can use them with any payment gateway such as PayPal or credit card.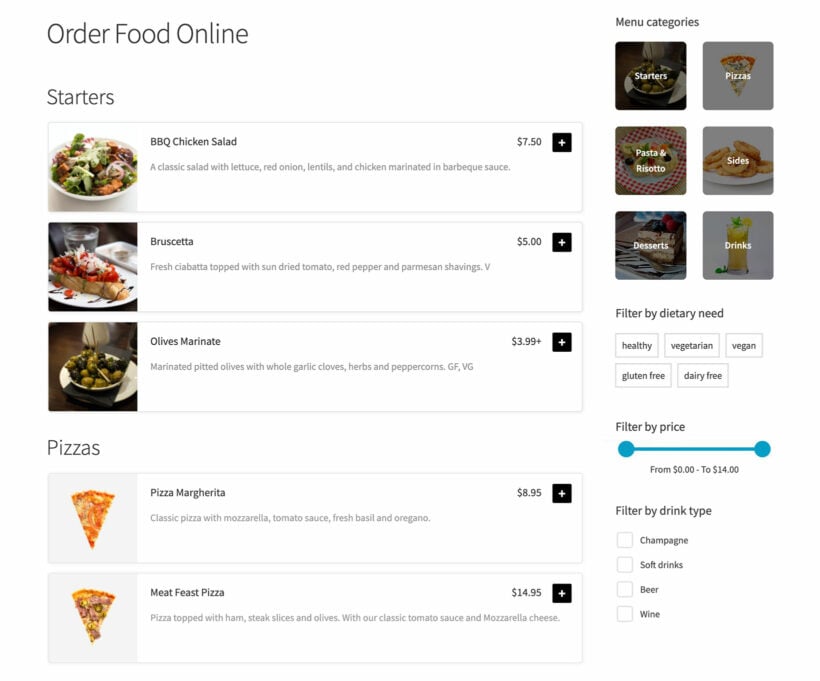 WooCommerce Restaurant Ordering is a WordPress food delivery plugin. It extends the popular WooCommerce e-commerce platform to provide a comprehensive solution for food and restaurant businesses.
The plugin is designed to make ordering food products quick and easy for customers by displaying all menu items on a quick one-page order form.
You can create detailed menu items, including item descriptions, prices, and images. This makes it easy for customers to see what is available and make informed choices.
The one-page order form is user-friendly in the front end. This makes ordering a seamless experience for customers. They can easily add items to their cart and specify any customizations or special requests. It's equally easy for you to set up in the backend of your WordPress food delivery website.
Read one of our most popular tutorials: Complete guide to building a WooCommerce restaurant ordering system.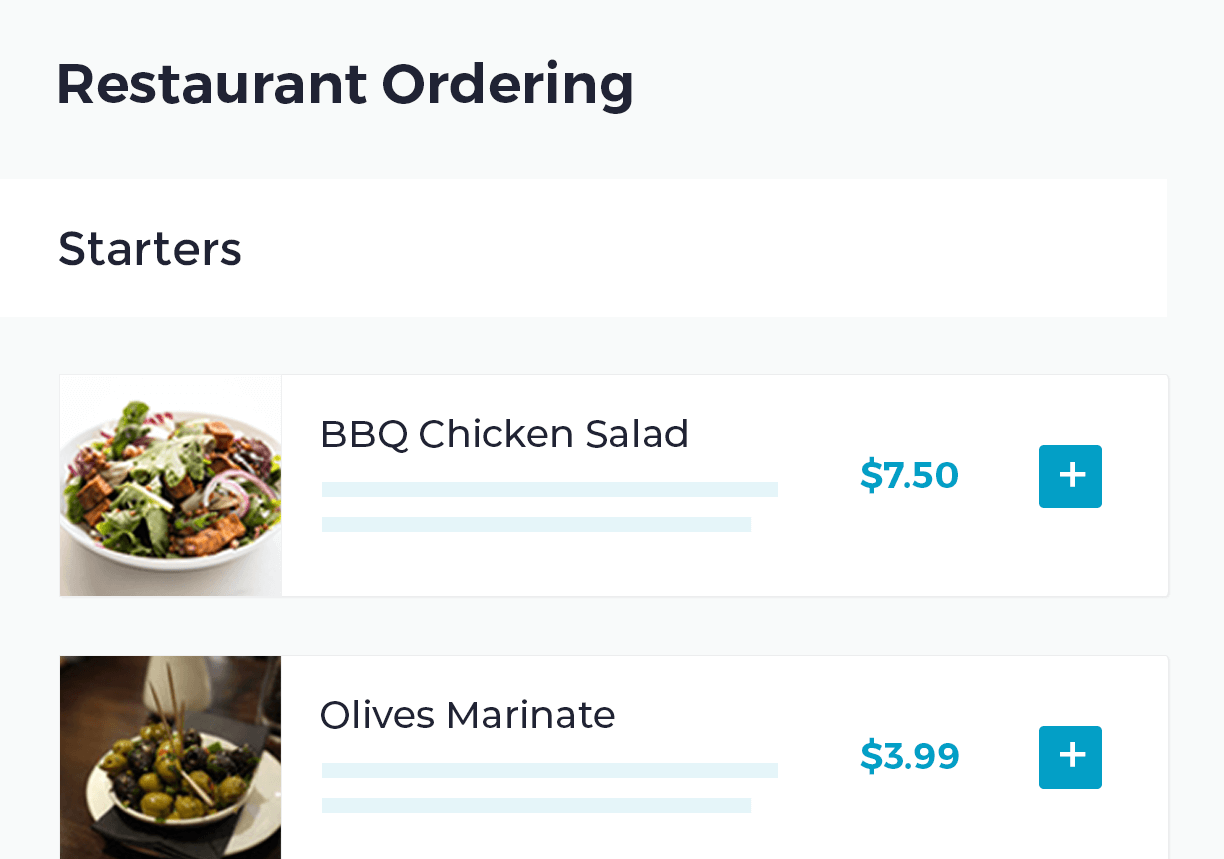 Add food ordering to your own website in minutes - with no commissions to pay!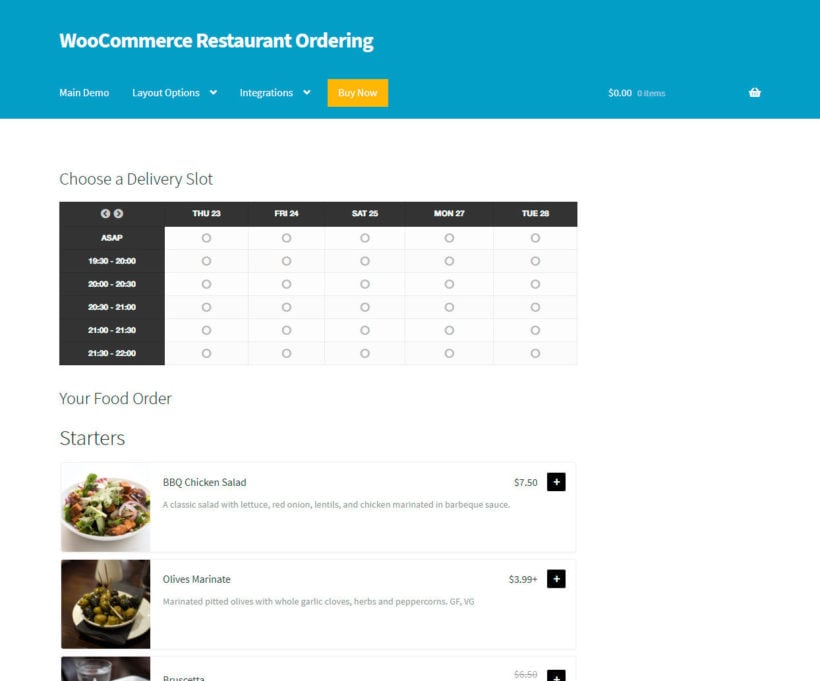 WooCommerce Delivery Slots is a WordPress food delivery plugin that focuses on the delivery part of the process. It works with both WooCommerce Restaurant Ordering and Product Table plugins as can be seen elsewhere in this article.
After your customer has placed an order, they can select delivery slots during the checkout process. This ensures that their orders are delivered at a time that is convenient for them.
The plugin displays available delivery slots based on factors such as delivery time or location.
The integration makes the plugin a comprehensive solution for food stores. Use Delivery Slots with one of the fast ordering plugins for the best combination of WordPress food delivery plugins.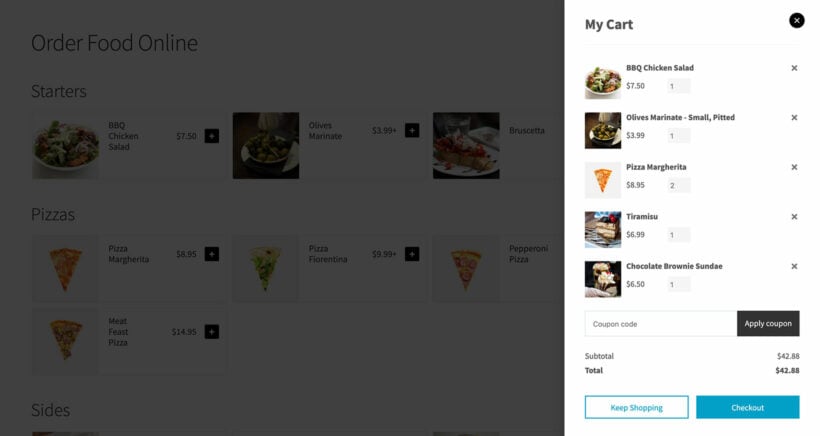 If you're looking for add-ons with a faster order process for your customers then this plugin is your best bet.
WooCommerce Fast Cart makes the food delivery process easier for your customers by displaying the cart and/or checkout in an on-page popup, rather than directing them to a separate page.
When a customer adds an item to their cart, the plugin displays a popup showing the contents of the cart. They can now use the mini cart to view, edit, or proceed to checkout.
During the checkout process, only the necessary fields are displayed directly in the mini cart. This makes it quick and easy for customers to complete their orders.
With a faster checkout process, conversion rates are likely to improve. The risk of abandoned carts is also reduced thereby increasing the likelihood that customers will complete their orders.
The fast cart works with the food order plugins featured in this article, plus WooCommerce Delivery Slots. Use them together for the best results.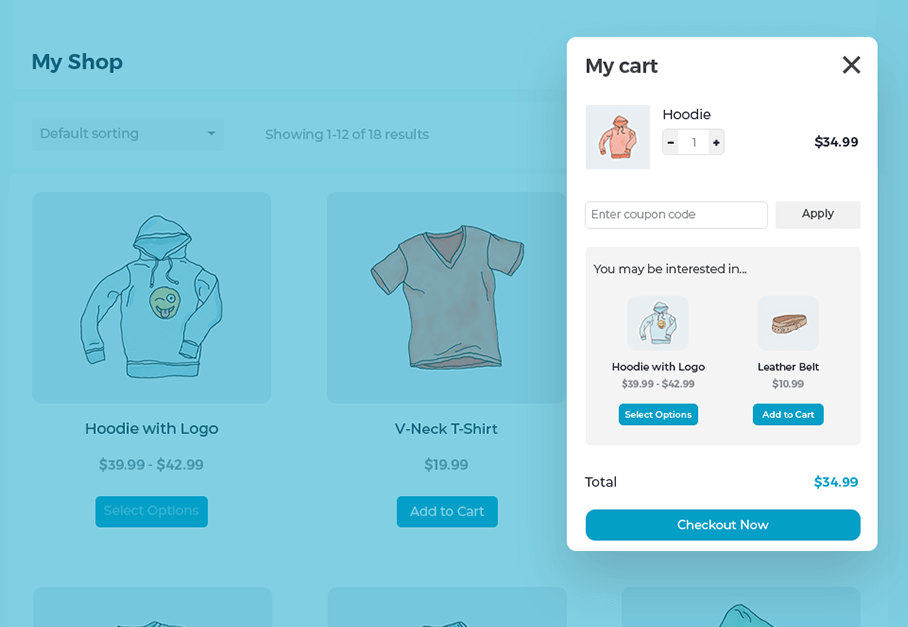 Increase your conversions and average order value with a beautiful popup cart and checkout.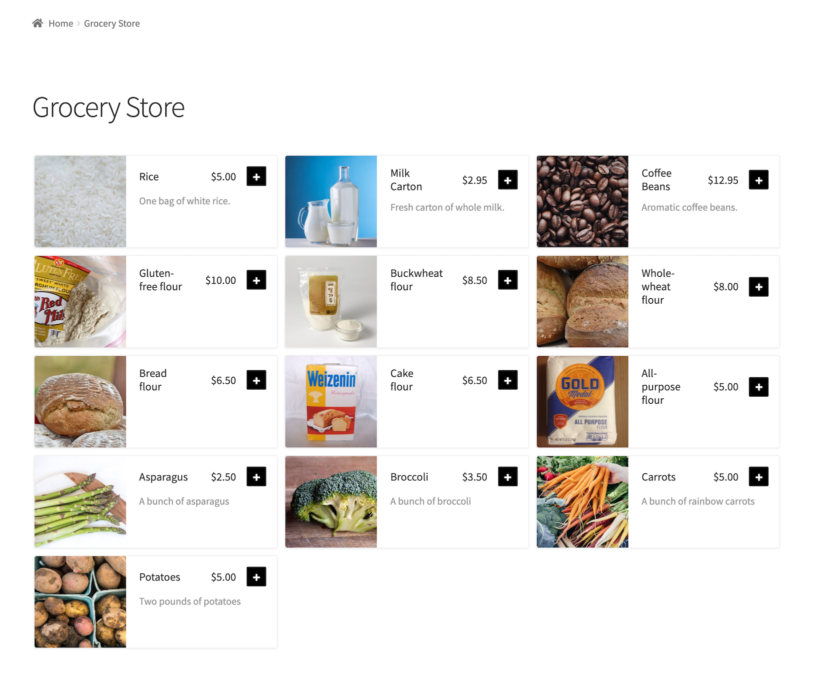 This food delivery plugin's functionality provides an efficient solution for online grocery stores with large numbers of products. WooCommerce Product Table displays the food items in a searchable, order form layout, with filters that allow customers to find the products they are looking for.
The table includes columns for product names, prices, images, and other important details. This makes it easy for customers to compare products and make informed choices.
Additionally, customers can select multiple products, choose quantities, and variations, and add them to their order for home delivery.
It also supports different payment methods making it a convenient and secure solution for online transactions.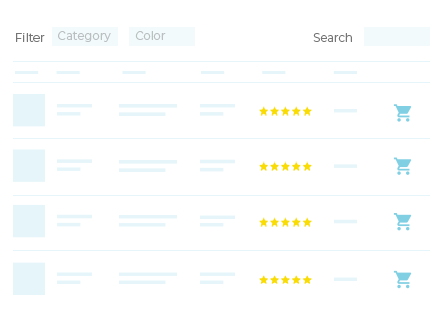 The easiest and most flexible way to list products and create quick order forms.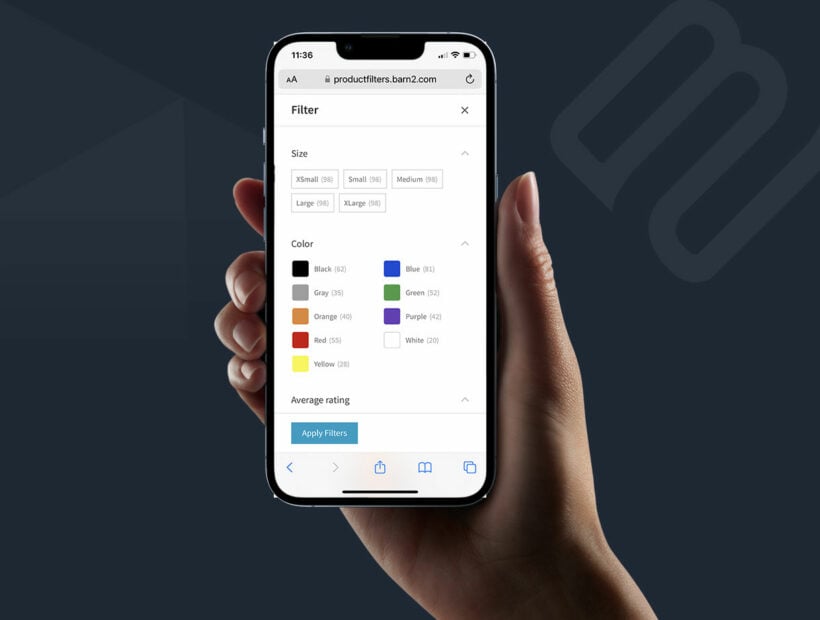 Statistics show that 60% of restaurant orders are made through mobile phones. With a growing number of online shoppers relying on their mobile devices for food orders, a mobile-friendly food ordering system is essential for the success of your business.
This Mobile App plugin provides a more convenient way for customers to order food. It also offers a number of features that are not available on your website.
These include push notifications, real-time order tracking, and easy access to previous orders.
The WooCommerce food delivery plugin converts your WooCommerce website into a mobile app, giving your customers a seamless shopping experience on the go. The app is available for both iOS and Android platforms.
Further reading: How to let customers order food from their table.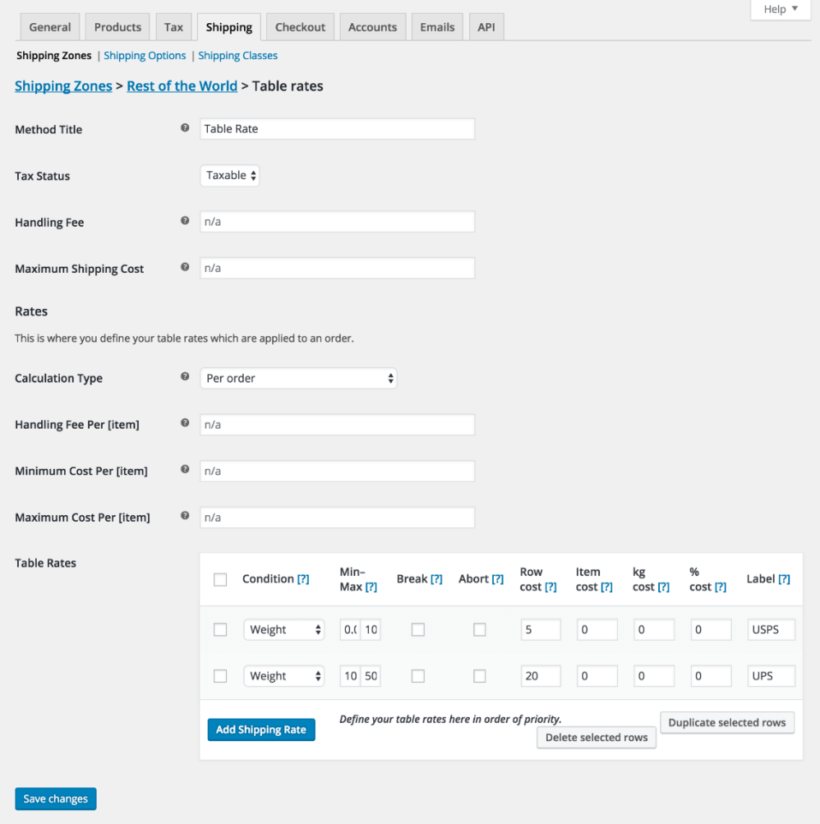 Product Shipping is essential for stores that need to charge for food deliveries in more complex ways.
This food delivery plugin provides you with a lot of flexibility and control over your shipping rates. You can set up multiple shipping methods with different rates or offer different shipping methods for different products. This can be based on the total order value, weight, or anything else.
This is useful for food delivery businesses because they can offer different shipping rates based on the type of food items, the weight, and the delivery location. It gives you much more flexibility with your food delivery fees and delivery options.
Table Rate Shipping is also very user-friendly and easy to set up. You can create and manage your shipping rates directly from the WooCommerce dashboard. There are some free plugins with similar functionality, but they're less well supported. As a result, we recommend the official extension for a feature as important as food delivery in your restaurant website.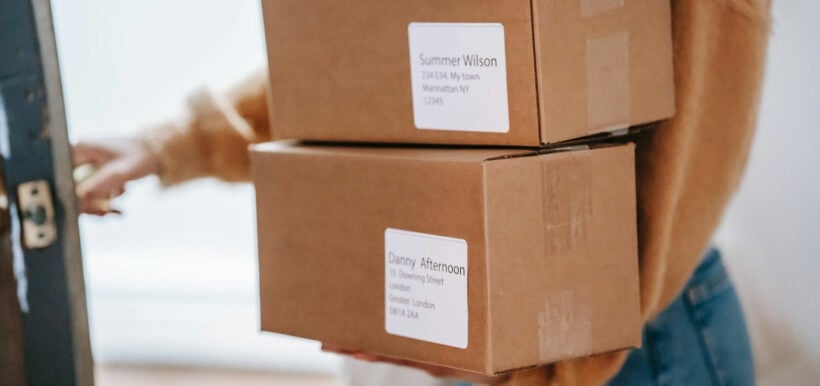 Previously, we have assumed that you should the same food delivery options to every customer. However, that may not be the case!
Conditional Shipping and Payments is a WooCommerce plugin that allows for customization. You can control which shipping and payment methods are displayed to customers based on various conditions.
It is a way to control which shipping methods and payment options are shown to customers when they order something online. As a result, this helps make the process easier and less confusing.
For example, you can offer free shipping to customers who have bought a lot of things from you, or only show payment options that work in a certain place.
This is done using rules that you set up in a special place called the WooCommerce dashboard. It's easy to use and helps make ordering things online smoother and more enjoyable.
Conditional Shipping and Payment is very user-friendly and easy to set up. You can create and manage your conditions directly from the WooCommerce dashboard, and you can also import and export conditions in bulk.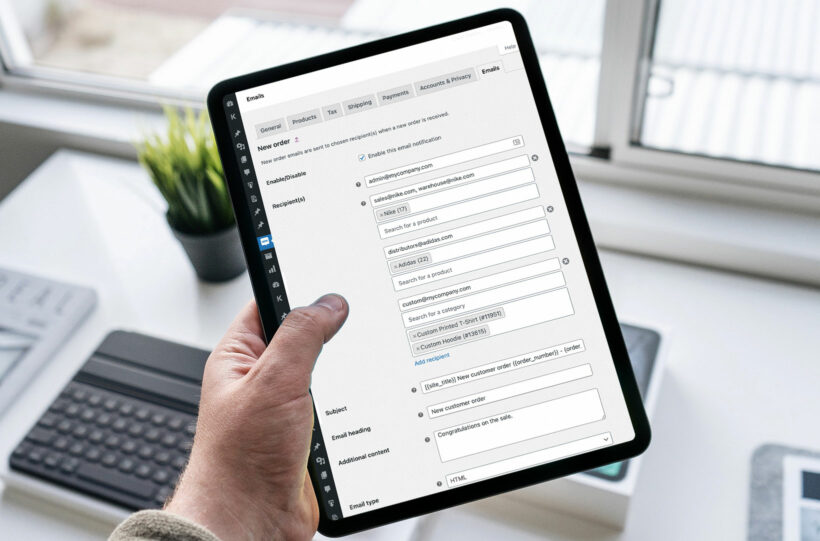 Finally, let's look at a food delivery plugin which enables your customers to order food items to be delivered to multiple recipients. This is a great solution for sending food gifts. Customers can purchase and send items to multiple friends, colleagues or family members at the same time.
Shipping Multiple Addresses provides an easy-to-use interface for adding extra shipping addresses to an order. During the checkout process, customers can specify the different addresses and quantities of items they want to send to each recipient.
This helps to simplify the process of sending gifts to multiple people, reducing the time required for separate orders.
Whether it is for a special occasion, such as a birthday or holiday, your customers will find it easy to deliver food items to their loved ones around the world."
Some of the key features of this plugin include:
Ability to manage multiple shipping addresses from a single order
Automatic calculation of shipping fees
Track and manage deliveries to multiple recipients
The best WordPress food delivery plugins
There are numerous WordPress food delivery plugins available in the market, but the above-mentioned 8 are the best. These plugins are designed to cater to the needs of all types of food businesses.
Mix and match the best food delivery plugins to create the perfect food delivery system for your site.
Overall, the top 8 WordPress food delivery plugins are:
The right food delivery plugin can help you improve customer satisfaction and increase sales.
With the help of these plugins, you can make the ordering and delivery process seamless for your customers. So, choose the plugin that best suits your needs and take your food delivery to the next level.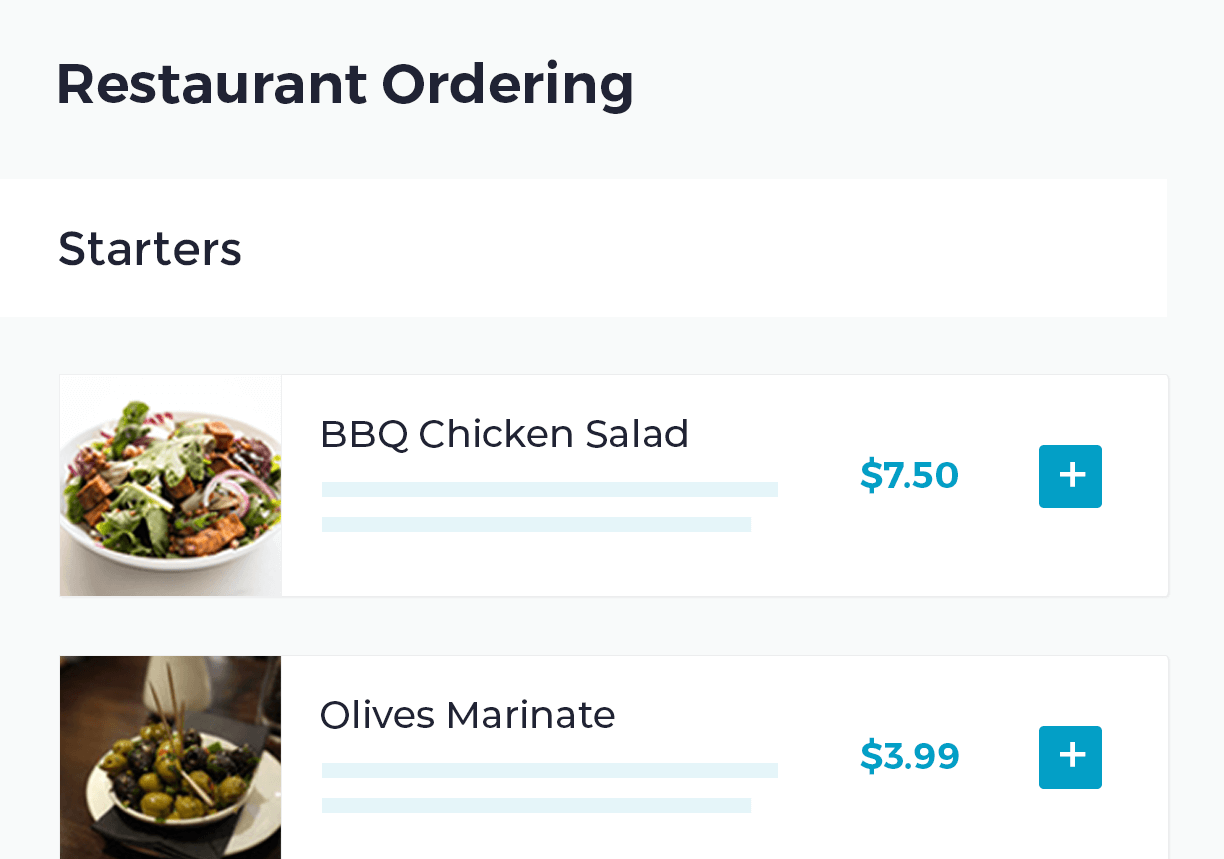 Add food ordering to your own website in minutes - with no commissions to pay!