At Barn2, we've used Placeit for many years to produce branded images for our own site and our clients' sites. They have kindly provided this article on how any eCommerce site can build a successful brand.  
Improve your eCommerce page by using helpful tools to upgrade your brand's image. eCommerce competition is high and rising, so go the extra mile to make your website stand out from others. Think about how much time you really have to catch your website visitors' attention. What are they looking at?
There are approximately 1.92 billion digital buyers out there waiting to see your eCommerce store. It's literally never been a better time to open an online store! On the graph below, you can see that more and more people are predicted to buy online in the coming years!
"80 percent of people stop doing business with a company because of poor customer experience." (Oberlo)
Because of this, you want to make sure your user experience is excellent. Let's start with proper branding for your website. When designing a website you should keep it as clean, consistent, and professional as possible.
"A lot of eCommerce sites pick a template and call it a day. eCommerce is a highly competitive field as is, so, even the smallest edge can help you drive sales." (5 Ways Design Affects Your eCommerce Site).
From your website layout to your branding all the way down to your images, there is a lot of room to experiment with your design. So let's get into it.
Catch more flies with honey... & eCommerce branding consistency
Establishing a solid brand through your website and other platforms builds credibility for your business. This eventually results in gaining customer trust. From your website to your social media, brand consistently all the way! Also, make a brand that catches the eye of your visitor at first glance.
If you have no brand at all yet, you can start by developing your own logo. Developing a simple and effective logo can be a surprisingly daunting process, but with Placeit's Logo Maker you can get a professional logo design in no time.
Impressed? What else can you do for your website using Placeit? Well, read on to find out.
You've mastered your WooCommerce skills, branding your eCommerce website won't be any harder
Now that you've got your logo ready and you've established your brand's color palette, you can make all kinds of branding assets for your website. For example, you can add seasonal Ad Banners to promote a certain sale.
Establish a social media presence too! Branding your business everywhere is kind of the point of a good branding strategy so do not forget about other promotional sites. This will always be the best way to increase your brand's credibility.
Professional images to build your WooCommerce website
Great news! You can not only build all your branding assets using Placeit but you can also create the images you need to showcase your brand everywhere with professional mockups!
Make amazing mockups for your WooCommerce product table
If you're using WooCommerce Product Table to create one-page order forms, then you can showcase each product with real, professional images you don't even have to take yourself! Using a mockup is really simple. All you have to do is upload your design onto the template and you will get an image in a real-life scenario with your designs on it!
For example, if you're selling t-shirts, clothing or promotional materials then you can use Placeit to superimpose your branding or imagery directly onto photographs. It looks incredibly realistic:
From t-shirt mockups, print mockups, pillow mockups, and even book mockups, you can find everything you are looking for your store in Placeit! You can also use digital mockups to promote your website everywhere.
Also, mockups are very useful for your quick view plugIn
If you're using a WooCommerce Quick View plugin to speed up the buying process, don't struggle spending hours trying to take good photos of your products. Placeit's mockups look great even in a quick view lightbox because you always get very high-quality images that look exceptional no matter how much you zoom in!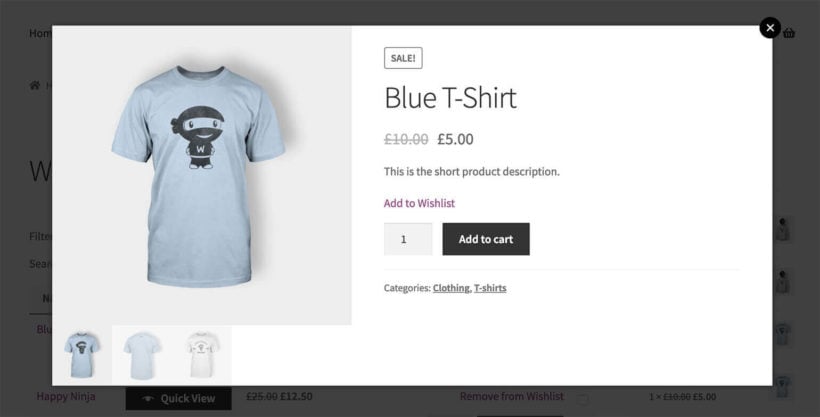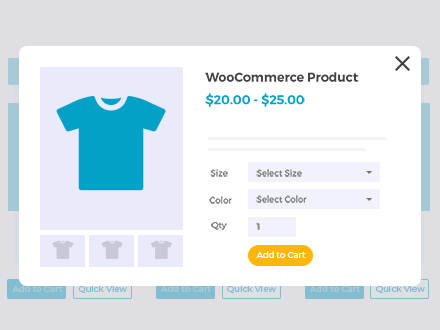 The quick and easy way for customers to explore and buy your products.
Social media images for your WordPress post tables
If you're using Posts Table Pro to list blog posts or other information in a table, then you need to regularly create new content to keep your audience updated. A solid content strategy can increase your engagement, help you establish brand awareness, and can even help with conversions! By sharing memorable content, you can generate curiosity in the mind of your users. Also, it never hurts to engage with a new audience!
Be creative with your images too! Instead of using generic images for your post tables, make original designs for your brand's posts.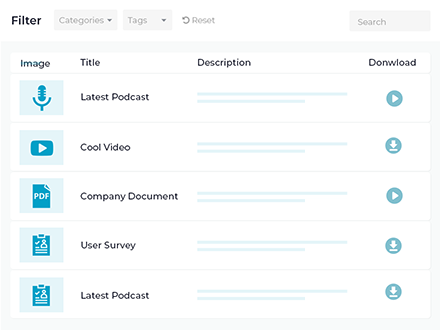 List posts or other information from your WordPress website in a searchable table.
Consider sharing your business story with a fun video
Share your story, an insight into your brand's culture for your customers. Let them get to know you in order for them to feel an emotional connection with your brand. There are lots of great tools you can use to tell your story. We would encourage you to try making a video about it!
Final words
Now that you have the right plugins for your eCommerce shop, it's time to get the right tools to brand your website effectively. Placeit has tons of amazing online design tools you can use to make your eCommerce website super pro! You can design amazing products for your shop, you can promote your designs easily with mockups and you can use all kinds of amazing promoting tools like videos or banner to get the word out on your newest sale! Let's get started and succeed with lots of conversions!