Did you know that the single store on your WordPress site can be turned into a multi-vendor marketplace, without having to change the platform! It's the perfect way to give your customers access to multiple vendors, with a seamless experience. At the same time, you can convert more visitors into customers.
Benefits of the online multi-vendor marketplace
We all know what a marketplace is. It's a place where a number of sellers gather under one roof, with their products displayed to sell to customers. But we are not talking about the traditional marketplace - we're talking about an online marketplace.
You cannot deny the charm of running an online store. You can sell without having to leave your home, you don't have to pay rent for a shop, etc. Now imagine the same carefree style with an online marketplace. You can turn a lot more visitors into customers without having to provide extra products.
Creating a WooCommerce marketplace
WooCommerce is a familiar name in WordPress. It is used to create a store on your site.
WooCommerce came into the market in 2011. It rose to popularity within a short span because of its easy installation process and endless customization facility. According to the latest statistics, 42% of all online stores use WooCommerce: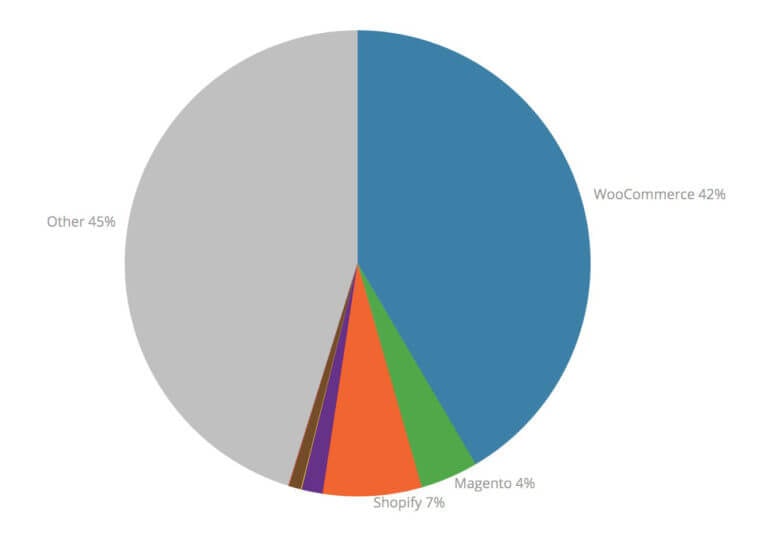 The reason WooCommerce is so popular and still ruling the growth scale is due to its flexibility and ease of use. WooCommerce has grown with demand.
Taking WooCommerce as foundation, people can turn a store into a popular marketplace. Dokan is such a solution - it uses WooCommerce as its base to turn your store into a comprehensive multi-vendor marketplace.
Using Dokan to make WooCommerce a multi-vendor marketplace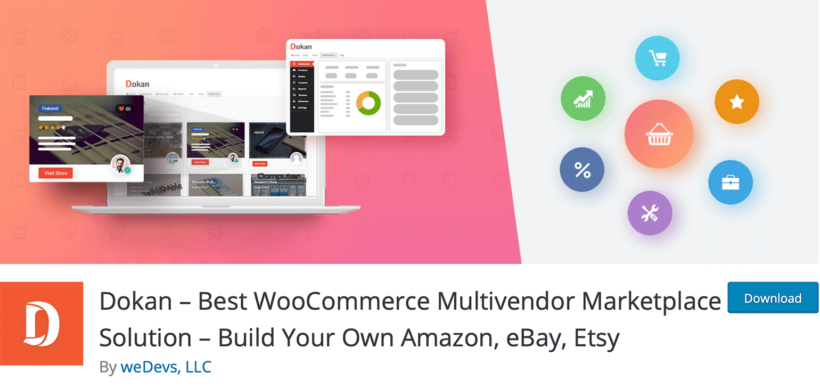 Dokan is the first WordPress plugin to turn a store into a multi-vendor marketplace. It's compatible with any WordPress and WooCommerce themes. So you don't need to worry about creating new a theme for your marketplace.
Unlike many other platforms, Dokan comes in a lite version. Facilities of this lite version work as a package for small business owners. You can run your business for free if you don't feel like upgrading to the paid business version.
You can also check out its free demo if you want to test the user experience. Dokan also has a 14-day refund policy.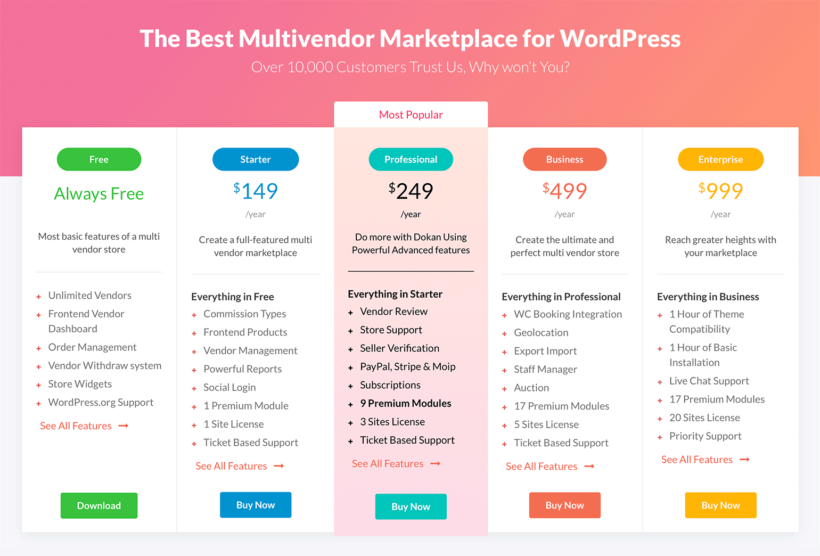 Requirements
You need to meet a few requirements to be able to use Dokan:
First of all, you will obviously need a website running the WordPress content management system. After all, Dokan is famous for being a WordPress marketplace platform.
Then you will need WooCommerce installed on your site - this is the base for Dokan.
Finally, you will have to install the plugin 'Dokan'.
Dokan features
Turning your simple store into a marketplace is a massive move for your business. You need to be sure of what you are doing, right? So check and double-check the features Dokan offers to ensure that it is worth your risk and investment.
Dokan has a 3-fold agenda. How? Well, it is a system that works to make the marketplace owner, vendors and customers happy. This is not an easy task to achieve.
Firstly, the dashboard is the main workhouse for vendors and admin in the marketplace. Dokan provides a separate dashboard for vendors and admin. Vendor dashboards in marketplaces such as Cs-Cart or Shopify can be a bit complex. But do vendors need a complicated dashboard? We all know the answer to that. Fortunately, Dokan offers its users a simplified and precise dashboard.
Vendors have freedom of uploading products. Dokan gives the vendor the option for quick editing of their products. Sellers now can add their blogs and run their own campaigns. But as the admin, you have the ultimate power and ownership of the marketplace.
And there's more!
You can add unlimited vendors and earn commissions from each sale. Not only that, Dokan add-ons let you have auctions. Auctioning products bring many benefits to vendors and admins, as the market sets the price.
As for customers, they can give product/store reviews and can view pick their desired product in one place. Since it is not a traditional marketplace, transparency may seem difficult in some stores. Dokan's customer review system proves the transparency of your marketplace.
With Dokan's new module 'Follow Vendor Store', customers can follow the vendors they like and get regular updates of products from them. Moreover, Dokan Extensions allow customers to have invoices. Vendors, on the other hand, can get hands-on sales reports.
Dokan has a dedicated support team that is always ready to resolve customers' problems and any technical issues they may face.
Further reading: Learn about all the WooCommerce multi-vendor marketplace plugins and which ones work best with WooCommerce Product Table.
Turn your single seller store into a marketplace with just a few clicks
Since you are here, we assume that you already have a WordPress site. It won't be a surprise if you already have WooCommerce installed too. But we do not want to rely on any guesswork. So we are going to show you each and every step from the beginning of how to install WooCommerce and Dokan on your WordPress site.
Step-1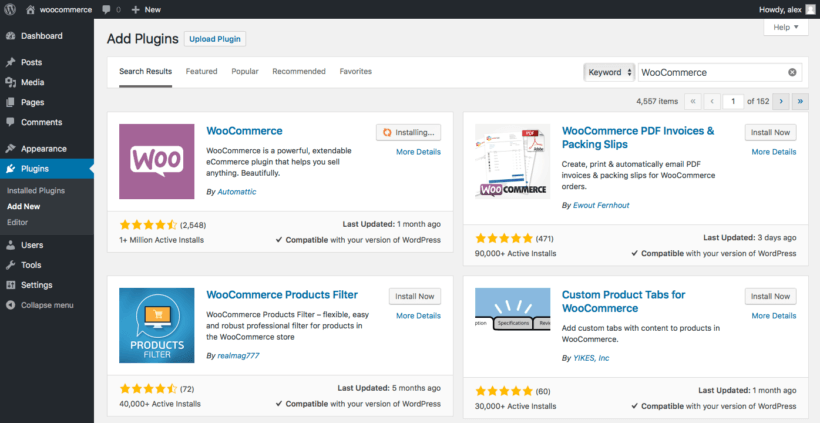 After you log in to your site, you need to install WooCommerce. For that navigate to Dashboard ->Plugins.
This will take you to a page with plugins in it. You can search for WooCommerce from the search bar there.
Install and activate the plugin.
Step-2
Repeat the previous steps, looking for Dokan from the search bar to install and activate it.
When you activate Dokan, you will get its dashboard automatically placed inside your WordPress admin.
Step-3
Remember how we talked about how anyone can be a vendor and there is no limitation to that? Now we have to configure that setting. For that, you have to go to your WordPress settings and enable the option.
WordPress admin → Settings → General
Step-4
Vendors will make it a marketplace. So the next step is to add vendors. You have to add vendors from the WP admin's 'Users' section:
WordPress admin → Users → Add New
You will see the roles that you can assign to the vendors. As the admin, you have to fill in the fields while assigning the roles.
You are almost done once you have added new users with user roles.
After adding vendors, the vendors will add products.
Here it is, your multi-vendor marketplace is ready!
Choose the best layout for your marketplace products
Dokan lists each vendor's products in a grid layout, with a 3-column layout and large images plus add to cart buttons and links to the single product page. This is a brilliant way to sell lots of product types, such as clothing.
Other products can be listed more effectively in a product table layout. You can easily achieve this by using Dokan with WooCommerce Product Table.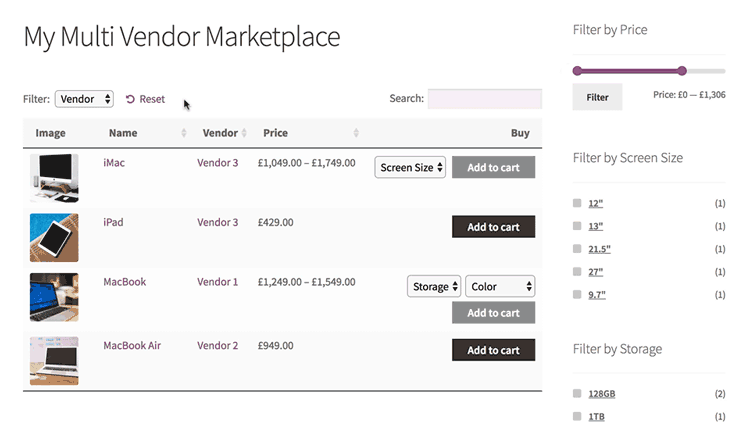 There are lots of benefits to listing marketplace products in a table view:
List products from the entire marketplace in a single table.
Add filters to help customers to find products for a specific vendor.
Add quick buying options such as variation dropdowns and quantity selectors directly to the product listing view.
Ideal for displaying less visual products where large images aren't important.
Perfect for showing more information about each product, such as technical data or additional filters.
How to use Dokan with WooCommerce Product Table
Create a table listing all your marketplace products
It's easy to list the contents of your entire marketplace in a searchable table:
Install Dokan and WooCommerce Product Table.
Create a page and add the shortcode [product_table].
This will list all products from all vendors in a table. If your vendors have uploaded variable products then customers can choose variations directly from the product table.
Add vendor information to the table
By default, your products will appear in a table without information about their vendor. Customers can click through to the single product page to find out who the vendor is.
If you'd like to create a 'Vendor' column in the table or allow customers to filter for products by a specific vendor, then this is possible. To do this, you need to create a custom taxonomy called 'Vendor' by following the instructions in this article. You can then add it like this:
[product_table columns="image,name,tax:vendor,price,buy" filters="true"]
Listing an individual vendor's products in a table
So far, you've learned how to list the products for all vendors in a table. If you have created a 'Vendor' taxonomy in the previous section, then you can also use this to create tables listing products for a specific vendor only.
This example shortcode will list products for 'vendor1':
[product_table term="vendor:vendor1"]
You can add this shortcode to any page on your site. You can also add multiple shortcodes to a page, for example, to list each vendor's products one at a time on the same page.
Use product table on vendor store pages
Dokan comes with built-in templates for each vendor's store page. If you'd like to include product tables on these too, then you can do this. It's a bit more technical and you will need to add the product table shortcode directly to the template file.
If you don't have a developer who can do this for you, then you can post a job on Codeable. This is the perfect way to find WordPress expert for specific tasks like this.
Use WooCommerce quick view to increase sales in your Dokan marketplace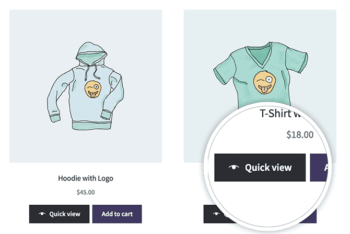 Whether or not you're using product tables, you can increase sales in your Dokan marketplace by adding quick view options.
The WooCommerce Quick View Pro button works beautifully with Dokan and adds quick view links to the vendors' shop and category pages.
It's a great way to speed up the buying process, as there's no need to visit a separate page for each product. Instead, customers can view extra product images, the short description, choose variations and buy directly from the quick view popup window.
Benefits of turning a store into marketplace
Researchers say if you want to make it to the highest then you must be brave enough to take greater steps. Turning a store into a marketplace is that greater step with minimum chance of any loss. Especially when it is with Dokan, you can build your marketplace risk-free as you get to own a marketplace for 60% less cost than others. Check out Dokan's Pricing Plan to find out why it is known as one of the most cost-effective marketplace solutions for WordPress.
Besides that, it will be a better-earning source for all the marketplace owners as well. Multiple sellers will help you in better marketing, with a wide range of products.
This also lightens your burden of maintenance and gives you time to set up other strategies and grow your marketplace.
Analyzing all the benefits, it seems like turning a single seller store into a full-fledged marketplace is a win-win situation when you already have a store set up for yourself.
Get started
E-commerce is the most convenient way of shopping for people with the digitalization of the entire system. Just look at the profits e-Bay, Amazon, Alibaba make every year. Do you see their market going down? They don't go down - rather new marketplaces add to the list as popular e-commerce marketplace with each passing day.
The great news is that you can create your own marketplace, without switching from WordPress! So just have faith in yourself and give your marketplace owning potentials a chance with Dokan.