We've just released version 1.6 of our bestselling Document Library Pro plugin. Now your document libraries can benefit from a download count, document author column, and advanced AJAX filter widgets due to a new integration with FacetWP.
As one of our most popular plugins, we're always looking for ways to improve Document Library Pro. In fact, it's only a few months since we added a beautiful new grid layout to the plugin!
This time, we surveyed our customers to find out which extra features they want for their document libraries. As a result of their feedback, we've added lots of new features which are available now:
Integration with the FacetWP plugin so that you can add advanced filter widgets to your document libraries
Document count/analytics
Display the document author in the library
Change the number of columns in the grid layout
Sort options for folder view
Change the permalink for single document pages
Keep reading to learn more about them all.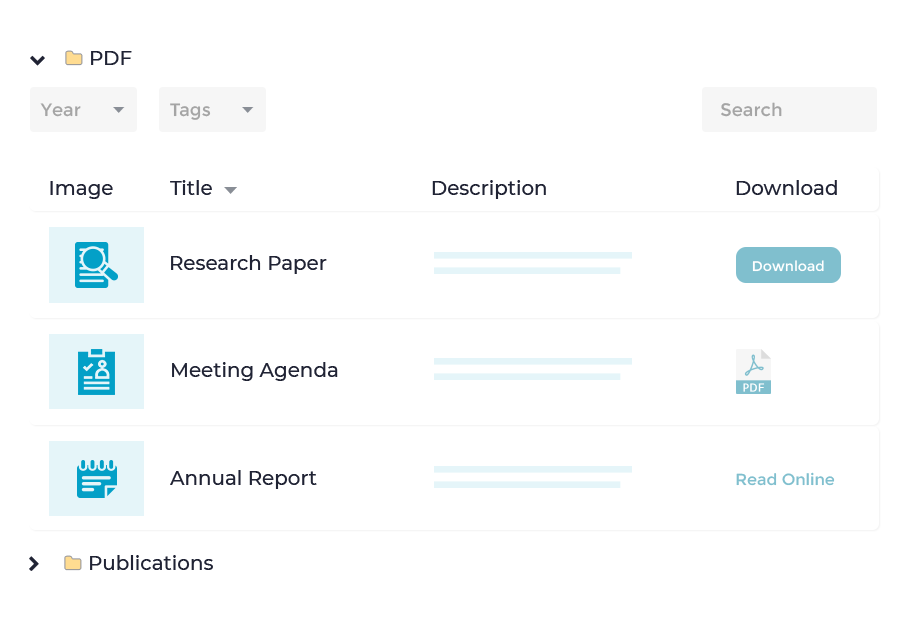 Install Document Library Pro today and start adding and sharing documents - the easy way!
New FacetWP document filter widgets
Document Library Pro has always had built-in filter dropdowns which you can display above the table of documents. However, these are only available for the table layout and not the grid view. In addition, they can only appear above the document library and not as sidebar widgets. We decided that our customers deserved an additional way to filter the document library.
FacetWP is an excellent WordPress filter plugin. Its filters work instantly using AJAX, and you can add filters for any type of data. As a result, we chose to integrate Document Library Pro with FacetWP so that our customers can use its filter widgets with their document libraries.
If you want to use Document Library Pro with FacetWP then the method for displaying documents on your website is slightly different. To help you with this, we have published a new documentation page about how to create document libraries with FacetWP filters. You can also see it in action on our demo pages:
Document count/analytics
Lots of people have asked us for analytics data so that you can see how many people have downloaded each document. This is now available and the download count appears:
On the main list of documents in the WordPress admin.
You can optionally add a download_count column to the front end document library. This is useful if you want your users to be able to see how many people have downloaded each document. For example, this is a useful way for people to see your most popular documents. You can even sort the document library by popularity (just order by download count in descending order)!
In addition, you can optionally show the download count on the individual document pages. Enable this at Documents → Settings → Single Document.
Display the document author in the library
Document Library Pro comes with the most popular fields built-in. People can create extra custom fields and taxonomies in order to add further fields.
Until now, if you wanted to display the document author in the library then you have to create a custom taxonomy. Quite a few customers told us that they would have preferred to have a built-in author column.
Your wish is our command! We have now built an author taxonomy into Document Library Pro. Simply add the author on the 'Add Document' screen, and choose whether to include the document_author in your list of columns.
Note: Power users will know that Document Library Pro already had an 'author' column. This refers to the WordPress user who added the document to your site. You can still display this if you like. However, the document author is generally different from the person who added the document, so you might find the new option more useful. 
Change the number of columns in the grid layout
For added flexibility in the document grid layout, you can now choose the number of columns.
The default option is still 'Auto-size', which means that the number of columns is determined by the screen size and the available space. In addition, you can select between 1 and 4 columns under Documents → Settings → Document Grid. 
Regardless of your settings, Document Library Pro will only ever display a number of columns that fits on the user's screen. This ensures that the library never looks broken. For example, if you set 4 columns then this will be used on wide monitors, and fewer columns will be used on smaller screens.
New sort option for folder view
The folders option is a popular way of structuring the document library. It displays the documents in a folder structure so that users click on a folder to view the documents within.
Until now, the folders were ordered based on how WordPress itself orders categories. We have now added a sort option so that you can choose other ways to order your folders, for example alphabetically.
Change the permalink for single document pages
And finally, we've given you more control over the URL structure of your individual document pages. Until now, documents always had 'document' in the permalink, for example https://documentlibrary.barn2.com/document/diversity-policy. You can now change this to anything else, such as https://documentlibrary.barn2.com/policies/diversity-policy.
To change the permalink, just go to Documents → Settings and change the document slug to anything you like.
Where to get the new features
If you're already using Document Library Pro then you can update to version 1.6 from the WordPress admin as usual. Alternatively, install the plugin and start creating professional document libraries today!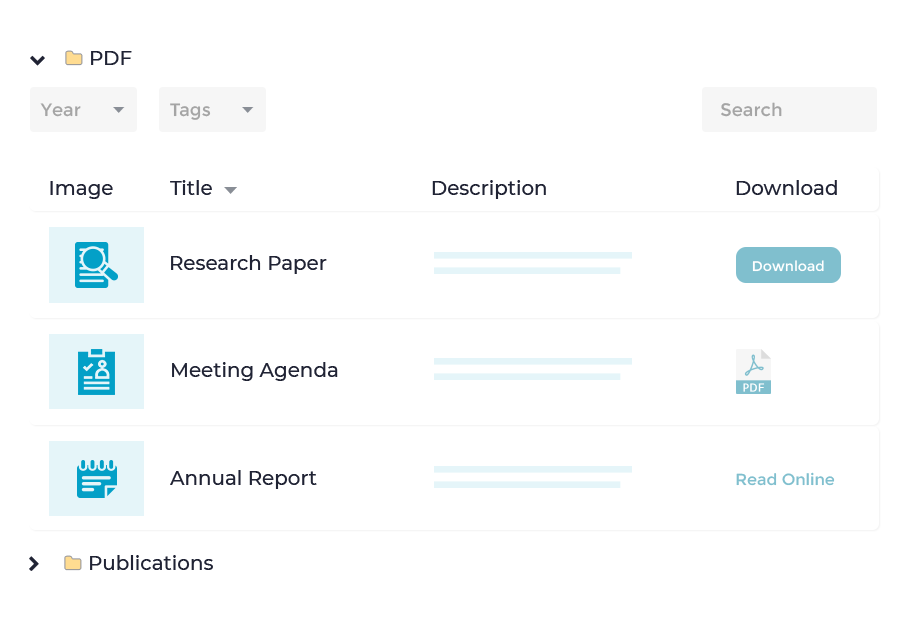 Install Document Library Pro today and start adding and sharing documents - the easy way!