WooCommerce Lead Time is the first and only WordPress plugin to provide estimated delivery timeframes for products. With this handy extension for WooCommerce, you can let your customers know what to expect.
Today we're reflecting on why it's so important to show lead times for your WooCommerce products. We'll be looking at the website of one of our WooCommerce Lead Time plugin customers to see just how much of a difference it makes.
Before making an online purchase, most consumers will look to see if:
There is sufficient inventory.
When they can expect their order to arrive.
Date and/or time of expected delivery.
Shipping options that can be used.
This is a pivotal point in the buyer's journey and a crucial factor in determining whether or not they complete a purchase.
By using the lightweight WooCommerce Lead Time plugin, you can show your customers the approximate timeframe until an out-of-stock item is back in stock. Customers can quickly gauge whether they should place an order now or hold off.
One of the biggest causes of abandoned carts in WooCommerce is customers adding items to their cart just to check the delivery timescales. Having the product lead time shown on individual product pages helps shoppers decide whether or not to purchase the item before they even get to the checkout page.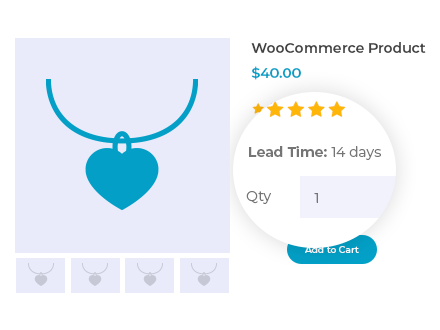 The only plugin to show waiting and processing times in your WooCommerce store.
Why should I show lead times for my WooCommerce products?
The term "lead time" refers to the time it takes to complete an online purchase, from when the order is placed until it is fulfilled. Time is counted from the moment an order is placed until it is delivered to the customer's door.
WooCommerce allows you to specify whether an item is available, sold out, or on backorder. However, you cannot specify an additional waiting period for products that have slow lead times or are temporarily unavailable. If you offer products that are built to order and have long lead times, it's crucial to let buyers know when the product will be ready rather than simply announcing that it's out of stock or on backorder. This will save your customers from becoming frustrated.
You can use WooCommerce shipping plugins to give shipping estimates. However, this doesn't include the time that it actually takes you to despatch the order. Unexpected delays will inevitably lead to complaints and lost business. Customers will appreciate knowing how long it will be before receiving their orders if you include an estimated lead time on the product pages.
Imagine, for instance, an online shop selling handmade clothing that requires a lead time of six weeks to complete the order. Customers need to see this preparation or processing time information. They are then free to choose whether or not the proposed schedule suits their needs.
Lead times for out of stock products
If you just mark products as "Out of stock" then potential buyers will generally abandon their purchases on your site and look for alternatives on Google.
Showing lead times is therefore essential for products which are temporarily out of stock. It gives them the option to either place an order immediately or wait until the product is back in stock.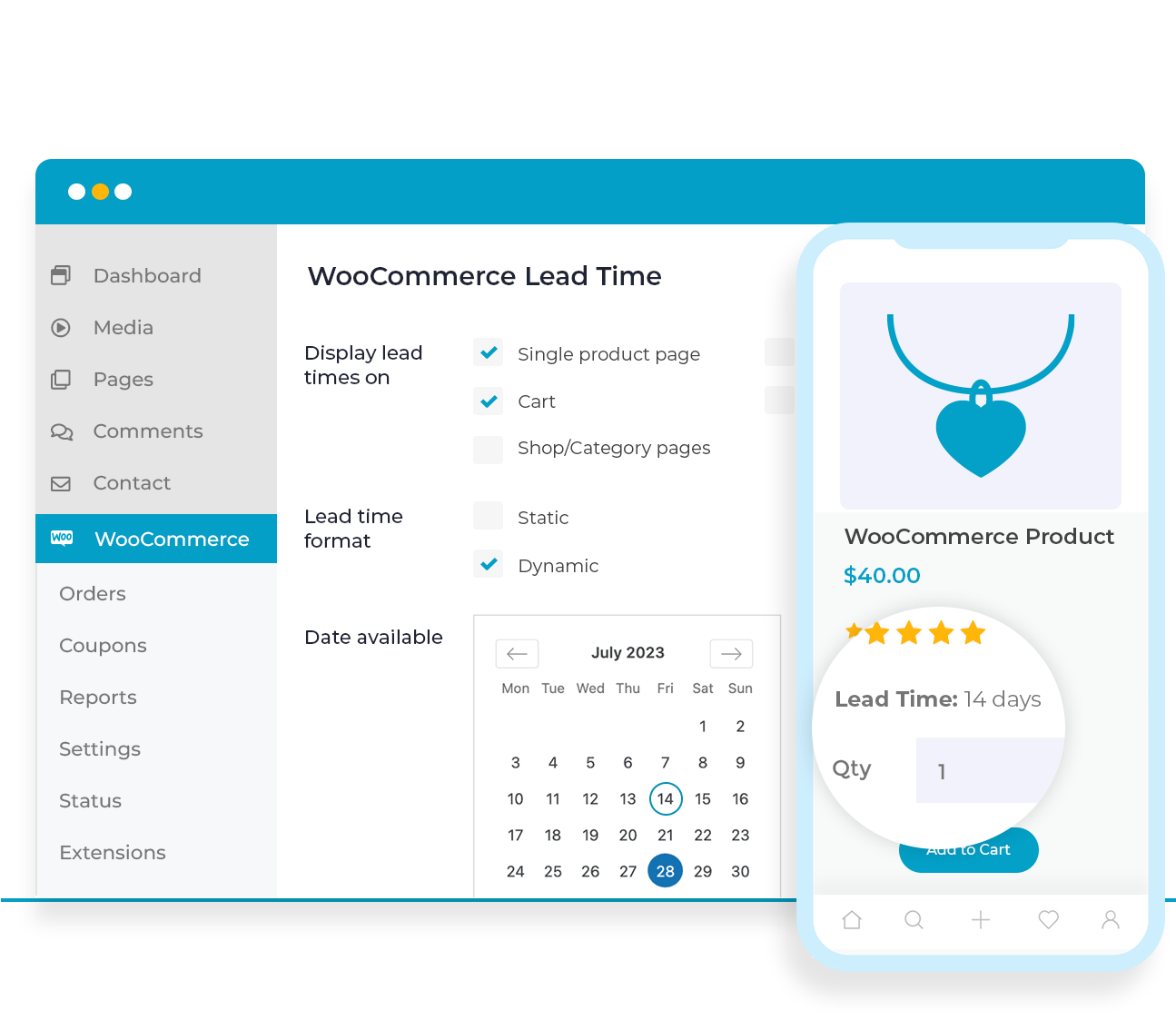 Or even better, you can allow backorders of out of stock products, and display a clear lead time message so that customers know there will be a wait. This is the best option because you still get the order, while clearly communicating the timescale and managing customer expectation.
It is a smart move to provide customers with information regarding backorders for products that you do not have in stock at the moment. This lets customers know when the product will be replenished in your inventory. As a result, you should provide your WooCommerce consumers the choice of continuing to place their order and having the product sent to them when it is back in stock. This is better than waiting until the product is once again available for purchase because there's no chance that the customer will buy from a competitor instead. After all, they have already committed to your product by placing an order.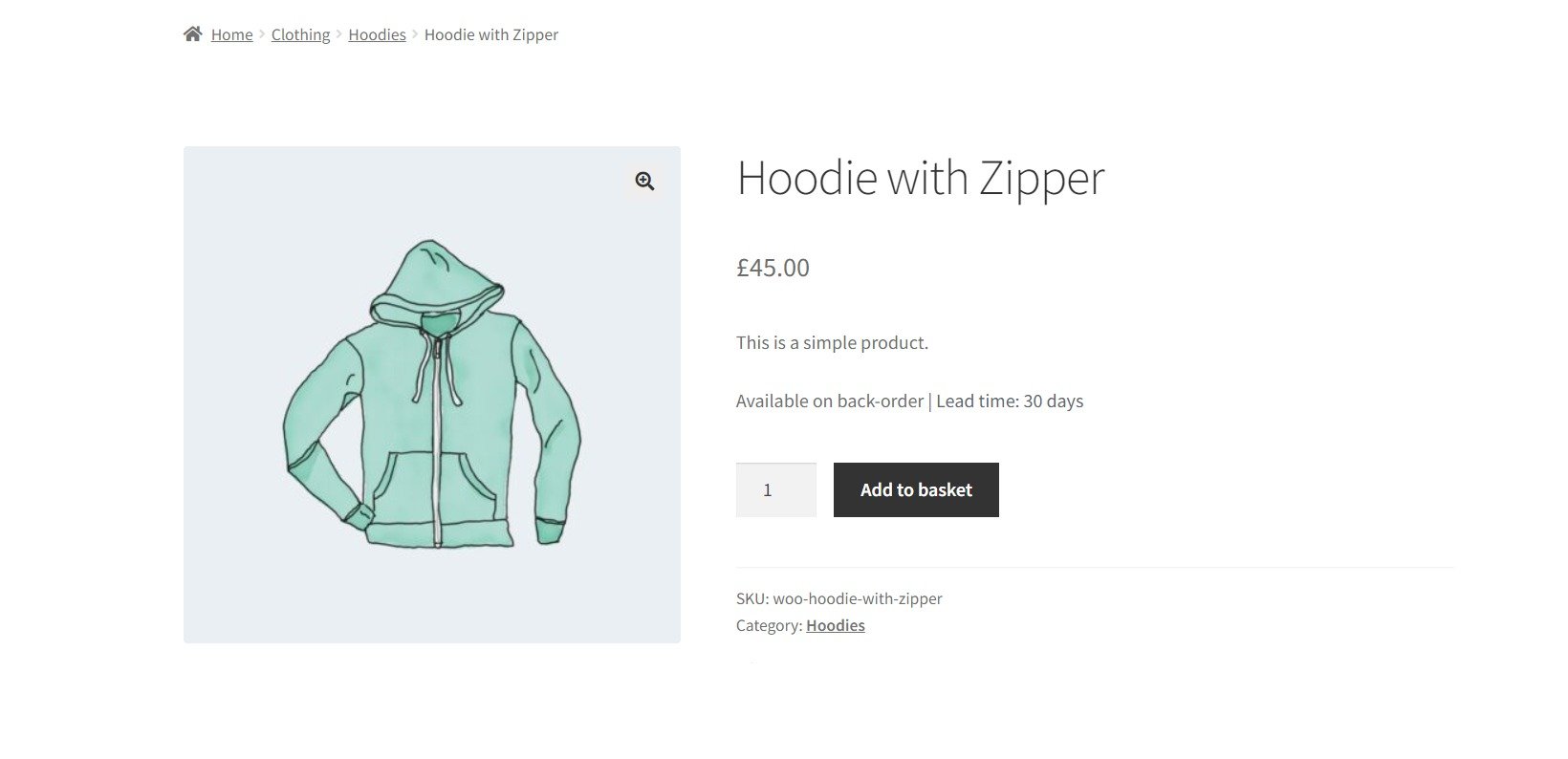 Using WooCommerce Lead Time with other plugins
There's a bonus for you as the shop owner when you use WooCommerce's lead time feature with the Delivery Slots plugin. These two plugins work hand in hand, so that customers can pick a delivery date and time which is after the product lead time has elapsed.
Ideally, the product lead time should be communicated to customers on the product details page. However, you can also use the plugin to show the lead time on your main store pages. And if you use it with other plugins like WooCommerce Product Table or Quick View Pro then you can show lead times in the product table or quick view lightbox.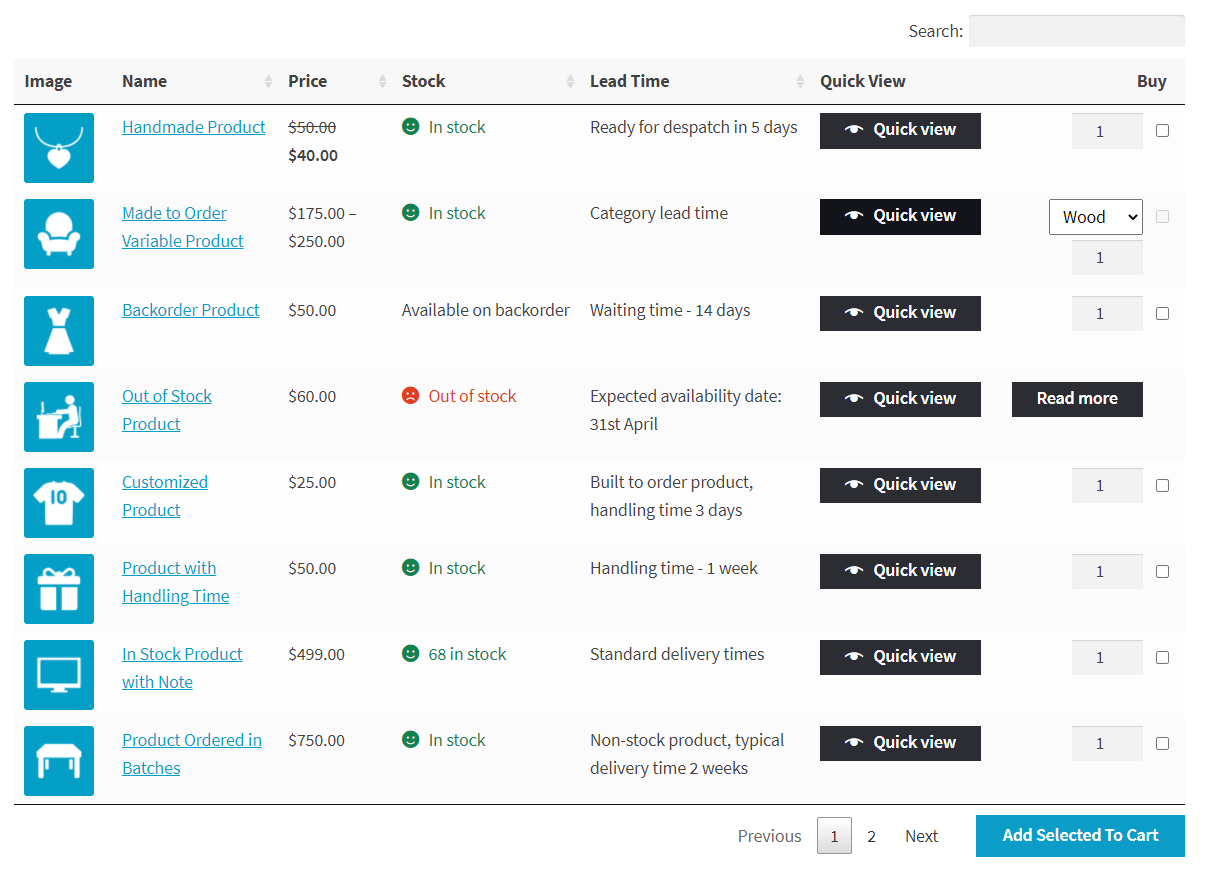 Using WooCommerce Lead Time with the Product Table and Quick View plugins
Benefits of displaying product lead times
As we have seen, if your shop sells products that aren't constantly in stock, WooCommerce Lead Time is the perfect plugin for you. This may be the case if the item is custom-made for the customer or if the business simply does not have it in stock at all times.
Key advantages of showing processing times for WooCommerce items include:
Enhances the satisfaction of the product's target audience
The lead time can be displayed to improve customer service and streamline the buying process for customers. In addition, it improves consumer confidence by reducing their anxiety over WooCommerce backorders and fostering an atmosphere of openness and honesty.
Customers are able to make educated choices
If you run out of a product but know it will be back in stock shortly, you may still let your consumers know when they can expect it. The consumer can then determine if the proposed delivery date is acceptable.
Customers and customer service representatives save time
Additionally, showing the expected time on the product page prevents your customer service professionals from wasting time manually confirming the lead time for certain goods. Customers won't have to wait for an answer from your support team because they can see for themselves when the product will be sent.
It is possible to enhance conversion rates, shorten the time it takes to complete a purchase, and lessen the number of times customers abandon their carts by making product lead times readily available on the site.
What types of website need to show lead times?
If you sell handmade or custom order goods
Let's imagine you own an online shop where customers may purchase products that have been handcrafted or manufactured to order. An anticipated waiting period may be listed for the purchase of certain items.
You can simply show the lead time for each product on the front-end of your site with the WooCommerce Lead Time plugin, with different wording depending on the product's current stock status. This is possible because of the plugin's flexibility.
Retail establishments that do not always have all goods in stock
Certain stores do not keep all of their merchandise in stock and instead place orders at predetermined intervals. Additionally, it is essential to bear in mind that the order dates may be different for each product. In most cases, the anticipated order dates are affected by factors such as the location of the supplier and the processing durations.
Items that are currently unavailable to purchase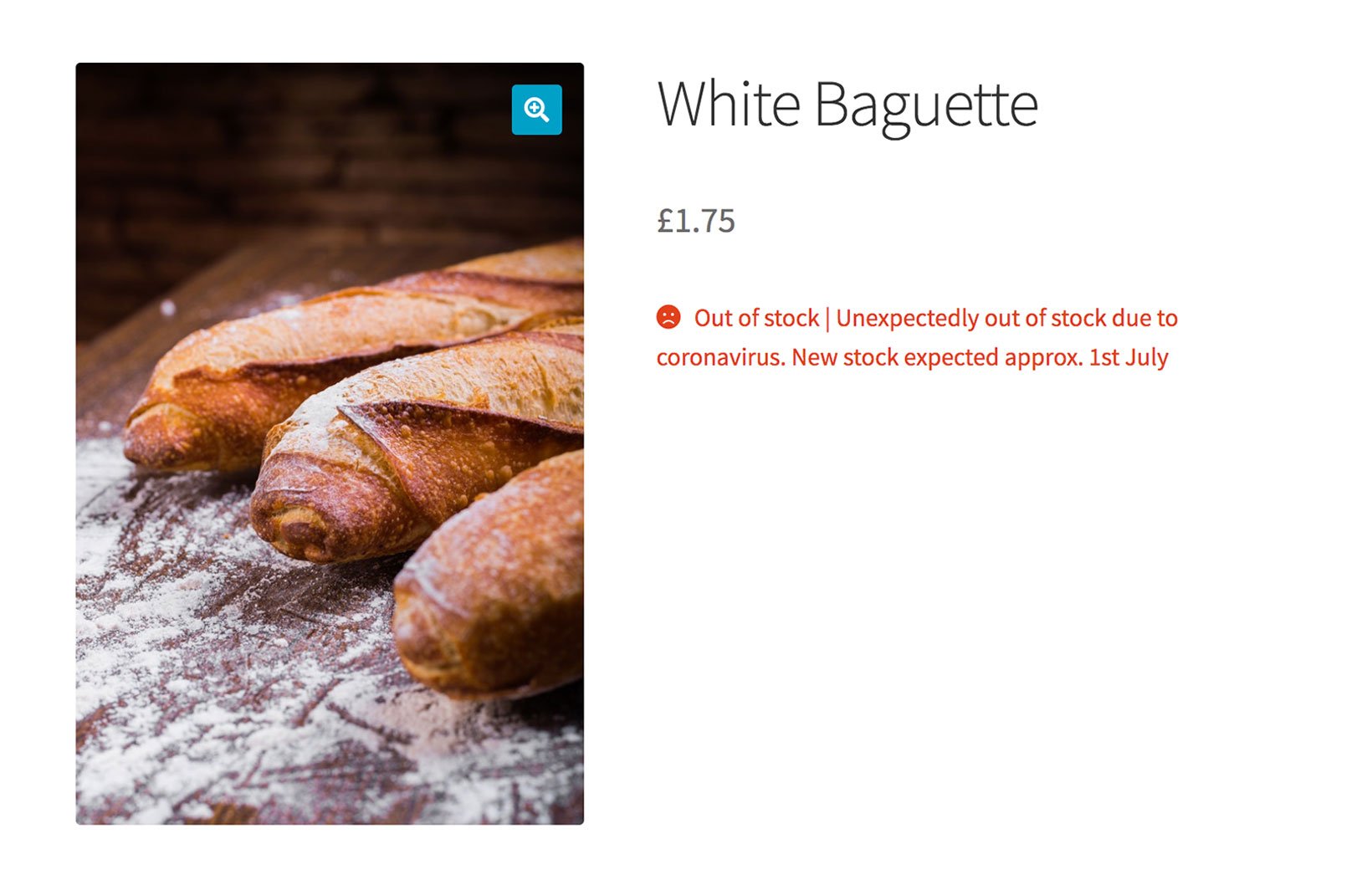 Demand for a product will always be subject to various ups and downs. When a popular product has lots of orders, you may need a method to inform customers when it will be restocked again. For instance, maybe you sell t-shirts and are sold out of a certain SKU. When this happens, you'll want to let your consumers know when you will re-stock the item so they can plan accordingly.
On the individual product page, you may display a straightforward notification that reads "Out of stock | Available: [Date]" if you use WooCommerce Lead Time.
Real-life case study
Here's a short case study about Omnifoto.nl – Masters of Light, an e-commerce store that uses the Woocommerce Lead Time plugin.
Omnifoto sell different filters for the camera lens. With the installation of the Lead Time Plugin, the main Shop page now displays the stock status of each item. It also shows whether items can be backordered, so customers can get this information without having to visit the individual product pages.
As a result, Omnifoto's customers can now make quick and better decisions in purchasing their desired products.
For example, at one point the Haida M10-II Filter Holder Kit 67mm product was temporarily out of stock. An estimated re-stock time was shown on the page. The store owner entered the restock date in the WordPress admin. As a result, the WooCommerce Lead Time plugin automatically showed the number of days until this date. Customers can quickly order the item as soon as it is re-stocked.
This is a good tool to use, especially for those who sell in bulk before restocking. This lets the customers know how soon their desired products will be available for order.
According to the website's owner (Jans from Omniphoto):
I did a search on the net to try and find a plugin that would show if an item is in stock directly on the shop and category pages. Before, a customer has to click on an item to find out when it is available. I now use your plugin to be able to add a notification about the expected delivery time/date of an out of stock product.
How can you use Lead Time to boost sales?
Now you may wonder how you will add the lead time to your products once you have installed the plugin. Here is an easy guide.
You can use the lead time plugin settings page or setup wizard to choose the following options:
Determine which stock levels to show the lead time notes for. For instance, you might only wish to advertise waiting times for items once they have been sold out or placed on back-order. To do this, simply disable the lead time for "In stock" goods."
Show a prefix before the lead time. This gives you complete freedom because you can put whatever label you want. For example, this might be "lead time," "handling time," "available on," "processing time," "ready for dispatch in," etc.. You can insert whatever symbol you choose between the prefix and the lead time. Alternatively, leave either field blank if you prefer.
Add a global lead time. If you choose to select a global lead time, it will be shown on every product page. If you have the same waiting time for each item in your business, then you should use this option. Alternatively, lead the global lead time blank and instead add lead times for each individual product. You an also add a global lead time and then override it with a unique handling time for each item.
Choose the font color for the lead time. The color of the text for the lead time is a generic dark gray by default. You are free to replace this with anything you'd like. You could, for instance, make it match as the primary body font in your theme. Or you might make it more noticeable by using red or green text.
Setting lead times per product or category
In addition to the general parameters, you can customize each product or category's lead times. This provides you with an even higher degree of control.
When you are on the 'Edit Product' screen, scroll down to the 'Product Data' section, then select the Inventory tab. Adjust the Lead time to meet your needs, e.g. adding the order's estimated handling time. Alternatively, it could be the date when the product will be available again.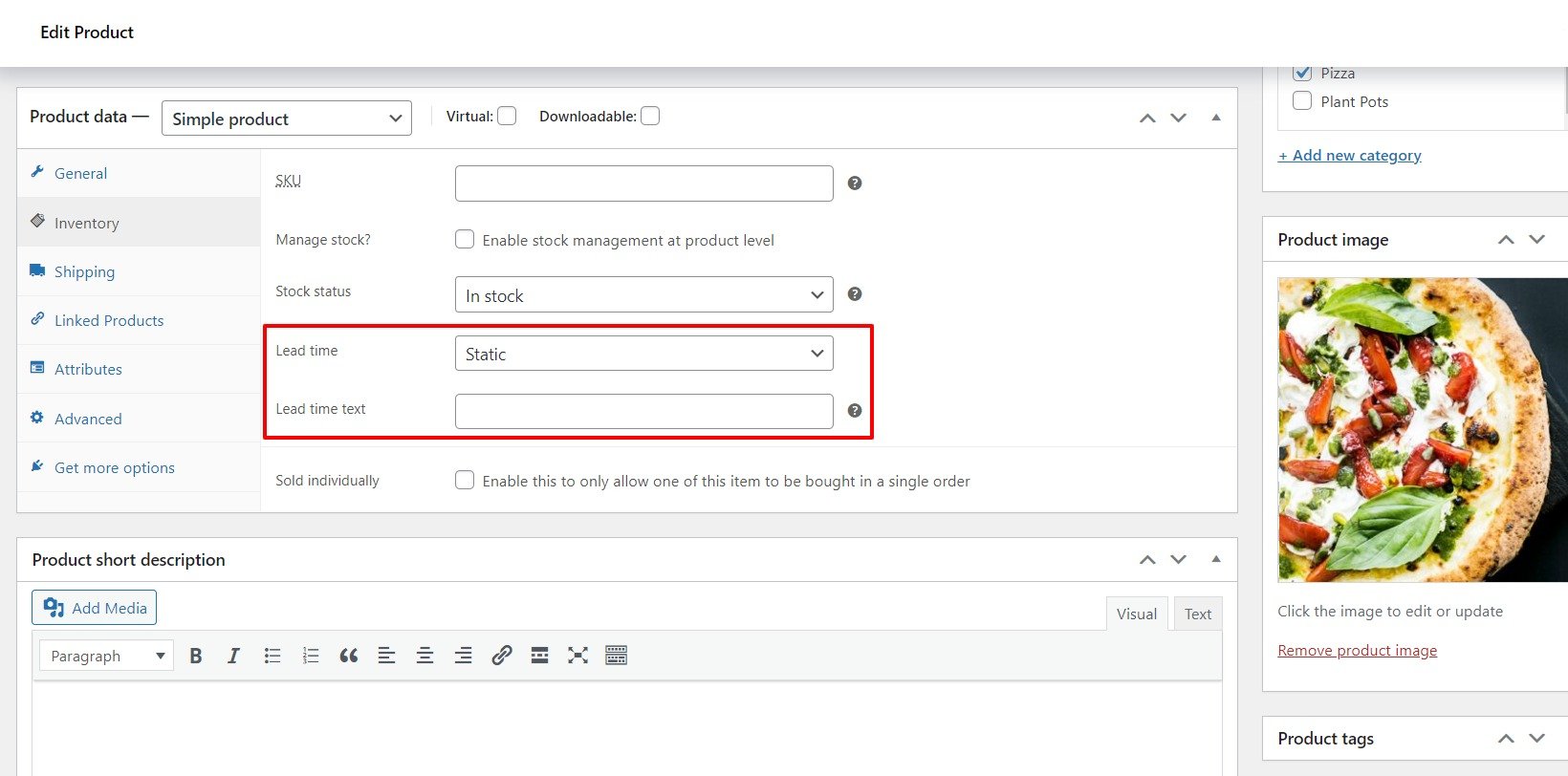 Let's say that you set the lead time prefix to "Waiting time:" and the lead time to "3 months". Buyers will receive a notification that reads "Waiting time: 3 months" on the single product page.
If you have chosen to allow the option to manage the product's stock, the waiting time notice will show on the same line as the text describing the stock availability after the option has been activated. It might say something like, "On back-order | Waiting time: 3 months", for instance.
In short
If you run an online store, installing the WooCommerce Lead Time plugin will allow you to do the following:
Show customers how long they will have to wait before they decide whether to purchase.
Develop a trusting relationship with your consumers, raise your level of openness, and assist them in making educated purchase decisions.
Enhance the shopping experience that your online store provides for your customers.
Allow customers to make an informed decision. This helps ordering items that are either temporarily out of stock or need to be assembled before despatch.
If your store would benefit from product lead times, then install the plugin today: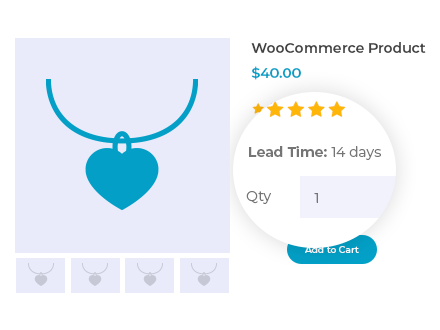 The only plugin to show waiting and processing times in your WooCommerce store.