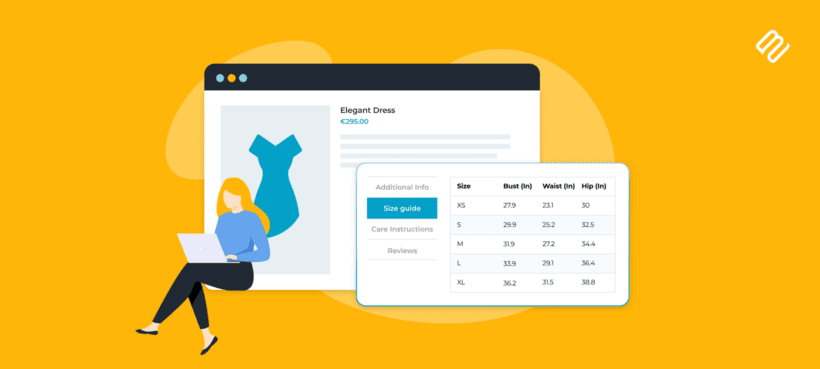 Are you looking to enhance your WooCommerce product pages with custom tabs? Discover an easy way to add new tabs containing custom content.
Custom tabs for WooCommerce allow you to provide additional information about your products, showcase reviews, display specifications, or anything else that your customers would find useful. This extra information improves the user experience and builds trust and credibility among potential buyers, which ultimately boosts your conversion rate.
In this article, I'm going to explain the importance and benefits of adding custom tabs to WooCommerce and provide step-by-step instructions on how to add them to your store. We'll use the WooCommerce Product Tabs plugin, which allows you to add an unlimited number of custom tabs with any type of content.
Let's get started!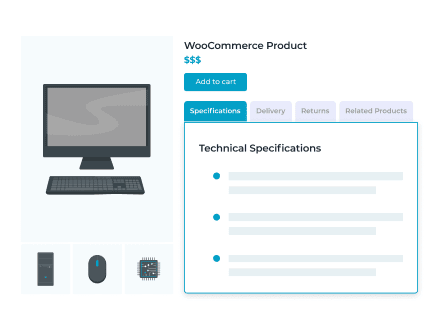 Boost your product pages by adding custom tabs containing extra information.
What are custom product tabs for WooCommerce?
WooCommerce comes with three default product tabs: Description, Reviews, and Additional Information. However, these tabs only provide limited information, which is where custom tabs come in.
Custom product tabs allow you to add new tabs to WooCommerce product pages, displaying content that is specific to your products and target audience. These tabs can contain any product data, such as specifications, FAQs, related products, shipping details, or even video demonstrations. They offer a way to organize and present information in a structured manner, making it more accessible to your customers.
Why add custom product tabs in WooCommerce?
Custom product tabs are a game-changer when it comes to organizing and displaying additional product information. Here are some key benefits of using custom product tabs for WooCommerce:
Enhanced user experience: Custom tabs allow you to present information in a structured and organized manner. This makes it easier for customers to navigate and find the details they are looking for.
Improved product presentation: With custom tabs, you can easily showcase additional product details without cluttering the product page.
Highlight unique selling points: Custom tabs help you highlight the unique selling points of your products. You can use it to show key benefits, customer reviews, or testimonials in a dedicated tab.
Better SEO optimization: Custom tabs provide an opportunity to add relevant keywords and optimize your product pages for search engines.
Now that you're aware of the many benefits of custom product tabs, you may be wondering, "How do I add a custom tab in WooCommerce product page?" We'll discuss that in the later part of this tutorial. But first, let's look at why it is important to choose the right product tab manager plugin.
Choosing the right custom product tabs for WooCommerce plugin
When it comes to adding custom product tabs to your WooCommerce store, selecting the right plugin is very important. The choice of plugin can greatly impact the compatibility, features, and overall performance of your custom tabs.
Here are a few key points to consider when selecting a custom tab plugin for WooCommerce:
Seamless integration: The custom product tab plugin you choose should seamlessly integrate with your existing theme and other plugins. This ensures smooth implementation without causing any conflicts.
Customization: Look for a plugin that lets you easily change the layout, tab order, add icons, and assign custom tab titles.
Tab visibility: A good tab plugin should allow you to specify whether the tabs should appear on all product pages or only specific product, category, or tag pages.
Performance: Every second counts when it comes to an eCommerce website. A good plugin should instantly load the tabs without affecting the website's performance.
The WooCommerce Product Tabs plugin includes all of the above features, which is why we will use it in our tutorial to add custom tabs to a WooCommerce store.
Overview of WooCommerce Product Tabs plugin
The Product Tabs plugin allows you to seamlessly extend the product page layout by adding custom tabs to WooCommerce. It offers a user-friendly interface, making it easy to create and manage tabs without any coding knowledge.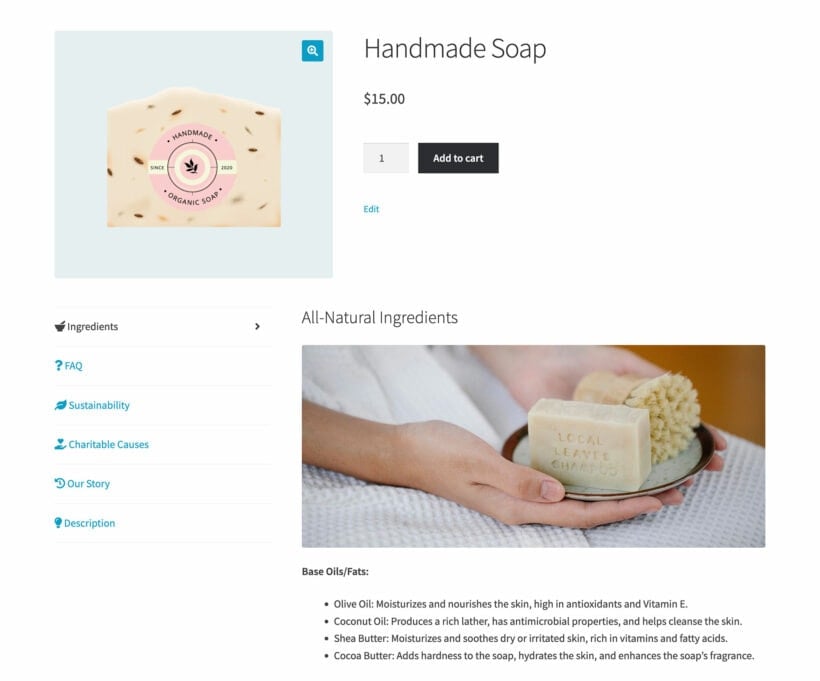 You can also add icons to custom tabs and set the visibility to control which product pages, categories or tags they appear on. With full documentation and expert support available, WooCommerce Product Tabs is easy to set up and enhance your product pages.
Here are some use cases where the WooCommerce Product Tabs plugin is useful:
Electronics and Appliances An electrical appliance store can have custom tabs such as:

Specifications and technical details: A tab with detailed specifications, technical information, and device compatibility details.
User guides and manuals: A tab with installation instructions, troubleshooting tips, and FAQs.

Clothing and Fashion Accessories An online clothing store can have custom tabs such as:

Size guide: A tab displaying size chart, measurements, and fit info for easy size selection.
Material and care instructions: A tab with fabric/material details, care instructions, and maintenance tips.

Beauty and personal care products A beauty and personal store can have custom tabs such as:

Ingredients and allergens: A tab with details on product ingredients and potential allergens.
Usage tips and application techniques: A tab with instructions on proper use and recommended techniques.

Home decor and furniture A home and furniture store can have custom tabs such as:

Assembly instructions: A tab with assembly instructions and videos.
Maintenance and cleaning: A tab with cleaning and maintenance information for product longevity.
These use cases show how custom WooCommerce product tabs can offer valuable information to customers, address their specific needs, and improve the overall shopping experience.
Setting up your custom product tabs
Now that we've discussed the benefits and use case of custom tabs, you may be wondering, "How do I add custom tabs in WordPress?"
In this section, we'll guide you through the step-by-step process of installing and setting up the WooCommerce Product Tabs plugin. This will allow you to add extra information to the product pages with ease.
Installing and setting up the WooCommerce custom tabs plugin
Installing WooCommerce Product Tabs is very easy. Once you have purchased and downloaded the plugin file, go to Plugins → Add New → Upload Plugin in your WordPress admin dashboard.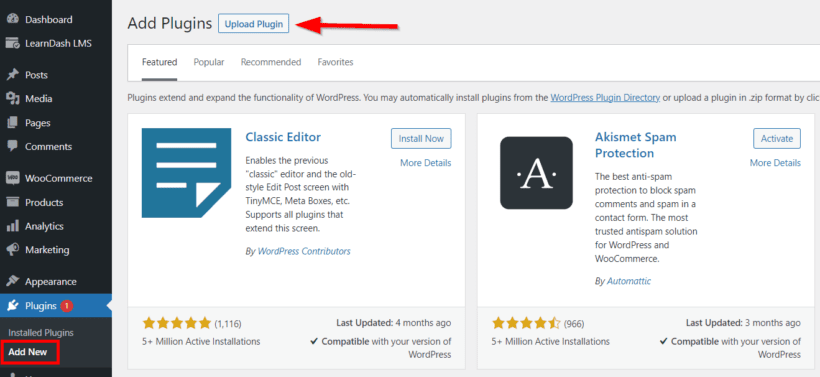 Click 'Choose File' and select the file you just download to install and activate it. Once activated, verify the license key in the setup wizard or from the 'Getting Started' page on the plugin's menu.
Creating custom product tabs
To start adding extra tabs, follow the below steps:
Go to WooCommerce Product Tabs Pro → Product Tabs and click 'Add New'.
Give it a title and add the content you want to display inside the tab. The tab content can be absolutely anything such as text, images, embedded audio and video, iframes, contact forms, or shortcodes from other plugins.


If you want an icon to appear before the tab name, scroll down and select it under the Icons section.
 To set the display conditions, look for the options on the right sidebar:

Default for All - Tick this checkbox if you want the tab to appear on all your products.
Product tags - If you'd like the tab to appear on all products with a specific tag, then start typing the tag name here and select it from the suggestion.
Product categories - If you'd like the tab to appear on all products within the selected categories, tick them from the categories list.
Products - If you don't want to set global tabs, you can use this to select individual products that you'd like the tab to appear on. Start typing the product name in the box and then select it from the suggestion.

Once you have configured all the settings, click the 'Publish' button at the top to save it. Now, visit the product pages to which you've assigned the custom tabs, and see them in action on the frontend.
How do I customize product tabs in WooCommerce?
The WooCommerce Product Tabs plugin lets you edit and reorder the tabs. You can edit the custom tabs from the same page that you created them. To edit or rename the default WooCommerce tabs, navigate to the plugin settings page and edit the information as required.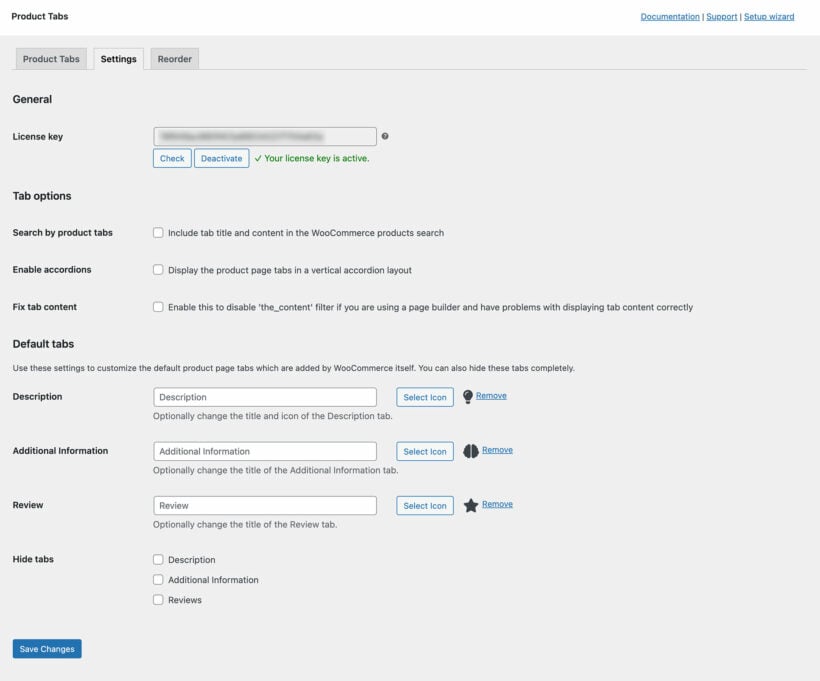 To reorder the tabs, switch to the Reorder tab and drag and drop the tabs into the desired sequence. This applies to both the default tabs and the newly created tabs.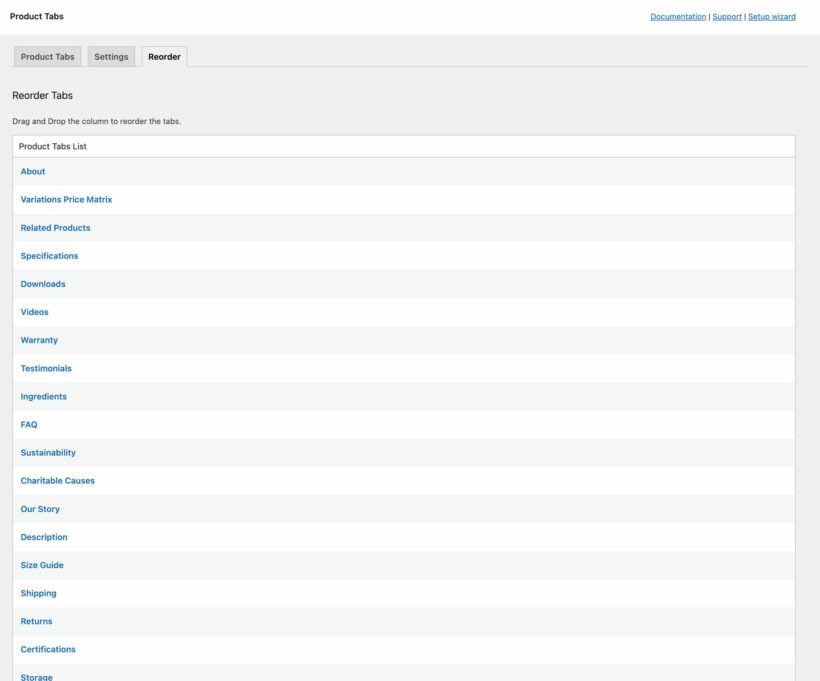 Optimizing your custom product tabs for WooCommerce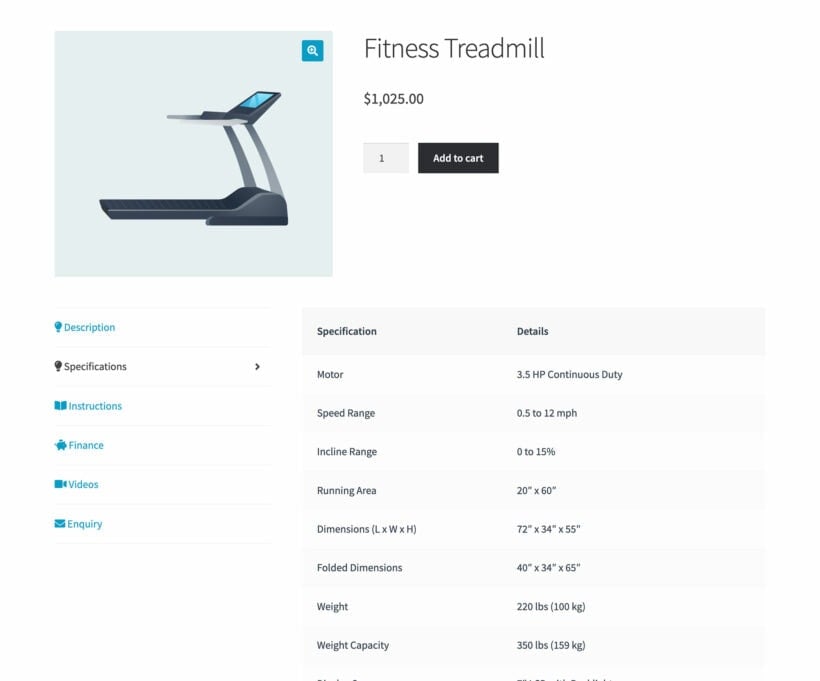 In this section, we'll discuss how to optimize the custom tabs by focusing on creating content and design that maximizes their impact.
Tips for effective content and design
Define the purpose of each tab: Each tab should serve a specific function, such as providing technical specifications, user guides, or size charts. Once you have identified the purpose, organize the information in a logical manner, making it easier for customers to navigate and find what they need.
Use clear and concise language: When writing content for your custom tabs, aim for simple language. This ensures customers can easily understand the information presented.
Add multimedia elements: Visual elements can significantly boost the effectiveness of your custom tabs. Include high-quality images or embed videos that highlight the features of the product or provide step-by-step instructions.
Ensure responsive design: Test the tabs across various devices to ensure a seamless and consistent user experience, regardless of whether customers are using a desktop, smartphone, or tablet.
Best practices for managing and updating custom product tabs
Simply creating custom tabs is not enough; regularly reviewing and monitoring them is important for providing accurate information. Let's take a look at the best practices for maximizing the use of custom tabs.
Regularly update the tab content: It is important to periodically review the content of your tabs to ensure that the information presented is accurate and up to date. Keep track of any changes in product specifications, features, or availability and update them in tabs from time to time.
Monitoring user engagement: This can provide valuable insights into how users interact with your tabs and helps you identify areas for improvement. For example, if a particular tab receives low engagement, you may consider revising its content or repositioning it to make it more prominent and engaging for users.
Backing up the website before making changes: Before making any significant changes to the custom product tabs, always remember to back up your website. This ensures that you have a copy of your website files in case anything goes wrong during the update process.
Take action: Enhance your WooCommerce store with custom product tabs
Providing your customers with all the information they need is important for the success of your online store. Custom product tabs offer an excellent opportunity to present important information in an organized way.
By utilizing the power of the WooCommerce Product Tabs plugin, you can effortlessly implement and optimize custom tabs tailored to your product offerings.
The plugin lets you:
Add an unlimited number of tabs with diverse content, from text to videos or maps.
Easily customize tab style with icons, and re-order using drag-and-drop.
Set visibility to control which pages can display custom tabs.
From showcasing product specifications and user guides to displaying size charts and ingredient listings, the WooCommerce Product Tabs can display everything.
Enhance your customer experience today with the best WooCommerce Product Tabs plugin.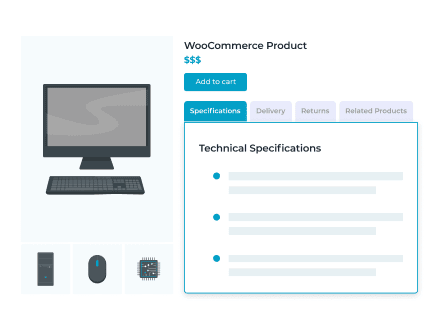 Boost your product pages by adding custom tabs containing extra information.