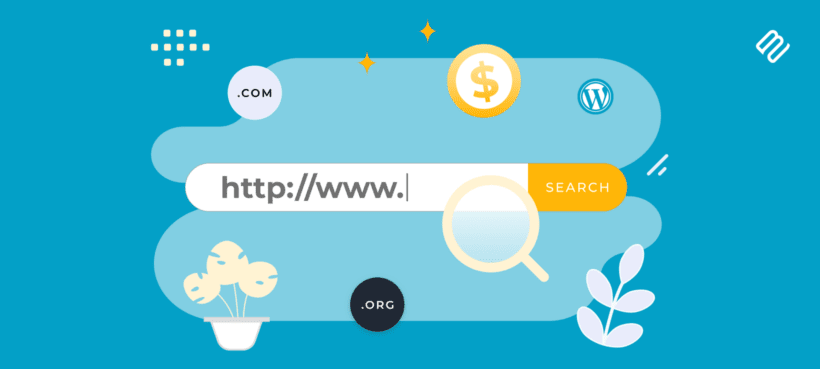 Choosing the right domain registrar to buy a domain for your WordPress site is highly important for site safety and performance. If unauthorized users with malicious intent gain access to your domains, they can take down your site within minutes and leave you guessing what really happened.
Some of the most popular domain registrars such as GoDaddy, Bluehost, and Namecheap help prevent hackers from gaining access to your site's domain and ensure top-notch site performance. Most solid domain registrars will include features such as SSL certificates, easy DNS management, and great server performance so your site's loading times are quick.
In this article, we're going to go over some of the best domain registrars for WordPress sites to help you decide where to buy a domain for your business.
If you're in a hurry to purchase a domain for your WordPress site, we recommend going for the Namecheap domain registrar. This is because it offers great features out of the box while being affordable. It is also the domain registrar we use ourselves at Barn2.
Watch this video or read on to discover the other great domain options we recommend.
Does it matter which domain registrar I choose?
When you buy a domain name for your website, the process is similar whichever registrar you choose. You visit their website, search for a domain name, and click through to buy it.
Why, then, does it matter which domain registrar you use?
Although the basic process is similar, it actually makes quite a bit of difference which company you buy domain names from.
Factors to consider when choosing a domain registrar
Before we talk about the top domain registrar solutions, let's take a quick look at the main factors you need to consider before choosing a domain registrar for your business.
Pricing and renewal rates
One of the most important factors to consider is the pricing of your domain registrar and the renewal features it offers.
Different registrars have different pricing structures. Some domain registrars offer low prices upfront while charging you a higher renewal price later on. Others might offer packages that include hosting, email, and other services. It's crucial to look at the overall value, not just the initial price.
While you will have to register your domain for at least 12 months, some domain registrars will demand you register for a longer period of time. This can ramp up costs even more and is something you must be aware of before deciding to go with a domain registrar for your business.
Customer support and user reviews
Some domain registrars have more responsive, efficient, and helpful customer service teams than others. If you encounter any issues with your domain registration, you'll want to have a competent team to turn to.
The domain registrar's customer support section and user reviews can help you get an idea of how good the service truly is. It gives you real, unmasked insight into the performance of your selected domain registrar.
In addition to this, it's also a great idea to get in touch with customer support and see how responsive they are. Having great customer support is essential when you run into problems and want to get your site back online as quickly as possible.
Ease of Use
The interface and usability of different domain registrar control panels can vary widely. Some are very user-friendly, while others can be confusing. If you're not particularly tech-savvy, you'll want a registrar with an easy-to-navigate site.
For example, the best domain registrars will make it very clear how to update your nameservers or DNS settings to point your new domain name to your website. This can be a very confusing area if you're not familiar with it, so they should make it easy for you.
ICANN accreditation
ICANN (Internet Corporation for Assigned Names and Numbers) is the organization responsible for managing the database of domain names. Choose an ICANN-accredited registrar to make sure you're working with a reputable company.
Additional services and features
While you might be choosing a domain registrar for its domain management features, it's also important to also consider additional features and services the domain registrar offers. This may not be useful to you right now but can be useful later on when your site grows.
Domain transfer policies
You also want to consider the domain transfer policies of the solution you choose. If you're unhappy with the new domain registrar, it's good to have the option to transfer your site's domain to another domain registrar of your choice.
Similarly, you also want to have domain transfer features if you're looking to migrate your existing domain to your new domain registrar. While most domain registrars will let you do that without paying a penny, some exceptions require you to pay a small fee when migrating domains to other domain registrars.
Expiration policy
What happens if you forget to renew your domain name? Some domain registrars offer a grace period. In contrast, others might charge you a redemption fee or even sell your domain if you don't renew it in time.
This is hard to check when you choose a domain registration company. However, reading reviews on websites like TrustPilot can give you an idea of how they handle these situations.
Top domain registrars for WordPress sites
With a better understanding of what factors to consider when purchasing a domain registrar for your brand, let's go over some of the top domain registrars for WordPress sites.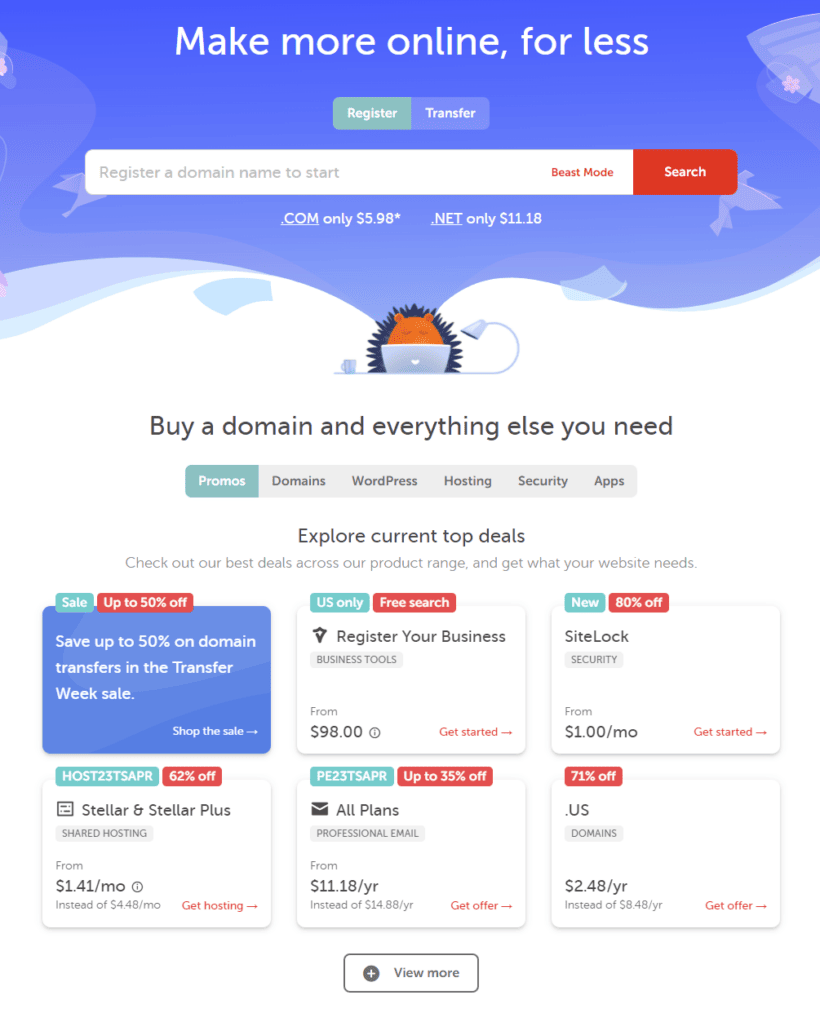 Namecheap is a professional domain registrar and web hosting solution that's designed to let businesses of all scales easily manage WordPress web hosting and set up new domains.
The great thing about Namecheap is that it comes with a range of features that help your business select the best domain name possible. For starters, it comes with a free domain name checker that lets users search for available domain names. This makes it easy to view all domain name options in one place and pick the best one.
Namecheap also helps you keep the domain name you choose safe and secure from identity theft. Once you register your domain name, you will have no obligation to provide your personal information for your domain name to work. The robust solution also hides your personal information (contact information and IP addresses) from databases so it's impossible to access by hackers and spammers. In addition to this, you can also use the Domain Vault feature from Namecheap to further extend the security of your domain name.
In addition to this, we use Namecheap for domain management because it's the most affordable, reliable, and easy-to-use option. Namecheap is our top recommendation for a domain registrar for WordPress sites.
Pros:
Comes with a wide range of robust security features that make it easy to protect your domain.
Intuitive to use and doesn't require much technical knowledge to get started.
Most affordable option considering the features you get at the same price with other domain registrar solutions.
Cons:
Can sometimes be hard for businesses from remote parts of the world to purchase the subscription or pay for the subscription using their credit card.
Can be difficult to understand, especially if this is your first time setting up a domain.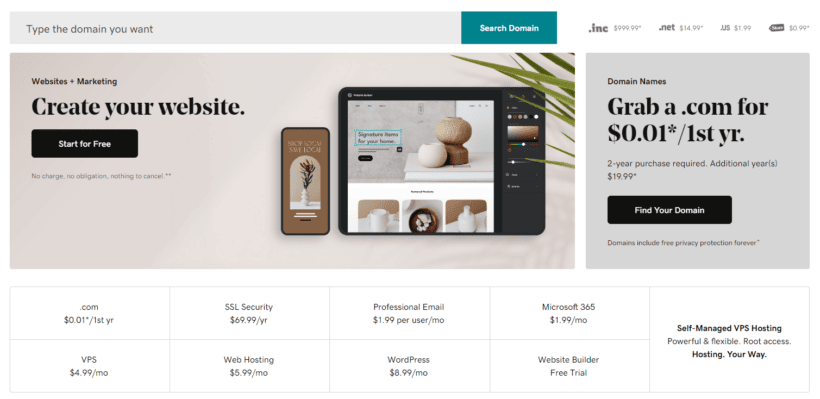 GoDaddy is an ICANN accredited domain registrar that's designed to let anyone – even non-tech-savvy users – create and set up their own domain for a WordPress site.
With over 21 million users trusting GoDaddy as their domain registrar, it's one of the best solutions in the game. GoDaddy is fully secure and comes pre-built with SSL security that allows you to protect your site using an SSL certification. This way, businesses that want to collect sensitive customer information from site visitors (such as their personal information or credit card information) won't have to worry about their data getting intercepted. This not only helps your site visitors feel safer when browsing your brand's site, but it also encourages them to buy from your e-commerce store.
While you can use GoDaddy to search for your desired domain name for free, its hosting features are also top-notch and one of the best in the industry. Whether you already have a WordPress website or are looking to set up a new one, you can use GoDaddy's hosting for maximum site uptime and robust security features.
Pros:
One of the most popular domain registrars and is very easy to use, even for less-tech-savvy business owners.
Free of cost domain name if you host your site with GoDaddy.
Offers a website builder.
Cons:
Can be expensive considering other domain registrars like Namecheap that offer the same features at a reduced price.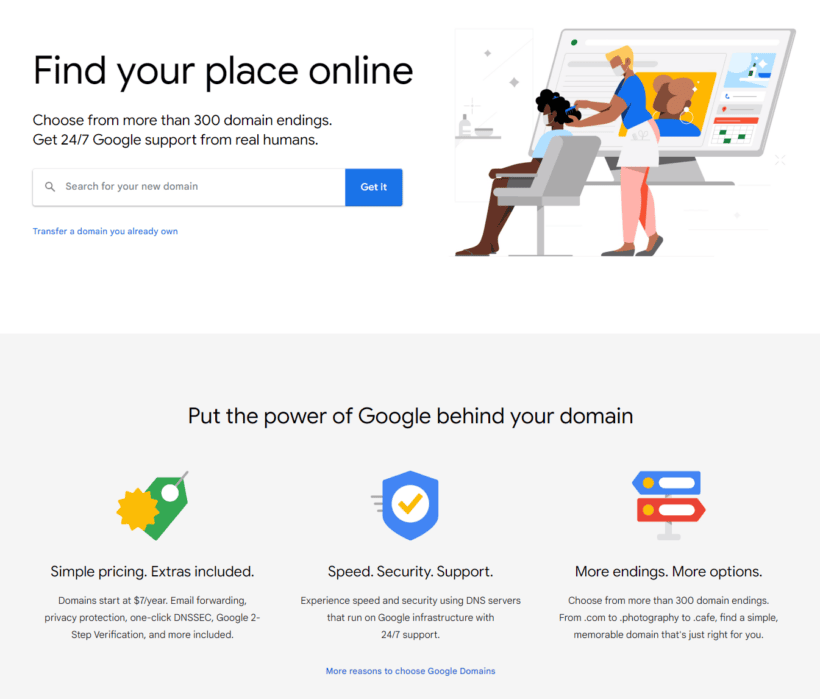 Google Domains is a well-known domain registrar that's not only simple to use but offers top-notch server performance.
With more than 300 domain endings, Google Domains is the number one choice for businesses that want to create a memorable domain name.
One of the major reasons why businesses choose Google Domains is because of their robust server performance and speed. Thanks to Google's dedicated DNS servers, you don't have to worry about the performance of your WordPress site. Even if you run into issues, Google Domains offers 24/7 support that makes it easy to solve problems quickly and get your site back online.
In addition to offering solid domain registrar features, Google Domain also integrates with other Google services such as Google Ads. This allows you to only set up your WordPress site domain and hosting and drive traffic to your site as soon as you launch.
Pros:
Over 300 domain endings to choose from. This gives you endless possibilities for selecting a unique domain name.
Comes with a built-in email forwarding tool that lets you create up to 100 different email aliases.
Cons:
As compared to other domain registrars at the same price, Google Domains lack essential features such as SSL certificates.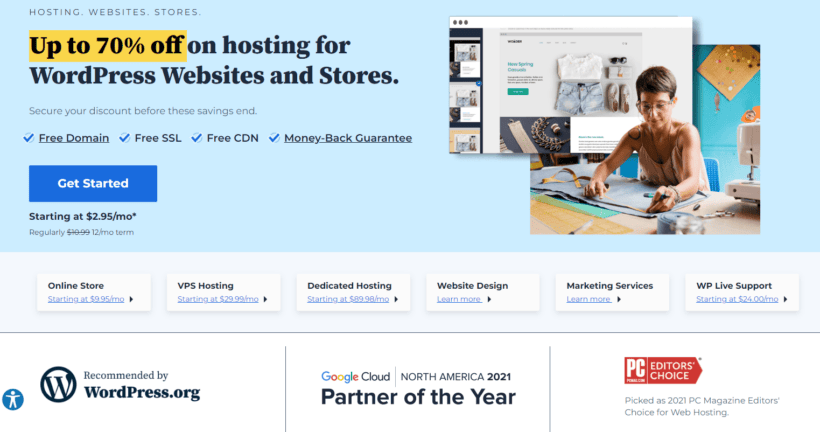 Bluehost is a WordPress.org recommended hosting provider that comes pre-built with lots of domain registrar features.
If you buy any hosting plan from Bluehost, the domain names come free as a part of the bundle. However, you can also purchase domain names individually from Bluehost and get access to tools that can help you effectively manage your domain. For starters, you can manage all aspects of your domain from an intuitive control panel that's easy to navigate, even for non-tech-savvy users.
On top of this, Bluehost offers domain auto-renewal to ensure you don't have to worry about your domains expiring. All you need to do is select a suitable domain and Bluehost essentially "locks" it for you. This way, there's no way for unauthorized users to access or transfer your domains.
In addition to these great features, Bluehost also lets you set up domain redirection rules. This means you can automatically redirect site visitors from a specific domain to other domains or locations. It's a great way for redirecting site visitors to a "backup" site in case your main site breaks down or is under construction.
Pros:
Free for the first year.
Domain locker and privacy protection features.
Option to create geographically correct domains.
Easy domain management and automatic domain renewal features.
Cons:
Can be quite expensive after the first year, especially if you want to purchase a featured domain for your brand.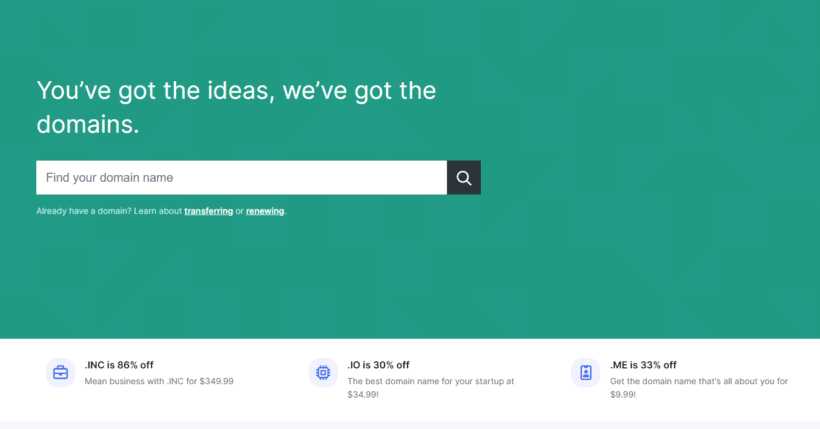 Unlike other options in this list, Hover is a dedicated domain registrar that comes with features that are designed to help you find the perfect domain.
One of the highlight features of Hover is that they make the domain-finding process easy for users. Once you set your requirements, Hover does all the work for you and finds new custom domains that are on sale or might be a perfect fit for your brand. Once it has a few good selections, you will receive an email that allows you to purchase a domain for your website.
On top of having a robust domain and email forwarding tools, Hover also comes with plenty of privacy and security features. You have the option to set up two-factor authentication and all new domain name purchases include the WHOIS privacy feature which hides your personal and contact information from public view.
Pros:
Designed for all types of small businesses.
Makes the domain-finding and purchasing process simple.
Cons:
Can be limited in terms of other features and services such as SSL certificates or the ability to set up hosting.
Bundling domain registration with WordPress hosting
If you're setting up a WordPress site or are looking to purchase a domain, it's a smart idea to bundle domain name registration with WordPress hosting services. This not only helps you save costs in purchasing multiple subscriptions but also allows for easy integration with your WordPress site.
Siteground is a popular domain name registrar solution that also offers managed WordPress hosting at the same price. This way, you have access to domain management features as well as robust WordPress hosting features at the same price.
Domain privacy and protection
One of the most important factors to consider when buying a domain for your WordPress site is the domain privacy and protection features you can access. You don't want to go with a domain registrar solution that leaves your brand's domain and server vulnerable to hackers or unauthorized users due to poor security features.
Ideally, you want to opt for a domain registrar that offers SSL certification and security features (such as DDOS protection) that can prevent spam attacks on your site.
Namecheap and GoDaddy both offer top-notch privacy and protection features to ensure you don't have to worry about unauthorized users gaining access to your domains.
Tips for choosing the perfect domain name
While you can select the perfect domain registrar for your brand, you will still need to come up with a unique domain name yourself. Here are a few tips to help you decide on the perfect domain name for your brand:
Branding and keyword considerations
While you want to ensure your brand's name is present in the domain name, it's also important to consider SEO and keywords when choosing one.
If your domain name contains keywords, search engines will list your site's pages higher up in user's SERPs. This makes it more likely for your target audience to click on your website first and helps your website standout.
Domain extension options
Depending on the domain name you choose, you will also need to select a suitable domain extension. Most businesses prefer to go with top-level domains (TLDs) such as a .com domain.
However, if you're setting up a website for a local audience, you might choose a country code domain extension. For instance, if you're thinking of going with the domain "sustainable-clothing-uk.com", going with "sustainable-clothing.uk" might be the better option.
Memorability and simplicity
At the end of the day, you want to make sure your domain name is not only simple but also easy to memorize. This way, it's easier for your site visitors to type it in manually and pronounce it when recommending your website or online store to friends and family.
Conclusion
If you're looking to buy a domain for your WordPress site, options like Namecheap, GoDaddy, and Google Domains are some of the best solutions for WordPress sites. However, choosing the right domain registrar for your brand boils down to your individual needs and preferences.
This is why it's important to conduct research yourself and compare domain registrar options before committing fully.
Ready to buy a domain for your WordPress site at an affordable price but without comprising features? Get your domain name from Namecheap today!