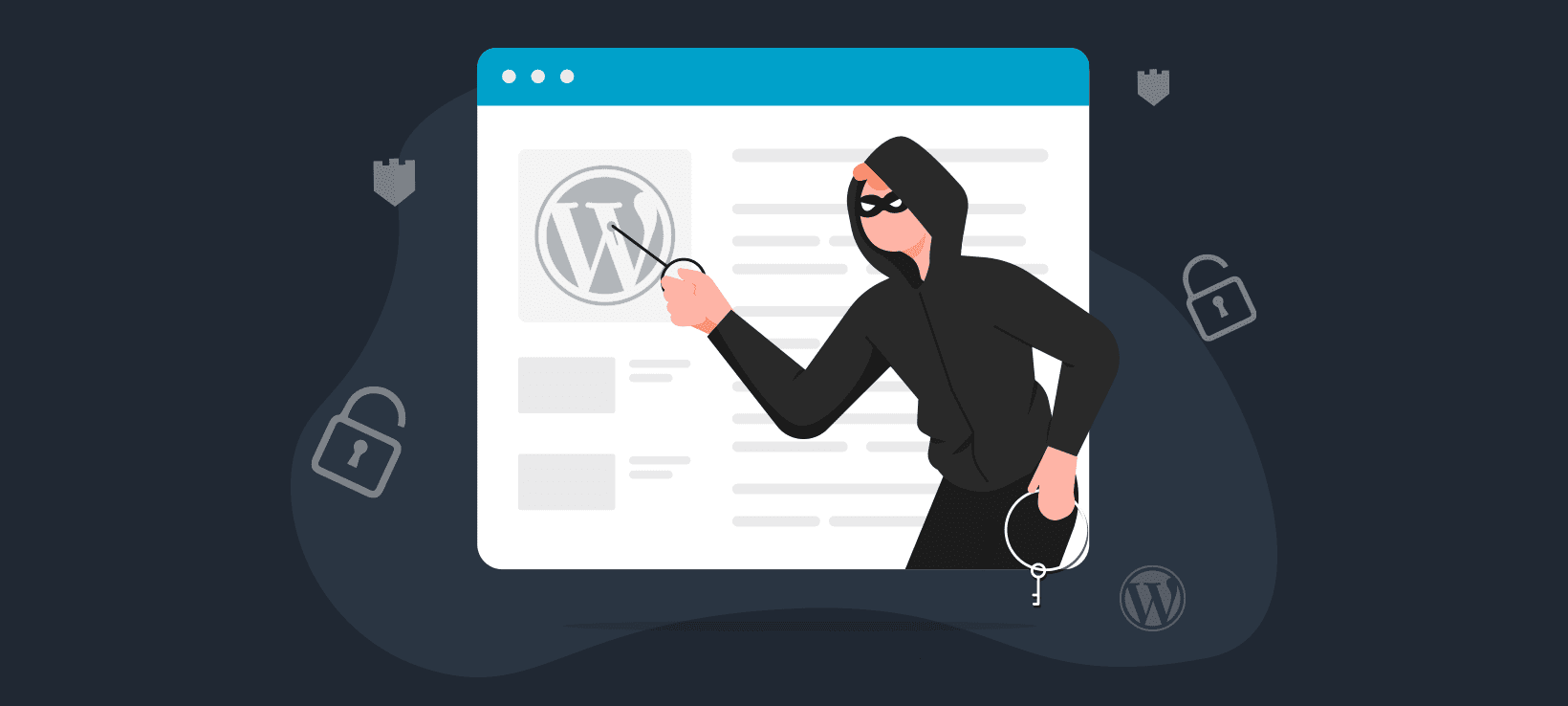 In today's era, website security has become a high priority for all users, developers, and website owners. Since WordPress is the most popular CMS out there, hackers and attackers often target it. This is why it's essential to use top WordPress security plugins to keep your website safe and protected from potential security issues.
If you're wondering, "How do I make my WordPress site more secure?" or "What is the best way to protect your WordPress site?", you've landed on the right page. In this article, we'll provide a comprehensive guide on the best WordPress security plugins for WordPress to help you choose the one that fits your website's unique needs.
In addition, we'll answer questions like "What security plugin should I use for my WordPress site?" and provide tips and ways to help you reinforce your website security.
Do I need a security plugin for WordPress?
If you want to safeguard your website and its contents, then it's crucial that you prioritize your website's security. WordPress comes with multiple built-in security features, but if you wish to reinforce the security of your website, you can take some additional steps, such as installing a security plugin.
The WordPress core comes with some vital built-in security measures. This includes password protection, automatic updates for the core, securing login pages, etc. But for business-critical websites, this might not be enough.
Hackers and malicious groups can gain unauthorized access to your website through brute force attacks, SQL injections, cross-site scripting, or by installing malware. While the core WordPress installation does not come with dedicated mechanisms to prevent these attacks, a specialized plugin can be a great help for these scenarios.
Best practices for WordPress security plugins
So, what is the best practice you can follow to keep your WordPress site from being hacked? One of the vital things you need to do is to keep your website and all its components up-to-date. This means regularly installing updates for WordPress core, themes, and plugins as soon as they are available. Regular updates can patch security issues and bugs that may otherwise leave your website vulnerable to attack.
What is the most important thing to do to keep your site safe? In addition to keeping your site updated, it's important to establish stricter site access rules. You can do this by enforcing stronger passwords and limiting login attempts. If you need help making your website secure, then it's also worth hiring a WordPress support to help.
But if you are asking yourself, "What is the most important part of keeping a WordPress site secure?" The answer is to simply get a strong and reliable WordPress security plugin. With a good plugin, you get malware removal, brute force protection, regular site scans,  ongoing backups, file security, firewall,  and even DDoS protection. All these features combined can take your website's security to the next level.
Types of WordPress security plugins
Securing your WordPress website requires reinforcing vulnerable areas of your website that hackers can potentially exploit. This can be done with the help of WordPress plugins. There are various WordPress security plugins that can help you protect your website from attacks. Here are the best WordPress plugins or security measures you should have on your website to make your website more secure.
🧱 Firewall Plugin
A Firewall plugin adds an additional filter layer to block off malicious traffic and prevent hackers from accessing your website. It tracks all incoming traffic and restricts suspicious requests, protecting your site from common attacks such as SQL injection and cross-site scripting(XSS). A firewall plugin only creates a filter layer on the application level, not the server level. So, even if your server gets infected, the application layer can cut off malicious requests easily.
🔎 Malware scanner
A malware scanner plugin will help you regularly scan your website for malware, viruses, and other malicious code. Even if you have a firewall, attackers can inject malicious code into your server files. For this, you need to keep a tab on your website regularly, and a good malware scanner plugin will perform this action automatically and report it to you.
💻 Login security
A login security plugin focuses on securing the back door of your website, i.e., the admin login page. Often this page is targeted with brute-force attacks, but with a plugin that adds a few more security measures, your login page can be secured greatly. A login security plugin can help you set up two-factor authentication, limit login attempts, and track all login attempts and activities.
🔒 Backup
Even if you put up all the security measures, you can risk losing all your website data. Not just to hackers but to server crashes, accidents, and WordPress files getting corrupted. Here's when a backup plugin is put to use. A backup plugin automatically creates backups of your website and helps you restore its files on command.
🔬 File integrity monitoring
A file integrity checker plugin aims to track and validate all changes to WordPress files and folders. The plugin keeps track of all authorized changes and reports them to admins if any unauthorized changes are detected.
🛠 Security hardening
When a plugin employs multiple methods to secure a website's content, it is known as a security hardening plugin. These WordPress security plugins use multiple checks, such as disabling file version editing, hiding the WordPress version, and disabling XML-RPC to prevent various attacks.
🛡 DDoS protection
A DDoS attack tries to overload your website with multiple server requests and unwanted traffic. This can negatively affect your website servers and make your site inaccessible to legitimate users. Using a plugin designed to mitigate these scenarios can help you stay secure if someone tries to attack you.
📋 Security auditing
To keep your website secure, you need to regularly check your website to see if every security measure is in place or not. A security auditing plugin can help you keep your website up to date will all security measures and suggest you any changes that can help you make your website more secure.
📩 Spam protection
WordPress websites receive many bot and spam comments and form submissions every day. Instead of manually filtering these requests, you can use a spam protection plugin to mark spam submissions and comments automatically. Most WordPress security plugins also allow you to reduce spam by adding a captcha and bot verification step.
📄 Content security policy
A CSP or a content security policy can help you protect your site from many vulnerabilities, including cross-site scripting (XSS) and data injection requests. A CSP plugin can prevent a block of code from executing even if an attacker manages to inject the code into your website.
All these security measures are necessary to keep your site safe. Also, since most of the popular WordPress security plugins come with more than one feature, you may not require a separate plugin for each protection. If you choose smartly, you can secure your website with one or just a couple of WordPress security plugins. Let's review the most popular WordPress security plugins and what features they have to offer.
What is the best security plugin for WordPress?
Here is the list of our top picks for WordPress Security plugins you can use to secure your site:
Let's check each plugin individually and explore its feature sets and pricing.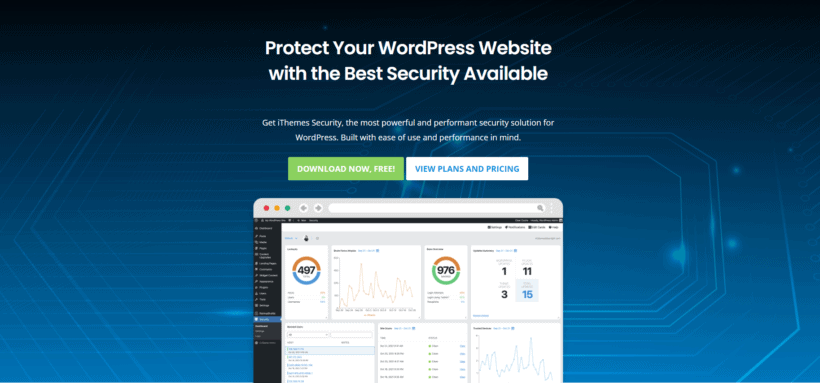 iThemes Security is a popular and comprehensive WordPress plugin with over 1 million active installs. With iThemes security, you get multiple security features such as two-factor authentication, 404- detection, plugin scans, and automated backups.
What does the plugin do? iThemes Security allows you to easily keep a tab on your website's security. It comes with an automated website tracking system that keeps a tab on every suspicious activity and creates activity logs on your website. Be it monitoring failed login attempts, tracking site file changes, or detecting malware and malicious code, iThemes security will prevent it and notify you of any suspicious activity.
The plugin also lets you back up your site's content. This can be particularly useful for scenarios where your site gets hacked, or you lose access to it, as it allows you to easily revert your site to a previous stage and minimize any damage.
iThemes Security features
iThemes Security automatically detects and blocks suspicious activity on your site, such as brute force attacks, malware, and hacking attempts.
For login security, the plugin comes with two-factor authentication, stronger password enforcement, reCAPTCHA, Passwordless logins, and trusted devices.

You can create backups of your site and restore to a previous version in case of an attack.
While performing regular scans, the plugin also checks all themes and plugins for vulnerabilities and updates them if necessary.
The plugin offers a range of tutorials and documentation and is backed by an experienced support team.
iThemes Pricing
The free version of the plugin can be downloaded from the WordPress repository. It comes with all the basic security features, such as two-factor authentication, stronger password enforcement, automatic site monitoring, SSL, database backups, and an option to hide the login URL.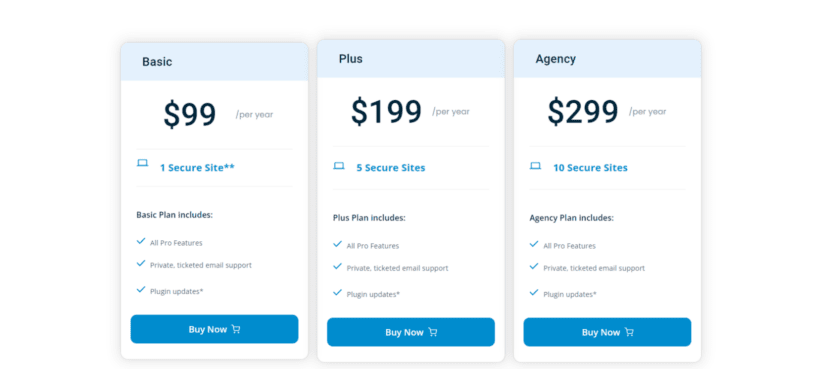 If you want more features, you can get iThemes Security Pro. The paid plans start at $99 per year and come with all advanced features, such as a real-time WordPress security dashboard, magic link, passwordless login, user activity logs, WP-CLI integration, reCAPTCHA, trusted devices, and much more. If you want to secure more websites, you can go with the plus or agency plan for $199 and $299 per year. This lets you secure 5 and 10 sites, respectively.
If you wish to give iThemes security a try, you can get it here.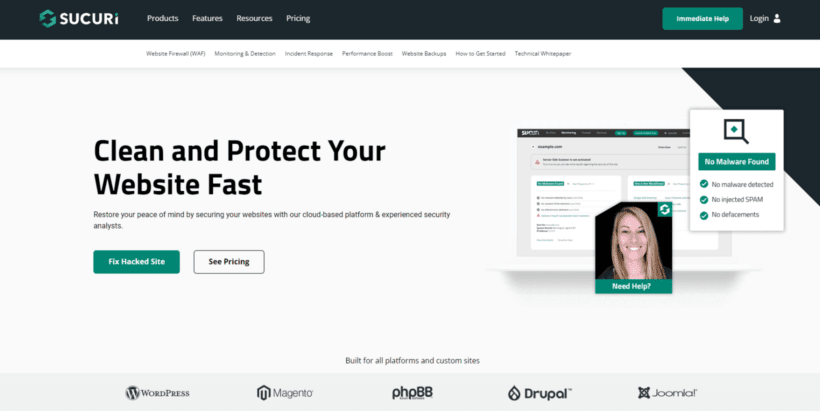 Sucuri Security is another popular security solution with comprehensive features such as security auditing, malware scanner, security hardening, and firewall protection. You get a free version of the plugin, which comes with multiple necessary features such as security activity auditing, file integration monitoring, security scanner, and even post-hack security actions.
In addition to all the features in the free version, the paid version adds many advanced security features.
Features
Here are some of the notable features of Sucuri Security:
Since Sucuri runs a DNS-level firewall instead of using the built-in WordPress firewall, it does not put any load on your site speed.
The plugin regularly performs malware scans and removes any malicious code from the file system and database.
You also get assistance for improving your SEO performance, such as removing spam keywords and link injections.
Sucuri Security also takes care of file integrity and blacklist monitoring autonomously.

The plugin is easy to set up and get started with. You can install it like any other plugin and generate the free API key to enable audit logging, email alerts, integrity checking, etc.
You can also back up your database and website files by creating custom backup schedules or requesting an instant backup. This can be particularly useful for scenarios where you accidentally lose access to your website.
For help, you get access to in-depth documentation and an expert security support team 24/7/365.
How to install and set up Sucuri Security?
The free plugin can be downloaded from the WordPress plugin repository and activated from the WordPress admin dashboard. Once activated, you can generate your API key, and the plugin will guide you through the setup process.
Sucuri Security pricing & plans
Sucucri Security's paid plans start at $199 per year and go up to $499 per year per domain.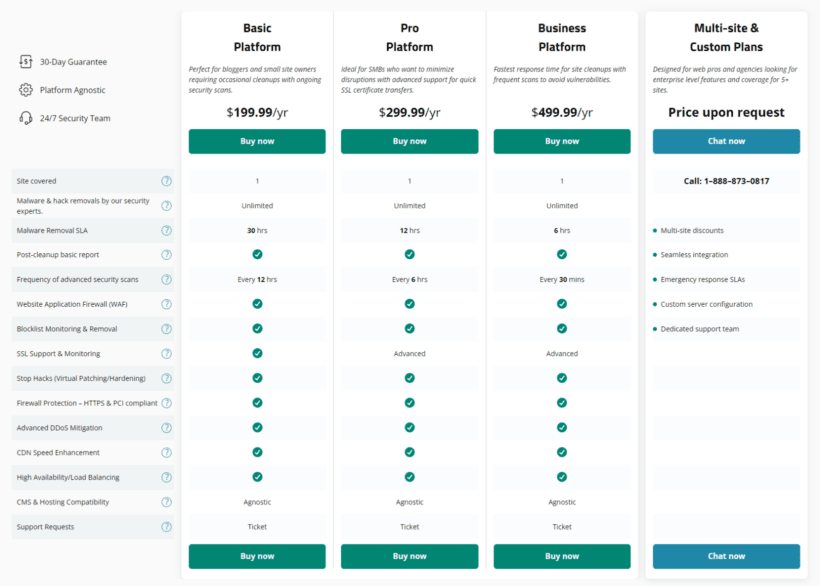 The Basic platform plan costs $199 per year and comes with all premium features and advanced security scans to be performed every 12 hours. The Pro plan costs $299 per month and gives you advanced security scans every 6 hours in addition to everything in the basic plan. If you want more, you can go with the Business plan, which gets you everything Sucuri Security has to offer and performs security scans on your website every 30 minutes.
Want to give Sucuri Security a try? You can get it here.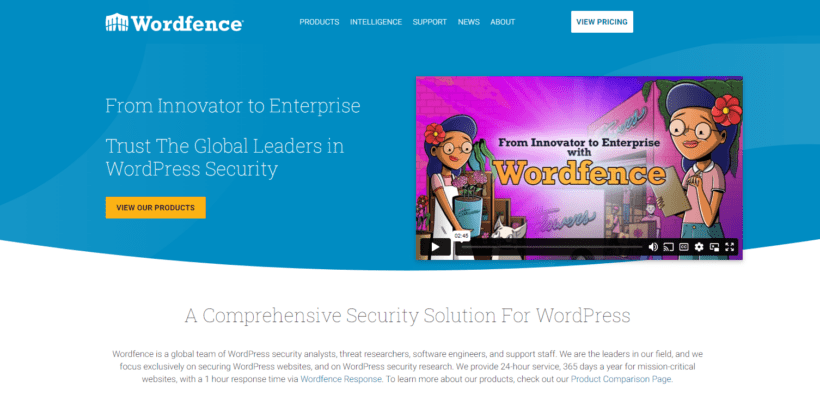 Wordfence is another popular and top-rated WordPress security solution with over 4 million active installs. If you have multiple websites to secure, Wordfence is a really good option, as it lets to manage and secure multiple websites from a single Wordfence central interface.
One of the standout features of Wordfence is its firewall. Its web application firewall (WAF) identifies, blocks, and restricts any malicious traffic and is backed by an expert team of WordPress security experts. The firewall also gets regular firewall rules and malware signature updates via the Threat Defence Feed. This protects your site at the endpoint and enables deep integration with WordPress.
In addition to the firewall, Wordfence comes with a security scanner and cleaner that regularly performs scans on your website for potential malware injections.
Features
You get many more features with Wordfence security:
Wordfence includes two-factor authentication which adds an additional layer of security to your website's login page.
Wordfence's user-friendly interface makes it simple to manage your website's security settings and check status updates. You can control all important features, such as the firewall, malware scanner, and real-time blocking.
Wordfence also lets you see your website's live traffic in real-time and identify and block potential threats.
You get a country-blocking feature that lets you block traffic from a region or country.
With the premium version, you get expert-level support with a quick response time.
Wordfence includes brute force protection. It autonomously blocks suspicious repeated login attempts from the same IP address.
You can easily manage multiple websites and their security with the powerful Wordfence central dashboard. From a single dashboard, you can check the status of your websites, configure security, creates security logs, and do a lot more.
Wordfence pricing and plans
Wordfence has a free version available on WordPress.org with many useful features. You can manage all your website's security with all the available features with the free version.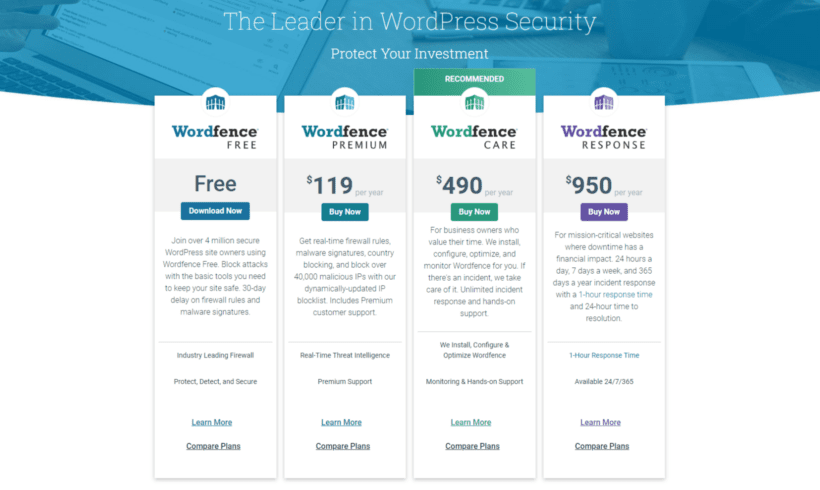 If you want more security, you can go with the paid plan starting at $119 per year. You get additional security features such as real-time updates on the firewall and premium support. You can go with the Wordfence care plan for business sites, which costs $490 per year. With this plan, you get dedicated support from an analyst, an annual security audit, full installation and optimization, automated monitoring and cleanups, and much more. If you want a faster response time for a mission-critical website, you can go with the Wordfence Response plan, which costs $950 per year and comes with 1-hours response time and 24/7/365 incident response.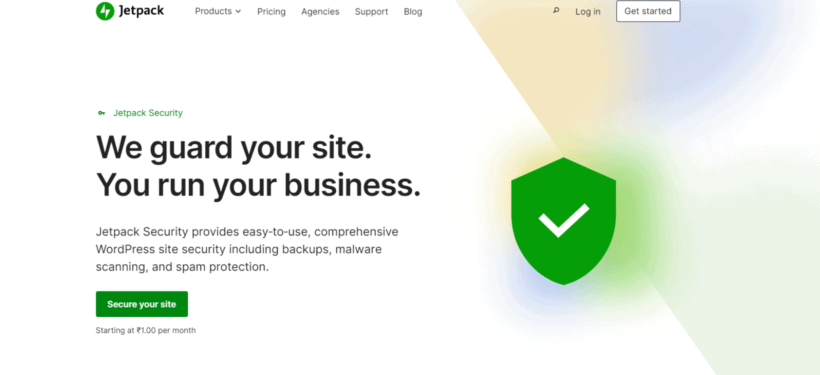 Another well-known solution for securing WordPress websites is Jetpack Security, with over 5 million active installs. This all-in-one solution lets you scan your website for malware and security vulnerabilities to prevent malicious attacks.
Jetpack is popular for being a comprehensive package of security, design, and marketing. While you do get many advanced security features, you also get multiple marketing and design capabilities such as carousel, contact forms, sidebar widgets, payment gateway, sitemaps, etc.
For security, you get real-time backups to save every change you make on your website. With the activity log, you can keep a tab on all malicious activities on your website.
With Jetpack's Askimet anti-spam, you can get rid of spam comments and form submissions.
Jetpack Security gives you an application-level firewall to block off any malicious traffic.
The two-factor authorization protects your website against unauthorized logins.
It offers spam protection for comments and forms on your site, reducing the need for manual moderation.
Jetpack provides advanced security features such as daily malware scanning, automatic threat resolution, and SSL certificate installation.

Jetpack also allows you to blacklist suspicious IPs and block malicious logins.
While the plugin is very well-known and feature-rich, you should know one key aspect. Real-time security scanning can take a toll on your website. Since even a millisecond of change can affect your website's performance having Jetpack running real-time scans can affect your overall website speed. You can check the difference in your website's performance by simply running a few website speed tests after installing the plugin.
Jetpack Security pricing
The free version of the plugin is available on the WordPress repository and comes with all the basic security features.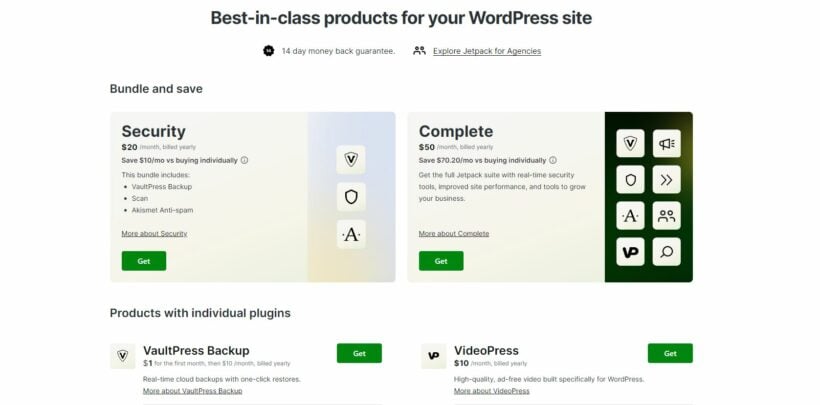 The Security plan costs $20 monthly and adds real-time scans and Akismet's anti-spam. The VaultPress Backup plan costs $10 per month and includes real-time backups with 10 GB storage and all other security features.  If you want more, you can get the Complete plan which lets you backup upto 1TB of storage, one-year activity log archive, and much more for $50 per month.
Want to give Jetpack a try? Get Jetpack now!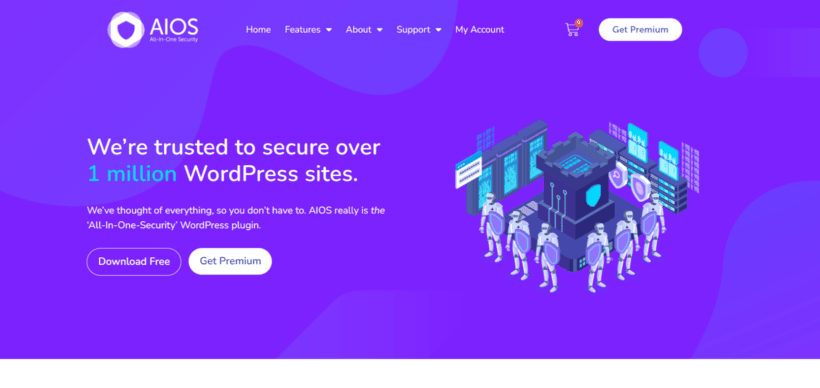 With over one million active installs, the All In One Security (AIOS) plugin has a comprehensive set of security tools for securing your website. The free version of AIOS has multiple useful features such as login security, website firewall and file protection, and content protection too.
The plugin automatically scans malicious code and activities on your website and prevents attacks autonomously.
You get multiple login security features such as hiding pages from bots, CAPTCHA, force logouts, password strength tool, and powerful two-factor authentication.
With AIOS' web application firewall (WAF), you get .htaccess file protection, automatic protection from known security threats, DDoS attack prevention, blacklist option, file change detection, the ability to create custom rules, and more.
You also can protect your website's content, such as you can monitor SPAM, iFrame protection, disabling right-clicking on content, etc.
With the pro version, you get an automatic malware scanner that can notify you of any suspicious activity, keep a tab on response time, generate reports, and even alert you if your website gets blacklisted by search engines.
With the premium two-factor authentication, you can set up role-specific authentication, set up trusted devices, add anti-bot protection, set up emergency codes, etc.
You can also enable country or region blocking to restrict all traffic coming from a particular region.
For all premium customers, you get unlimited support from security experts and a guaranteed support turnaround time of 3 days.
All In One WP Security & Firewall plans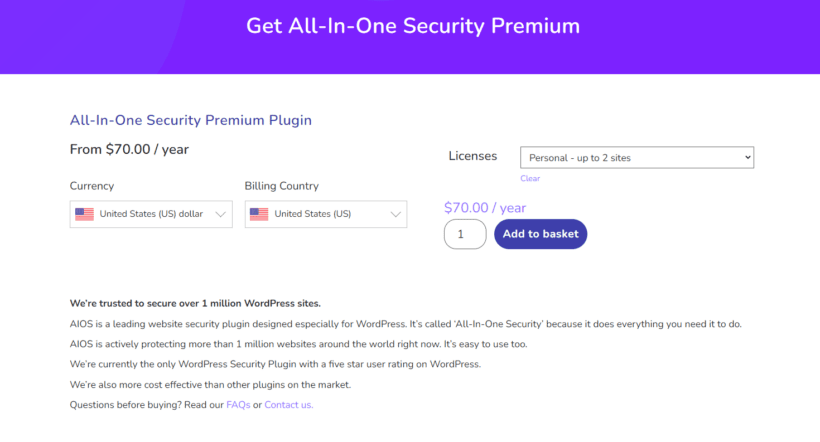 The premium plan starts at $70 per year and comes with all premium features and a license for two sites. If you want to install the plugin on more websites, you can go for the business and agency plan, which costs $95 and $145 per year, respectively, and comes with licenses for 10 and 35 websites. The plugin also has an unlimited license plan which costs $195 per month.
Want to give All-In-One Security a try? Get it here.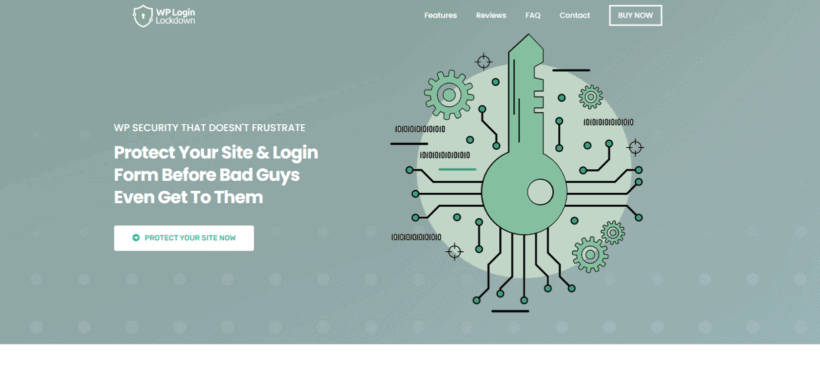 Login LockDown is a security plugin that records the IP address and timestamp of every failed login attempt. While this is not a comprehensive security plugin, it is designed to help WordPress users secure their site's login.
The plugin works by logging the IP address and timestamp of every failed login attempt. If a user tries to log in unsuccessfully a certain number of times, the plugin will block login attempts from that IP address for a specific period of time. Both of these things can be configured on the plugin's settings page.
You also get protection from brute force login attacks with this plugin, thus protecting your website from any hacker or individual trying to gain unauthorized access to your website.
Features of Login LockDown:
With Login LockDown, you can safeguard your website's login page and prevent any forced unauthorized access to your website.
You can prevent brute force login attacks and block malicious IP addresses to minimize any possibility of attacks.
The plugin automatically blocks IP addresses after a predefined number of failed login attempts to prevent any hacking attempts.
Login LockDown automatically blocks off bots from your login page.
One thing that holds back this plugin is that it lacks more features. If you just want to secure your website's login page, this plugin is perfect, but securing a WordPress website requires a bit more, which this plugin does not provide.
Login LockDown pricing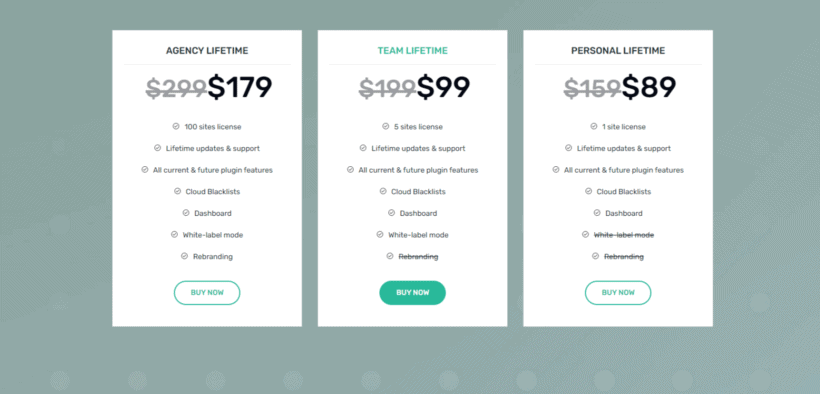 The free version of the plugin is available to download for free from WordPress.org. If you want more features, such as cloud blacklists, bot protection, premium support, and overall better security for your website, you can go for the premium plans starting at $89 lifetime. If you want a white-label feature and/or want a license for five websites, you can get the Team Lifetime plan. Also, if you want a license for 100 sites, you can go for the Agency lifetime plan, which costs $179.
Want to give Login LockDown Pro a test run? You can get it here.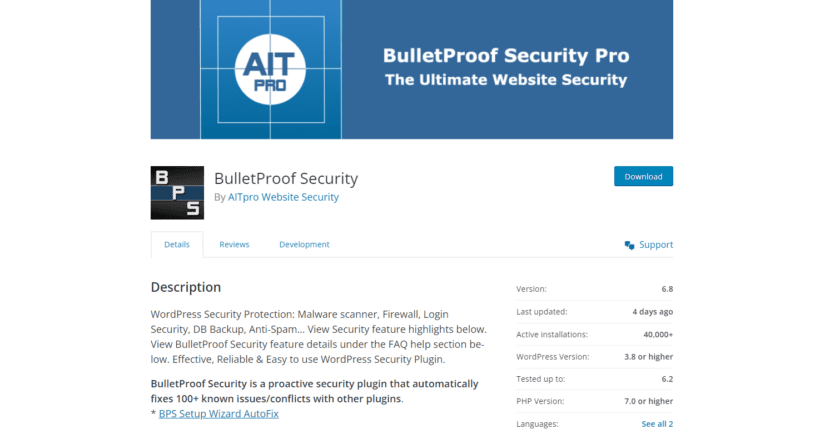 BulletProof Security is another feature-rich WordPress plugin that is gaining more traction and has more than 40,000 active installs. The plugin comes with multiple advanced security features such as a Malware scanner, website firewall, force strong passwords, file monitoring, and login security features.
BulletProof Security features
The plugin is easy to install and set up, as it comes with a one-click setup wizard.
You can secure your login page with options such as password reset, automatic lockout time, max login attempts, email, activity log, etc.
BulletProof Security has an upload anti-exploit guard which protects your site's upload folder from being exploited.
The plugin is designed to work autonomously. Once set up, the plugin will perform regular website checks and will check any new plugin or theme post-installation.
For backups, you can choose to perform partial and full backups. This can be useful when your website gets infected or hacked, and you want to restore it to a previous version.
For ease of use, the plugin has a centralized interface where you can monitor and configure your security settings easily.
With the premium plans, you also get 16 mini plugins to help you manage your website's security better. Each plugin comes with a unique feature and needs to be installed separately.
You can also lock and restrict your site's files and folders to prevent any unauthorized changes to your site.
Is this security plugin ideal for beginner/intermediate users? While the plugin is loaded with features, it can be a bit challenging to work with all the technical features if you are a newbie or an intermediate WordPress user. The plugin is great if you know your way around WordPress security. This way, you can deploy the features you think will be the best for securing your WordPress site. But, if you are not sure about which feature to set up, adjusting the right settings and installing the additional plugins can be a bit intimidating.
Bulletproof Security pricing
A free version of the plugin is available to download on the WordPress Repository. It comes with basic security features such as a malware scanner, website firewall, database backups, anti-spamming, login security, etc.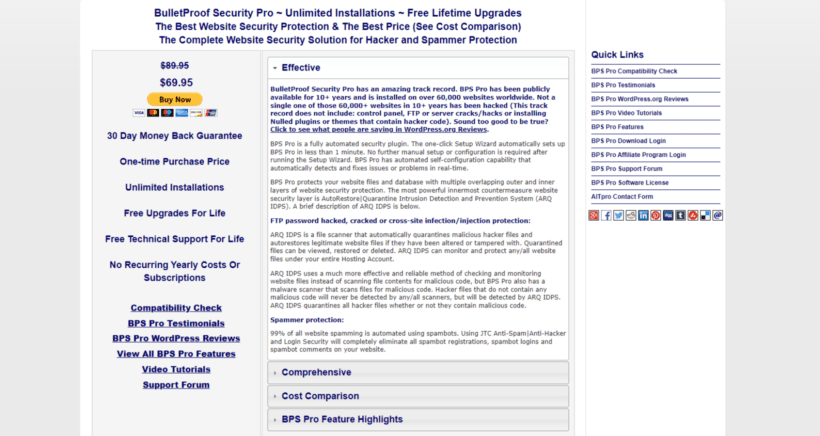 The Pro plan of the plugin costs $69.95 and comes with all the premium features of BulletProof Security. One this to notice is that this is not a subscription fee but a one-time price, and you can use the plugin and the add-ons indefinitely on unlimited websites.
Want to give Bulletproof Security a try? You can get it here.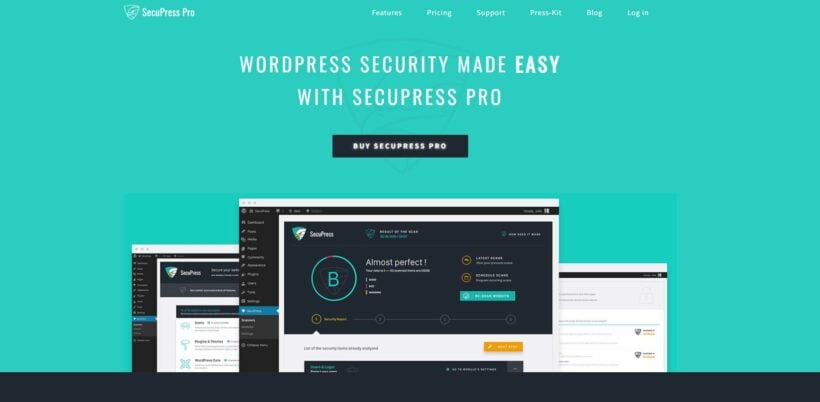 SecuPress Pro is a growing and feature-rich plugin that can help you protect your website from malicious attacks and hacking attempts. You get many popular features such as security audits, login protection, IP blocking, malware scans, and brute force protection.
The plugin comes in both free and pro versions. With the free version, you get some unique features such as security key protection, block visits from bad bots, vulnerable themes and plugin detection, and PDF security reports.
Features of SecuPress
With the security audit, the plugin will automatically perform regular scans. This covers 35 security points and give you a security status report of your website.
You get two-factor authentication for your login page. You can add additional security measures such as limiting failed login attempts, preventing double logins, enforcing strong password use, etc.
For validating plugin and theme security, SecuPress automatically scans every new installation to check for any malicious code.
The plugin also lets you back up your website's data and restore it in case of a security breach.
SecuPress Pro adds many more useful features to your site, such as Slack and email notifications, IP address blocking, double 2FA, anti-hotlinking, password lifespans, schedules for backups and scans, and much more. You can check the full list of comparisons between free and pro here.
SecuPress Pro pricing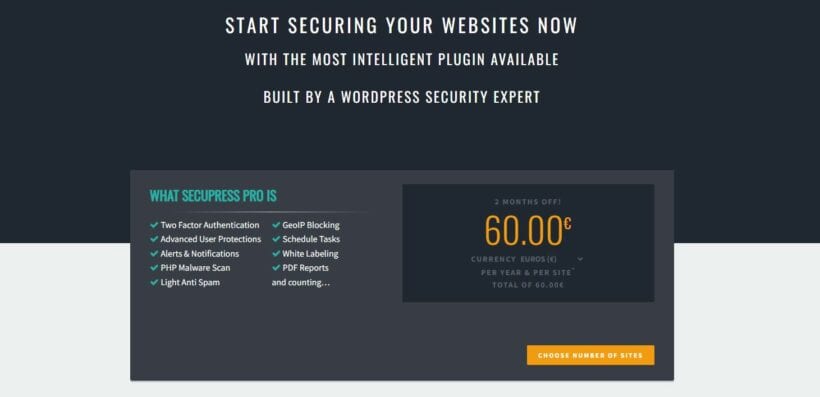 Apart from the feature-rich free plugin, you can go for the pro version for stronger security. SecuPress Pro costs $69.99 per year for a single site license and has everything SecuPress has to offer, along with priority support. If you wish to install the plugin on multiple websites, you can get a multiple license plan.
Want to give SecuPress Pro a try? Get SecuPress Pro.
Secure your website today!
Securing your WordPress website is vital, no matter if you have a small blog or a large eCommerce website. With no security, websites of all types and sizes are vulnerable to attacks, downtime, and breaches. By installing a security plugin on your website, you can boost your website's security instantly. With most WordPress security plugins, you need to install and set them up once, and the plugin will work autonomously to maintain your site's security.
Although there are so many feature-rich WordPress security plugins, you need to pick the one that fits your website's needs. While choosing the plugin, consider important factors such as the website's size, nature of your website (eCommerce, blog, etc.), features you need, your technical expertise, and budget. You can choose a free or pro plugin depending on your needs or you can choose a free plugin first and then move to the pro version later.
So, without any further ado, pick the plugin you think will be the best for your website and secure your website today!
If you have any questions about WordPress security, comment in the section below. Also, tell us the plugin you picked for securing your website and why!