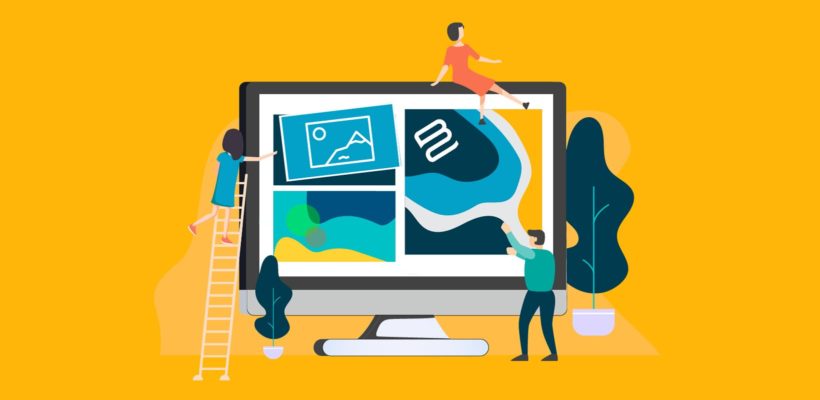 Looking for the best WordPress gallery plugin for your site?
While WordPress includes a simple built-in gallery feature, it's really only good for the most basic of image galleries. For most situations, a dedicated WordPress gallery plugin makes a better choice because it will give you more options when it comes to:
Gallery templates You can choose from table views, masonry galleries, Polaroid styles, etc.
Search/filter options You can help visitors find specific items in your gallery.
What content to include Beyond images, you can create a gallery of blog posts, portfolio items, WooCommerce products, and more.
In this post, we've collected the best WordPress gallery plugins for all types of galleries. Beyond creating a WordPress photo gallery, these plugins can also help you create video galleries, WooCommerce product galleries for eCommerce stores, portfolio galleries, and lots more.
What to look for in the best WordPress gallery plugin
Before we get into the best plugins, let's quickly go over some criteria to help you pick the best WordPress gallery plugin for your specific needs.
When you're looking through these WordPress plugins, here's what to consider:
Content sources — if you want to go beyond simple image galleries into different types of galleries, consider the content sources that your chosen plugin supports. For example, you might want videos, blog posts or other custom post types, WooCommerce products, etc.
Filter options — if you're going to include a lot of different gallery items, it might be helpful to let your visitors search or filter those gallery items to find the ones they're most interested in. Not all plugins let you create filterable galleries.
Deeplinking — do you want to be able to share links to specific gallery items? Not all plugins let you.
Watermarking — do you need to automatically add watermarks to items in your gallery? This can be helpful for photographers.
Gallery layouts — do you want a table layout? Masonry grid? Carousel?
Gutenberg compatibility — if you're using the new WordPress block editor (Gutenberg), make sure your chosen plugin is compatible with it.
Performance features — if you have lots of gallery items, performance-boosting features like lazy loading, infinite scroll, and pagination can help your galleries load faster.
Best WordPress gallery plugin: 5 options compared
Below, we've collected the five best WordPress photo gallery plugins for everything from a simple WordPress photo gallery to a gallery of your latest blog posts, portfolio items, WooCommerce products, and more.
All these popular gallery plugins will work with any WordPress theme.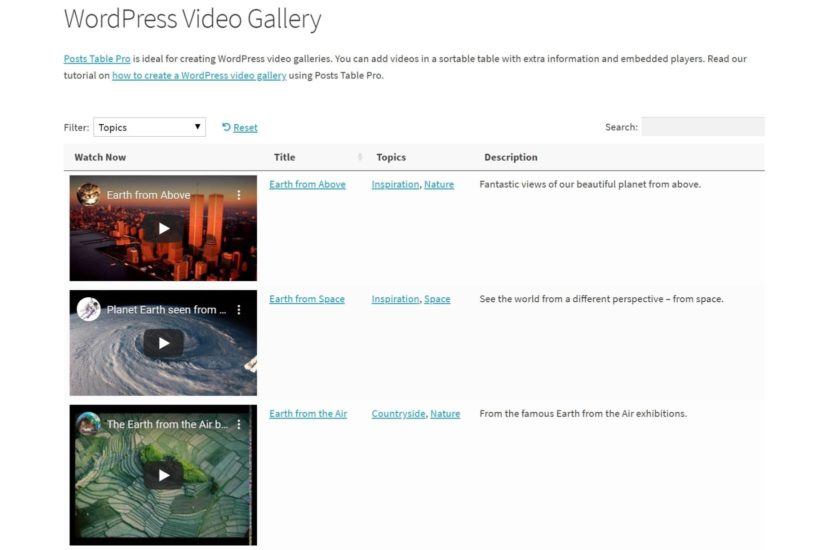 Posts Table Pro is the best WordPress gallery plugin when it comes to flexibility and customization options.
Flexibility and customization
One unique feature is that Posts Table Pro gives you complete flexibility when it comes to content sources. You can create a gallery that pulls content from any post type at your site, including media content (like images or videos from the WordPress media library), blog posts, or any custom post type (like portfolio items).
In addition to flexibility for content sources, you also get flexibility when it comes to the information that you display about each source in your gallery. You can control the exact columns that appear in your table-based layout and add or remove information as needed.
For example, if you're creating a photo gallery, you can also show the image name next to each gallery item. Or if you're displaying a portfolio gallery, you can include additional information about each item, like the client and purpose of the project. This extra information is not just helpful for human visitors, it can also help you rank your galleries higher in Google by including more rich text content.
Other helpful features
If you include images in your gallery, you can also open a full-resolution image in a lightbox when a user clicks on the image thumbnail.
To make sure your galleries load quickly, Posts Table Pro includes helpful features for pagination, lazy loading, and infinite scroll. And you can also include search and filter options to help visitors find specific items in your gallery, which improves user experience.
To display your gallery on the front-end, you can use a shortcode in both the Classic editor and the new Gutenberg editor.
If you want the flexibility to create a gallery of any content type on your site, including images, videos, files, blog posts, portfolio items, and more, then Posts Table Pro is a great choice. It packs in plenty of power while maintaining ease of use.
Posts Table Pro costs just $65.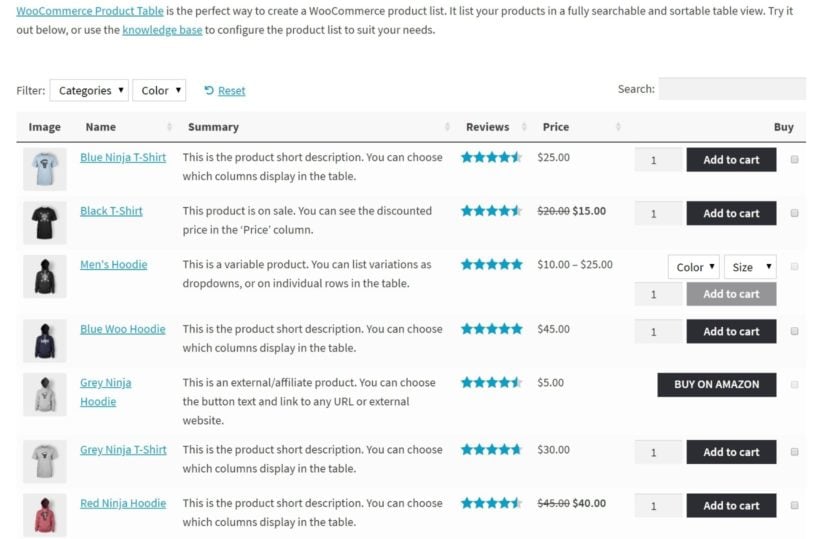 WooCommerce Product Table is the best WordPress gallery plugin for eCommerce stores. It also makes a great option for anyone who's looking to sell products related to gallery images.
WooCommerce Product Table lets you display some or all of your WooCommerce products in a customizable table-based gallery layout.
One of the unique things about this plugin is that it isn't just a gallery of product images - you have full control over the information that displays for each product in the gallery. For example, you can include the description, product attributes, price, etc. You can even include an add to cart button to make it easy for shoppers to purchase items from your gallery.
For product images, you can control the size of the product image thumbnail that appears in your gallery and you can also choose to open the full-resolution image if a visitor clicks on the product image.
If you want to include the full product image gallery, WooCommerce Product Table integrates with the WooCommerce Quick View Pro plugin, which gives you two different ways to display product images/details in a lightbox popup:
A standalone image lightbox with thumbnail or bullet navigation.
A lightbox gallery that displays product images on the left and information about the product on the right.
To help visitors filter products in your gallery, you can add filters above the gallery table for product categories, tags, or attributes. WooCommerce Product Table also comes with dedicated product filter widgets for price and attributes that you can add in your WordPress site's sidebar.
Basically, if you have an eCommerce store or just generally want to sell items related to the images in your WordPress photo gallery, WooCommerce Product Table is the best WordPress gallery plugin for you.
WooCommerce Product Table costs just $99.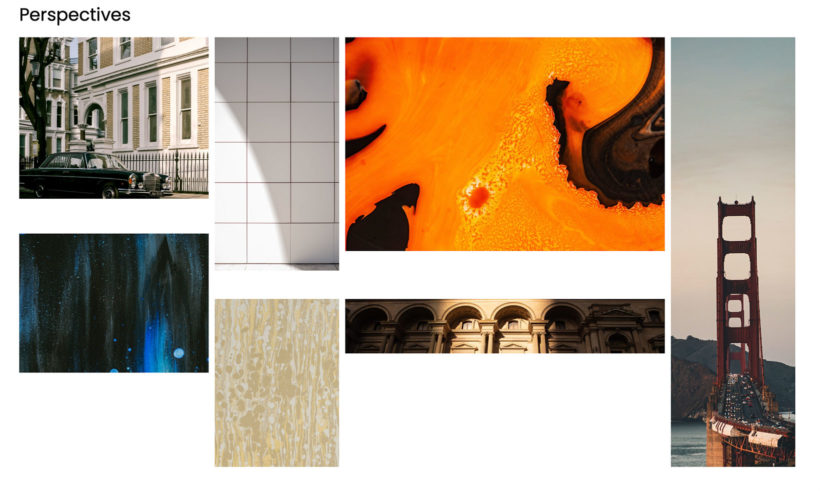 When it comes to user interaction, Modula is incredibly user-friendly and provides all the whistles and bells you'd expect from a gallery plugin.
It doesn't really matter if you're a beginner or a professional photographer, Modula is the perfect match for anyone. This WordPress gallery plugin offers the most powerful features and is fully customizable. You will create your galleries in less than 5 minutes.
The best thing about Modula is that it provides a significant amount of gallery features: 4 different grid types (creative, custom, slider, and masonry), 42 image hover effects, a lightbox gallery powered by Fancybox, filterable galleries, and 4 image loading effects.
You can even create albums to organize your galleries according to your style. How about mixing videos and images? Well, Modula allows you to create both image and video galleries or a mix of both.
If you want to let your visitors share your images or galleries, you can add sharing buttons to your pictures. Or you can allow your website visitors to see your masterpieces in detail by enabling the Zoom extension.
How about displaying data from your image directly into your gallery and lightbox view? Thanks to its EXIF extension, you can add EXIF information - Camera, Lens, Focal Length, Shutter Speed, Aperture, ISO, and Date.
Newly, Modula integrates 3 more extensions: Modula Defaults (create multiple gallery defaults), Modula User Roles (decide which user role can create, edit, and remove galleries), and Modula Whitelabel (replace any occurrence of Modula with your brand name and logo).
Finally, if you want to migrate your galleries to another plugin, Modula provides a migration tool for importing and exporting galleries.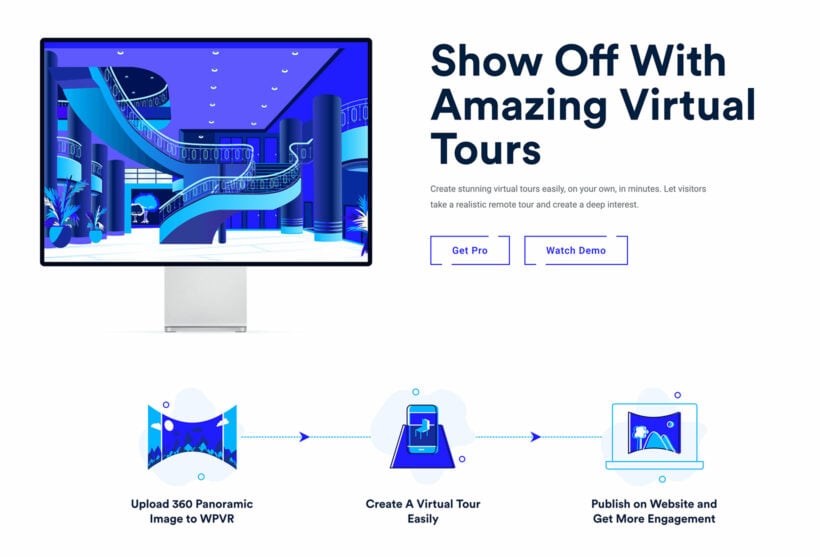 The WPVR plugin is a unique type of WordPress gallery plugin because it allows users to create 360 degree galleries. This means that users can display panoramic images and videos on their WordPress website, allowing visitors to fully immerse themselves in the content.
One of the key features of the WPVR plugin is its ability to create virtual tours. This means that users can create a series of linked 360 degree scenes, allowing visitors to explore a location or environment in a more interactive way. This can be particularly useful for real estate websites, tourism websites, or any other type of website where immersive content can enhance the user experience.
Another useful feature of the WPVR plugin is its compatibility with virtual reality headsets. This means that visitors can view the 360 degree content on their website using a VR headset, providing an even more immersive experience. This is a relatively new technology and the WPVR plugin is one of the first WordPress gallery plugins to offer this functionality. Overall, the WPVR plugin offers a unique and exciting way to display panoramic images and videos on a WordPress website.
For this reason, the WPVR WordPress virtual reality plugin is popular for a wide range of use cases - from real estate websites to much more.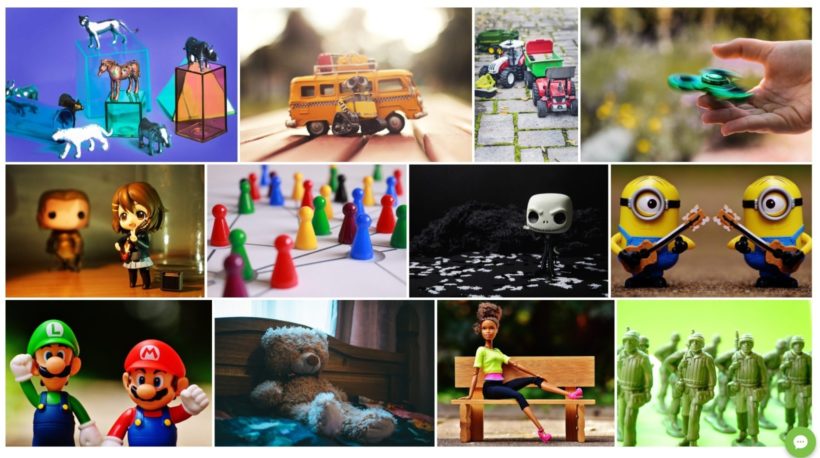 Envira Gallery is a user-friendly WordPress photo gallery plugin that can help you create stylish masonry galleries or other interesting gallery layouts. You can also modify how the gallery styles look using your own custom CSS and use a drag-and-drop gallery builder to change the order of gallery items.
You can create standalone galleries or group galleries together into albums, complete with different album styles. It also has some nice features for photographers like automatic watermarking, an Adobe Lightroom integration, and support for online client proofing.
If you want to integrate with social media, Envira Gallery can help you add social sharing buttons to gallery items and you can also import Instagram posts as gallery items. With the premium version, other gallery sources include videos and blog posts, which is helpful if you're a blogger.
Finally, if you want to sell images from your galleries, Envira Gallery includes a WooCommerce integration to add eCommerce support.
Envira Gallery lite is a limited free version at WordPress.org that works for simple image galleries, but you'll need the premium version for access to the more advanced features. There are different premium tiers depending on the features you need, which can get a little pricey. You can also use it with add-ons for advanced functionality such as fullscreen galleries.
Prices start at $29 and range up to $299.
NextGEN Gallery is a popular WordPress photo gallery plugin for photographers or other power users.
One unique thing about NextGEN Gallery is that it includes heavy-duty image file management on the backend. Rather than managing your gallery images in the regular WordPress media library, NextGEN Gallery gives you a separate interface to manage all of your images.
This approach can be a little complicated for casual users, but it's helpful if you need to manage thousands of image files.
Edit: Scott of Imagely, the developers of NextGEN Gallery, has shared a few points for us to note in a comment, such as;

"We have a built-in wizard which walks through how to use the plugin. Once users understand what the plugin can do they typically find themselves managing and displaying galleries in seconds. So while it might be a slight learning curve, in the beginning, it's quite simple once you know what is what. But so is most of the WordPress ecosystem :) "

- Edge
Beyond the gallery management features, NextGEN Gallery also includes premium extensions to add gallery layouts (including carousels), automatic print fulfillment via White House Custom Colour (WHCC), image deeplinking, eCommerce support, online client proofing, hover effects, and social media integrations.
The automatic print fulfillment feature is definitely one of the unique things about NextGEN Gallery, so that's a point in its favor if you're looking to sell physical prints and outsource the fulfillment of those prints to a third-party.
NextGEN Gallery does have a limited free version at WordPress.org, but it only includes simple gallery styles and lacks most of the features mentioned above.
Scott also adds;

"I might argue that NextGEN Gallery actually is the most feature-rich gallery plugin of them all. It includes image protection of originals, advanced resize control, watermarking, thumbnail display, image browser display, tag cloud, single-image display, multiple lightbox options, and much more…for free."
"The last thing I would love to mention is the fine-tuning we've been doing lately. NextGEN Gallery, while it might have a lot of features, is the fastest loading gallery plugin for WordPress now. Meaning, it will have the least impact on site speed."

Thanks. - Edge
If you want to get the most from NextGEN Gallery, you'll definitely want to go with the premium add-ons, which come in different bundles depending on your needs. The cheapest premium version is NextGEN Plus at $99, but most people will want NextGEN Pro, which costs $149.
Because of the advanced features and comparatively high price, NextGEN Gallery is mostly just for power users.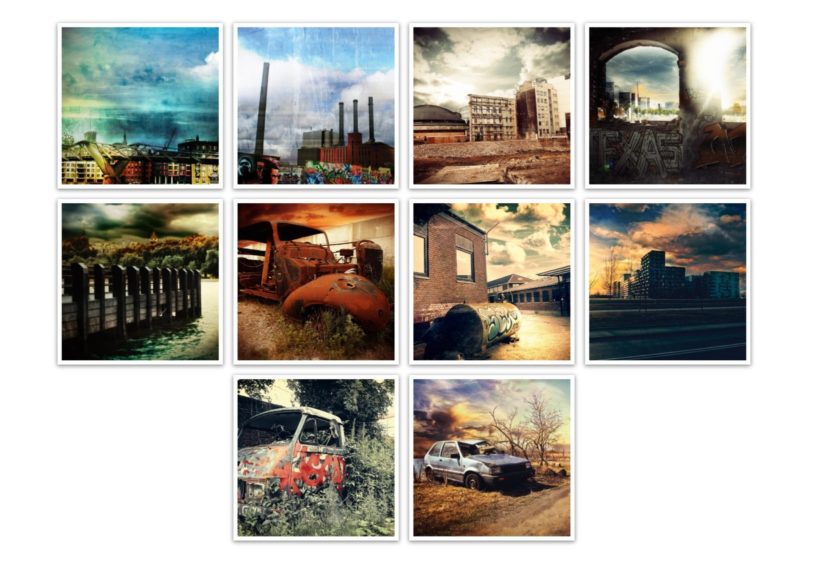 Finally, there's the FooGallery image gallery plugin, which comes in both a free and premium version and makes a good option for a simple, stylish WordPress photo gallery.
The Pro version also adds support for video galleries from YouTube and Vimeo, but you don't get the option to create galleries from blog posts or other post types like you'd get with something like Posts Table Pro.
Edit: Brad of FooPlugins commented below that they, "recently released an update that includes a new datasource in FooGallery Pro, which allows you to build/load a gallery from a post query in the WP admin. You can choose the post type and a few other settings to build up a dynamic gallery."
- Edge
The Pro version also lets you create image galleries from sources beyond your WordPress media library, including Adobe Lightroom and FTP server folders.
One thing in FooGallery's favor is the variety of gallery templates. If you opt for the paid version, you'll get lots of style options including:
Slider
Masonry grid
Polaroid
You can also control the CSS, choose the pagination options, and add multiple loaded effects and hover effects. The plugin is also compatible with CDNs.
If you want to help visitors filter gallery items, you can add media categories and tags, along with front-end gallery filtering (including thumbnail gallery filters).
You also get advanced pagination options, infinite scroll, and lazy loading support.
FooGallery has a limited free version at WordPress.org, but you'll need the premium version for the best templates, video galleries, and other features. The premium version starts at $59 for use on a single site and ranges up to $199 or use on up to 25 sites.
Best WordPress gallery plugin in action: Two case studies
When you're trying to pick a visual tool like the best WordPress gallery plugin for your site, seeing the plugin in action is also an important part of making your decision.
To that end, let's look at two case studies of some of these WordPress gallery plugins being used on real live WordPress websites.
A portfolio gallery created with Posts Table Pro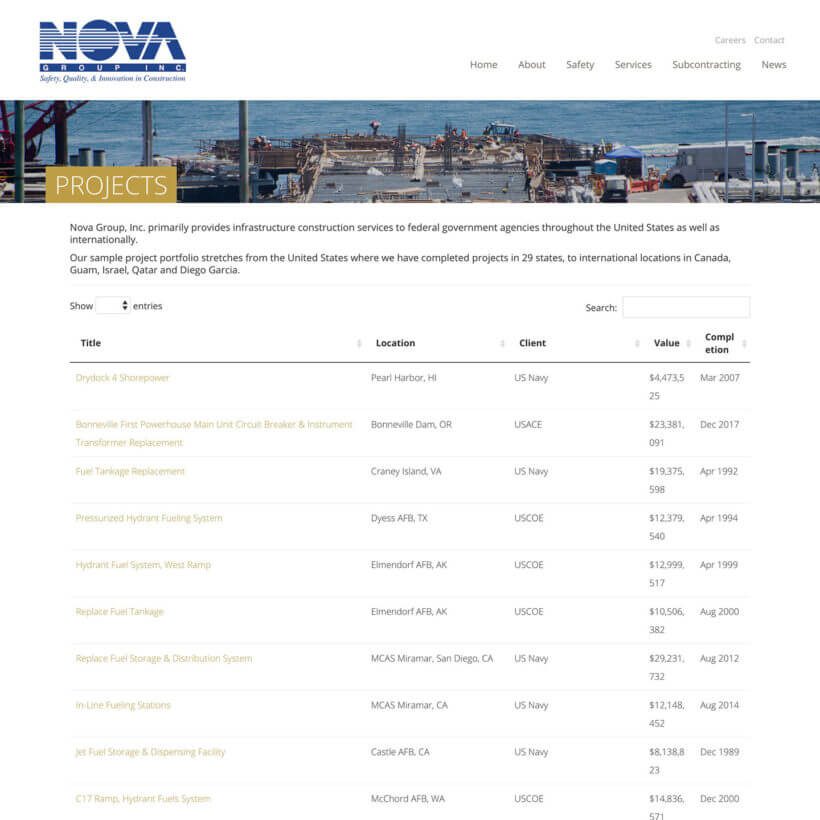 Nova Group is an engineering contractor with a portfolio that includes projects from 29 US states, as well as multiple international projects.
To display a portfolio gallery of their projects, Nova Group uses Posts Table Pro to display a gallery that includes each project's title, location, client, value, and completion date.
Visitors can sort the gallery by each of those criteria and also search for specific keywords.
Nova Group's website is a good example of how you can use Posts Table Pro to create more than just a simple WordPress photo gallery.
WordPress photo gallery for online proofing created with WooCommerce Product Table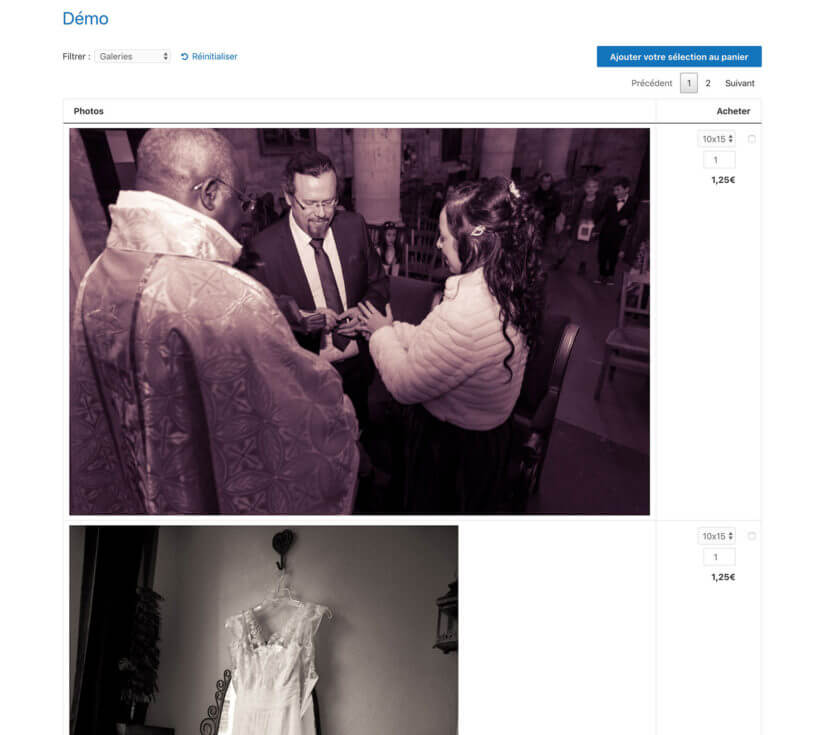 Thierry runs a wedding photography studio in Paris, France called Photo Studio TNK.
To help clients proof the photos he takes of their weddings, Thierry uses WooCommerce Product Table to create a personalized WordPress photo gallery for each client at his WordPress photography website.
Clients can then browse through the image gallery and check a box for all the photos they want to purchase.
To make sure each client's gallery is private, Thierry also uses the WooCommerce Protected Categories plugin to add password protection to each photo gallery. And to make it easier to upload hundreds of images, Thierry also uses the Feed Them Gallery plugin to help with uploading images by automatically converting images into sellable WooCommerce products.
What's the best WordPress gallery plugin for your site?
In the end, picking the best WordPress gallery plugin depends on your goals and needs. Each plugin offers a different approach when it comes to gallery layouts, gallery options, and content sources.
For example, if you want the ability to create galleries from regular WordPress media items (like images or videos) as well as blog posts, portfolio items, and any other custom post type, then Posts Table Pro might be the best option for you.
On the other hand, if you want to create a gallery of WooCommerce products or sell something related to the items in your gallery, then WooCommerce Product Table might make a better option for you.
In total, we looked at five different WordPress gallery plugins, so let's recap them and briefly summarize what each plugin does best:
Do you have any questions about which solution is the best WordPress gallery plugin for your needs? Leave a comment and we'll be happy to help out!