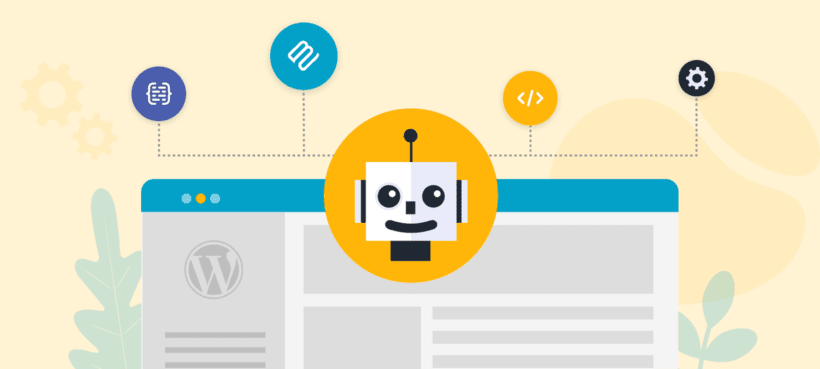 Are you thinking about using AI tools on your WordPress site? In this detailed post, we'll introduce you to the various benefits of AI for WordPress websites. We'll also share the best ChatGPT & AI WordPress plugins.
Artificial intelligence (AI) tools are everywhere these days — from cars to smartphones to restaurants and even WordPress. When you think about the many benefits of AI, it's easy to see why.
No AI tool can completely replace talented humans (yet). However, they can massively improve workflows for various WordPress-related tasks, help you become more efficient, and deliver a better experience to your website's visitors. We created this guide to answer questions like:
How to use AI in WordPress?

How to optimize the benefits of AI?

What are the best WordPress plugins to use for your business?

Lots more
So, if you want to make AI work for your WordPress site and which ChatGPT & AI WordPress plugins are worth your time, this guide is for you.
(PS: BTW, in case you're wondering — no, AI didn't write this post! ✌)
Ready? Let's go.
Types of WordPress AI and ChatGPT plugins
There are thousands of WordPress AI and ChatGPT plugins that perform a wide range of tasks. We've outlined the various types of plugins based on their key features:
Text generation
Text generation plugins use AI technology to automatically create new and unique website content. They can generate blog posts, website copy, product descriptions, and more.
Most WordPress text generation plugins are currently built with ChatGPT's API. These plugins use natural language processing (NLP) and deep learning to analyze and understand a website's content. Then, they create relevant content based on their analysis.
Image generation
Image-generation AI is a mind-blowing concept. You enter a text prompt description of the image you want to create. The AI plugin automatically creates stunning, custom visuals within a few seconds.
After the AI generates the images, you can add more instructions and filters to tweak and customize the images further. 
Chatbots and customer support
AI conversational chatbots are a game-changer when it comes to automating and improving customer support on websites.
Chatbots aren't a recent invention; they've been around for a while. But how can AI improve the chatbot experience? By using natural language processing and machine learning algorithms. These algorithms help chatbots provide more personalized and accurate responses to customer queries.
Businesses can also incorporate AI knowledge base searches into WordPress form plugins. This can help them provide instant customer support, leading to a more positive user experience.
SEO optimization
There are several types of AI SEO plugins that automate various kinds of SEO-related tasks. However, they all share one common goal: to help boost your website's organic search ranking.
AI SEO plugins can analyze your website's content and provide on-page optimization suggestions. These insights can help improve meta tags, titles, descriptions, and headings. They also highlight backlinking and interlinking opportunities.
Some plugins even autogenerate and submit XML sitemaps. This helps search engines crawl and index the site, and allows you to add social media metadata to your website.
E-commerce operations
AI-powered WordPress plugins can help e-commerce stores improve their processes. For example, they can streamline their order fulfillment process. This helps to reduce the time and resources needed to manage orders and inventory. 
These plugins help automate time-consuming tasks like inventory management and order fulfillment. They also provide valuable insights into customer behavior to help businesses become more efficient and profitable.
Code generation
Plugins that generate code use deep learning algorithms and NLP to automatically generate code snippets and scripts. They can even create entire software applications based on your inputs.
Code generation plugins are probably the most exciting type of AI WordPress plugins. They can help you add cool, new features to your website, even if you have zero coding knowledge. They also help plugin developers to reduce routine tasks and save time.
Benefits of AI for WordPress websites
There are many benefits to using AI plugins on WordPress websites. Here are the top ones:
Improved SEO optimization and content creation
Content creation and SEO optimization are crucial for nearly every type of WordPress site. You probably already know that a lot of time and effort goes into creating optimized content that ranks well. Spending several hours every week on content is quite common for many websites. 
Many AI plugins can help with various parts of the content creation and optimization process. From keyword research to creating blog posts and images to optimizing your site's content to rank higher in search. This leads to higher organic traffic and increased visibility to your target audience.
Personalized user experiences
Your site's user experience (or UX) can determine whether website visitors return or not. And considering that 88% of website visitors are less likely to return after a bad site experience, the stakes are pretty high.
If you want to create a website from scratch, AI can help. It can generate code for stunning website designs and layouts with user-friendly features in only a few minutes. 
AI can also analyze users' behavior on your website and then provide personalized experiences for each user. For example, recommend relevant products, services, or content based on a user's previous selections.
Enhanced customer support and engagement
Chatbots (or conversational agents) are AI-powered plugins that can provide instant, personalized support to your website's visitors.
Think of chatbots as virtual assistants that are available 24/7 and can provide support to your customers. They help answer common questions, resolve issues, and provide recommendations based on customer interactions. They can even automate routine tasks like scheduling appointments. 
Streamlined e-commerce operations
There aren't yet many AI WordPress plugins exclusively focused on e-commerce websites. However, the ones that are available so far seem promising.
These plugins can help reduce the time spent on stock management and product pricing — two critical parts of running a successful e-commerce business. This is especially helpful if your e-commerce store has a large product database. They can help you save a lot of time by allowing you to bulk edit products and product variations, modify product prices, and more.
Automated website maintenance and security
Many things must be done to ensure your website is up-to-date and secure. AI plugins are handy for automating several routine and time-consuming maintenance-related tasks, such as:
Updating plugins, themes, and website backups.

Monitoring your site to identify performance issues, such as slow page load times. 

Crawling your site to look for broken links and suggesting link replacements.
AI plugins can also monitor your website for security threats like malware or hacking attempts. They'll immediately alert you if they detect unusual or suspicious activity so that you can quickly prevent security breaches.
What are the best WordPress ChatGPT plugins?
Text and image generation
Bertha AI (AI text and image generation)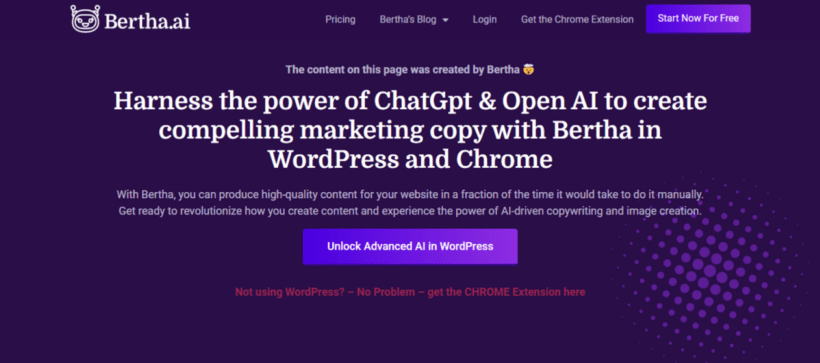 Bertha AI is a powerful plugin that uses the latest ChatGPT technology to create original, high-quality content within a few minutes. It aims to cut down the time spent to produce content by 90% and can generate content in English and 20+ languages. So it's a great choice if you need to quickly create a lot of content for your website.
Bertha has 35+ editable text-generation templates for a wide range of use cases. For example, blog post outlines, product descriptions, FAQs generator, and more. These templates help to speed up your content creation workflow. Also, you can enter text prompts into its powerful image generator, "Bertha Art", to create stunning images for your website. 
Bertha AI is the most advanced text and image generation WordPress plugin we've tried so far (regarding content quality and speed). This makes it our top pick for plugins in this category.
Imajinn (AI image generation)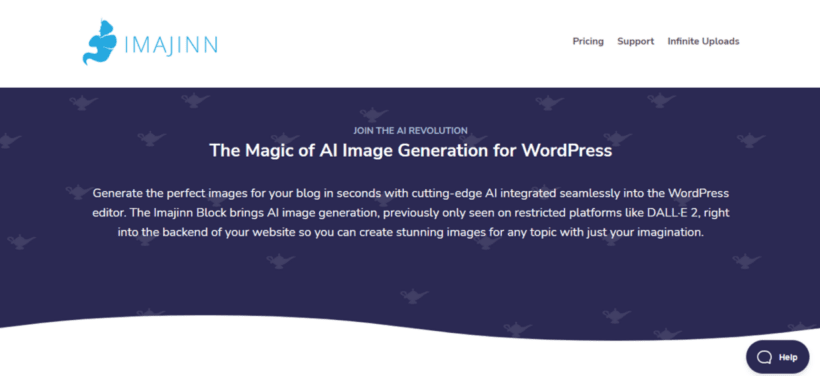 If you're tired of using the same old, boring images on your website, consider using Imajinn. Imajinn is a powerful WordPress plugin that uses the benefits of AI technology to generate unique, artistic-style images for your website.
Simply type in a text prompt describing the image you want and select appropriate customization options. Imajinn will create a variety of realistic images for you to choose from within a few seconds. If you're happy with the images, save them to your WordPress media library, and use them on your website. If not, you can easily make realistic, targeted edits using its "Style Presets", "Face Repair" and "Touch-Ups" features to customize your image further.
Imajinn AI is perfect for websites that rely heavily on images and want to create unique and engaging content. The images generated are royalty-free and ready for use on your website.
Genie (AI content optimization)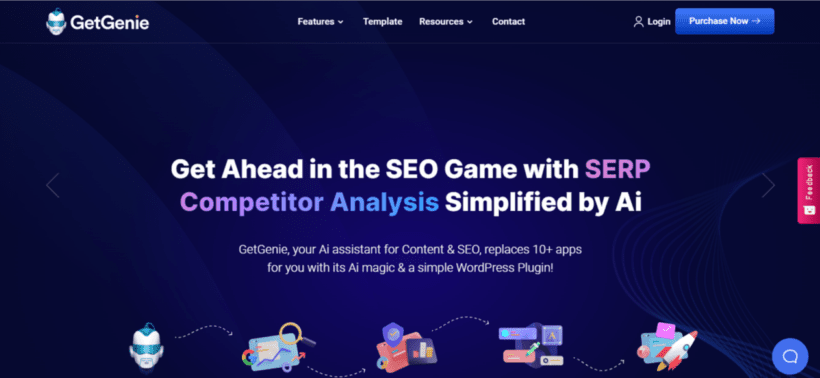 Genie is an AI-powered content and SEO assistant plugin. It uses machine learning algorithms and advanced AI technology to research your competition and create NLP-optimized content.
This plugin performs each step in the content production process — from research to content creation to SEO optimization — right within your WordPress dashboard. It also includes 30+ templates such as blog posts, social media copy, WooCommerce product descriptions, etc.. This makes it a great tool to help you quickly create unique, relevant, and engaging content. 
You can use Genie to create various types of content. However, it's most suited for WordPress sites where content quality and ranking are crucial because of its advanced optimization capabilities.
HandyWriter (AI-powered writing assistant)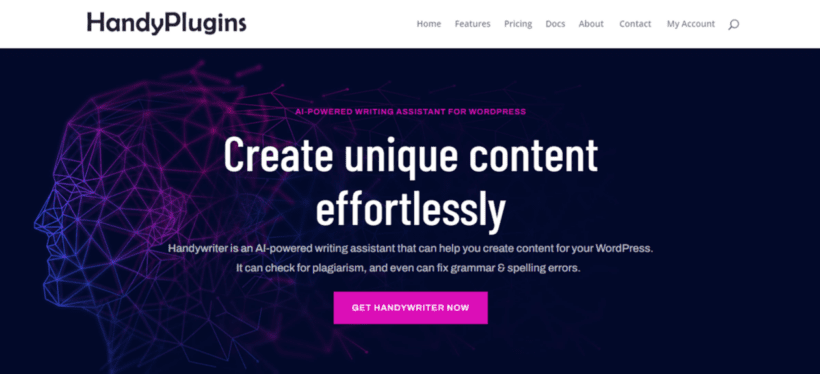 HandyWriter is an AI writing assistant plugin. It can help you create various types of content for your WordPress site. Like ChatGPT, HandyWriter uses the benefits of AI natural language processing and machine learning algorithms to understand your text prompts and generate relevant content.
HandyWriter is less advanced than Bertha AI. However, it's still worth mentioning because it generates good-quality content. It also includes built-in grammar and plagiarism checkers to ensure your content is error-free and original.
HandyWriter's best feature is the ability to generate an entire blog post including the title, summary, and SEO meta descriptions with just a single click. And, like similar plugins, it includes templates to create content for product descriptions, ad copy, YouTube video descriptions, and more.
MeowApps AI Engine (Text and image generation)
MeowApps AI Engine is an innovative AI WordPress plugin powered directly by ChatGPT. It can help create fresh and engaging content for your website.
The MeowApps AI Engine plugin is great at generating text for blog posts, social media posts, ads, etc.. It has a fantastic chatbot feature that provides a ChatGPT-style chatbot (which we'll cover in more detail later on) for your website. It also includes image generation capabilities, an AI Playground with a user-friendly interface, settings to train your AI models, and lots more.
The quality of generated text and images isn't yet as good as Bertha. However, it still stands out for its versatility, unique interface, and nearly endless use cases. This makes it an excellent option for those looking to experiment with AI-powered content tools.
Stable Diffusion (Web-based AI image generation)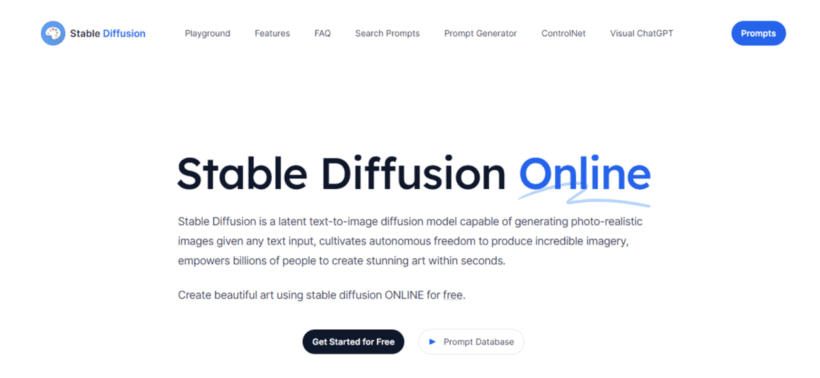 Stable Diffusion is an open-source tool created by OpenChatKit that uses the benefits of AI technology similar to ChatGPT. It's useful to generate photo-realistic images from text prompts. 
It's important to note that Stable Diffusion is an online tool, so technically, it's not a plugin. However, it's a valuable alternative with an easy-to-use interface. It can quickly generate high-quality images for your WordPress website even if you don't have any graphic design skills.
Because Stable Diffusion is open-sourced, it's a privacy-focused tool. It doesn't collect or store your personal information, text prompts, or generated images.
Customer support and contact forms
DocsBot AI
DocsBot AI is an innovative WordPress plugin that allows you to create AI-powered custom question-and-answer-style chatbots trained with your business' content and documentation. This can help improve employee and customer support experience.
You can train DocsBot AI on common customer queries and responses. Then, display the chatbot on the front end of your site to respond to new support tickets automatically. Alternatively, you can train DocsBot AI as an internal knowledgebase to answer typical employees' questions about your business.
DocsBot AI was built by the same creators of Imajinn AI and uses ChatGPT's API to power the bots. This makes it highly effective in providing quick and accurate responses to queries.
MeowApps AI engine (AI-powered Chatbot)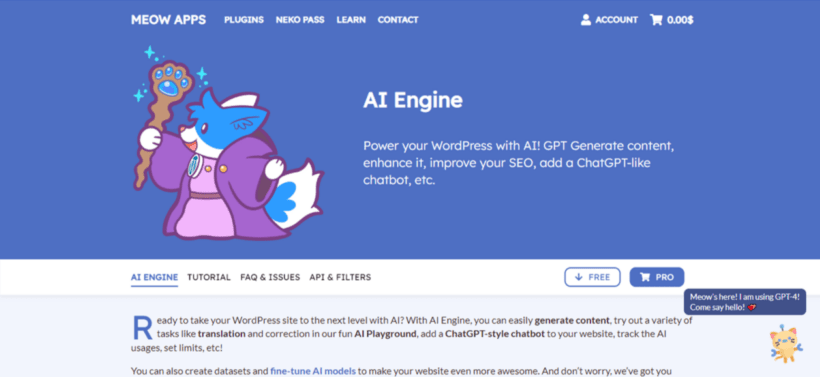 We covered MeowApps AI engine earlier for its text generation capabilities. However, its innovative chatbot features are worth another mention.
MeowApps AI Engine allows you to create and embed custom ChatGPT-style chatbots on your website. It's connected directly to ChatGPT's API and uses advanced NLP technology to provide intelligent and accurate responses to customer queries. 
This plugin has countless options that enable you to customize the chatbot to suit your needs. For example, you can name the bot and give it a "personality" e.g friendly, knowledgeable, annoyed, etc. The bot will generate responses based on its set personality. You can also customize how it appears on your website, to align with your website's overall design.
WS Form (AI-powered form features)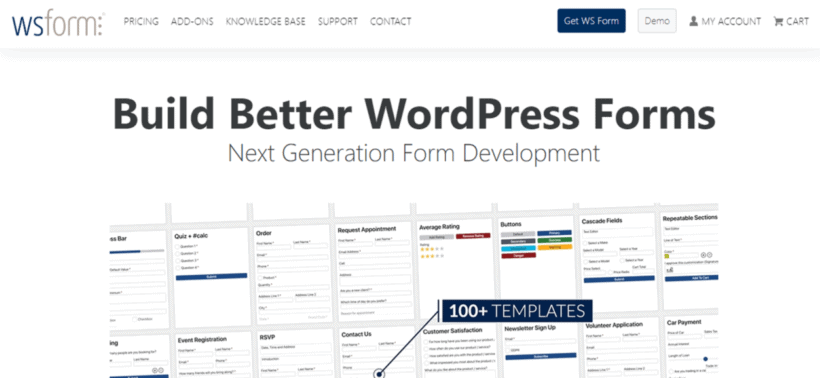 WS Form is a must-have WordPress form plugin. It's great for anyone seeking interactive, visually appealing, and highly functional forms packed with the power of AI. The plugin's OpenAI integration sets it apart from other form builder plugins. This integration enables users to have an interactive experience when filling out forms on your website.
WS Form includes tons of AI-powered features. For example, instruction-based text editing, image creation based on text prompts, and moderation checks to ensure your site visitors don't submit offensive content.
Gravity Forms (AI-powered form creation)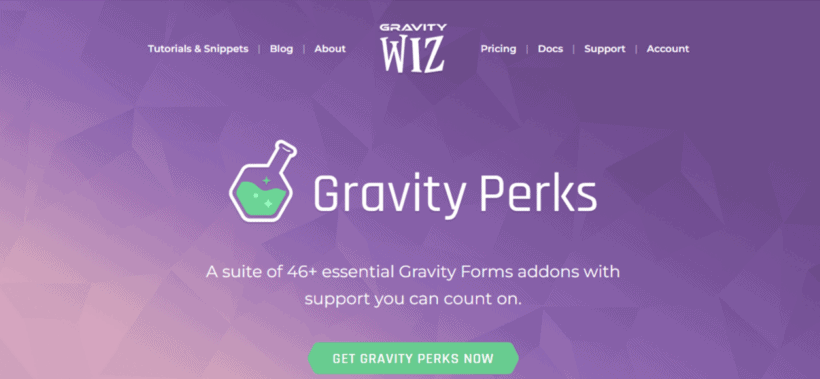 Like WS Form's OpenAI integration, Gravity Forms leverages OpenAI and ChatGPT in its forms. Use it to generate AI-powered responses to form submissions, edit and improve submitted content. Plus, you can moderate submissions by blocking or flagging undesirable or offensive content — all in real time. 
You can also integrate Gravity Forms OpenAI plugin with Gravity Flow, an automation plugin. Then build custom workflows to automate form-based processes on your website.
SEO plugins
RankMath (AI content optimization for SEO)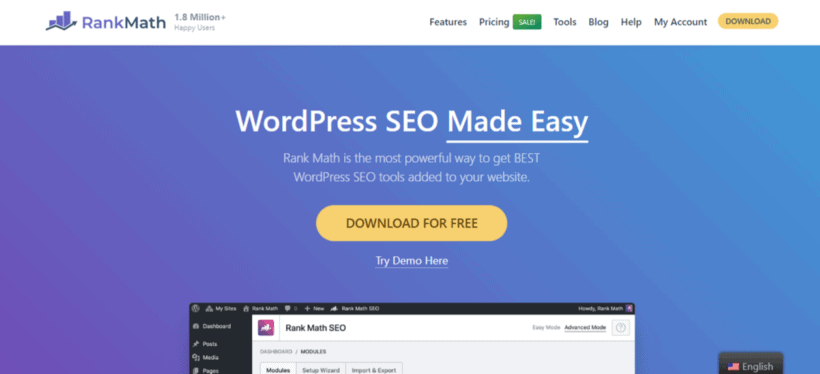 RankMath is one of the first WordPress SEO Plugins to the benefits of AI into its plugin. RankMath's Content AI feature uses its proprietary data set to share AI-driven content recommendations for your website.
RankMath's Content AI suggestions are based on your focus keyword and your target country. It suggests related keywords and phrases, target content length, number of headings, links, media, and meta description for your blog post.
RankMath also generates functional Schema-ready FAQ sections to add to your website. Plus, its smart link suggestions can help you add credible citations to your content and increase your site's visibility on search engines.
SEOPress (AI content optimization)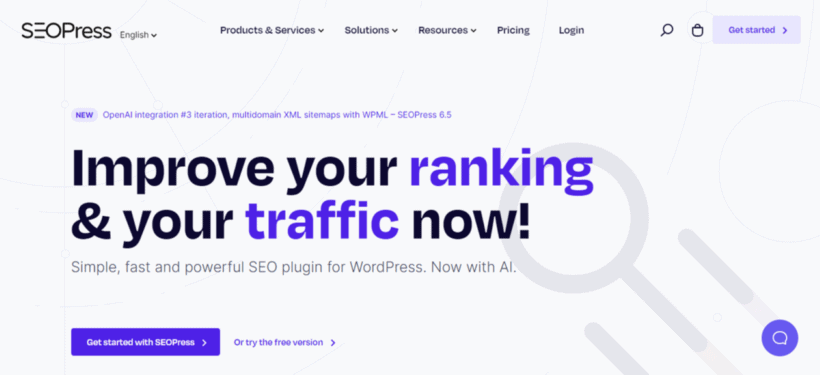 The robust SEOPress plugin is used on over 250,000 WordPress websites to help improve their search rankings and traffic.
SEOPress integrates with OpenAI to help improve your content-creation workflow. Once you link your OpenAI account with SEOPress, it'll read your site's content. Then, autogenerate metadata, such as titles and meta descriptions for individual or bulk posts.
Link Whisper (AI-powered internal link suggestion)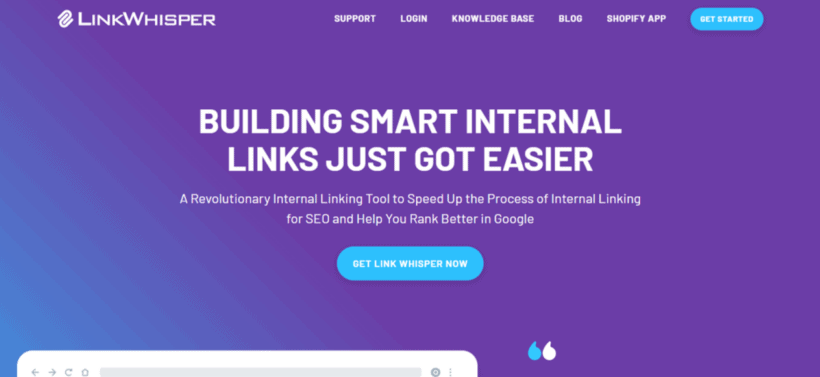 Link Whisper is an intelligent internal linking tool. It drastically reduces the time and effort spent building internal links to help boost your website's SEO.
The Link Whisper plugin uses AI to suggest relevant internal links while you're writing or editing content within WordPress. It also includes an "Auto-Linking" feature that automates the process of building links on your site. You need to input a keyword and specify the destination URL. Link Whisper will automatically build links from previous and future mentions to the destination page.
Link Whisper includes an in-depth reporting dashboard to show you an overview of your site. You can see the internal and external links, broken links, errors, or posts that could use more internal links, so you can easily make changes.
Further reading: An in-depth review of Link Whisper.
WordLift (AI-powered SEO content optimization)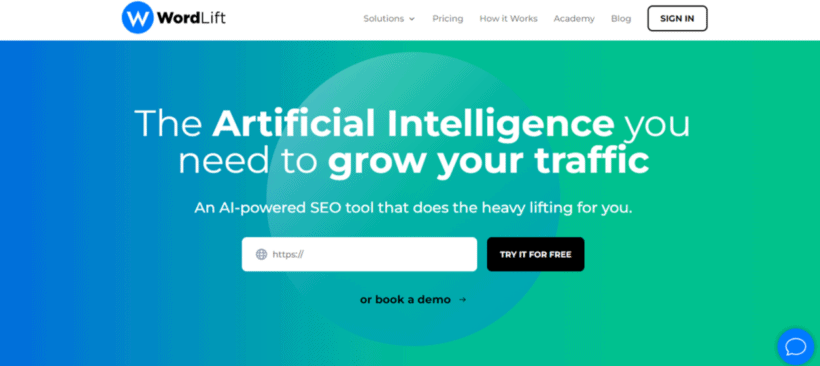 WordLift is a unique WordPress SEO plugin that uses powerful AI technology to help your site rank higher in search.
WordLift's key feature is its ability to crawl through your website and create custom code known as "knowledge graphs". The knowledge graphs translate your site's content in a way that's easy for search engines to read and understand — which boosts your site's SEO.
Additionally, you can use WordLift to recommend relevant products to your website's visitors. Plus, you can add clickable carts, widgets, and shopping cart banners, which help to increase your average session duration (i.e., the average time users spend on your website), revenue and enhance the experience of your website's visitors.
Other WordPress AI plugins
Setary (AI-powered WooCommerce bulk product description)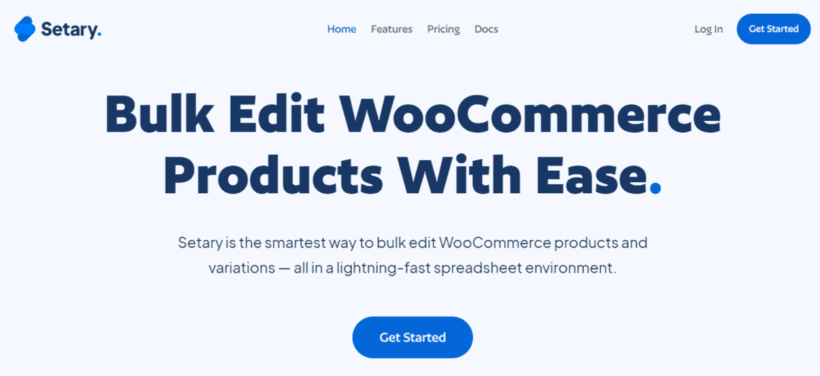 Setary is an e-Commerce plugin that simplifies stock management and product pricing for WooCommerce stores. The plugin adds all your products and product fields to an editor with a spreadsheet-like interface. From where you can easily edit and update product metadata and custom fields.
Setary uses the latest artificial intelligence technology to help you generate unique, high-quality product descriptions with a few clicks. You only need to enter a text prompt. Its "Enhance with AI" option will generate various options for you to choose from, helping you save time and money.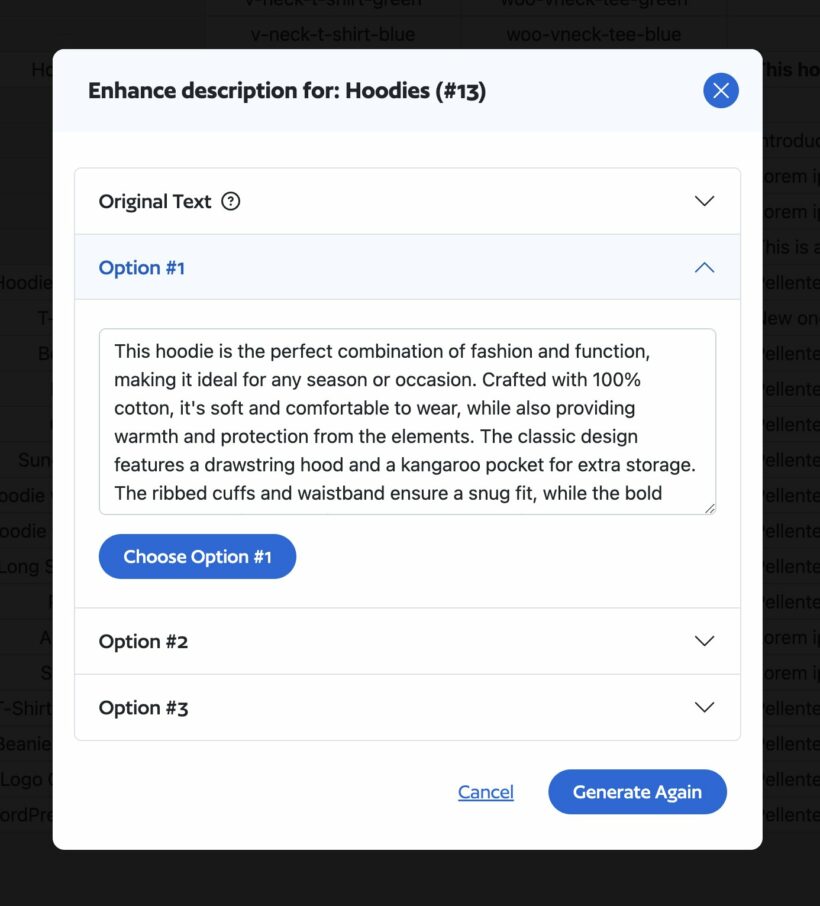 Uncanny Automator (Automation with OpenAI integration)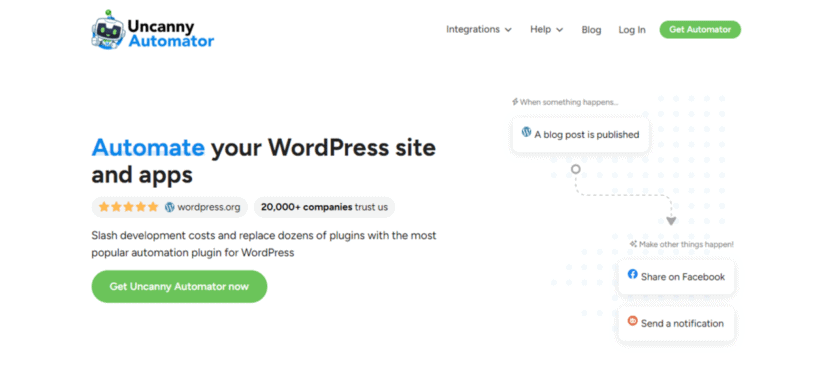 Uncanny Automator is a popular no-code WordPress plugin used on over 20,000 websites. It helps you connect various plugins and sites and automate workflows for routine tasks.
How does AI enhance automation? Automation plugins aren't new; they've been used for years. Now, they can connect AI tools with your WordPress site to help you automate manual, time-consuming tasks. 
For example, you can use the Uncanny Automator plugin to directly integrate your WordPress site with OpenAI. Then, create custom workflows that use ChatGPT to generate high-quality original blog posts based on simple triggers. If you have an e-commerce site, you can set up workflows to generate relevant product descriptions once you add a new product or product variation, and lots more.
What are the limitations of AI? 
No AI plugin is perfect, and most tools will need some level of fine-tuning to work precisely as you need. For all the benefits of AI for WordPress sites, it's equally essential to be realistic about its limitations:
Wrong information:

 AI tools (like ChatGPT) sometimes generate incorrect information. This happens because AI tools are trained on data scraped from the internet. Since there's no way to verify the accuracy of the data, these tools may sometimes present wrong information as right.

Plagiarism:

AI tools may sometimes outrightly plagiarise existing content. As we mentioned earlier, AI tools were fed with information from the internet. They simply regurgitate this rather than create "brand new" content.

Limited knowledge:

At the time of its release, ChatGPT had little understanding of the world and events after 2021. And it's a similar situation with other AI tools. Although these tools are still handy, they may not be suitable for all use cases.

Quality of work:

AI tools are powerful. But they still have some way to go before they can work with zero human intervention. They may not be capable of performing tasks that need a lot of creativity.

Human assistance:

AI tools are only as effective as the prompts and instructions entered. Not to mention, humans must set them up to work in the first place. So they may not be as helpful if

they aren't set up correctly or if ineffective prompts are entered.
Bottom line: AI tools can help automate routine tasks and improve workflows. However, they can't (yet) replace human expertise completely. Your success with AI depends on how well you combine your existing knowledge and skills with these cutting-edge tools.
Conclusion
The benefits of AI for WordPress websites are clear. AI plugins can help you quickly create unique and engaging content, and optimize your site for higher rankings. They can help you personalize the experiences of your site's visitors, enhance customer support, automate routine tasks, increase revenue, and much more.
If you're considering using AI on your WordPress site, there's no better time than now. Try out the best AI plugins to start:
Have you ever tried using AI tools? What type of website do you have, and which plugins are you most looking forward to using? What have been the biggest benefits of using AI tools for your business? Let us know in the comments!