If you notice anything different around here, you're not mistaken. As of today, Barn2 has a shiny new look - complete with new logo, redesigned website, and a complete overhaul of all our communications.
We've been working on Barn2's rebrand for a full 12 months, so you can imagine how delighted we are to finally see it live. I hope you like it as much as we do!
This is the story behind our rebrand. It's a story of blood, sweat and tears (maybe not literally, but it certainly felt like that).
A rebrand was long overdue
The old Barn2 website hadn't been redesigned since 2014. Of course, 5 years is a long time in the web world - particularly for a WordPress plugin company!
To be fair, we had refreshed the site several times to modernise it and add features over the years. However, the fact remained that this was the same website that we originally used to sell our services as a web design company. Since then, we have made the transition to selling WordPress plugins and no longer design websites for clients. And while the website content had evolved with us and we had made some tweaks to the design, we'd never actually branded as a plugin company.
As a result, a rebrand was long overdue.
I'd been putting it off for years due to the size of the project. I wanted to focus on building our plugin business, not on designing a new website! But of course you can't have one without the other, and Andy and I eventually agreed to take on the project.
It's practically impossible not easy to find the right designer
As WordPress specialists who aren't designers, we're the worst possible people to find someone to design our brand identity and website. Seriously.
After years of building WordPress sites for clients using off-the-shelf themes, we know what makes a good and a bad website. We know what we like, and are familiar with the latest web design trends. However, we don't have the skills to do it ourselves.
We started by hiring a local designer who we had worked with before. After several in-depth meetings to analyse our requirements, on paper he had an excellent understanding of Barn2 and our future direction. However, we unfortunately felt that none of his brand concepts or logo designs represented our vision for the company. Things failed to improve after we provided feedback, so we made the difficult (and expensive) decision to cancel the project and find another designer.
Next, I contacted several WordPress companies whose websites I like (e.g. LearnDash, IconicWP, WP Rocket, GeneratePress and WeDevs). However, I didn't manage to find a designer this way.
I also visited the websites of dozens of designers and WordPress agencies. Amazingly, there were hardly any that I liked - the designs in their portfolio were either too corporate, or lacked the attention to detail and flair we were looking for.
I was tempted to hire 93Digital, whose portfolio was closest to my vision for the Barn2 rebrand and responded well to my initial enquiries. However, on reflection, I decided that receiving a small selection of branding concepts from an individual designer or company was too risky. Design and branding are incredibly personal and subjective - no matter how good the designer, there's no guarantee that their work will reflect your vision. As a result, I went to the opposite extreme and ran a logo design competition on 99Designs, which guaranteed a wide selection of concepts to choose from.
Design and branding are incredibly personal and subjective - no matter how good the designer, there's no guarantee that the end result will reflect your vision.
Click to Tweet
New Barn2 logo
The plan was to get a logo designed first, and use this as the basis for the wider rebrand.
122 designers entered the competition, with a grand total of 692 separate logo designs. Some of the early entries didn't quite feel right for a plugin company:
The sheer number of entries was quite overwhelming and it took a long time to sort through them all. On the plus side, some of the concepts were excellent and the designers were incredibly responsive in improving their logo concepts in response to my feedback.
The final shortlist
A week later, I created a shortlist which included strong logo concepts: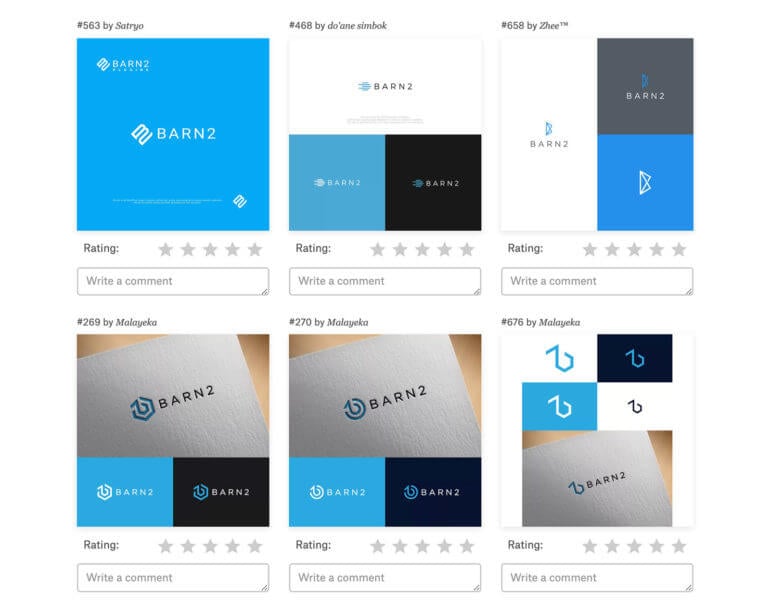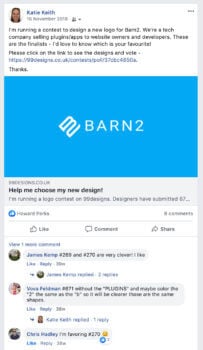 99Designs has a nifty feature where you can email your shortlist, and share it on social media. This was a useful way to get feedback - essential given that logos are very personal and everyone sees them differently.
I obtained feedback from a cross section of friends, family and colleagues - including people in the WordPress community whose opinions I respect (thanks Vova Feldman, James Kemp, Chris Hadley, Kobe Ben Itamar, Drew Jaynes, Gareth Harris, and others!).
Armed with some incredibly helpful feedback, it was time for Andy and I to do some long, hard thinking!
The winner
We chose the winning design from a talented designer called 'Satryo':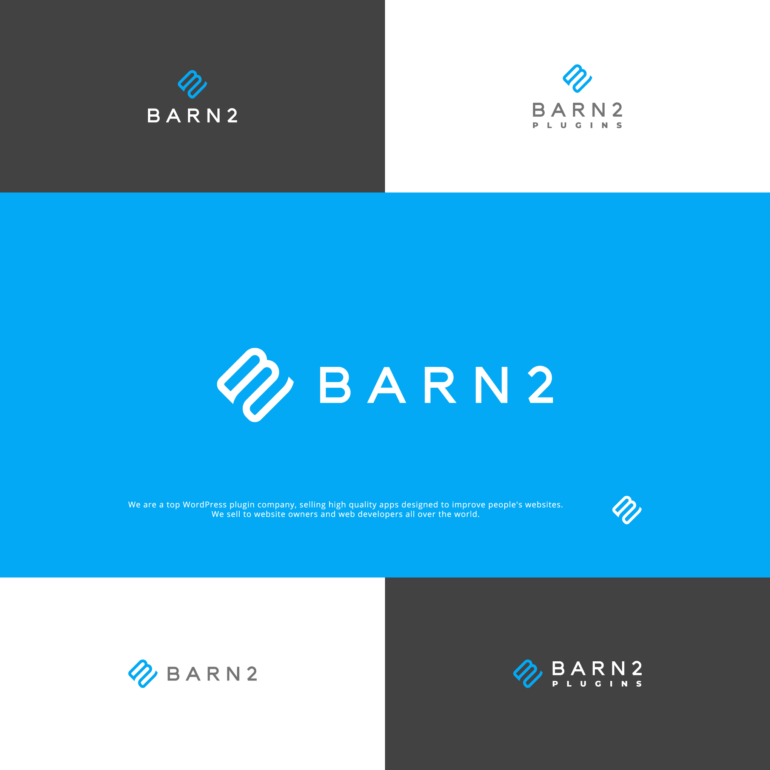 The new logo is effective, versatile, and works well in a range of formats. (Note: This is a different shade of blue from the final website.)
I felt bad for the designers whose logos didn't win - particularly the other finalists who worked so hard and were so responsive to my requests for revisions. However, there could only be one winner.
Finding a winning website redesign
So, we had a new logo. But it wasn't much use without a new website and wider rebrand to go with it!
I had enjoyed the process with 99Designs, so decided to see how it would work out for designing our actual website. As a result, I posted a new competition on 99Designs - this time to design 5 initial web page templates.
This time, it was quite different. I received 87 designs from 21 designers. After building so many WordPress sites for clients in the past, I know exactly what I like and the attention to detail I'm looking for. One designer stood out above the rest, and it was very clear straight away that they would be the winner.
Since then, they have designed all the templates for our new website as well as additional designs such as custom graphics, plugin banners and email templates. We also worked with the logo designer to create new business cards and email signatures.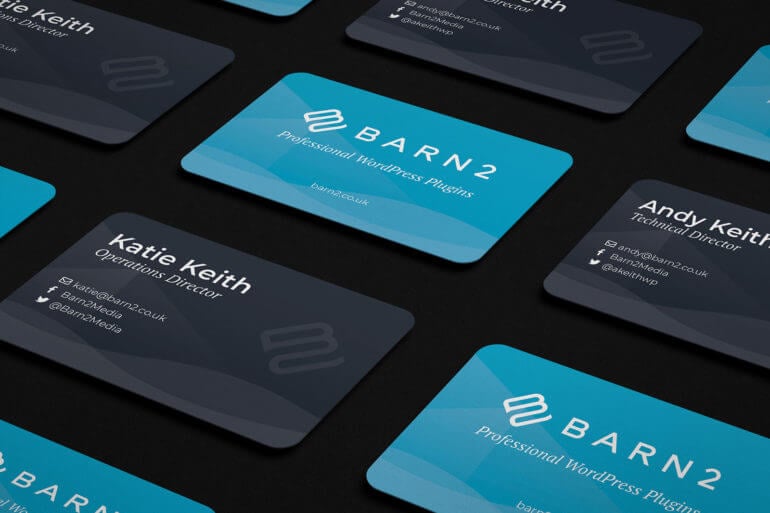 However, it wasn't all plain sailing. In the early days of the competition, the website designer showed an incredible understanding of our vision and excellent attention to detail. As the project progressed and we commissioned them for more and more work, the newer designs required long lists of feedback to achieve the standard we were looking for. It almost felt as if we had switched designers part-way through the project (which we will never know, as we were working with a project manager and not directly with the designer). Several times, we opened up Photoshop ourselves and redid templates to show the designer what we were looking for. We also chose the final color scheme ourselves.
I have known for many years that if you have to micro-manage a designer and point out every detail, the relationship is not working. We're happy with the end result, but only because we were so hands-on and insisted on a large number of improvements. After such a promising start, it was a shame to end up in this situation because we had wanted a designer who would use initiative and not have to be managed so closely.
If you have to micro-manage a designer and point out every detail, the relationship is not working.
Click to Tweet
Building the new Barn2 website
When the designs were complete, it was time to start converting them into a new WordPress theme for our website.
We had known from the outset that it wasn't a good use of time for Andy - Barn2's technical director and lead developer on all our plugins - to build the new theme himself. As a result, we needed to find an excellent developer to do this for us. Fortunately, finding a good developer was well within my comfort zone, having outsourced WordPress development projects for many years.
We didn't know any suitable developers already, as the people that we used to work with have since moved on to other things. Instead, I got quotes from a number of developers from Codeable, Upwork, and independently.
As well as assessing the quality of their communications for clues that they would be good to work with, we checked their technical competence. This involved looking at previous websites they have built, and asking technical questions about how they would approach the project. For example, we asked how they would implement the curved backgrounds shown in the design. We rejected anyone who would use normal image files, and kept the ones who would use SVG's and code-based solutions.
There were several excellent contenders but one developer, Nick Redmond, stood out above the rest. We could immediately tell from his messages that he had a fantastic attitude and would be good to work with. We were equally impressed by his technical abilities.
How it went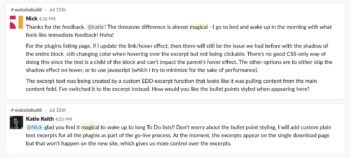 This time, we weren't wrong. Nick was a delight to work with throughout the project, and was worth every penny.
I'm well aware that Andy and I aren't the easiest people to work for, as we're perfectionists and point out every detail. Nick took this in his stride, and even described it as "magical" to wake up to long lists of feedback every morning (he's in the US and we're in the UK, so there was a time zone difference).
Nick made lots of positive suggestions and added plenty of value to the project, instead of just doing what he was told - exactly what we had been looking for! As a result, we plan to continue working with him on an ongoing basis.
The end result
To see the end result, click on the menu links above and browse around our new website. Here are some before-and-after screenshots to show you the difference:
We've dropped the 'Media'

Did you notice that the new logo - and the wording of this post - uses 'Barn2' rather than 'Barn2 Media'? That's no accident.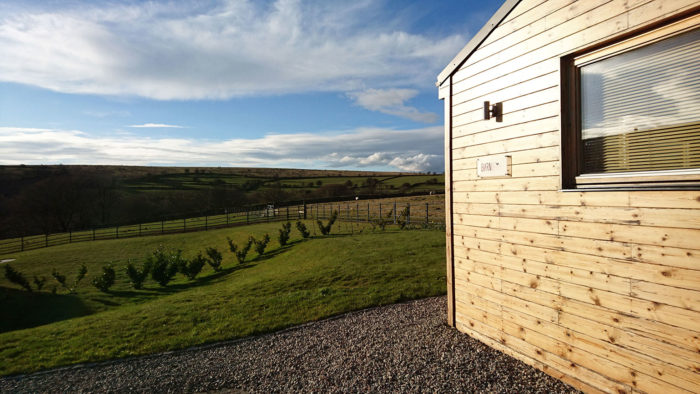 We chose the name 'Barn2 Media' back in 2013 when we first incorporated the company. (We traded as 'Cadover Creative' from 2009-2013, but that's another story.) Back then, we were a web agency building WordPress sites for clients around the world. 'Barn2' came from the company's physical location - no. 2 of a complex of beautiful converted barns in Dartmoor National Park, England. 'Media' reflected our work as a web design company.
Since the switch to selling plugins in 2016, 'Media' has felt less appropriate because we now sell products rather than services. As a result, we've dropped the 'Media' as part of the rebrand and simply refer to ourselves as 'Barn2' or 'Barn2 Plugins'. (The legal company name remains 'Barn2 Media Limited'.)
Internally, we often discuss whether to change the name completely. We are no longer based in a converted barn, and the name doesn't say anything about WordPress or plugins. However, Barn2 is a well-known name in WordPress circles. A lot of developers and agencies know and trust our plugins. It's lovely to meet people who have heard of us when we attend WordCamp conferences. One lady even saw the 'Barn2' on our t-shirts at WordCamp EU and told us how she's our biggest fan! Because of all this, it would be a shame to lose such a well-known name. I can't guarantee that we will always be Barn2, but we are committed to it for the time being.
This is what I got wrong
The new website looks fantastic and I'm delighted with it. However, if I did the project again then I would take a completely different approach.
While the first designer wasn't the right fit, with hindsight, perhaps I didn't need to take the opposite extreme and crowdsource the design on 99Designs. It was a lot of work to co-ordinate separate logo designers, website designers and developers. We could have saved a lot of effort - and probably spent a similar amount overall (see below) - by using a single agency to carry out the entire project.
I'm not experienced in managing custom design projects, as my previous work managing web design projects focussed on building websites using existing themes. We did take on a few custom design projects, with the design and build outsourced to freelancers with the right skills. However, these were always my most challenging - and least enjoyable - projects for me. These experiences affected the way I approached our own rebrand, and probably not for the better.
To mitigate the risk of hiring the wrong company, I hired different people for different parts of the project. This made the process much more difficult to manage, and harder to get right. For example, it was a pain having to liaise between the designer and developer about minor details like file formats.
If I did it again then I would probably hire a dedicated agency. This would make it much easier to predict the overall cost and timescale from the outset, instead of arranging the project in stages.
Ok, so what did it cost?
As a company, this has been the most expensive project we've ever done:
Logo - £788 for the finished logo from 99Designs, plus £1,300 for the original designer whose work we never used (this included 3 logo concepts plus wider branding concepts) - total $2,534 / £2,088
Website design, plus email templates, custom plugin graphics and YouTube banners - $8,278 / £6,822
Business cards and email signature design - $243 / £200
Business card printing - $23 / £19
T-shirts - $105 / £86
Website development - $13,801 / £11,505
Bringing us to a grand total of $24,985 USD or £20,618 GBP.
To put it into context, that's about a fortnight's worth of plugin sales. So it's a lot of money, but not horrendous in terms of the bigger picture.
Of course, that doesn't include our time in managing the project, setting requirements, liaising between designers and developers, writing copy, feeding back, etc. We didn't track our own time on the project, but it was definitely many weeks of work for both Andy and myself.
Was it worth it?
Did we save money by hiring people individually instead of using a full service design agency? Probably a bit, but not very much!
Did we waste time by not using a full service design agency? Almost certainly.
How many more plugins could we have developed if we had stuck with our old website? Several.
Could we have saved money by redesigning our site using an off-the-shelf WordPress theme? Definitely, but we wouldn't have a unique brand or a complete set of branded materials to show for it.
These are all valid questions.
But ultimately, the answer to this question depends on how it helps to build Barn2's success in the future. Will the new look generate more in additional sales than it cost - both financially and in terms of the opportunity cost? We'll evaluate this over time by keeping a close eye on traffic, sales and conversion rates.
Does a rebrand generate more in additional sales than it costs - both financially and in terms of the opportunity cost? Answers on a postcard.
Click to Tweet
What's next?
Now Barn2's new website is live, I'm looking forward to user-testing and fine-tuning it.
There are lots of projects on the horizon to monitor how people are using the website and make it as useful as possible for our plugin customers. The project plan for 'Phase 2' includes:
Redesigning the checkout page to speed up and simplify the process.
Improving usability of the Support Center page and plugin support forms.
Redesigning the knowledge base, which only received a re-skin as part of this project and would benefit from a bigger overhaul.
Performing real user testing and implementing the feedback.
A/B testing to discover ways to improve sales and conversion rates.
Various functionality tweaks to improve user experience, such as improving error messaging and email notifications.
I'd love to hear what you think of the new website - please leave your comments below. We're actively gathering feedback on how to improve usability so if anything doesn't work in the way you expected, please let us know!