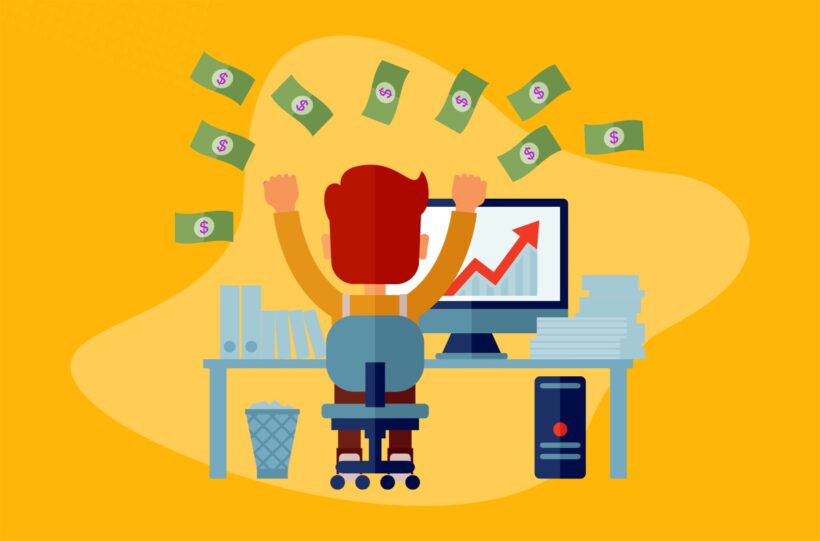 Conversions are the lifeblood of any business. As more people engage with you, you make more money, lead, gain customers, or whatever your conversion goal is.
All of your marketing efforts are driven towards conversions. Whether that's to capture leads for future marketing campaigns, make more sales in your eCommerce store, attract more enquiries for your products or services, or something else.
A conversion is not one thing. It's whatever you want it to be and any action you want a visitor to take.
This article is all about skyrocketing your conversion rate so you can achieve and then exceed whatever conversion goal you set.
We have curated 12 expert strategies that help you gain more conversions. We have also listed the best WordPress plugins that help you achieve higher conversion rates.
We hope you can use them to drive conversions on your website!
What do you mean by conversion rate?
Conversion rate is the percentage of people that took the action you wanted them to take.
If we put this into an equation, the conversion rate equals the percentage of people who become leads or customers divided by the number of visitors.
For example, let's say you use one of the webinar platforms listed here to host educational and informational webinars for prospective customers.
Assuming that you have 100 people attend the webinar, and 5 of those convert into a customer, you now have a conversion rate of 5%.
The industry average conversion rate is 2.5%. However, the top 25% of the companies are converting at 5.2% or higher.
If you see conversions dropping, you need to make specific assessments and implement new strategies to increase them.
Goal setting for conversions
The first step of any improvement in conversions is tracking how many conversions you are getting right now. The primary traffic sources are also important. Once you start measuring, you can set clear goals for the conversion rate optimization process.
To set a conversion goal, you need to figure out what exactly your website needs. It might be lead generation, email subscribers, or direct purchases.
Everyone's goal is different and websites and businesses at different stages of their development may have different conversion goals. Setting your goals upfront is essential for everything else that follows.
Once these goals are set, you can formulate a plan to achieve them.
Types of conversion goals
Let us look at five different types of conversion goals that you can optimize your website for.
Clicking a button
Conversion goals can be pretty simple. As simple as clicking a button. Most of the time, we see such conversion goals in pre-sales or launch pages of a product.
A button can be dedicated to any kind of action. Examples can be, applying a coupon code, downloading a guide, redirecting to another page or buying a product.
Email submission
If you want to build your email list through your website, you need to optimize it for email submissions. Email marketing is arguably the most powerful way of digital marketing and is useful for almost every type of website.
Lead generation
If you are in the service industry, your business will depend on leads. Once a lead is generated, the sales team connects and converts the lead into a paying customer.
Capturing a lead can be a conversion goal, as can converting them into a paying customer.
A popular method of generating leads is through a form or questionnaire. You can then use the information provided to reach out and hopefully, turn that lead into a customer.
Purchase
If you run an eCommerce store, then your conversion goal would be a purchase. That requires attracting customers, guiding them through your store, optimizing sales pages to encourage the purchase, and streamlining checkout as much as possible.
If you're using WooCommerce then check out our 10 top tips for improving your WooCommerce conversion rate.
App downloads
If you have built an app, you need to optimize your website pages for app downloads. Each download is a conversion and, if you use lead capturing as part of the download process, you can also use those leads to convert further down the line.
How to increase conversion rate
Now that you understand some of the many types of conversion, you need to start optimizing your website to increase your own conversion rate. This is also known as conversion rate optimization (CRO).
Here are the 11 best CRO techniques for WordPress websites.
1. Market research
The most important part of any optimization is to understand the market first. If you don't know the market, you don't know what they are looking for or how to reach them.
Market research could include solving questions like:
Is this something your audience wants?
Does your audience know about your product and are ready to buy it?
Does your audience need to be nurtured before they make the buying decision?
Is the product expensive? Does it need a lead generation and sales process instead of direct selling?
When you understand the exact requirements of your audience, it becomes easier to set the right conversion goals.
You can conduct market research through polls and surveys. You can also check out the conversation in your industry forums and use social media.
You can also check out your past data and infer your audience's reaction from previous interactions.
2. Assess your ads
Next, you need to see if your ads are optimized. The sole purpose of ads is to get the click to your landing page.
Your ads need to target the right kind of audience. The creatives and the ad copy you use need to be appealing and motivate the audience to click.
To assess your ads, check the number of impressions you get from your campaign and compare it with the number of visitors to your website. This is also known as click-through rate (CTR).
Throughout the industries, an average CTR varies from 0.35% to 1.91%. You can get better results if your ads are compelling and encourage more people to visit your website.
If you don't have experience in creating ads, consider leveraging the expertise of professionals in PPC campaign management for startups to optimize your ads effectively. They can help you enhance ad targeting, create content and ad copy to drive more clicks, and increase click-through rates for your campaigns.
3. Improve website performance
Even if you have a great CTR, and still do not get results from your website, you need to check your website performance.
Your WordPress website performance metrics would include loading times and mobile responsiveness.
Reduce your page load speed, as no one likes a slow website. A report by SimilarWeb, reveals that an average internet user has an attention span of 8 seconds. If your website is slow, it increases your bounce rate.
Fortunately, there is an easy fix for this.
Install a fast-loading theme on your WordPress website. We recommend the Astra theme because it is very lightweight in terms of code and loads fast.
On top of adding a fast theme, optimize your media, especially images. Compress all images before uploading them.
With a good server, you should have a fast-loading website that delivers instant gratification.
4. Have a distraction-free UI
One of the biggest mistakes that most businesses make is to make their website like an online brochure.
Unless the goal of your website is to display your business information, do not add too many links.
You want people to focus on the conversion action and not get distracted from it. Typically any link other than the conversion action distracts the customer and can cause you to lose a conversion.
If something is not contributing to conversion, remove it.
Here are a few steps that you can take to remove any noise in your UI:
Remove the menu if it is not necessary on the landing page
Reduce header size.
Get rid of the sidebar
Do not use stock images unless they are contextual and necessary
You also need to have a beautiful design that appeals to the audience. We recommend using the Starter Templates plugin. This plugin includes hundreds of prebuilt templates created by expert designers.
All you need to do is install the starter templates and import a website and you're good to go!
5. Include social proof
Social proof adds credibility. A huge number of people make their buying decision after listening to their family and friends and social proof delivers a version of that.
How huge, you ask?
This 2010 survey revealed that consumers trust social proof 12 times more than product descriptions written by manufacturers.
Here are a few things that you can add to your website to improve trust through social proof.
Photos and testimonials from customers
Consumer case studies
Awards and accolades
Familiar brand associations
Purchase counts
Star ratings and reviews
6. Add pop-ups and opt-in forms
If your conversion goal is to build your email list, opt-in forms with a good lead magnet will work wonders.
A lead magnet is a way of delivering high-value content in exchange for a name and email address. You can use opt-in plugins such as Convert Pro for the job.
With Convert Pro, you can also add pop-ups. You can also add different triggers to this pop-up, such as on scroll, exit intent, and after a particular page load time.
7. Add live chat
When you don't see conversions, it can be because visitors have unanswered questions. In such cases, try using live chat on your website.
This will help you respond quickly, answer questions and generate leads. The more responsive you are, the more favorable the impression you make.
8. Make it easy to buy
If your conversion goal is a purchase, do what you can to make the checkout process super simple. One of the main reasons visitors leave an online store is a lengthy checkout process.
Adding buttons that enable your visitors to buy instantly helps improve conversions significantly.
Here are some steps you can take to shorten the checkout process:
Add a 'Buy Now' button
Offer guest check out
Allow social sign in
Accept multiple payment methods
Use Quick View to make check out easier
Reduce the number of check out steps
9. Use follow up or abandoned cart emails
Many times your interested customers leave the website without purchasing. It happens.
Now, it is your job to follow up. You can capture their name and email address through an opt-in form and send follow-up emails. In the case of eCommerce websites, we call them abandoned cart emails.
This reminds customers that they have left the website without purchasing and helps you recover the sale in a number of ways.
10. Use sales funnel
A proper sales funnel can help scale conversions. Using a sales funnel, you can upsell for more products, guide the customer to purchase, and any number of other conversion goals.
If you are selling a physical product, you can sell a bundle. If it is a digital product, you can develop additional tools around the product.
Upsells help increase the return on ad spend (ROAS). This can generate more revenue.
You can use WordPress-based sales funnel builder CartFlows for this purpose.
11. Always be A/B testing
You cannot be certain of any aspect of optimization unless you perform A/B testing.
A/B testing, also known as split testing, is a method of testing two distinct versions of your website, emails, ad campaigns, or any marketing method.
You never know which element is helping you convert and which one is actually reducing conversion.
Hence it is always important to perform A/B testing on each element. That way, you can continually refine your methods while gradually increasing conversion.
Best WordPress plugins for conversion rate optimization
Let us see some WordPress plugins that help you get more conversions from your website.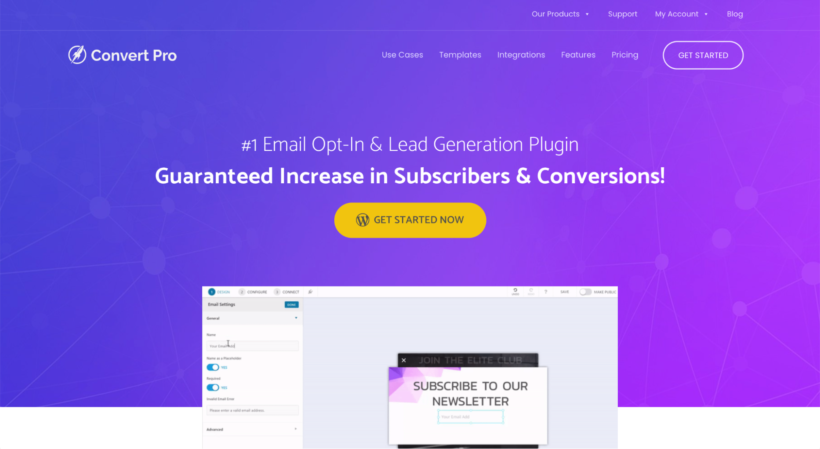 Convert Pro comes with a drag-and-drop editor to create optin forms and pop-ups. It comes with advanced behavior tracking. You can create exit intent pop-ups, load the form after certain activity or inactivity, page scroll. It is fully responsive and can be customized as you want.
The best part of Convert Pro is that you can conduct A/B tests on which forms are working well. You can also perform page-level targeting and also show different offers to new and old visitors.
Speed up shopping with WooCommerce Quick View Pro
The WooCommerce Quick View Pro plugin helps you showcase your product in a lightbox. It allows your visitors to look at and buy products without having to open the product page. The plugin displays all the essential information such as short descriptions, product photographs, add-to-cart buttons, and variations.
Quick View Pro is the easiest way to let customers open product images, galleries, and other details in a lightbox view. With this feature, your customers can make buying decisions easily.
Turn the shop page into a one-page order form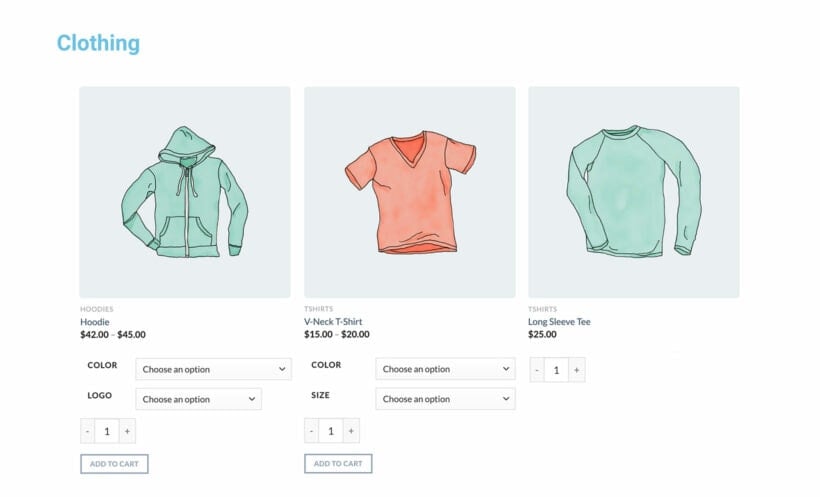 Normally, customers have to visit the individual product pages in order to choose quantities or variations. (Unless you're using WooCommerce Quick View Pro, which lets them do this in a lightbox - see above!) That affects conversions by making it much closer to buy from you.
You can improve this by installing the WooCommerce Express Shop Page plugin. This adds quantity boxes and variation dropdowns directly to your main shop and category pages. That way, customers can quickly add products to the cart and complete their order. They're much less likely to get bored and leave your site!
Speed up the checkout with WooCommerce Fast Cart
The WooCommerce Fast Cart plugin lets your customer see your cart in a sidebar instead of loading an entire cart page. This way your prospective customers can check out easily.
With the fast cart checkout plugin installed, your customers can:
View the items in their carts, product price, shipping costs, and total
Change quantities
Delete products
Apply coupon codes
Do a one-click checkout
They can even shop for similar products or shop more. This plugin is designed to deliver a great customer experience and boost your conversions.
Stop losing customers due to unexpected shipping costs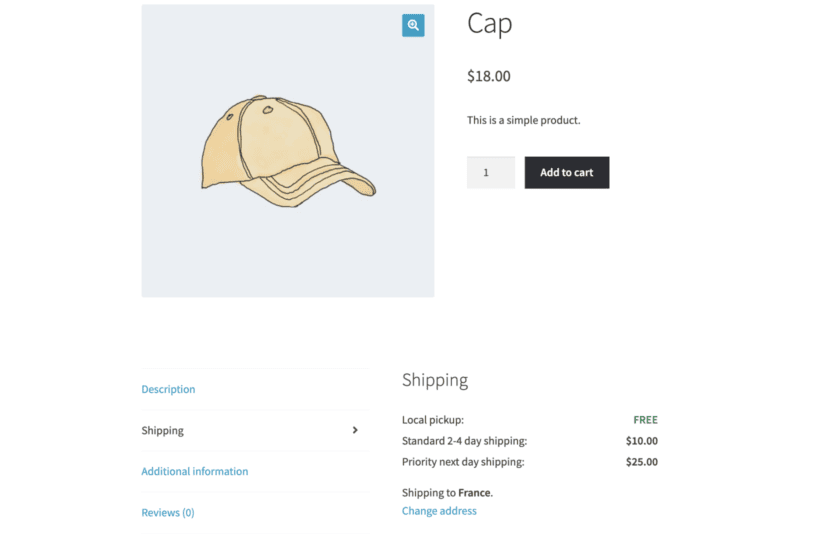 A huge percentage of abandoned carts happen because of unexpected shipping costs on the checkout page. Luckily, there's an easy way to prevent this.
The WooCommerce Shipping Calculator plugin adds a handy shipping calculator to the product page. That way, customers can check the shipping cost before adding a product to the cart. This makes a big difference to conversion rates and prevents a lot of unnecessary frustration.
Reassure customers with WooCommerce Product Sample
Sometimes, customers just don't feel confident enough in a product to order it online. That's where product samples come in.
The unique WooCommerce Product Sample plugin lets you offer free or paid product samples to your customers. It's the perfect opportunity for them to try before they buy. That way, you build trust in the product and reassure them to order the full priced product. As a result, this can transform your WooCommerce conversion rate!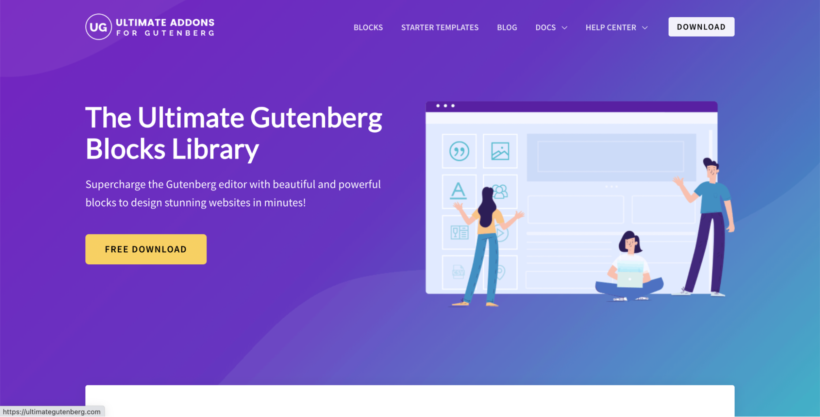 Ultimate Addons for Gutenberg (UAG) lets you add advanced custom blocks to your website. It has blocks to create complete pages with beautiful layouts without a need to code.
The best part about UAG is that it adds eye-catching social proof blocks that help your customers make buying decisions quickly. You can also add your prices in a nice layout that is easy to understand.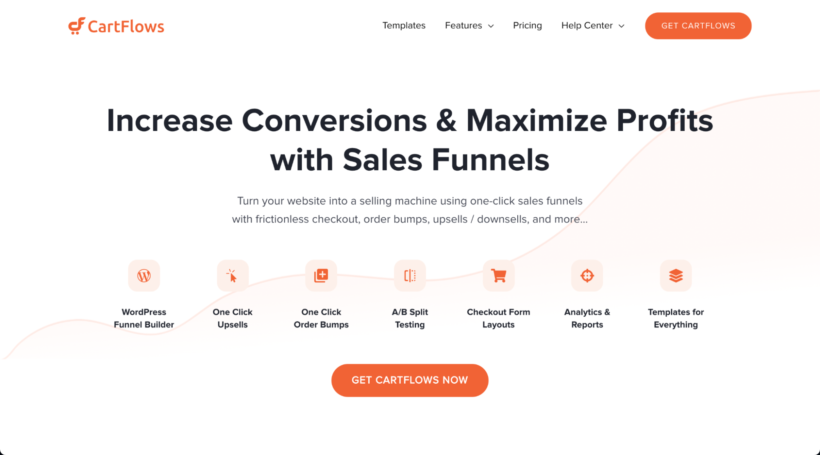 Cartflows is the best sales funnel builder for WordPress. You can create one-time offers, upsells, downsells with high converting landing pages. You can also conduct A/B testing of your designs and your sales copy for better results.
It easily integrates with any theme and popular page builders and makes it easy to customize.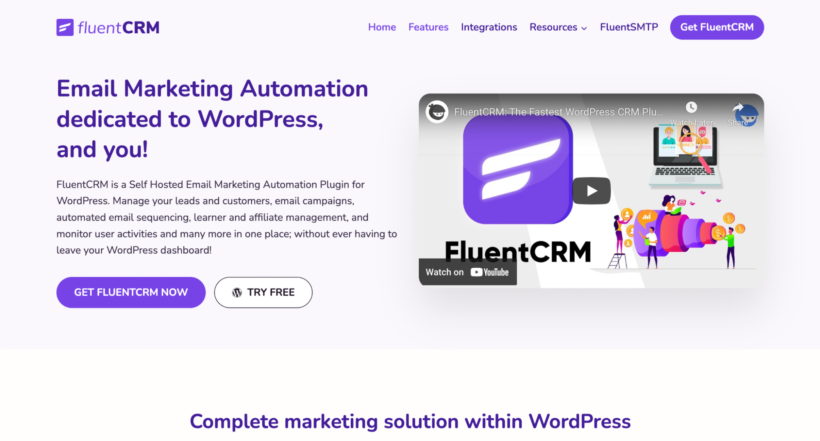 Fluent CRM is an email marketing and automation solution for WordPress. But you get more than just an email marketing plugin.
With Fluent CRM, you can set up detailed contact profiles for your customers and segment them by their interests or other criteria - all in one place! Plus with native integration for 30+ popular WordPress plugins to make things easier for you.
With its superb email marketing capabilities, you can nurture your subscribers and build trust through emails. This ultimately boosts sales on your products and services.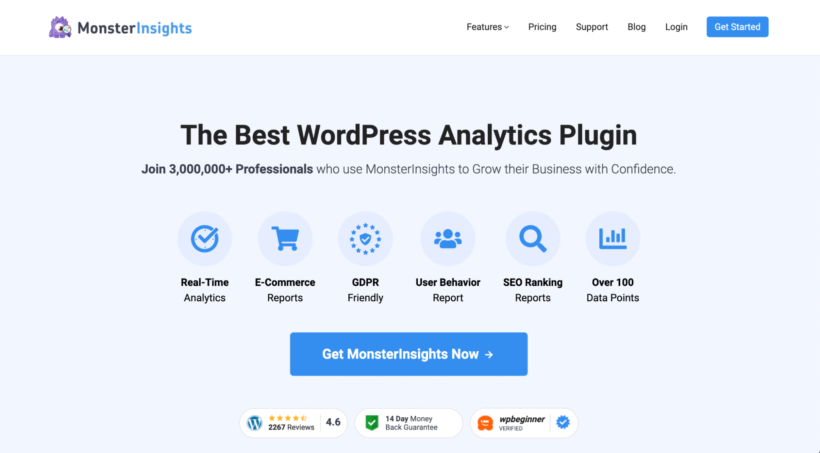 MonsterInsights is an easy-to-use Google Analytics plugin for WordPress. It turns your data into meaningful reports that you can actually use to monitor how your website performs. With the built-in dashboard, it's super simple to install and shows you real-time data
Here are some features that come with:
Audience Report
Behavior Report
Content Report
Ecommerce Report
Forms Report
Search Console Report
With such detailed tracking, conversion rate optimization become super-efficient.
Optimize your conversions today
Conversion Rate Optimization is a continuous process.
The eleven strategies that we discussed are widely accepted by experts and are popular CRO techniques. You can use them and test them with your existing site to boost your conversions.
You can use the five WordPress plugins above to boost your conversion rate. No matter what your conversion goal is, these plugins will help you boost your conversions.
Let us know in the comments. Have you started optimizing your website yet?