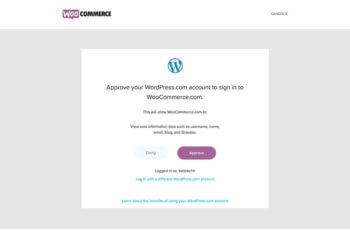 We receive alerts whenever someone mentions keywords such as 'WooCommerce login' online. This helps us find people who are looking for a way to let customers login to a private WooCommerce store. When we find a discussion about this topic, we tell them about our WooCommerce Password Protected Categories or WooCommerce Private Store plugins. Both plugins create a WooCommerce login for customers to access a hidden WooCommerce online shop.
Read our tutorial on 'WooCommerce login for your customers: The Ultimate Guide'
Anyway - in the last few days, I've suddenly noticed lots of discussions from people who are confused about how to log into the WooCommerce website itself. This is the website that you use to buy WooCommerce extensions, get support with WooCommerce, etc. Whether you created your own WooCommerce website, use our affordable WooCommerce website service or something else, this is where you access your WooCommerce account.
This isn't something people usually have trouble with, so I went to WooCommerce.com to check it out. Lo and behold, WooCommerce have completely changed their login system. Like the people posting online, I was also confused about how to log into Barn2 Media's WooCommerce account! Surprisingly, WooCommerce didn't email all their account holders about the change. Googling for 'woocommerce login change' didn't bring any relevant results, so I figured it out myself.
I'm writing this post to help anyone else who's struggling with the new WooCommerce login. This will be affecting lots of people because nearly 2 million websites use WooCommerce. Hopefully this will help you log into your own account on the Woo website.
Why has the WooCommerce login changed?
WooCommerce has seen many changes over the past year or so since it was acquired by Automattic, the company behind WordPress.com.
Since then, it has inevitably been integrating more closely with Automattic's systems. With this in mind, you now have to log into the WooCommerce website using a WordPress.com account.
This seems slightly strange because WooCommerce is currently only available on WordPress.org websites, but not the hosted WordPress.com service. However lots of WordPress.org users have a WordPress.com account which they need for Automattic plugins such as Jetpack, Akismet or to follow other blogs. It's also likely that WooCommerce will become available for WordPress.com websites at some point. So it's not that strange to require WooCommerce users to log in using a WordPress.com account.
In their blog post announcing the change, WooCommerce have announced that this will improve security and convenience. Personally I think it makes it awkward for a lot of people and simply reflects their plans for world domination. For example, a lot of companies (including Barn2 Media) have a shared WooCommerce account but separate WordPress.com accounts. The login change will make it harder for colleagues to access plugin extensions their company has bought on WooCommerce.com and to get support. We'll see how it works out in practice...
How do I log into WooCommerce?
Now when you visit the WooCommerce website, you'll see that the usual login link has been replaced with 'SIGN IN WITH WORDPRESS.COM'. Click on this.
The next screen depends on whether you're already logged into a WordPress.com account. If you are, you can choose to log in with your existing WordPress.com account or a different one.
If you don't already have a WordPress.com account, you can easily create one.
Can I still access my old account if I login with WordPress.com?
The new process is all well and good for new WooCommerce.com accounts, but gets more confusing for existing customers as you need to access your previous purchases. WooCommerce have published a helpful article about the various options for logging in, based on whether or not you already have a WooCommerce or WordPress.com account.
I hope this helps to clear up the confusion so you can login to your WooCommerce account again.
If this isn't what you're looking for and you need a plugin to let customers log into WooCommerce, checkout our ultimate guide to WooCommerce login.