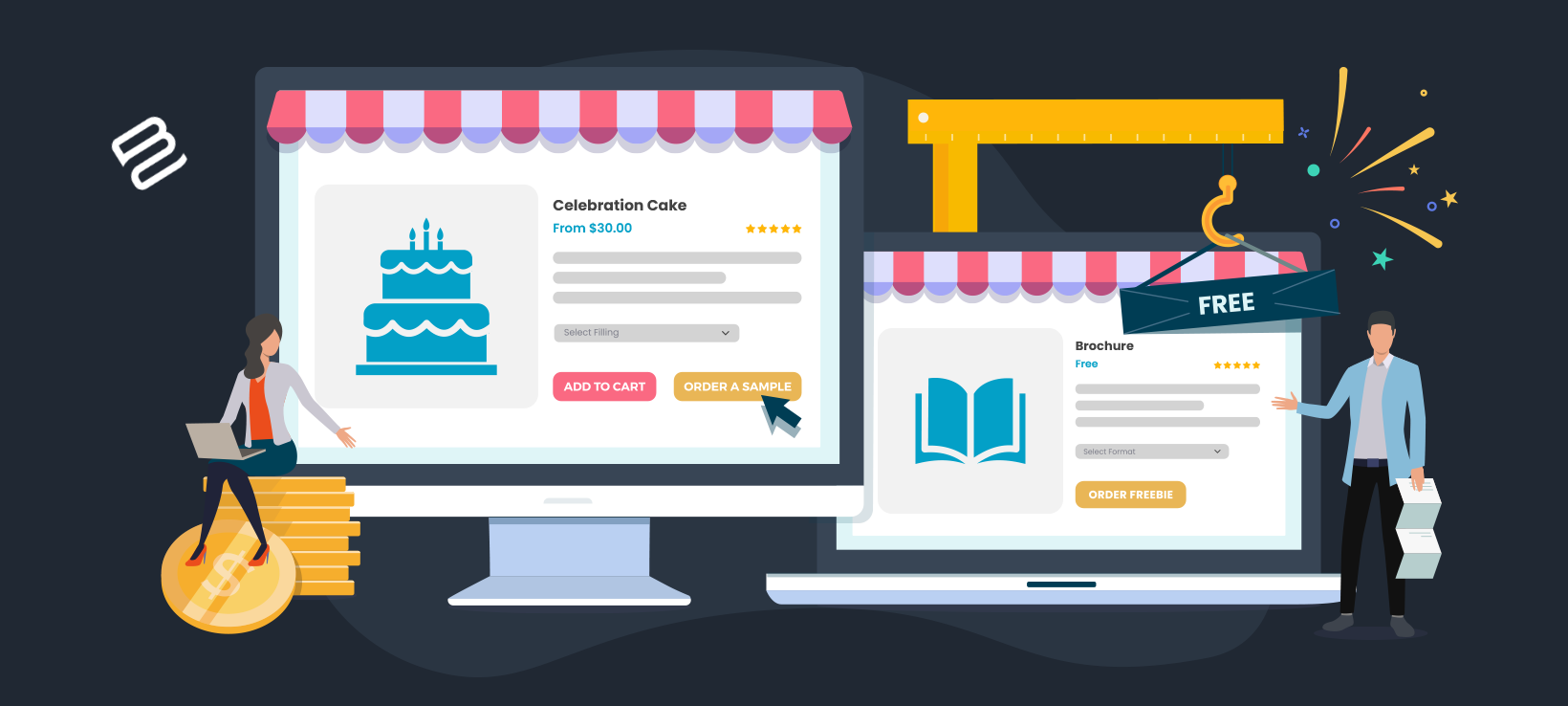 Just like all entrepreneurs, WooCommerce retailers and digital product vendors always want more and more sales. One effective way to achieve this is to offer your customers WooCommerce free products. After all, people say the best things in life are free. And online shoppers take this rather seriously.
There are a good number of benefits to enjoy by offering your customers WooCommerce free products. It can help you boost your sales and conversion rate. You can use this strategy to also increase brand awareness and customer loyalty.
But offering freebies in your online store will only give you a good return-on-investment (ROI) if you put the right strategy in place.
There are several ways to offer free products and effectively drive up sales. Some of them include:
Offering product samples at no cost to the customer to encourage them to order the full-priced version of the product
Sending completely free products to customers who have a coupon code or bought other products
Creating WooCommerce Buy One Get One Free (BOGOF) campaigns
In each case, you're probably worried that these offers can impact your store's profit margin negatively. How can you afford to give away products for free?
In this article, we'll share some expert tips and popular use cases for leveraging WooCommerce free products to your store's benefit. We'll then consider the best WordPress plugins for offering them and share a tutorial on how to set up our number 1 pick, WooCommerce Product Sample.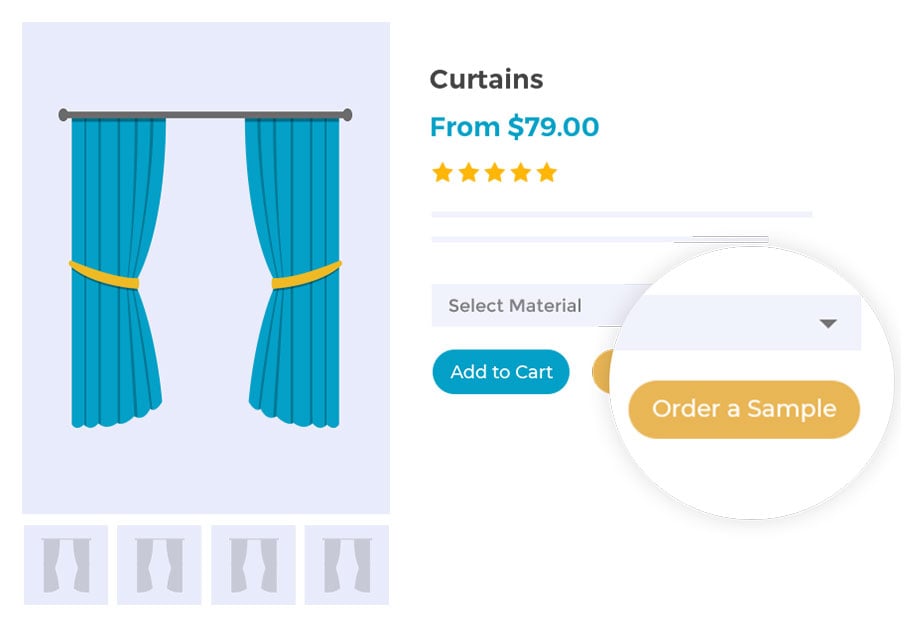 Let customers try before they buy with free or paid product samples, complete with follow-up emails.
Types of WooCommerce free products
As a WooCommerce store owner, there are multiple types of free product packages which you can offer your customers. As I mentioned earlier, the success of your WooCommerce free product campaign depends largely on the strategy you choose.
When choosing the ideal type of WooCommerce free products for your store, it's important to consider your campaign goals. For example, you'll need different types of free products to drive sales, engagement, and brand awareness.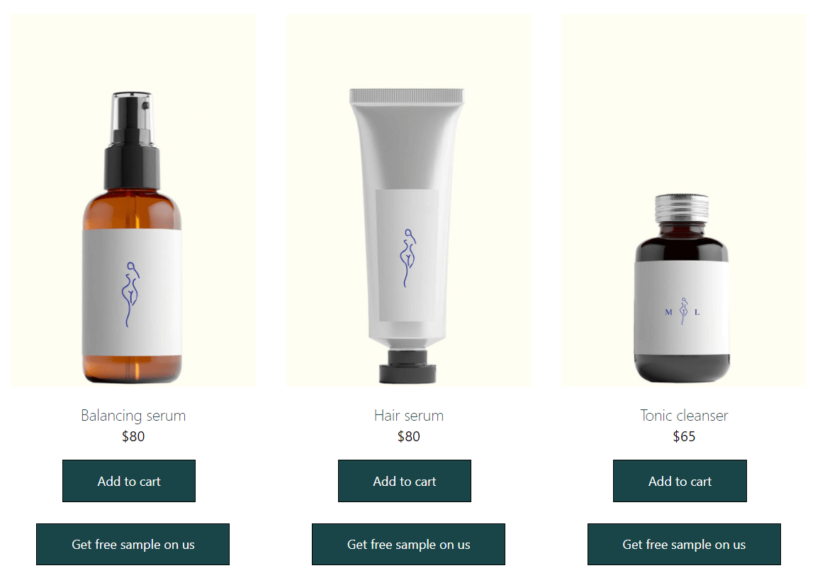 So, the first step to launching your freebie or giveaway campaign in WooCommerce is to clearly define your goals and paint a clear picture of the desired results at the end of the campaign.
Instead of sharing a long listicle of several WooCommerce free product types, we'll discuss three common use cases. These use cases cover the major reasons why a store owner may want to offer their customers free products. We'll also suggest the best WordPress plugin for each use case.
This way, you can quickly find the ideal solution for your campaign instead of having to trawl through lots of options.
Let's get to it!
Use case 1: Give free product samples to encourage users to buy the full product
Free product samples are a highly effective marketing strategy for acquiring new customers and even selling more to your existing customers. A typical online shopper is averse to the risk of trying out a new product, especially from a new brand.
Buyers are generally more comfortable reordering a product they've used in the past. If your business is relatively new or you're launching a new product line, convincing customers to commit to a purchase can be quite difficult.
One easy way to get around this challenge is to offer your site visitors product samples in form of WooCommerce free products. This is quite similar to the traditional in-person product sampling businesses have used in the past.
This time, instead of putting up massive face-to-face events, renting event centers, and hiring sampling experts, you can easily deliver the same experience in your WooCommerce store. If well-executed, online product sampling can generate massive return-on-investment (ROI).
This approach works for both physical retail products and digital downloadable products.
Not sure how this use case can be explored? You can offer:
Free samples of downloadable products e.g. music and video snippets to encourage people to buy the full version.

Free fabric, paint, or color samples of curtains, tiles, paint, flooring, etc.

Paper samples before a custom printing job e.g. wedding invitations or B2B printing.

Free eBooks (e.g. the first chapter of a paid eBook). Or it could be a short excerpt of any part of a book or publication that site visitors can download for free.
However you choose to use this strategy, the main idea is to give your customers a feel of your product. For the best results, you need to ensure that you leave a great first impression that encourages the customer to continue to the checkout process. Otherwise, you may be losing a potential high-quality customer and even damaging your brand reputation.
Let's look at some benefits of using this free products strategy.
Further reading: Complete guide to WooCommerce sample products.
Benefits of WooCommerce free product samples
Offering your site visitors WooCommerce free product samples can help boost your sales, conversions, and brand engagement rapidly. The psychology behind this strategy's effectiveness is pretty simple: everyone loves freebies!
Here are some of the major ways this method influences your store visitors:
By allowing your customers to try your product at no cost to them, they gain enough confidence to order the full product. This helps them get over the initial buyer's fear.
You get your products into the potential buyer's hands. Now they know how the product really looks and feels. This is a further step from just seeing online images that may not be as accurate or convincing.
This strategy keeps the shopper thinking about your product. If you manage to leave a very good first impression, the customer may end up doing some mouth-to-mouth advertising on your behalf. This is particularly good for brand awareness and lead generation.
It can also help you to raise customer loyalty and outperform the competition. Sending product samples always leaves your customers with a positive image of your brand and you can tap into this sentiment in the long term.
If you're worried about maintaining your profit margins, consider adding a charge for shipping free samples of physical products. You can also charge a discounted sum for the samples as well, if you don't want to offer them for free. Of course, you can offer a smaller version of the product for free, and charge for the full sized version.
Similarly, you can incorporate follow-up emails into your strategy to significantly boost the chances of getting customers to buy the full product. This is particularly important if customers have ordered samples from more than one company.
The WooCommerce free product plugin we'll be showing you next can help you implement all these features in your store.
WooCommerce Product Sample - Best WooCommerce free products plugin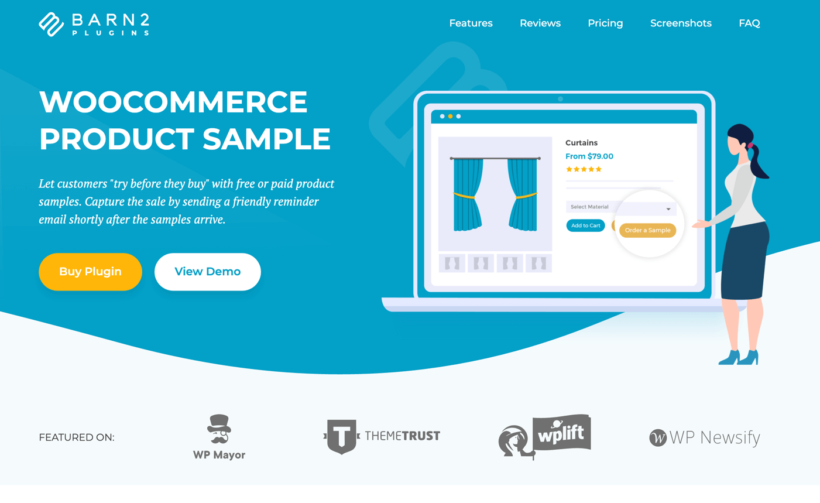 Looking for the best way to use free product samples to encourage your store visitors to buy the full version of a product? The easiest all-in-one solution is to use the best WooCommerce free product sampling plugin—WooCommerce Product Sample.
This plugin packs all the features you need to convince your store visitors to commit to a full purchase. You can use it to offer your customers free and paid samples of both simple products and WooCommerce product variations. This gives you complete control over your profit margin while offering your customers the best experience possible.
Key Features
Enable samples for product categories, individual products, or globally Choose the specific products you want customers to be able to order free or paid samples of. This works for all the WooCommerce product types. You can add 'Order a free sample' buttons to single product pages, shop, and category pages and customize them as you wish. This also applies to WooCommerce elements powered by other plugins like WooCommerce Product Table.
Manage product samples separately from other products Control sample product attributes like stock, maximum order quantity, and even shipping classes independent of the main products.
Send follow-up emails to push customers to buy the full product This is the only WooCommerce free products plugin that allows you to send email reminders to your customers. These emails tend to have a high CTR and conversion rate because the shopper now has a feel of your product.
How to offer free product samples in WooCommerce
To add free WooCommerce free product samples to your store, you can start by getting the WooCommerce Product Sample plugin here.
After getting the plugin;
Log into your WordPress dashboard and go to Plugins → Add New → Upload Plugin.
Next, choose the plugin ZIP file you downloaded and click Install Now then Activate Plugin.
After getting the plugin, you must have received an email with your license key. Now, enter the license key and click Activate.
The next step is to enable product samples and complete the configurations of the plugin's general settings. To do this, navigate to WooCommerce → Settings → Products → Product sample.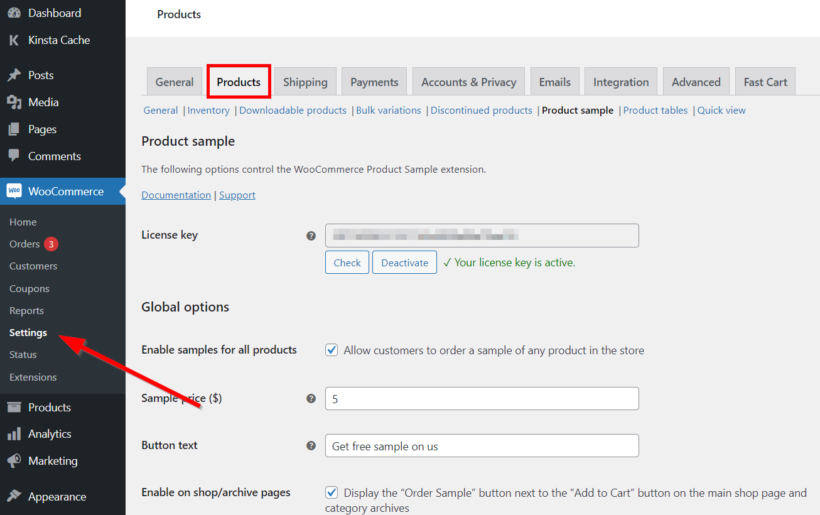 On this page, you can enable the product sample feature. Also, edit other settings like the maximum order quantity, shipping class, and dynamic pricing if you want to offer samples at a discounted price.
To edit sample settings for individual products or categories, navigate to the product or category settings page and change the settings in the Product samples tab dropdown.

Finally, set up follow-up emails for product samples by going to WooCommerce → Settings → Emails.
Scroll down and click Manage next to 'Product sample follow-up'.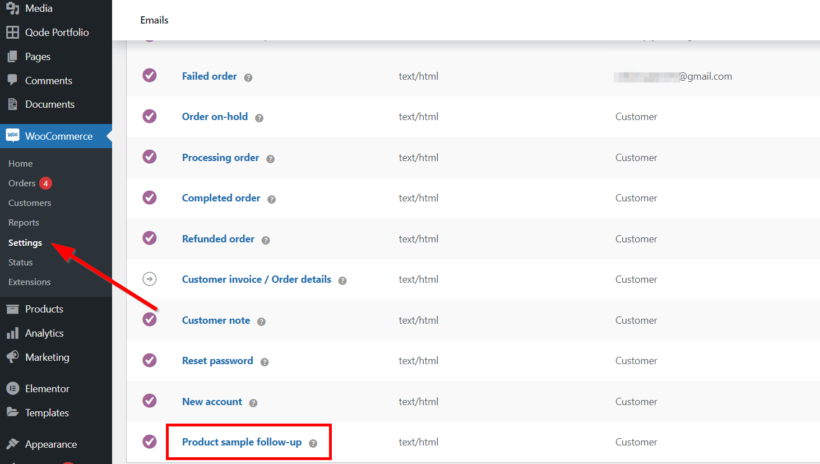 After editing the necessary fields, click Save changes.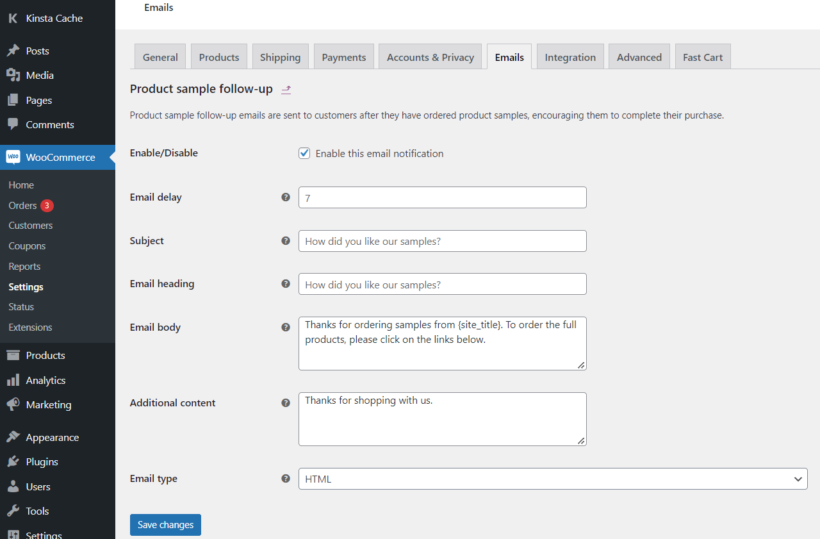 That's it! You've now successfully added WooCommerce free product samples to the front end of your ecommerce store.
Use case 2: Offer free WooCommerce products based on a coupon or purchase rules
Coupon marketing is another powerful strategy you can use to drive sales and traffic to your WooCommerce store. This strategy requires the buyer to have a WooCommerce coupon or fulfil certain shopping conditions.
After fulfilling these conditions, you can either offer them different products for free or apply percentage discounts to the customer's cart.
Here are some examples of how WooCommerce store owners use this technique:
Incentivizing customers to spend more by offering WooCommerce free items. This can be in form of free gift coupon offers after reaching a specific shopping cart subtotal.

Encouraging return purchases by sending a coupon code to get a free product after they place an order.

Offering free downloads, either as part of a membership benefit (e.g. as part of an exclusive WooCommerce members-only store).
To implement this strategy, you can use a powerful WooCommerce free products plugin like Free Gifts for WooCommerce.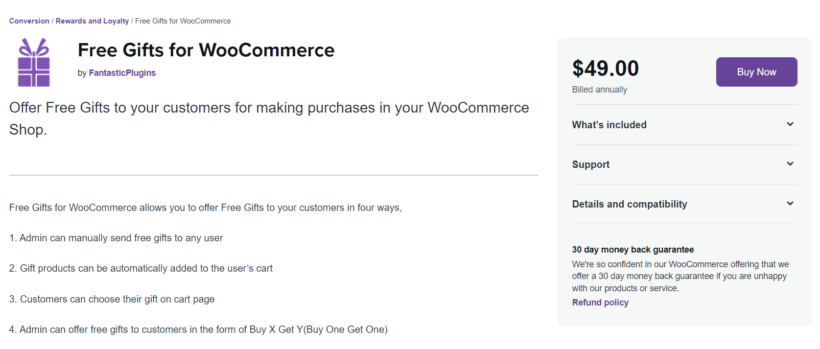 With Free Gifts, you can either send free offers to your customers manually or add them to the buyer's cart automatically. Your customers also get the liberty to choose a gift product on the cart page based on multiple purchase rules that you've set before.
The plugin is ideal for store owners who want to leverage the full power of WooCommerce gifts for driving sales within their store.
Use case 3: Offer WooCommerce BOGOF products where you get a free product after buying a certain product
This last use case is easily the best approach to consider if you want to boost your store's average order value. WooCommerce Buy One Get One Free (BOGOF) products are part of a sales promotion strategy where the customer gets a free or discounted product after ordering another item at full price.
You can offer BOGOF products when you want to:
Encourage a higher average order value by offering a free product when the buyer adds a certain quantity of an item to their cart. You can also offer a percentage or fixed-price discount as an incentive.
Move your inventory faster or replace old inventory. This is ideal for perishable consumer products.
Drive bulk purchases which can be ideal for unit-based shipping and WooCommerce wholesale stores.
One plugin we highly recommend for offering BOGO deals is Buy One Get One Free.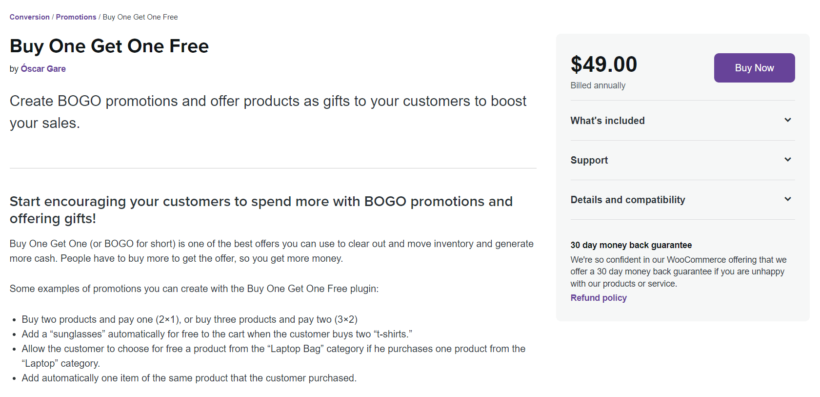 It is a simple easy-to-use tool that allows you not only to add unlimited BOGO deals to your store. Among other features, you can also use it to automatically add gifts to the buyer's cart and limit promotions to specific categories, products, or user roles.
Start offering free products today!
Offering your store visitors WooCommerce free products is a tested and proven way of driving e-commerce sales, conversion, and brand awareness. But to get the best results, you need to back your 'giveaway' campaign with a solid strategy.
Not sure how to use WooCommerce free products in your store? You can either:
Offer free product samples to encourage users to buy the full product
Give away free WooCommerce products based on a coupon or specific purchase rules
Offer Buy One Get One Free (BOGOF) deals
For each of these use cases, using the right WooCommerce plugin can help you achieve a lot of success. You may also want to offer your customers free product samples. WooCommerce Product Sample packs a lot of powerful features for boosting a buyer's confidence in your brand.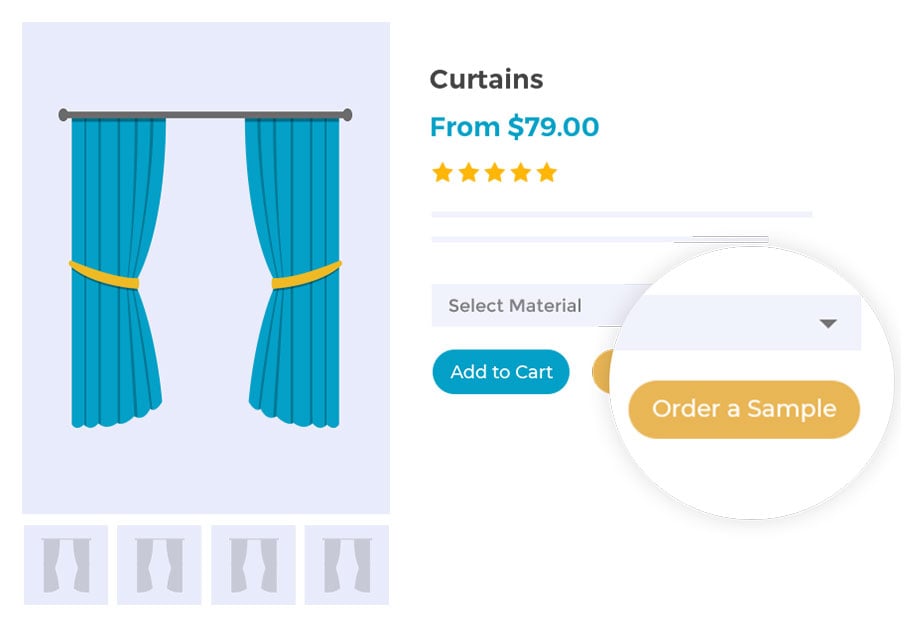 Let customers try before they buy with free or paid product samples, complete with follow-up emails.
Ready to start offering free products in your WooCommerce store? You can start by getting your copy of WooCommerce Product Sample.