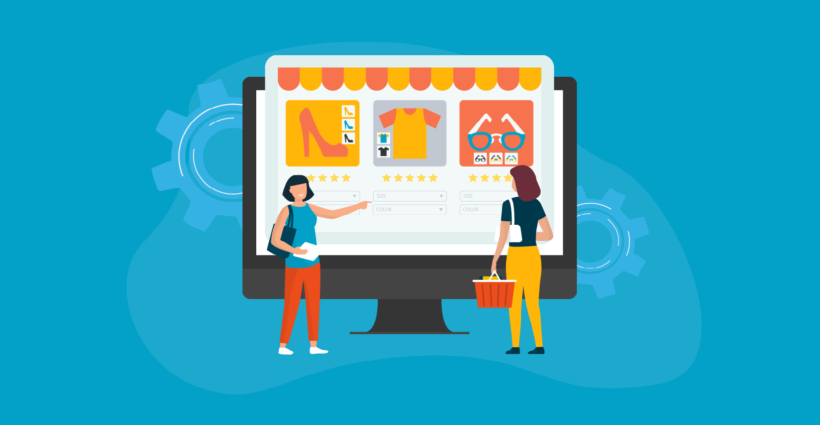 Our latest WordPress plugin - WooCommerce Bulk Variations - is launched today! It's the easy way to list product variations in an instant matrix layout. Your customers will love ordering multiple variations at once!
Our existing WooCommerce Product Table plugin is popular for listing variations in a table layout - either with variation dropdowns, or with each variation on its own row in the table. Lots of our customers have also asked for a way to display variations in a matrix or grid. We have built WooCommerce Bulk Variations to do exactly that!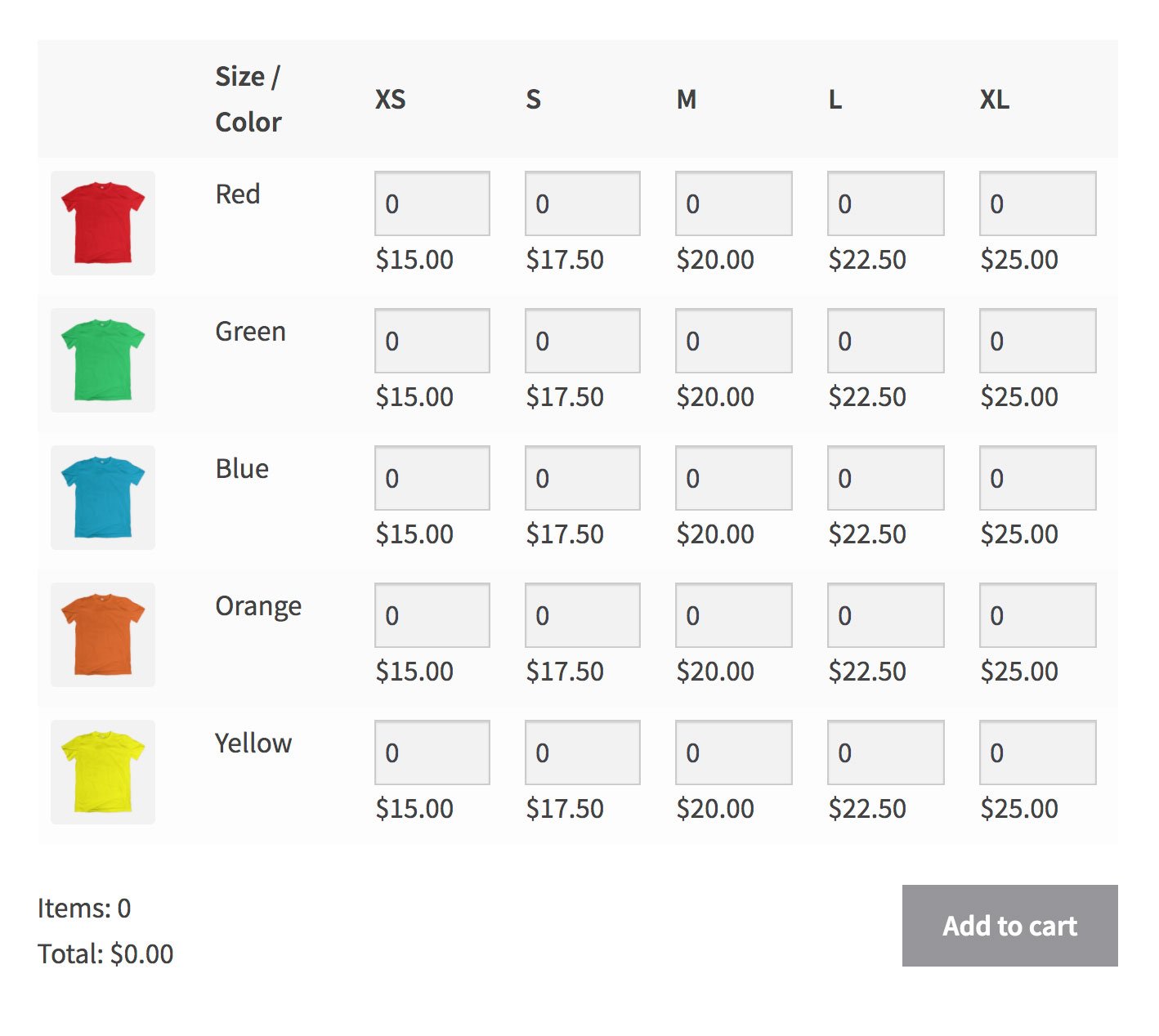 Sell more products with a bulk variations order form or a read-only price matrix.
What does WooCommerce Bulk Variations do?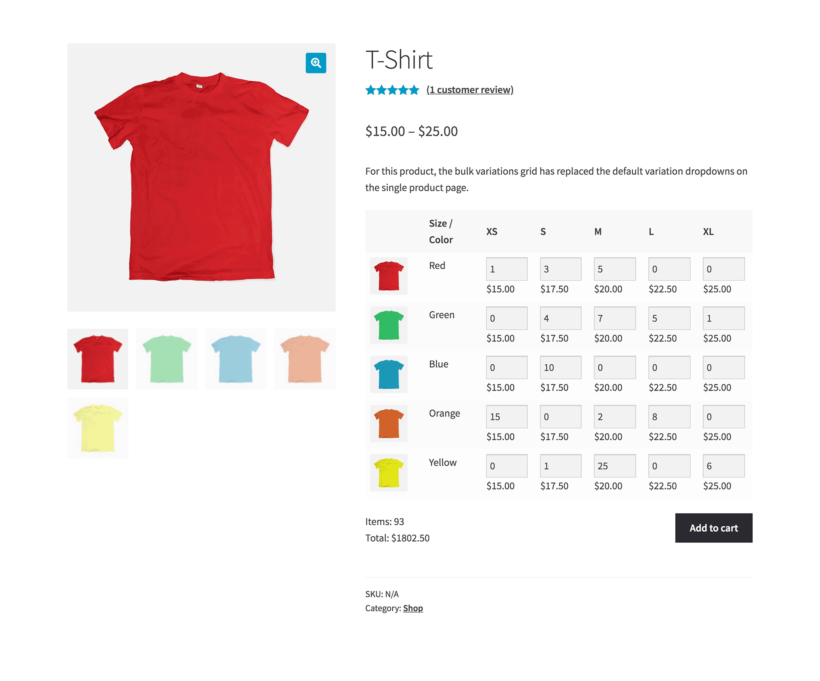 WooCommerce Bulk Variations provides a new layout option for any variable WooCommerce product.
It takes your variations and lists them in a matrix-style grid format. Each product attribute is listed as one of the axis of the grid. For example, you might list the 'Size' attribute horizontally as columns, and the 'Color' attribute' vertically as rows.
Barn2 Plugins have just launched WooCommerce Bulk Variations, the easy way to list product variations in an instant matrix layout for faster ordering. https://barn2.com/woocommerce-bulk-variations
Click to Tweet
WooCommerce Bulk Variations lets you create 2 types of variations matrix:
Bulk variations order form Add a quantity box for each variation. Customers can enter the quantity of each variation they require, and add everything to the cart at once. This is much faster than the variation dropdowns that come with WooCommerce itself, where you have to select each variation individually.
WooCommerce price grid Disable the quantity boxes and create a read-only variation price grid, displaying the price of each variation without add to cart buttons.
You can enable the variations matrix globally for all eligible products, or you can enable it per-product. The plugin also comes with a shortcode which you can use to insert a variations grid for a specific product anywhere on your site. This is useful if you want to display the grid on a different part of the product page, or on other pages or posts.
The grid is fully customizable. For example, you can choose whether or not to include an image column displaying the variation images.
Who is it for?
WooCommerce Bulk Variations will benefit any online store that needs a quicker way to buy variations. For example:
WooCommerce wholesale stores If you sell to the trade and your wholesalers like to buy variations in bulk, then you need a bulk variations form. (Tip: If that's you, then you can use it with our other plugin - WooCommerce Wholesale Pro!)
E-commerce clothes shops If you sell clothes online, then customers can bulk order sizes more quickly by choosing the sizes and colors from a variations matrix.
Food order forms Some foods, such as pizzas, have lots of options (e.g. size and toppings). A food variations order form lists the options in a clear grid. This makes it easy for customers to select quantities and buy.
Products sold by weight If you use variations to sell different weight options of a product, then customers can mix and match from the grid to get the required weight.
Products with two dimensions If the price of a product changes depending on the width and length, then you can set up these options as variations and display them in a grid with the width on one axis, and height on the length.
Technical products with two types of option

A variations grid is perfect for selling technical products that don't require large images. This could be printer ink, spray paint, or electronic gadgets. 
Whatever you're selling, if you need a quick way for customers to order multiple sizes or other options at once without having to list each attribute separately, then WooCommerce Bulk Variations is for you. 
Can I use it with other Barn2 plugins?
We've integrated WooCommerce Bulk Variations with our other plugins wherever possible. For example, you can:
We've also tested it with various third party plugins such as WooCommerce Subscriptions and Minimum/Maximum Quantities. You can read about these on our list of compatible plugins.
Can I list multiple products in the variations grid?
Each variations grid lists the variations for one product. If you want to create an order form containing more than one variable product, then you need WooCommerce Product Table instead, which provides 2 ways to list variations for multiple products.
Where to get the plugin
WooCommerce Bulk Variations is available now. It comes fully backed by our 30-day money back guarantee. Get it today and see how the matrix can transform your own website!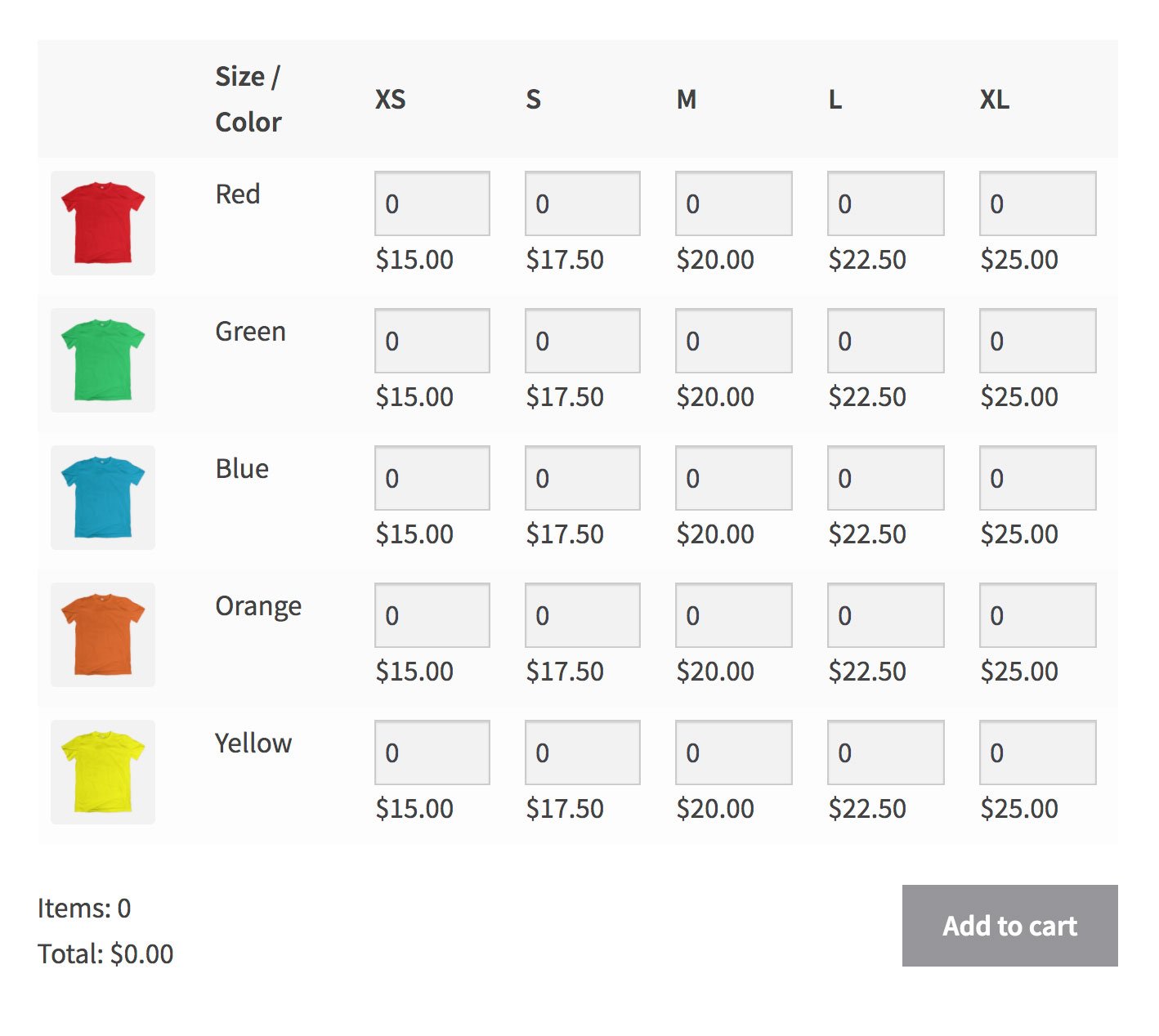 Sell more products with a bulk variations order form or a read-only price matrix.
We've got your back. Your purchase is covered by our no-risk 30 day money back guarantee. If for any reason you're not completely happy with the plugin, you're entitled to a full refund up to 30 days from your original purchase. No questions asked.