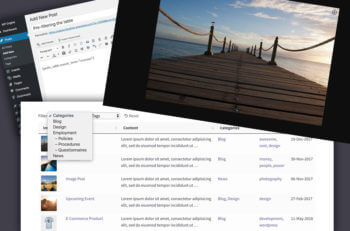 We've been working hard adding exciting new features to Posts Table Pro, and I'm pleased to tell you that version 2.0 is now available for you to install.
The new version contains a huge number of changes, new features and improvements. We've made it easier to use than ever before, with a full settings page for people who aren't confident working with shortcodes. There's an image lightbox which opens a bigger version of the featured image in a popup or modal window. You can pre-filter for a specific search term, and add nested hierarchical filters above the table.
Here's more information about the new features and improvements.
New! Full settings page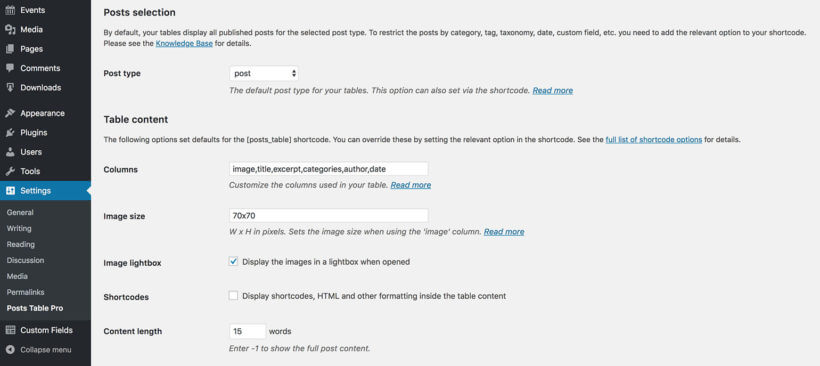 Quite a few of our customers have asked for an easier way to configure your tables, instead of having to do everything in the shortcode. As a result, we've added a full settings to the plugin where you can select default options that will affect all the tables on your site. You can find this at Settings → Posts Table Pro.
As before, you can continue configuring your tables directly in the Posts Table Pro shortcode if desired. This allows you to override the default settings for individual tables - for example if you want to add multiple tables to your site, each one listing different information.
New! Image lightbox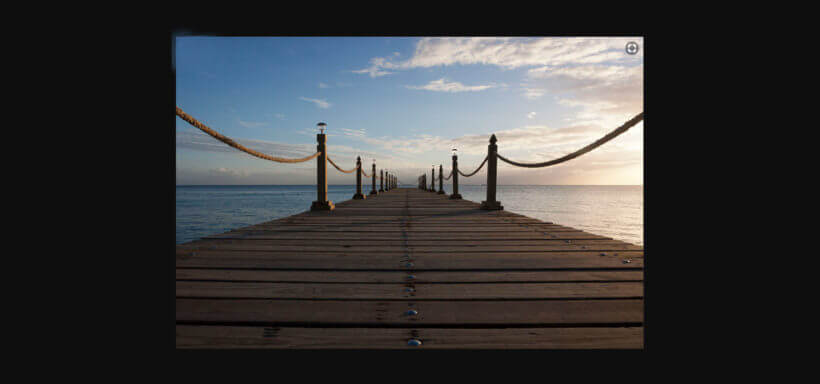 Another popular feature request - version 2.0 includes an image lightbox for all your post images, courtesy of the Photoswipe library. You can enable this from the plugin settings page:

This applies to all featured images within the 'image' column. Once enabled, the image will open in a lightbox when clicked or tapped.
New! Hierarchical nested category filters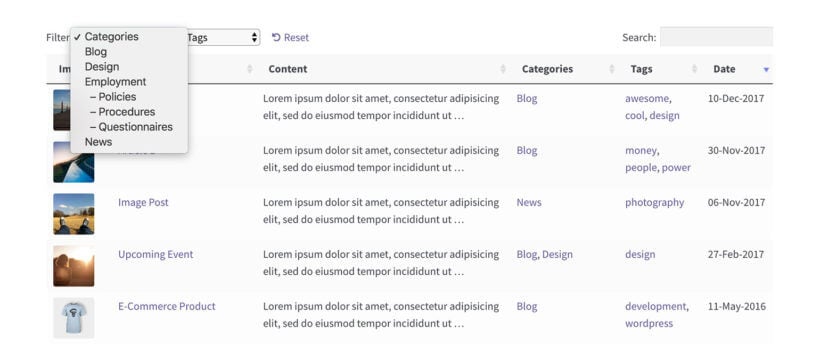 One of the most popular items on our feature request list relates to the category or custom taxonomy filter dropdown above the table. Previously, all categories and sub-categories were listed alphabetically in a single list, regardless of their level. Lots of you have asked for this list to be hierarchical, so we have reworked the filter to achieve this.
The new categories/taxonomies filter is also better at only showing categories that relate to the products in the current table when you're not using the lazy load option.
Further reading: How to create custom taxonomies to sort your WordPress content in new ways using Posts Table Pro.
New search term option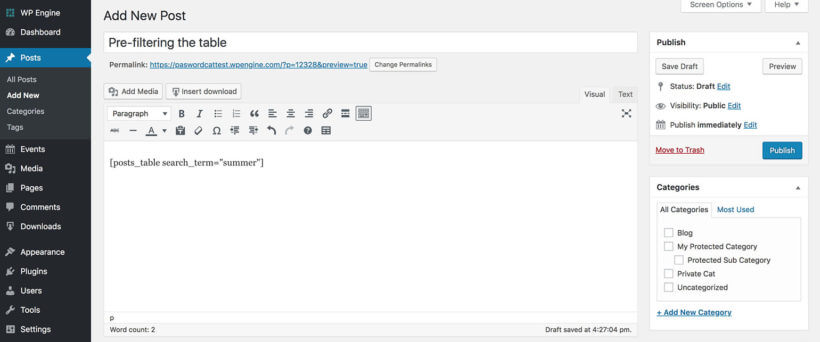 Lots of you have also asked for an option to filter the products in the table when it first loads. To do this, add the search_term option to your shortcode. For example, the following shortcode will pre-filter the table for posts containing the word 'summer'.
[posts_table search_term="summer"]
New toolbar button

Previously, you created a table by adding the shortcode [posts_table]. We've added an 'Insert posts table' toolbar button to make this easier for you.
Use this button to add a table containing all the options you chose on the settings page.
Caching added for faster load times
We've added a new caching option to improve performance. By default, the cache will clear itself every 6 hours. You can enable this on the plugin settings page.
And there's more!
We've also made various other tweaks, bug fixes and improvements. You can see the full changelog here.
How to get the new improved table plugin
If you're already using Posts Table Pro then you can update to the latest version via Dashboard → Updates in the WordPress admin. If you get any errors, please see our knowledge base article on problems updating the plugin.
If you haven't got the plugin yet, get it now and start creating instant tables of your posts, pages, custom post types and more!