WooCommerce Restaurant Ordering, the ultimate food order system for WordPress, is now available. We've built it during the coronavirus lockdown to help restaurants make the switch to taking orders online. Keep reading to discover how the plugin can help your restaurant, and where to get it.
Across the world, the COVID-19 pandemic forced thousands of restaurants and food outlets to close their doors. Suddenly, they were only allowed to sell takeaway food or offer home delivery. Dining in and ordering at the table, bar or counter were no longer an option.
Since then, restaurants have been trying to adapt to a new way of life. To meet social distancing guidelines, tables must be spaced further apart, and fewer customers can receive table service. This has a big impact on restaurants' profit margins, as it reduces capacity while running costs remain the same.
But the good news is that there is a way to stay profitable. The solution is to set up online ordering for your restaurant so that customers can order food remotely for home delivery and/or collection.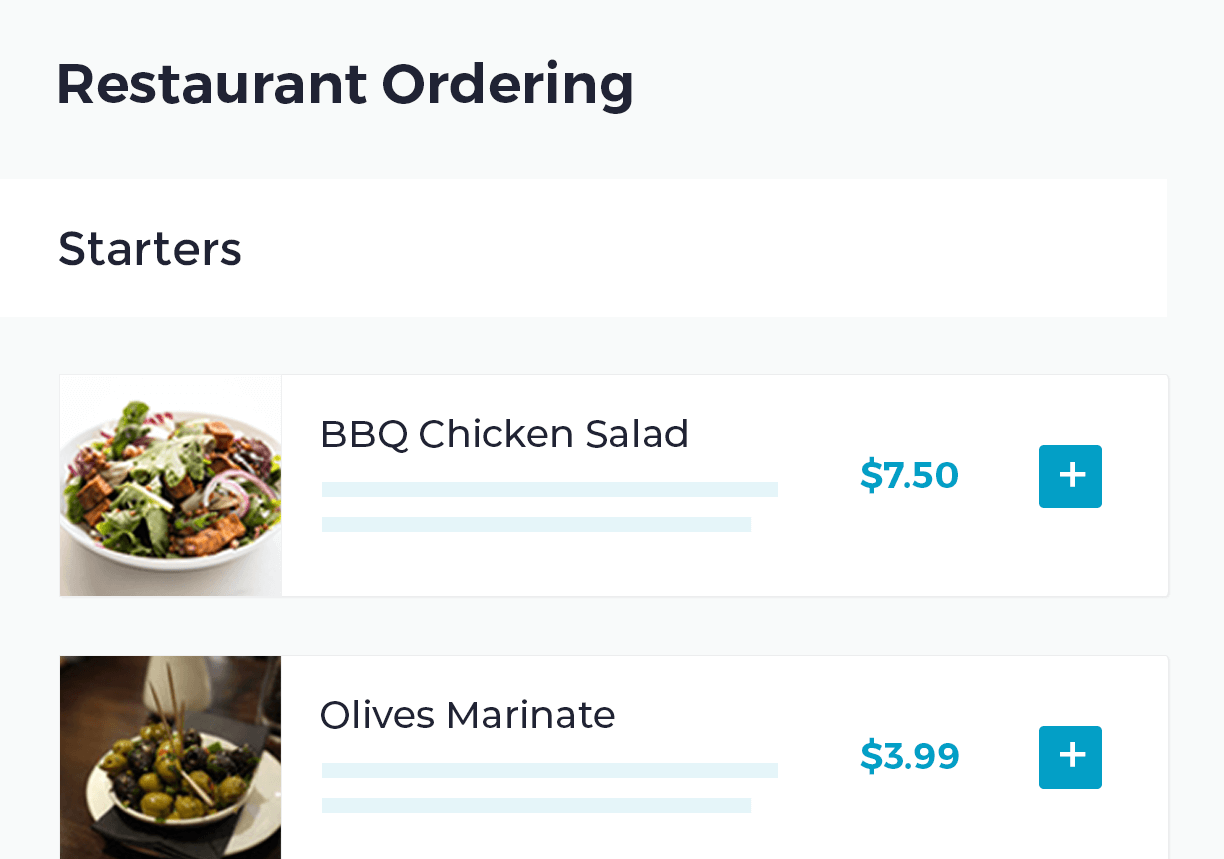 Add food ordering to your own website in just 15 minutes - it's 100% flexible, with no commissions to pay!
Why we built a WooCommerce restaurant plugin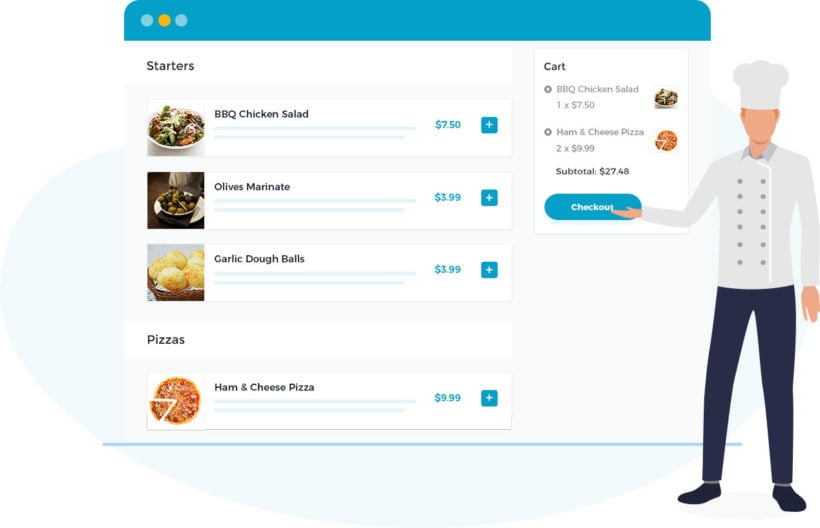 Ever since we launched our WooCommerce Product Table plugin in 2016, it has been hugely popular with restaurants wanting to sell food online. It lists restaurant foods in a space-saving table layout, with quick 'add to cart' boxes that are ideal for ordering food. However, we didn't design it specifically for selling food, and it has many features that restaurants don't need.
We've looked at how restaurants use WooCommerce Product Table to sell food online, and have used this information to design the perfect WooCommerce restaurant plugin. The result is WooCommerce Restaurant Ordering, released today!
The new WooCommerce Restaurant Ordering plugin is now available! It's the easy way for restaurants to start selling online and meet social distancing rules. https://barn2.com/woocommerce-restaurant-ordering.
Click to Tweet
We designed WooCommerce Restaurant Ordering specifically for restaurants. It has all the features you need, with no unnecessary complexity. As a result, it loads ultra fast and is incredibly easy to set up.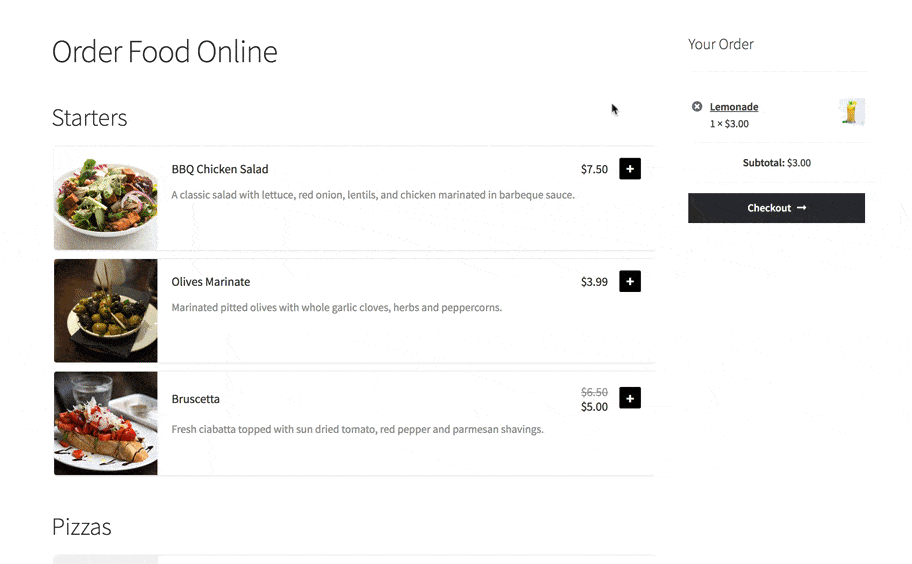 As well as being the best WooCommerce restaurant plugin on the market, it's much better than any other way of selling food online:
Unlike building a bespoke system, it's quick to set up and you don't need to hire a developer.
Unlike using third party food ordering systems such as Deliveroo or Uber Eats, you keep 100% of your profits while owning your data and staying in control.
How it works
Before you install WooCommerce Restaurant Ordering, you should have a WordPress website with WooCommerce installed. Add the foods from your restaurant menu as products (either as simple products, or products with variations or add-ons). Structure your menu into product categories, e.g. Starters, Mains, and Desserts.
When you install the WooCommerce restaurant plugin, it automatically creates a 'Restaurant Ordering' page which lists all your foods, divided by category: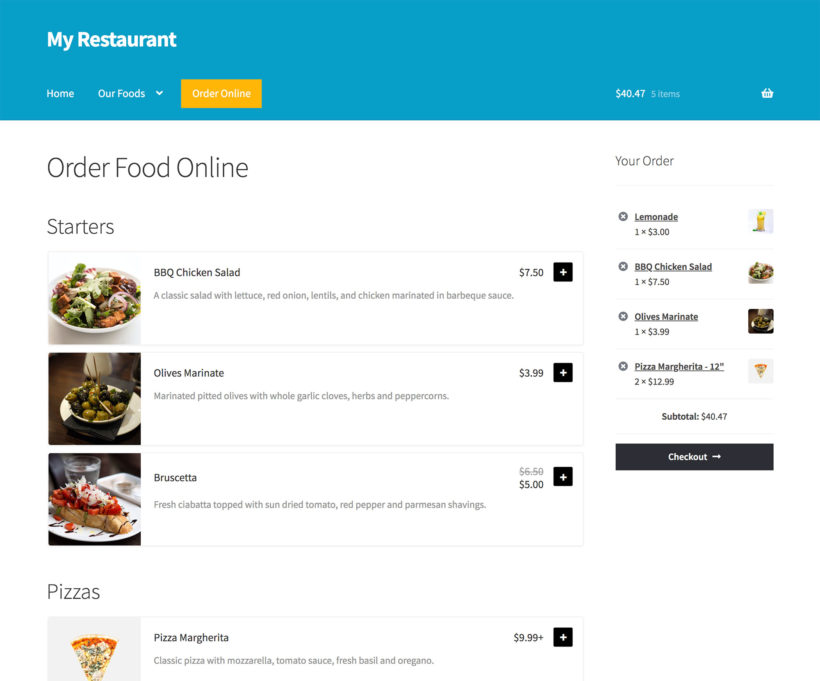 You can either start taking restaurant orders online straight away, or you can customize your food order forms on the plugins settings page. For example, you can choose which food information to display, re-order the categories, and change the layout.
Add your opening hours so that customers can only order food while you're open.
The WooCommerce restaurant plugin also comes with a shortcode for listing foods in other locations on your website. This is useful if you want to list different categories on different pages or tabs.
For full instructions, check out our WooCommerce restaurant tutorial.
What about delivery and collection?
As a WooCommerce restaurant plugin, WooCommerce Restaurant Ordering works with the delivery options that are built into WooCommerce itself. These make it easy to create delivery areas and add delivery and collection options, with or without costs.
The plugin is also designed to work with the WooCommerce Delivery Slots plugin. This is ideal if you want customers to be able to pick an exact time slot for home delivery or collection.
Start taking food orders online today!
We hope the new WooCommerce restaurant plugin helps restaurants and other food businesses to connect with their customers online.
Quick plug-and-play setup.
Full documentation, with guidance on every aspect of selling food online.
FREE video tutorial showing you every step (there's absolutely no way to get it wrong!).
Technical support is available if you need any help.
30 day money back guarantee. Love it or get a full refund, zero risk.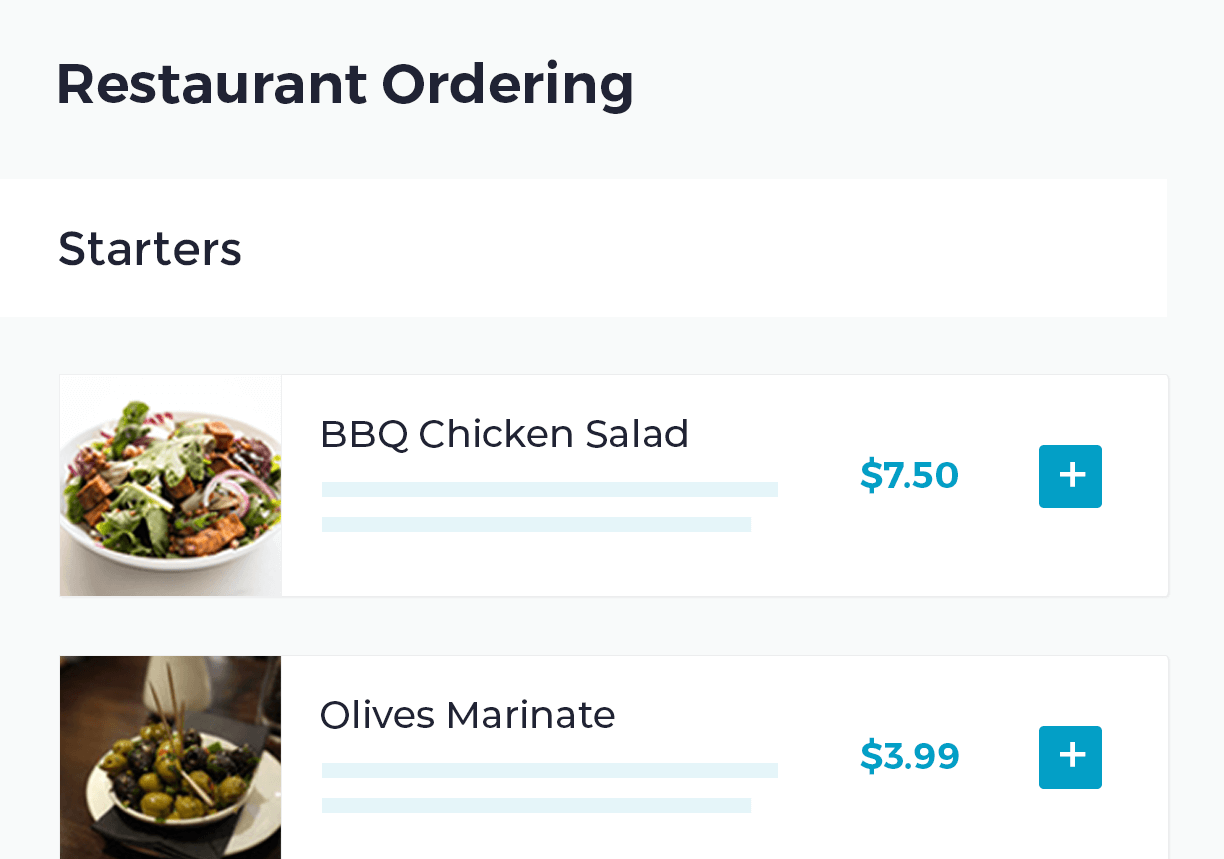 WooCommerce Restaurant Ordering takes just 15 minutes to set up. Your restaurant, your way. Get it now.