Our new WooCommerce Quantity Manager plugin is now available. It's the perfect way to set advanced quantity rules for your online store.
After months of hard work, we're excited to announce the launch of our new advanced quantity plugin - WooCommerce Quantity Manager. We've built it in response to requests from our customers, who wanted a plugin that makes it easy to set advanced rules for the product quantities in their store.
Check out Barn2's new WooCommerce Quantity Manager plugin - the easy way to add advanced quantity rules to your store. https://barn2.com/woocommerce-quantity-manager.
Click to Tweet
WooCommerce Quantity Manager has everything you need to take control of your product quantities. You can use it to:
Set minimum and maximum quantities for your orders, categories, products and variations.
Impose minimum and maximum values for your orders, plus how much customers can spend on each category, product and variation.
Define quantity step values so that customers must purchase each product in a specific grouping.
Enable the advanced quantity rules for specific user roles only.
Keep reading out how the new WooCommerce advanced quantity plugin can help to increase your store's revenue.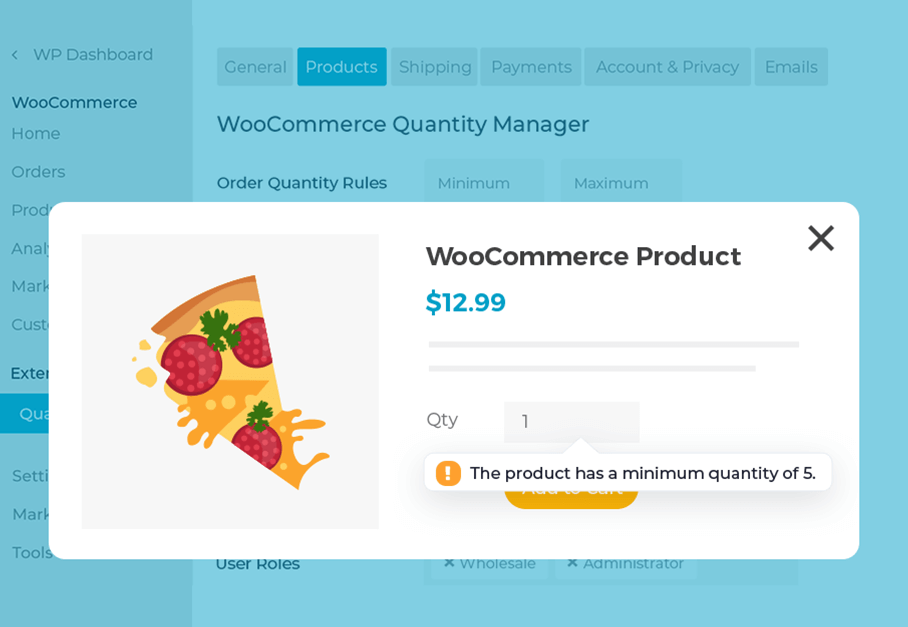 Add quantity rules, default quantities and much more.
How will advanced quantity rules help my WooCommerce store?
The problem with quantities in WooCommerce
When you install the free WooCommerce plugin, there are no quantity options. The default quantity for every product is 1, and customers can buy any quantity they like.
By adding a WooCommerce advanced quantity plugin, you can set quantity rules and defaults that encourage customers to buy more. The best way to do this depends on the type of products you sell.
Barn2's new WooCommerce Quantity Manager plugin is designed to increase your revenue from each customer. Learn how at https://barn2.com/new-woocommerce-advanced-quantity-plugin.
Click to Tweet
Some examples
Gently encourage customers to buy more
Before we start looking at the benefits of setting quantity rules, let's look at how you can benefit from a more subtle approach.
Leaving the default quantity as '1' leaves money on the table by creating an expectation that it is normal to order your products individually. Of course, you want customers to buy more than one of each item!
You can subtly change this expectation by changing the WooCommerce default quantity. For example:
Set the default quantity to zero to give customers a free choice, without prejudicing them into buying in small quantities. This is useful for selling events because customers are likely to buy tickets for multiple people. It's also useful for low value products such as pens or hair clips where it is easy to nudge customers into buying more than one.
Set the default quantity to a higher number such as 5, subtle implying that this is a normal quantity to order. Analyze the typical quantities that customers buy of each product, and set the starting value to slightly higher than this. Since you're not setting any actual quantity rules with this example, the customer can override this number and order smaller quantities. However, the default quantity is giving them a gentle nudge to order more than they might otherwise have done.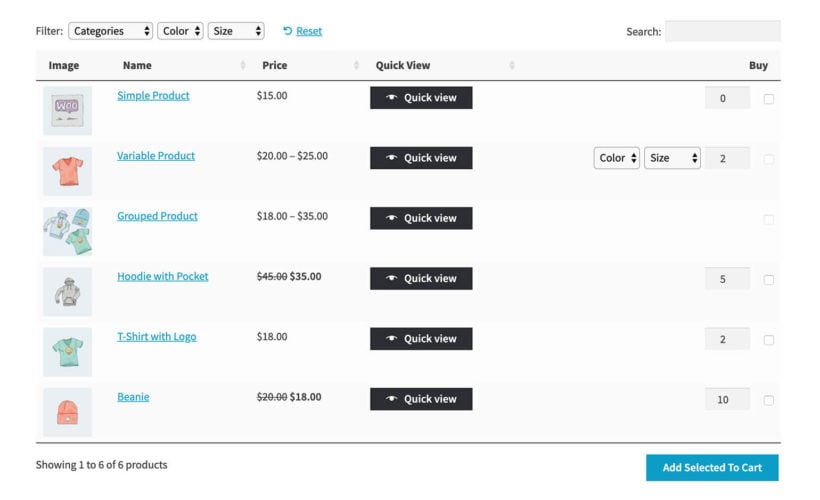 Default quantities work beautifully with the one-page order forms created by our WooCommerce Product Table plugin
Guarantee that every sale is profitable
As a store owner, don't you just hate it when you receive tiny orders - either for a small number of items, or where the total over value is very low? Either way, it's simply not profitable to process such small orders.
You can prevent this by setting a minimum order value or quantity for your entire store. Either keep it simple and set the minimums globally, or create WooCommerce advanced quantity rules based on the cart contents.
This guarantees that every order you receive justifies the processing time, delivery cost etc.
Only sell products at profitable quantities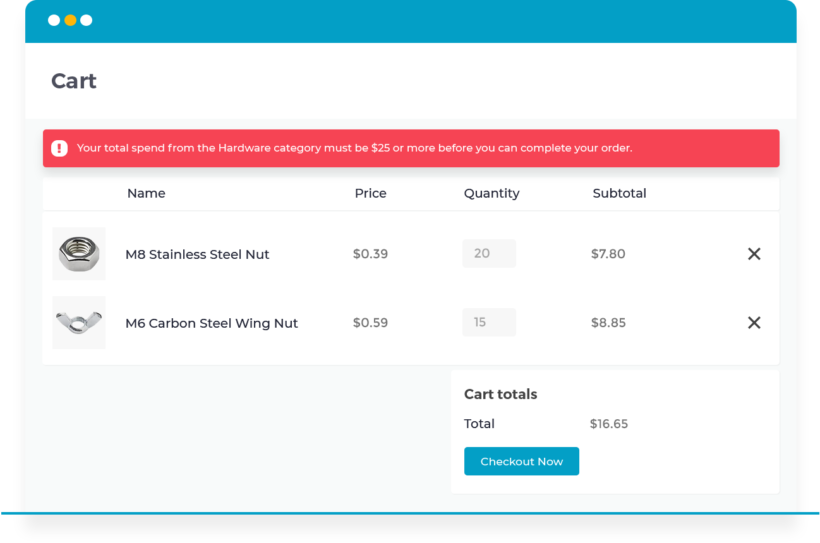 Similarly, you might sell products that are only profitable in certain quantities. You want customers to be able to choose how many of each item to buy, but also need to ensure that they purchase in profitable quantities.
For example, maybe you sell hardware items such as nails and screws individually. It's not worth your time to send an individual nail to the customer.
The solution is to set minimum quantity rules for individual products or variations. You can either set separate minimums for each item, or you can save time by doing it at a category level. For example, you might add a minimum quantity of '25' for the 'Screws' category so that people can mix and match the different screws.
Quantity rules for a WooCommerce wholesale store
Lots of people use our WooCommerce Wholesale Pro plugin to add a wholesale area to their store. This runs alongside your main shop, showing your normal store to public customers and wholesale pricing and layouts to B2B users.
Wholesale store owners have asked us for a way to set minimum order quantities and values for their B2B buyers only. For example:
You might be using the role-based shipping options in WooCommerce Wholesale Pro which offer free shipping to wholesale users. It's only cost-effective to offer free shipping on orders over a certain value.
Alternatively, you might have a wholesale-only store and only sell products in bulk. You need to prevent people from buying individual items or small quantities.
The solution is to use WooCommerce Wholesale Pro with the new WooCommerce advanced quantity plugin. Set minimum order values and quantities - either for the whole order, or for specific products or categories. Apply the advanced quantity rules to your wholesale user roles only so that public customers can continue buying in any quantity.
Sell meal deals and gift baskets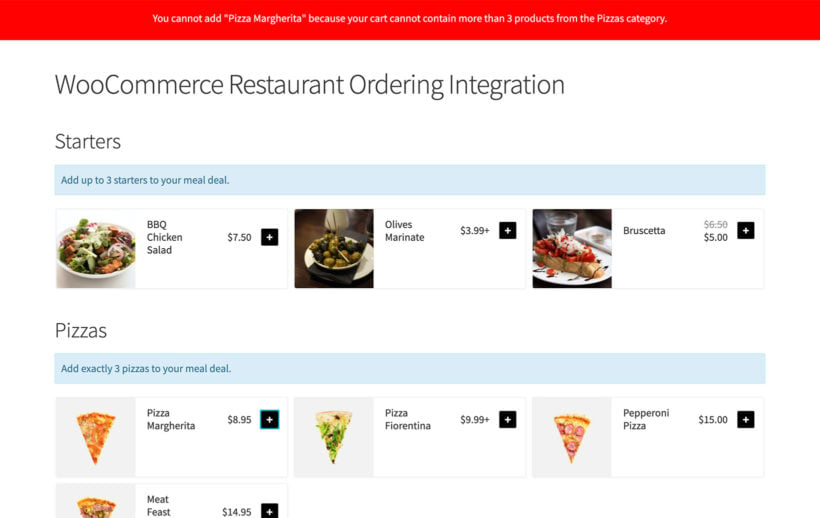 Use WooCommerce Quantity Manager with our Restaurant Ordering plugin
Lots of people use our WooCommerce Product Table and WooCommerce Restaurant Ordering plugins to create one-page order forms. These are ideal for selling custom gift baskets or meal deals.
Most meal deals advise the customer to add a certain number of items to the cart. For example, a restaurant meal deal might include 2 starters, 2 main courses and 2 desserts. You can do this by combining our other plugins with WooCommerce Quantity Manager.
Simply set a minimum and maximum quantity on each of your meal deal categories. Customers will be forced to purchase the right quantity from each category.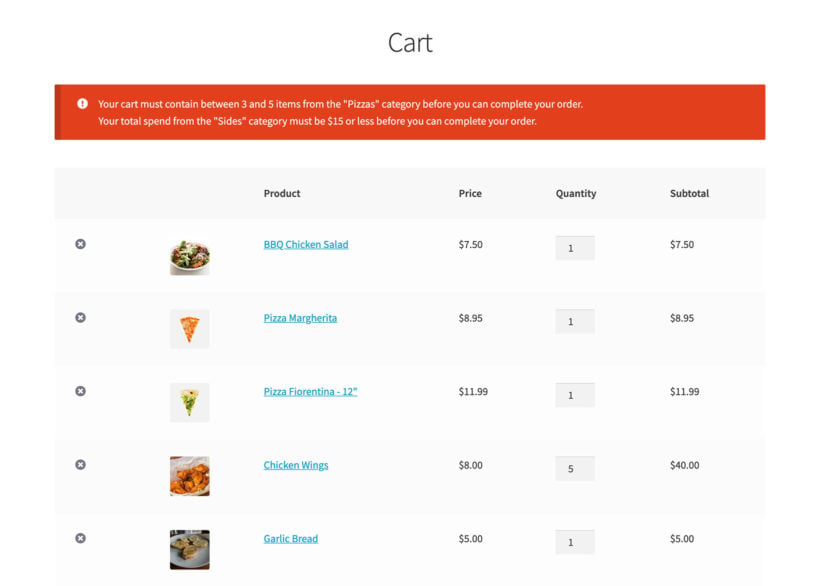 Customers cannot check out until they meet the quantity and value rules
Manage capacity in your WooCommerce store
All store owners should take steps to make sure they don't receiving bigger orders than they can manage. While this is a nice problem to have, no one likes letting customers down. This can lead to unhappy customers and negative reviews, losing you sales in the long-term.
Of course, you can use WooCommerce's inventory management features to ensure you only receive orders that you have the stock for. However, this doesn't help with your overall capacity. There's always a risk that you will receive bigger orders than you expected. As a result, your team may be unable to prepare and despatch so many products.
The solution is to install WooCommerce Quantity Manager and set maximum order values or quantities.
Sell in quantity groupings that fit with your despatch methods
Some products need to be sold in certain quantity groupings. For example, you might sell reams of paper by the pallet, and it's only profitable to despatch complete pallets.
To do this, simply install WooCommerce Quantity Manager and set quantity increments - either globally for all your products, or for specific categories or products. This ensures that customers can only order in step values that work with your warehousing and delivery setup.
Doesn't Barn2 already have a WooCommerce Default Quantity plugin?
You may know that Barn2 already had a quantity plugin - WooCommerce Default Quantity. This has now been replaced with the new advanced quantity plugin. The new plugin has all the features that people liked about WooCommerce Default Quantity, plus many new features for setting quantity rules.
Existing WooCommerce Default Quantity customers are automatically being upgraded to WooCommerce Quantity Manager. The more plugin is more expensive to reflect the extra features, but existing customers will be upgraded for no extra cost:
Annual licenses with an active subscription will be renewed every year for the original price, which will never increase.
Lifetime licenses will be converted to WooCommerce Quantity Manager for no extra cost.
We have already emailed all our WooCommerce Default Quantity customers with information about the upgrade.
Does it work with Barn2's other plugins?
Absolutely! WooCommerce Quantity Manager has been designed to work perfectly with Barn2's other plugins.
Whether you're creating order forms with Product Table, selling food with Restaurant Ordering, adding product lightboxes with Quick View, or selling variations with Bulk Variations, everything will work seamlessly. The quantity field in each plugin will display the correct starting value and increments, while preventing customers from selecting an invalid quantity. Quantity-related messages appear in the most intuitive location if one of the WooCommerce advanced quantity rules is not met.
The cheapest way to combine our plugins is to get the All Access Pass. This can save you thousands compared to buying each plugin individually.
How to set it up
Like all Barn2 plugins, it's really easy to set up. This means that it only takes a few minutes to add advanced quantity rules to your WooCommerce store.
To show you what I mean, here's a video where you can watch us setting up the plugin from start to finish. There are also full instructions in the plugin knowledge base.
Where to get the new WooCommerce advanced quantity plugin
WooCommerce Quantity Manager is available now. Get the plugin today (either individually or as part of a bundle) and start adding advanced quantity rules to WooCommerce.
Like all Barn2 plugins, it comes with:
Full documentation and knowledge base
Expert support from the friendly Barn2 team
Free 14-day trial, plus 30-day money back guarantee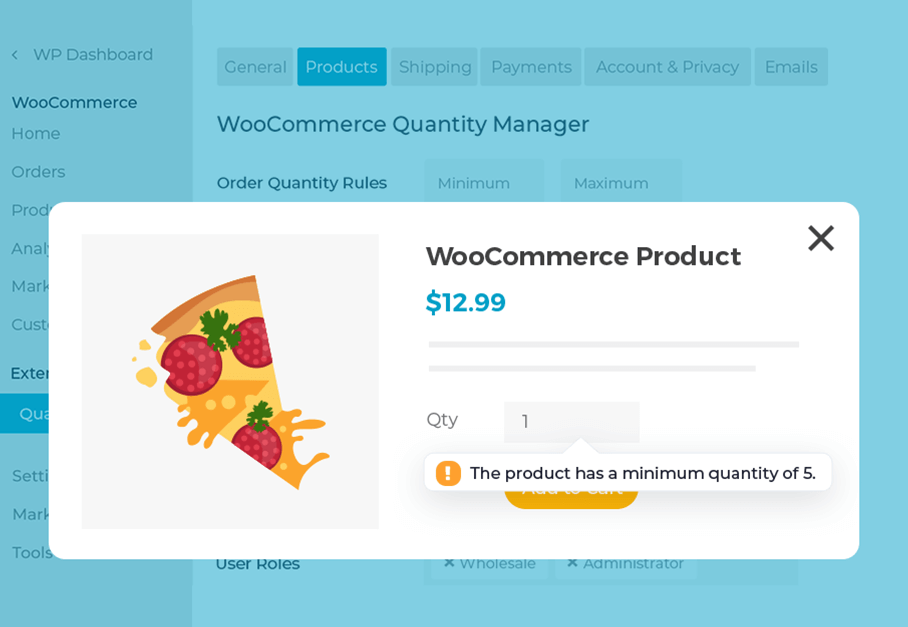 Add quantity rules, default quantities and much more.