We've been busy improving all our WordPress plugins. Here's a roundup of the new features now available in Posts Table Pro, our popular tables in WordPress plugin.
These new developments are very exciting and let you create tables in WordPress in new ways that weren't possible before. The amazing thing about Posts Table Pro is that it has so many possible uses. Previously, it was popular for various types of tables in WordPress such as website indexes and tables of contents, publications lists or document libraries and WordPress member directories (or other types of directory). The new features make it ideal for many more types of tables such as table-based WordPress video galleries, event listings, audio libraries and playlists.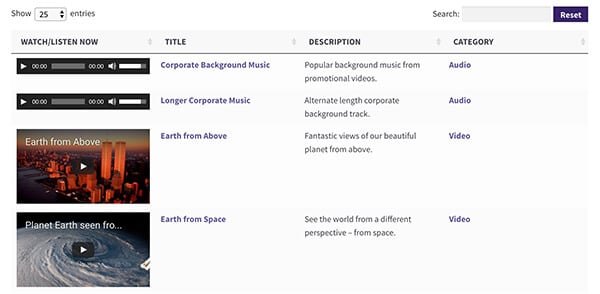 Play audio tracks directly from a WordPress table
We've added support for audio files embedded using the built-in WordPress audio embed shortcode. This means that your tables in WordPress can include actual audio players which can be listened to directly in the table. People can listen to your audio tracks directly from the WordPress table, without having to click through to the single post/page. This lets you create a table of audio listings, for example for a musician or band website.
To add an audio file to display to a table in WordPress, upload your file to the page or post using the Add Media button. You can add it to the main content or the excerpt. WordPress will automatically create a shortcode to embed the audio player into your page or post. You can then tell the table plugin to render the shortcode in the table by adding shortcodes="true" (see knowledge base).
You can see a table in WordPress with audio embeds in action on our new Audio and Video Gallery demo page.
Watch video directly from the tables in WordPress
As with audio tracks, the Posts Table Pro plugin now supports embedded WordPress video. Your visitors can watch videos directly from your tables in WordPress, without having to click to a separate page or third party site.
There are 2 ways to add videos which can be displayed in the WordPress table:
Either way, you can set up Posts Table Pro to display videos in your tables in WordPress by adding shortcodes="true" (see knowledge base).
You can see a WordPress table with embedded video in action on our new Audio and Video Gallery demo page.
Watch & listen to playlists in a WordPress table
As well as individual audio and video files, you can use WordPress' embedded audio and video playlists to display whole playlists in the table. This is perfect for video websites and featuring CD's with track listings. Your visitors can listen to entire playlists or a specific track directly from your tables in WordPress.

New filters above the table
We've had many requests for this feature so we're pleased to announce that you can now add search filters (dropdown lists) above your tables in WordPress. These let you filter by category, tag, author name or custom taxonomy (depending on which columns you have included).
Simply add filters=true to your shortcode to enable the filters above the table. You can see these WordPress table filters in action on the main plugin demo.

We've also added a reset button next to the search box which clears the current search and resets the drop-down filters for the table.
More control over your WordPress table elements
There are also new options that let you control the elements that appear above the below the table in WordPress. This lets you change the positioning of the 'Show X entries' section, the search box, the 'Showing X of X entries' text and the pagination buttons.
You can choose whether to show or hide these, or to display them above or below the table.
Display shortcodes in your tables in WordPress
There's now an option to display content generated by shortcodes in your WordPress table, in either the content or the excerpt column.
We've also fixed more bugs and made other minor improvements. As always, if you have any feedback or suggestions on how the Posts Table Pro plugin could help you create even better tables in WordPress, please get in touch.
That's all for now! We hope you like the new version of Posts Table Pro. If you haven't bought the plugin yet, it's available here. And if you like it enough to recommend, earn 30% commission for doing so as a Barn2 Media affiliate!