WooCommerce is designed for retail sales. So what happens if you want to sell to B2B users as well as (or instead of) public customers? The solution is to install a WooCommerce wholesale ordering plugin. This article will show you how.
There are some key differences between B2C (business-to-consumer) and B2B (business-to-business - i.e. wholesale) e-commerce. Everyone knows that B2B customers usually get a discount off the recommended retail price. However, there's a lot more to creating a professional wholesale ordering solution for your WordPress WooCommerce store.
Fortunately, it's really easy to get everything you need for successful wholesale ordering. Simply add the WooCommerce Wholesale Pro plugin, and it does all the hard work for you, Simple!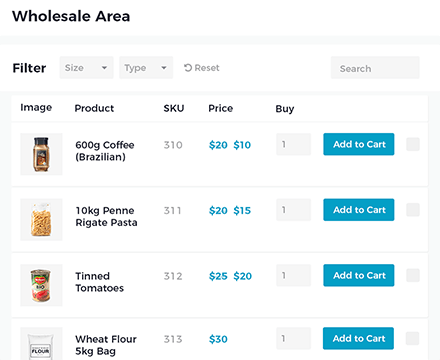 Install WooCommerce Wholesale Pro today and get a complete wholesale area - the easy way!
In this article, we'll look at 5 essential things that you need in order to add WooCommerce wholesale ordering. And even more importantly, you'll learn how to set it up. Let's get started!
You may also like our complete guide to WooCommerce wholesale plugins and how to use them.
5 essential features for a WooCommerce wholesale ordering system
1. Fully automated (no manual orders!)
Lots of business owners get it wrong by setting up online ordering for their retail sales, while handling wholesale ordering manually. What a nightmare!
By adding wholesale ordering to WooCommerce, you can free up time to focus on more important tasks such as business development. B2B customers can place orders directly on your website, which is a much more efficient way to do business.
2. One website, not two!
Many WooCommerce store owners decide to create 2 websites: one for their public retail online shop, and one for wholesale. These might be standalone, or a WordPress multisite.
This does the job, but can be confusing for your customers (what if they end up on the wrong site?). It's also a lot harder and more expensive for you to set up and maintain multiple websites. As well as the overheads of creating and running two websites, you need two versions of each product. This brings lots of products, for example the difficulties in managing stock across duplicate products.
The best WooCommerce wholesale ordering plugins will add a private wholesale area to your main WordPress website. One website, two types of store. Perfect!
3. Wholesale pricing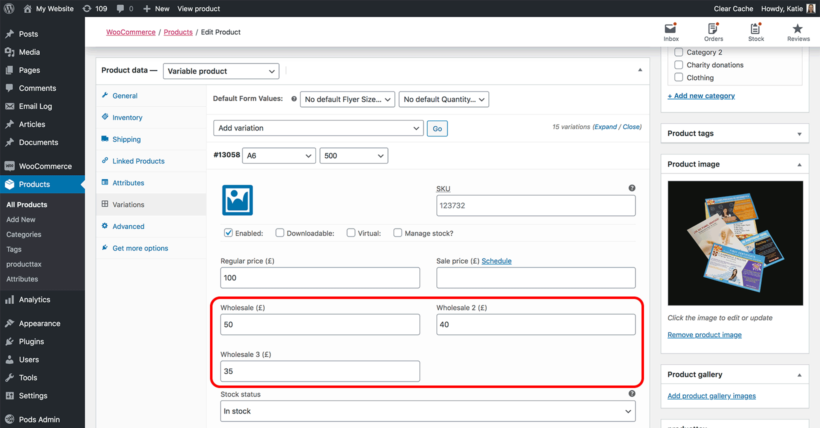 As with any wholesale system, a WooCommerce wholesale ordering plugin must allow you to charge different rates for the same product to B2B and B2C customers.
The WooCommerce Wholesale plugin makes this easy. You can add unlimited wholesale user roles, and each one will see the correct pricing for their role. There are plenty of ways to set wholesale prices. You can set trade discounts globally, per category or for each individual product or variation.
Public customers will have no idea that you have a private wholesale ordering area with special B2B pricing!
And of course, wholesale pricing only works if your ordering system has user-friendly registration and login forms. WooCommerce Wholesale Pro comes with these too.
4. Wholesale order forms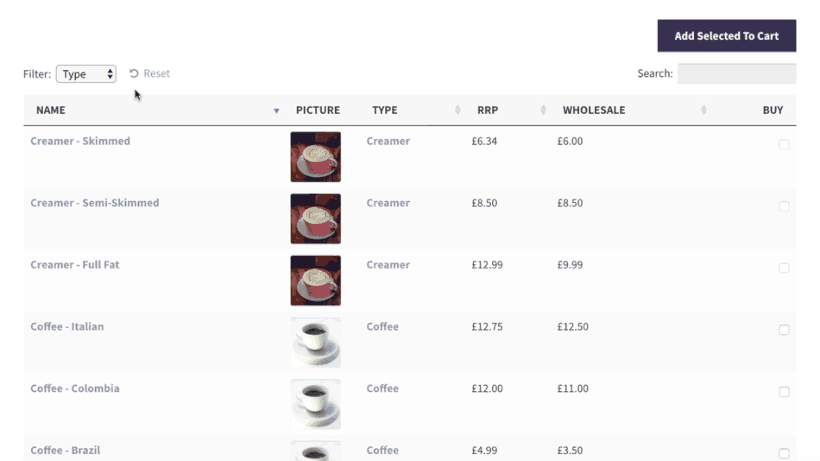 It's amazing how many e-commerce wholesale stores forget about this one.
Wholesale buyers have completely different needs from retail customers. A retail customer wants to spend time browsing to find the products they like. In contrast, B2B buyers are regular customers and already know what they need. As a result, they need a quick way to select the required items, choose quantities and variations, and add everything to the cart in one click. They certainly don't want to waste time looking at big pictures or visiting a separate page for each wholesale product.
The solution is to use WooCommerce Wholesale Pro with our WooCommerce Product Table plugin. You can select the two-plugin bundle when you buy WooCommerce Wholesale Pro. The Product Table plugin adds quick one-page wholesale ordering to your store.
Each product is listed in a B2B order form layout. Instead of having to visit a different page for each product, all the essential information appears in columns within the order form. Customers can select variations and quantities, and add wholesale products to the cart - all from one page.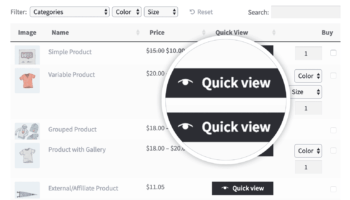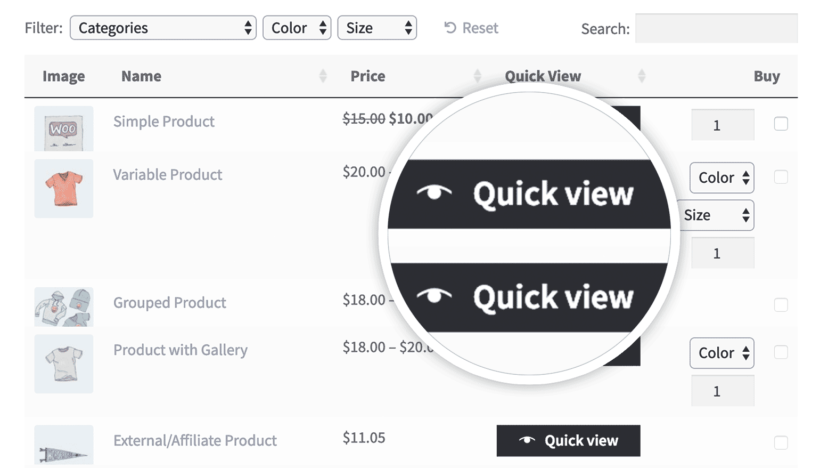 For even faster one-page wholesale ordering, you can add our WooCommerce Quick View Pro plugin. This is ideal if you want to show extra product data and purchase options that may not fit on your one-page WooCommerce wholesale order form.
For example, you might want to show a longer description that doesn't fit into the product table layout. Or you might have a lot of variations or add-ons that mean that each product takes up too much space on the order form.
WooCommerce Quick View Pro is the solution. You can improve your one-page wholesale ordering by adding quick view buttons to the product table. Wholesale customers can use these to view extra information, choose options and add to the cart from a quick view lightbox for each product. When they add a product to the cart, the lightbox closes and they immediately return to the wholesale ordering page. This makes it easy for them to purchase multiple products in a single order - essential for B2B ordering.
5. Trade-only products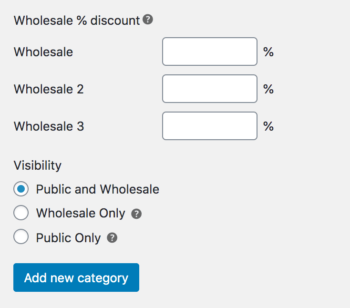 Finally, lots of WooCommerce wholesale ordering systems need to sell different products to the trade. You might sell most of the same products to public and wholesale users, while having a selection of wholesale-specific items. Alternatively, you might offer completely different products for B2C and B2B.
Either way, you can do this with the WooCommerce Wholesale plugin. Simply choose whether each product category is available to public customers, wholesale customers, or both.
How to add wholesale ordering to WooCommerce
As you can see, the WooCommerce Wholesale Pro plugin has everything you need to add a professional B2B area to your WordPress website. Next, let's learn how to set it up. If you have already installed WooCommerce and added some products then fortunately this only takes a few minutes.
Install the WooCommerce Wholesale Pro and WooCommerce Product Table plugins.
Go to WooCommerce → Settings → Wholesale and enter your license key.
Go through each page of the plugin settings and choose how you want your e-commerce wholesale ordering system to work. This will guide you through adding wholesale roles and global percentage discounts, enabling the order form layout in the wholesale area, and how you want wholesale registration to work.
(Optional) If required, you can also add wholesale discounts to categories (via Products → Categories) or individual products or variations (via the 'Edit Product' screen).
Finally, link to your wholesale login/registration page as needed, e.g. from your navigation menu or footer.
Your WooCommerce wholesale ordering system is complete!
Where to get the WooCommerce wholesale ordering plugin
WooCommerce Wholesale Pro is the perfect solution for all your wholesale ordering needs.
Comes complete with all the essential features for wholesale ordering.
Regular updates and new features.
Full documentation and video tutorials.
Expert support if you need any help or advice.
30-day guarantee - love it or your money back (no-risk)!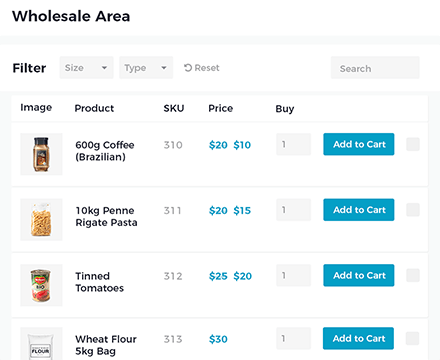 Install WooCommerce Wholesale Pro today and get a complete wholesale store - the easy way!
Alternatively, you can find more detailed setup instructions in our in-depth tutorial about how to build a WooCommerce wholesale store.