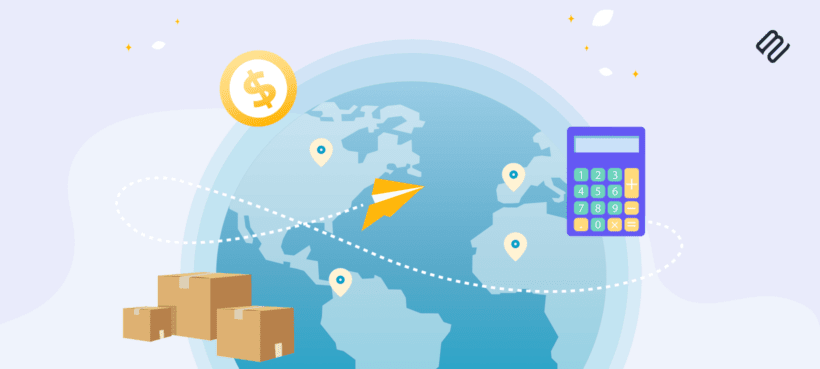 Shipping costs can make or break a customer's purchasing decision. As an online business owner, you need to provide customers with accurate shipping rates, so they can make informed decisions. This is where the WooCommerce shipping cost calculator comes into play.
A WooCommerce shipping calculator can make the difference between them clicking "checkout" or abandoning their cart altogether. Being transparent with your shipping rates upfront can save you from losing potential customers.
However, WooCommerce itself only lets shoppers calculate shipping after adding a product to the cart. Isn't that strange? 🙃 Fortunately, there's an easy solution.
In this article, we'll dive into the importance of having a shipping calculator and how it can improve your sales and customer satisfaction. We'll also look at how to display the WooCommerce shipping calculator when and where your customers need it. You can also watch this video, for a complete step-by-step tutorial.
How to let customers calculate shipping costs in WooCommerce
According to research conducted by Baymard Institute, almost half (48%) of customers who abandon their cart mention the cost of shipping and additional fees as the main reason behind their decision.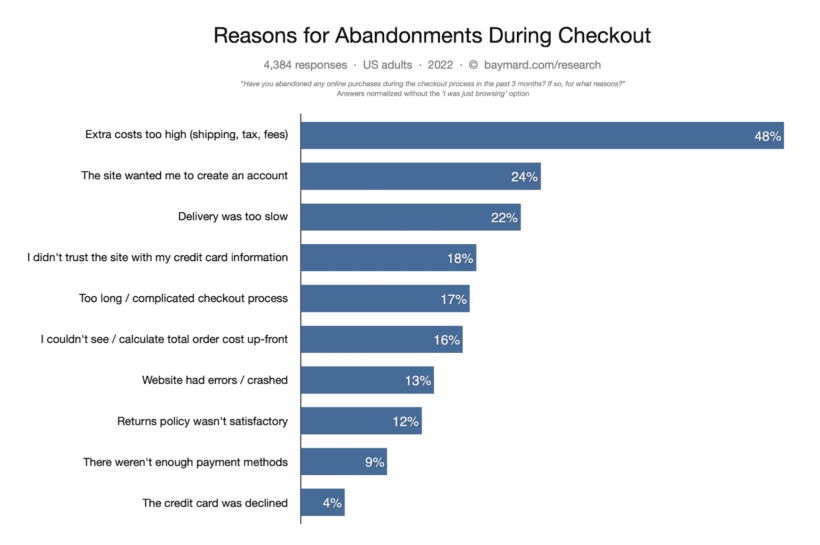 Providing customers with accurate shipping calculations can play an important role in customer satisfaction and conversion rates.
If the customers know the exact shipping costs upfront, it leads to informed buying decisions and avoids unpleasant surprises during the checkout process. This helps to make your WooCommerce store more successful.
Does WooCommerce calculate shipping costs?
WooCommerce comes with a built-in shipping calculator which is located on the Settings page under the Shipping tab. Here, you can set up your shipping zones, shipping classes, and shipping rates based on different factors like destination, quantity, cost of items, and more.
On the 'Shipping options' page, you can choose whether or not to show the shipping calculator on the cart page.
The built-in WooCommerce shipping calculator can appear on the cart and/or checkout page. Once you have set the shipping rules, the shipping calculator will automatically calculate the cost in real time based on the customer's shipping address and the shipping method selected. It already knows where you will be shipping from (i.e. the location of your WooCommerce store). Knowing the customer's address gives your online store everything is needs to calculate the correct postage.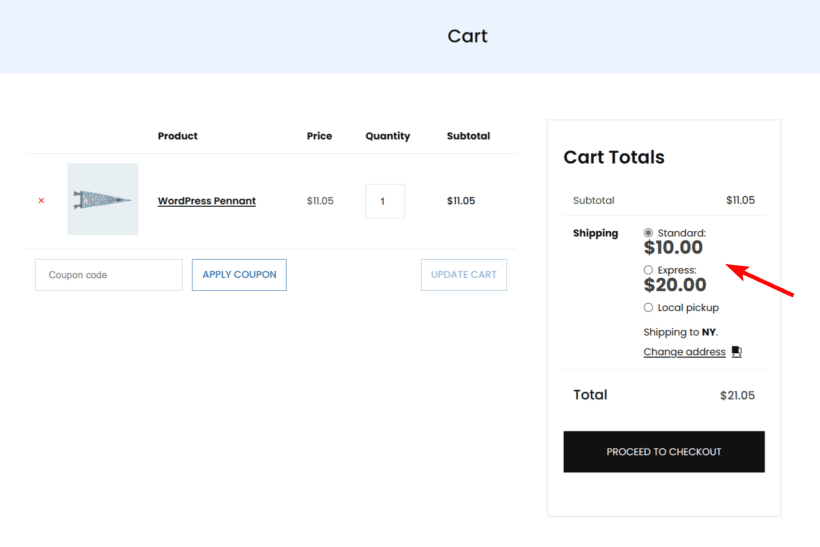 You can integrate it with popular shipping carriers such as USPS, Canada Post, FedEx, Elex, DHL and more using the many WooCommerce shipping integration plugins available.
Factors impacting shipping rates for WooCommerce
Shipping costs for WooCommerce can be impacted by various factors, especially if you have multiple shipping zones or if you use an advanced shipping plugin like Product Shipping. To prevent cart abandonment, it's important that customers can easily calculate the shipping cost before moving to their cart page.
Below are some factors that can impact shipping prices:
Weight
Product weight is one of the most important factors influencing shipping costs. Generally, the heavier a package is, the more it costs to ship. Shipping carriers typically charge by weight, and if the package is heavy, it may incur additional surcharges.
Size
The size of the package is another factor that influences shipping costs. This is because the larger the package, the more handling and space is required in the shipping vehicle.
Distance
The distance between the shipment origin and destination is also important. Delivering to far-off locations typically takes more time, fuel, and labor. This, in turn, drives up the cost of shipping. Therefore, the shipping rate for an order can be higher if the delivery address is located in a remote area.
Cost of product
Some shipping carriers factor in the product's cost when calculating shipping costs. This is because expensive items usually require higher insurance fees to be transported safely. By doing so, the shipping carrier ensures that high-value items are protected during transit.
Shipment volume
If the shipment volume is high, the cost per product is reduced due to economies of scale. Similarly, low shipment volumes may increase the per-unit cost of shipping, leading to an increase in the overall cost of shipment.
Delivery times
Finally, delivery times and speed can impact shipping rates. Many couriers offer an express delivery option that guarantees faster delivery. However, such services usually come at a premium. Customers who need their orders delivered promptly should expect to pay more for faster shipping.
That's it! Understanding the above factors can help eCommerce store owners to better price their products and shipping fees.
Limitations of the default WooCommerce shipping calculator
The built-in WooCommerce shipping calculator allows customers to calculate shipping charges during the checkout process. However, this calculator does have some limitations, the worst of which are its availability only on the WooCommerce cart and checkout pages.
This can lead to unpleasant surprises which results in cart abandonment. According to another survey, 22% of respondents cited shipping and handling fees listed too late during the checkout process as a reason for abandoning their cart.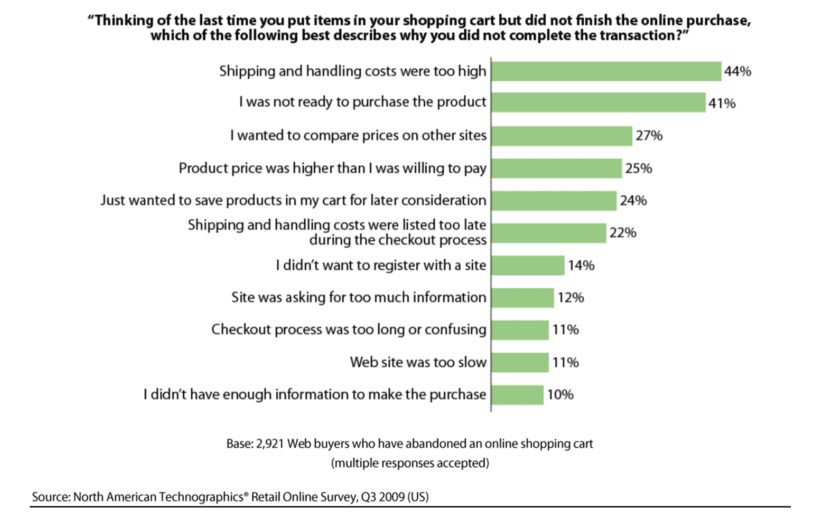 That's why including a shipping calculator on the product page itself can allow customers to accurately calculate the total cost of their purchase upfront. This potentially reduces cart abandonment.
What sort of products need a product page shipping calculator?
Basically, any product that you charge shipping for can benefit from displaying a shipping calculator right on the WooCommerce product page. However, here are some specific examples where it's particularly important to display shipping costs upfront:
Large or heavy items Large or heavy products such as furniture, and home appliances require additional handling and packaging. This may incur higher shipping costs depending on the weight and distance.
Perishable goods Items with specific shipping requirements, such as temperature control or limited shelf life, can result in higher shipping costs.
Items with variable shipping rates Products with shipping costs that depend on factors such as shipping location, packaging, or shipping method.
Fragile items Delicate products such as glassware, artwork, or electronics, require special handling and packaging. The additional labor, materials, and insurance required for transporting these items impact their shipping cost.
Custom or made-to-order products Items like personalized jewelry or custom artwork may require additional handling and production time. This affects shipping estimates and potentially leads to higher shipping costs.
Items with restricted shipping Products that require special packaging, handling, and licensing may influence shipping costs and available carriers.
International sales Products sold to customers in different countries entail additional customs, duties, and taxes, impacting the total cost of shipping. A shipping calculator that incorporates these factors would help customers understand the total cost of shipping a product overseas.
High-value items Expensive items such as jewelry or electronics that require insurance or secure shipping methods, impact shipping costs.
Seasonal or time-sensitive products Items with limited availability or that must arrive within a specific time frame can affect shipping options and costs.
Items requiring special shipping services Products that need additional services like a signature confirmation or expedited delivery, lead to variable shipping costs.
A shipping calculator that can provide accurate delivery costs for such products will help customers make informed purchasing decisions.
The best WooCommerce shipping calculator plugin
The shipping calculator plugin that stands out as the best is WooCommerce Shipping Calculator. This is a comprehensive and user-friendly WordPress plugin that allows you to get more conversions by displaying the WooCommerce shipping calculator on product pages.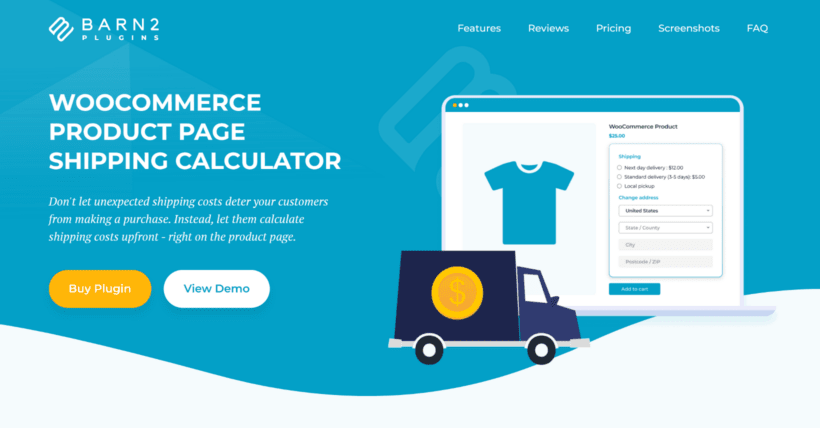 This means that customers can easily calculate shipping costs on the product page before adding the item to their cart.
One great advantage of this plugin is that it lets you choose from 7+ different locations on the product page to display the shipping calculator. This includes: in a separate tab,  after the product description, above the add to cart button, or in any other location that you want. And the best part, it works with any theme without the need for extra styling.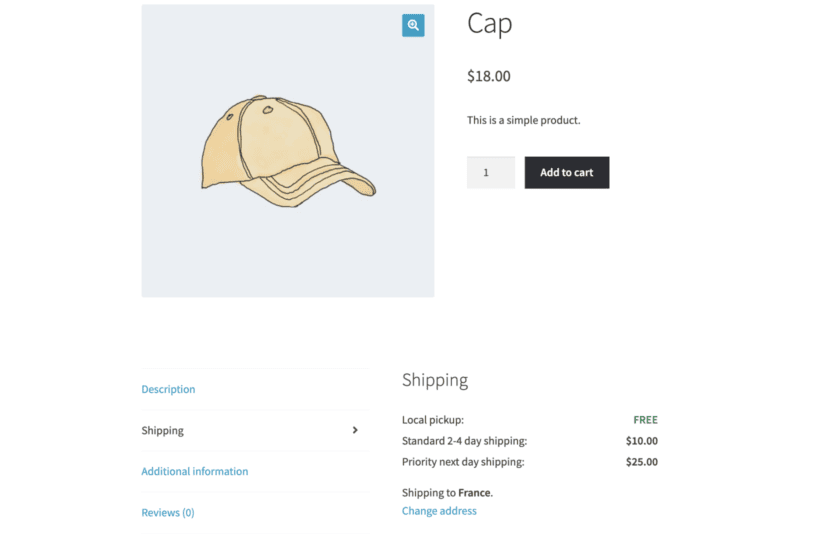 Some of the benefits of using this plugin  are:
Improved customer experienceProviding shipping cost information upfront helps customers make informed purchasing decisions and manage their expectations regarding total costs.
Reduced cart abandonmentBy displaying shipping costs on the product page, customers are less likely to abandon their carts due to unexpected shipping fees during the checkout process.
Increased trust and transparencyDisplaying shipping costs early in the shopping process demonstrates openness and honesty, fostering trust between the store and its customers.
Greater flexibility for complex shipping scenariosA product page shipping calculator can help customers understand the costs associated with various shipping options, such as expedited or international delivery.
Increased conversion ratesWhen customers have access to shipping information upfront, they are more likely to complete their purchases, leading to higher conversion rates.
How to add a WooCommerce shipping calculator to the product page
Once you've installed the WooCommerce Shipping Calculator plugin, it only takes a couple of minutes to add the calculator to product pages:
Install the plugin on your WordPress website.
The plugin setup wizard will open automatically. Activate the license key from your confirmation email.
On the next page, choose a position for the shipping calculator to appear on the product page.
View a product page and you will see the WooCommerce shipping calculator in your chosen position. It's that simple!
How the postage calculator looks on the front end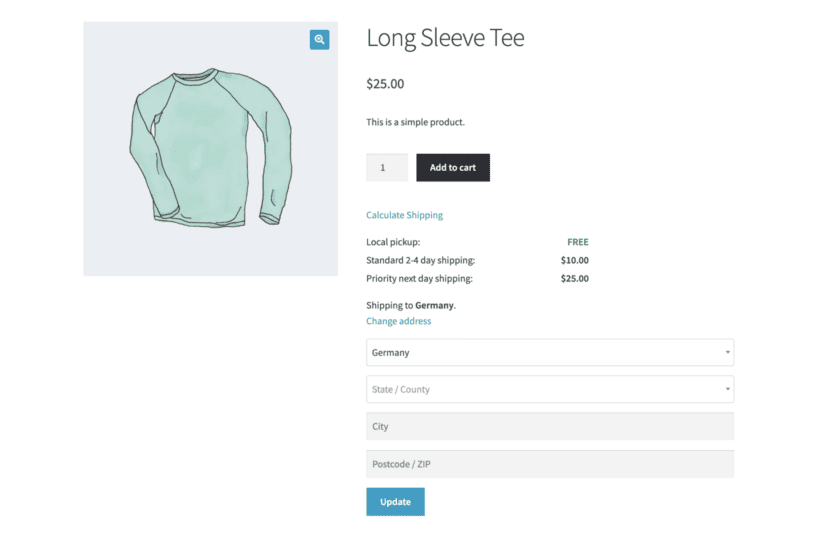 When customers view a WooCommerce single product page, they will see a shipping calculator in the position that you selected in the settings. They can enter their address to calculate the correct shipping to their location. Shoppers can calculate the shipping cost by entering their full address including postcode/zip code, or just selecting their country.
When WooCommerce knows the customer's location, it will identify which shipping zone they are in. The shipping calculator on the product page will list the shipping rates available for that zone. This could just be one shipping option, or it could be several if you have added some flexible shipping options. For example, the WooCommerce shipping calculator could list any or all of the following shipping options:
Local pickup.
Free shipping (which can either be available to everyone, or available to people who spend a certain amount or enter a coupon).
One or more flat rate shipping policies (e.g. you might have a choice of standard and priority shipping, each with a different cost).
Additional shipping options, for example if you're using WooCommerce shipping add-ons like Product Shipping.
How are shipping costs calculated on product pages?
The plugin is smart and only shows the WooCommerce shipping calculator on products where shipping is charged, i.e. physical products. It remains hidden for other product types, such as virtual and downloadable products.
If you charge flat rate shipping per order, regardless of how much the customer purchases, then the exact shipping cost will always be shown on the product page. Customers can enter or change their address to view the correct cost based on their shipping zone.
The logic is a bit different if you have a table rate or weight-based shipping plugin installed. In that case, the cost shown will be based on the product on the current page. If the customer already has products in their cart, then the shipping cost will be calculated based on those products plus the current product. This gives the customer the most accurate idea of the likely shipping cost.
Either way, the plugin does all the calculations for you and you don't need to do anything. Just set up the plugin and relax knowing that customers can finally calculate shipping costs before adding products to the cart.
Bonus: Add a WooCommerce shipping calculator to a quick view lightbox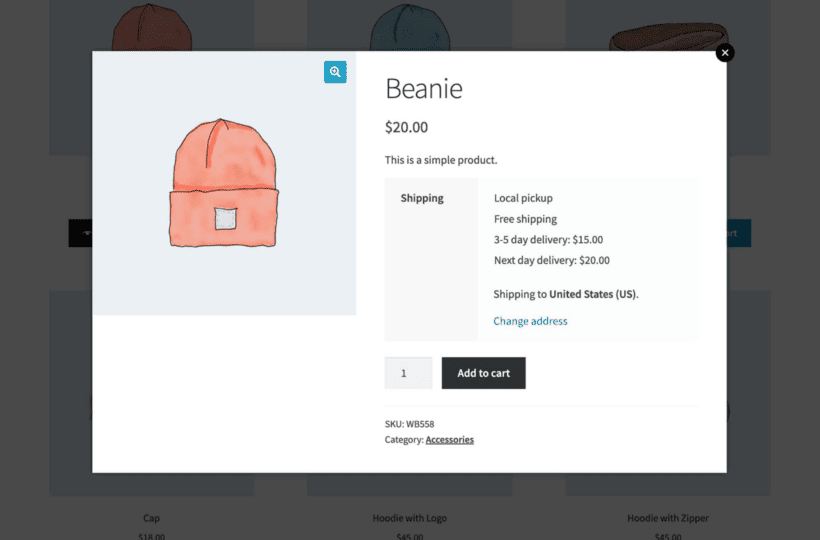 If you're looking to further streamline the shopping experience of your customers, then adding a shipping calculator to a quick view lightbox is an excellent solution. One of the easiest ways to do this is by integrating the shipping calculator with the Quick View Pro plugin.
Quick View Pro adds quick view buttons to your shop and category pages. Customers can click on these buttons to view extra product information in a lightbox. This saves them from having to visit a separate page for each product.
The integration of the shipping calculator with Quick View Pro adds the calculator to the quick view lightbox. This provides an even quicker way for customers to find the shipping cost. As a result, customers will have a smoother and faster shopping experience, leading to higher conversions for your business.
Wrapping up: Why shipping calculators are essential for WooCommerce businesses
Displaying a shipping calculator on the product page is a great way to give customers upfront information about shipping costs. This helps reduces cart abandonment that may happen due to unpleasant surprises during the checkout process.
With the WooCommerce Shipping Calculator plugin, you can easily add a shipping calculator to the product page. It comes with 16+ shipping calculator locations, so you can choose where it appears on the WooCommerce product page.
Additionally, integrating it with other WooCommerce plugins, such as Quick View Pro, can further enhance your customers' shopping experience.