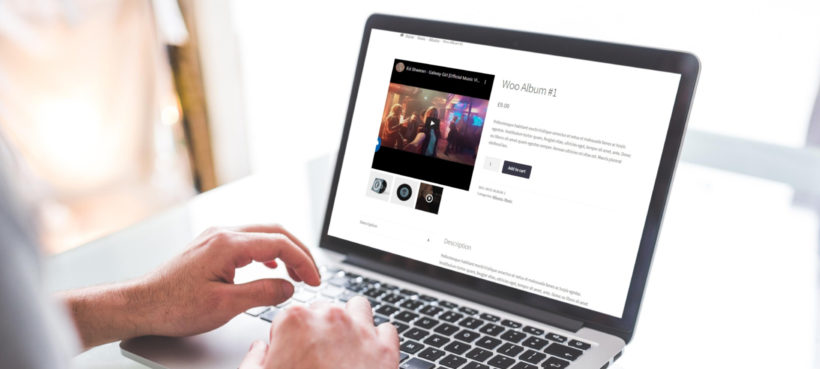 Adding a WooCommerce product video to your store will provide a much more engaging online shopping experience and dramatically increase your conversions. But to demonstrate your product or service in a way that a photo never could, you'll need the help of a plugin. 
In an out-of-the-box WooCommerce installation, there isn't an option to add videos to the product gallery on the single product page. Given the powerful impact of video content, you might have already spent hours looking at ways you can add it to your product pages.
The good news is, there's no need to continue your search for an answer. In this article, we'll explain how you can add a product video to your WooCommerce gallery in just a few steps. We'll do it using the excellent WooThumbs plugin by Iconic.
Later, you'll also learn how to add video to the main shop and category pages.
Why adding a product video to your WooCommerce store will help you increase sales
The statistics for video content speak for themselves. According to the latest research carried out by Wyzowl:
78% of video marketers say video has directly helped increase sales.
84% of people say that they've been convinced to buy a product or service by watching a brand's video.
When consumers were asked how they'd most like to learn about a product or service, 69% said they'd prefer to watch a short video.
In the same survey, Wyzowl reported 94% of video marketers say video has helped increase user understanding of their product or service. So if you sell a product or service that requires a little explanation, video content will be the most effective medium.
Another positive side effect of adding videos to product pages is that potential customers will spend longer on your website. This is an outcome you should be targeting since the longer someone spends on your site, the more likely they are to purchase from your store.
With the statistics covered, let's give you a few real-world scenarios that demonstrate why you need to add video content to your WooCommerce product pages.
Scenario #1: Selling unique physical products
Let's take pet products as an example. If you have a new dog toy that's totally unique in some way, customers will need to see a video to understand how it works. A photo of the product, no matter how professional, will not be able to demonstrate how a brand new product works.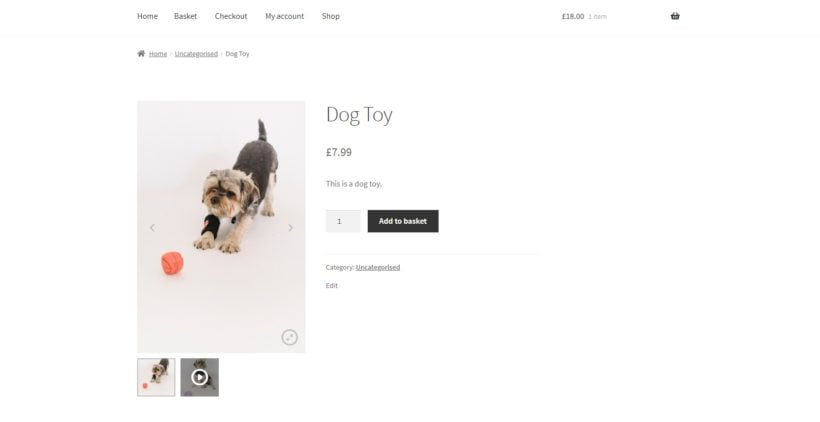 If a customer fails to understand how a product works, they will be hesitant about purchasing. However, by adding video content, you can demonstrate exactly how the product benefits them. As a bonus, you'll help customers picture themselves using your toy with their pet.
Scenario #2: Selling digital products and services
Of course, not all WooCommerce stores sell physical products. Many sell Software as a Service (SaaS) or digital products. If you operate this type of online store, then video content is even more critical.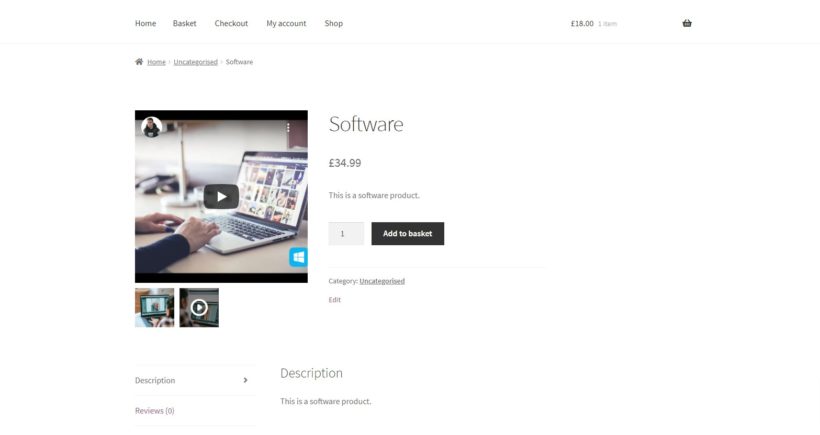 For instance, without an explainer video, it will likely become much harder to convey the benefits of your SaaS offering. It's no accident that 96% of people have watched an explainer video to learn more about a product or service. So, adding a video to your product page should be of the utmost priority if you are selling services online.
Scenario #3: Selling clothing and fashion items
When it comes to the fashion industry, customers like to see how the clothing moves, how it fits, and how thick or thin the material is. They don't have catwalks for no reason!
The problem is, these are details that are challenging to convey in a photo. For instance, a photo of a fitted shirt won't allow customers to gauge how the fabric stretches under the pressure of movement or see the quality of the materials used.
Add video to your product gallery with WooThumbs for WooCommerce
While there's no video option in the standard Woocommerce product gallery, you can easily add video content with the WooThumbs for WooCommerce plugin.
This plugin gives you the ability to embed video directly into the product gallery for maximum impact.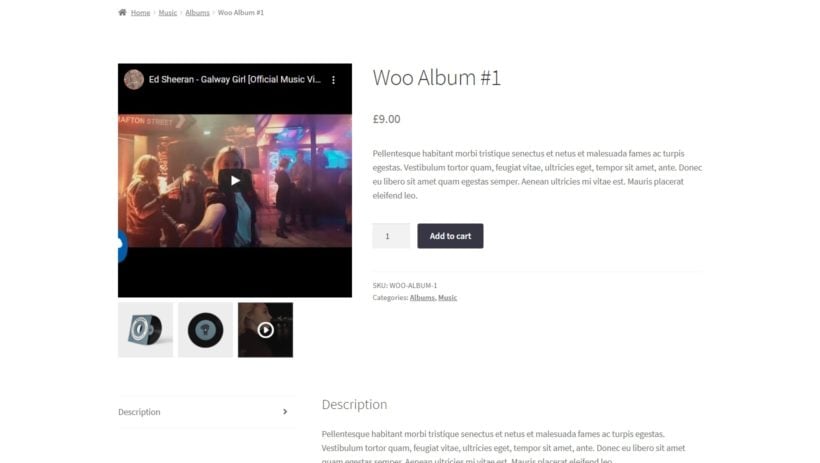 The added benefit is that you can host your videos wherever you please. Whether it's YouTube, Vimeo, or self-hosted in WordPress, you can use this plugin to embed your videos straight into the product gallery.
This easy-to-use plugin also allows you to take control of your WooCommerce product gallery. You can customize the product gallery to your heart's content, including adding zoom options and sliding thumbnails for browsing convenience.
Here's a brief overview of some of the key video features available within WooThumbs for WooCommerce: 
Change the product gallery layout to suit your specific products and theme.
Embed video directly into the product gallery for maximum impact.
Autoplay and loop video to reduce friction for your customers.
Host videos where you like - WooThumbs will play YouTube, Vimeo, and even self-hosted MP4 videos.
Multiple media embed options available, including Soundcloud, Wistia, or any page via an iframe.
Ultra-fast loading times with advanced caching.
How to add a product video to your WooCommerce gallery
For this tutorial, you'll need a WooCommerce site with products already set up. You'll also need to purchase the WooThumbs for WooCommerce plugin, which you can find here
Step #1: Install WooThumbs for WooCommerce
Once you've purchased WooThumbs for WooCommerce from the Iconic store, you need to take the following steps:
Go to Plugins → Add New → Upload Plugin.
Choose the zip file you downloaded, upload, and then click Activate.
Once activated, you'll need to enter your license key.
With WooThumbs for WooCommerce now installed, we can move on to adding a video to your product gallery.
Step #2: Add a WooCommerce product video to your gallery
For the purposes of this tutorial, we will walk you through how to embed a video from YouTube or Vimeo. To learn how to add embedded HTML files or self-hosted videos, follow the instructions found here.
To add a video from YouTube or Vimeo: 
Copy the URL of the Vimeo video or YouTube video you want to show in your product gallery (save this because we'll need it later).
Go to Products → All Products.
Select the product you want to add the video to.
Navigate down to the Product Gallery module on the product page.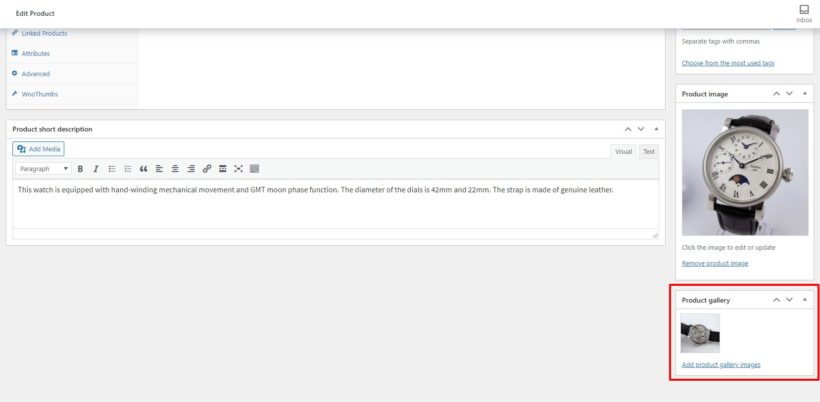 Click the Add Product Gallery Images link.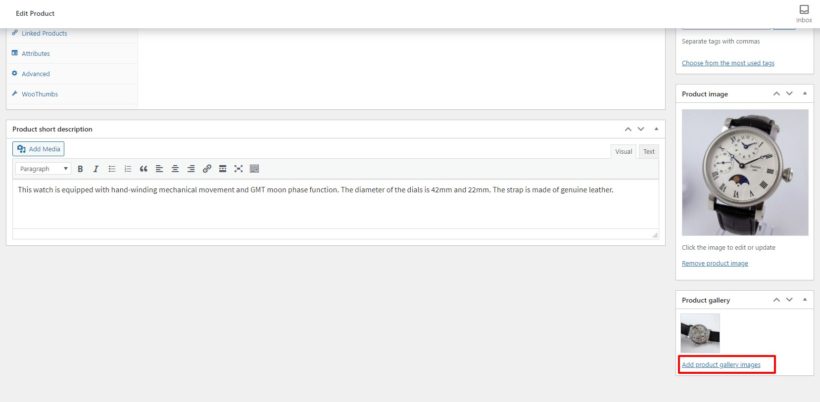 This is the point where you'll need to upload an image thumbnail for your video. This thumbnail will appear as the preview image for your video in the WooCommerce product image gallery. Once clicked, it will then play the embedded video.
Once you have chosen your image: 
Upload your image to the product gallery.
In the URL field of your uploaded image, paste the URL from YouTube or Vimeo.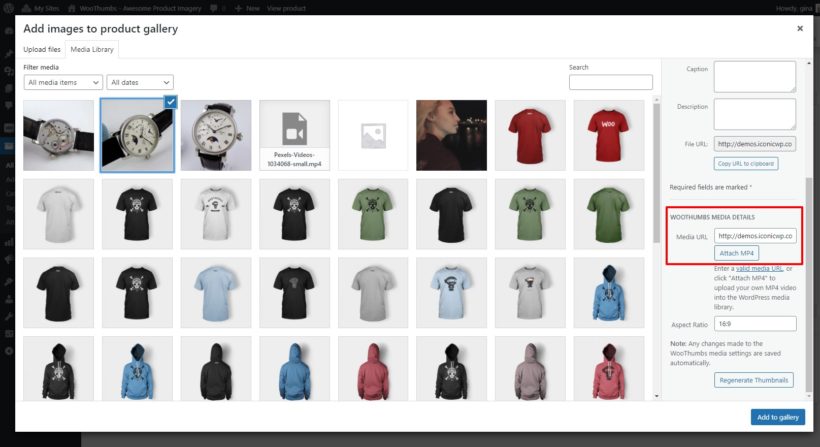 Then, set your aspect ratio.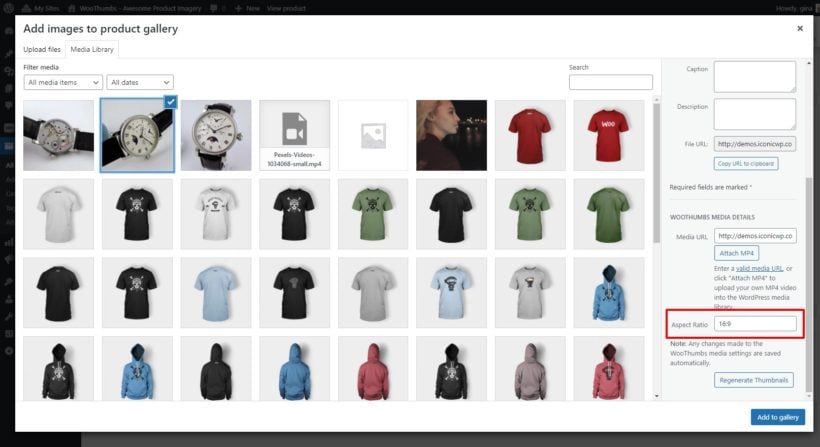 There's no save button here because WordPress automatically saves media, so just exit the media library and go back to your product page.
Save or Update your product to finalize the changes.
All that's left for you to do is visit the page of the product you've been editing and look at the video you've just uploaded to make sure everything looks great!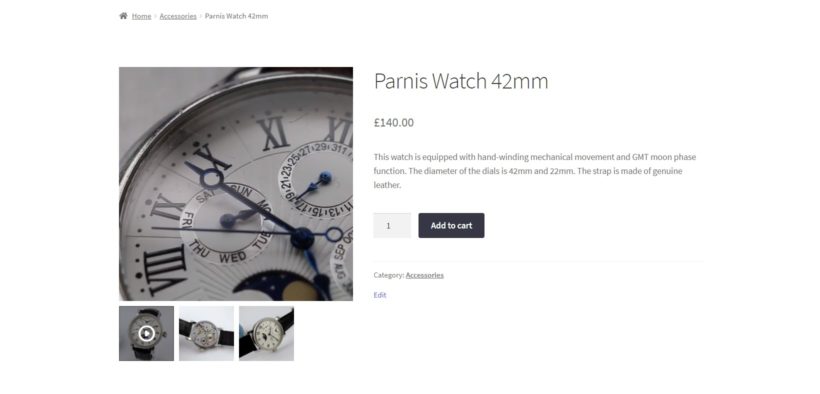 Customize the product page further
Adding a WooCommerce product video to your gallery may open your eyes to the whole world of customization possibilities available to you with the help of plugins.
One of the great features of the WooThumbs for WooCommerce plugin is that it works nicely alongside other plugins. So, if you're worried about redesigning other elements of your product page, you shouldn't be. WooThumbs will accommodate almost all other plugins that interact with the plugin.
For instance, you can use the WooThumbs plugin in tandem with our very own WooCommerce Bulk Variations. When used together, you can benefit from the upgraded product gallery (using WooThumbs) and the user-friendly variations table (using Bulk Variations).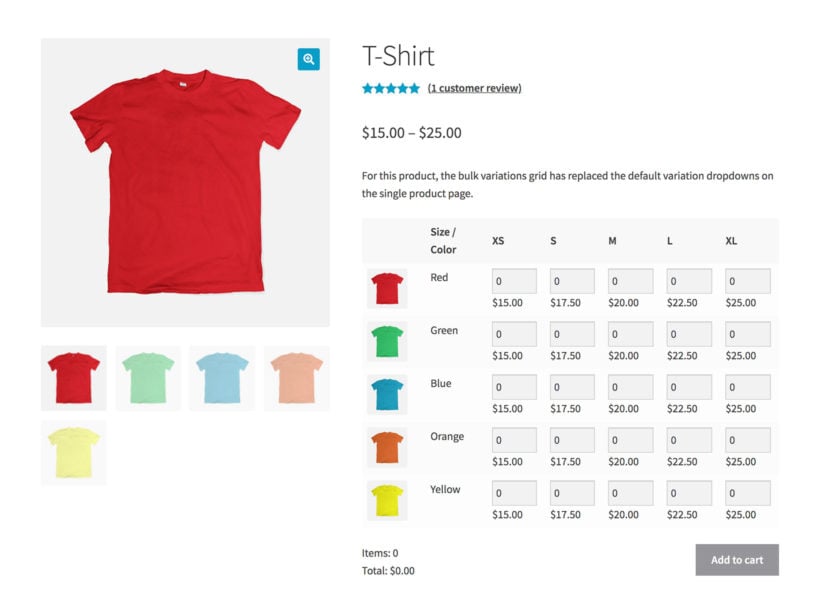 Another Iconic plugin, WooCommerce Attribute Swatches, allows you to combine your new videos in the product gallery with eye-catching images and color swatches. Using this upgrade together with a product video from WooThumbs will deliver a far more engaging online shopping experience.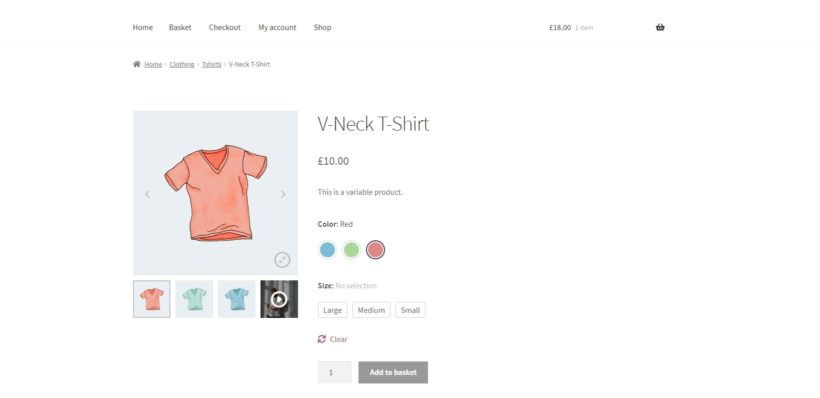 Add product videos to the shop and category pages
So far we've looked at how to add video to the single product page. Now let's take it a step further by adding it to the shop and category pages with WooCommerce Product Table.
WooCommerce Product Table replaces the standard WooCommerce shop page layout and transforms it into a searchable, sortable table. This table can include various product data from custom fields to attributes and of course, videos.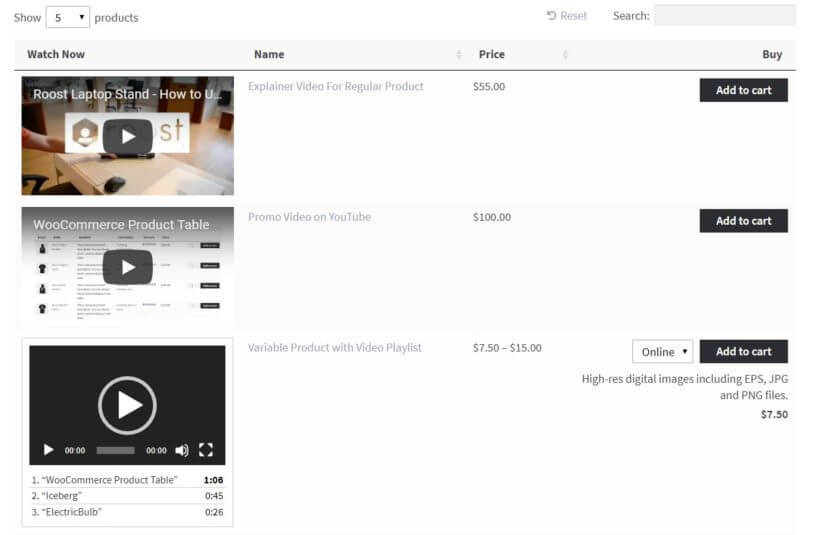 Read our in-depth guide on how to create a WooCommerce video gallery for your shop and category pages. 
Add WooCommerce product videos to your gallery using WooThumbs for WooCommerce
Video content is key to driving up conversions for your WooCommerce store, no matter what type of products or services you sell.
Whether you want to add explainer videos, product demonstrations, or promotional content, video is king when it comes to conversions and customer satisfaction.
To get around the restrictive default WooCommerce setup, you'll need to install the WooThumbs for WooCommerce plugin. By installing this straightforward plugin, you can quickly and easily upload videos to your single product pages and witness the dramatic difference they make to the customer journey.
Use it together with WooCommerce Product Table to add videos to your wider shop pages too.