This article will help you choose the best WordPress client area plugin to create a WooCommerce private area.
It compares 2 plugins: WooCommerce Private Store and WooCommerce Protected Categories. We'll look at both plugins, their features and what sort of websites they are intended for.
This will help you to choose the right plugin for your own WooCommerce client area. You can then get your chosen plugin and start setting it up!
Quiz - Help me choose a plugin!
WooCommerce private area plugins - a quick summary
WooCommerce Private Store hides all elements of WooCommerce, so your whole store will be private and hidden behind a single password. You can have a shared password for everyone, or a separate password for each customer. Alternatively, you can automatically unlock your WooCommerce customer area for logged in users or specific user roles.
WooCommerce Protected Categories hides specific categories within your store, and the products within those categories. The rest of your store can remain public. There are several ways to protect categories with this plugin. You can password protect categories, or make them visible to certain logged in users or roles.
Here's a video guiding you through both WooCommerce private area plugins. You can also read the information below to help you choose the right one.
Which private area plugin is best for you?
To choose a WooCommerce client area plugin for your site, read these 2 lists. Think about which list best applies to you.
Do you: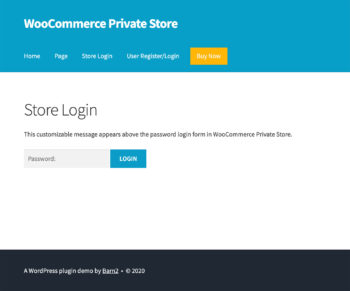 Sell the same products to all your customers?
Want to complete a completely hidden WooCommerce private shop, with no public area? The rest of your website such as the homepage will still be public, but all elements of your shop will be private.
Need the convenience of a simple password to unlock your whole store which you can give your customers?
Want your WooCommerce store to be hidden from guest users and visible to logged in users?
Require all parts of WooCommerce to be 100% hidden from your menus, widgets, site search, search engines, sitemaps etc. including the main shop page, categories, products and tags? (Note: You can still have a public link to the login page, or you can hide this too.)
If this is you then I recommend WooCommerce Private Store.
Do you:
Sell different products to different customers?
Want public AND private areas of your WooCommerce store?
Need to password protect specific categories, or hide categories so that only specific users or roles can see them?
If this is you then I recommend WooCommerce Protected Categories.
How do I use these plugins?
The first port of call is to read the WooCommerce Private Store documentation and WooCommerce Protected Categories documentation. We've also provided some useful tutorials on using the WooCommerce private area plugins in different ways:
It's time to create your own WooCommerce private area
I hope this article has helped you to choose a WooCommerce private area for your store.