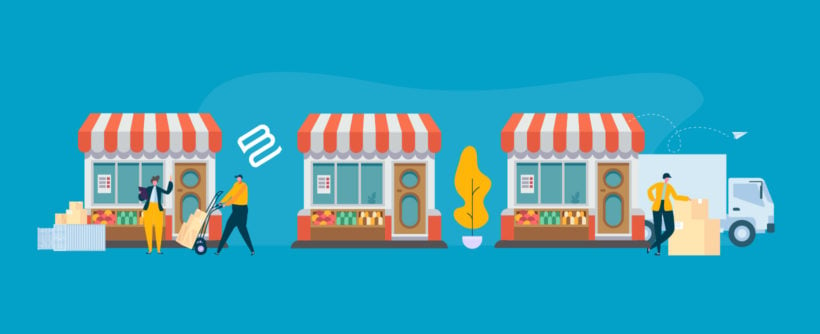 Starting an online business can be a daunting task, especially for those who are just getting started. However, setting up a WooCommerce dropshipping store is an excellent option for solopreneurs who want to start selling online without investing a lot of money upfront. It enables entrepreneurs to quickly reach out to customers, establish their brand, and efficiently handle customer orders.
In this tutorial, we'll guide you through the process of setting up your WooCommerce dropshipping store. We'll provide you with a step-by-step approach to creating a store with product delivery and lead times. Additionally, we'll provide you with valuable insights on how to select the best products and suppliers for your store. With our easy-to-follow guide, you'll be well on your way to creating a profitable online store that can help you achieve your business goals.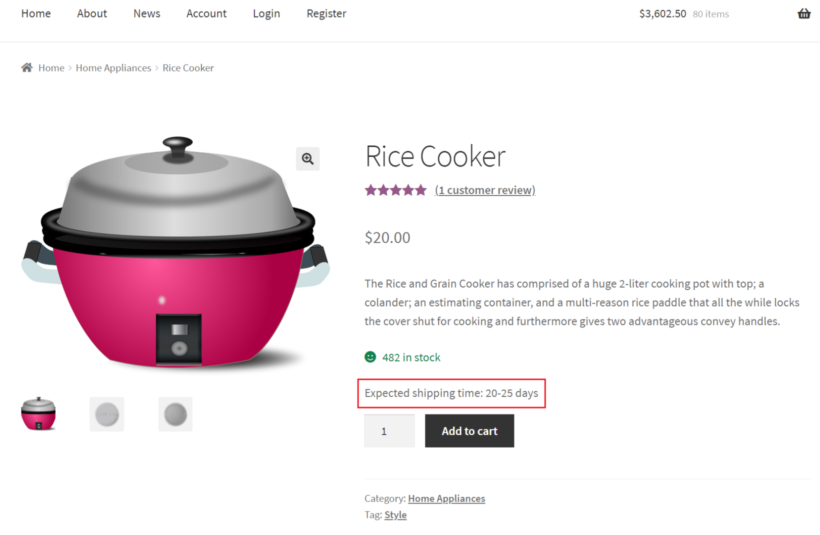 Let's put everything into context before we begin.
What is dropshipping?
Dropshipping is a popular business model for entrepreneurs looking to start an online store without having to deal with the hassle of managing inventory. With WooCommerce dropshipping, you can sell products online without ever having to physically handle them or store them in a warehouse. Essentially, you act as a middleman between the supplier and the customer. When a customer places an order on your website, the supplier ships the product directly to the customer on your behalf.
This model has several benefits, including lower startup costs and the ability to quickly launch an e-commerce business. Because you don't have to worry about storing inventory or managing shipping logistics, you can focus on other aspects of your business, such as marketing and customer service. Additionally, you have the flexibility to offer a wide variety of products without having to invest in physical inventory. All you have to do is find a reliable supplier and set up your online store.
How dropshipping works
Amazon, eBay, and WooCommerce are some of the main channels of dropshipping. Setting up a WooCommerce dropshipping store in WordPress is incredibly easy and you're able to set up most things using WordPress plugins and extensions. It goes something like this:
Set up a WordPress dropshipping website and stock it with items that best fit your niche or industry.
Use different marketing channels and strategies – such as Facebook Ads, inbound marketing tactics, and Twitter marketing – to promote your products by sharing product images.
When a customer visits your website and purchases a product, send a notification to your dropshipping supplier or seller and handle the payment gateways process which includes collecting customer details. Also, make sure your return and refund policy is transparent and easy to understand.
Your supplier will pack and ship the ordered products to the customer (typically via ePacket) and you'll send a notification to the customer with information about when they can expect to receive their product.
Import products from the supplier and add the customer's shipping address to the package.
Dropshipping is a lucrative way to make money online, though you can't expect to simply list different products on your e-commerce website and become successful overnight. To become profitable, you'll need to follow dropshipping marketing techniques and strategies which will help you attract potential customers and increase sales.
Different dropshippers have different needs. For instance, some may use a plugin that offers integration with AliExpress (for suppliers located in China), while others may go for other shipping solutions (for Europe and US) such as Spocket for better delivery times.
Here are some of the basic tools you'll need to create a WooCommerce dropshipping store:
WordPress site.
The free WooCommerce plugin (as the e-commerce platform).
Reliable WooCommerce hosting plan (we recommend Kinsta).
A dropshipping plugin or add-on that's compatible with WooCommerce such as WooCommerce Dropshipping, WooDropship, DropshipMe, or AliDropship - more on this later.
WooCommerce Lead Time to display the waiting time for each product (because different dropshipping products have different lead times).
What you need to create a dropshipping store
Creating a dropshipping store is a popular option for small business owners and solo entrepreneurs looking to start an e-commerce business without the need for a large initial investment. To set up your own dropshipping store in WordPress, you will need to follow two basic steps.
The first step is to find WooCommerce dropshipping products and suppliers. There are various ways to find reliable dropshipping suppliers, such as searching online directories, attending trade shows, or contacting manufacturers directly. Once you have found a supplier, you can import their products to your website using a plugin or tool.
The second step is to set up an e-commerce store. This involves choosing a platform, selecting a theme, and configuring your website settings. You will also need to set up payment gateways and shipping methods and create product pages with descriptions and images. With these two steps in place, you can launch your dropshipping store and start selling products to your customers.
#1: Dropshipping products and suppliers
To get started, you need to find good, high-quality products that you'll be selling via your WooCommerce dropshipping.
The products. This involves finding good quality products in your particular niche that are trending or in demand. As is the case with any other store, you need to ensure your target market is willing to buy the products you choose to dropship in checkout. Before you decide on a product, make sure that the market isn't already saturated with such products. Dropshipping is popular for all sorts of WooCommerce stores. This includes print on demand, physical products, and much more.
A reliable supplier. Find a supplier who can deliver those products to customers in a reliable and timely manner. It also helps if they offer unwavering after-sales service to the consumers.
Your supplier has a crucial role in the order fulfillment process. This is why it's important to ensure that the supplier you go with can deliver top-notch service.
#2: An e-commerce store
After you have identified the products you'd like to dropship and a supplier to open-source them from, you can start setting up an e-commerce store.
Some businesses use e-commerce sites like Amazon and eBay to dropship their products. However, we don't recommend selling through an online marketplace because they're likely already swamped with similar products and will make it difficult for you to differentiate your brand.
Instead, you should consider creating your own e-commerce store. Although this won't give you access to an established audience the way Amazon does, there are some standout benefits of setting up your own dropshipping store. These include:
Differentiate your products with branding.
With sites like eBay and Amazon, you have to compete with other sellers who might be offering similar (or even the exact same) products. By owning your online store, you'll have a dedicated platform to sell your own products without any competition.
Email marketing.
With your own online store, you can build an email list of your customers and use it to sell more products and run promotional campaigns.
Full control over your store.
You don't have to worry about issues such as getting your account suspended or terminated by eBay or Amazon. In addition to this, you can offer the payment options that suit you and your customers best and define your own pricing rules. For example, you might want to let customers pay through credit card, PayPal, or Stripe.
WordPress with WooCommerce: The perfect dropshipping platform
WooCommerce is one of the most popular and hassle-free online selling platforms that's built on WordPress. Almost 34.7% of all the websites on the internet are powered by WordPress. WordPress's robust and flexible content management system adapts to the needs of any website, including dropshipping stores.
Setting up your online store with WordPress involves using the widely-used WooCommerce plugin. This lets you add the dropshipping products, take payments online, charge for shipping, etc.
WooCommerce provides your essential e-commerce functionality. Use it alongside the following plugins to add all the features you need for a successful dropshipping store:
Either WooCommerce Dropshipping or WooCommerce Multiple Email RecipientsI recommend using WooCommerce Dropshipping for a complete dropshipping solution with extra features such as importing products and inventory management. If you just want to notify dropshippers of new orders then keep it simple and install WooCommerce Multiple Email Recipients.
WooCommerce Lead TimeDropshippers have different lead times, so it's essential to display the expected waiting time on your product pages. That way, customers know what to expect. The WooCommerce Lead Time makes this easy.
How to select products and suppliers
In the following section, we will provide you with some practical advice on how to select the right products for your dropshipping store. This is a crucial step in starting your e-commerce business, and it requires careful consideration. You want to choose products that are in demand, have a reasonable profit margin, and can be sourced from reliable suppliers.
When deciding on products to sell, it's important to think about your target audience and their needs. You want to select products that will appeal to your audience and provide them with value. Conducting market research can be helpful in identifying popular products and trends in your niche. You can use various tools and platforms to research popular products, such as Google Trends, Amazon Best Sellers, social media platforms, and other search engines.
Additionally, you'll want to consider the price point and profit margin of the products you choose to sell. You need to ensure that you can make a reasonable profit while still offering competitive prices. It's also important to choose products that can be sourced from reliable suppliers to avoid potential shipping delays, low-quality products, or other issues. By taking these factors into consideration, you'll be on your way to selecting the right products for your dropshipping store.
Finding good products for dropshipping
While some e-commerce stores sell almost everything, the successful ones choose a specific niche to focus on. Here's how you can identify the perfect niche to run your dropshipping business.
First of all, you need to find products that have sufficient demand in the market while making sure that you're not competing with a lot of sellers. In addition to this, you will also need to set a price that allows you to make a sensible profit on each sale.
While this may sound simple at first, you'll need to do some legwork to identify the right balance for your specific niche.
If you're just starting out, we suggest that you go with something you already know about. This isn't a hard and fast rule but it will help you quickly get comfortable with online selling.
Coming up with ideas for dropshipping products
Here are some useful ideas to help you get started with finding the right products to dropship: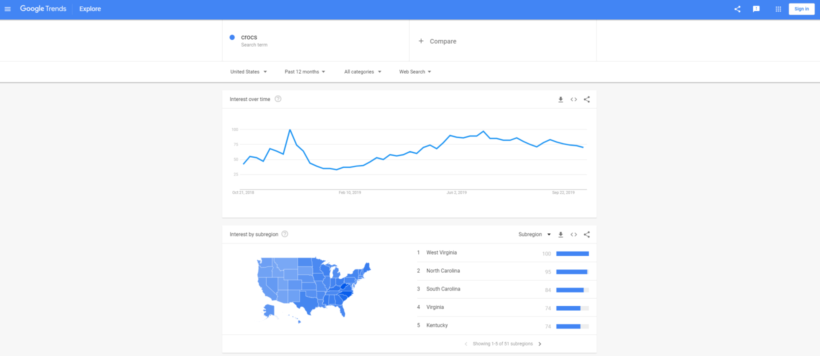 Browse eBay and Amazon. This will help you quickly mine ideas and identify the ones that fit your niche. Amazon accounts for more than half of all product searches done online, which makes it a great place to start brainstorming.
Make use of keyword research. Tools such as KWFinder can help you discover the words people are using to search for products. Similarly, you can use the Google Trends tool to keep an eye on trends in product demand for specific products.
Finding dropshipping suppliers
After you've identified the product(s) you'll be dropshipping, the next step is to find a supplier that not only has the products you want but can also reliably fulfill orders.
AliExpress is one of the most popular platforms, which gives you access to a large number of Chinese suppliers. Some WooCommerce plugins allow you to easily manage your order fulfillment through AliExpress.
SaleHoo is another widely-used tool that helps you search for suppliers via its extensive supplier directory. It gives you access to pre-qualified suppliers for easy order fulfillment.
Google is a useful source for finding dropshipping suppliers, though the majority of them don't have a significant online presence. However, you may be able to find a supplier that isn't listed in other supplier directories or on AliExpress. This could give you a competitive advantage over other sellers!
How to pick the right supplier
Once you've shortlisted a few potential suppliers, the next step is to make sure they can meet your orders in a reliable and timely manner.
A clear red flag of an unreliable supplier is if they charge you ongoing monthly upfront fees for fulfillment services. Good, reliable suppliers typically charge per-order fees as a standard. Moreover, reliable suppliers are generally willing to send you some samples.
In addition to this, you will also have to figure out the total shipping duration i.e. how long it takes for an order to reach your customers. The faster your dropshipping model supplier gets ordered products in the mail, the more satisfied your customers will be.
Finally, since you'll be working with the same supplier long-term, you need to make sure that they are easy to get in touch with. After you've identified the right supplier, you can go ahead and start building your WooCommerce dropshipping store.
WooCommerce Dropshipping Extension
As we saw earlier, I recommend the WooCommerce Dropshipping plugin if you need a complete store management tool you manage your dropshipping store. It's more flexible than dropshipping platform alternatives like WooDropship or DropshipMe.
It lets you automatically send notifications to suppliers when a customer places an order for one of their products. In addition to this, the WooCommerce Dropshipping plugin lets you easily import inventory for each supplier and gives you the option to assign inventory to specific suppliers. This way you can import, say, AliExpress products into your store easily.
This makes it easy to manage multiple suppliers through WooCommerce dropshipping. So, for example, if you found a supplier through AliExpress dropshipping and another one through Google, you could easily dropship products from both. It makes it easy to automate the entire dropshipping management process.
A simpler alternative?
If you don't need all the features of WooCommerce Dropshipping and simply need a way to notify the appropriate dropshipper of new orders, then you might prefer WooCommerce Multiple Email Recipients. This simple but effective plugin lets you specify which email address will receive notification of new orders. You can add different dropshippers to receive order notifications for each product and/or category.
If you're using WooCommerce Multiple Email Recipients, then simply install the plugin and head to WooCommerce → Settings → Emails to add the dropshippers' email addresses. Alternatively, keep reading for setup instructions for WooCommerce Dropshipping.
How to get started with WooCommerce Dropshipping
Here, we'll explain how you can set up the WooCommerce Dropshipping plugin on your online store. Assuming you already have a WooCommerce store set up with some products added to it, here's what you need to do to get started with WooCommerce dropshipping.
Step #1: Install WooCommerce Dropshipping
Get WooCommerce Dropshipping and install it on your WordPress website.

Once it's installed, click the Activate button to proceed.
Step #2: Add new suppliers
The next thing you need to do is add dropshipping suppliers. To do this, navigate to Products → Suppliers from the WordPress dashboard.

Add in the supplier's details:
Supplier name and slug
Supplier description
Account number
Email address
In our example, we've added an AliExpress supplier. Once that's done, click the Add New Dropshipping Supplier button to proceed.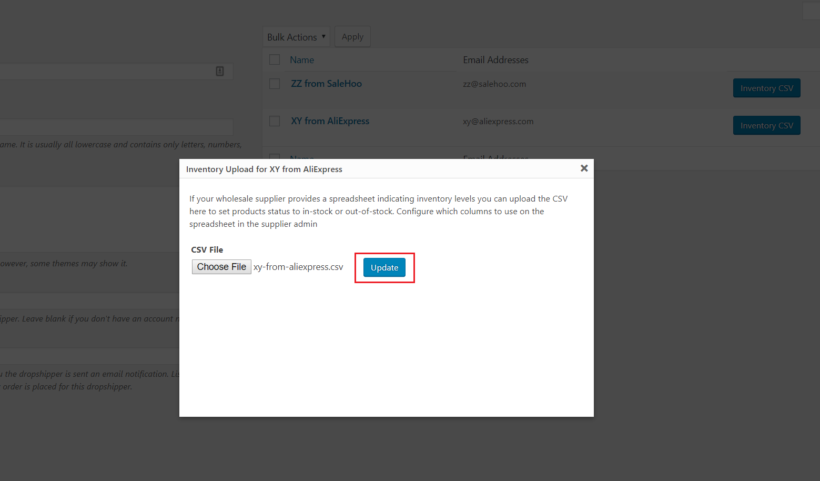 Once you've added suppliers, you'll notice an Inventory CSV button has been added to the list of suppliers. This allows you to quickly import supplier inventory from a CSV file. Typically, your dropshipping supplier will provide you with the inventory CSV file which you can simply upload to your WooCommerce store in a single click.
Step #3: Assign products to suppliers
Now that you have suppliers added to your WooCommerce store, you can begin assigning products to suppliers. To do this, open up a product you dropship in the Edit Product screen.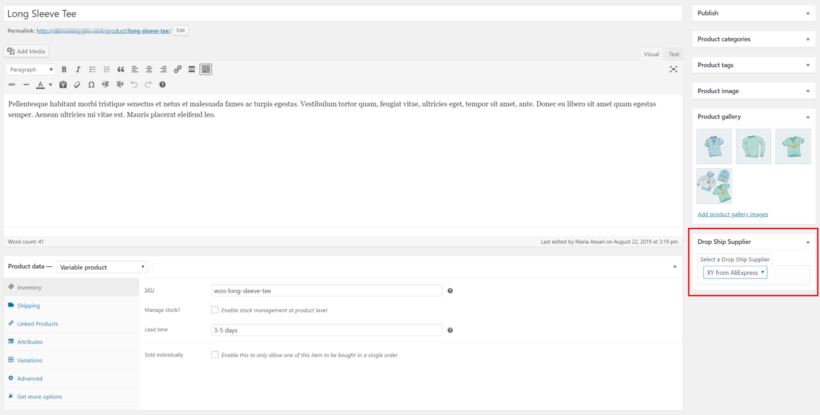 Next, scroll down till you reach the Drop Ship Supplier option in the right sidebar. Use the Select a Drop Ship Supplier dropdown menu to select the supplier you'd like to assign the product.
Click the Save Changes button to proceed.
Step #4: Send automated order notifications to suppliers
The WooCommerce Dropshipping plugin automatically generates order notifications and sends them to your suppliers via email. This tells the supplier everything they need to ship more products. It typically contains the order details, shipping method, and shipping address.
To configure email notifications, head over to WooCommerce → Settings → Emails → Dropshipping Notifications. From here you can add a custom email note or message. This could be something simple Please see the attached PDF. Thank you!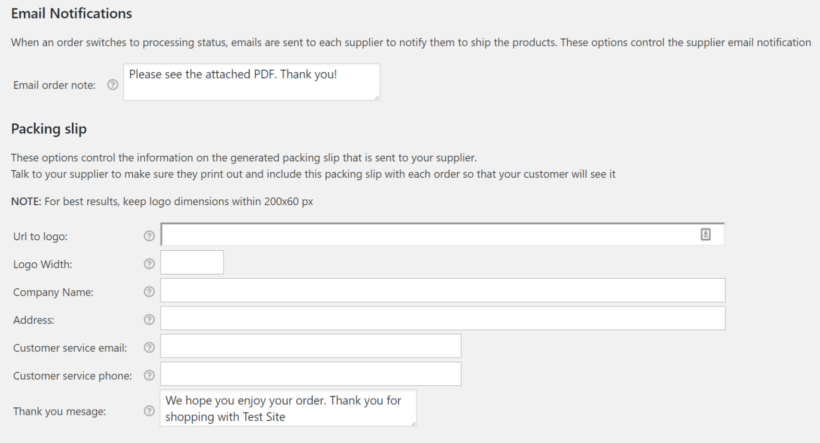 You can also fill out the information for the Packing Slip here:
URL to logo
Logo width
Company name
Address
Customer service email and phone for providing customer support
Thank you message
Finally, scroll down till you reach the Inventory Stock Status Update section. Set the inventory pad. Whenever product inventory falls under this threshold, an email notification will be sent to your supplier. This helps you prevent out-of-stock scenarios.

The WooCommerce Dropshipping plugin also offers full SMTP support and lets you fully customize your email notifications. You can add your store's branding and contact details to customer order notifications. The plugin works directly in WordPress and you don't have to install a Google Chrome extension.
This is one of the best WooCommerce dropshipping plugins out there. However, it's worth noting that the WooCommerce Dropshipping plugin doesn't let you set lead times, which is important for dropshipping stores. The good news is that you can add product lead times to individual products in WooCommerce using the WooCommerce Lead Time plugin. The WooCommerce Lead Time plugin integrates seamlessly with WooCommerce Dropshipping.
WooCommerce Lead Time plugin for delivery and lead times
How long your customers will have to wait for their products to reach them depends on when the supplier can meet their orders. It's a good idea to publish the lead time on your product page as well as any other relevant pages. Since most dropshipping suppliers on AliExpress are based out of China, you can expect shipping times to exceed the average delivery time customers are used to.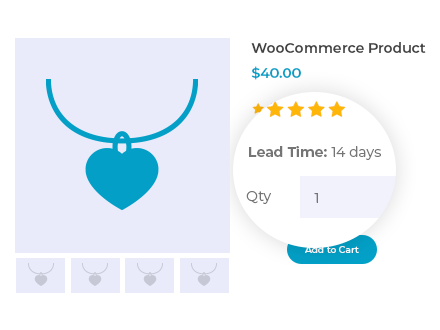 The only WooCommerce plugin that lets you show expected delivery times on the product page.
Out of the box, WooCommerce (and most dropshipping plugins like WooDropship or AliDropship) doesn't let you publish the estimated number of shipping days for products. Displaying this information on your website is important as it enables customers to make an informed buying decision.
WooCommerce Lead Time lets you display how long it will take for a specific product to be shipped to customers. This allows your customers to see the approximate date of arrival of their order before they make a purchase. This increases transparency and improves the customer's shopping experience. It's especially useful to display the lead time for your best-selling products.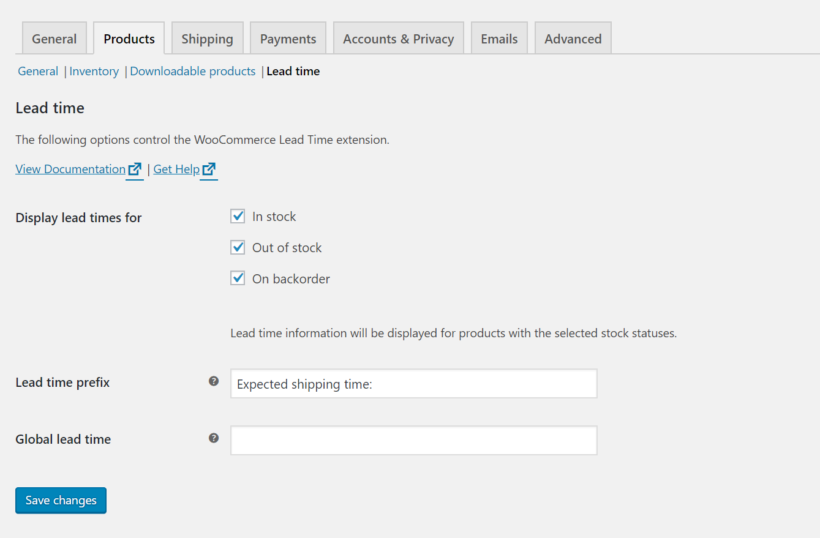 Let's look at some of the key features on offer with the WooCommerce Lead Time plugin:
Lets you keep your customers informed about the availability of products as well as the estimated waiting time.
You can set lead times for specific stock statuses.
Add static lead time text, or calculate the lead time dynamically to count down to a specific date when stock is expected.
Lets you set lead times for a single product (or for all products, or specific categories) in your inventory.
You can use this plugin standalone or pair it up with WooCommerce Product Table or WooCommerce Quick View Pro.
For example, you might display the expected number of shipping days next to AliExpress products.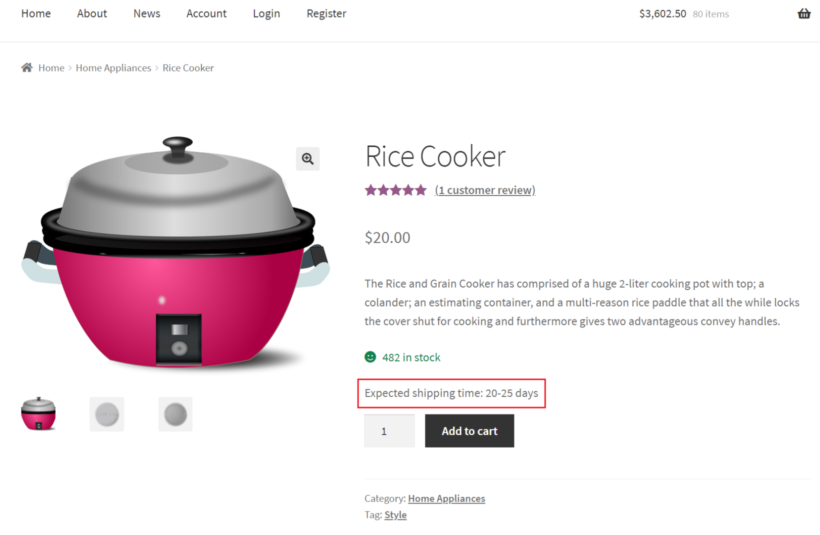 This way customers will know when they can expect to receive their ordered products and you can effectively boost conversions and increase sales.
How to calculate other logistics
Here's how you can calculate other logistics costs for your dropshipping business.
Pricing
Although there are several different ways you can go about pricing products, we'll share some of the most popular approaches to dropshipping prices:
Fixed markup on cost
This is a pricing strategy that involves adding a dollar amount or percentage margin to the cost of products. For instance, if the average price of a product is $20, you would charge a 10% markup on it i.e. $2. Similarly, you can choose to charge a fixed dollar amount markup of $5 on your products.
Tiered markup on cost
This pricing strategy comes into play when you're selling a variety of products that vary considerably in terms of monetary value. It allows you to not charge a high markup on expensive items while ensuring you make a profit on low-cost products. For example, you might charge a 40% markup on products under $15 and a 10% markup on products over $500.
Manufacturer suggested retail price (MSRP)
This pricing strategy includes charging the amount suggested by the manufacturer. It's particularly useful when you're a small dropshipping retailer and don't want to indulge in price wars with competitors. Plus, it ensures that you're charging a price that customers already expect.
Display shipping costs on product pages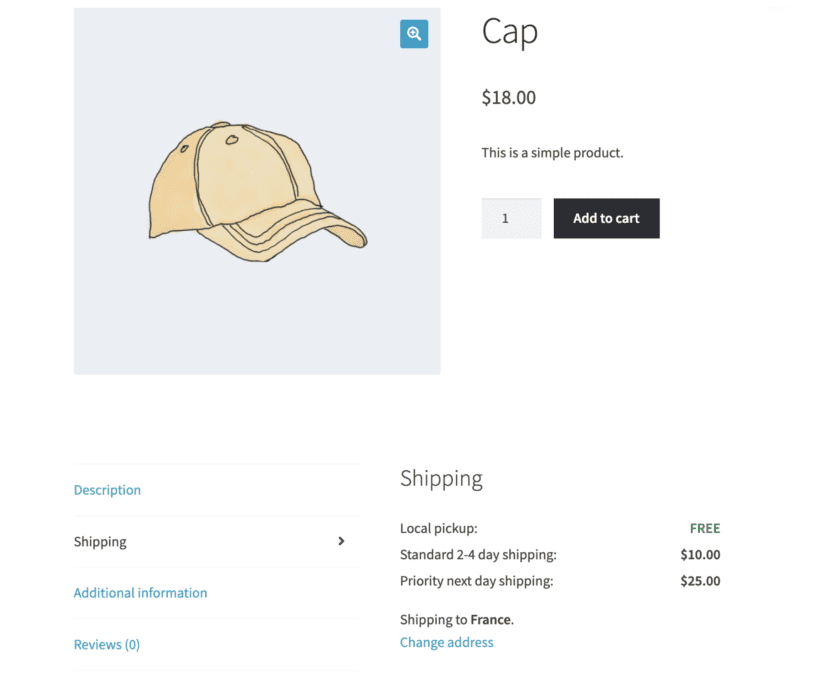 Once you've set up your shipping costs, make sure you provide an easy way for customers to check them. This is particularly important for WooCommerce dropshipping sites where you will almost certainly be charging for shipping.
The best way to do this is to install the WooCommerce Shipping Calculator plugin. This adds a dynamic shipping calculator to the product page. You can choose where to position it on the page, for example as a 'Shipping' tab under the product description. That's a much better way for customers to check shipping costs then surprising them with this information on the checkout!
Profitability
An easy way to find your dropshipping profit is by calculating the difference between a product's two price points. In other words, the price that's displayed on your website and the price you purchased the product at, plus additional costs such as returns, shipping, etc….
Profit = Produce sale price - (Product purchase price + Shipping costs + Returns)
This doesn't mean that the higher you price your items, the more money you'll make. Simply put, you need to find the dropshipping pricing model that best fits the types of products you're selling.
Create your own WooCommerce dropshipping store today
Setting up a dropshipping business in 2019 can be an incredibly lucrative business opportunity. When done right, it's a low-risk, high-reward business model for solopreneurs and small businesses.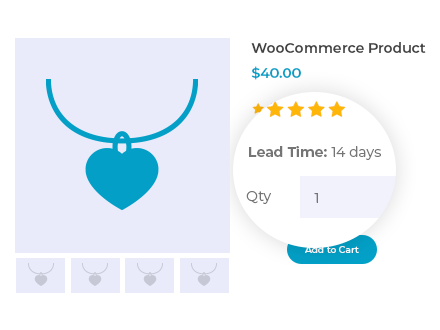 The only WooCommerce plugin that lets you show expected delivery times on the product page.
We explained how you can find products and suppliers for your dropshipping business and set up your own WooCommerce dropshipping store. This way, you can focus on importing products while your online store takes care of the rest. Hopefully, you're in a good position to take the next steps.
What sorts of products are you thinking about dropshipping through your online business? Let us know by commenting below.