With schools across the world closed due to the COVID-19 pandemic, Andy and I have been managing Barn2 alongside home schooling our 8-year-old daughter Sophia. This is the story of how she started her own t-shirt business during the lockdown, and how she uses our WooCommerce Lead Time plugin to help with stock management.
The UK has a poor culture of entrepreneurship, and this starts with the way children are prepared for their future careers. While TV programs such as Dragon's Den (or Shark Tank in the US) are making a difference, in general it is assumed children will get a traditional job after finishing school or university.
Having built our own business, we find it frustrating this isn't presented as a viable career option which children learn about in school. We've always talked to Sophia about the benefits of starting your own business and how this compares to other types of job.
When it was announced that schools were closing due to coronavirus, we discussed the types of things Sophia could learn at home. She said she would like to start her own t-shirt business!
She immediately went to her playroom and within an hour had designed her first t-shirt - Purple Flower - and the company logo!
Planning the t-shirt business
Over the next 6 weeks, we helped Sophia plan each part of her business. There were lots of steps, including:
DesignAs well as designing the t-shirts and logo on paper, Sophia learned how to edit and perfect them on a computer (with a bit of help from us!).
ProductionSimplifying the designs to make them more realistic to produce, as well as sourcing t-shirts and transfer paper to print on.
WebsiteThis was an excellent opportunity to teach Sophia more about what we do for a living, and set up her own WordPress website. We kept it simple by using Kinsta for hosting and the Toyshop theme from WooCommerce. It was great to watch Sophia using WordPress for the first time.

Sophia setting up WooCommerce!

AccountingSophia loves maths and numbers. She enjoyed learning how to create a basic 'profit and loss' spreadsheet, and how much money she could earn per t-shirt.
MarketingSophia enjoys playing Rollercoaster Tycoon Touch on her iPad (a lot during lockdown) and this introduced her to the concept of marketing. She enjoyed putting these skills into practice on her t-shirt business.
CharityMost importantly, it was an opportunity to learn about helping others. Since Sophia started the business during the coronavirus crisis, she wanted to donate 20% of her initial sales to NHS Charities Together, to help people who are caring for COVID-19 patients. She also designed a  Friendship Rainbow t-shirt, which represents missing our friends and supporting the UK health service.
As you can see, that's quite a broad range of topics to cover in homeschooling!
The first sales
The finished Teardrop Clothing site went live on 1st May 2020. Sophia was excited to have her first two sales within a couple of hours. As of 7th May she's sold 8 t-shirts.
We also listed the t-shirts on eBay to reach a wider audience.
Managing stock
As Barn2 is a WordPress plugin shop selling digital products, we don't need to worry about stock issues. Selling t-shirts is a bit different.
As we didn't know how successful this might be, our initial stock order was just a couple of t-shirts in each size. To our surprise, some sizes sold out almost immediately! As we could re-stock fairly quickly, we didn't want to lose orders by marking items 'Out of stock'. Instead, we needed a clear way of showing which sizes had a short wait, and when the customer could expect to receive them.
Fortunately, one of our own plugins was perfect for this - WooCommerce Lead Time.
I taught Sophia how to install WooCommerce Lead Time on her website, and how to enable back orders for out of stock t-shirts. She learned how to add a notice which would only appear only for back-order products, clearly showing when the t-shirt would be despatched.
That way, she could continue accepting orders - even for sizes that are currently out of stock: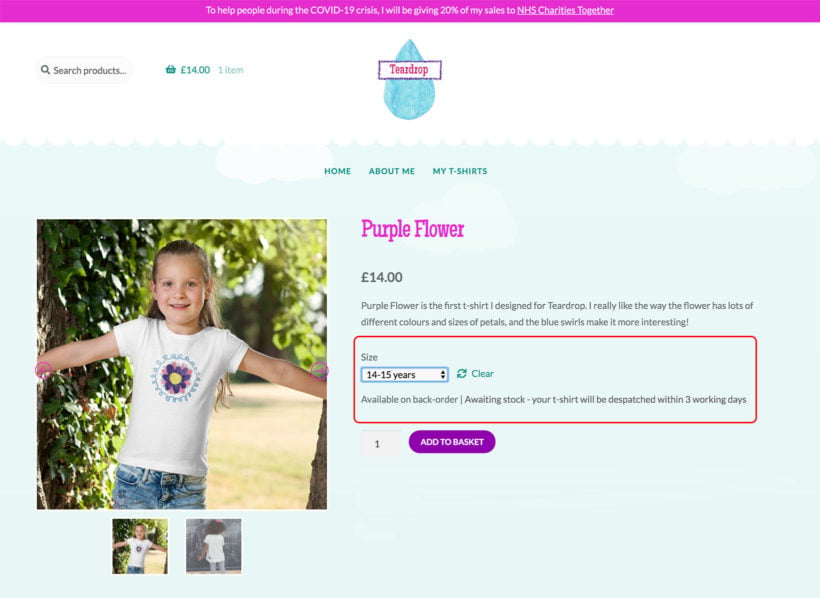 We already use three Barn2 plugins on this site: Posts Table Pro for listing tutorials, Password Protected Categories for privately publishing unreleased plugins and knowledge base articles, and Easy Digital Downloads EU VAT on our checkout. However, it's much more satisfying to watch my daughter set up one of our plugins on her own site!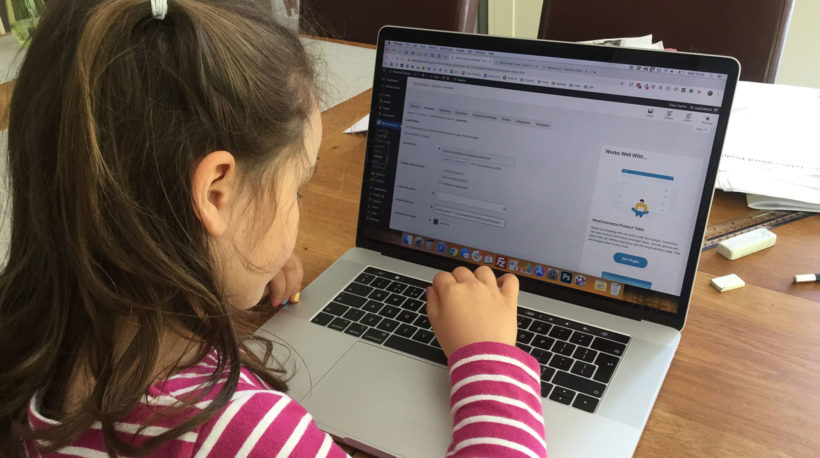 What's next?
So that's how Sophia started her own business using WordPress & WooCommerce (and our Lead Time plugin of course!). It will be interesting to see how Teardrop Clothing grows and evolves in future, and what she learns from it.
I hope that Sophia's story helps inspire other young entrepreneurs!