Are you thinking about creating a WooCommerce shop only for registered users? Looking for a way to limit access to your online store so that only logged in users or those with a password can browse and make purchases? You've come to the right place!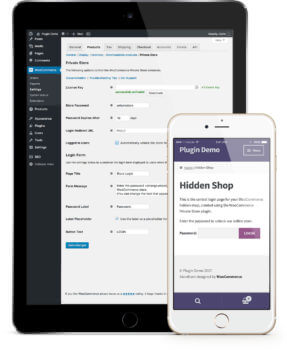 In this article, we'll guide you through the process of hiding your WooCommerce shop from guests with the easy-to-use WooCommerce Private Store plugin.
This powerful yet simple plugin enables you create a secret WooCommerce shop only for registered users. It keeps your store exclusive by hiding its pages from the public eye. This ensures that only logged-in users or those with the correct password can access and order your products. It maintains the privacy and exclusivity of your store - an ideal solution for businesses that cater to a specific clientele or want to offer special deals for registered customers.
We'll start by introducing you to the WooCommerce Private Store plugin, its features, and its benefits. Next, we'll take you step by step through the catalog visibility process, ensuring that you're able to set up your private store with ease. We'll also provide tips and best practices for managing your private store and creating a seamless experience for your registered customers.
By the end of this article, you'll have all the information you need to build a WooCommerce shop only for registered users. So, buckle up and get ready to start a journey to learn how to set up and manage your very own private eCommerce store.
How does it work?
When you install the Private Store plugin, you instantly have a WooCommerce wholesale store that is only available to logged in users. Simply choose how your customers will unlock the hidden store, and you're done!
Maybe you're setting up a WooCommerce shop only for registered users and want to hide it from non-members. Maybe you're building a B2B wholesale store. Whatever your reason, you can easily hide WooCommerce from non-registered users and guests.
3 steps to access your hidden store
It works like this to make sure your WooCommerce products are only for registered users:
A guest user visits your website They can see all your main pages but none of the WooCommerce content. If you have links to the Woo shop page, category pages, product pages, etc. in the menu then these will be hidden from public view. Any WooCommerce sidebar widgets are hidden too. The same applies to other WooCommerce elements such as the cart. The guest user has no idea that your WooCommerce shop exists. Even if they try to access a WooCommerce page directly (e.g. if they know the URL of a product), they will be asked to enter a password.
The user either enters a password or logs into their account Some visitors to your membership site will have an account, which they can log into. They can log in using the usual WordPress/WooCommerce login page. (This might be /wp-login, the WooCommerce 'Account' page, or a front-end login such as Theme My Login. Or if you want people to log in with their Facebook, Twitter, or Google+ account, use the WordPress Social Login plugin.) If you like, then you can also let non-registered users enter a password to unlock the store.
The hidden WooCommerce shop is unlocked After logging in, all the WooCommerce content becomes visible to the specific user. This might include links to the main shop page in the menu, WooCommerce widgets, and all the individual pages within WooCommerce. The logged in user can browse your ecommerce store and buy products with no restrictions.
Alternative option: Want to restrict certain products to registered users, but not your whole store? Checkout the WooCommerce Protected Categories plugin instead.
How to make your WooCommerce shop only for registered users
If you like what I've described above, the good news is that it's really easy to set up. Here's how to set up product visibility for your whole store. I have assumed that you already have a WP website with WooCommerce set up, and you're ready to hide your WooCommerce for logged-in users and visitors only.
Buy WooCommerce Private Store. Download the plugin files and license key from the order confirmation page or the email receipt.
Log in to the WordPress admin and go to Plugins → Add New.
Click 'Upload' and then 'Browse' and upload the plugin files you downloaded in Step 1.
Install and activate WooCommerce Private Store.
Go to WooCommerce → Settings → Private Store. Enter your license key and configure the other plugin settings. Make sure you tick the 'Logged In Users' box. (You can ignore the 'Login Form' settings as you won't be using password protection for your store. Instead, you will use the WordPress user login.) If you like, then you can also choose which user roles will have access.
Click 'Save'.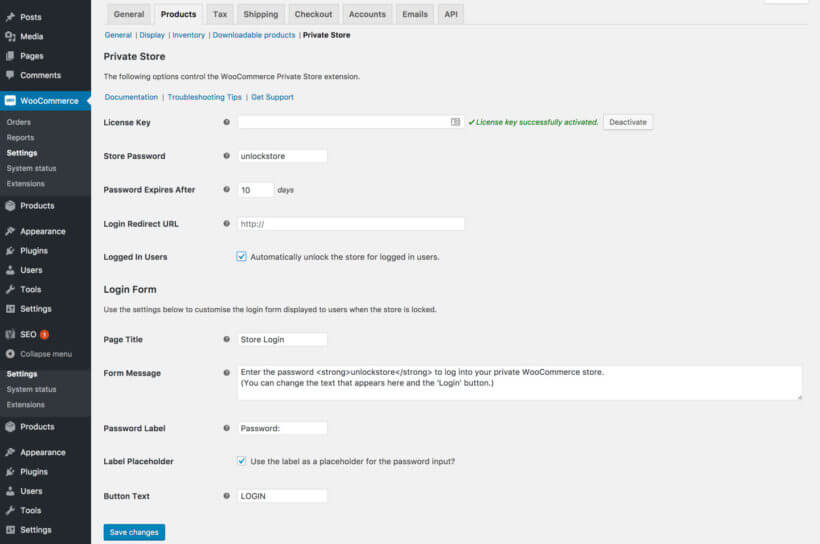 And that's it! Your WooCommerce shop is now completely hidden from public view. Guests can see your normal web pages but none of the WooCommerce content. Once they log in to their account, the whole of WooCommerce is instantly unlocked for them. Simple!
By enabling the log in to see add to cart and prices in the WooCommerce feature, you can restrict access to your WooCommerce shop only for registered users and visitors. This means that all links to your main Shop page, product categories, individual products, and even the WooCommerce widgets that showcase your products, categories, and other relevant information will be hidden.
Furthermore, elements such as the shopping cart icon and other call-to-action buttons will also be concealed. In essence, any content related to your WooCommerce store, including the links to access it, will be inaccessible to guest users.
This feature provides an additional layer of security and privacy to your online store, as it ensures that WooCommerce products only for registered users with valid login credentials can view and purchase your hidden products. It also helps prevent unauthorized access to your store's pricing and other confidential information, which can protect your business from potential threats.
Can I force users to register before they can access my WooCommerce store?
Yes, you can use the WooCommerce Private Store plugin to hide your online store and restrict access to WooCommerce products only for registered users. To do this, you can use the built-in 'Account' page of the plugin or a front-end registration plugin like Theme My Login.
Theme My Login offers various options to moderate new registrations, including the ability to require administrator approval for new accounts. Alternatively, you can use a free plugin like New User Approve to approve new user accounts before they can access your private store. This ensures that only authorized users have access to your store.
When using a registration plugin, customers will need to create an account and have it approved before they can log in and access your hidden store. Once approved, they can log in and browse your products, add items to their cart, and check out just like a regular online store.
What if I don't want my customers to have individual user accounts?
If you want to keep your WooCommerce store private and only accessible to a select few, you may consider using a plugin that allows you to hide your store behind a password. This is a great option for businesses that want to keep their products and pricing information secure and confidential.
The plugin makes it easy to set up a private store login page where your customers can enter a password to access your store. Unlike requiring customers to log in to their accounts, the password option offers a simpler and more straightforward process. Customers enter the password on the login page. If it's correct, they are granted access to the hidden WooCommerce shop.
Once customers have entered the correct password and unlocked the private store, they will have full access to all the main WooCommerce Shop pages, including your products, categories, and product tags. Customers can search for a single product, add them to their cart, and proceed to the checkout page in the usual way.
Here's a review from a customer using WooCommerce Private Store to create team and school stores behind a common password:
This is the most convenient and easy to use plugin for creating team or school stores. My customers love that they have their own custom page to sell on without having to make their own site. Barn2 customer service is very quick efficient. The team really takes care of their customers and products!
How can I hide the login page after people login?
If you use the built-in WooCommerce Account page as your register/login page, then you don't need to worry about this. That's because the same page will show a registration and/or login form to guests, and the 'My Account' area for logged in users. This makes it relevant to all types of users like subscribers, whether or not they're logged in.
If you use WooCommerce Private Store with a login plugin such as Theme My Login, then you need to structure your store in an intuitive way. Think about each step of the user journey. For example, you want to add a prominent login link for logged out users. But once people are logged in, then the login page is no longer important to them.
You can add a link to the user login page anywhere you like. For example, you can add it to the menu or header (depending on your theme). This link will be subtle, so it won't bother logged in users. You could also ask your developer to dynamically change it to a logout link for logged in users.
Setting the login page as the homepage might seem like a logical step. However, this can be confusing for users, as even when they're logged in, they'll see the login page with a message indicating they're already logged in. Instead, set another page such as the main 'Shop' page as the homepage. When guest users visit the homepage, they will see a user login form. But when WordPress only for logged in users visit, they will see the shop page. This is a more user-friendly way to set it up.
I just want to hide parts of WooCommerce
If you want to hide parts of WooCommerce membership but not your whole shop then I'd recommend our other plugin, WooCommerce Password Protected Categories.
This lets you lock down specific categories within a Woo store, and hide products within them. Your other categories and main Shop page remain public. This means that you can have public and hidden areas within a single WooCommerce shop.
See also: How to Build a Private WooCommerce Members Only Shop
If you have a WooCommerce store that you want to keep private and accessible to WooCommerce products only for registered users, then using a WooCommerce Private Store or a similar solution can be a great option for you. By hiding your WooCommerce shop only for registered users, you can ensure that your specific products and pricing information are secure and protected.
Deciding between password-protecting or hiding your WooCommerce store until users log in depends on your specific needs and security requirements. If you have a small number of users who require access, password protection may be the better choice. For larger user bases, hiding WordPress only for logged in users may be more efficient.
Some other features that you might expect from a private WooCommerce plugin could include the ability to customize the login page and set up user roles and permissions. As well as track user activity within your store. These features can help you manage your WordPress only for logged in users more efficiently. As well as ensure that your products and pricing information are only accessible to the intended audience.
Please leave your comments below.