Finding the best WordPress login widget plugin should be a simple task. But when I did it today, it took longer than I expected and most of the plugins weren't worth bothering with. I'm writing this post to share what I learned.
Having just set up a WordPress membership website using the S2Member plugin (fantastic, by the way - unlike WishList Member which is a nightmare to get right, S2Member worked first time), I wanted to add a sidebar widget that allows users to register or login without going through a login page.
Surprisingly, no sidebar login widget is provided by S2Member so I decided to look for a plugin. I wanted something simple instead of a full SSO solution; maybe with some JavaScript AJAX for a good user experience. This way, users can log in directly from the homepage e.g. example.com instead of from a separate login page.
Instead of heading over to Google search, I searched the WordPress plugin repository for sidebar login widgets and tested a few. This is what I found.
Tried and failed
The best WordPress login widget plugin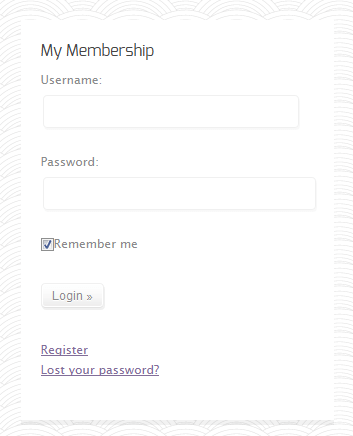 The WordPress login widget plugin that does the job is Sidebar Login.
Unlike most of the WordPress login widgets, a whole plugin options page is provided with various widget settings. This allows you to set different headings for logged in and logged out users, and set the URLs that users should be redirected to after logging in and out using the href attribute. You can choose whether to display a registration link (that takes the user to a registration form), forgot password link, or the user's Avatar (photo) in the widget. You can even add some custom links to appear at the bottom of the login widget.
The widget automatically integrated with the website theme, so it looked good straight away. It added a simple login form to the sidebar on the homepage (e.g. example.com) as shown in the screenshot above. The only improvement I would make is to add a space between the check box and the 'Remember me' button by adding CSS to the stylesheet - but then again, I am a perfectionist!
So my vote is that Sidebar Login is the best WordPress login widget plugin to add a login form to your website and quickly authenticate users.