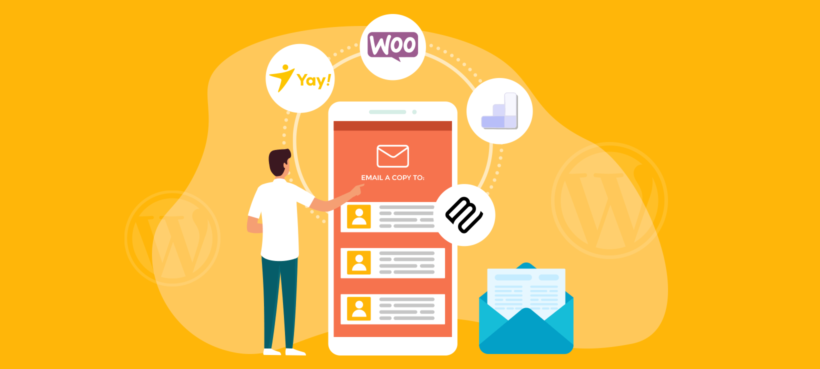 Do you have a WooCommerce store and want to communicate better with your customers? Transactional emails are a key component of the overall shopping experience in any online store. Do you want to optimize your site's order process and keep shoppers informed about your business? Then you should consider using a WooCommerce email plugin.
In this article, we'll share 13 powerful WooCommerce email plugins. These plugins can help you customize your transactional emails in different ways. They offer certain important features that improve how your site sends email notifications.
WooCommerce is a feature-packed plugin that powers virtually anything eCommerce on WordPress. But its email notifications are pretty basic. By default, you get limited templates for predefined use cases like when there's a new order, completed order, or failed order.
You can make a few changes to these templates. But sometimes, you may want to improve your WooCommerce emails even further. For example, you can choose to add multiple email addresses per customer order. Or even send order notifications to more individuals within your organization.
WooCommerce email plugins like WooCommerce Multiple Email Recipients come in handy here. They help you and your customers save time and money in many ways.
We'll now consider what these WooCommerce email plugins are capable of.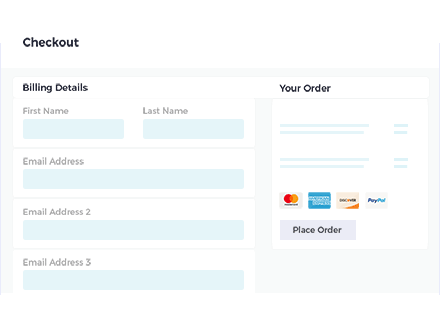 The easy way to send the WooCommerce order emails to more people. Love it or your money back!
13 best WooCommerce email customizer plugins
Looking for the best WooCommerce email plugins for adding custom email features to your store? The products listed below not only help you customize your default templates. You can also use them to add even more value to your customer experience.
Let's take a look at them!
1. WooCommerce Multiple Email Recipients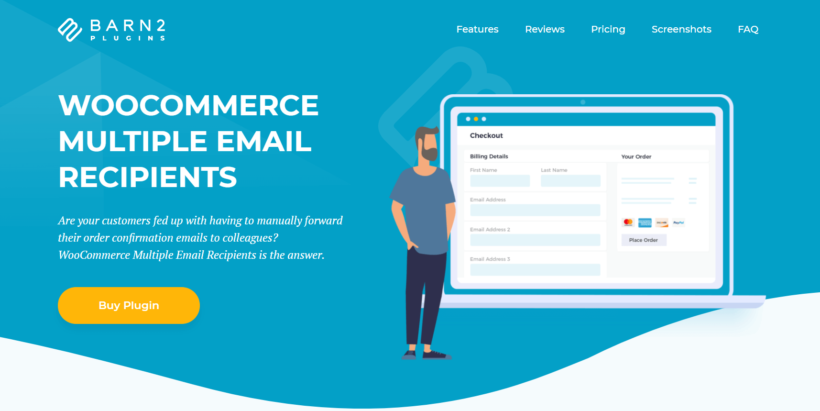 Do you want to:
Send WooCommerce order confirmation emails to more than one email address per customer?
Include multiple suppliers in order notification emails to the administrator?
Send order notification emails to different recipients depending on the products ordered?
Then WooCommerce Multiple Email Recipients is the plugin you need.
Managing WooCommerce orders in industries with custom needs can be quite challenging. Irrespective of the niche, WooCommerce Multiple Email Recipients makes it easy to send transactional emails to multiple email addresses. It lets you do this for customer and administrative emails. You can even send the order notification email to different email addresses depending on the products and categories ordered.
The plugin adds email features that are not only useful for the consumer but can also help you improve your company's workflow.
Features
Here's a quick shortlist of the major features you get:
Allow users to add unlimited email addresses to each order. Your customers can add as many additional email addresses as they like whenever they make an order on your site.
Send order information to specific email addresses after every order. Automatically send order notification emails to multiple suppliers, manufacturers, distributors, or different departments of your organization. This way, customers can order pro

ducts from multiple suppliers in one cart, without the need for you to forward order emails manually.

Add a unique contact email address for each product. Each supplier or partner will only get an order notification email when a buyer adds the assigned product to their cart.
Enable/disable additional email fields on the front-end. Choose whether site visitors can add and manage additional email addresses from their Account page or during checkout. Also, you can control the number of fields you want to display.
Send specific customer emails to specific recipients. You can also choose the type of transactional emails to automatically send to each additional email address.
Add additional email addresses for your customers manually. Even after an order has been made, you can still add additional email recipients for the customer within your WordPress dashboard.
This WooCommerce email plugin is easy to set up and works well with any WordPress or WooCommerce theme. You won't need to do any additional coding.
WooCommerce Multiple Email Recipients comes with a 30-day money-back guarantee and fast email support.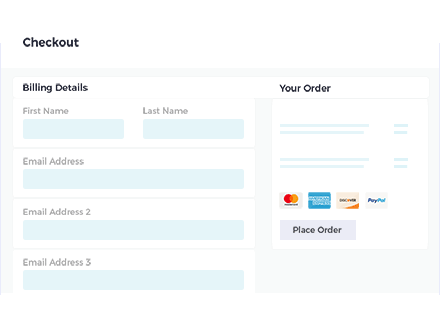 The easy way to send the WooCommerce order emails to more people. Love it or your money back!
2. YayMail - WooCommerce Email Customizer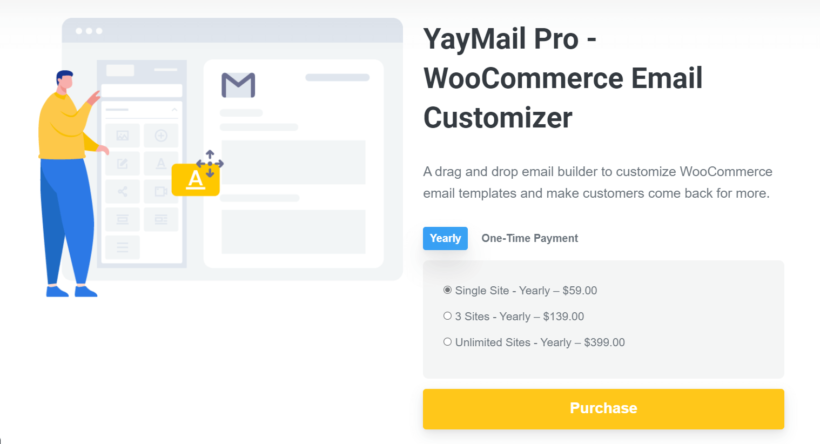 Here's another popular and feature-rich WooCommerce email template customizer. Like other template editors, YayMail's focus is to help you add more branding elements to your WooCommerce emails and make them look more professional. There's almost no limit to the design options you get with this plugin.
Features
Customize email templates for each order typeStart with 11 default email templates and add buttons, icons, image and video boxes, and even shipping addresses.
Design customer emails with drag-and-drop interfaceEdit content and media within emails like user registration and password reset emails. Preview live for different devices.
Use shortcodes and integrate with other WooCommerce extensionsAdd more powerful functions with multiple shortcodes and integrations like YITH Gift Cards and Shipment Tracking.
YayMail has a powerful editor that is also easy to use. After editing your templates, you can send a test email to see the outcome in a customer's inbox.
There's a free version that allows you to edit all your email content. But you'll need to upgrade to use the email templates and third-party integrations. The cheapest plan starts at $59/year or a one-time payment of $199 for a single site.
3. YITH WooCommerce Email Templates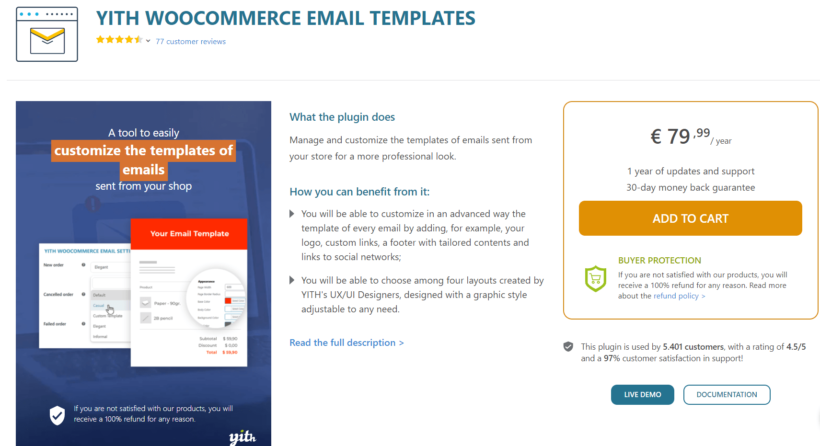 We previously talked how WooCommerce only allows you to tweak your default email templates in a limited way. If you want to fully customize your email templates and give them a more professional look, then you should consider getting YITH WooCommerce Email Templates.
The WooCommerce email plugin offers you all the branding-related features you need to create engaging and elegant transactional email designs. It provides multiple layouts and the ability to add brand elements like logo, header, text color, and social icons. This can really help you boost your clickthrough rates.
Features
4 major design layoutsYou get 4 advanced template styles like "Informal" and "Elegant" that are designed to match your brand voice.
Assign a design template to each email type Whether it's for a new or canceled order, you can edit the template WooCommerce sends to your customers automatically.
Stylize every element of your WooCommerce and WordPress emails Edit the header, footer, typography, fonts, and colors of your emails as you wish.
Add social links and use different footers for different emailsYou can set each email footer depending on the type of email.
This plugin offers virtually every email design feature you'll need. Bear in mind though that it doesn't support drag-and-drop features. But you can always preview changes live within the editor.
The license costs €79.99/year for 1 website and also includes a 30-day money-back guarantee.
4. Follow-Ups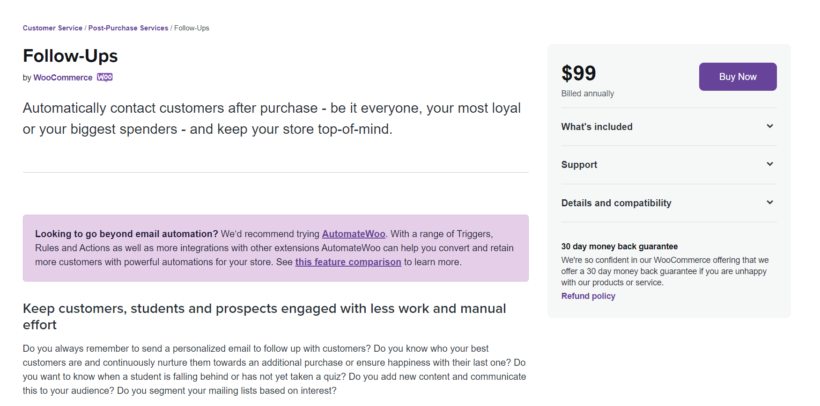 The next plugin on this list is one of the most popular WooCommerce email follow-up plugins. It's developed and maintained by Automattic (the guys behind WooCommerce) and offers some of the best features for scheduling and automating your emails.
With Follow-Ups by WooCommerce, you'll be able to send targeted emails that can help you boost engagement and drive sales on your WooCommerce store. The plugin uses actual metrics like purchase history and customer behavior to generate email marketing campaigns.
Features
Create and schedule new emails with the WordPress editor using ready-made templatesThis makes it easy to create new emails in seconds and send them automatically on particular dates or events.
Set up personalized Twitter follow-up campaignCollect Twitter usernames and send your customers tweets or follow up their tweets.
Group follow-up emails into campaigns Manage your emails and tweets easily by grouping them into campaigns.
Full analytics reportsLearn everything about how your emails are performing (opens, clicks, bounces, devices, and unsubscribes). It also integrates with services like WooCommerce Subscriptions and Google Analytics.
To use the WooCommerce email plugin, you'll need to pay $99/year for a single site—pretty pricey for a follow-up plugin. You also get a 30-day money-back guarantee.
5. MailOptin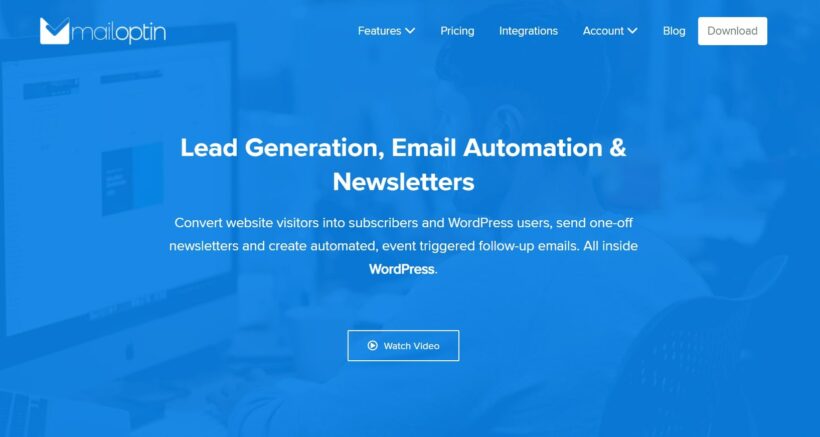 MailOptin is another powerful email automation plugin that helps you grow your email list and attract more sales conversions with minimal effort. It's a multi-purpose lead generation tool with different user registration options for converting store visitors into subscribers.
The WooCommerce email plugin integrates seamlessly with WooCommerce. You can use it to display targeted pop-ups, sidebar widgets, or notification bars based on multiple cart and customer conditions.
Features
Send automated email alertsInform subscribers instantly about new products or on a daily/weekly/monthly basis.
Display highly targeted CTAs and opt-in formsShow the right forms on your product pages (based on categories and tags), cart, and checkout pages. This also lets you segment your leads accurately.
Upsell and cross-sell based on cart conditionsPromote related products, coupon codes, and other offers each time a product is added to the cart or before cart abandonment.
The plugin has a drag-and-drop builder and also supports multiple integrations.
The free plan offers a pretty robust list of features limited to only 3 campaigns. To get more, you need to upgrade to the $79/year single-site plan. But you only get email automation on the Pro and Agency plans which start from $199/year for 3 sites.
6. Email Attachments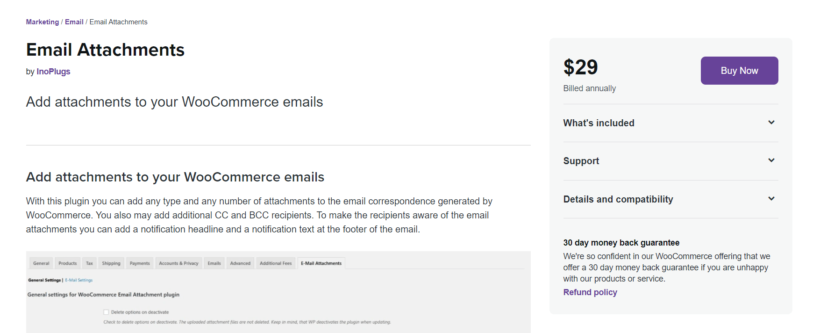 Looking for the best way to add attachments to your WooCommerce transactional emails? Then Email Attachments by InoPlugs is one handy tool to consider. This WooCommerce email plugin makes it easy to add any type of attachment to your emails. You can add as many as you like as well.
This can be super useful for sending PDF invoices and receipts, or for stores that sell digital downloadable products. The plugin supports all major file types and you can assign attachments to specific email templates. This way, the attachments are also sent each time WooCommerce and other extensions send those emails.
Features
Add an unlimited number of attachments of different file typesAttach as many files as you want to your emails, irrespective of the file type.
Add additional recipients and a notification headlineMake sure the customer never misses your attachments. Include a headline at the email footer or additional CC and BCC recipients.
Supports email templates generated by WooCommerce and other extensionsThe plugin recognizes all major WooCommerce extensions. So, you can automate your transactions by adding attachments to all your email templates.
Email Attachments is also compatible with WPML and you can easily upload your files with the default WordPress media uploader. So, they're reusable in posts and pages.
The plugin costs $29 annually with a year of updates and support, and a 30-day money-back guarantee.
7. YITH WooCommerce Coupon Email System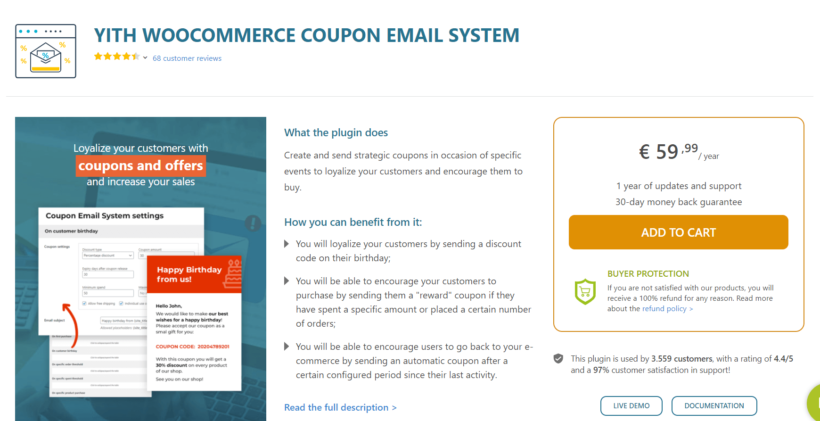 WooCommerce Coupon Email System offers you an easy way to leverage the power of coupon marketing and email marketing for your WooCommerce store. It's one of the best plugins for sharing strategic offers with your registered customers directly in their inboxes.
With this WooCommerce email plugin, you can turn a good percentage of your registered site visitors into loyal customers. First, gather necessary information like birthdays or shopping preferences. Then promote interesting discounts and offers that encourage customers to buy more.
Features
Send emails with coupon codes on specific occasions.Offer a coupon when a customer registers, reaches a spending threshold, or is celebrating their birthday.
4 coupon email templatesCustomize your coupon email's design to suit your branding needs.
Extend the plugin with other integrationsIt also integrates well with Mandrill and WPML. So, you don't need to worry about email management and multilingual support.
If you need to explore even more templates, you can also use the tool with YITH WooCommerce Email Templates. Bear in mind that it only works with registered users.
The plugin costs €59.99/year and also offers 1 year of support, updates, and a 30-day money-back guarantee.
8. WooCommerce Sales Report Email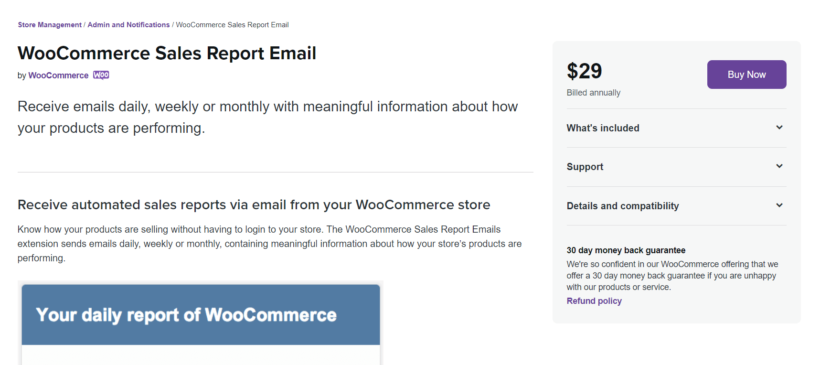 You probably already monitor your WooCommerce store's analytics from your WordPress dashboard. But what about simply receiving all the information you need about your products right in your inbox? That's what you get with WooCommerce Sales Report Email.
Features
Automate your sales reportsMonitor your store's sales metric without having to log into WordPress.
Key information about your products and store Learn the total number of sign-ups, orders, items sold, revenue generated, and the top sellers.
Receive report emails at periodic intervalsYou can choose to get your reports daily, weekly, or even monthly.
Unfortunately, you can send the reports to only 1 email address. So, if you have multiple team members, you'll have to forward the emails manually.
The WooCommerce email plugin's features are pretty basic. This explains the price tag of $29/year with 1 year of updates, support, and a 30-day money-back guarantee.
9. Metorik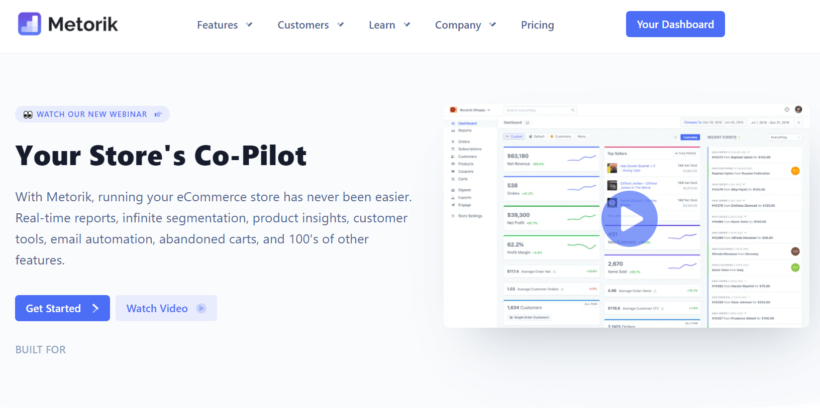 Metorik is an ideal option for WooCommerce store owners looking for a feature-packed solution and are ready to pay the price. You can use the powerful WooCommerce email plugin to create highly targeted marketing audiences. Then you can decide who gets your automated emails based on hundreds of filters. Yes, hundreds!
Features
Create highly segmented audiences and orders Use filters like total spend, last order date, and product category to target specific customer audiences.
Responsive customizable email editorUse different design layouts and even custom HTML to compose unique messages for your marketing emails.
Automatically create and send coupon codesMeteorik can automatically generate and send dynamic coupon codes with your emails based on the parameters you set.
Track the success of your automationsMonitor key stats like open rate, gross rate, and conversion rate for all your automated emails.
Aside from email customization features, Meteorik also offers tons of cart management, data segmentation, and analytics features. It integrates with other powerful tools like WooCommerce Subscriptions, Slack, Google Analytics, and Facebook Ads as well.
But all these benefits come at a rather steep price starting at $20/month for just 100 orders/month. You'll also need to pay an extra $10/month to get access to automatic emails. You can use the 30-day free trial available to decide whether it's worth the bargain or not.
10. Email Customizer for WooCommerce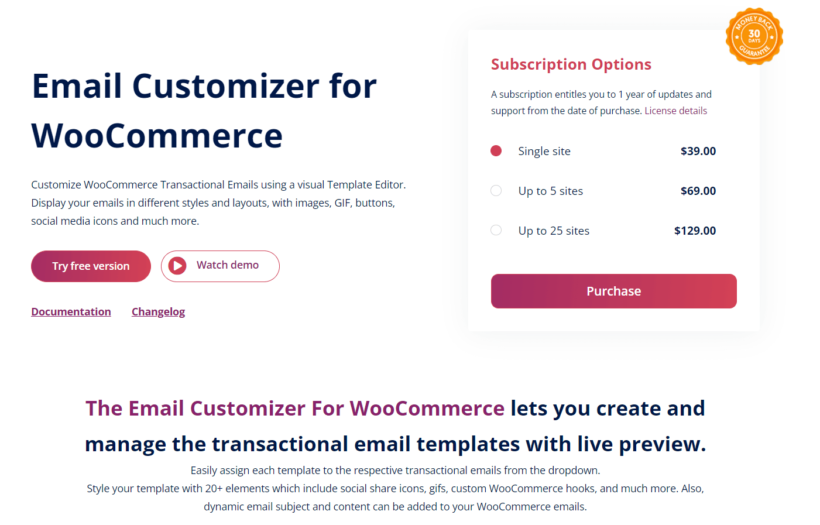 Still looking for a better-priced WooCommerce email plugin? Then Email Customizer for WooCommerce by themehigh may be the choice for you. The tool offers very similar customization features as YayMail. It comes with a drag-and-drop builder that allows you to tweak each email template.
Features
11 default email templates with unlimited rowsIndicate order status with WooCommerce email templates you can add multiple design elements to.
User-friendly builder with live previewCustomize your email templates effortlessly and see the changes in real-time.
Personalize emails with dynamic placeholdersUse placeholders like customer_name, site_name, and order_id to create a personalized user experience.
Once you're done, send a test email to see your design from a user's perspective. The free version offers all the basic features you need to get started.
You can also extend your options with premium features like custom hooks and third-party integrations. The premium version starts at $39/year for a single site.
11. WP HTML Mail – Email Designer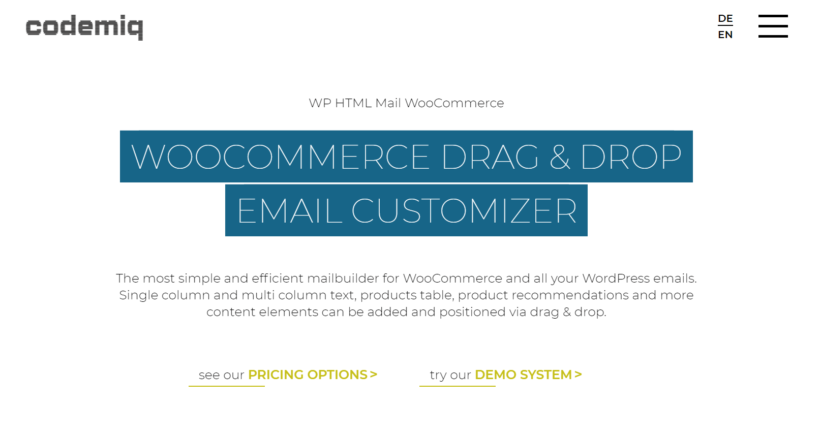 For variety's sake, we've decided to add another basic email template customizer to this list. This tool is the premium WooCommerce email add-on for the free WordPress email designer, WP HTML Mail. Its high customizability makes it a fairly popular solution among WooCommerce store owners.
Features
Highly customizable with live previewChange all the important branding elements like colors, fonts, header, and text alignment.
User-friendly drag-and-drop mail builderThe mail builder is easy to use and you can complete your design in no time.
Add attachments and use placeholdersAttach different file types, personalized placeholders, and product recommendations to your emails.
While the tool's design features are powerful, the default templates and layouts can hardly be described as elegant. You'll need some design skills to create elegant, professional emails.
The pricing starts at a one-time fee of $65 for a single site. You also get free updates and support for a year and a 30-day money-back guarantee.
To round off this extensive list, we'll show you two completely free plugins that offer equally powerful customization features. After all, nothing beats free!
12. Kadence WooCommerce Email Designer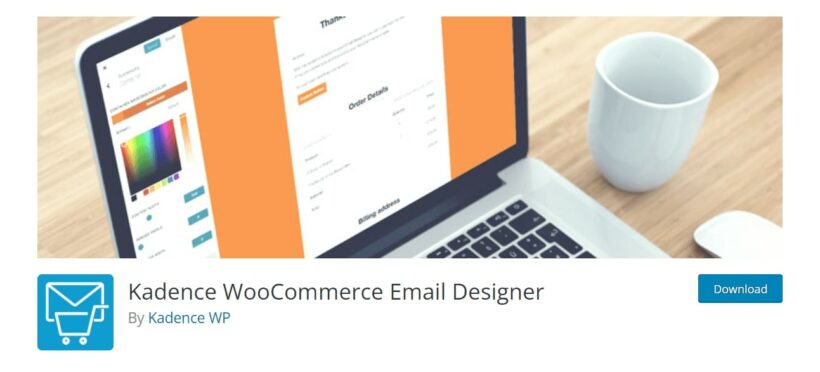 For those with zero budget for a WooCommerce email plugin, you can hardly go wrong with Kadence WooCommerce Email Designer. With over 100,000 active installations and a 4.6 rating, many WordPress store owners seem to agree. There are several pre-built templates and styling options to help you create a professional-looking transactional email in minutes.
Features
Pre-built template layouts you can fully customize and preview live to brand and improve your email designs quickly.
Import and export template designs and other settings.
Add product images and also change the style of the order items table.
At absolutely no cost, the plugin's features make a very good case for it. If you're not looking for advanced audience targeting or other automation, then you should consider this freebie.
13. WooCommerce PDF Invoices and Packing Slips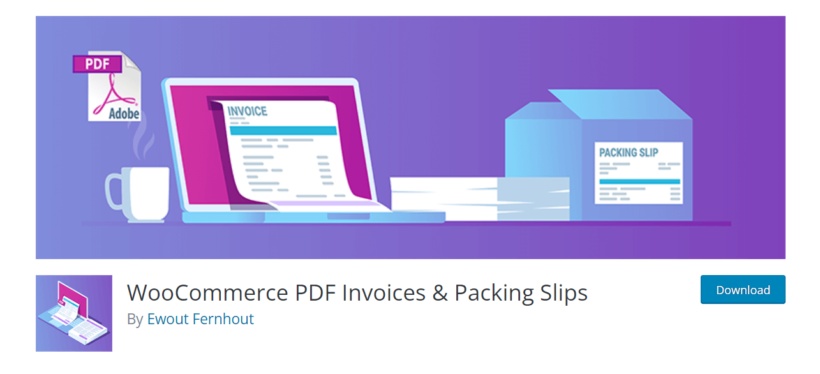 Our last pick for the best WooCommerce email plugins will help with your invoicing and shipping process. WooCommerce PDF Invoices and Packing Slips lets you attach well-designed PDF invoices automatically to any order confirmation email you like. You can then use it to download or print your packing slips as well.
Features
Highly customizable HTML/CSS design templates.
Create invoices and packing slips in bulk and attach them to your WooCommerce emails automatically.
Available in multiple languages with options to add custom fonts.
Integrates with premium extensions like WooCommerce Automatic Order Printing.
With over 300,000 active installations, lots of WooCommerce store owners find this plugin's free features very useful. If you need even more features, you can get any of its many premium extensions like the Professional version. At an extra cost, you get credit notes (for easier refunds) and proforma invoices.
Install the best WooCommerce email plugin today
In this article, we've discussed 13 of the best WooCommerce email plugins on the market. Each of these plugins offers unique features for improving your WooCommerce transactional emails and boosting your store's profitability.
Our No. 1 pick on this list is the powerful WooCommerce Multiple Email Recipients. The plugin makes it easy to send order notification emails to multiple recipients per order. You can also send different emails to suppliers or departments within your company.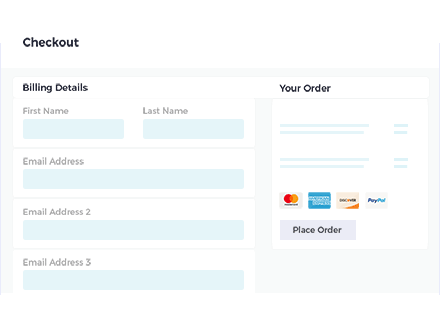 The easy way to send the WooCommerce order emails to more people. Love it or your money back!
Looking for the fastest way to send WooCommerce emails to multiple email addresses? Check out WooCommerce Multiple Email Recipients.